It has been a long, cold winter in Chicago (which is pretty standard), but this year I had the opportunity to visit Disney World twice during the Epcot Flower and Garden Festival. One visit was for my first runDisney event, and the other trip was to celebrate my niece's third birthday. We've previously attended Epcot Food and Wine Festival and Epcot's Festival of the Arts, but I was excited to experience Epcot Flower and Garden Festival activities.
Pro tip: Pick up a Garden Passport booklet when you arrive at Epcot. This Garden Passport acts as a complete guide to the Epcot Flower and Garden Festival activities.
Admiring Flowers Everywhere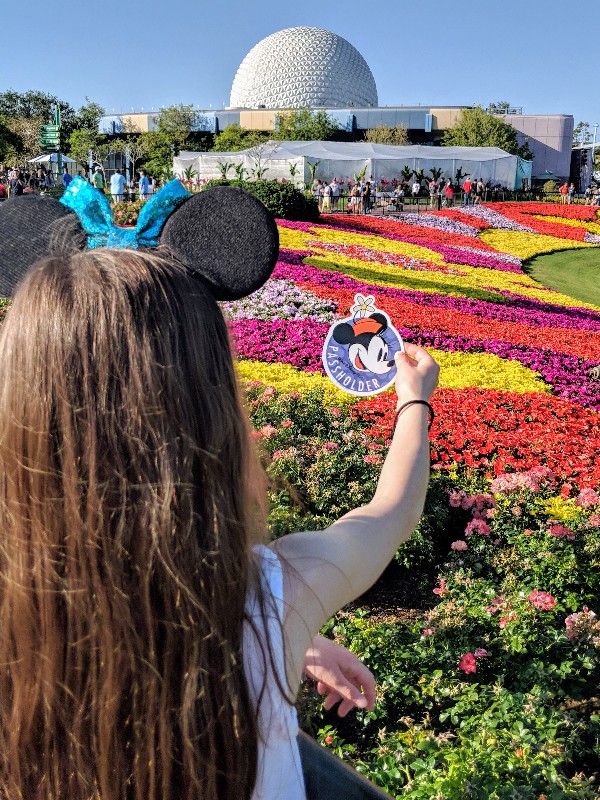 All throughout Epcot colorful blooms seem to adorn every surface. No matter where you look there is a beautiful array of flowers to admire. We especially love how along the shores of Showcase Plaza there is an endless blanket of color. The flowers are planted perfectly to form shapes within these vast gardens. This was exactly what we needed to shake the winter blues!
The Goodness Garden Butterfly House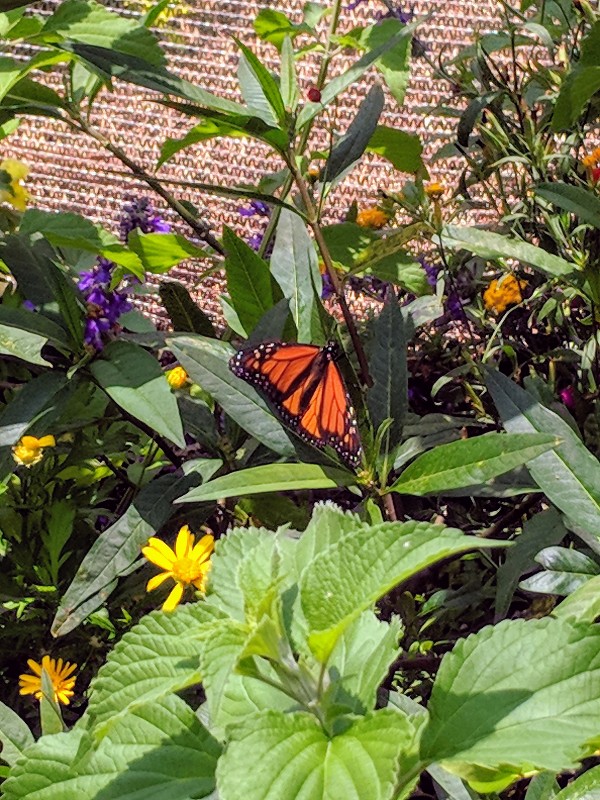 A mesh tented area with a garden of butterfly friendly plants is just past Club Cool. Inside this enclosure you are surrounded by the beautiful garden and butterflies flitting about. We saw several different species of butterflies, but the Monarchs were our absolute favorite. One Monarch butterfly even seemed to pose just for me.
There are two wooden stations in the garden that hold butterfly chrysalis. Many butterflies emerge each day, but unfortunately we did not see any for ourselves. The Goodness Garden Butterfly House also has signage in the gardens to encourage people to plant their own butterfly garden and educate visitors about the importance of butterflies in conservation efforts.
Amazing Topiaries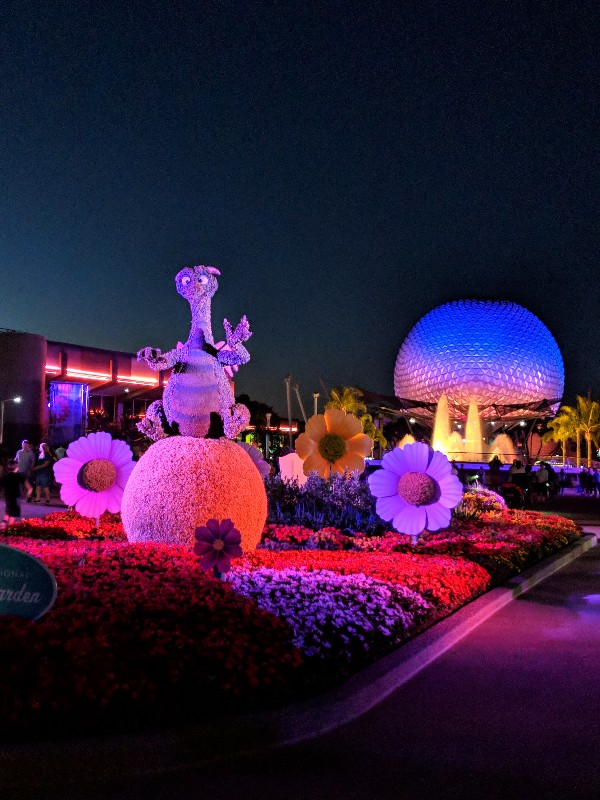 The Disney team goes all out in designing and growing the magnificent topiaries for the Epcot Flower and Garden Festival. Each year there are new designs to admire and classics to enjoy. All of the topiary designs are incredible, but we did have a few that stood out as our favorites:
Welcome to the Epcot International Flower & Garden Festival

at the main entrance to Epcot is a great way to start your festival day. Mickey, Minnie, Pluto, and Goofy stand in a beautiful tableau with Spaceship Earth behind it for the perfect photo opportunity. PhotoPass photographers are often located here, so grab a family photo!

Figment in Showcase Plaza is fabulous during the day and also beautifully lit at night.

Tinker Bell and Fairy Houses

in United Kingdom was another favorite. Tinker Bell is perched in a field of flowers surrounded by several different fairy houses.

The Three Caballeros

in Mexico also makes the list, because you know how much we love that ride.
There are almost two-dozen special topiaries (mostly) inspired by Disney characters throughout Epcot. Have fun finding your favorites!
Tasting Outdoor Kitchen Options
Trying new foods is one of the best things about the Epcot Flower and Garden Festival (and other Epcot festivals, too). Both times I visited the Epcot Flower and Garden festival I opted to eat items from the outdoor kitchens instead of a traditional meal. This gave me the chance to try several items.
My Favorite Foods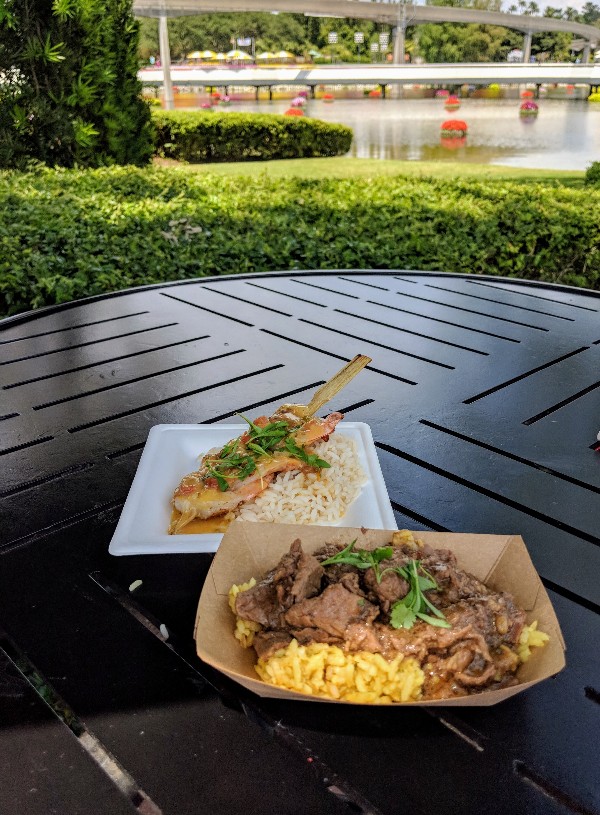 Our absolute favorite booth for food was La Isla Fresca located in Showcase Plaza. The Sugar Cane Shrimp Skewer with Steamed Rice and Coconut-lime Sauce and Jamaican-braised Beef with Pigeon Pea Rice and Micro Cilantro are so good I ate them on both trips! I'm not much of a coconut fan, but the subtle flavor was a nice addition to the five grilled shrimp and rice. The Jamaican-braised Beef was also flavorful and quite filling for its small price tag.
Another food option I loved was the Spicy Blackened Shrimp and Cheddar Cheese Grits with Brown Gravy and Local Sweet Corn Relish from Florida Fresh. This dish was probably the absolute best thing we ate on our runDisney trip. The only reason I didn't have it on the second trip is because my daughter is allergic to corn, so I avoid foods like that when she is with me.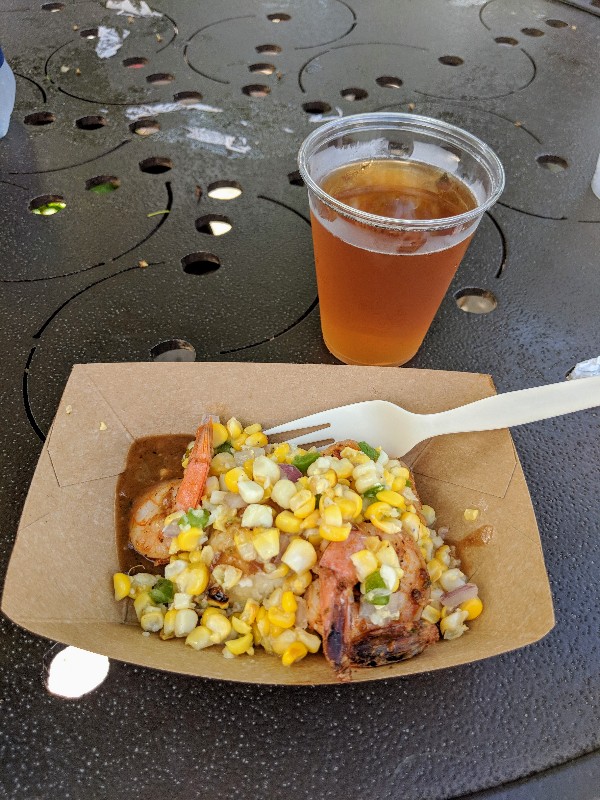 The one food option that disappointed me was the Toasted Pretzel Bread Topped with Black Forest Ham and Melted Gruyere Cheese. It looked (and tasted) like it had been sitting under a warmer for awhile.
Pro tip: Got kids? Grab some food or drinks at one of the Showcase Plaza Outdoor Kitchens and then let the kids play in the temporary Imagination Play Garden while you enjoy your purchases.
My Favorite Drinks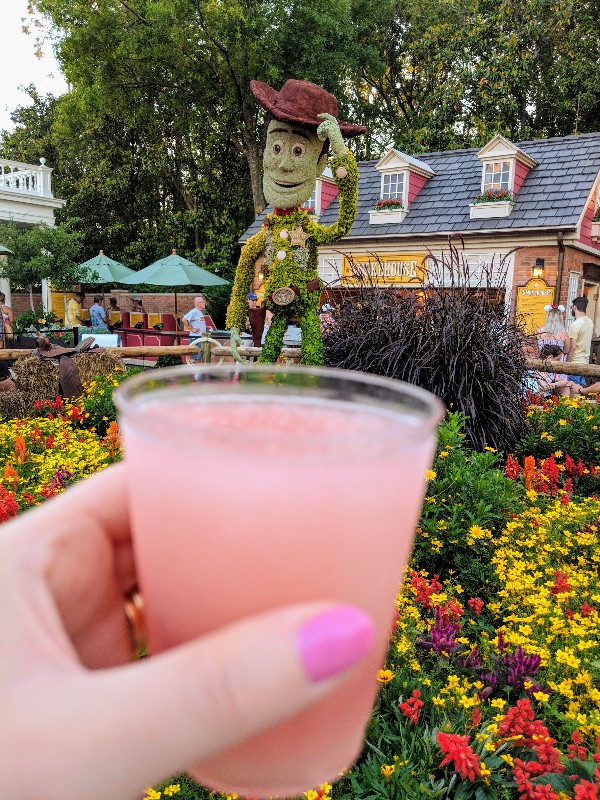 Hands down my favorite drink of Epcot Flower and Garden Festival is the La Vie en Rose Frozen Slush. This slush at Fleur de Lys in the France Pavilion is made with Grey Goose Vodka, L'Orange, St. Germain Liqueur, White and Red Cranberry juice.
Another refreshing drink at the festival is the Frozen Lemonade with Firefly Blackberry Moonshine. It's exactly what you expect, and it is delicious. Find it at The Smokehouse in the America Pavilion.
If beer is more your speed there are plenty to choose from at Epcot Flower and Garden Festival. At Pineapple Promenade in Showcase Plaza we tried both the Maui Brewing Co. Pineapple Mana Wheat and Playalinda Brewing Company Violet Lemonade Ale. The Pineapple Mana Wheat had a great hint of pineapple and went down easy. The Playalinda Violet Lemonade Ale had a good flavor, but I think I would have been better off trying the famous non-alcoholic Frozen Dessert Violet Lemonade.
Final Thoughts
The Epcot Flower and Garden Festival activities were the perfect antidote to a long Chicago winter. The vibrant flowers, carefully grown topiaries, butterfly house, and outdoor kitchens made the Epcot Flower and Garden Festival a great part of our Epcot visit. My only regret was that we did not watch any of the Garden Rocks Concert Series, because we were too busy experiencing other Epcot Flower and Garden Festival activities. Have you been? What is your favorite Epcot Flower and Garden Festival activity?
More Disney World Planning Resources
Do you need more help planning your Disney World trip? Check out other Disney World tips and tricks in my Disney World Guides.
Pin it for later: