We haven't been at Disney as much as normal and are missing the parks. To bring Disney magic into our home, we decided to do a grown-up Disney bedroom makeover. Our Disney bedroom makeover uses souvenirs, photos, and some specially purchased items to transform a boring bedroom into one I love.
As an Amazon Associate I earn from qualifying purchases.
Spare Room Before The Disney Bedroom Makeover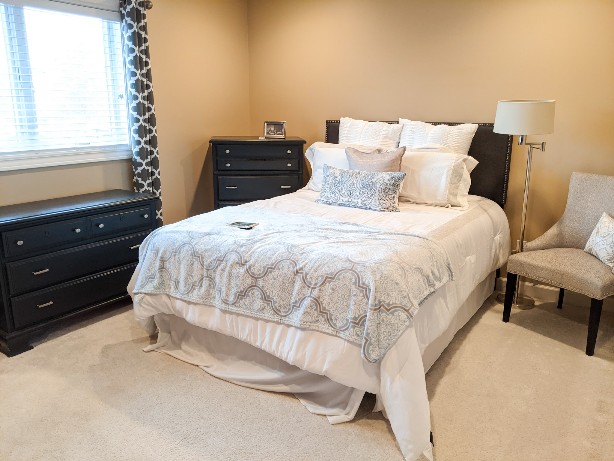 Our spare bedroom was a basic room with no real design and too much furniture. Fortunately, much of the original room decor in gray, black, and white paired well with what I envisioned. Reusing much of the furniture made this an inexpensive Disney bedroom makeover.
The dresser is my baby furniture that I cheaply updated a few years ago with chalk paint and new pulls. The headboard was bought on clearance, and the comforter was a steal at HomeGoods a couple of years ago.
Disney Bedroom Makeover Details
A Clean Slate For Our Bedroom Makeover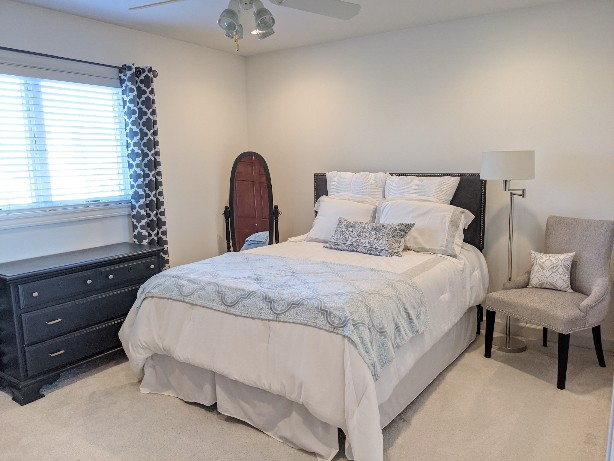 To transform our boring spare bedroom into a classy Disney bedroom I hunted for a mix of inexpensive pieces plus a couple of wow items. I knew the first thing I needed was a clean white for the walls. The dated tan was painted over with Chantilly Lace from Benjamin Moore which is a true neutral white.
Please note: Chantilly Lace is a pure white, so if you have a darker wall color it may require three or four coats to cover completely. Having the paint shop add just a few drops of pigment would have looked the same and perhaps saved a entire coat.
The Disney Bedroom Makeover Splurge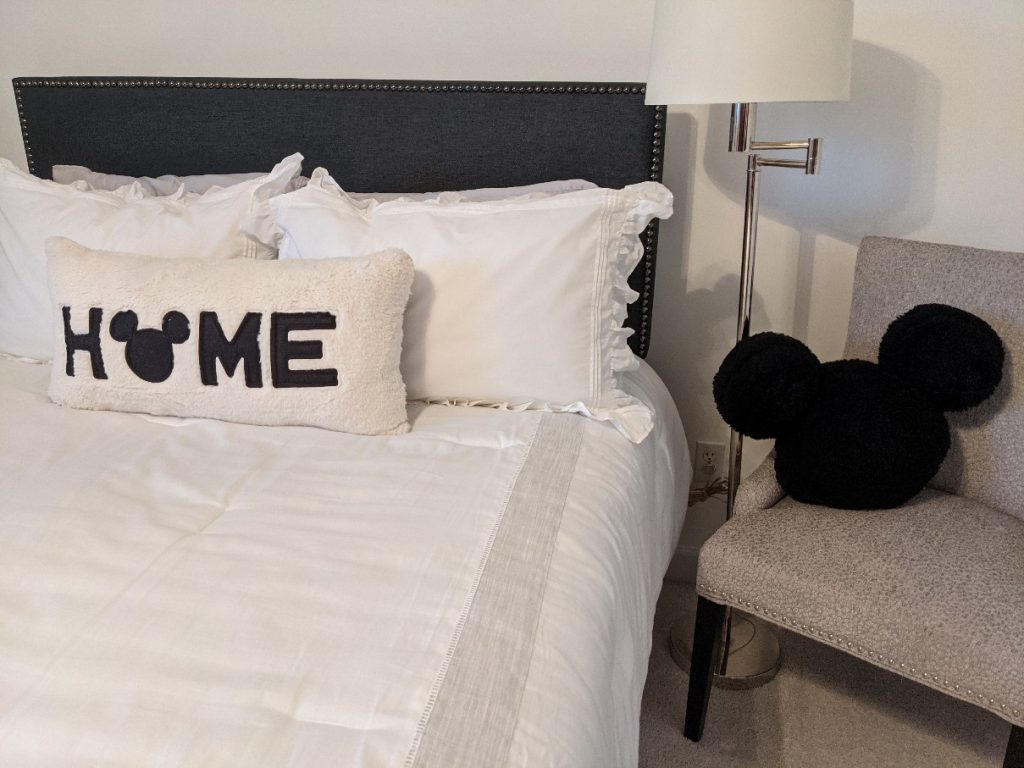 I had been eyeing a Pottery Barn Disney collection which has several pieces I love. In particular, there are two amazing throw pillows that I thought would be perfect for the room makeover.
Unfortunately, the pillows were more than I wanted to spend. I tried finding less expensive lookalikes but had no luck. I finally ordered an over-sized lumbar pillow plus an adorable Mickey head sherpa pillow. The pillows are the biggest splurge in the room but are the upscale Disney decor I was dreaming of.
Final Touches For Our Grown-Up Disney Bedroom Makeover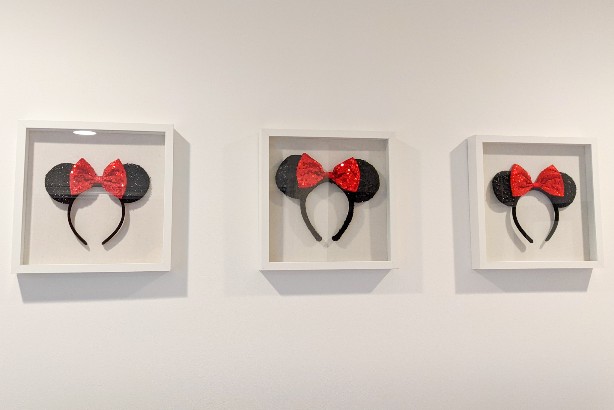 From here I knew I was going to fill in the Disney room decor using some special items we already own. We have a ridiculous collection of ears, and I wanted a way to display some of these treasured items. These shadow boxes on Amazon (affiliate link: buy on Amazon) perfectly fit both the official Disney Park ears and many of our custom made ones.
I used small straight pins to secure the ears to the padded back of the shadow box. The pins are invisible and the ears are perfectly secure in the frames.
I used three shadow boxes centered over the headboard to display our ears. You can easily make a full wall display with more or use one box with ears on a smaller wall.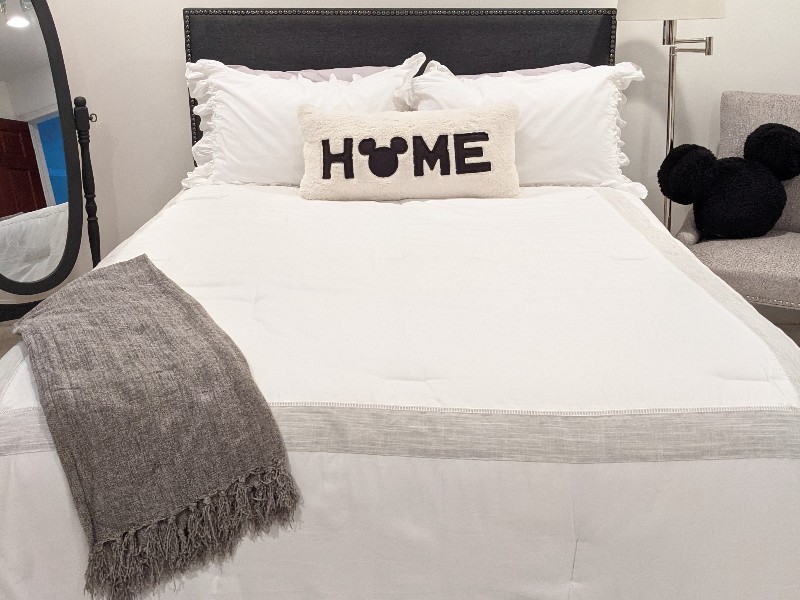 I swapped out my blue throw blanket for a gray chenille throw (affiliate link: buy on Amazon). The original pillow shams from the comforter set never looked good on the bed. Switching them out for a pair of cute ruffled cases (affiliate link: buy on Amazon) made a huge difference.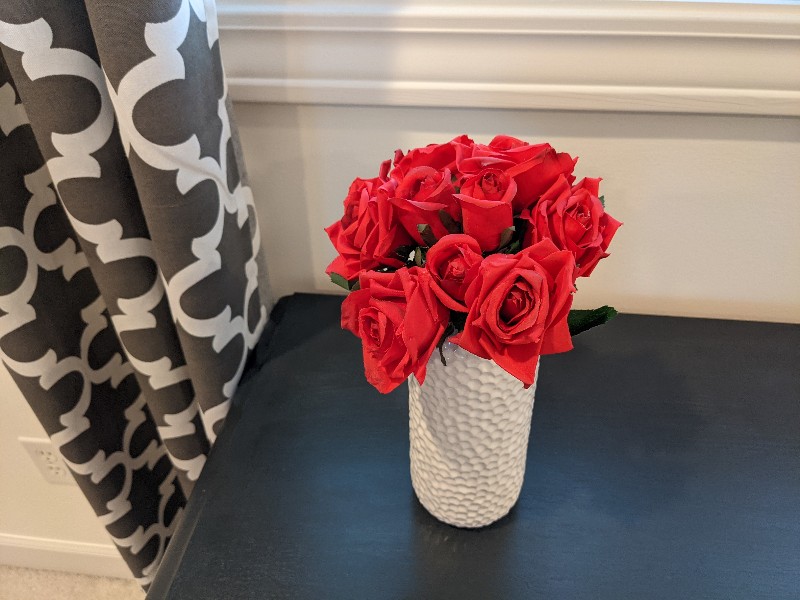 The room needed a touch of color, so I ordered a set of artificial roses (affiliate link: buy on Amazon). I placed stems in a leftover white vase from a three-vase set (affiliate link: buy on Amazon) I used in another room.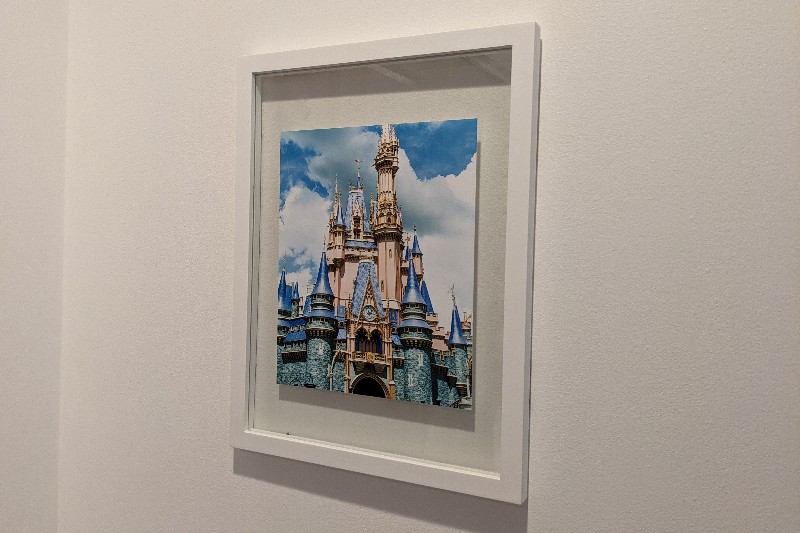 Lastly, I edited and printed a picture of Cinderella's Castle. I hung this wonderful travel memory in an inexpensive white frame we were no longer using.
Final Thoughts On Our Disney Bedroom Makeover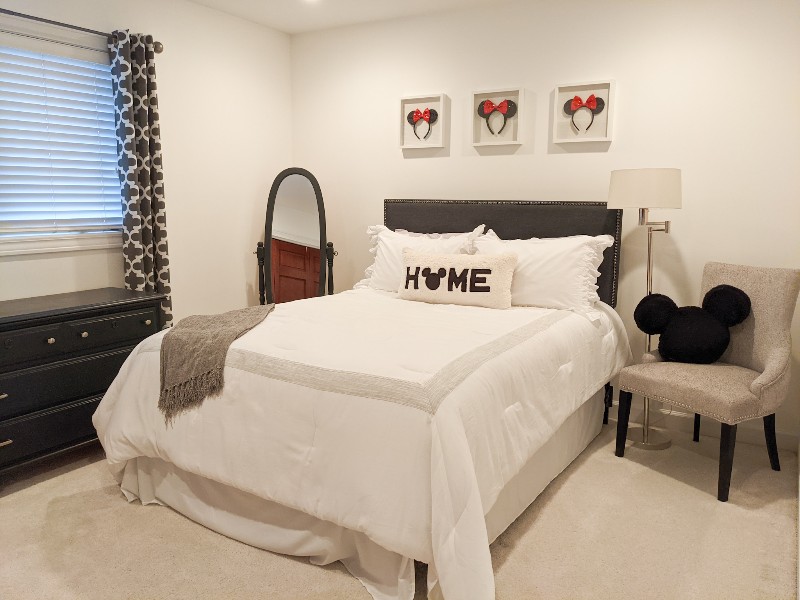 Inspired by a love of Disney parks, our grown-up Disney bedroom makeover makes me extremely happy. Re-purposing items, using souvenirs and photos, plus some new items made a huge impact for a limited amount of money.
I hope this Disney bedroom makeover inspires you to bring a little Disney magic into your home, too.
Pin it for later: