Updated August 2018
At the end of July 2017 a new type of transportation was announced for Disney World: Minnie Vans. These adorably named and decorated Minnie Vans are a pay service available to transport Disney World resort guests around the immense Disney World property instead of the usual free buses, monorails or boats. This Minnie Van review will give you all the information, instructions on how to request a ride and when I think it is worth it to pay for a ride at Disney World.
What Are Minnie Vans?
Minnie Vans aren't actually vans at all, but red and white polka dot Chevy Traverse. These vehicles are driven by Disney World cast members who bring the expected Disney service to your ride.
As of October 2017, there are 25 Minnie Van vehicles in the fleet. During morning and evening hours almost all of these vehicles are in use, but you should expect longer waits because this service is becoming popular.
Who Can Use The Minnie Van Service?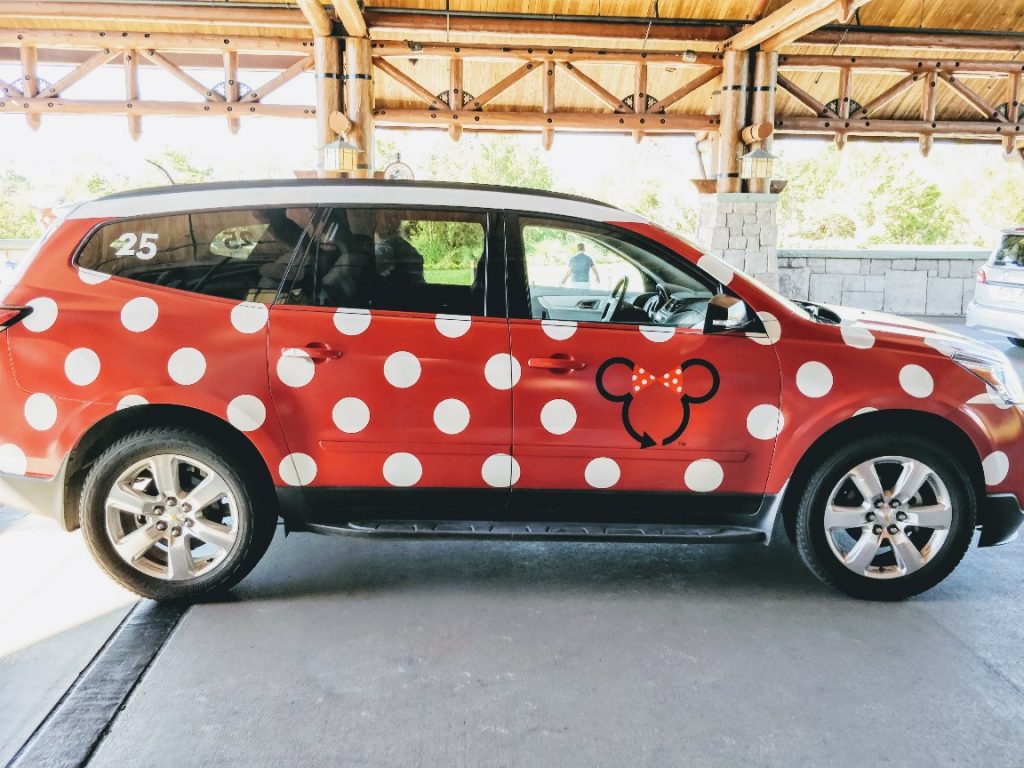 It used to be that only guests of certain Disney World resorts could access Minnie Vans, but now the service is open to everyone.
How Many People Can A Minnie Van Accommodate?
Minnie Vans can provide a ride for 6 passengers. Two car seats are available in each Minnie Van. The car seats are installed at the time of pick up. The cast member has been trained to install the car seats which can be rear, front, or booster style depending on the age and size of the child. Confirmation the child is properly restrained is required prior to leaving.
How Much Does It Cost?
The cost for a Minnie Van ride used to be a flat rate of $25 per ride no matter the number of passengers or distance driven. A recent change in Minnie Van pricing now charges a variable rate based on distance.
What About Those Who Have Wheelchairs Or Service Animals?
There are currently 2 wheelchair accessible Minnie Vans at Disney World. There is no way to specifically request one. You request a regular ride and when the cast member arrives you can ask them for a wheelchair accessible vehicle. They will then contact the dispatcher and request the special vehicle.
All Minnie Vans are equipped with pet blankets for those with service animals.
How Do I Request A Ride?
Anyone with the Lyft app can use Minnie Vans within Disney World.
Here is how to to set up your account and request a ride:
Download the Lyft app and install it on your phone.
Sign up for Minnie Van Service. 
Choose the type of Lyft service you would like. In my case I requested a Minnie Van. 
Set pickup location. 
Confirm location.
Add payment information.
Confirm request. 
The driver will be requested. You will then find out which Minnie Van will be yours. You will be able to see your estimated time of pick up, van number, and license plate information for your Minnie Van. 
Add your destination.

Watch your Minnie Van's route to you on the map and see updated estimated time of arrival.

Once ride is complete confirm payment.
Our Minnie Van Review
I requested a Minnie Van ride one morning from our home resort of Copper Creek Villas at Disney's Wilderness Lodge. I had walked to the bus stop and found that we had just missed a bus for Animal Kingdom. Expected arrival time for the next bus was 25 minutes according to the board.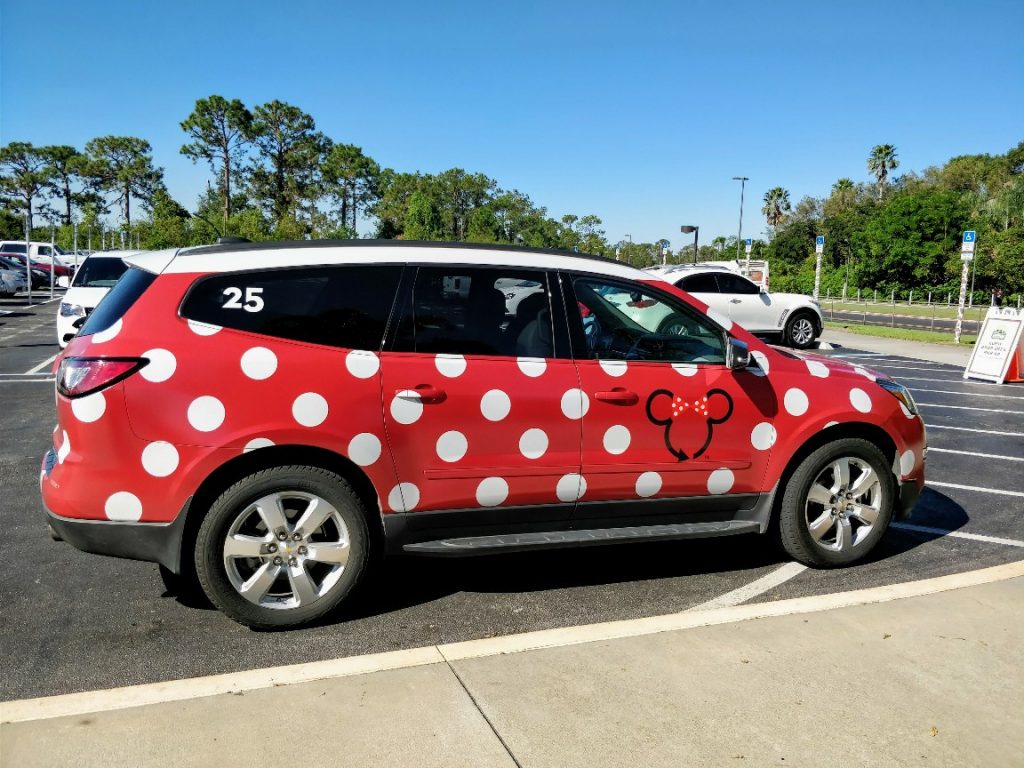 I figured this was a perfect opportunity to try a Minnie Van. I used the Lyft app to request the ride. We waited about 10 minutes for our pick up at Wilderness Lodge. Our ride from the resort to Animal Kingdom took about 18  minutes. The drop off area for Animal Kingdom is in a parking lot at the end of the usual Disney bus area by bus stop 17. This drop off spot was a long walk to the entrance of Animal Kingdom, but we still ended up making it into the park at least 20-40 minutes earlier than we would have if taking the complimentary bus system.
General Tips
Minnie Van service can not drop off directly in front of the theme parks, but will generally get you close to the edge of the transportation depots. 

Once you have the Lyft app  you may request Minnie Van rides throughout the Disney World property.

Expect wait times to be longer in the morning when people are heading to the parks or breakfast reservations and at night around park closing or dinner time. It is not unusual to be unable to hail a Minnie Van at park close because the service is so popular.

Wait times are generally lower in the middle of the day.

Do not use Minnie Vans if you are switching resorts during your stay. The vehicles do not have the capacity to transport both people and luggage.

Minnie Van service is available from 6:30 am to 12:30 am (hours subject to change).
Minnie Van Service From Orlando International Airport
Minnie Vans are now also available for trips to and from Orlando International Airport for all Walt Disney World hotel guests. To book Minnie Van airport rides you need to call 407-WDW-PLAY. The Lyft app only works for booking Minnie Van rides while on Disney World property.
The cost of a Minnie Van is $150 for one way transportation to or from the airport. A round trip from Orlando International Airport to your Disney World hotel and back runs $300. Flights must arrive between 7am and 10pm and depart between 9am and 12am.
Final Thoughts
We had a great experience during our Minnie Van ride. It was such a nice way to save some time and hassle that you often encounter with the free Disney Resort transportation. If money were no object I would absolutely use this service constantly, however that is just not realistic.
I would recommend Minnie Van service if you are going from a Minnie Van home resort and need to go directly to another resort for a dining reservation. This is a great use of the service since resort to resort transportation at Disney World is not easy.
Minnie Vans are also a great option if you need to get to a park quickly and there is a wait for complimentary transportation (which happens often).
I think Minnie Vans are also a great option for those who need to get the kids back for an afternoon nap and don't want to miss a lot of park time.
Have you taken a Minnie Van? Did you enjoy your experience as much as we did?
More Disney World Planning Resources
Do you need more help planning your Disney World trip? Check out other Disney World tips and tricks in my Disney World Guides.
Pin it for later: