I am Disney obsessed. No surprise there. However, I didn't realize how much Disney specific language I used until my family pointed it out to me. When I talk about Disney World the terms often seem like a foreign language to others. Now that my family mentioned it I notice how much Disney World lingo is used, but rarely defined. To help you better understand some of these Disney World terms I have written a quick reference guide with definitions.
Advanced Dining Reservations
Often referred to as ADRs, these are dining reservations made at a Disney property. You may make advanced dining reservations 180 days in advance of a Disney World trip. Want to know more? Trust me you do – read my complete guide to dining reservations at Disney World.
Cast Member
A Disney employee.
Character Dining
This is a meal that includes character interaction as a part of your meal. These character dining experiences allow the convenience of meeting characters while you eat.
At most character dining venues the characters make their way through the dining area and stop at each table to visit with your group. Some examples are Chef Mickey's and Cinderella's Royal Table. Check here for a complete list of character dining options at Disney World.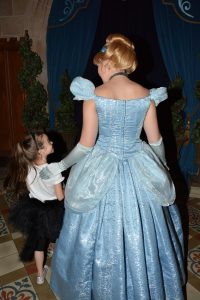 FastPass+ 
FastPasses are currently unavailable at Disney World after COVID reopening.
This is a free service available to anyone with a ticket to a Disney World park (Magic Kingdom, Epcot, Hollywood Studios or Animal Kingdom). A FastPass+ is basically a "skip the line pass."
If you arrive at an attraction during your scheduled FastPass+ time window (say 10:30am-11:30am) you skip the regular line. You will instead enter at the FastPass+ line and wait a shorter time to experience the attraction. Your FastPass+ reservations can be made using the Disney World website or Disney World app. Find my detailed guide to FastPass+ here.
MagicBands
These handy devices are specific to Disney World. A MagicBand is a bracelet (similar to a watch or fitness tracker) available for purchase at Disney World Resort. These bands act as a room key, ticket to the parks (once the ticket is linked to band), FastPass+ ticket, and can be used to make purchases across the resort, including using your dining plan credits if you have them.
MagicBands are a great convenience and keep you from fumbling around looking for tickets, room keys and even your FastPasses. We love them, but be careful – it makes it too easy to spend money since you never reach for your wallet!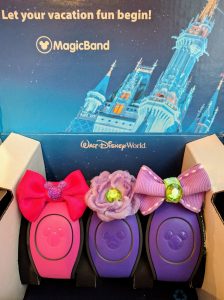 Magical Express
For the rest of 2021, Disney's Magical Express is a free service for guests of Disney World owned hotels. Magical Express is motorcoach transportation from Orlando International Airport to your Disney World resort. 
Important note: You must register for the Magical Express prior to your trip by calling Disney World, your travel agent or through the following website. Do not show up to the airport and expect a ride if you haven't pre-registered.
MemoryMaker
MemoryMaker is a photo package you can purchase that includes all of your digital images taken by a PhotoPass photographer and some taken on rides during your visit. If you purchase this package in advance there is usually a discount. Not sure what PhotoPass is? I define it below.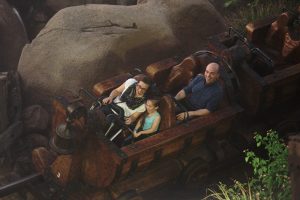 MNSSHP
This is an acronym for "Mickey's Not So Scary Halloween Party". This party is a separate ticketed event for Halloween that takes place at Magic Kingdom. This event runs from 7pm until midnight on certain nights around Halloween. 
Mickey's Not So Scary Halloween Party is one of the rare times adults may wear costumes at the park. This party has special Halloween themed fireworks, parades, and the rare chance to meet some villains. Important note: not all attractions are available on party nights. See if this party is worth the expense here.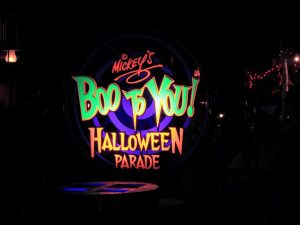 MVMCP
This is an acronym for "Mickey's Very Merry Christmas Party". This party is also a separate ticketed event on certain nights around the Christmas season. It too takes place at Magic Kingdom and runs from 7 pm until midnight. Only certain rides operate during the party. Mickey's Very Merry Christmas Party is one of our favorite Disney World Christmas traditions. See what else we love about Christmas at Disney World.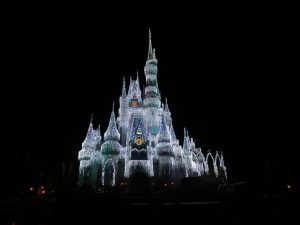 My Disney Experience
My Disney Experience is a Disney World app and also a section on the Disney World website. This app (or website) is your go-to spot to make and view all of your hotel, FastPass+, and dining reservations for your upcoming trip. You can also check current wait times for attractions at the parks, today's showtimes, and park hours.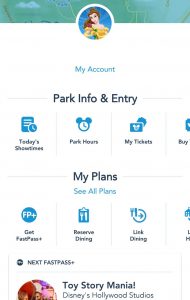 Park Hopper
An add-on option to your basic park ticket for a price. This "park hopper" allows you to visit more than one theme park in a day. If you have a traditional ticket you may only enter one park per day on that ticket.
Park Hopper Plus
This is much like the add-on option of the "Park Hopper" to your ticket. The difference is this option allows you to move between Disney World theme and water parks on the same day.
PhotoPass
This service places Disney photographers around the park and with certain character interactions to make sure everyone can be in the picture. The first photographer who takes your picture will provide you a plastic card with a code. Link this code to your My Disney Experience account.
Then each time you have your photo taken by a PhotoPass photographer they scan the same code on the card or your MagicBand. If you have the photographer scan your card or MagicBand the photos show up in your Disney account. You may then purchase individual prints/digital images or purchase all of the images from your trip by buying a MemoryMaker package.
Park Bag
This is a bag with all of your essentials for your day at the park. See what 19 things I always pack when we head to the theme park.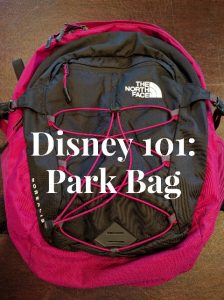 Rider Switch (a.k.a. Rider Swap)
If certain members of your group are too small or not interested in riding certain attractions Rider Switch may be for you. This service at some attractions at Disney World is most commonly utilized by families with young children.
When the time comes to ride parent 1 and child go on the ride. Then when parent 1 and child return parent 2 can ride the attraction with the same child. Find out more about Rider Switch here.
Did I forget anything? If so, let me know and I can add it to help others!
Do you need more help planning your Disney World trip? Check out other Disney World tips and tricks in my Disney World Guides.