Inspired by the Fat Tuesday traditions of New Orleans, Universal Orlando Mardi Gras brings the fun, flavor, and party to Florida. Universal Orlando Mardi Gras enthralls visitors with incredible extra entertainment in addition to a fabulous theme park experience. Come explore Universal Mardi Gras from Feb 4, 2023 through Apr 16, 2023.
Universal Orlando Mardi Gras Parade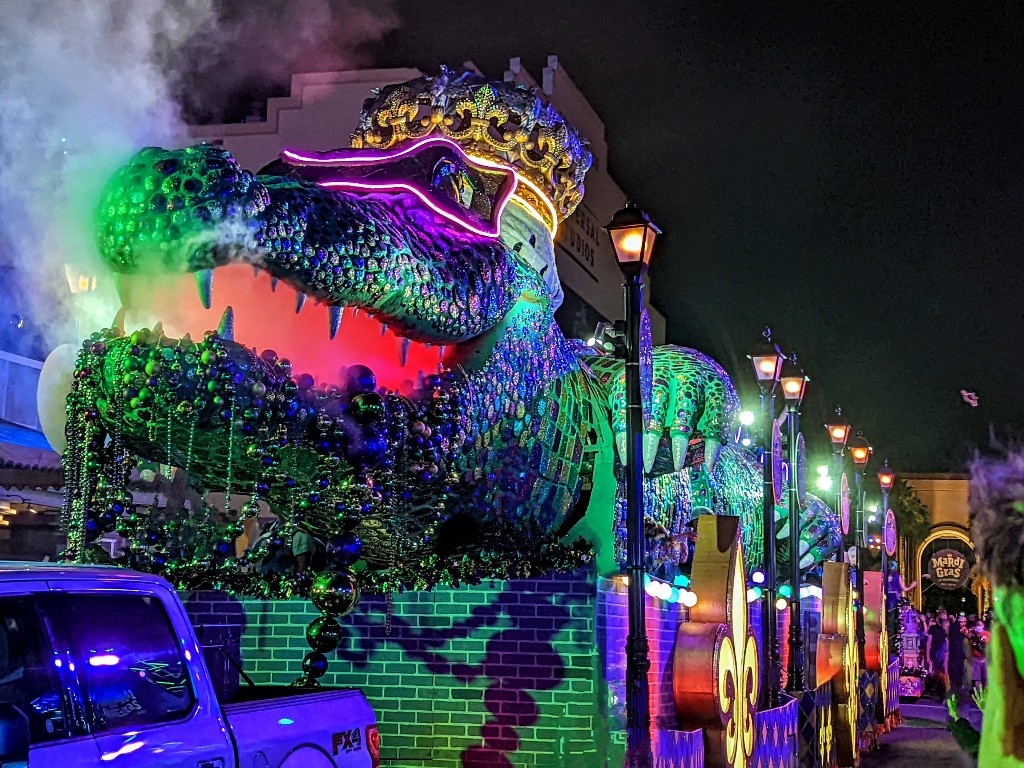 A huge draw of the season is the Universal Mardi Gras parade. Surprisingly authentic and gorgeously themed floats light up the night while dancers, stilt walkers, and other performers entertain the crowds between floats.
The parade starts with a "police" escort of several motorcycles running sirens and looping around the route. These motorcycles are a fun way to warm up the waiting crowd and also bring an extra layer of authenticity to the Universal Mardi Gras parade.
Next stilt walkers and other walking entertainers come by waving to get the crowd excited for the very first float.
A large steamboat float kicks off the real frenzy. Draped in giant beads and sparkling traditional colors of purple, gold, and green this first float is gorgeous. The smokestacks billow "smoke" and two stories of riders start tossing beads to the waiting people below.
There are about a dozen Universal Mardi Gras floats in the parade, each covered in colorful lights, sparkling glitter, and over-the-top designs.
What's Mardi Gras without a collection of beads? Be ready as the floats roll past for your chance to catch heaps of beads.
You'll grab the most beads along the first layer of parade watchers, but some Krewe members have strong arms and toss beads several people deep. However, unlike a New Orleans Mardi Gras parade, only beads are tossed to the crowd instead of being mixed with specialty throws like cups or tokens.
Universal Mardi Gras Parade Tips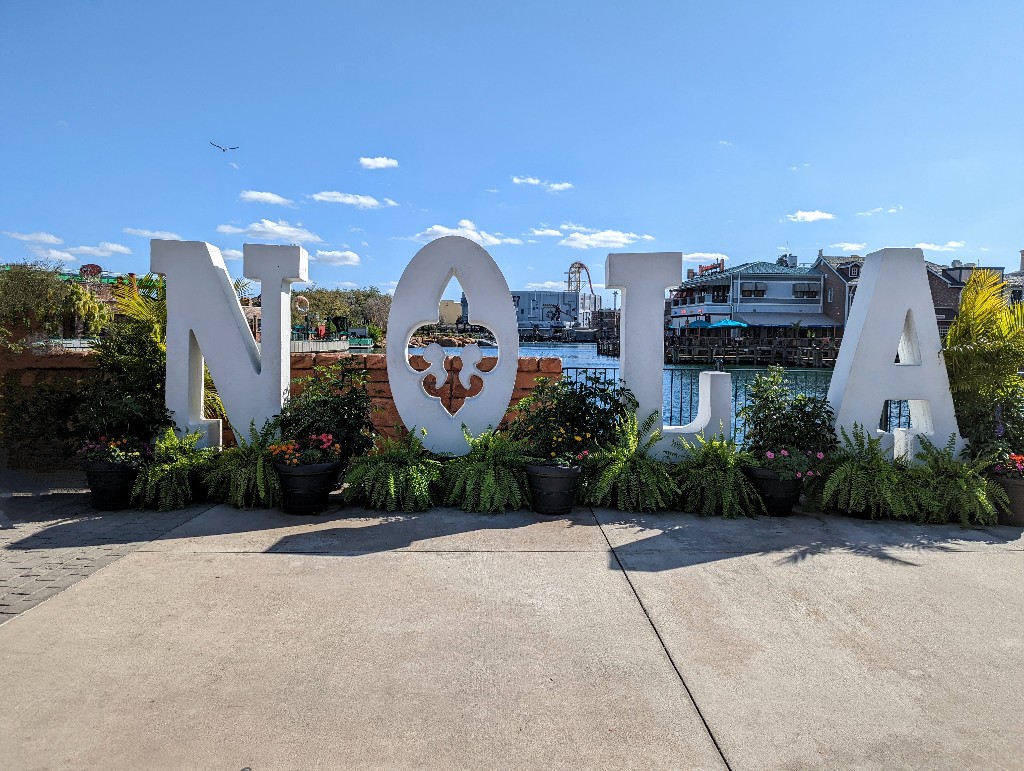 Know What Time The Universal Mardi Gras Parade Starts
The Universal Mardi Gras parade begins at a different time each night. Although there are parades on most nights, no parades roll on March 31, 2023.
2023 Universal Mardi Gras Parade Start Times
6:15pm Mardi Gras parade:­­
Feb 5-9, 12-16, 26-28
Mar 1-2
7:30pm Mardi Gras parade:
Feb 17, 20-24
Mar 3, 6 -31
Apr 1-16
7:45pm Mardi Gras parade (concert nights):
Feb 4, 10-11, 18-19
Mar 4-5
7:45pm Mardi Gras parade:
Feb 5, 12, 19, 20, 26
Mar 5, 6, 12, 13, 18-20, 25-27
Grab a Spot Early
The Universal Orlando Mardi Gras parade route is long with lots of great viewing spots. However, if you want a quick exit or easy access to the concert you'll need to find a spot about an hour ahead of parade start time.
On a concert night some premium parade viewing areas get crowded over an hour before parade kickoff. If the concert isn't important to you, you'll have greater flexibility. However, I still suggest grabbing a spot at least 45 minutes before the parade start time for the best bead catching spots.
Use a Matador Blanket
Having a thin picnic blanket keeps people from encroaching on your hard earned parade spot at the last minute. The Matador blanket (Affiliate link: Buy on Amazon) takes up almost no space when folded but opens easily to cover enough space for three or four people.
We use the blanket to hold our spot until the parade starts, then quickly fold and toss it back into our bag.
Find The Right Location For Parade and Concert
Universal Orlando Mardi Gras concerts draw huge crowds with people lining up hours ahead for center stage spots. The Mardi Gras parade is barely visible from the back area of the concert lawn, and there is no way to get beads that far away.
If you want to do both the Mardi Gras parade and concert your best bet is to find a spot on the same side of the street near the concert lawn. We lined up directly along the parade route and then quickly moved to the concert area once the Alligator Float passed us. This rapid transition gave us a good viewing spot for both the parade and concert.
Our view was pretty good and the concert sound was incredible. This spot also let us easily exit the park once the concert ended. However, on super popular concert nights, like Marshmello, the concert area can fill up before the parade so keep checking.
Mardi Gras Concerts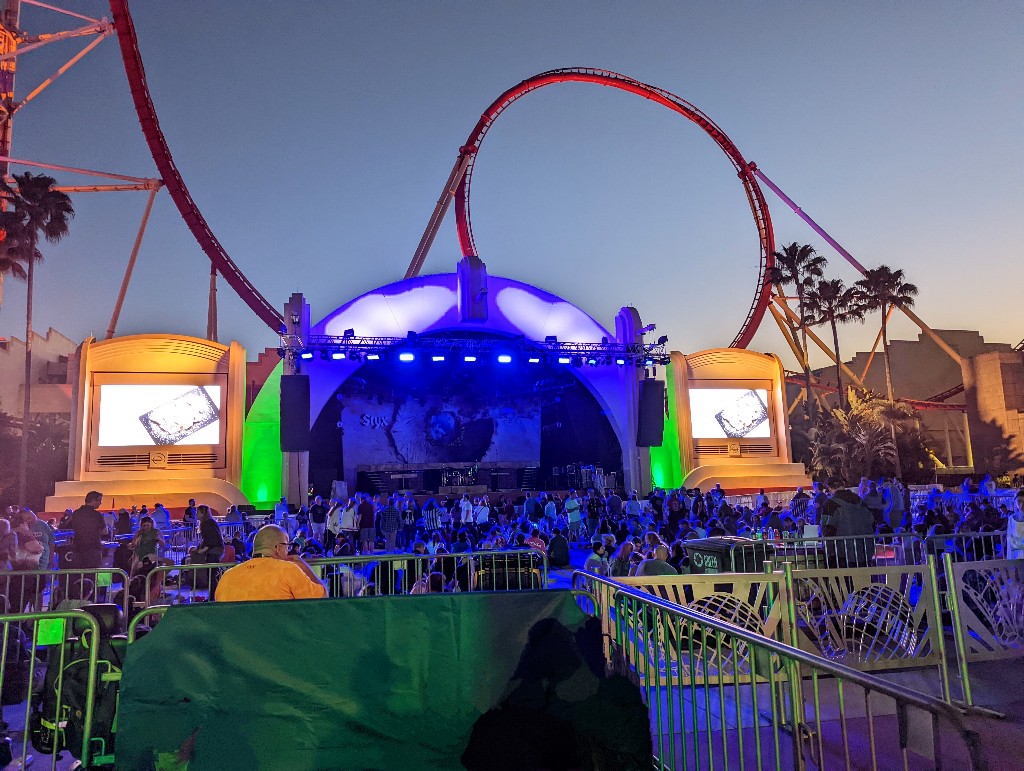 Universal Orlando Mardi Gras concerts are a huge bonus on select nights at Universal Studios Florida. A diverse group of musicians grace the Mardi Gras concert calendar and put on a great show for no additional fee.
Concerts start at 8:30pm, and musicians perform for around 90 minutes. Because of the short length there is no opener, just the headliner at the Mardi Gras concerts.
We saw Styx and although I'm not a huge fan, the musicianship and performance made the time fly by. Originally we planned to leave part way through the set, but we couldn't tear ourselves away from the amazing, free concert.
2023 Universal Mardi Gras Concert Performances And Dates
February 4 Patti LaBelle
February 10 JVKE
February 11 Goo Goo Dolls
February 18 Maren Morris
February 19 Willow
February 25 3 Doors Down
March 4 Sean Paul
March 5 Lauren Daigle
Mardi Gras Tribute Store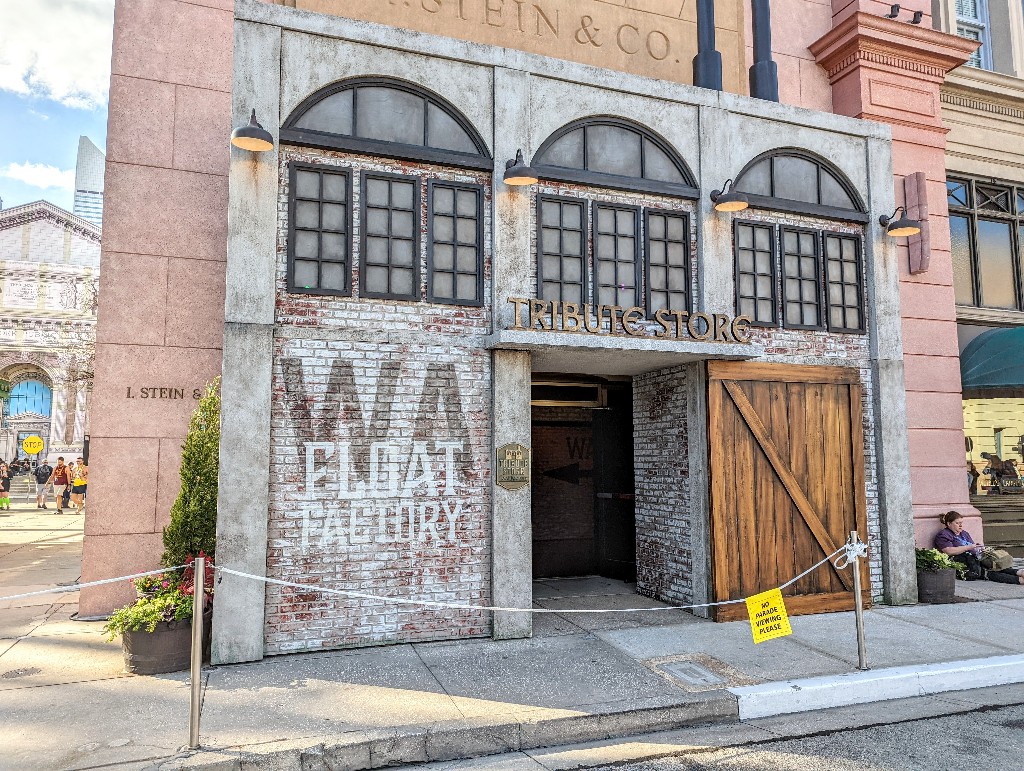 Although we don't yet know the theme of the 2023 Mardi Gras Tribute Store I'm certain visiting will be an event, even if you don't plan on buying anything.
Last year, we learned how Mardi Gras floats are made in the Mardi Gras Tribute Store. The store wove float design and fabrication with gorgeously themed merchandise.
Enter the float factory Mardi Gras Tribute Store to see sketches and concept art for Mardi Gras floats. Move through fabrication, paint, light, and decor to see how these concepts transform into an actual float.
There's even an entire hallway full of photos of Universal Orlando Mardi Gras parade floats from years past. One of my favorite pictures was an old one of floats driving along I-4 on their way from the warehouses to Universal.
The 2022 Mardi Gras tribute store even had an appetizing food counter with several special Mardi Gras treats. Tempted by many of the options, we ended up with the chocolate covered bacon. It was the perfect mix of crispy, salty, bacon and rich dark chocolate.
Universal Orlando Mardi Gras Food
There are an overwhelming number of food and drink booths in Universal Studios Florida for Universal Mardi Gras. Because we didn't have time to try everything we opted for the most traditional New Orleans foods.
In Gramercy Park, across from Race Through New York Starring Jimmy Fallon, there are several Mardi Gras food booths. It took three separate lines to get our official Universal Mardi Gras food: a king cake, jambalaya, and gumbo.
Shrimp Gumbo With Rice ($5.99)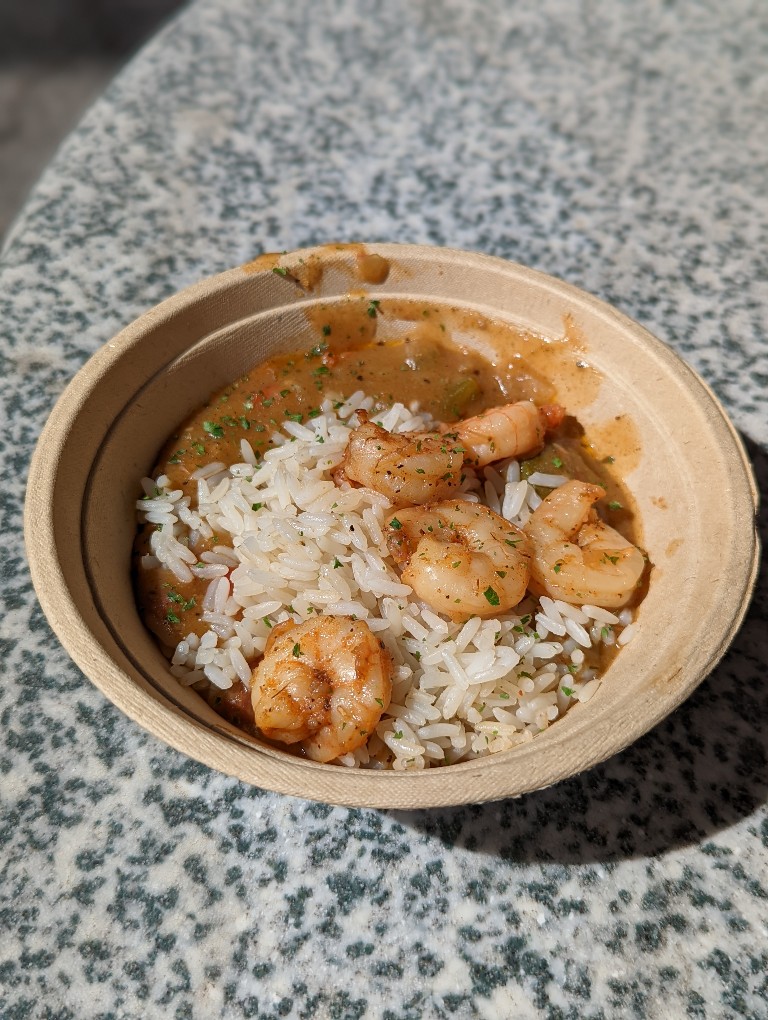 The Shrimp Gumbo with Rice is a good value with a decent portion size for the cost. The light roux base is seasoned with bacon, mild andouille, okra, and bell peppers with a different flavor than the darker roux we make at home.
The seasoning on the shrimp is flavorful and pairs well with the roux and white rice base. My daughter loved the seasoned shrimp and could have easily eaten the entire portion.
People who love spicy gumbo may be disappointed in the low heat level, but it's a good opportunity to try this New Orleans classic for those who haven't had gumbo before.
Chicken & Andouille Sausage Jambalaya ($6.49)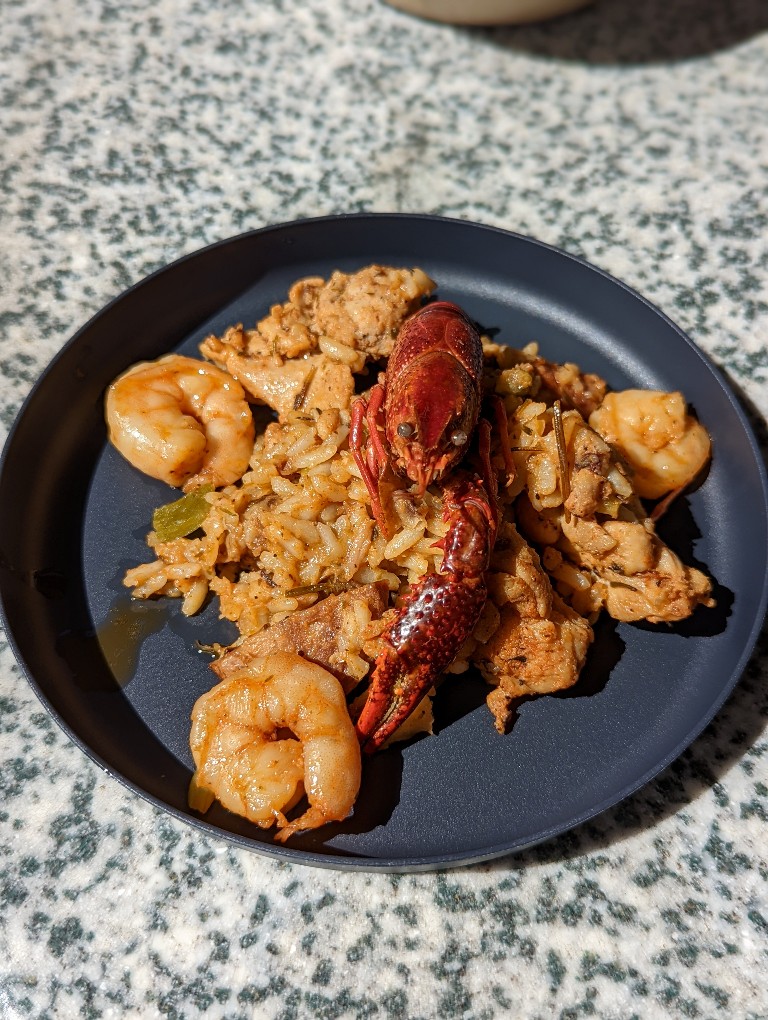 The chicken and andouille sausage jambalaya is a rice based dish with shrimp, peppers, black eyed peas, and tomatoes. While the jambalaya was beautifully plated with a spiced crawfish perched on top, it was less of a value than the gumbo.
Again, the heat level was minimal for our spice loving family. I was skeptical of the crawfish, but my husband broke it apart and removed the shell so we could try it.
My daughter and husband loved the crawfish while I begrudgingly admitted it was pretty good. The only complaint is that crawfish are a lot of work for a tiny amount of meat.
The shrimp was bland, especially compared to the gumbo, and overall we felt the jambalaya was just okay.
King Cake ($12.99)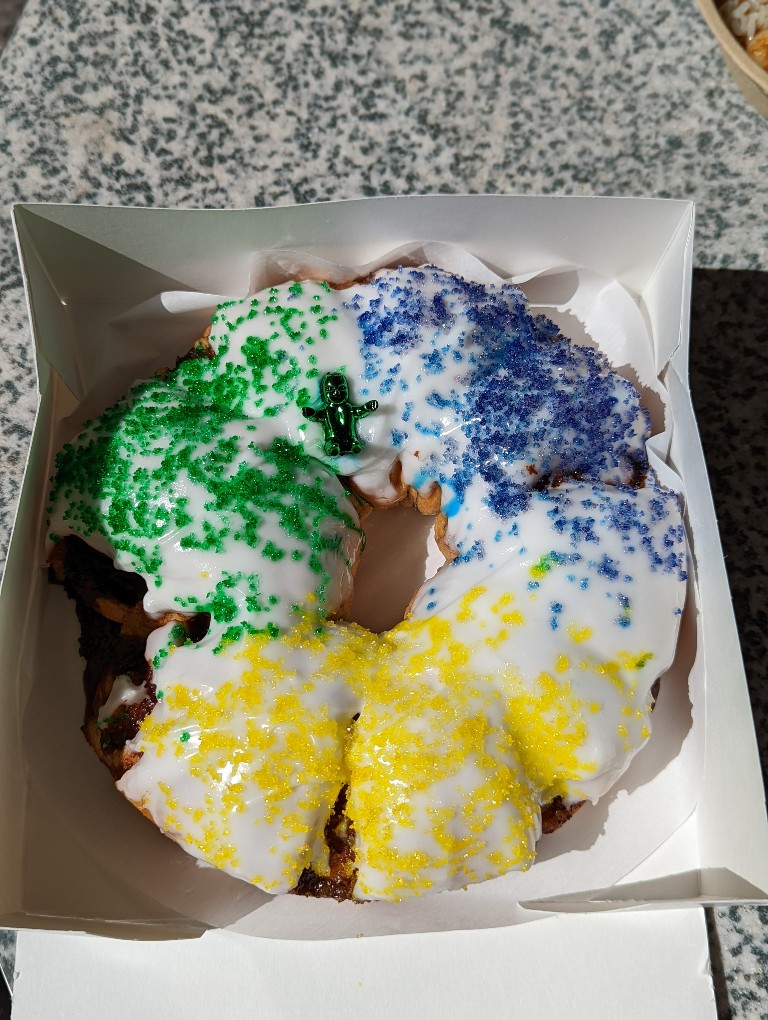 I should have questioned why the King Cake was so expensive compared to the gumbo, but I didn't think about it until a huge, boxed cake was handed to us.
King Cake is an important Mardi Gras tradition. Normally served from Epiphany until Fat Tuesday, this cake usually has a hidden baby Jesus inside. Whoever finds the baby will have good fortune for the year and must bring the King Cake to the next party.
Universal's King Cake is a traditional raised dough with cinnamon sugar topped with a thick layer of icing and sanding sugar. The cinnamon sugar filling was tasty, and overall the cake tasted fine but was dry.
A thick layer of icing paired well with the cake and we ate a surprising amount of the overwhelming portion. The Universal Mardi Gras King Cake is a great way to try this New Orleans tradition and can be easily shared with several people.
Krewe Crawl Scavenger Hunt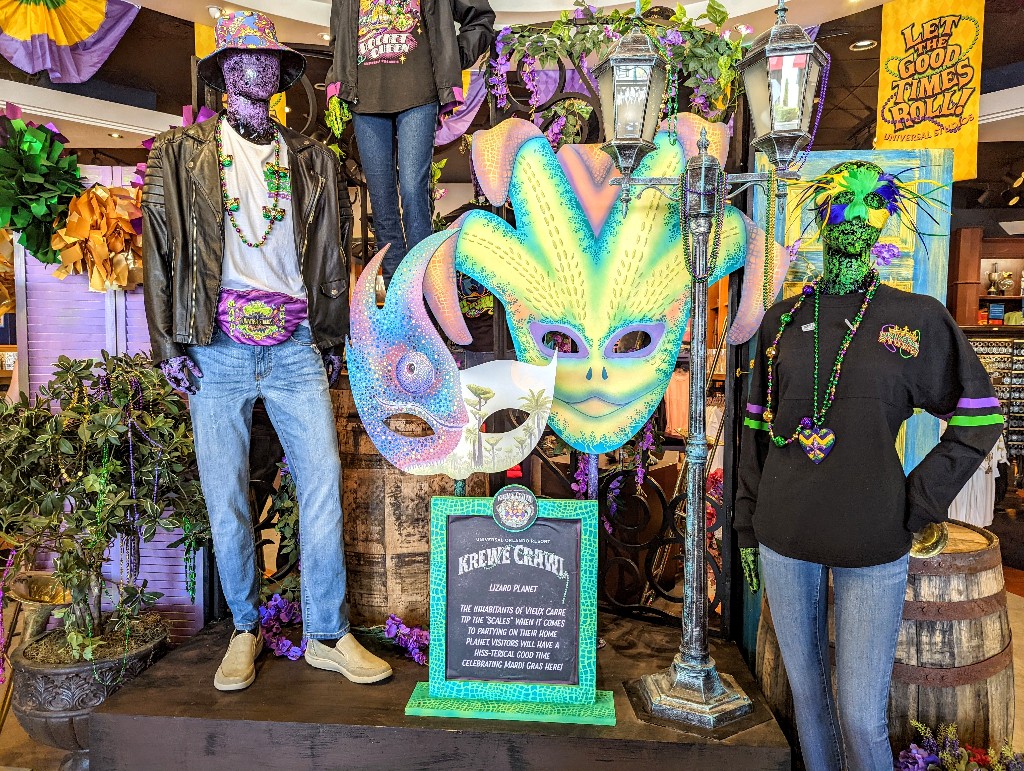 Looking for an excuse to walk the entire park during Mardi Gras? Purchase a $10 Krewe Crawl scavenger hunt map at Universal Studio Store and search for oversized Mardi Gras mask displays. Earn a stamp at each location, and then show your completed map at the Betty Boop store. Afterward you're rewarded with a colorful Mardi Gras mask to commemorate your success.
Mardi Gras Photo Ops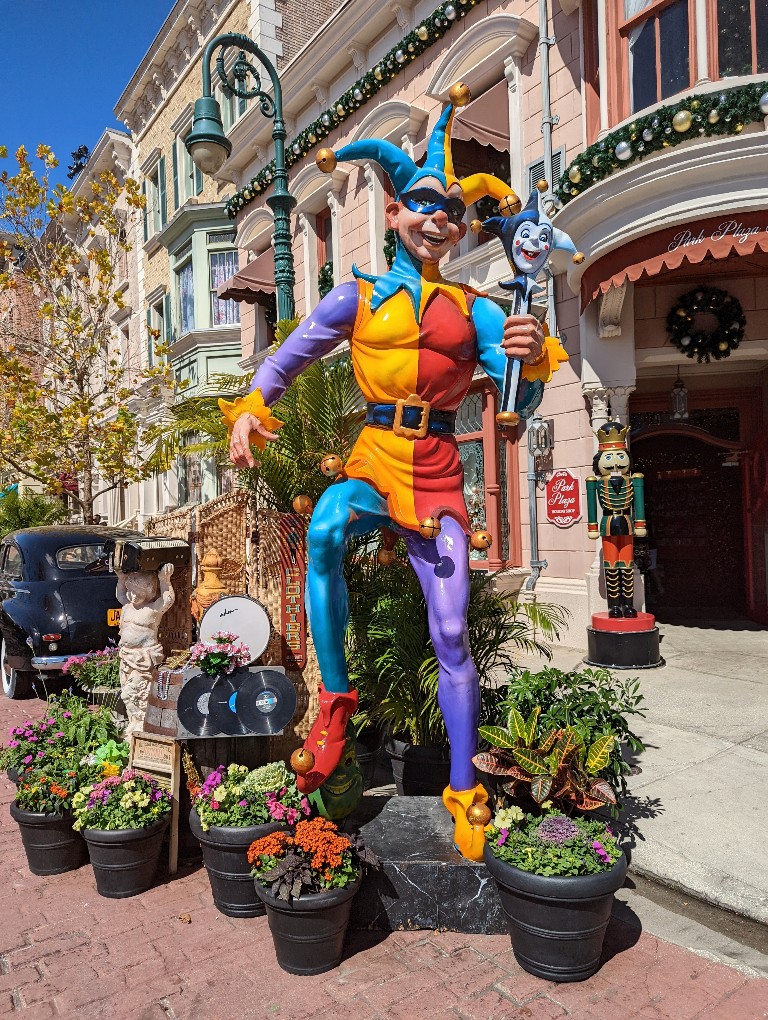 Find gorgeous Mardi Gras inspired photo ops throughout Universal Studios Florida. Large statues surrounded by greenery, flowers, and cool decor are perfect for capturing Universal Mardi Gras memories. There are even a few special photo ops inside the Mardi Gras Tribute Store.
Universal Orlando Mardi Gras Atmosphere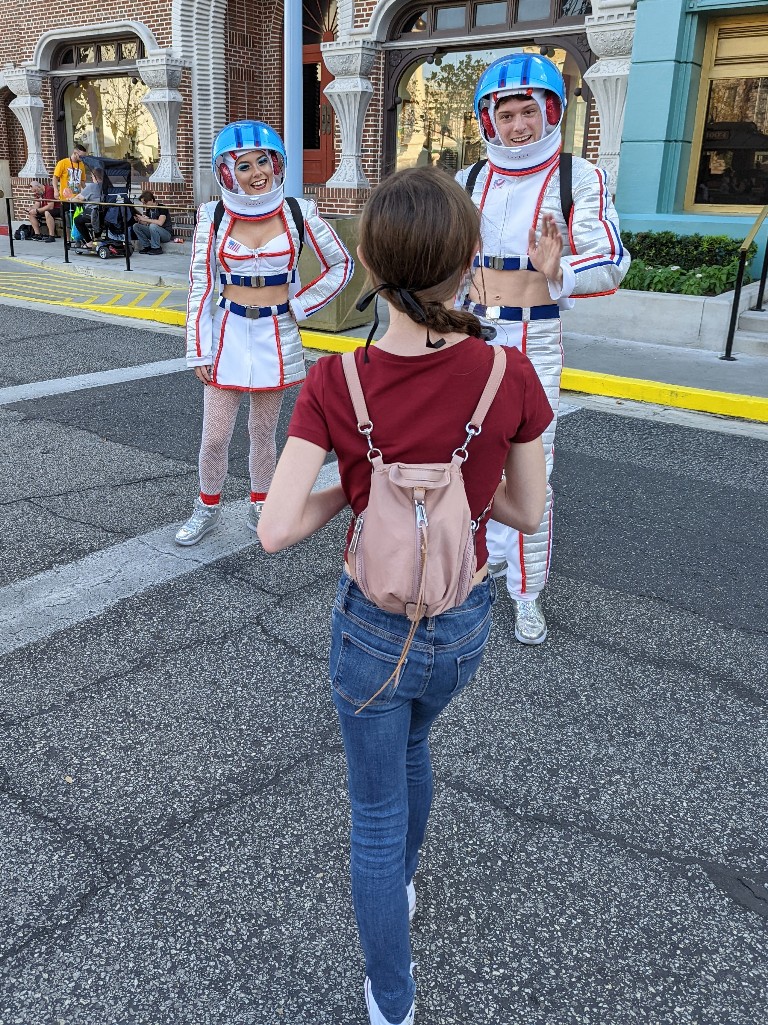 Mardi Gras jester hats perch atop each of the light poles in Gramercy Park giving a festive feel to the area. This, plus the assorted Mardi Gras photo ops, gives Universal Studios Florida a Mardi Gras-like energy.
A roaming jazz band, stilt walkers, and street performers interact with visitors providing an immersive party-like atmosphere during the day. You can even start your bead collection early as some performers hand out necklaces when you interact with them.
Final Thoughts On Universal Orlando Mardi Gras
Universal's Christmas activities are incredible, so I was optimistic about Universal Orlando Mardi Gras. Even with high expectations for the Universal Mardi Gras parade, concert, food, and atmosphere the experience was even better than I dreamed.
I highly recommend booking a Universal Orlando Mardi Gras trip, especially on a concert night. The amount of entertainment included with your theme park admission makes Universal Mardi Gras a great value and tons of fun for all ages.
Pin it for later: