Universal brings the fun of Mardi Gras to Orlando each year with New Orleans style parades, concerts, street performers and food. Another fun, but lesser known, Mardi Gras activity is the Universal Krewe Crawl scavenger hunt. 
What Is Universal Mardi Gras Krewe Crawl?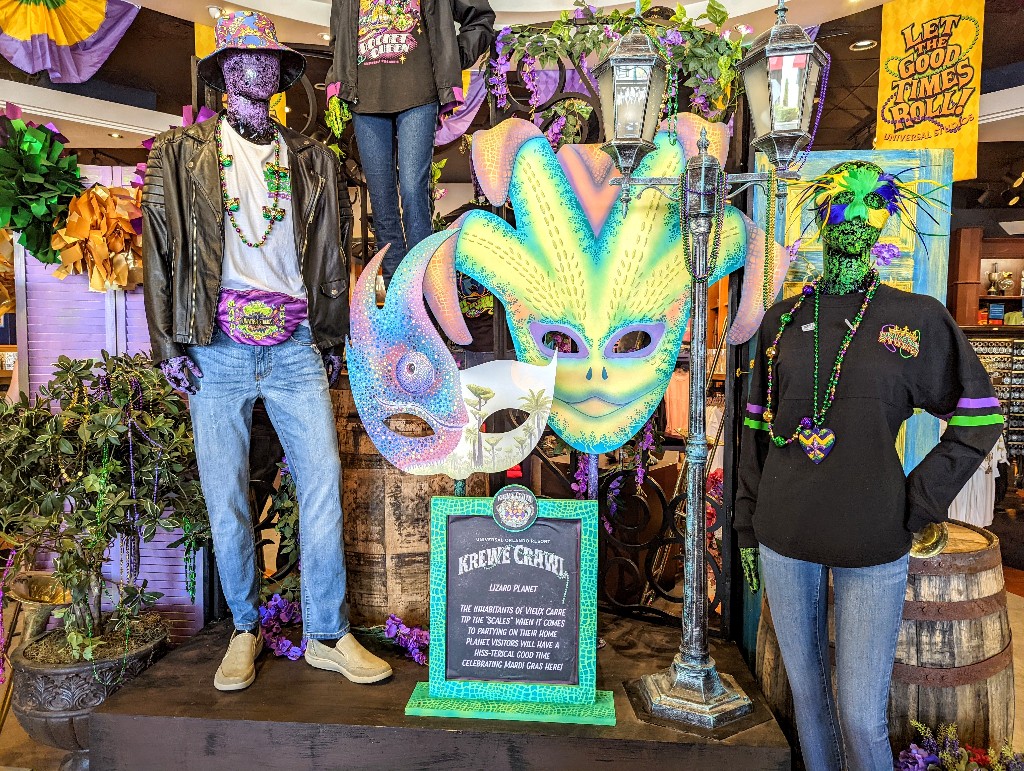 During Universal Orlando Mardi Gras season, Krewe Crawl is a low stress scavenger hunt with a cute prize. Buy a special map and explore Universal Studios Florida while searching for oversized, stylized Mardi Gras masks. 
At each Krewe Crawl location have a team member stamp your map and once you've found all twelve locations turn it in for a prize.
Where Do I Buy A Krewe Crawl Map?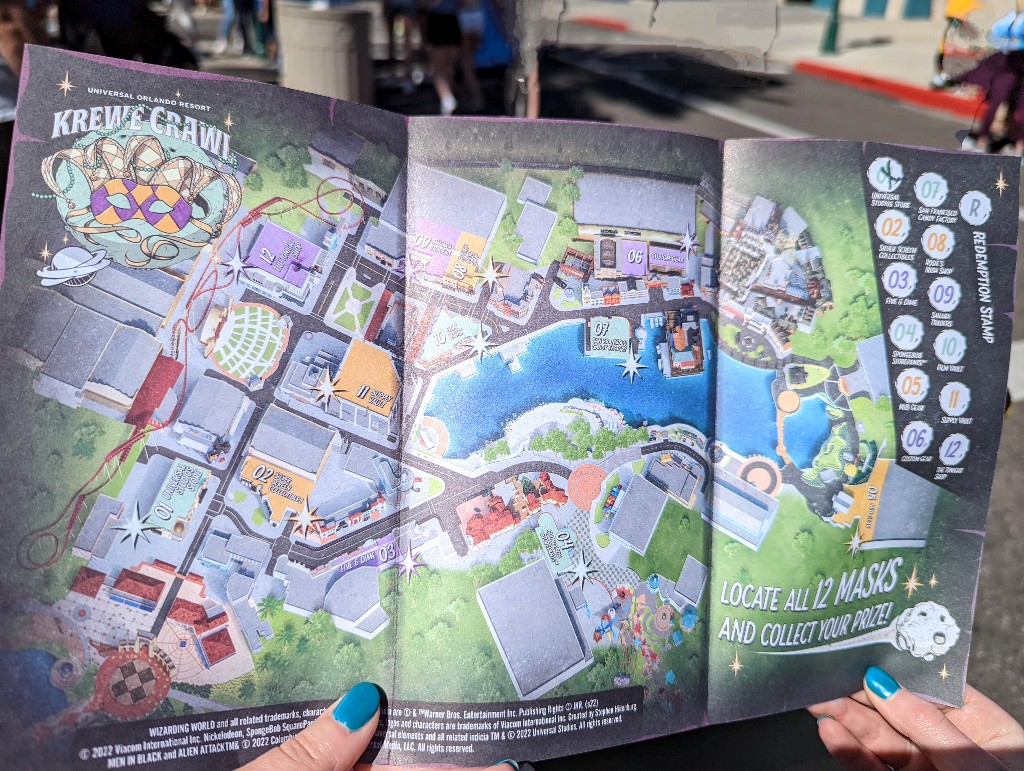 When entering Universal Studios Florida make a quick stop at Universal Studios Store. This large gift shop sells the Krewe Crawl maps and is a great starting point for your scavenger hunt.
Where Are The Krewe Crawl Scavenger Hunt Masks?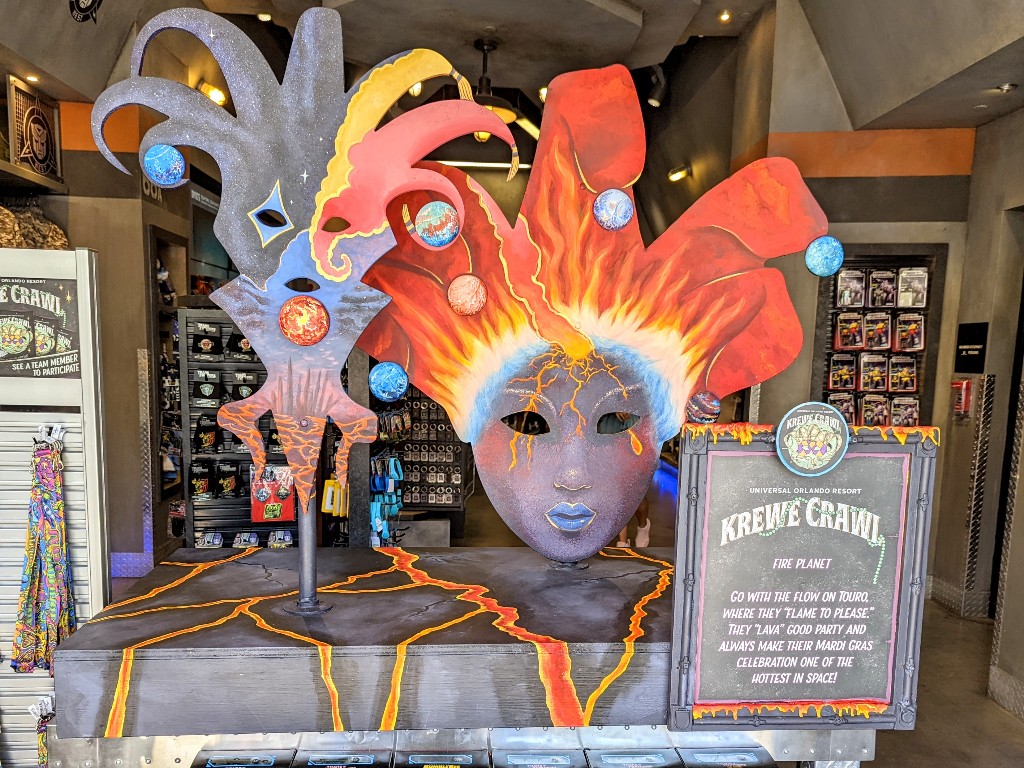 Universal Krewe Crawl masks are located in a dozen shops in Universal Studios Florida. Unlike Disney World scavenger hunts, the masks are easily spotted. This makes Krewe Crawl a fun, low stress way to discover new areas of the park.
The map is extremely clear and most masks are visible just inside shop doorways while some are tucked further back. We loved not having to search high and low for a subtle display.
Each mask has a different theme, but while some seem representative of the location others are completely random. Here are the locations and themes for each 2022 Krewe Crawl mask display:
Lizard Planet (Universal Studios Store)
Gem Planet (Silver Screen Collectibles)
The Moon Belt (The Tonight Shop)
Electric Planet (Film Vault)
Fire Planet (Supply Vault)
Plant Planet (Rosie's Irish Shop)
Sand Giant (Sahara Traders)
Space Age Planet (MIB Gear)
Steampunk Planet (Custom Gear)
Gas Giant (San Francisco Candy Factory)
Aquatic Planet (Spongebob Storepants)
Ice Giant (Five & Dime)
How Much Is Krewe Crawl?
Your Krewe Crawl scavenger hunt map costs $10 plus tax and there are no annual pass discounts available.
What's The Krewe Crawl Prize?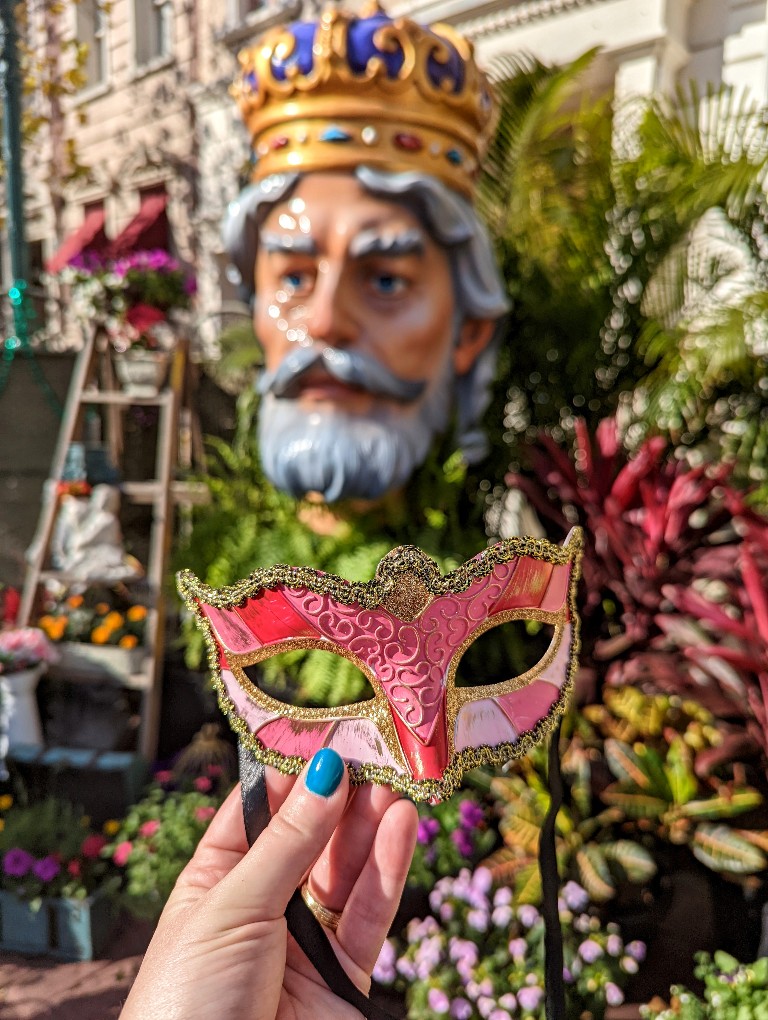 What do you earn after searching Universal Studios Florida for a dozen Mardi Gras masks? Your very own Mardi Gras mask, of course!
Take your completed, or even attempted, Krewe Crawl map to Silver Screen Collectibles. Show it to a team member in the Betty Boop section and choose from one of six stylish Mardi Gras masks.
As the season rolls on I expect the variety of prize masks will disappear, but each of the six we saw were striking in their own way. My daughter thought it was a lot of fun to wear her Mardi Gras mask as we did other Universal Mardi Gras activities and now it's a souvenir from a very fun trip.
Final Thoughts on Universal Krewe Crawl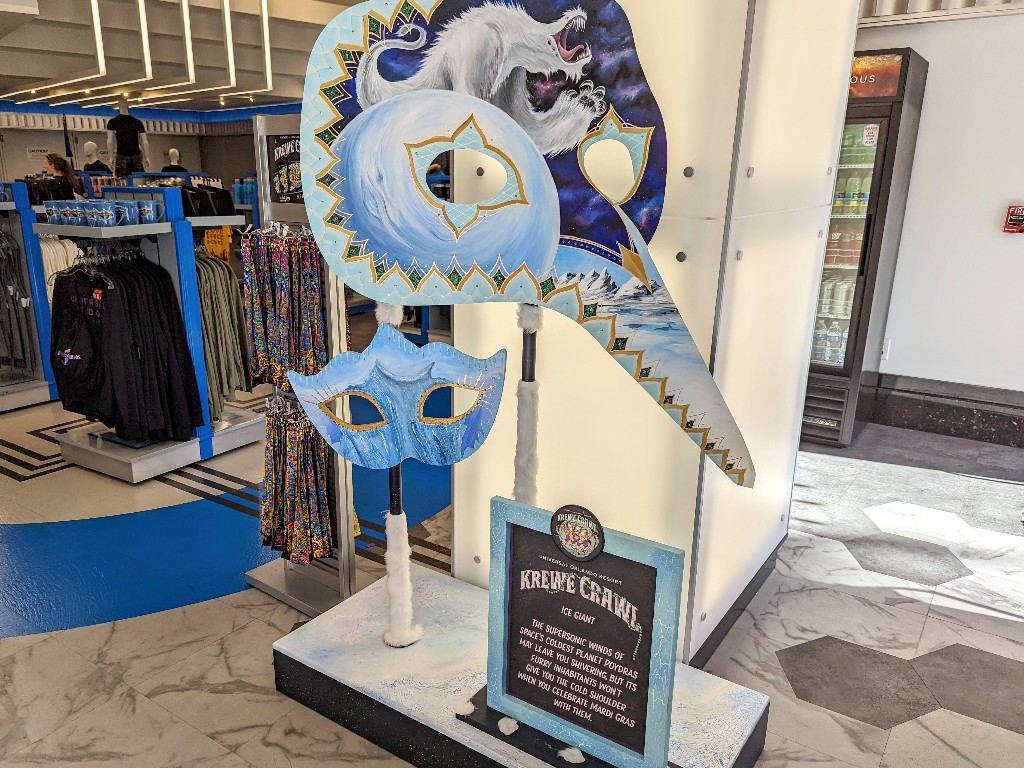 Universal Krewe Crawl is one of the easiest scavenger hunts we've done in a theme park. This ease made Krewe Crawl a fun way to explore the park and experience things we've missed before. For example, we got to see both Patrick and Spongebob at Spongebob Storepants during Krewe Crawl. This would have been a missed opportunity if we weren't on the scavenger hunt.
If you've got $10 and want an excuse to expand your Universal Mardi Gras experience, I recommend the Krewe Crawl. However, if your focus is on attractions, shows, and the Wizarding World of Harry Potter you should skip the Krewe Crawl to focus on those fun activities instead.
Pin it for later: