Disney World princesses are always in high demand, but waiting for individual meet and greets can use lots of precious park time. Akershus Royal Banquet Hall at Epcot solves this problem by letting guests meet several Disney princesses over a unique family style meal.
Akershus Royal Banquet Hall Overview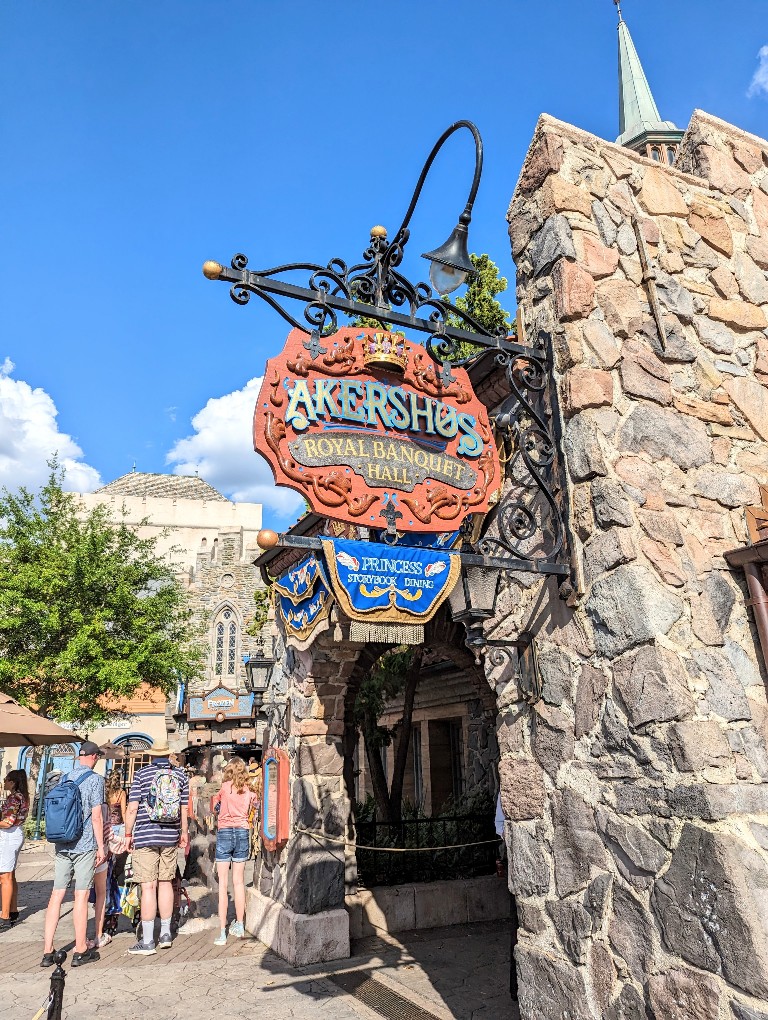 Find Epcot's Akershus Royal Banquet Hall in Norway near Frozen Ever After. This location makes it easy to pair even more princess fun with Anna and Elsa's nearby meet and greet or a ride on Frozen Ever After.
Enter the stone castle facade and find yourself surrounded by dark wooden beams, white brick archways, and rustic elegance. Ornate wooden chairs and tables with floral accents enhance the atmosphere in each of the dining rooms.
Meals are served family style with princesses rotating through the several dining rooms while you eat. Seatings are done in groupings where the restaurant is filled, princesses circulate, and then the restaurant is cleared for the next set of guests.
This new procedure allowed us to enjoy our meal and meet five princesses in about an hour. Efficient character meals are often appreciated by families with small children and guests who hope to make the most of Epcot's attractions.
We recently visited Disney World at the same time as other friends and family. All three of our groups dined at Akershus within the same week and our overall experiences were very similar.
Akershus Royal Banquet Hall Meal Review
Akershus Royal Banquet Hall serves breakfast, lunch, and dinner each day. Having three meal options makes finding Akershus reservations easier than other character meals since there are more dining opportunities each day.
Meals are served family style with portions brought directly to the table. I prefer plated and family style character meals at Disney World so I was happy to see this type of meal at Akershus.
Having food brought to your table avoids the chance of missing character meet and greets with a poorly timed buffet run.
Breakfast at Akershus
Picky eaters have plenty of traditional breakfast items on the Akershus breakfast menu.
Expect mixed fruit, bacon, sausage, scrambled eggs, breakfast pastries, potato casserole, and Norwegian waffles during Akershus breakfast.
This breakfast menu has a good variety plus comfortable staples perfect for families with picky eaters.
Lunch and Dinner at Akershus
Don't let the Norwegian inspired Akershus lunch and dinner menu scare you. Although I couldn't pronounce much of the menu we found several items we really enjoyed.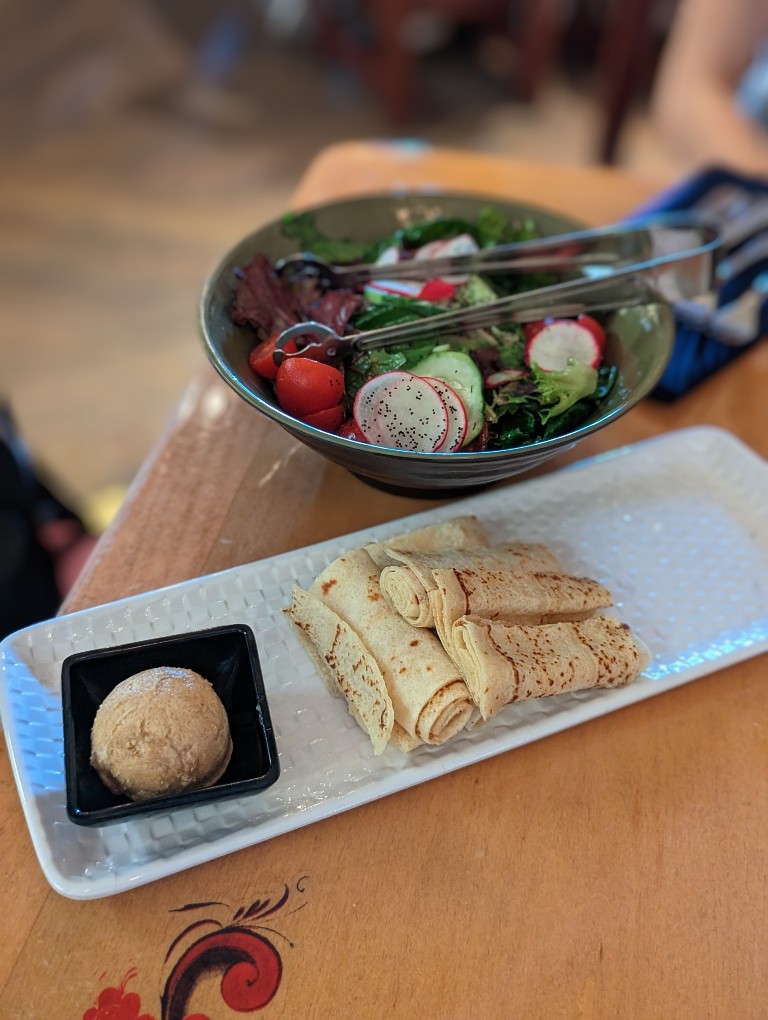 Start your meal with Lefse, flat bread similar to a crepe, and mixed salad with lingonberry vinaigrette which was tart and sweet.
The main course includes several dishes served on a large platter. The traditional KjØttkake, which are slightly sweet Norwegian meatballs, are served with lingonberry relish over mashed potatoes and gravy.
Grilled salmon with herbed butter sits atop a bed of green beans. The green beans were good, but those in our group who don't like salmon needed to avoid some of the green beans which picked up a hint of fish flavor.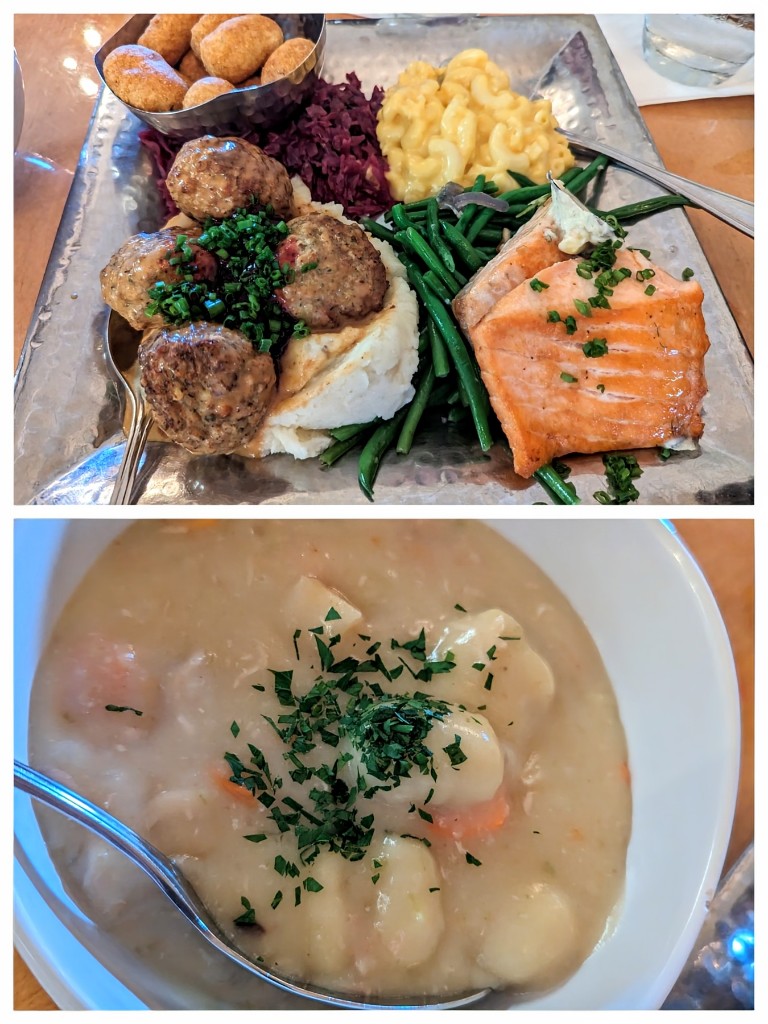 The red cabbage is a hit with those who like cabbage, but was a miss for most of our group. The Kylling og Melboller, a Norwegian Chicken and Dumplings served to the side, reminded me of my own chicken and dumpling recipe with a thicker sauce.
Lastly, corn dog nuggets and macaroni & cheese fill out the platter with some traditional kid-friendly food.
Dessert is a tasty chocolate cake with a mousse-like filling and Norwegian risgrøt, a surprisingly delicious take on rice pudding.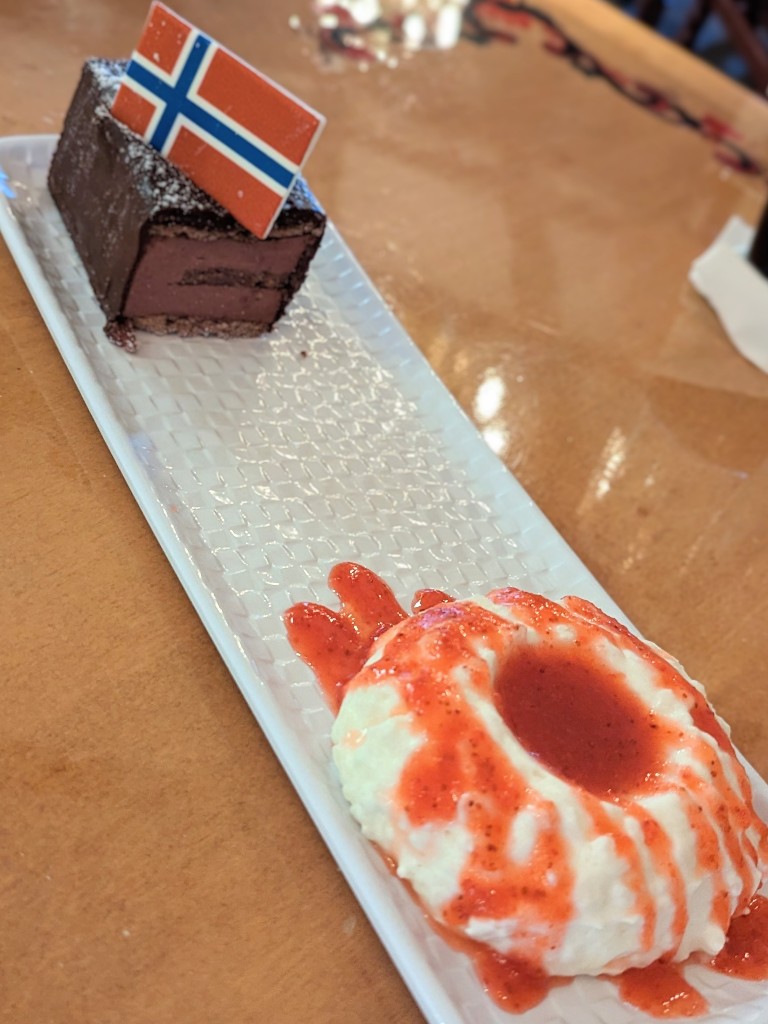 Guests with food allergies should alert servers once seated. The chef, guest, and server then work to find safe food options.
Vegetarians, and those with other food preferences, can also chat with the server about options. A vegetarian friend was offered a plant based bratwurst in addition to other premade vegetarian options at Akershus.
Akershus Royal Banquet Hall Princesses
All Disney World character meals have a usual cast of characters, but an online statement warns characters are subject to change without notice.
Expect Belle, Aurora, Snow White, Tiana, and Ariel at Akershus Royal Banquet Hall, but on a recent visit Mulan filled in for Aurora.
I'm sharing a quick overview of some interactions we've had with the most common princesses at Akershus below.
Ariel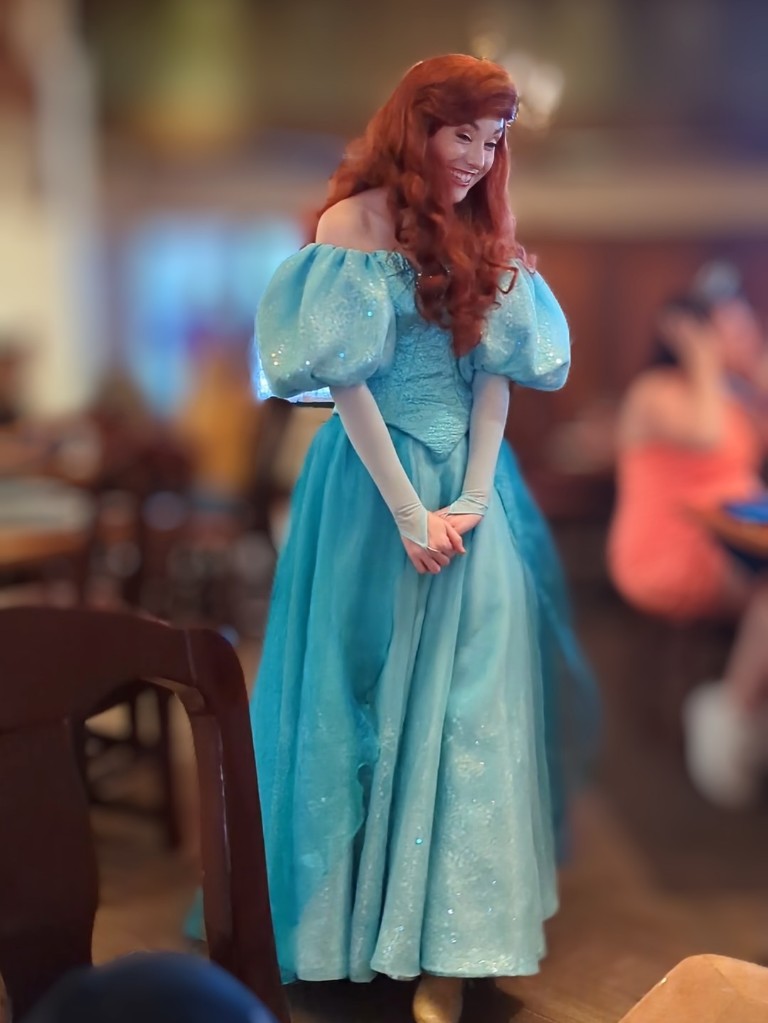 Dressed in a flowing teal gown Ariel seems to float to the table. She graciously welcomed us and briefly chatted with us about our visit.
Aurora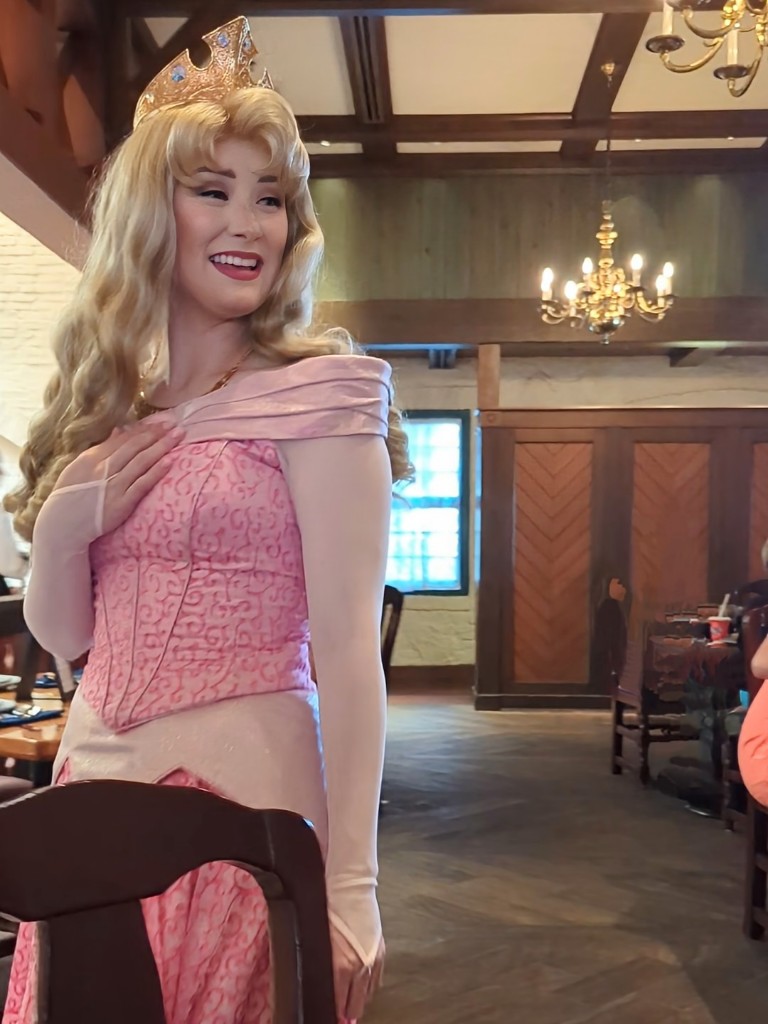 Sleeping Beauty roams Akershus in her formal pink gown. Although lovely, our experience with Aurora felt shorter than our other princess interactions.
Belle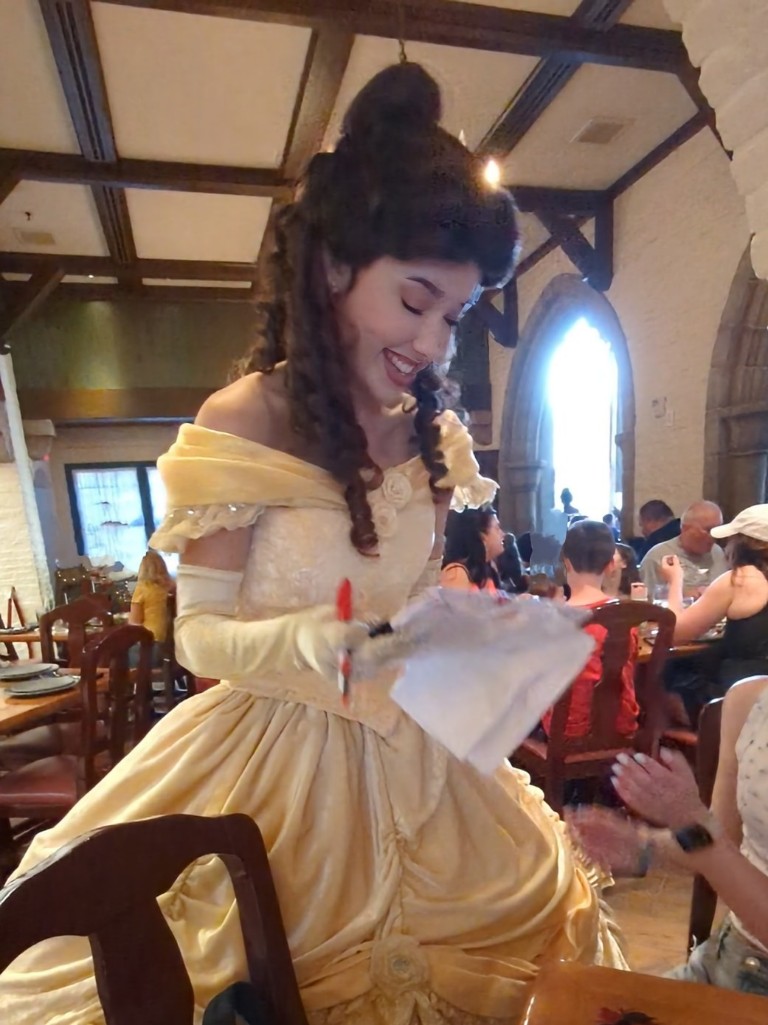 Always a gracious hostess, Belle happily signed our Disney character autograph pillowcase. Belle continued to chat as she signed and then invited us for a "portrait".
Snow White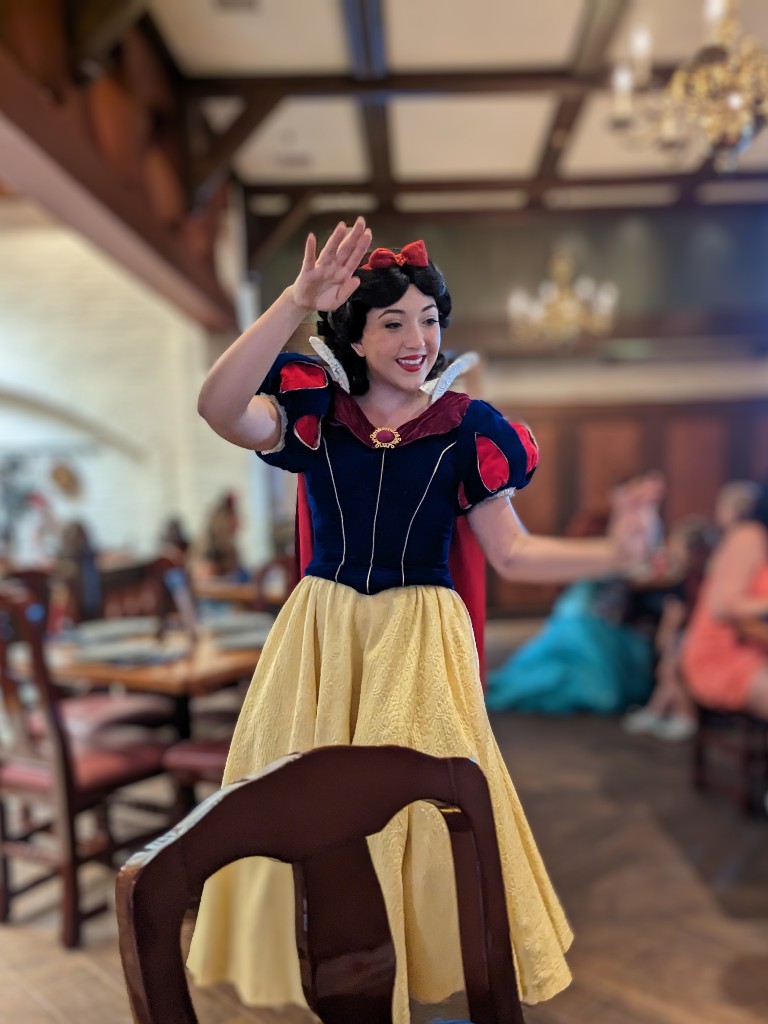 Snow White enthusiastically meets guests and often has stories to tell or questions she asks you. Most recently, Snow discussed some of her favorite flowers and then put each of us on the spot by asking our favorite flowers. It was a sweet and fun exchange emblematic of her chatty style.
Tiana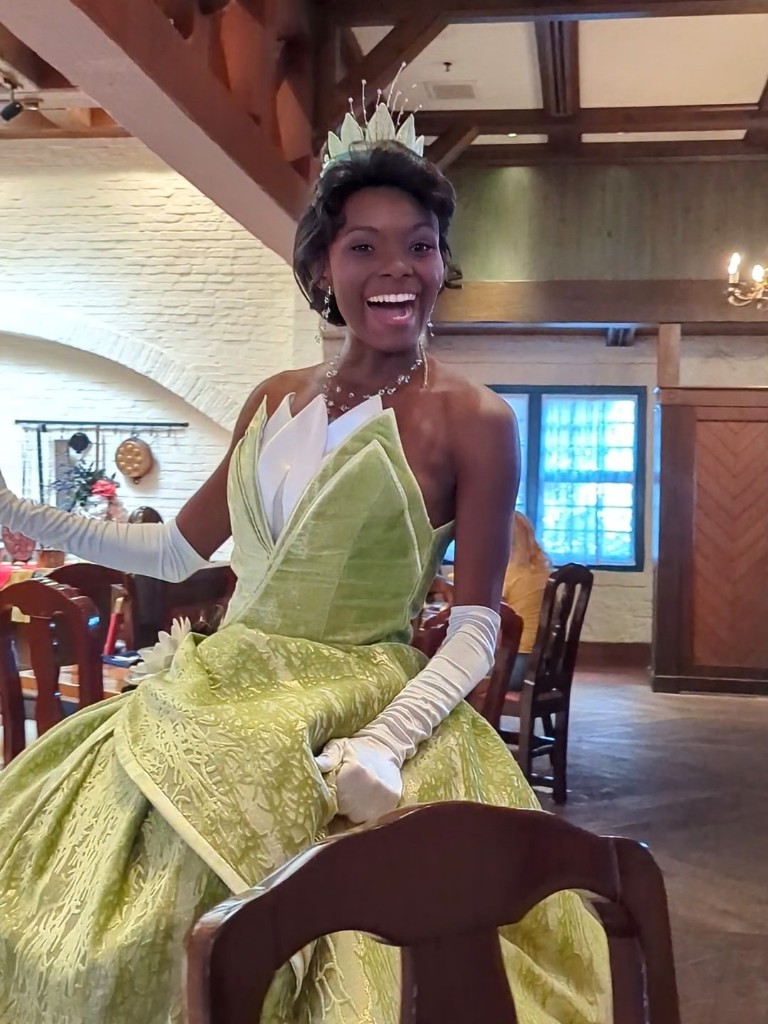 Tiana's grace and consistently warm welcomes make her one of our favorite Disney princesses. She chatted with us about her restaurant, our favorite foods, and our plans for the day.
How Much Does Akershus Royal Banquet Hall Cost?
Prices at Akershus vary by meal time and age. Breakfast at Akershus Royal Banquet Hall is $53 per person 10 years or older and $34 per child 3 to 9 years old.
Akershus lunch and dinner cost the same at $63 per person 10 years or older and $41 per child 3 to 9 years old.
These prices do not include tax or tip so budget extra to cover those additional expenses.
Akershus Royal Banquet Hall Dining Reservations
Disney World character meal reservations are difficult to secure, but princesses make Akershus even more challenging.
Disney World dining reservations open 60 days before your park day. When staying on-site, book up to 10 days of dining reservations 60 days before your first day. This means you have a better chance of getting hard to schedule dining reservations later in your trip than on the first day.
Off-site guests book dining reservations 60 days in advance separately each day.
If you aren't able to book an Akershus reservation when your dining reservation window first opens, keep checking.
Akershus reservations routinely become available closer to your trip. Keep checking the app or use pay reservation finder services, like MouseDining or Stakeout, which notify you when reservations open that meet your criteria.
Is Akershus Royal Banquet Hall A Good Disney World Princess Meal?
Disney World only has two princess meals, Cinderella's Royal Table at Magic Kingdom and Akershus Royal Banquet Hall at Epcot.
Cinderella's Royal Table is a pre-paid dining reservation which means you are charged for the full reservation at the time of booking. Meals at Cinderella's Royal Table cost $65 to $79 per adult or $39 to $47 per child plus tax and gratuity.
Our Cinderella's Royal Table lunch cost $193.12 for two adults, which is a lot to spend 60 days before your vacation even begins.
For most guests, Akershus provides a great overall experience for Disney princess fans with a smaller price tag and easier to find reservations. Dining at Akerhsus makes Epcot more fun for small kids especially when combined with a ride on Frozen Ever After or Remy's Ratatouille Adventure.
I recommend Cinderella's Royal Table over Akershus is if you have a huge Cinderella fan or have always dreamed of eating in the castle. Otherwise Akershus provides a good Disney World princess meal for less money and less reservation hassle.