Sapphire Falls at Universal Orlando is a gorgeous retreat when you need a break from the theme parks. Expect good on-site dining, beautiful rooms, a gorgeous pool, and pet-friendly accommodations when staying at Sapphire Falls Universal Orlando.
Loews Sapphire Falls Location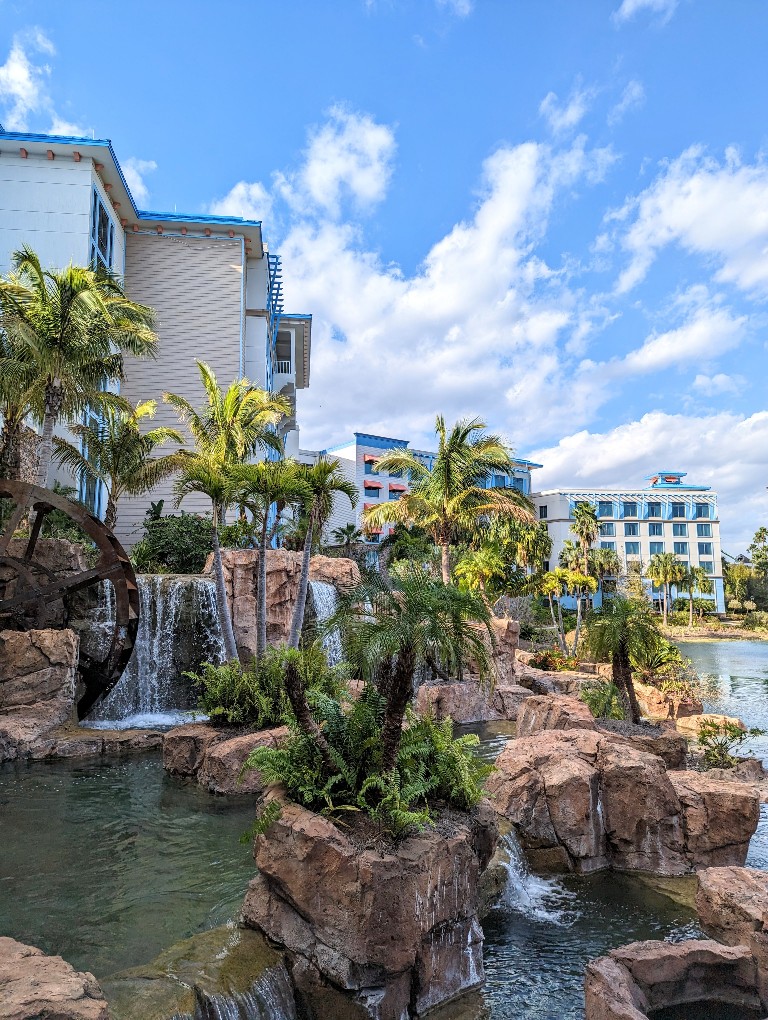 Sapphire Falls is an on-site Universal Orlando resort nestled on a waterway between Royal Pacific and Adventura Hotels.
Sapphire Falls Universal Orlando Hotel Overview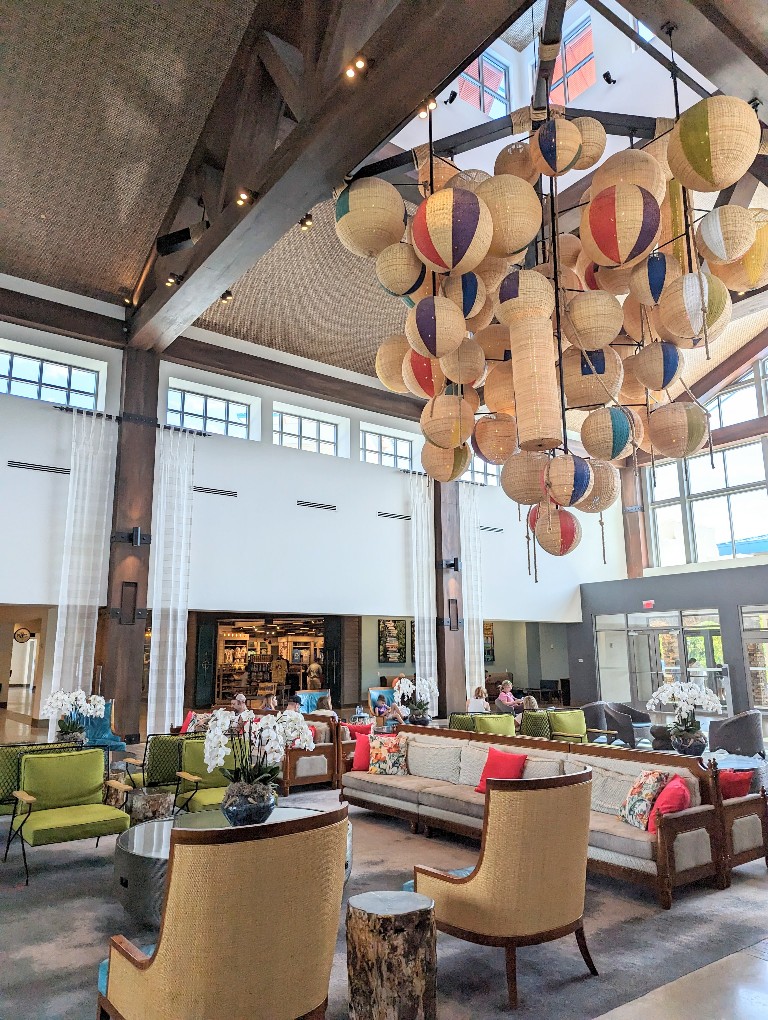 An airy, bright lobby with beautiful floral arrangements greets you upon entering Loews Sapphire Falls. A mix of furniture in neutrals and bright tropical colors invites guests to relax while waiting for their room.
Just off the lobby is a Universal gift shop and New Dutch Trading Co., a grab-and-go spot for snacks and more.
The entire resort is surrounded by lush plants and palm trees which makes Sapphire Falls feel like a tropical oasis. A waterfall on the lagoon adds to the serene ambiance of the resort.
Sapphire Falls at Universal Orlando Is Pet Friendly
Fido and friends are welcome guests at Sapphire Falls. Book a pet-friendly room, pay a $100 fee, and bring your pawsome friend to Sapphire Falls during your Universal Orlando vacation.
Guests are given a pet bowl, tag, treats, local information, and dog-walking area maps at check-in.
Remember your up-to-date vaccination and vet records since these are required for all pets staying at Loews Sapphire Falls. We saw dogs in the lobby and outside the resort, but they are not allowed at pools, lounges, or restaurants.
Check here for Loews Sapphire Falls full pet policy before planning your Universal Orlando trip.
Tips for Sapphire Falls Guests with a Dog Allergy:
Pet friendly rooms are only located in one tower
After booking your Sapphire Falls stay there's a place to make a room request. Click on "non-pet friendly room" or call the hotel directly to have them note your preference
Upon check-on confirm you've been assigned a non-pet friendly room
Loews Sapphire Falls Pool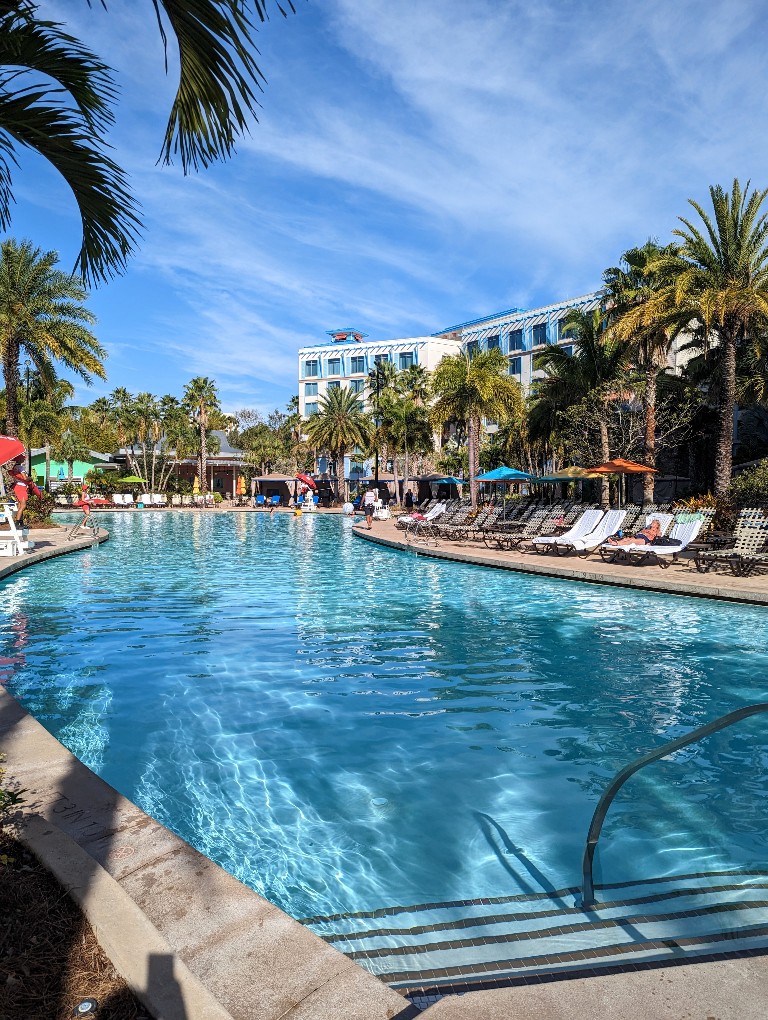 Sandy "beaches" under lounge chairs, a water slide, and a 16,000 square foot pool transport you to a tropical vacation perfect for cooling off on a hot day.
The Sapphire Falls pool is on the second floor of the resort, just past the large and well equipped fitness center.
Sapphire Falls Dining
Amatista Cookhouse
Steps away from the lagoon, Amatista Cookhouse is a full service restaurant at Sapphire Falls. Amatista Cookhouse isn't a must-do dining experience, but we've enjoyed our meals here. It's also easy to grab same day reservations when the parks are busy.
Drhum Club Katine
This quick service spot at Sapphire Falls pool has tropical cocktails or light meals for guests enjoying the pool area.
New Dutch Trading Co.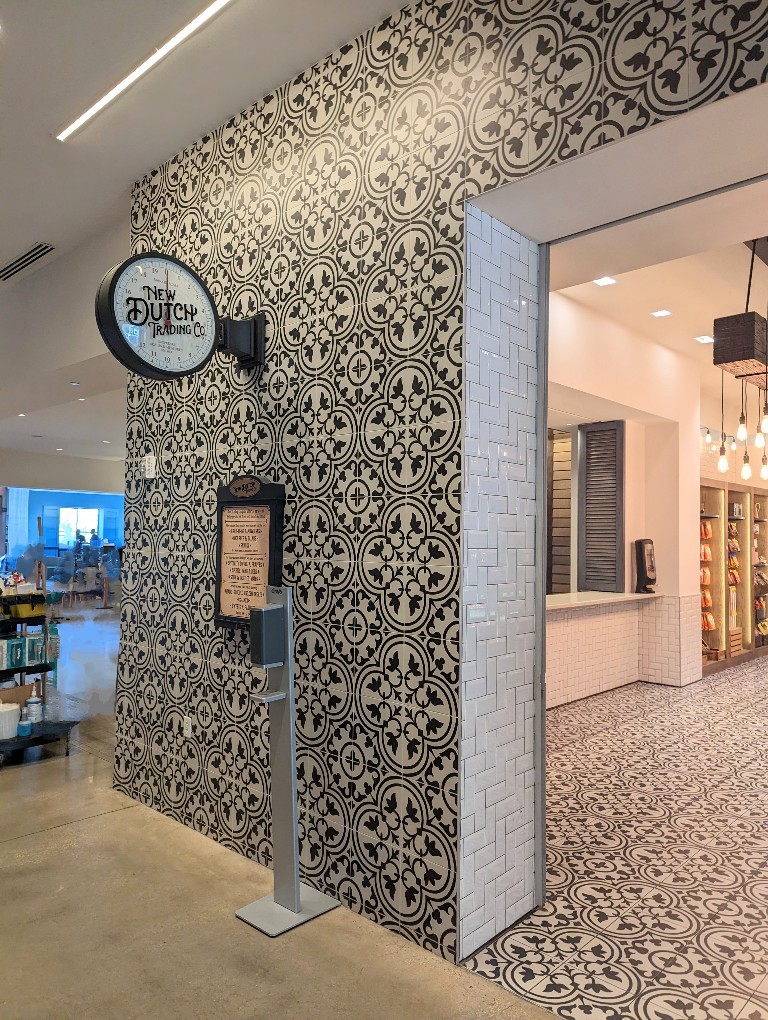 New Dutch Trading Co. primarily has packaged snacks and drinks. They also have a surprisingly good selection of gelato, ice cream, and quick service foods. New Dutch Trading Co. a great place to pick up something to eat in your room or find limited seating nearby.
Universal City Walk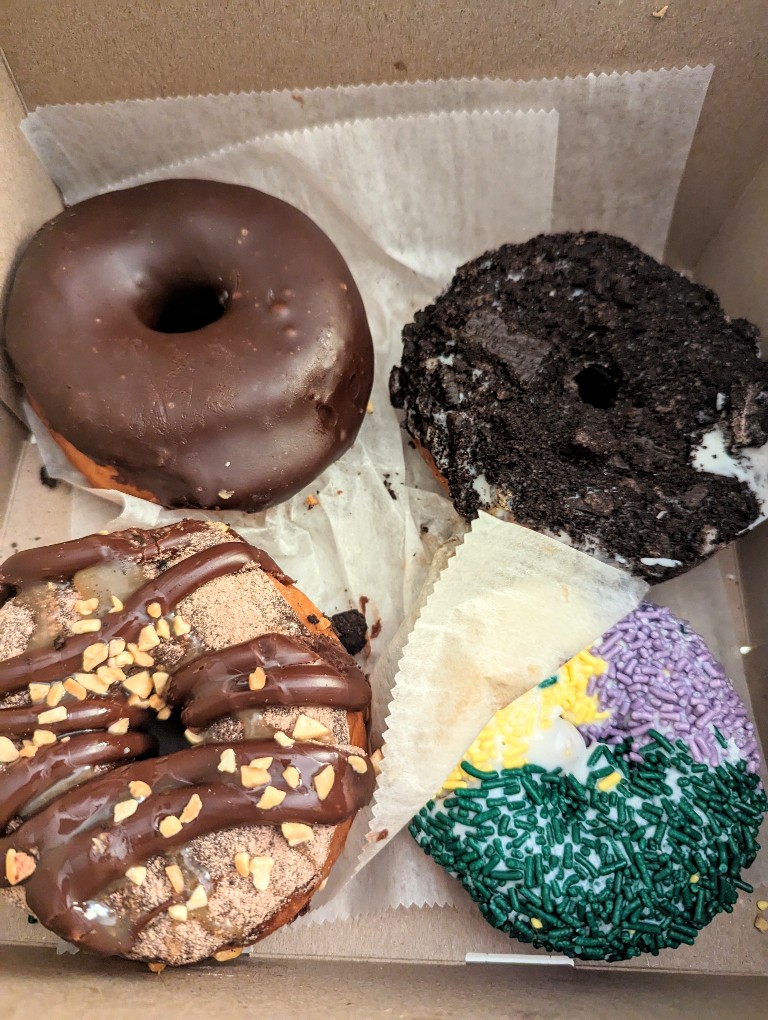 Nothing on-site sounds good to you? Universal City Walk, a short boat ride or long(ish) walk from Sapphire Falls Universal Orlando, has tons of dining options.
Pro tip: we often mobile order Voodoo Donuts and pick them up on the way back to the hotel.
Sapphire Falls at Universal Orlando Room Review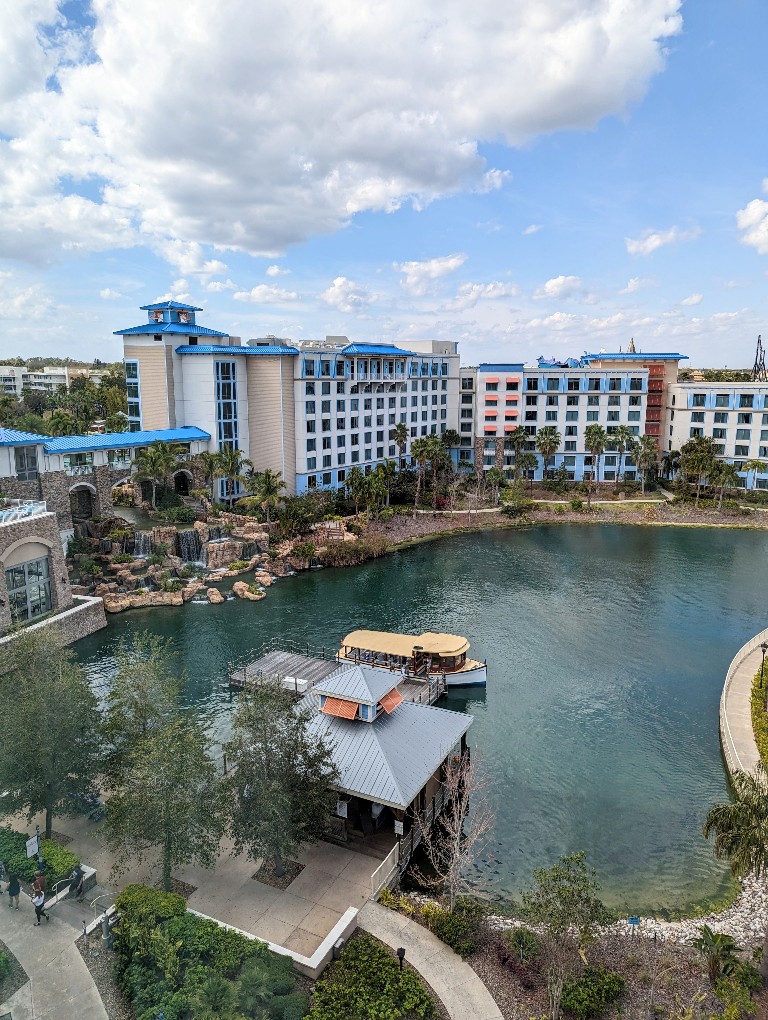 I splurged on a Sapphire Falls lagoon view two queen room. In general I love the water views at Universal Orlando resorts, and this one did not disappoint. Expect a Sapphire Falls standard room to have the same room layout, but a different view.
Sapphire Falls Entryway
Bright white and periwinkle blue mosaic tiles make an immediate impression and maintain the resort theme when entering a Sapphire Falls room. A full size mirror makes it easy to check your outfit before heading out for the day, too.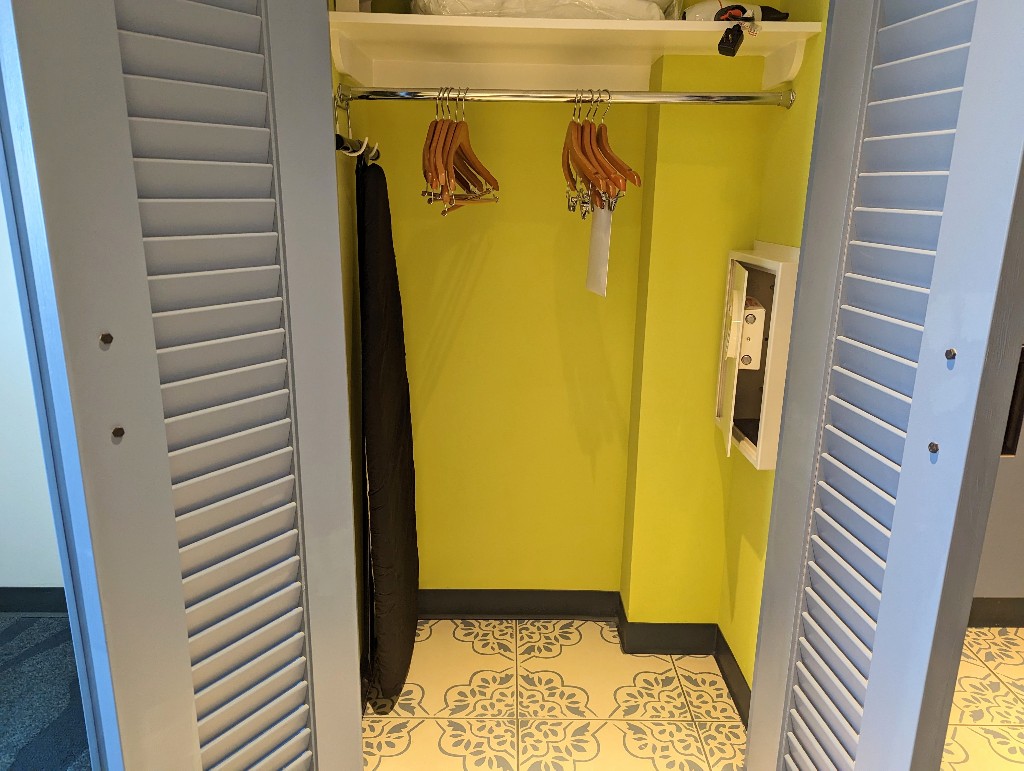 The entryway is surprisingly wide with plenty of out of the way space to store luggage. A small closet has some hanging space, an in-room safe, and an ironing board.
Loews Sapphire Falls Bathroom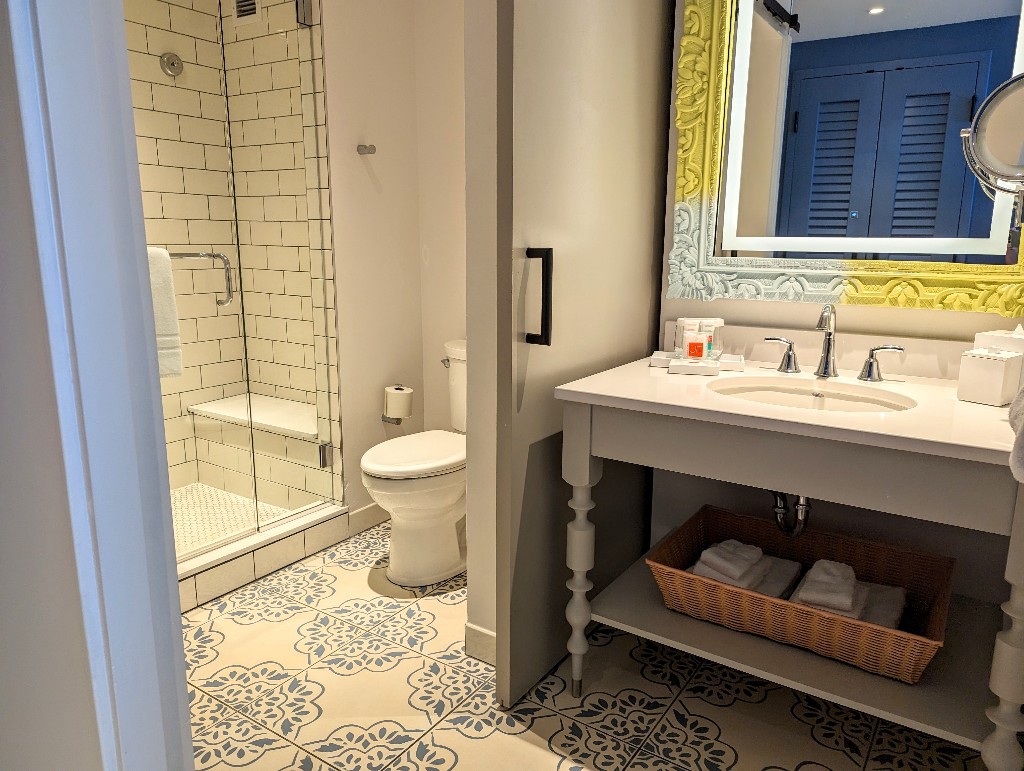 Across from the closet a large and ornate mirror hangs above the single sink. There is some shelf space on either side of the sink and shelf underneath.
This bathroom storage space was enough for the three of us, but would likely be cramped with four people in the room.
A lighted makeup mirror completes the features in this part of the bathroom. A sliding wooden barn door opens into the shower and toilet area.
Split bathrooms, like this one, are ideal since it allows multiple people to get ready simultaneously while still providing privacy.
Our biggest complaint about the Sapphire Falls bathroom is the lack of a door closing off the sink area from the bedroom. Noise and light from here spills into the bedroom area making it difficult for others to sleep while you get ready.
Sapphire Falls Bedroom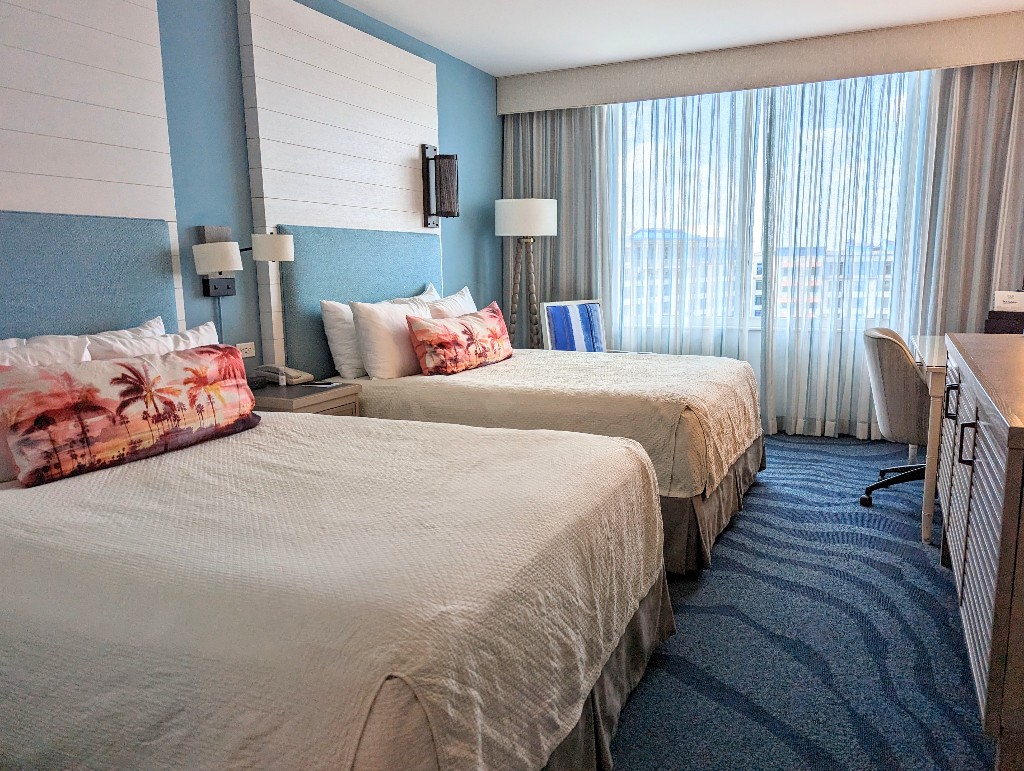 The blue and white theme from the entryway continues into the Sapphire Falls 2 queen bedroom area. Tall white headboards with an inset of light blue fabric draw the eye and make the room feel open. Crisp white linens topped with a bright sunset inspired lumbar pillow finish the bed decor.
A small nightstand sits between the two beds with built-in lamps and an easy to access electrical outlet. Unfortunately, we found that electrical outlets were sparse in our room which made charging multiple devices challenging.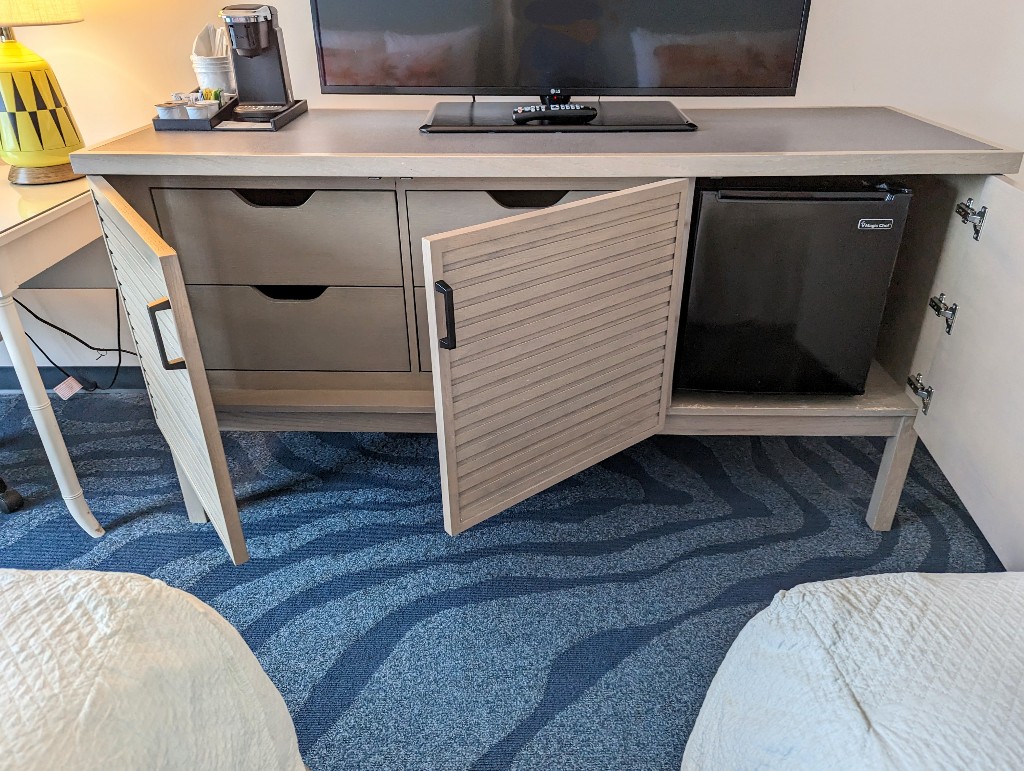 Across from the beds is a dresser in soft wood tones that conceals storage and a mini fridge. A TV, coffee maker, and coffee supplies sit atop the dresser.
An accent chair in patterned blue and white plus a desk with rolling chair complete the Sapphire Falls 2 queen room arrangement.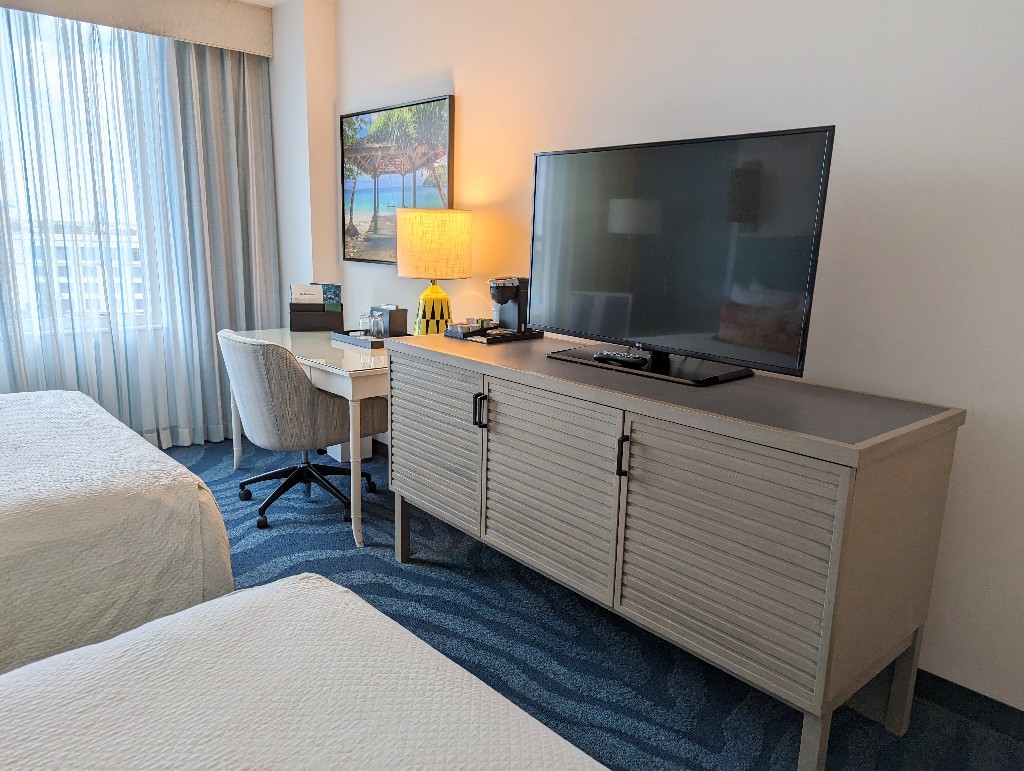 The Sapphire Falls 2 queen lagoon view room has the following great features:
Split bathroom
Mini fridge
Bright and clean room
Great views
In Room WiFi
Guests get free in-room WiFi perfect for basic needs. Those wanting to stream video may need to upgrade to the pay tier WiFi at Sapphire Falls.
Sapphire Falls Parking
Loews Sapphire Falls has an on-site parking garage which runs $25 per day per vehicle for resort guests. Use your key card to scan in and out at first, but after that the license plate reader recognizes your car.
Sapphire Falls Transportation To Universal Orlando Theme Parks
Step into a comfortable water taxi that connects Sapphire Falls with City Walk, Universal Studios Florida, and Islands of Adventure. Occasionally, severe weather conditions prevent the water taxis from operating safely. In these times, Sapphire Falls supplies buses to shuttle guests back and forth.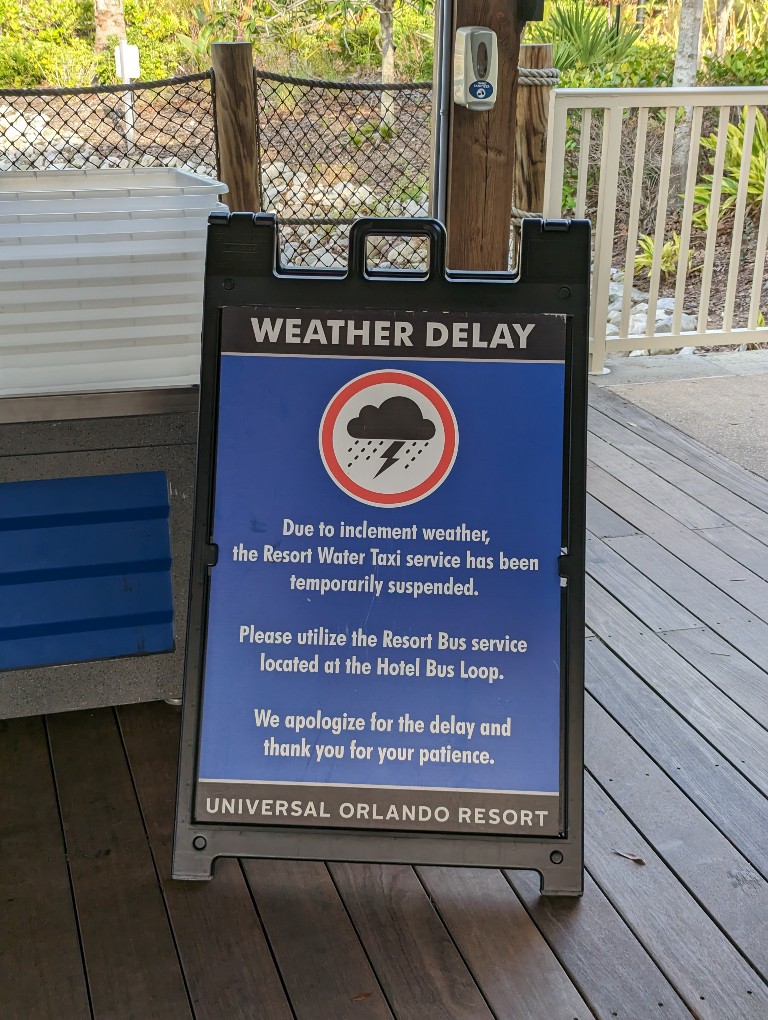 Walkways also connect Sapphire Falls with Volcano Bay, both Universal Orlando theme parks, and City Walk.
Should I Stay At Sapphire Falls Universal Orlando Hotel?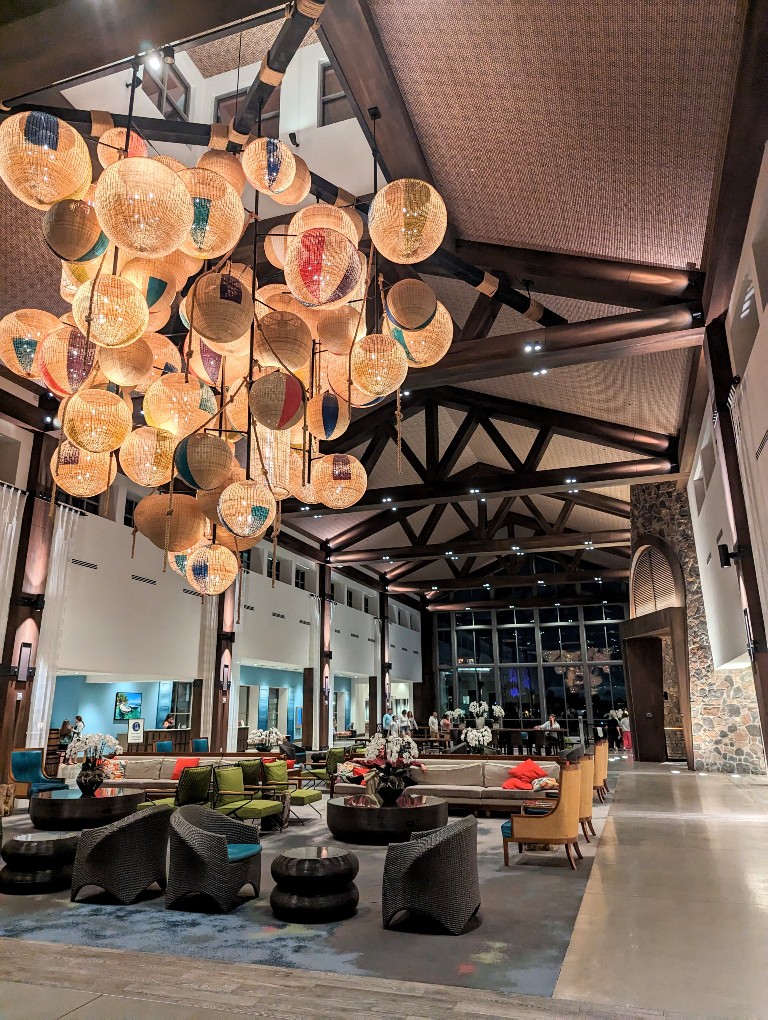 Our stay at Sapphire Falls exceeded our expectations. The resort styling, excellent staff, and clean, comfortable room made for a great Universal Orlando hotel experience.
The price point at Sapphire Falls is higher than a resort like Cabana Bay Beach, but the resort feels more luxurious than the other value and premier value resorts.
We actually enjoyed our stay at Sapphire Falls more than Royal Pacific, but missed having Universal Express Pass included with our room. This was especially true over a super busy break weekend where standby lines were incredibly long.
When visiting during a crowded time of year, like spring break or holiday breaks, upgrading to a premier Universal Orlando Resort is often worth the added expense versus staying at Sapphire Falls. Premier hotels like Portofino, Hard Rock, and Royal Pacific all include Express Pass for registered guests which is a valuable perk.
If you are visiting Universal Orlando in the off-season, don't care much about rides, or need a pet-friendly room, Loews Sapphire Falls Universal Orlando hotel is a great choice for your next vacation.