Chicago has an amazing array of world-class museums, but the one we never tire of visiting is the Museum of Science and Industry. The Museum of Science and Industry in Chicago has dozens of permanent exhibits and many limited time exhibits, too. As multi-year members we have compiled a list of our favorite exhibits and top tips for visiting the Museum of Science and Industry in Chicago.
Museum of Science and Industry Location
The Museum of Science and Industry is located south of downtown Chicago in the Hyde Park neighborhood. Part of the impressive museum is housed inside the 1893 World's Columbian Exposition's Fine Arts Palace.
Visiting The Museum of Science and Industry
With over 400,000 square feet of exhibit space, the Museum of Science and Industry has more than can be explored in a single day. The sheer size and number of exhibits can make it difficult to choose what to see in a visit.
As members of the museum we have been able to spend endless hours investigating exhibits.  This allows us to help you pick what to see and what to skip on your visit the Museum of Science and Industry Chicago.
Access to most of the exhibits is included with your general admission ticket. However, a handful of special exhibits need an additional ticket with a fee. 
Best Exhibits Included In General Admission
Genetics And the Baby Chick Hatchery
Learn all about genetics and how small changes in genes can make a big impact. I have to admit that our favorite part of this exhibit is the Baby Chick Hatchery. Each day incubated eggs are placed in a large glass-walled enclosure.
These eggs are scheduled to hatch throughout the day every day. Set aside some time to see how hard the chicks have to work to peck through the egg and the relief when they finally make it out.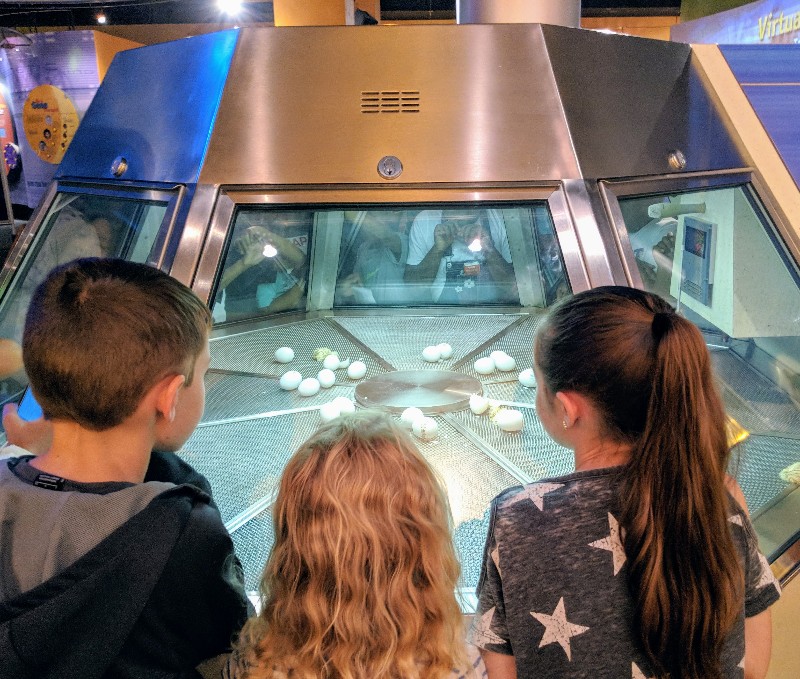 Important note: Once the chicks finally hatch they are exhausted. It is normal for the chicks to collapse after hatching. Some kids and adults worry something is wrong, but the chicks will be fine.
There is a second glass chamber where you can see recently hatched baby chicks eating and playing. This area is where you can admire the cute, fluffy chicks once they have recovered from the hatching process.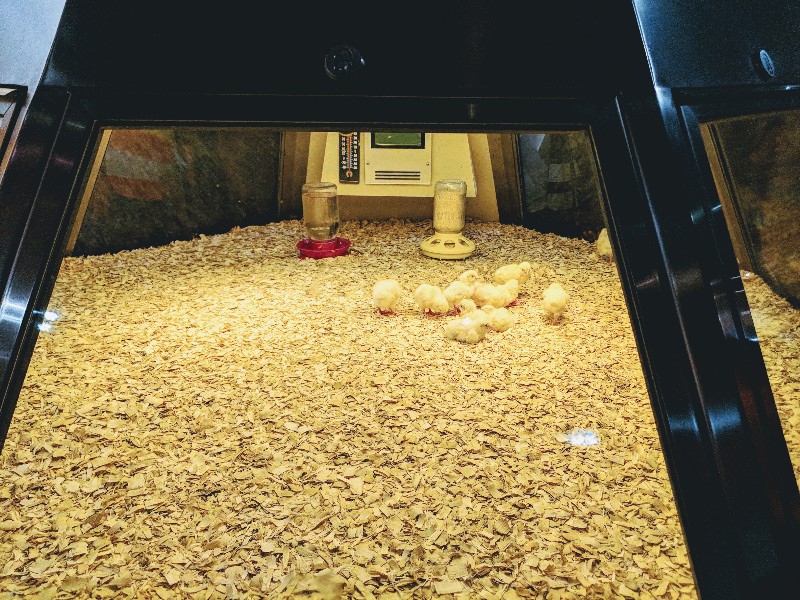 The Great Train Story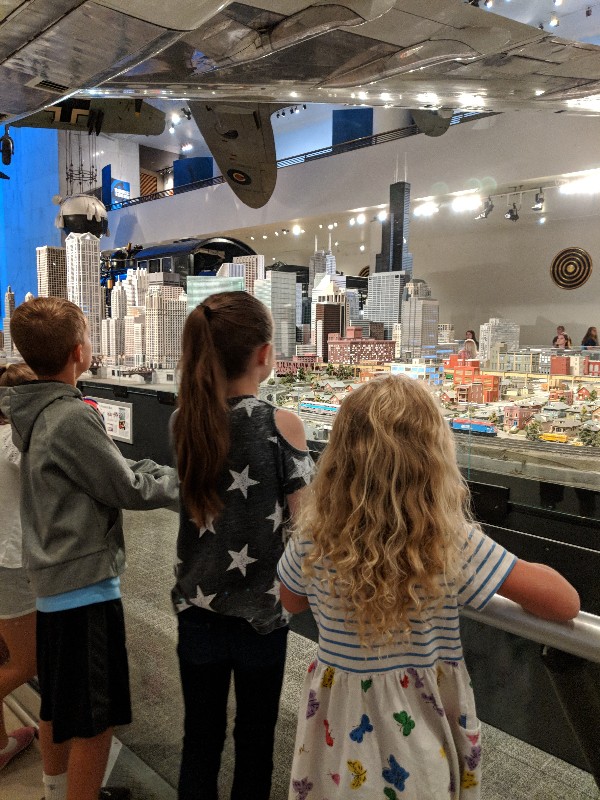 Just outside the Baby Chick Hatchery is a must-do for anyone, but especially those who like model trains. The Great Train Story is a 3,500 square foot exhibit of model trains and the journey from Seattle to Chicago.
There are 20 model trains that wind their way around the 1,400 feet of miniature train tracks. You can even be part of the action by pushing interactive buttons to fell a tree, raise a bridge, or set off charges to build a tunnel.
The detail in this exhibit is incredible. There are lots of hidden details (find some of the scavenger hunt items here). The list is not complete as there are even some secret superheros that make cameos in the model of downtown Chicago.
Numbers In Nature: A Mirror Maze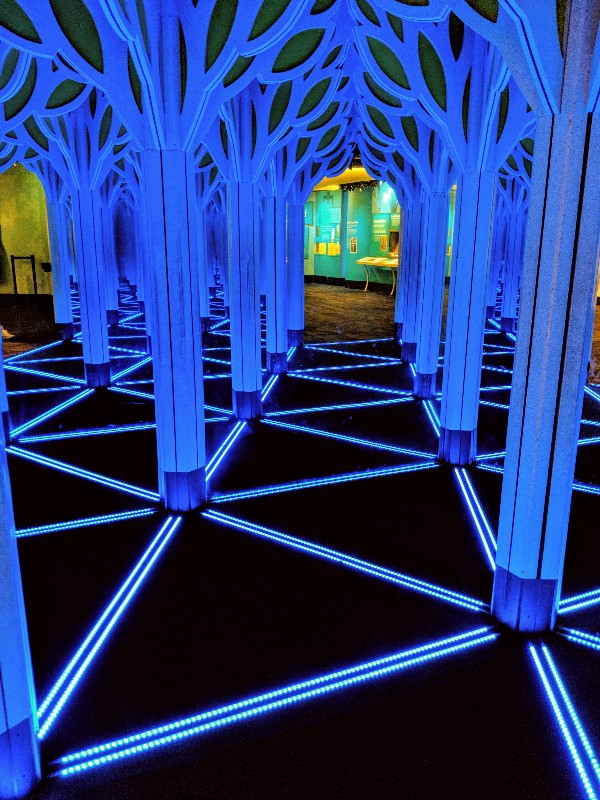 Although Numbers in Nature: A Mirror Maze is included in the base ticket price you must obtain a timed entry ticket to enter this exhibit. The attendance in Numbers in Nature is limited per hour so that the experience is seen as intended without overcrowding. Numbers In Nature: A Mirror Maze tickets are either obtained from a small booth just outside the entrance or from a self-service machine depending on the day.
The exhibit teaches how certain mathematical concepts are represented consistently in nature. When you enter at your assigned time there is a small section where you first learn about spirals, fractal branching, the Golden Ratio, and Voronoi patterns.
When you leave this area it is time for the mirror maze. This mirror maze is a huge hit with everyone we have visited the Museum of Science and Industry with since the exhibit opened. At the end of the mirror maze is another area where you can explore real life examples of these math principles.
You! The Experience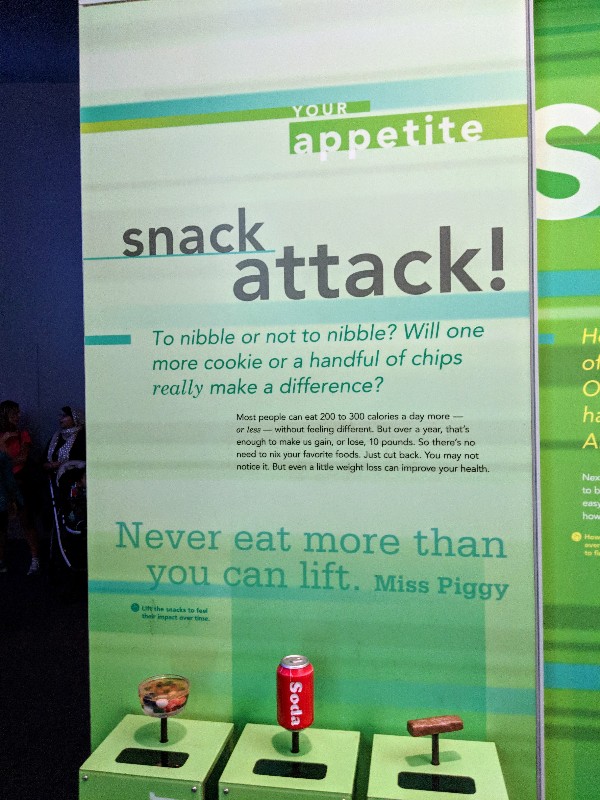 There are several areas to explore at You! The Experience. There are displays of human bodies highlighting the nervous system, circulatory system, and muscles. Several interactive sections show how eating just a handful of jelly beans each day can add up to real weight gain over a year, a very old Twinkie that is still not spoiled, and even a giant hamster wheel you can run inside to learn about the energy your body produces.
Part of You! The Experience teaches about the fetal growth process with babies from a few days old until full-term. This section is set off to the side of the exhibit and can be skipped if you aren't comfortable with the content.
Some of the most fun and interactive parts of You! The Exhibit are where you take a picture of yourself or record your voice.  A computer program uses this image or audio sample to simulate the aging process. It's entertaining, although a bit scary, what the computers envision our future selves to be.
Pioneer Zephyr – Currently Under Refurbishment Until Spring 2020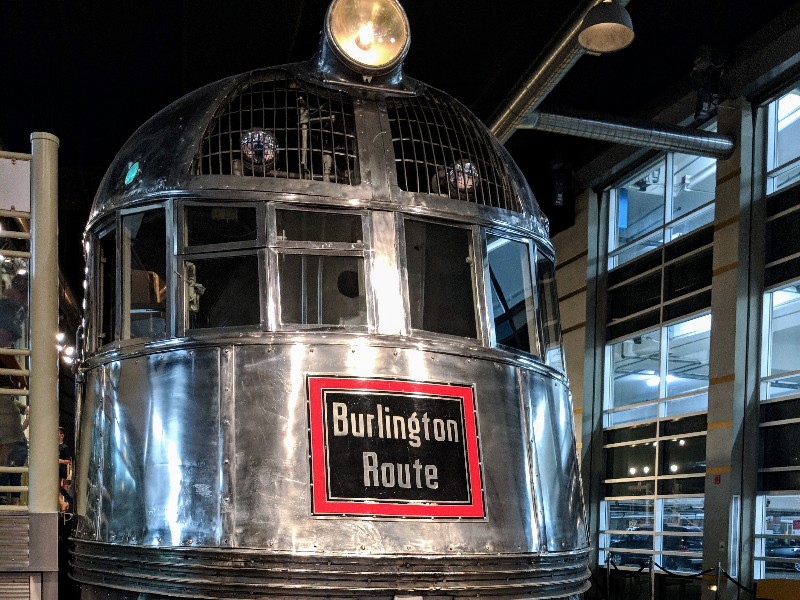 In the Museum of Science and Industry lobby is this beautiful historic train. The Pioneer Zephyr set a speed record on May 26, 1934 when it made the run from Denver to Chicago in just over 13 hours. The Zephyr was able to accomplish this feat because of several unique factors that made the train light, powerful, and fast.
You can climb aboard the Pioneer Zephyr twice a day for guided tours which are free, but require a ticket. If you miss out on the tour you can still admire the outside of this gleaming train and learn about the principles that make it so special at several interactive stations.
Colleen Moore's Fairy Castle
The exquisite detail of Colleen Moore's Fairy Castle makes a stop at this exhibit a must for any fairy fans. There are no fairies in view, but each room of the castle is richly decorated and the intricate details mean you can find something new on each visit.
For example, in the Great Hall are miniature Cinderella slippers, and several artifacts that range from 1000 to 4000 years old! Each room is decorated fully from chandeliers, furniture, wall covering and intricately laid flooring. Make sure to find some of the fun hidden details in each of the rooms.
Swiss Jolly Ball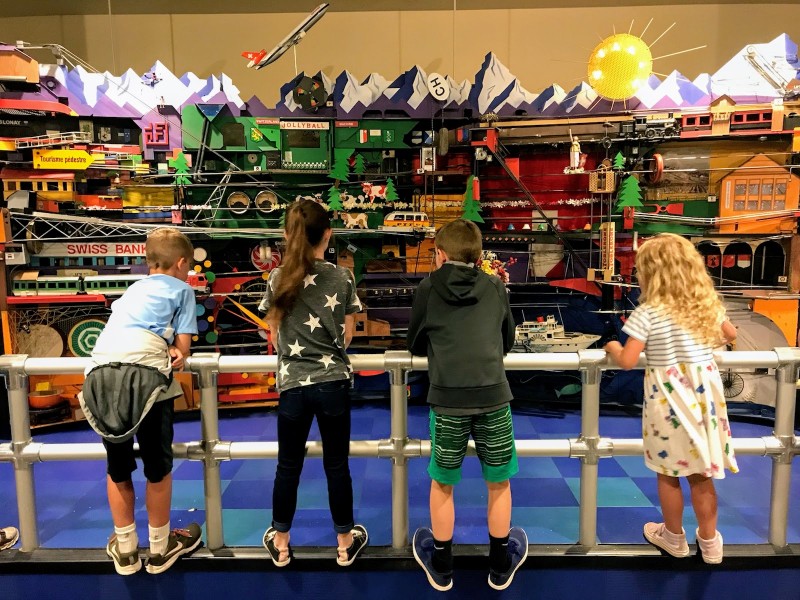 This not so well known part of the Museum of Science and Industry is something we see on every visit. Located near escalators and a snack area is the Swiss Jolly Ball. Swiss Jolly Ball is a 15 foot by 7 foot pinball type machine made from salvaged materials.
Every few minutes a large pinball makes a trek on a train, a boat, and even a ski lift. Kids of all ages will love to watch the pinball's journey and try to guess where the ball will end up next.
Science Storms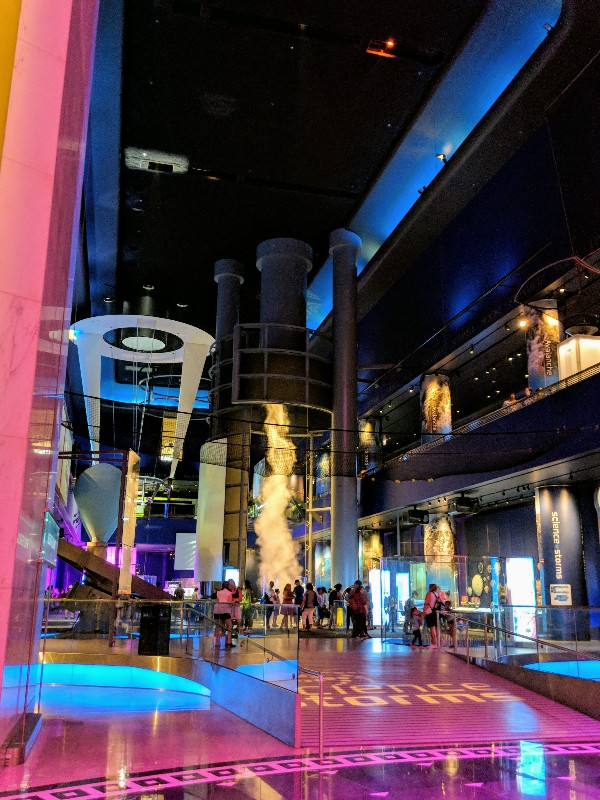 The Science Storms exhibit is a two story experience where you can learn all about natural phenomenon such as lighting, fires, tsunamis, avalanches and more. The Tesla coil demonstration is a unique experience. A Museum of Science and Industry staff member talks about lighting and then uses the huge Tesla coil to make lightning inside the building.
Another interesting hands-on section of Science Storms shows how different factors of a sprinkler system dampen fires in an enclosed testing station. Want to design your own virtual fireworks based on chemical reactions? You can do that, too.
Farm Tech
Learn how science and technology are being used to improve the modern farm. Farm Tech has lots of fun hands-on sections for kids to learn and play.  You can even get behind the wheel of a combine and work the field for a bit or challenge your family to a cow milking contest.
Henry Crown Space Center
If you prefer space to the farm, head over to the Henry Crown Space Center. Inside the Henry Crown Space Center you can stand next to the real Apollo 8 module and learn all about the technology used to get the US into space.
There are also models from early space exploration all the way through current times to show how the technology has changed. You can even try to dock with the International Space Station in a simulation exhibit.
Best Museum of Science and Industry Exhibits That Need An Additional Ticket
U-505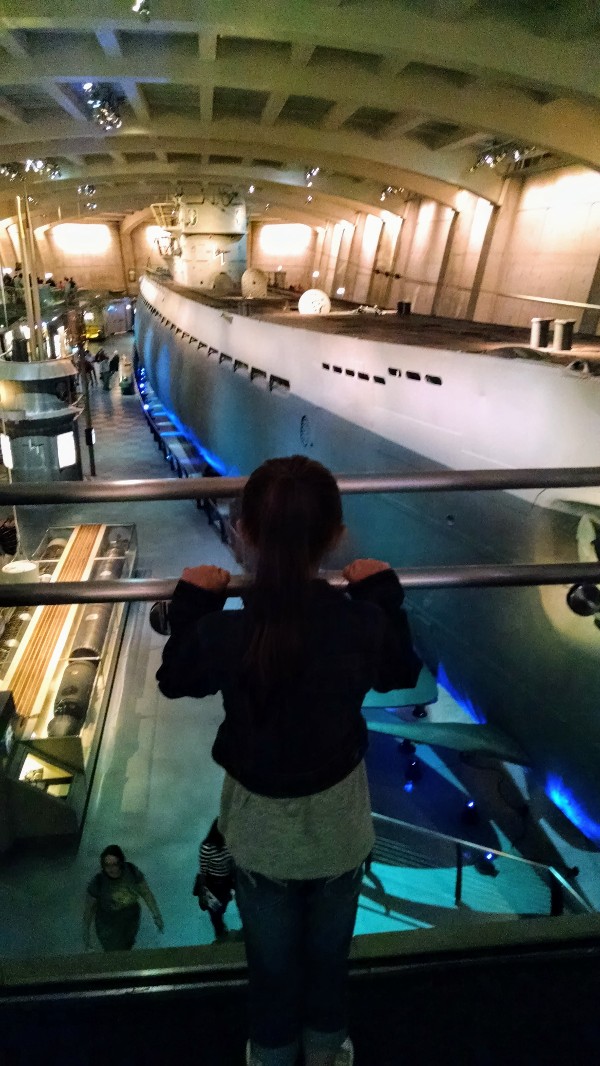 The U-505 is a real World War II German submarine captured by the Allies in 1944. Take a guided tour with an amazing Museum of Science and Industry expert. Learn about the role these German subs played in World War II and how the capture of U-505 provided crucial intelligence to turn the tide of the war.
Coal Mine
Originally opened in 1933, the Coal Mine tour is still a popular attraction at the Museum of Science and Industry today. This replica coal mine puts you in the boots of a coal miner and all the challenges of the job.
You start the tour by taking an elevator down into the mine which while only a couple of stories down feels like a much longer descent. After exiting the elevator you enter the mine area. Here your guide will teach you all about the drilling and other techniques used to extract coal.
Important Note: Some of the demonstrations can be loud and the mine has limited lighting. This may make the coal mine tour a little scary for some sensitive kids.
Seasonal Offerings At The Museum of Science and Industry
Christmastime At The Museum of Science and Industry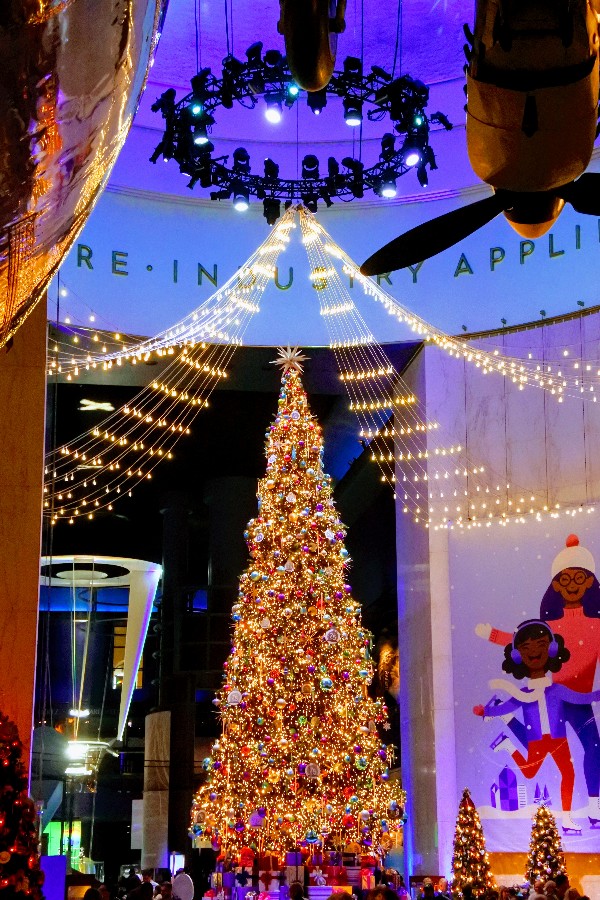 If you are visiting Chicago around Christmas time there are an amazing assortment of fun seasonal activities. One of the most extensive Christmas tree displays in Chicago is at the Museum of Science and Industry.
A four story tree is the showstopper, but there are also 50 full-size trees decorated to represent countries around the world. Learn about the different traditions and Christmas decor meanings from a variety of countries. On the weekends live performers add to the Christmas spirit of the Christmas Around the World and Holidays of Light exhibit.
Tips For Visiting Chicago's Museum of Science and Industry
Buy Tickets Before You Arrive
Buy tickets for the Museum of Science and Industry online. This saves you money and the hassle of waiting in a very long ticket line once you arrive at the museum.
If you plan to do one of the add on experiences like U-505 or the Coal Mine tour you can pick preferred times for the tours when you purchase the tickets online. This is especially important on busy days in the summer or school breaks when tours often sell out.
Pick Up Your Free Ticket To The Numbers In Nature Exhibit
Get a ticket for Numbers in Nature: A Mirror Maze as soon as you arrive at the museum. The timed entry ticket is included in the price of general admission, but tickets can run out on very busy days.
Your Mobile Phone Signal Will Be Inconsistent
If you are meeting other people or splitting up during the day have a set meeting place and time. Parts of the Museum of Science and Industry are underground and it is impossible to use mobile phones in some areas. A great meeting spot to start the day is near the Pioneer Zephyr train. It is located in the lobby near the ticket booths and is very easy to spot.
Save Money On Your Admission To The Museum of Science and Industry
Illinois residents can visit the Museum of Science and Industry for free on certain days during the year. You must provide proof of Illinois residency to gain free admission. U-505 and other pay exhibits are still only available at an additional fee. 
If you are a member of an Association of Science-Technology Center museum then you may be able use that membership to gain general admission into the Museum of Science and Industry Chicago. Check the list of participating museums and restriction information here.
Final Thoughts On Visiting The Museum Of Science And Industry Chicago
The Museum of Science and Industry is the largest science museum in the Western Hemisphere and needs be on your Chicago bucket list. Even though Chicago has many impressive museums, the Museum of Science and Industry is the best one in the city of Chicago.  Take some time out of your upcoming Chicago visit to step out of the usual downtown Chicago tourist areas and learn some fascinating science.
Pin it for later: