The Best Free Disney Aulani Activities
Disney Aulani Resort is a beautiful place to stay in Oahu, Hawaii with an incredible number of fun and free activities for Disney Aulani resort guests. There are so many free things to do at Disney Aulani that we spent a lot of our vacation just exploring and enjoying the resort. Make sure you treat yourself to some of the best free Disney Aulani activities on your visit to Hawaii.
Meet Disney Characters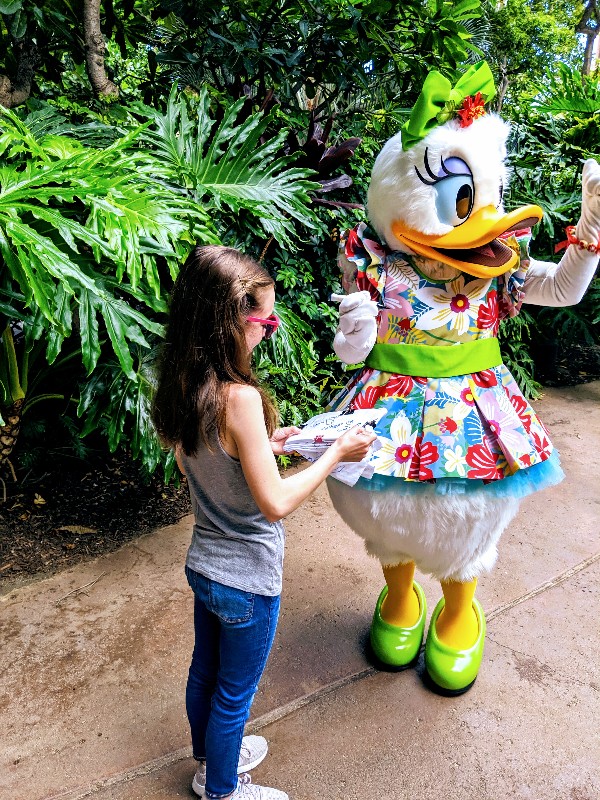 We are huge Disney character fans and Disney Aulani did not disappoint. There are two character meals for a fee, but you can find Disney characters for free all around the Aulani resort, too.
Each morning cast members record a new message for the "Toon Finder". If you call the Toon Finder extension from any resort room you can hear an informational message that lists each available character for the day and the time and place to meet them. We had some great character interactions and got extra signatures on our Disney autograph pillowcase.
These free character meet and greet opportunities are only for Disney Aulani resort guests. Prior to meeting a character, a cast member will ask to see your room key or your pool wristband for the day.
Pro Tip: The lines for character meetups get long very quickly. It is best to arrive before the character shows up for the best chance to meet your favorite Disney friend.
Lounge Around The Lagoon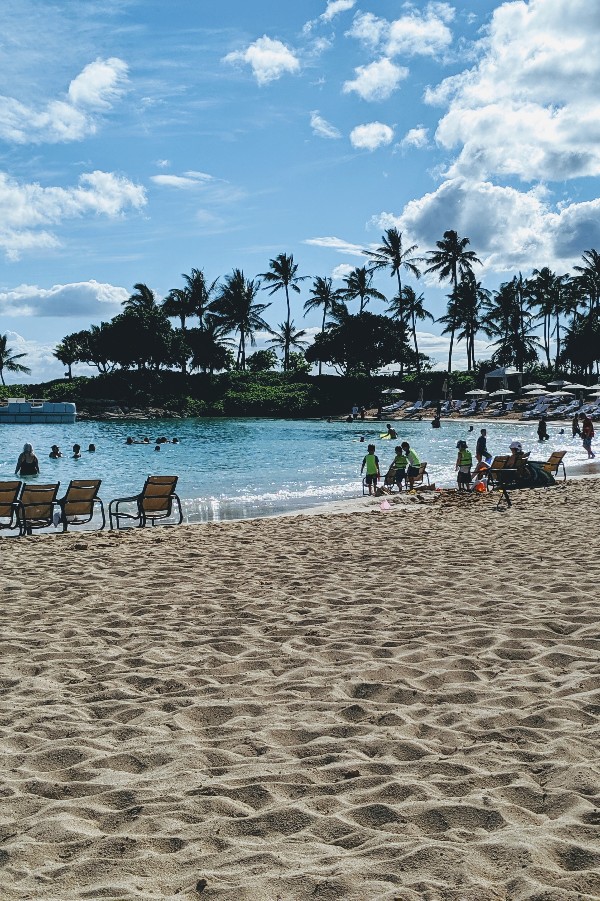 There is a beautiful lagoon located just behind Disney Aulani Resort. We packed a small set of beach toys, and Elizabeth had fun playing in the sand while we lounged on some chairs. The pretty blue lagoon water is perfect for wading in to cool off on a hot day. Good swimmers can go further out into the large lagoon near where waves break over the rock walls.
Just steps away from the lagoon beach is Little Opihi's. This beach side stand sells some favorite Disney treats like Dole Whip or Mickey Ice Cream bars.
Play at the Huge Disney Aulani Pool Area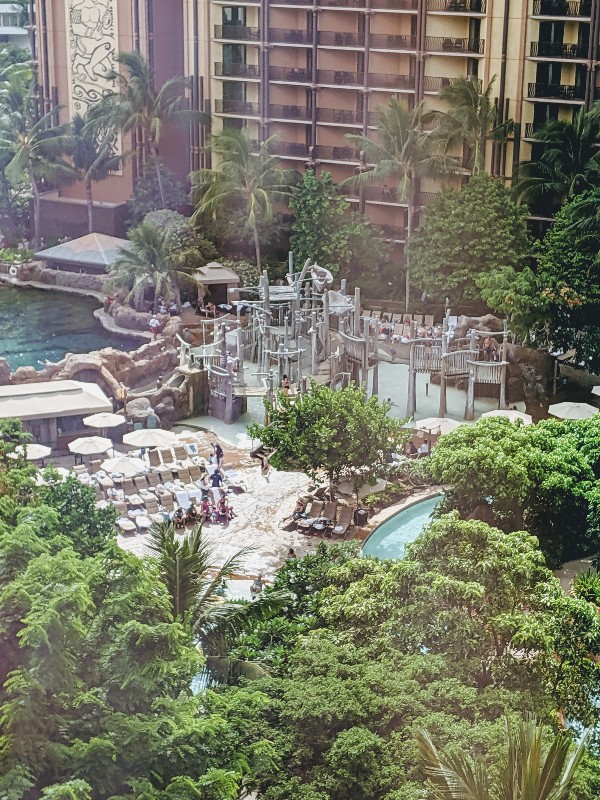 The Disney Aulani pool area has a lazy river, two fun water slides, a family pool, an adult-only pool, and two fun splash pad areas. You can easily spend a whole day or two exploring this extensive water play area at Disney Aulani Resort.
We are not usually lounge by the pool people, but on this vacation we spent a lot of time in the lazy river, playing in the water, and taking exciting rides down the water slides. It is especially nice that many of the pool areas are shallow so even mediocre swimmers can enjoy playing in all the pool area has to offer.
Before settling by the pool, first stop by Kawele Korner and show them your room key. This allows you to pick up your Disney Aulani Resort guest wristband and pool towels for the day. Each day requires a new wristband, so make sure you check in every day for the newest band.
Pro tip: Lounge chairs tend to go quickly at the Disney Aulani pool. It is ideal to go right when the pool opens to get the best seats.
All of the pool area activities are included in your stay except Rainbow Reef. Rainbow Reef is an additional fee, but it provides a great beginner snorkeling experience.
See The Fish At Rainbow Reef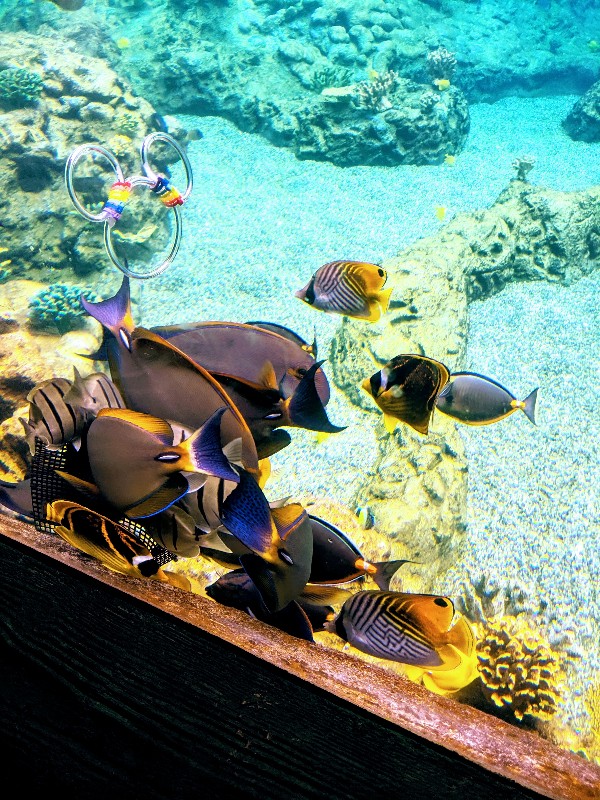 Rainbow Reef is a snorkeling pool at Disney Aulani Resort. To snorkel in Rainbow Reef you must pay a fee, but there are several observation windows where you can enjoy a view of the fish for free.
One of the best times to observe the fish is at feeding times. Cast members place Mickey or Minnie shaped floating fish food holders right by the windows. This means a close up view of the fish without having to pay or get wet.
There are also pictures with names of all the fish in Rainbow Reef located near the observation area. This way you know exactly which tropical fish are swimming past.
Aunty's Beach House
Keiki age 3 to 12 years old can spend some time at Aunty's Beach House kids club. The kids club has a mix of free and extra-fee activities for a variety of ages. Pre-register for Aunty's Beach House 90 to 2 days before you arrive to speed up the initial check-in process.
When completing your initial registration, kids are given an Aunty's Beach House wristband which is basically a MagicBand. You are required to pay a deposit for each wristband, but the cost is refunded if you return it before leaving Aulani. This means many of the Aunty's Beach House activities are provided to kids at no charge.
Each night of our stay at Disney Aulani there was "Tween Zone" for kids age 10 to 12 years. The tween zone activities usually alternate between game night and craft night. Elizabeth had a great time interacting with other kids her age and even had an adorable souvenir she crafted herself.
Mo'olelo Fire Pit Storytelling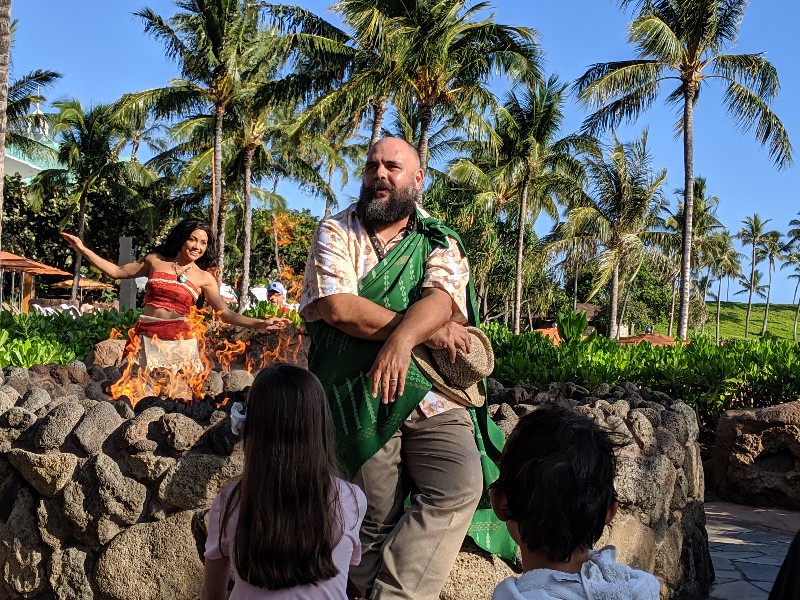 Tucked into a small alcove between the 'AMA'AMA restaurant and the Aulani Lagoon area is a large fire pit with several chairs circling it. This is where Uncle entertains guests with ancient stories of Hawaiian culture at night.
Mo'olelo Fire Pit Storytelling is one of the most fun free activities we did at Disney Aulani. Uncle usually comes to The Circle of 'Alae 'Ula fire pit several times a day and uses over the top acting to teach the legends. This hilarious style of storytelling makes for an incredibly entertaining event.
We heard exciting legends of Maui from Uncle. However, sometimes he gets a little carried away at story time, and Moana comes to help keep the stories true to the legends.
Please note: Moana sometimes stops by the two earlier shows, but not always. She is not usually present at the later shows and does not stay around for a meet and greet.
Pro Tip: The stories vary so you may hear some different tales if you attend multiple Mo'olelo Fire Pit Storytelling. Check the Daily 'Iwa for scheduled story times, but don't wait until the end of your visit since it isn't guaranteed to occur every day.
Menehune Adventure Trail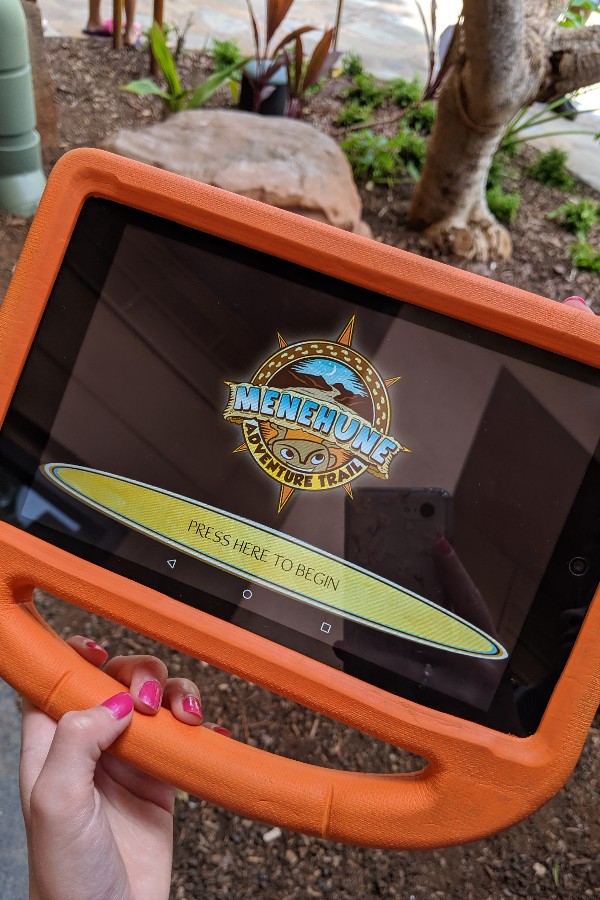 Menehune are mysterious creatures of Hawaii credited with accomplishing great tasks but also making mischief in their free time. The Menehune Adventure Trail is a fun and interactive scavenger hunt around the resort. Disney Aulani Resort guests borrow a tablet pre-loaded with the Menehune Adventure Trail scavenger hunt at Pau Hana room before beginning their adventure.
On the tablet Aunty teaches you about the legend of Menehune and leads you to special places at Aulani where you can see their mischief. The tablet uses Bluetooth technology to trigger music, water features, and more on the Menehune Adventure Trail. Our group varied from age 2 years old to adults and we all enjoyed seeing the Menehune mischief.
There are two adventure trail areas, one inside the lobby and another four around the pool area. The lobby scavenger hunt is available from 10 am until 7 pm daily. The outdoor trails are only available from 3 pm until 7 pm.
The tablets are lent out for one hour at a time, but the time can be extended by asking a cast member in the Pau Hana room for more time. The indoor Menehune Adventure Trail takes about 20 minutes, while the outdoor ones are closer to 45 minutes each.
Pro Tip: You can start and stop the Menehune Adventure Trail without losing your progress. This lets you complete the Menehune Adventure Trail scavenger hunts over several different days.
Final Thoughts On The Best Free Disney Aulani Activities
We were surprised at how many of the fun activities at Disney Aulani Resort are free to hotel guests. With just your room key or pool wristband all of these best free Disney Aulani activities are available at no charge during your resort stay.
Pin it for later: