Aulani, a Disney Resort in Oahu, Hawaii brings a bit of Disney magic to the Hawaiian Islands. Disney Aulani Resort has all of the amenities you would expect at a high end resort with several fun Disney touches like characters on-site. Overall Aulani was a great experience, but see why we would not choose an Aulani deluxe studio villa room on our next visit.
Disney Aulani Resort Location
The Disney Aulani Resort is on the west side of Oahu in a resort area known as Ko Olina.
Disney Aulani Resort Overview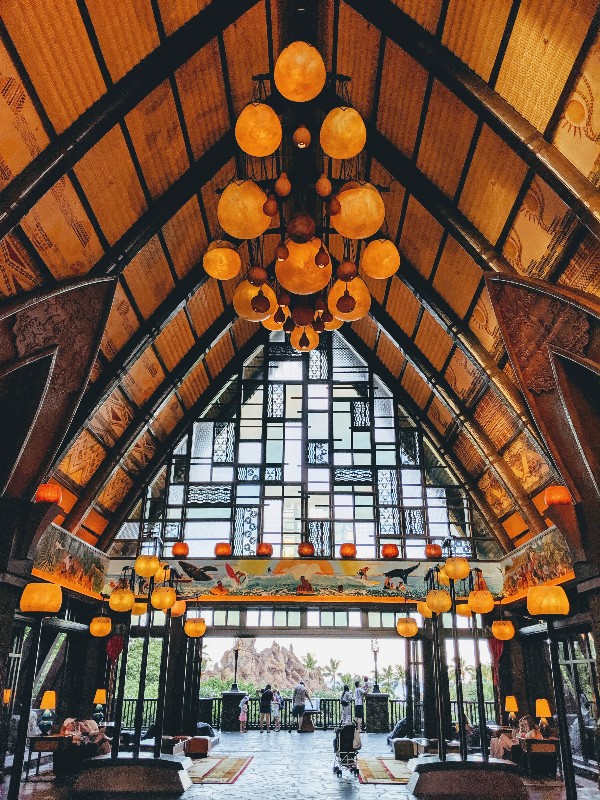 Aulani is a large resort that encompasses several hotel towers, an immense water recreation area plus a lagoon, and a handful of on-site dining options. Disney Aulani Resort has a mix of Disney Vacation Club villas, standard hotel rooms, and suites.
As you enter Disney Aulani a cast member warmly welcomes you to the hotel.  Kids get a Menehune charm necklace, women get an orchid lei, and men have a Kukui Nut necklace.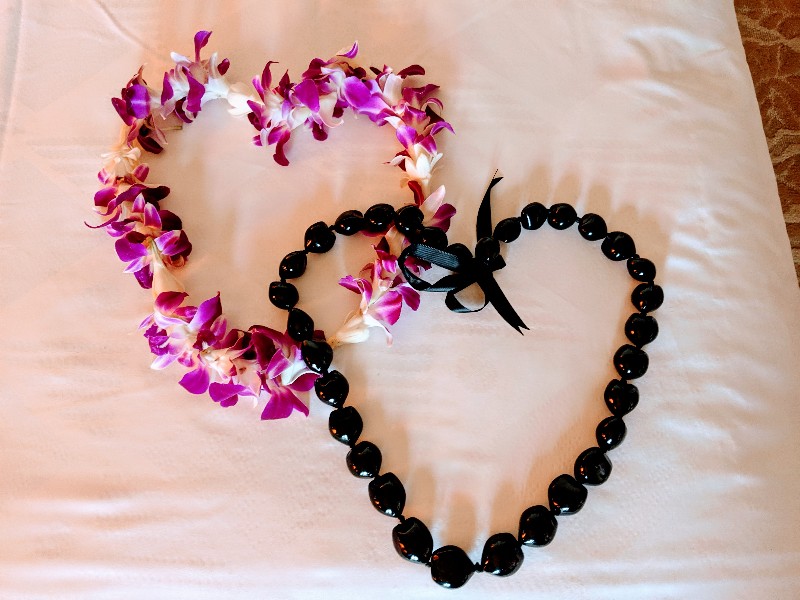 You'll see lots of guests wearing these items throughout your stay at Aulani. As a nice bonus the Kukui nut and Menehune necklaces make for fun souvenirs.
The open air lobby has a high ceiling with incredible views out over the property. Beautiful murals hand painted by local artists adorn a strip along each of the walls. 
Disney Aulani Resort Pool General Information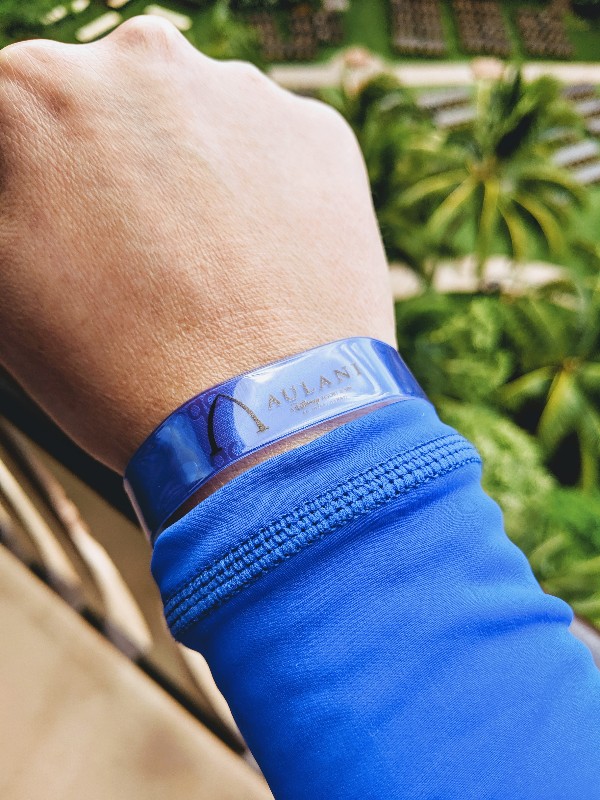 The water recreation area at Aulani is huge. There is a winding lazy river, two different water slides, two splash pad areas, a large family pool, a whirlpool for everyone, and a whirlpool or pool for adults only.
Before using the pools each day you must visit Kawele Korner. Cast members there will check your room key before issuing pool wristbands and towels
The Aulani pool wristband color changes each day. This means you must do the pool check-in process every day you want to enjoy the water recreation facilities.
Lounge chairs always seem to be scarce at Disney Aulani Resort. When we arrived right at pool opening time we were able to find three chairs in a good location. However, we struggled to find chairs at other times of day.
Cabana rental reservations are expensive and have limited availability. I called over a month before our trip, and nothing was available. I was told by staff that reservations fill up almost immediately when the window opens a year in advance.
Here is a list of our favorite free activities including more information on the Aulani pools.
Disney Aulani Resort Pools And Play Areas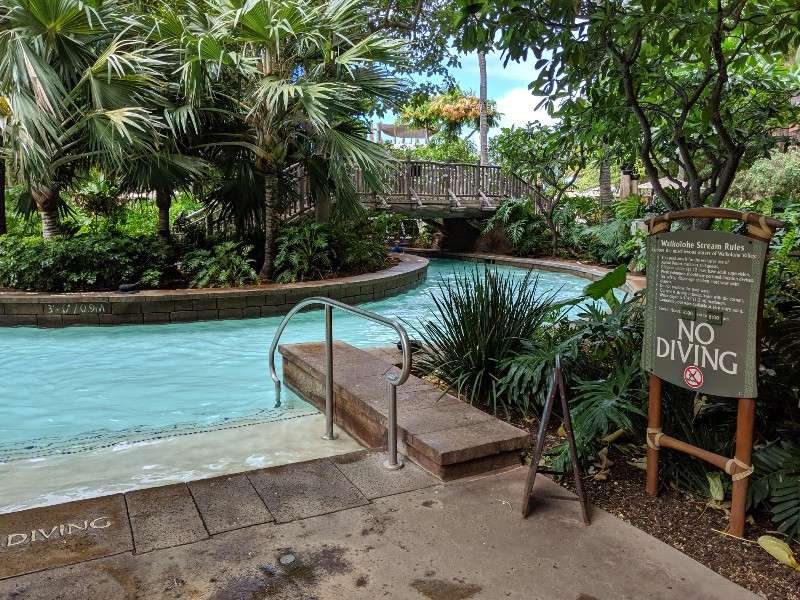 We spent a lot of time in the lazy river, Waikolohe Stream. The stream is not very deep with depths ranging from only 3 to 4 feet (90 to 120 cm) deep. Most people let the current guide them in a tube made for one or two. However, it is not unusual to see people swim through the stream area. The main pool is fine, but mostly unremarkable.
Menehune Bridge is a huge play area for kids with bridges, paths, and splash areas while Keiki Cove is a much smaller splash play area for younger kids.
Disney Aulani Resort Water Slides
The two Aulani water slides are very different. Tubestone Curl is a quick, swirling tube slide that drops you into Waikolohe Stream. Volcanic Vertical is an enclosed slide that zips down the volcano at much faster speeds than Tubestore Curl.
Please note: Swim shoes are not allowed on Volcanic Vertical.
Aulani's Rainbow Reef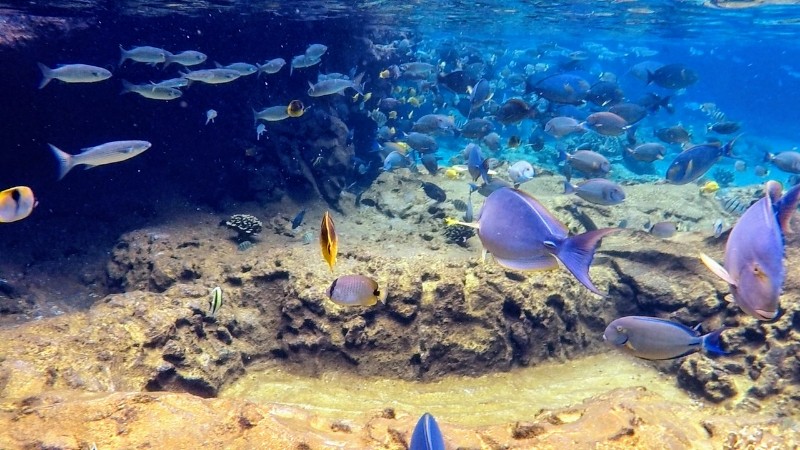 Rainbow Reef is a snorkeling pool you can use for an extra fee. It's full of colorful fish and perfect for beginners. Everyone must wear a life vest, and there is a lifeguard on duty at all times when Rainbow Reef is open.
You can opt to pay for a one-day pass or extend your Rainbow Reef access to include your entire stay. If you aren't sure which to choose, start with the one-day pass. If you really like Rainbow Reef you can upgrade your pass before the end of the day for the difference in price.
Disney Aulani Resort Dining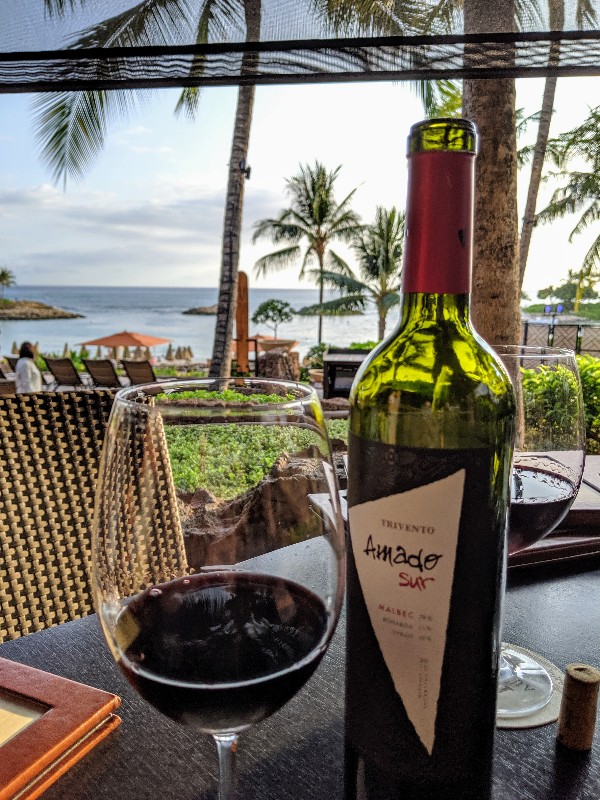 There are limited dining options at Disney Aulani Resort. There are two restaurants, a couple of specialty treat stands, a lu'au on certain nights, and a handful of quick service meal options. I was grateful we ordered groceries from Instacart; we ended up eating most of our breakfasts and lunches in our Aulani deluxe studio villa.
For a full list of Disney Aulani dining options check here.
Disney Aulani Deluxe Studio Villa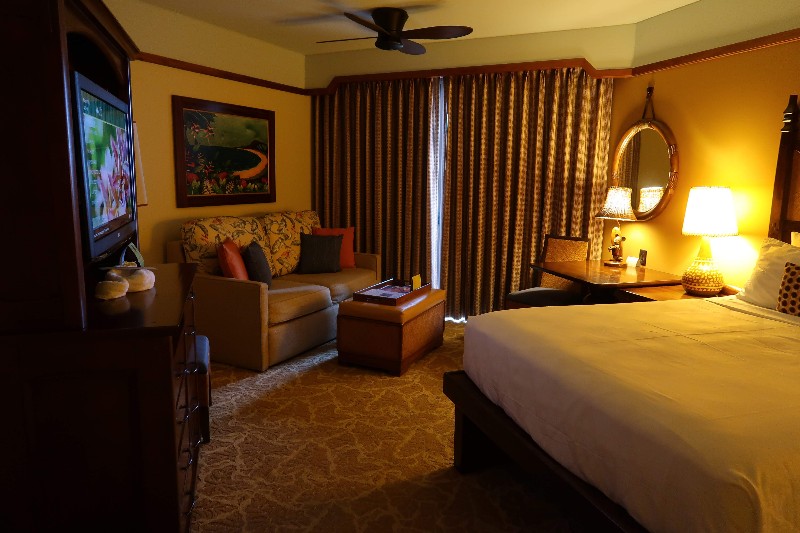 The Disney Aulani deluxe studio villa is broken into four basic areas: the main living/sleeping area, the bathroom, the kitchenette, and the balcony. The living/sleeping area and kitchen are all in one open space, while the balcony and bathrooms are separated by doors.
When entering the Disney Aulani deluxe studio villa the kitchenette is in a small niche to one side, and the bathroom is on the other side of the hall. At the end of the hall is the main living/sleeping area and a sliding door out to the balcony.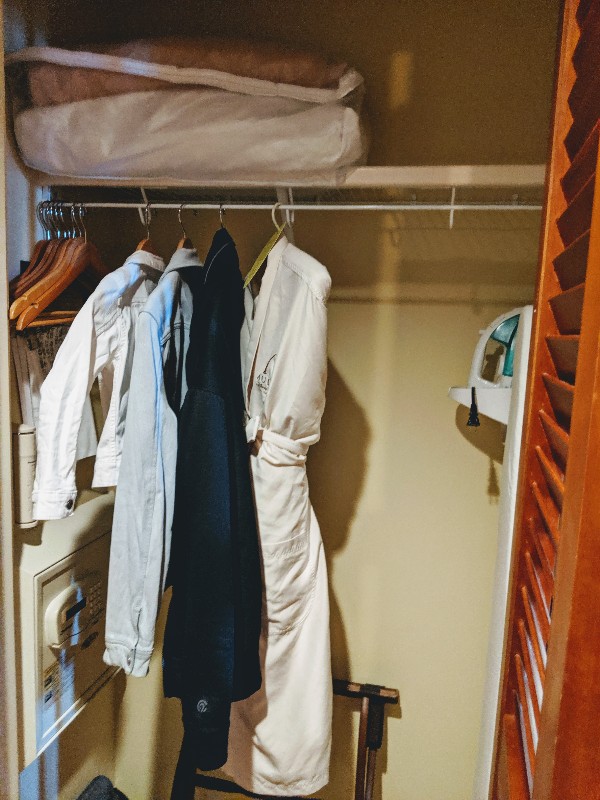 There is a small closet in the hallway with a laptop size safe. The safe was a fine size, but the closet was much too small for us to hang many clothes at all.
Disney Aulani Deluxe Studio Villa Kitchenette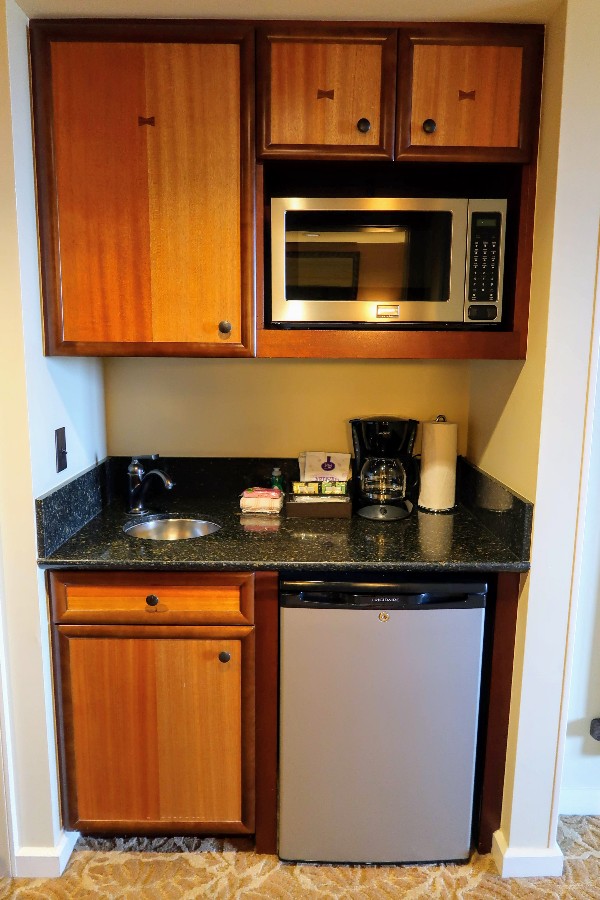 The Disney Aulani deluxe studio villa kitchenette is the smallest of the deluxe villa kitchens. Our room had a mini fridge with a small freezer, a tiny sink, a toaster, and a microwave. We also had a can opener, corkscrew, and two wine glasses.
There were very few other supplies in our deluxe studio villa kitchenette. At check-in we only had 4 paper plates, 4 paper bowls, 4 paper coffee cups, 4 sets of biodegradable utensils, and 2 sets of chopsticks. Since we were staying on Disney Vacation Club points, mousekeeping only replenishes these disposable supplies every few days.
Find out more about renting Disney Vacation Club points to save money on your next Disney vacation.
Disney Aulani Deluxe Studio Villa Bathroom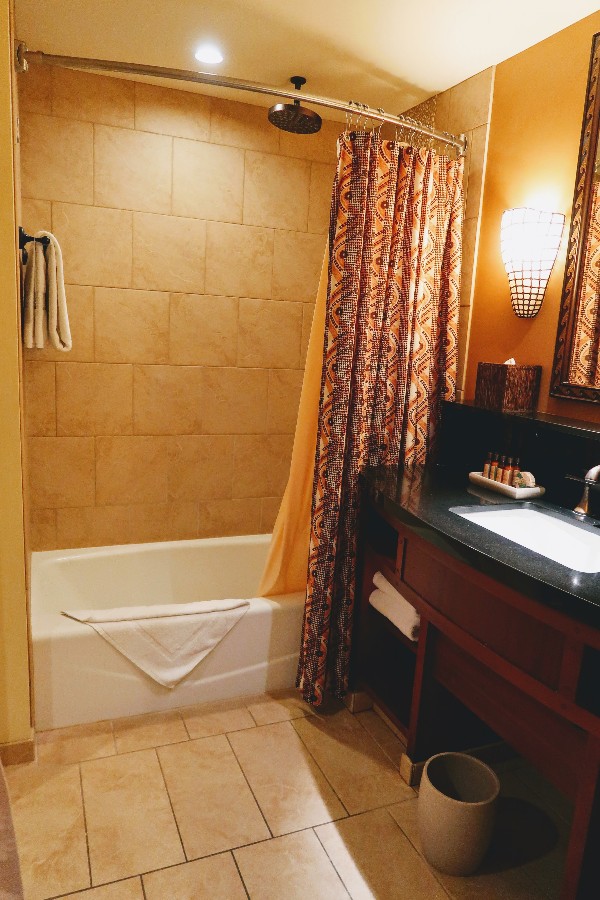 Our Disney Aulani deluxe studio villa bathroom had a shower/tub combo and a single-sink vanity. The shower was outfitted with both a rain showerhead and a handheld shower option. The vanity was simple with several small shelves for storage.
The toilet was in a separate room with a sliding door for privacy. This division in the bathroom is helpful for when multiple people need to get ready at once.
Disney Aulani Deluxe Studio Villa Living/Bedroom Area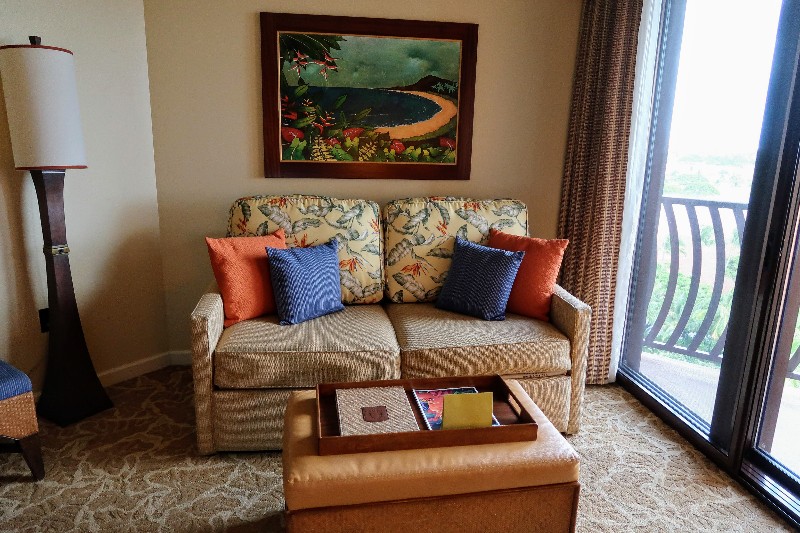 The Disney Aulani deluxe studio villa living/bedroom area felt very cramped. The room is an odd shape and contained a lot of furniture.
There is a TV stand/dresser, a fold out couch, an ottoman, a dinette table with two chairs, and a queen sized bed with two nightstands in each of the deluxe studio villas. This is a lot of furniture in just 356 square feet. When the couch was folded out there was almost no open floor space between the bed area and the balcony doors.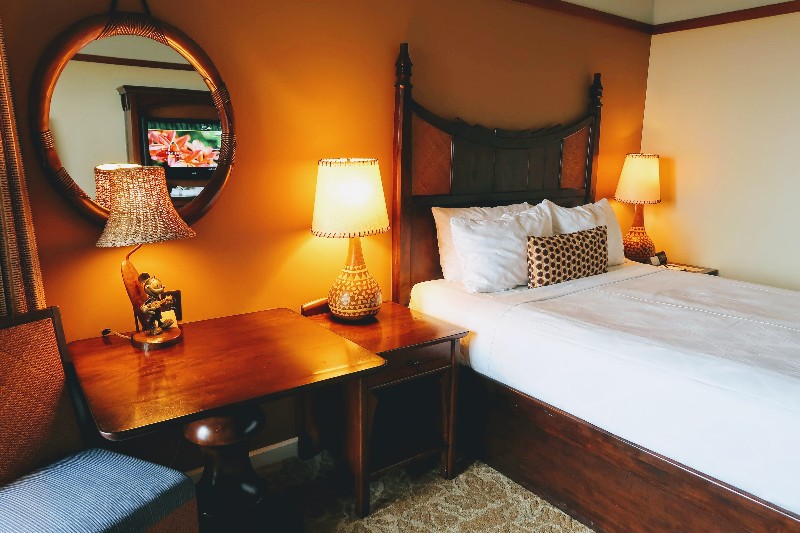 Since eating out in Hawaii is extremely expensive (and there are limited options in Ko Olina) we ate a lot of breakfasts and lunches in our Aulani deluxe studio villa room. We were glad to have a table for these meals. Elizabeth would sit in a chair while my husband and I sat on the ottoman like a bench seat.
After a couple of days we started half folding the couch during the day. This way we had more space to move around the room and access the balcony.
Disney Aulani Deluxe Studio Villa Balcony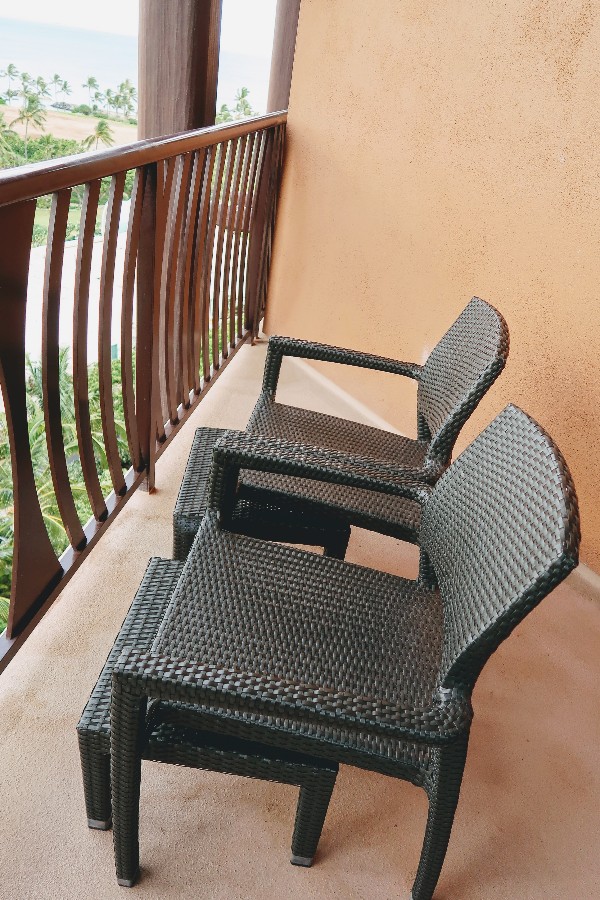 The Disney Aulani Resort deluxe studio villa balcony is accessed via a sliding glass door from the bedroom area. There are three separate locks on these doors and one of the locks is positioned high on the door to keep little kids safe.
Two chairs and two ottomans provide comfortable seating. The space on the balcony helps the Aulani deluxe studio villa feel a little less cramped. 
Disney Aulani Oceanview Deluxe Studio Villa Balcony View

We excitedly booked a Disney Aulani Oceanview deluxe studio villa despite a considerable increase in price. When booking I imagined an incredible view directly overlooking the ocean and lagoon, however, our room view was more of a partial ocean view.
In fact, our Disney Aulani oceanview deluxe studio villa room had a pretty disappointing view overall. The ocean was visible on one side and the Halawai Lawn on the other. The center of our view was a patch of unremarkable dirt.
Having a view of the Halawai Lawn was actually kind of nice since we watched part of Moana one night from our balcony and part of the lu'au on others. The only problem is the noise from these activities carries into the room. To combat this I ended up using a white noise smartphone app at bedtime.
In Room WiFi
Disney Aulani Resort in-room WiFi worked well overall. We were able to do everything we normally do at home, even stream some movies online.
Disney Aulani Resort Parking
Valet and self-parking is available for guests of Disney Aulani Resort. The cost for overnight self-park or overnight valet parking for guests is the same fee of $37 per night. If you are staying on a Disney Vacation Club reservation there is no additional fee charged for self-parking.
Off-site guests visiting Aulani for a meal can get parking validated, but it is only good for two hours of parking.
Please note: The Disney Aulani Resort lot is relatively small with narrow parking spots.
Final Thoughts On Our Disney Aulani Resort Deluxe Studio Villa Experience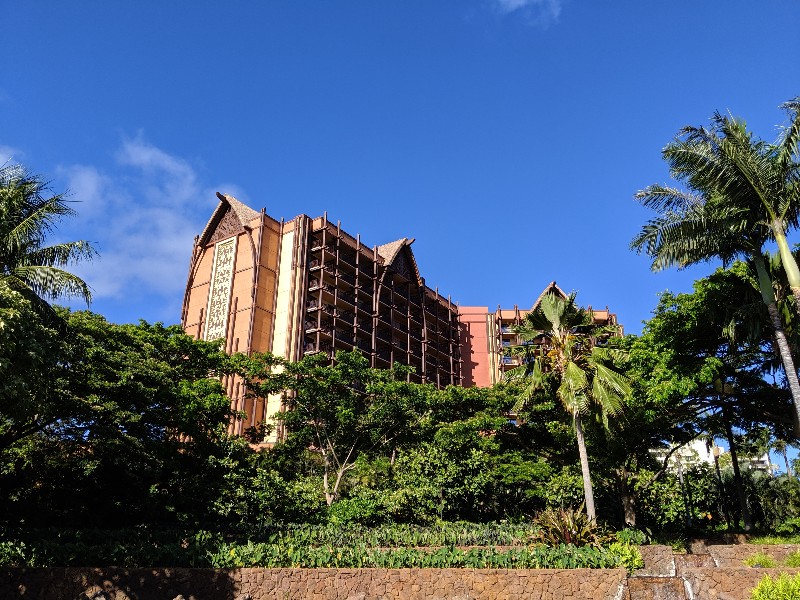 The Disney Aulani Resort was gorgeous, and we enjoyed lounging around the hotel more than many others we have visited over the years. There are tons of free activities for Disney Aulani Resort guests, and we loved doing as many as possible during our vacation.
Over the years we have stayed at several Disney deluxe studio villa rooms at both Disney World and Disneyland. Unfortunately, the Disney Aulani deluxe studio villa room is the smallest and most disappointing of any deluxe villa we've ever had.
The Disney Aulani Oceanview deluxe studio villa view was not worth the extra expense in my opinion. If we had not gotten a great discount from DVC Rental Store I would have been even more upset about the room and view.
Knowing what I know now I would not pay for an upgraded view and instead save the money to upgrade to a 1-bedroom villa or use that money for activities in Oahu like the on-site lu'au. Despite our disappointment in our Disney Aulani oceanview deluxe studio villa, we thought that the Disney Aulani Resort was just as wonderful as we had dreamed.
Pin it for later: