With four resort categories and over 30 different resort options, picking the best Disney World Resort can be challenging. There are several important factors to consider when choosing your Disney World Resort such as room size, resort amenities, location, and cost. We've stayed at Disney World resorts in every category over the last several years, and I'm here to help you choose the best Disney World resort for your trip.
Quick Links To Disney World Resort Categories:
Disney World Value Resorts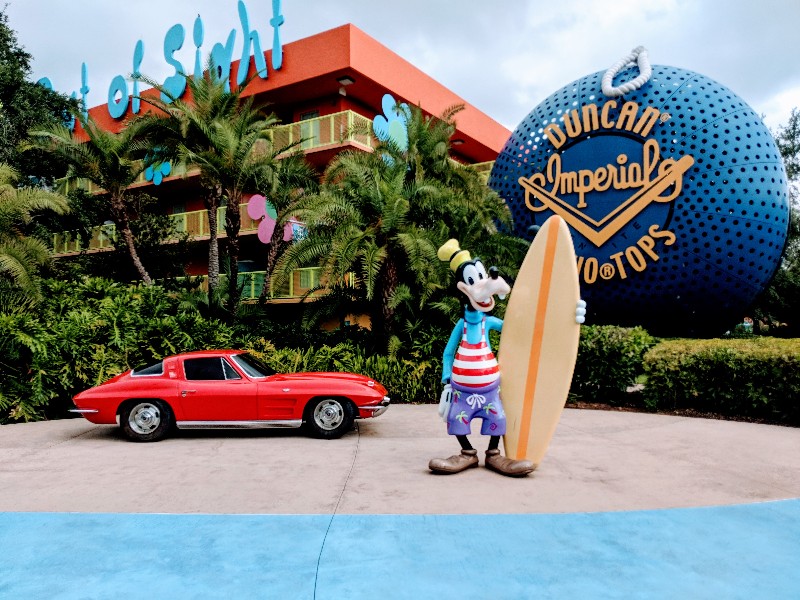 Disney World Value Resort List:
Value resorts are usually the least expensive on-site Disney World option. Most value resorts have small, standard rooms with everything you need plus some nice extras like beverage coolers.
The average size of standard rooms at Art of Animation, Pop Century, and the All Star resorts is about 260 square feet (24 square meters).
The family suites at Art of Animation or All Star Music measure in at 520 square feet (48 square meters). Not surprisingly, these family suite options are more expensive than a standard value resort room and are sometimes even more expensive than some Disney World studio villas.
Disney World Value Resort Pros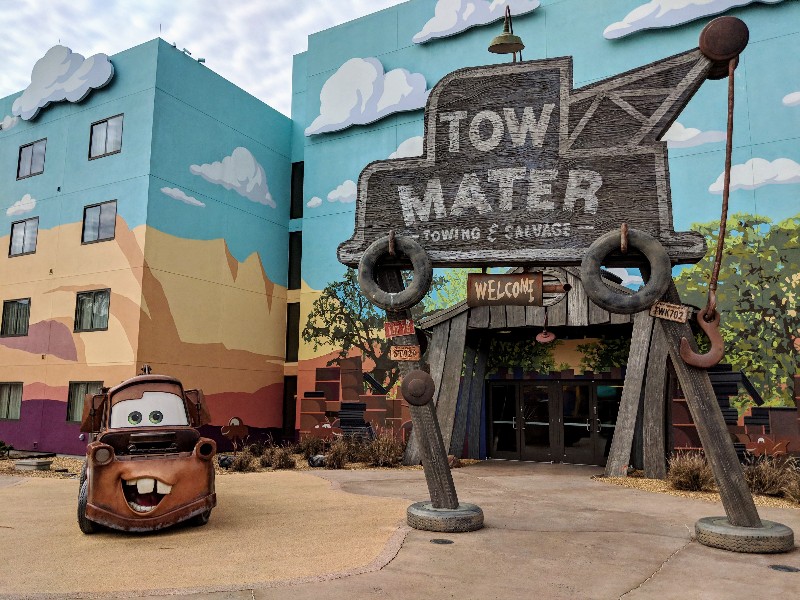 Disney Inspired Theme All Around
The Disney World value resorts have the most obvious Disney theming. The value resorts have bright, bold colors, and classic Disney characters all around the hotel property.
For example, find life-sized statues of Mr. and Mrs. Potato Head at Pop Century or your favorite Cars characters at Art of Animation. These over-the-top Disney design elements are exciting for Disney fans of all ages and make great photo opportunities.
Clever Design In Remodeled Rooms
Pop Century, All Star Music, and All Star Movies have recently renovated all of their standard rooms. The new design has a modern aesthetic and clever space usage to make rooms feel bigger.
The new room design has one bed that easily converts from a comfortable place to sleep into a small dinette table instead of the old two beds plus a table set up. Having the second bed stored during the day makes the room feel much bigger and provides a great place to have breakfast or a late night snack in the room.
Cost
A standard room at a Disney World value resort is almost always your cheapest option for staying on-site. The family suites are certainly more expensive, but do provide a lot of space, plus two bathrooms.
Often two adjoining value rooms are less expensive than the family suites. However, Disney can't always accommodate adjoining room requests, which may be a problem for families with small kids.
Unique Options At Disney's Fort Wilderness Campsites
The Campsites at Fort Wilderness are on the list of Disney World value resorts, but it isn't a traditional resort. These campsites are literal campsites for people to pitch a tent or spots with full recreational vehicle hookups available.
Disney World Value Resort Cons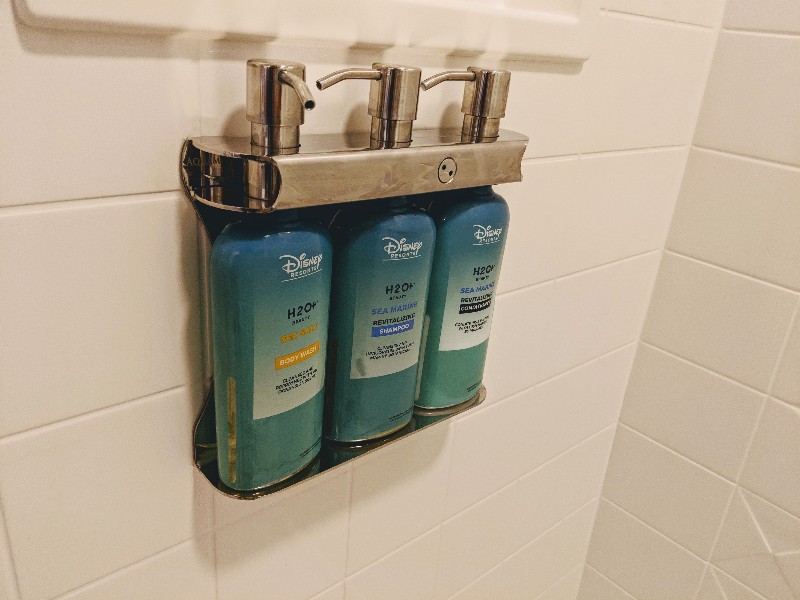 It Feels Like A Value Resort
When staying at a Disney World value resort you have a fun Disney theme and all the perks of staying on-site. However, a Disney value resort is a pretty basic hotel experience.
This is especially true if you have stayed at a Disney World moderate or deluxe resort on previous visits. In general the pools feel less luxe, and there is only quick-service dining on-site.
Windows Face Out Toward A Walkway
My biggest complaint with Disney World value resorts is that the room windows and doors face out toward walkways. This means you can't open the curtains and hang out in your PJs without people being able to easily look into your room.
The Art of Animation family suites are an exception to this. The door to the room opens into a hallway and there are not walkways outside the windows of this room type.
Weak Coffee
The value resort coffee makers are unusual. They are not Keurig brand, but a different type of coffee machine that uses tiny filter pods of coffee. I like strong coffee and even using half of the recommended water in these coffee pots makes extremely weak coffee.
To offset this weak coffee problem I have now started bringing Starbuck Via packets (affiliate link: Buy on Amazon) with me on Disney vacations. I run water through the coffee pot without a coffee pod. Then I just add my Starbucks Via to the hot water to get a nice, strong cup of coffee.
The Best Disney World Value Resorts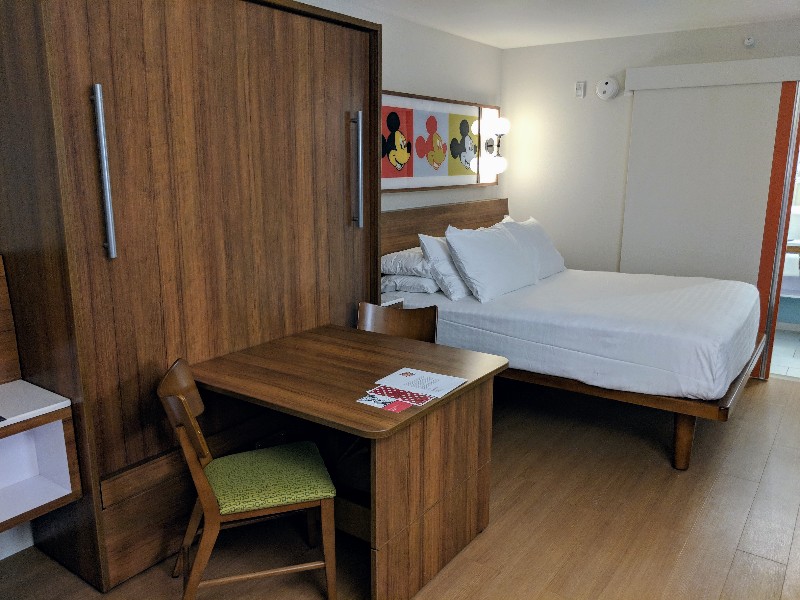 The newly remodeled Pop Century standard rooms are a great value at Disney World. The flexibility of having the murphy bed down for sleep or folded up into a table provides much needed function and space in the room.
There is a small shelving unit that makes a perfect spot for storing groceries and a decent size mini-fridge which keeps essentials cool. The Pop Century standard room also has a split bathroom and laminate flooring instead of carpet, which I really like.
Pop Century is a large resort with one bus stop near Classic Hall. Upgrade to a preferred room close to Classic Hall if you want to avoid a long walk to and from the bus or quick service dining hall.
Even though the All Star resorts are transitioning to the same remodeled room style of a Pop Century standard room, I still think Pop Century is the best standard value resort at Disney World since it has dedicated buses and Disney Skyliner access.
Find our full Pop Century Resort review here.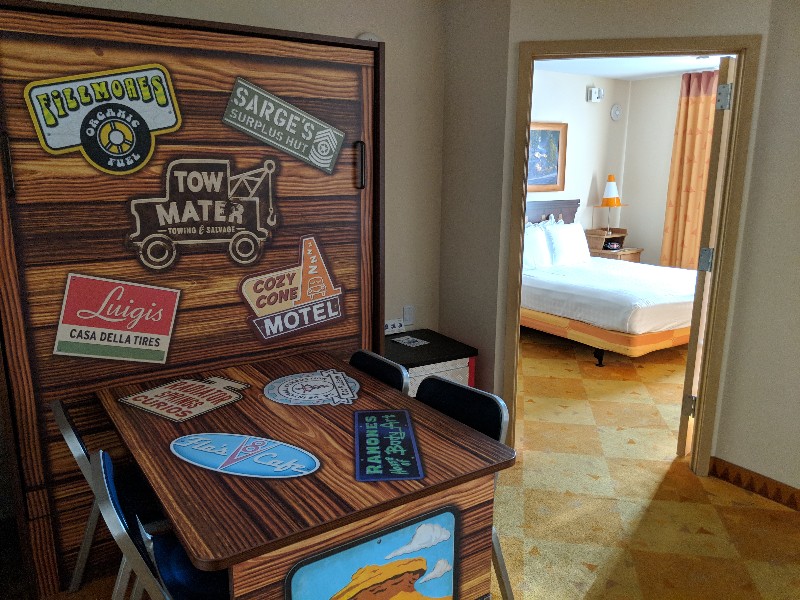 Families that need sleeping space for up to six people without the hefty price tag of a Disney World Deluxe Villa should consider an Art of Animation family suite. These spacious rooms have two bathrooms, a separate bedroom area, and a small kitchenette in the living room area.
There are three types of family suites: Finding Nemo, Lion King, and Cars. The general layout is the same, but the theme is different for each family suite type.
The Finding Nemo suites are closest to Animation Hall where the bus stop and dining is located. A Nemo suite is your best option if you want to minimize walking. However, we loved the immersive Cars theme so much we didn't mind the longer walk from those rooms to Animation Hall.
Art of Animation also has dedicated bus service from the resort to the Disney theme parks and access to the Disney Skyliner. Having multiple transportation options is a plus and makes Art of Animation extra enjoyable.
Find our full Art Of Animation review here.
Disney World Moderate Resorts Overview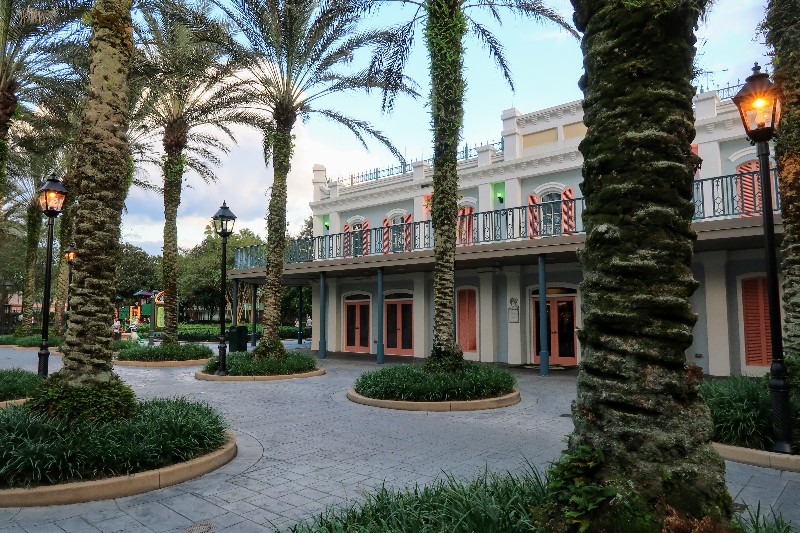 Disney World Moderate Resort List:
Staying at a Disney World Moderate Resort is a happy compromise between the bare necessities of a value resort and the expensive luxury of a deluxe resort. Disney World Moderate resorts tend to have a less obvious Disney theme, but are still beautifully decorated.
Disney World moderate resort rooms are 314 square feet (29 square meters), which means rooms are slightly bigger than a value resort standard room. However, in practice they feel about the same size as Pop Century standard rooms, because the beds in a moderate room are queen sized versus doubles at a value.
The moderate resorts also have nice mini fridges and a freestanding bistro table with two chairs for in-room snacks.
The Cabins at Fort Wilderness are different from the other moderate resort options. These standalone cabins have 500 square feet (46 square meters), sleeping for six, plus a full-size refrigerator.
Disney World Moderate Resort Pros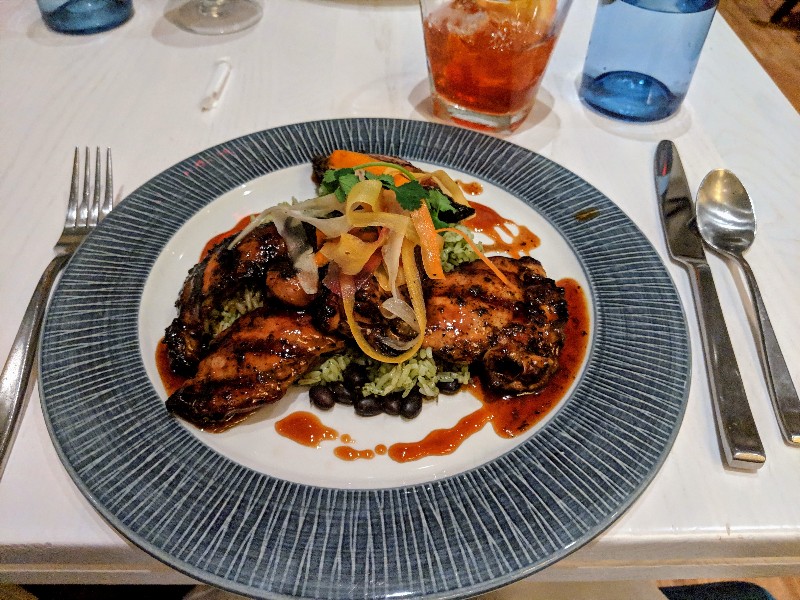 More Dining Options
The Disney World moderate resorts tend to have quick and table service dining options available on-site. In fact, one of our favorite Disney World restaurants is Three Bridges Bar and Grill, a table service restaurant at Coronado Springs.
Moderate resorts also usually have a nice lounge or bar option in addition to a pool bar.
Better Pools
Disney World moderate resort pools are nicer than those at value resorts. While value resorts have a no-frills pool experience most moderate resorts have a water slide and a splash play area for younger kids.
Disney World Moderate Resort Cons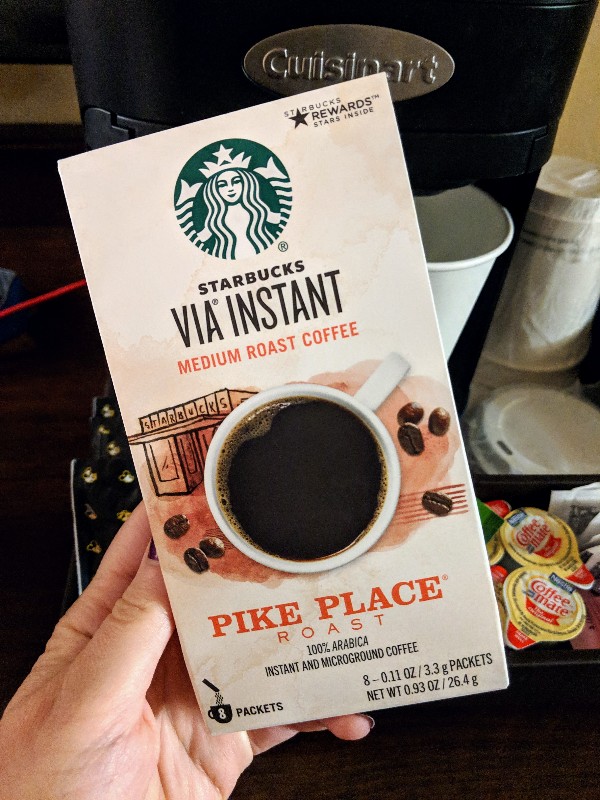 Many of the things I dislike about Disney World value resorts are also present at moderate resorts.
Walkways Outside Your Window
I like to open the curtains when I get up in the morning, but at Disney World moderate resorts the room windows and doors open to walkways. This means people can easily look into the room as they walk past.
The Same Mediocre Coffee Pot As Value Resorts
The moderate and value resorts generally have the same flat pod coffee pots that make weak coffee. To avoid drinking mediocre coffee, I pack Starbucks Via packets (affiliate link: Buy on Amazon) whenever I stay at a Disney World value or moderate resort.
In the morning I run water through the pot without using the coffee pod. Once the hot water is ready I mix in the Via packet and enjoy a delicious cup of coffee.
The Best Disney World Moderate Resorts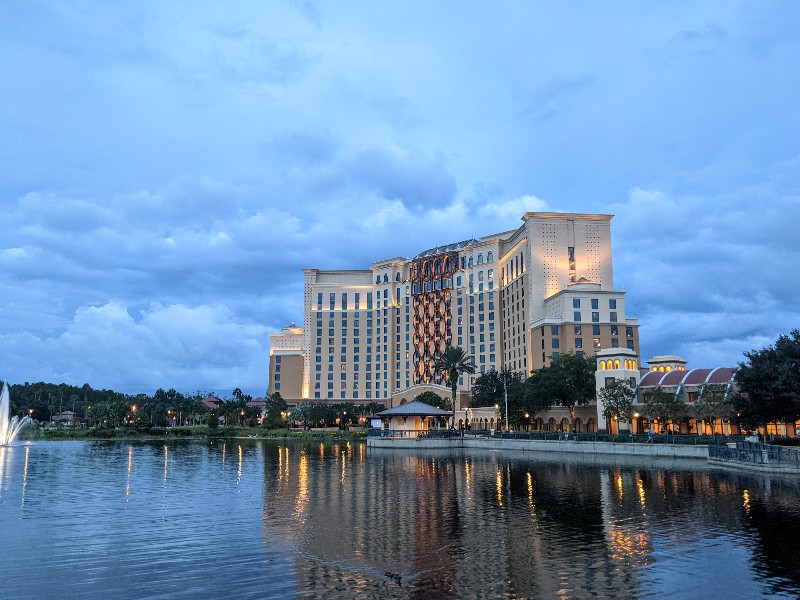 A stunning lobby sets the stage for this incredible moderate resort that feels more like a deluxe. Large rooms with sleek, high end design plus a large bathroom with double sinks makes for an incredible stay.
Gran Destino Tower has the nicest rooms of any Disney World moderate resort and avoids many of the issues common in the category. No walkways outside the tower rooms, but instead an optional upgrade to relaxing water views.
Coffee snobs will appreciate a Keurig coffee maker instead of the Cuisinart and excellent to-go coffee at Barcelona Lounge on the lower level. Dining options at Coronado Springs are excellent with a range from traditional quick service to quality cocktails and tapas.
Gran Destino Tower is a small part of Coronado Springs and shares pools, buses, and dining with the whole resort. Bus transportation to the parks is the main downside of Gran Destino Tower since there are four stops on-site.
However, great dining options and luxurious room make Gran Destino Tower a hidden gem and the best Disney World moderate resort.
Read our complete Coronado Springs Gran Destino Tower review here.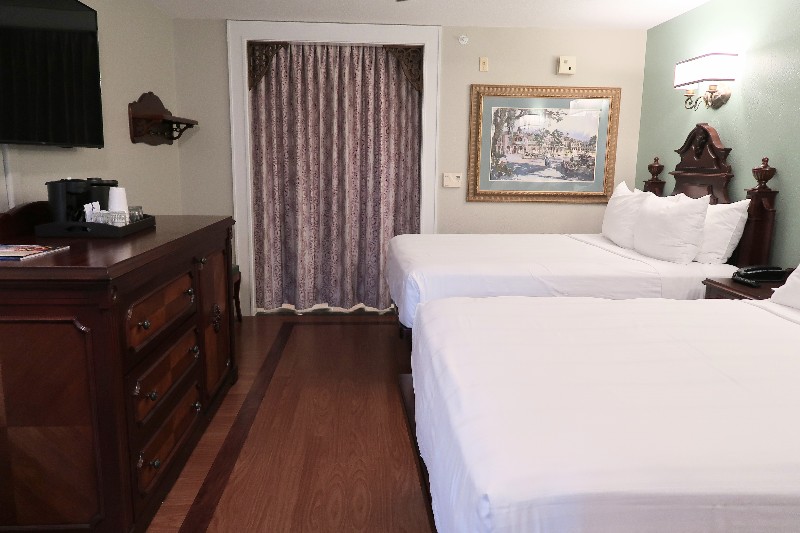 Port Orleans French Quarter makes you believe for just a moment you have entered into New Orleans. The cobblestone streets, iron railings, colorful buildings, and fresh beignets transport you far from Disney World.
One reason we like Port Orleans French Quarter over Riverside is because it is compact and one of the easiest resorts to navigate in all of Disney World. Even from the farthest room it only takes a few minutes to reach the main lobby area, pool, or Sassagoula Floatworks.
Speaking of Sassagoula Floatworks and Food Factory, this is one of the best quick service restaurants at Disney World with a variety of delicious southern inspired foods. Make sure you stop here and order fresh beignets which are really as good as people claim.
Find our full Port Orleans French Quarter review here.
Disney World Deluxe Resorts Overview
Disney World Deluxe Resort List:
The Disney World deluxe resorts are luxurious places for those willing to spend money on a premium hotel experience at Disney. Each deluxe resort has a completely different style and theme.
The size of Disney World deluxe resort rooms varies quite a bit from around 340 square feet (32 square meters) at Wilderness and Animal Kingdom Lodges all the way up to 440 square feet (41 square meters) at Grand Floridian. Disney World deluxe resorts usually have great locations and a greater variety of dining options.
Find our full ranked list of Disney World deluxe resorts plus pros and cons of each resort here.
Disney World Deluxe Resort Pros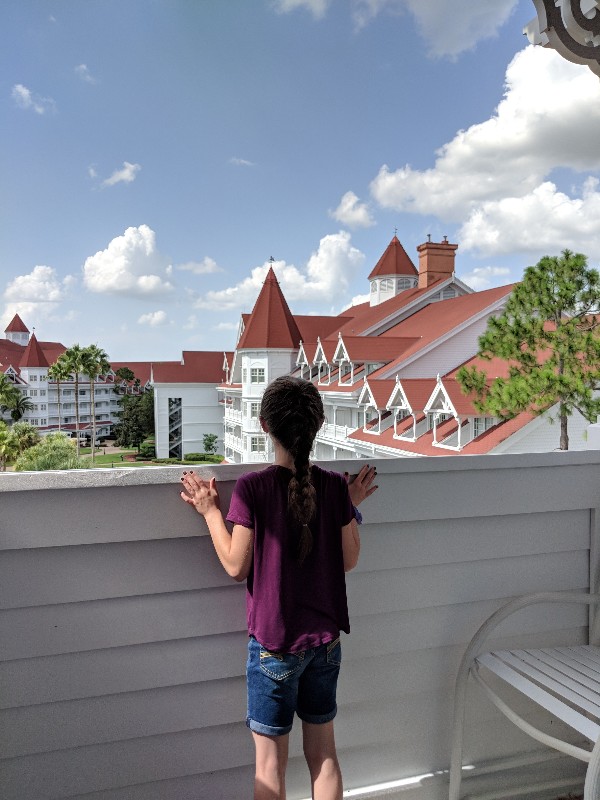 Extended Evening Theme Park Hours
Only Disney World deluxe resort and deluxe villa guests have access to these extra special theme park hours. Low crowds make for short wait times and a relaxed atmosphere.
Location
Deluxe resorts like Boardwalk, Yacht, and Beach Club are within walking distance of Epcot while Contemporary and Grand Floridan are walkable to Magic Kingdom.
Since Disney World is very large, about the size of San Francisco, transportation times can add up. Having the ability to walk to a park is one of my favorite things about some Disney World deluxe hotels.
Amenities
Disney World deluxe resorts have nicer dining options on-site, plus better pools and water slides. Although none of these items individually is a huge difference when added up they make for a more luxurious overall experience.
Kuerig Coffee Maker
Most of the deluxe resort rooms we have stayed in have a basic Keurig K-Cup coffee maker. Although not my favorite option, these are a large step up from the flat pod coffee pots in most of the value and moderate rooms.
Disney World Deluxe Resort Cons

Expense
The biggest downside of staying at a Disney World deluxe resort is the cost. The rooms are usually bigger and the resorts nicer, but this comes with a considerable increase in price.
Bus Transportation
The great location of many of deluxe resorts means less need to take Disney World buses. While having the monorail, boats, or even a walkway is great it means that the deluxe resort bus transportation is lackluster.
The Best Disney World Deluxe Resorts
Contemporary Resort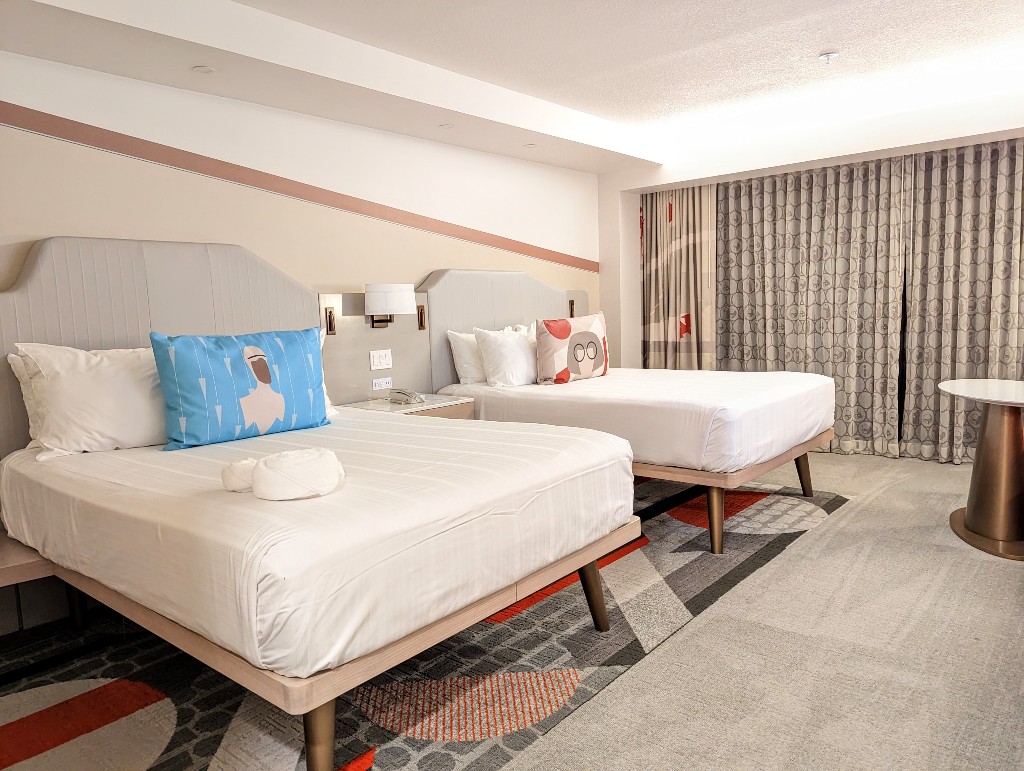 One of the three original Disney World resorts that opened in 1971, Disney's Contemporary resort has recently completed a remodel of the lobby, dining, and all resort rooms.
New Incredibles themed rooms that sleep five with a cool mid-century modern couch, cute details like supersuits in the closet, split bathrooms all within walking distance to Magic Kingdom make Disney's Contemporary our favorite Disney World deluxe resort.
Although the main tower is what people usually think of, we actually prefer the Contemporary garden wing rooms.
Garden wing rooms have the same great styling, but are less expensive, avoid the slow main tower elevators, and don't have noise from the 4th floor shopping and dining area.
Here's a link to our full Contemporary Resort room review.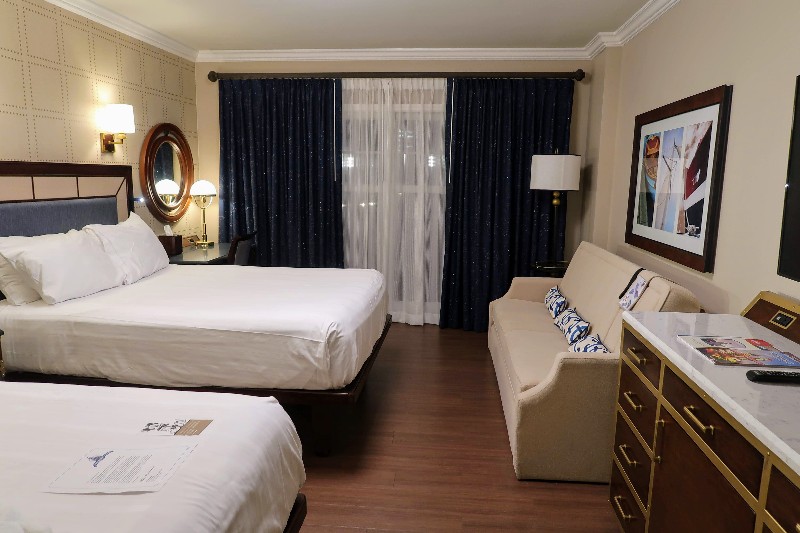 Yacht Club is a beautiful deluxe resort within walking distance of Epcot's International Gateway. Disney's Yacht Club and Beach Club are sister properties with many shared amenities.
One of the best amenities of Yacht Club is the amazing Stormalong Bay pool. This pool complex has a sand bottomed pool, lazy river, and one of the biggest water slides at Disney World.
We like the rooms at Yacht Club better than those at Beach Club because of a larger bathroom and laminate floors. The Yacht Club rooms also feel more open and have a better design in our opinion.
Here's a link to our full review of Disney's Yacht Club.
The newly remodeled Polynesian Resort standard rooms combine upscale design elements with the fun of Moana characters making this room perfect for families.
Two queen beds plus an optional fold down bed provides comfortable sleeping options for up to five. A split bathroom with double sinks makes it easy for larger families to get ready, too.
Laminate floors, a spacious bathroom, and the option to sleep five people makes Polynesian standard rooms a great option. Add easy access to transportation, great dining options, and Magic Kingdom firework views from the resort and you'll see why Polynesian is our top pick.
Please note: a new DVC tower being built is currently impacting the overall experience of this gorgeous resort. While construction continues we've moved Polynesian from our top pick to third.
Disney World Deluxe Villa Resort Overview
Disney World Deluxe Villa Resort List:
Deluxe villas are truly a home away from home. While Disney World deluxe villas are primarily built as timeshare locations for Disney Vacation Club (DVC) members rooms are also available for regular guests to book.
There are several deluxe villa options. Most deluxe resorts have studio, 1-bedroom, and 2-bedroom villas available. A couple of places offer 3-bedroom options as well.
Disney World Deluxe Villa Resort Pros

Spacious Accommodations
The deluxe studio villas are about the same size as a regular deluxe room, but the 1 bedroom villas range from 710 to 940 square feet (66 to 87 square meters). The 2-bedroom villas are larger with a range of 1075 to 1300 square feet (100 to 120 square meters) and the 3-bedroom villas are a whopping 2000 to 2490 square feet (190 to 230 square meters).
A Kitchenette and Real Coffee Pot
Studios are like a large regular room, but with a bar sink, larger mini fridge, toaster, and microwave. The 1-, 2-, and 3-bedroom options all have a full kitchen. Check out our Saratoga Springs review to see what a 1-bedroom villa kitchen looks like.
Studio villas sometimes have a regular 10-cup coffee pot and sometimes the dreaded flat pod coffee makers. All of the larger villas have a regular coffee pot. If you are staying in a large villa you can use the provided coffee pods or order some of your favorite coffee from grocery delivery. Just remember to order or pack coffee filters, too.
In-Room Laundry
Each deluxe villa, except studios, has a small stacked washer and dryer combo in the room. This in-room washer and dryer can be handy when packing light for a long trip.
Disney World Deluxe Villa Resort Cons
Expense
If you thought a Disney World deluxe resort was pricey, a deluxe villa is even more expensive. Find limited discounts during low seasons directly through Disney World or check services like DVC Rental Store for discounted rates.
Please note: I get no commission or discount from recommending DVC Rental Store. I recommend them because I have successfully used them for stays at Disney World, Disneyland, and Aulani.
The Best Disney World Deluxe Villas
Deluxe Studios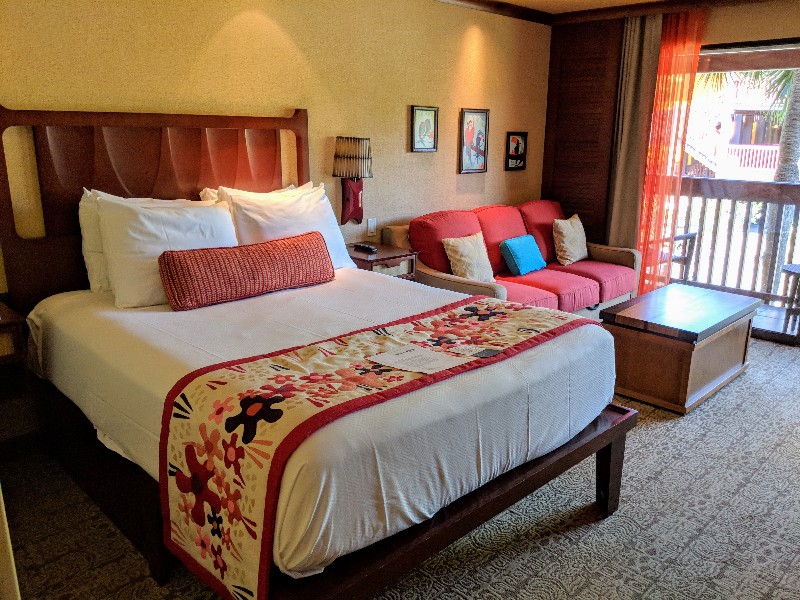 The Polynesian studio villa is one of the largest studios at Disney World at a whopping 465 square feet (43 square meters). The Polynesian studio villa is also unique in that it can sleep up to five people and has a partial second bathroom. This makes Polynesian studio villas a great choice for larger families.
The Polynesian also has great pool areas, on-site Dole Whips, and the most transportation options of any resort at Disney World. The tropical island feel transports you away from the hustle and bustle of a theme park day as soon as you step foot on property.
See more details about the Polynesian Studio Villa in our full review.
1-Bedroom Villa
Disney's Riviera Resort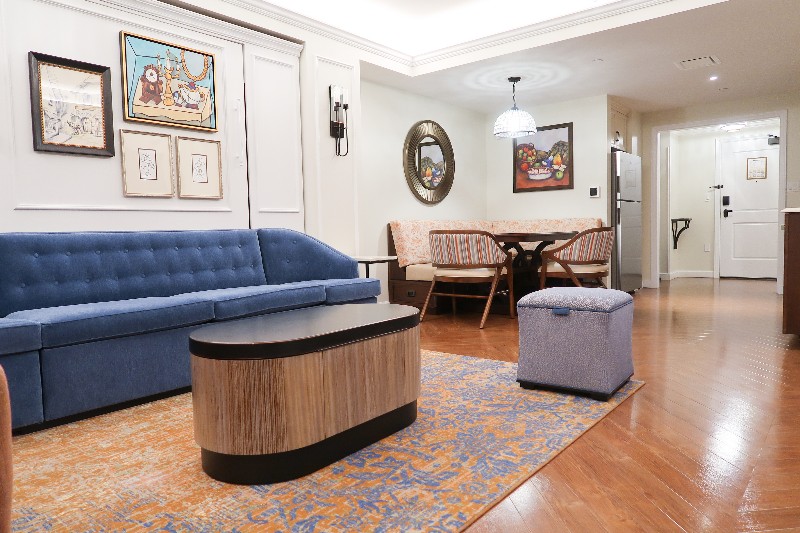 Our favorite Disney World 1 bedroom deluxe villa is at Riviera Resort. Instead of fold out couches or chairs these 1 bedroom villas have murphy beds. A large murphy bed folds down from behind the couch and a single from under the TV. This style bed is much more comfortable than traditional fold outs.
Riviera Resort also has the best kitchen layout of any of the 1 bedroom villas we've stayed at over the years. More counter space and an open design makes the kitchen more functional than other similar villas.
Although not within walking distance of any Disney World theme parks, the Disney Skyliner provides quick and comfortable transportation to Hollywood Studios and Epcot. Bus transportation takes you to Disney Springs, Magic Kingdom, and Animal Kingdom.
Find out more about a Disney's Riviera Resort 1 bedroom in our full review.
Final Thoughts On The Best Disney World Resorts By Category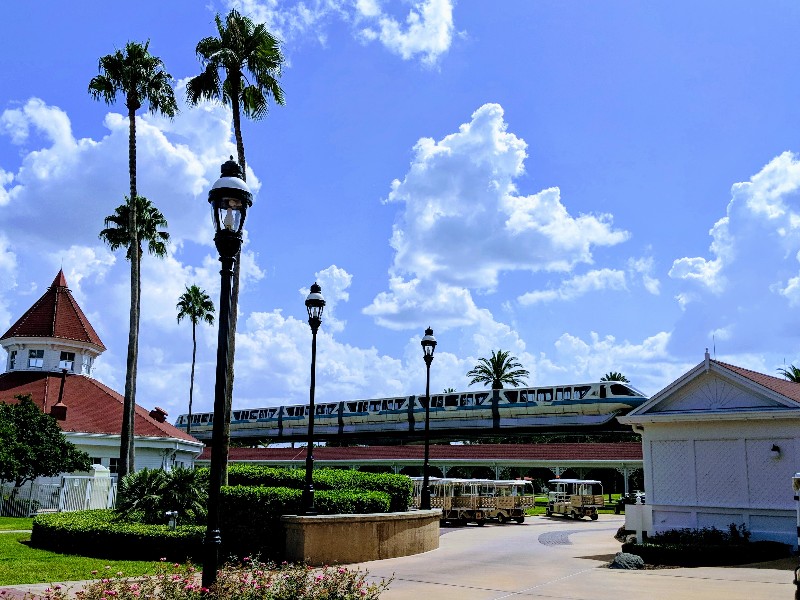 Staying on-site at Disney World provides a variety of perks no matter if you stay at a value, moderate, deluxe, or deluxe villa resort. We've stayed at Disney World resorts of every category and have places we love at all price levels.
My number one recommendation is this: Do the Disney World trip that you can afford. In general the Disney World resort is the least important part of your Disney World trip.
If you need to save money on your room so that you can do character dining or a Disney After Hours Event, book a less expensive Disney World resort. And if you want to make this a luxurious splurge then go ahead and book one of the deluxe resorts. You can have an amazing trip either way.
Need more information on planning your Disney World vacation? Look through our comprehensive Disney World guides.
Pin it for later: