No one likes waiting in line at Disney, or anywhere else, really. Although services like FastPass+ at Disney World and FastPass via MaxPass at Disneyland help minimize time spent waiting in line there is no way to eliminate all waiting at Disney. Having fun games like the Play Disney Parks App makes the time go by faster for everyone. Find out our best tips for passing time as a family while waiting at Disney.
I am a participant in the Amazon Services LLC Associates Program, an affiliate advertising program designed to provide a means for us to earn fees by linking to Amazon.com and affiliated sites.
Apps To Make Waiting At Disney Fun
There are two apps we like to use to pass time waiting at Disney Parks: the Play Disney Parks App and Heads Up. Both of these options can be a lot of fun and make the time go more quickly while waiting. The major downside of using the apps is that they can use a lot of your phone battery. This is just one of the reasons why I always have my battery pack with me in the park. Here is a link to the new version of the one I use on every trip (Affiliate Link: Buy on Amazon).
Another thing I should mention is that you still need to be aware of your surroundings while playing these games. A couple of times people around us were so into a game that they didn't realize the line had started moving again.
Play Disney Parks App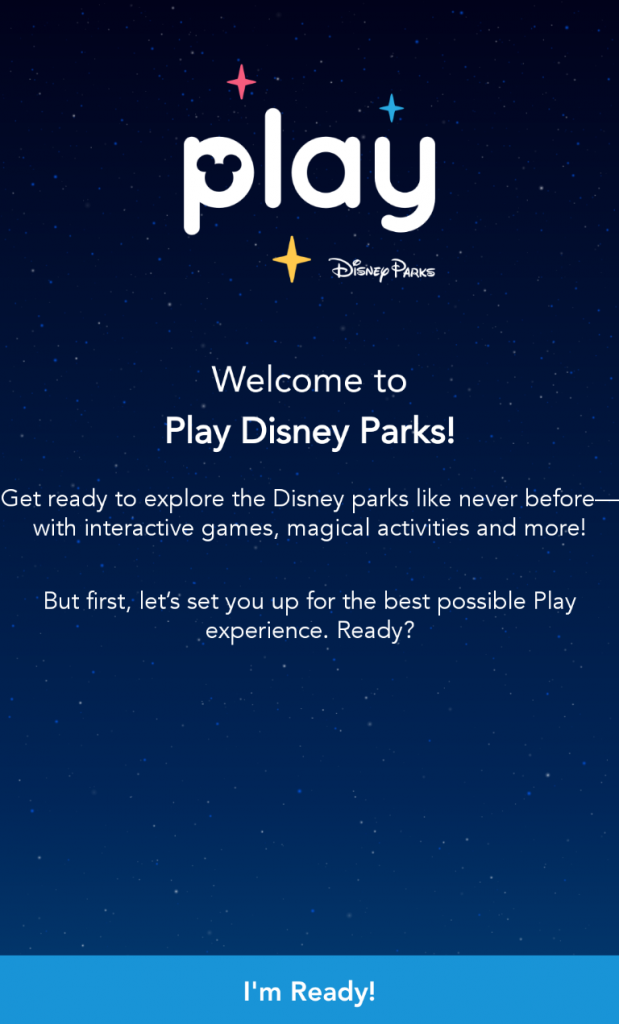 Launched in summer 2018, Play Disney Parks App is an interactive way to play while at Disney World or Disneyland. The Play Disney Parks App has several varieties of game play. There are Trivia Games, In-Queue Games, and Achievements to unlock around all four Disney World and both Disneyland California Parks.
We first got to experience the Play Disney Parks App not long after the app launched. I thought it would be a fun way for us to pass the time waiting in line. I often need to use my phone to update Smart Mouse Travel social media accounts while we have downtime in line. Since it was a mother-daughter trip I thought the app would be a good way for Elizabeth to have fun while I worked.
Elizabeth does not have her own phone, so I came up with a way for her to use the Play Disney Parks App without an active mobile phone account.
First, I found my husband's old phone which is in decent working order. Then I installed the Play Disney Parks App on the phone at home and logged into my account. Disney World and Disneyland Parks have free Wifi for guests. Elizabeth was able to access the free Wifi in the park and play on an otherwise unactivated phone!
To play any of the games on Play Disney Parks App you must first download the app from either the iTunes or Google Play store. Then log in with your Disney account information on the app.
The trivia games can be played anywhere, but in-queue games are only available while you are in the queue for the specific attraction. For example, we were able to play Playset Party while in line for Toy Story Midway Mania in Toy Story Land.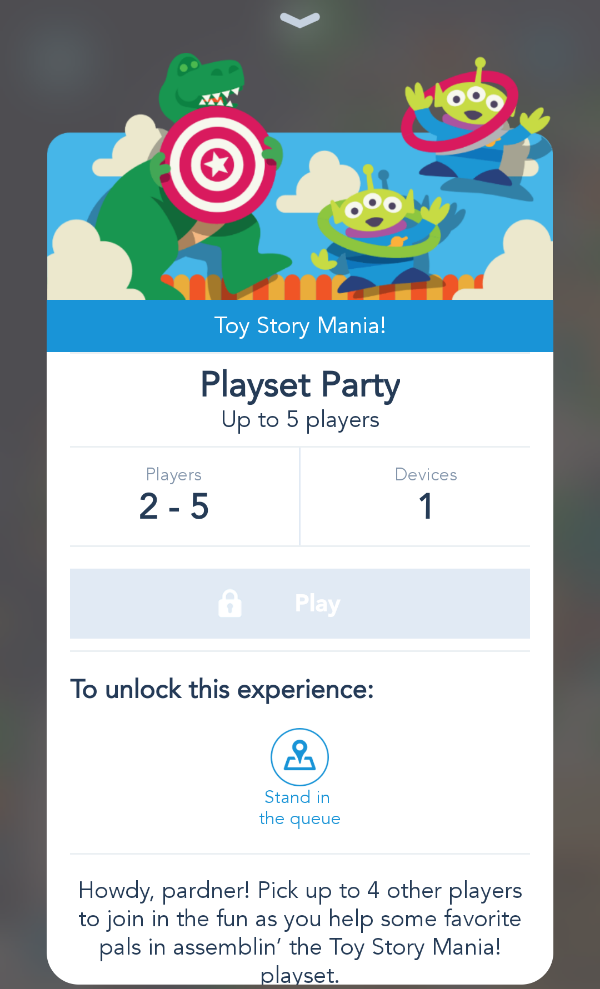 One of the best things about the in-queue games is that one device provides play for 2 to 5 people. During these in-queue games sometimes you will pass the device among the available players and sometimes you will actually complete a team challenge together.
You can also unlock achievements at certain attractions by interacting with the Play Disney Parks App while at the ride. There are achievements sprinkled around each of the parks and each achievement completed unlocks a badge in the app.
There are several Play Disney App trivia games to play. The trivia challenges are based on specific areas of the parks. Some examples are Adventureland Trivia at Magic Kingdom or Toy Story Land Trivia at Hollywood Studios.
The in-queue games are a lot of fun and help pass the time waiting in line. The trivia games for certain areas are really challenging, but we learned some new facts about Disney Parks while playing.
Heads Up
Have you ever seen people holding their mobile phone to their forehead while the rest of the group yells clues? Then you have seen Heads Up in action.
The Heads Up app is free to download on either iTunes or Google Play and comes with a few free deck options. If you are physically inside Disneyland Resort, Disney World, or at Aulani in Hawaii you can use the Disney Parks deck for free.
Heads Up is a game intended for two or more people. One person holds the phone to their head and then tries to guess the answer while the other players provide clues. After each correct guess the person tilts the phone forward to record the point. If the team doesn't think they can give a good clue they can tell the guesser to tilt the phone up to pass and get another option. We've played this with the two of us and a larger group with great results.
Tech-Free Ways To Pass Time While Waiting At Disney
Sometimes I just want to put away devices for awhile or the battery on my phone might need charging. That's when these tech-free entertainment options become our go to way to pass the time waiting.
Last Letter Game
A family friend who was a camp counselor taught this game to Elizabeth on a trip, and we have used it ever since. Someone starts the game with a word. The next person then has to use the last letter of the starting word to make the second word and so on.
For example, the first person says "water". Now the second person has to choose a word starting with the letter "r". They say "rabbit" which means the next person must start a word with letter "t". We used this game to pass 40 minutes in line when Pandora first opened and we were waiting in line for Na'vi River Journey!
Story Time
This game works best with a small group. The same friend taught us this improv inspired story telling game. The first person starts a story with one sentence. Then the next person must continue the story with a sentence that builds off of the information already given. This continues until the story has made a natural ending or you need to start a new one because the current story has gotten so crazy.
Bubbles
Younger kids will pop and chase bubbles for long stretches of time. You can bring your own inexpensive bubbles from home. Or you can make your kids' day with the motorized bubble wands found all over Disney Parks. It isn't fancy, but it works!
Final Thoughts About How To Make Waiting At Disney Fun
I hope these tech and non-tech options to make waiting in lines at Disney more fun have inspired you for your next Disney World or Disneyland vacation. The best thing about all of these entertainment options is they are free (except for bubbles which are usually inexpensive).
Make sure you download the free Heads Up and the Play Disney Parks apps before leaving home. This way you are ready to play as soon as you get to the parks.
The Last Letter Game and Story Time take no planning and no equipment. These games are especially easy to play anytime or anywhere.
These are our favorite ways to entertain ourselves while waiting in line at Disney. Do you have other ways you like to pass the time waiting with your family? Share them in the comments!
More Disney Planning Resources
Do you need more help planning your Disney World trip? Check out other Disney World tips and tricks in my Disney World Guides.
To plan your Disneyland trip check here instead.
Pin it for later: