Disney California Adventure's World of Color showcases gorgeous Disney videos projected on a mist of water synchronized with stirring music. Join a World of Color virtual queue, buy a World of Color dining or dessert party package, or wait for standby viewing to watch this popular Disneyland nighttime show.
How Do I Watch World of Color At Disney California Adventure?
There are four ways to see World of Color and each one has different costs, views, and experiences. Here's an overview of each option to choose which one is best for your next Disneyland vacation.
World of Color Virtual Queue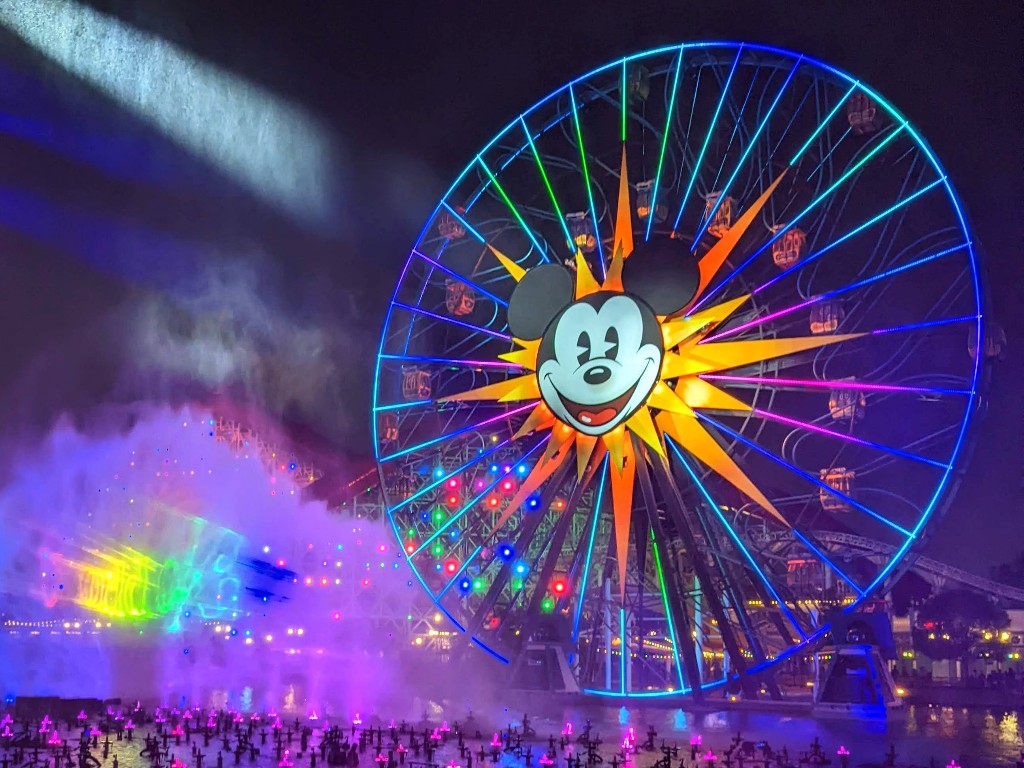 World of Color Virtual Queue Cost: Free
Disneyland virtual queues allow guests access to attractions and shows without as much time spent waiting in line. Join available virtual queues via the Disneyland app.
There are two ways to find Disneyland virtual queues. Either scroll down on the main screen or tap the menu bar and then scroll to the virtual queue option.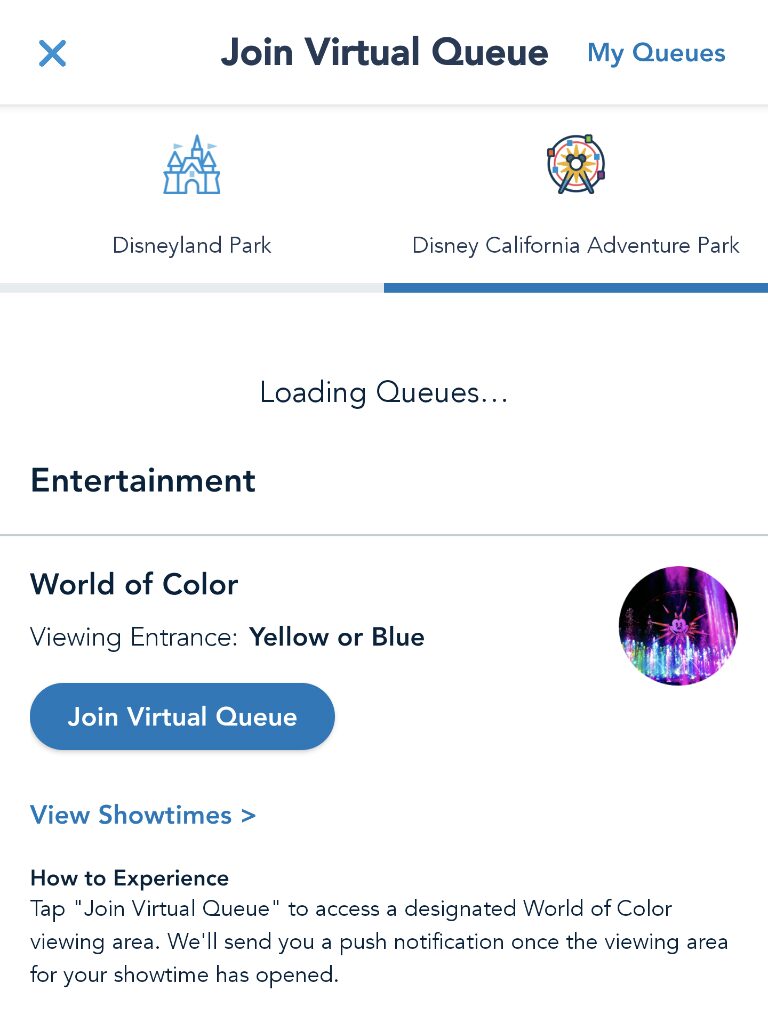 World of Color Virtual Queue Eligibility:
At 12pm guests inside Disney California Adventure, or Disneyland with a park hopper ticket, can join the World of Color virtual queue.
If there is more than one performance, distribution of the second show begins immediately after first show slots are full.
Make sure everyone in your party has a park ticket, reservation, and is linked in the app. Each person needs a virtual queue slot to enter the reserved areas.
World of Color does not occur each day. Check the Disneyland calendar to confirm World of Color dates and showtimes before attempting the virtual queue.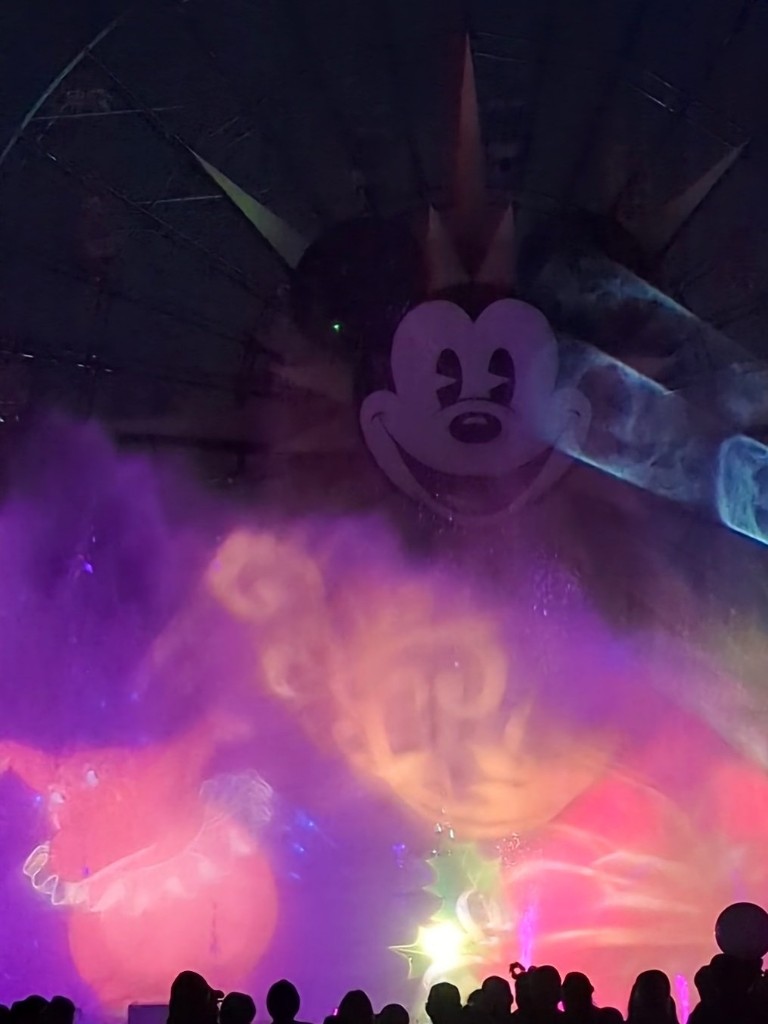 Guests that successfully snag World of Color virtual queues get a push notification when the reserved viewing area opens. According to Disney's website, World of Color virtual queue reserved sections open 30 to 45 minutes before the show. However, in our experience we've been alerted up to an hour beforehand.
Scan into the World of Color virtual queue viewing areas and then choose any open spot to watch the show. You can sit while waiting, but guests must stand for the duration of the show.
The virtual queue reserved area has great views, especially if you arrive right when the section opens. In our experience the best views are on the second elevated concrete tier from the front and directly behind a railing.
Areas closer to the water also have fabulous views, but are within the splash zone. The spray can be intense especially when the wind is just right.
We've had nights where we ended up dripping wet at the end of World of Color. On a warm night this isn't too bad, but miserable when temperatures dip. Expect to get completely soaked on the boardwalk which is even closer to the water jets.
World of Color Dining Package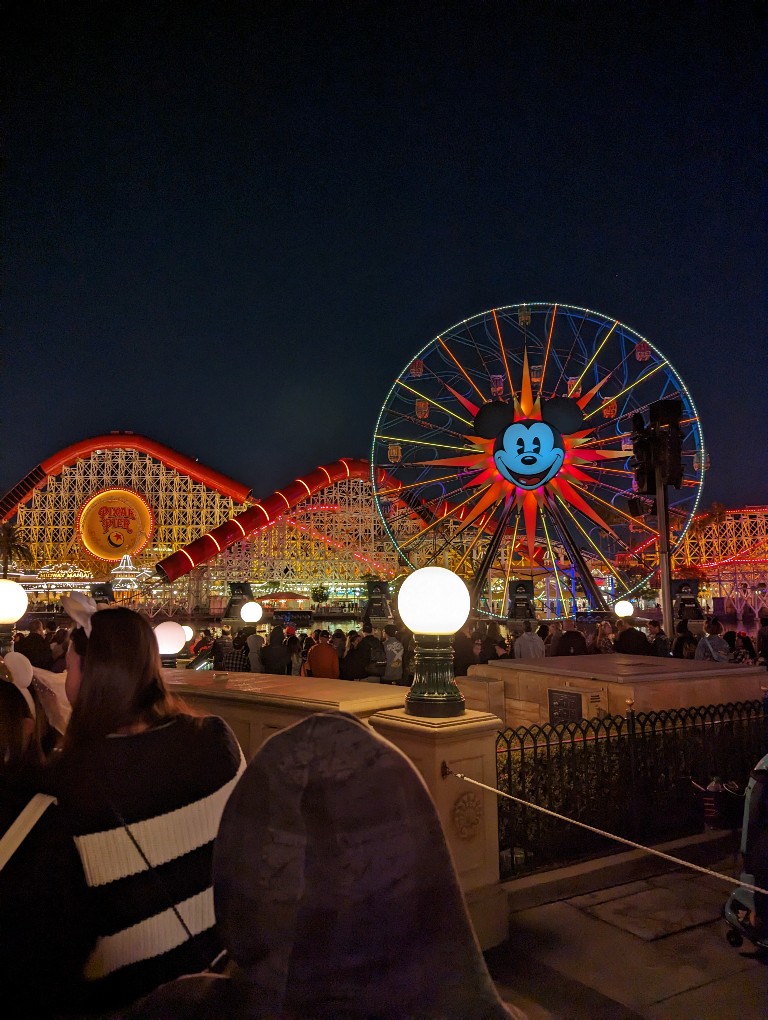 World of Color Dining Package Cost:
$59 plus tax for guests 10 years and older
$35 for guests 3 to 9 years old.
Expect a $10 upcharge for any guest ordering rib eye steak at Wine Country Trattoria
World of Color dining packages are available during lunch or dinner at Wine Country Trattoria and dinner at Storytellers Cafe. Make a regular dining reservation and ask for the World of Color dining package when checking in.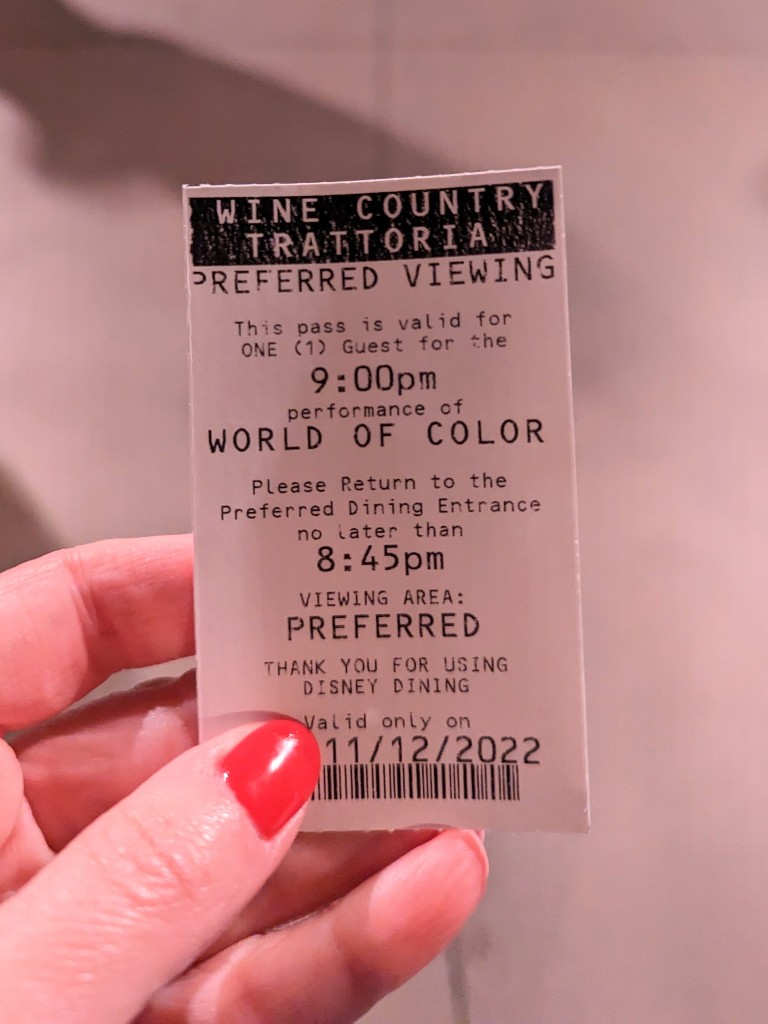 After eating, and paying, for your World of Color dining package three course meal you receive a special ticket. This ticket has information on which show to attend and a bar code cast members scan for entrance.
World of Color dining packages provide a reserved viewing area without having to join a virtual queue. For the best views arrive when the World of Color dining package section opens, about an hour ahead of showtime. Expect obscured views when arriving closer to showtime.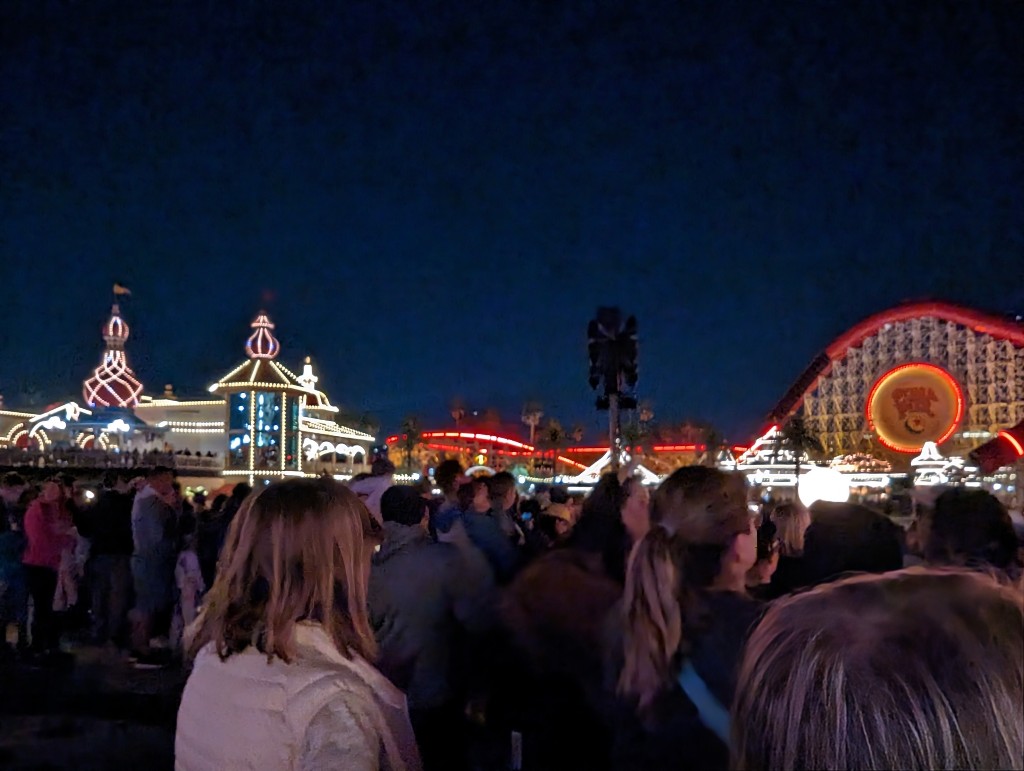 I hoped paying for a dining package would provide better views than the virtual queue. Unfortunately, the views seem pretty similar especially when arriving close to showtime.
A quick note: WOC dining packages are different from Fantasmic! dining packages. Fantasmic! advance dining reservations are made specifically for the package and not added on when checking in.
World of Color Dessert Party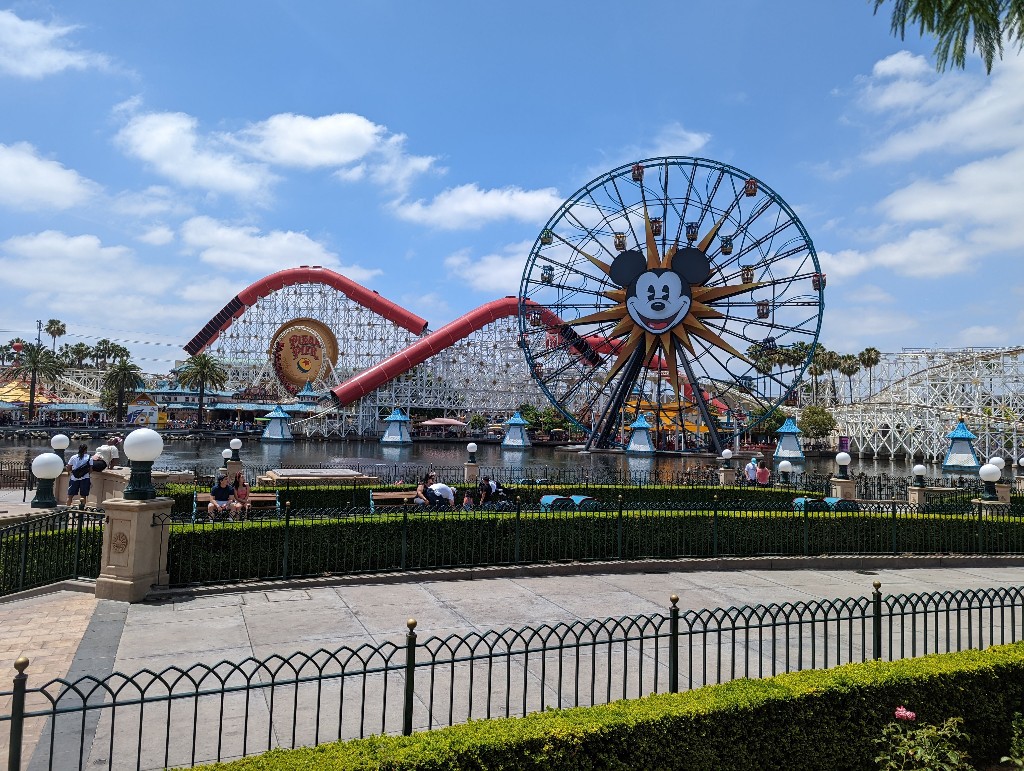 World of Color Dessert Party Cost:
$89 per person for guests age 3 years and older (includes tax and gratuity)
Although the most expensive option, a World of Color Dessert Party is the only way to sit down and enjoy this nighttime show.
The World of Color Dessert Party viewing area is set just behind the dining package section, but elevated. There are a mix of high top and standard tables, each with good views.
Book World of Color Dessert Party reservations 60 days ahead of time. Unlike other dining reservations, dessert parties require full payment when booking.
Cancel more than 24 hours before World of Color Dessert Parties for a full refund. The entire fee is forfeited for no show/late cancellations.
World of Color Standby Options
World of Color Standby Area Cost: Free
Technically there is standby viewing for World of Color shows at Disney California Adventure. However, these areas generally have the worst views. Look for roped off sections behind and off to either side of Paradise Gardens Park.
If you miss out on the virtual queue and reserved dining options, standby World of Color viewing still gives you the opportunity to experience the show. Arrive early, 60 to 90 minutes before the show, for the best standby viewing experience.
Where Is World Of Color?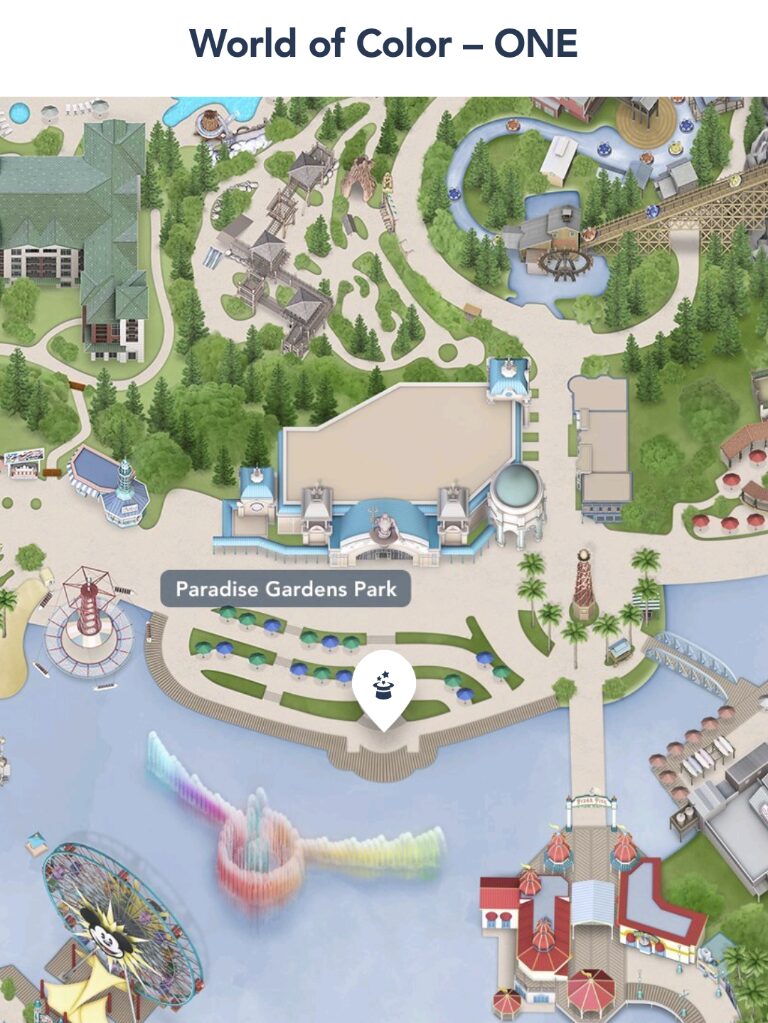 Paradise Gardens Park is a multi-level area facing the iconic Mickey ferris wheel, Pixar Pal-Round. During the day it is a great place to get pictures of Pixar Pal-A-Round with much of Pixar Pier in the background.
At night Paradise Gardens Park transforms into a vast viewing area with different sections for World of Color virtual queues, dining packages, and dessert party guests.
Which World of Color Viewing Option Is Best?
It's difficult to say what is best for everyone. Some people may happily pay a premium for the World of Color dessert party just to have a seat while others like the flexibility of adding on a last minute dining package to a dinner reservation.
In our opinion, the World of Color virtual queue is the best viewing option. The virtual queue is free, has a large viewing section, and premium views if you arrive early. Using the virtual queue saves us money that we can use for some of our other favorite Disneyland activities like tours, snacks, or nice dinners.
Regardless of which World of Color viewing area you choose, set aside time to enjoy this special nighttime spectacular at Disney California Adventure.