Pop Century is an extremely popular resort at Disney World, and has been going through an extensive refurbishment. This exciting refurbishment is a key reason we chose to stay at a Pop Century remodeled standard room for our Star Wars Dark Side runDisney trip. Do you want to know if Pop Century resort is right for you? Find out more about Pop Century resort and the new Pop Century remodeled rooms.
Location
Pop Century is an ESPN Wide World of Sports area resort and is only a short walk to Art of Animation.
Overview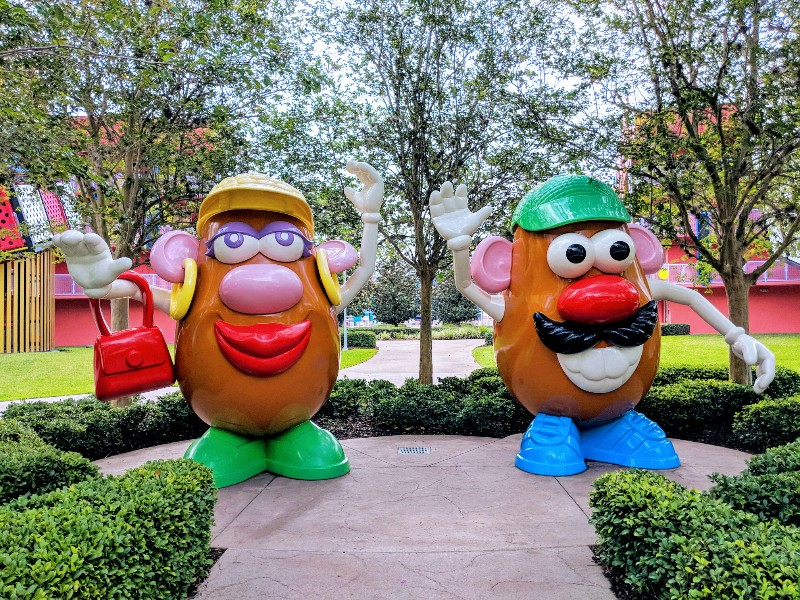 Pop Century resort relives the best of the 1950s through the 1990s in its immersive theme. There are 5 sections of hotel buildings at Pop Century. Each section represents the iconic pop culture of a specific decade. 
Classic Hall houses the hotel lobby/check-in area, a large food court, a gift shop, an arcade, and a kids waiting area. The lobby has a great timeline starting in the 1950s that continues through the 1990s with glass display cases holding tons of fun memorabilia. You can finally show your kids Cabbage Patch kid dolls, original Star Wars merchandise, records and cassette tapes.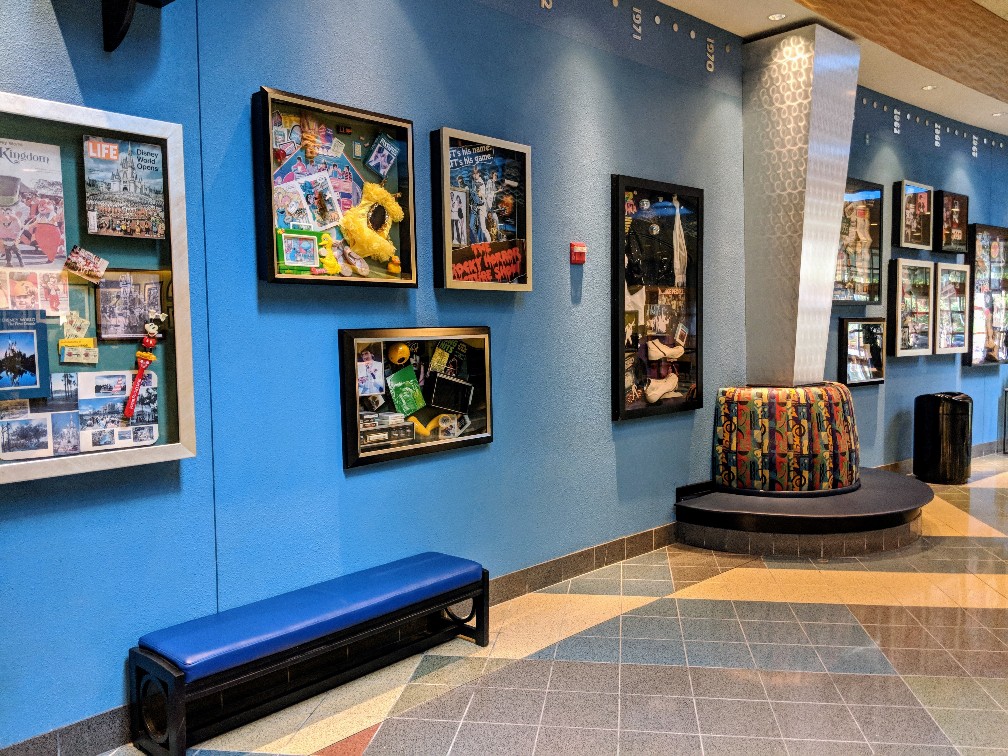 There is decade-appropriate decor on the outside of each set of buildings. We saw bowling pins for 1950s, Play-Doh, Baloo and Mowgli for 1960s, eight-track cassettes for 1970s, Rubik's Cubes and a Walkman for 1980s, and a giant cell phone and computer disks for 1990s. I was showing my daughter the pictures, and she thought the Walkman was an antique external charger for devices which prompted a funny conversation. I think this resort theme should count as on-the-road education.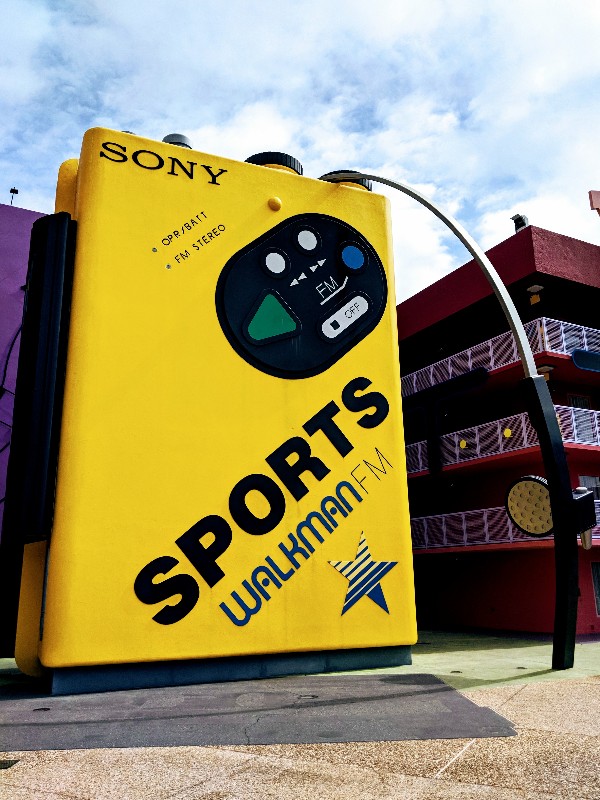 Pools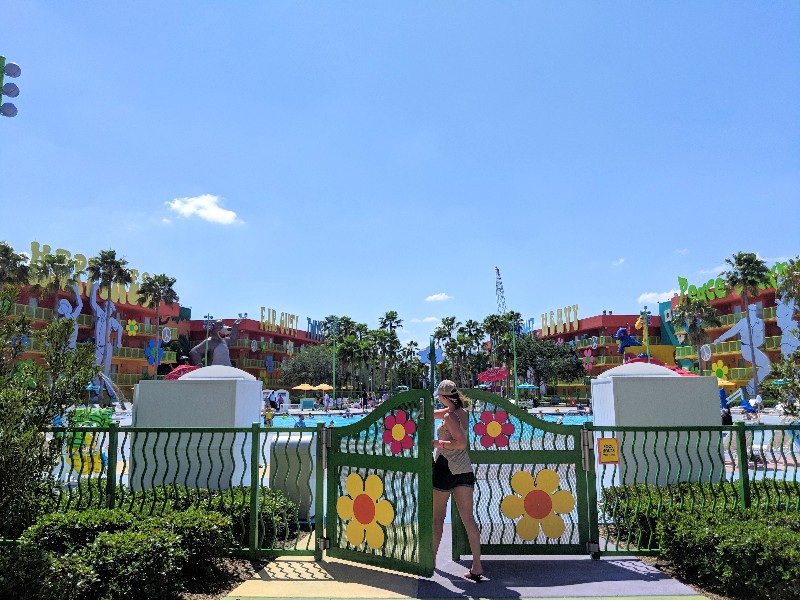 There are 3 pools at Pop Century. The Hippy Dippy Pool is the main pool located behind Classic Hall. Behind that is the kiddie pool, which is more like a splash pad for younger kids.
The next pool is the Bowling Pool found in the 1950s section of Pop Century. My friend made sure to point out the pool is actually in the shape of a bowling pin!
The final pool is the Computer Pool located near the 1980s and 1990s buildings. Both the Bowling Pool and Computer Pool seemed a little less busy.
Pro tip: Each pool plays music that corresponds to the era it represents!
Dining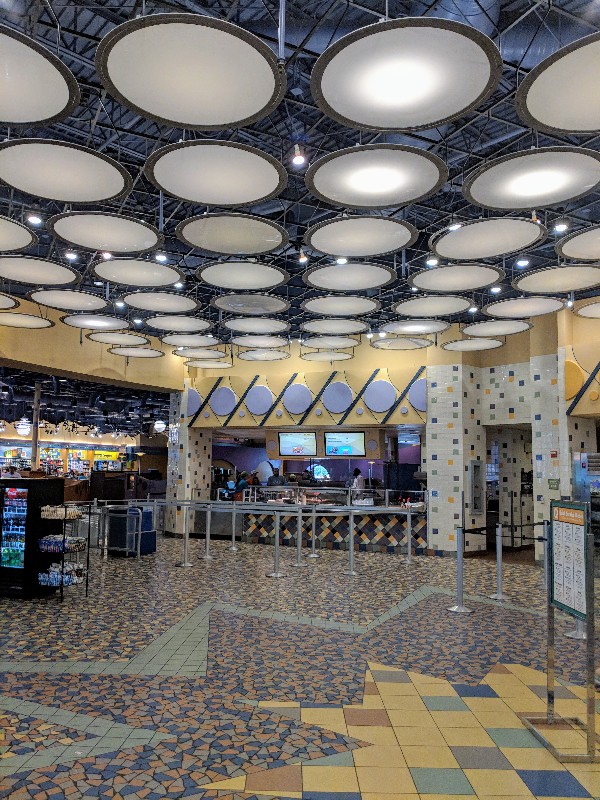 Everything POP Shopping and Dining
Everything POP is a gift shop and large food court inside Classic Hall. There are several hot food stations, snacks, drinks and grab-and-go items available for purchase in this food court and gift shop.
Petals Pool Bar
Petals Pool Bar isn't exactly dining, but we did grab a drink here in the evenings while we enjoyed the nice weather and activities around Hippy Dippy Pool. They serve alcoholic and some non-alcoholic drinks at this outdoor bar.
Disney Resorts In-Room Dining
A limited menu (think pizza or wings) is available for room service from late afternoon until late evenings at Pop Century.
Pop Century Remodeled Standard Room
This was my first stay at Pop Century, so I wasn't sure what to expect. When we first opened the door to our room I was very surprised how spacious it felt despite its small size of 260 square feet (24 square meters). The our newly remodeled Pop Century room made great use of this minimal space.
Please note as of publishing a standard room at Pop Century can have one of the following room configurations: 2 Double Beds or 1 King Bed or 1 Queen Bed and 1 Queen-Size Table Bed.
Our Pop Century remodeled room had the 1 Queen Bed and 1 Queen-Size Table Bed setup. Upon entering the room the table bed was in the table position, a queen-size bed just past the table, and the bathroom at the back of the room.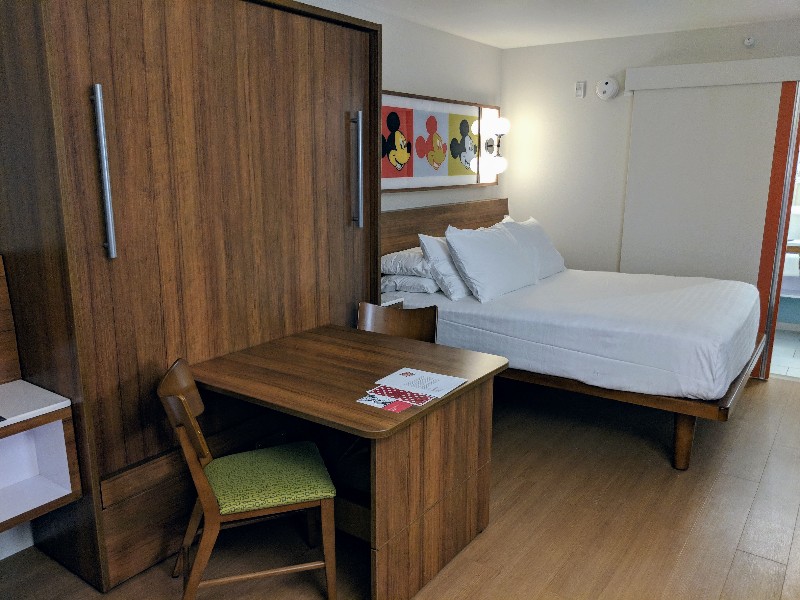 The table bed and traditional bed are both queen-size. This meant there was no need to arm wrestle my friend to decide who got the better bed. The table bed has a nice mattress and really felt like a regular bed. We loved that there were built-in nightstands (with plugs) by each bed. At night it was incredibly easy to pull the bed down and convert it from a table. The bed was almost identical to the one in our Art Of Animation Cars Family Suite except for the theming.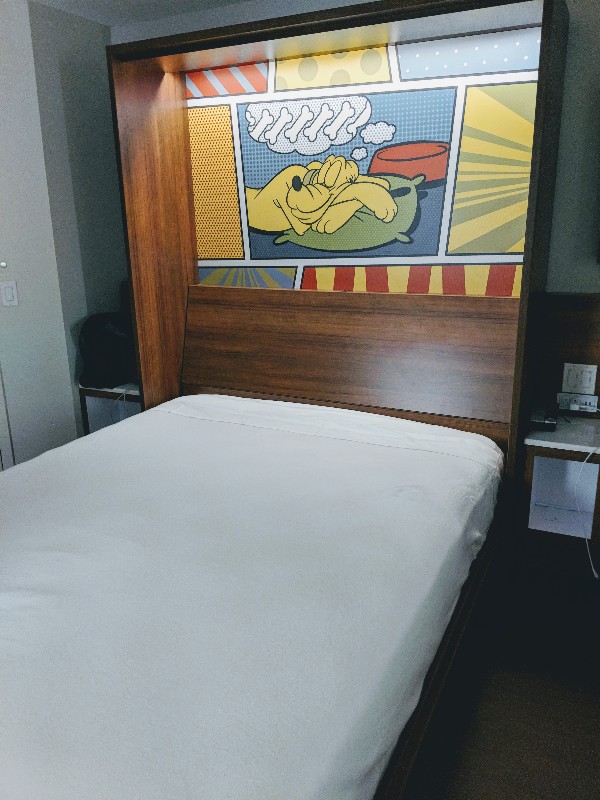 The bedroom area has an immense TV and large dresser with plenty of drawers (including a small safe). There is also a tall piece of furniture that has a mini-fridge (no freezer), coffee maker, coffee supplies, and storage space for any snacks or food you may have for your trip.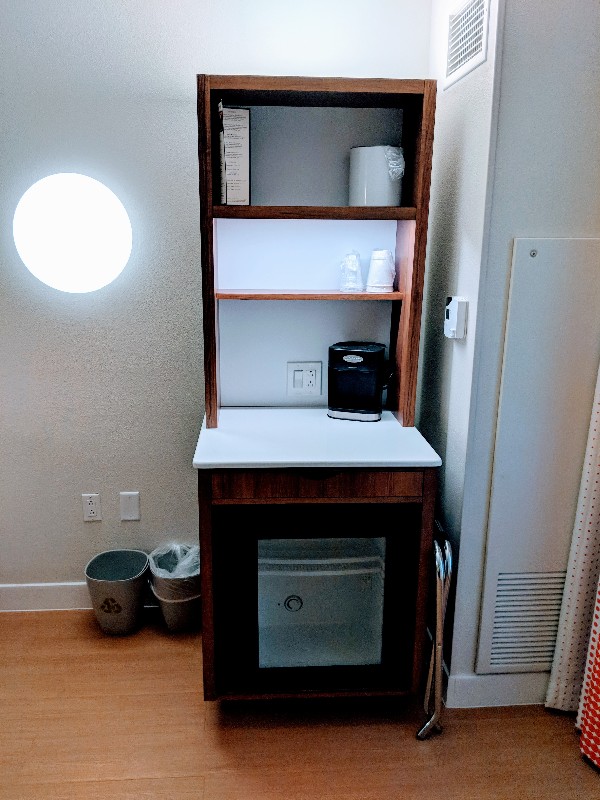 I'm a sucker for a split bathroom, so I was thrilled to find that the toilet/shower area was separated from the sink area by a sliding door.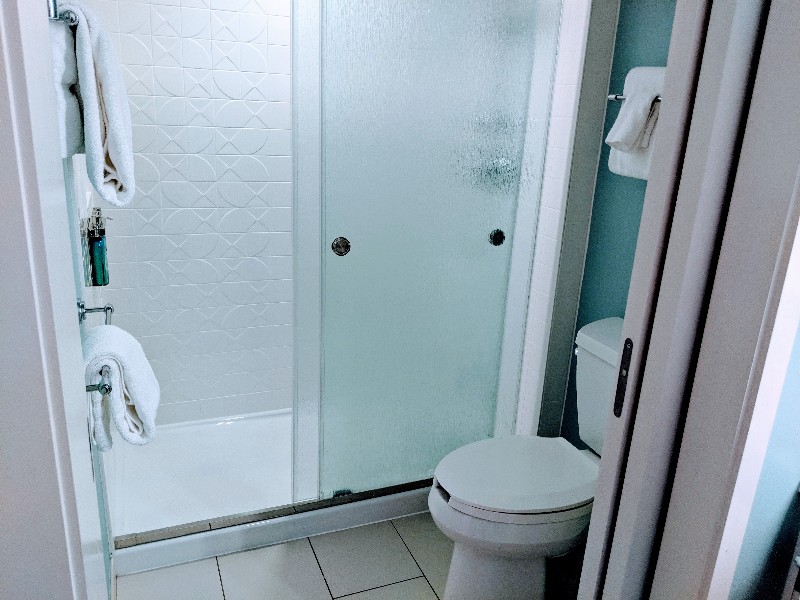 There were tons of shelves near the sink to store anything you could imagine and more. We had no problems getting ready simultaneously with the split bathroom design.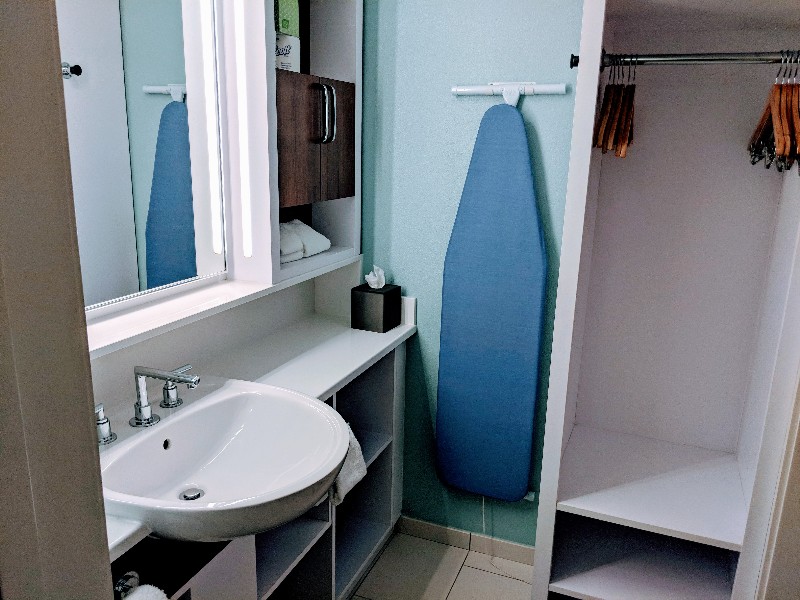 My only real complaint about my stay at Pop Century is that I felt I could hear the plumbing more than I usually do at a deluxe resort. That said I still felt our stay went great.
The room had the following great features:
A dinette table with 2 chairs that pulls down into a queen-size murphy bed

A traditional queen-size bed

Laminate and tile floors throughout the room

Mini-fridge, coffee maker, and storage for food

Split bathroom

Built-in nightlight in bathroom

Blackout curtains

In-room safe
In Room WiFi
Free WiFi is available for Pop Century resort guests at no charge. Generally this free WiFi works well for checking email or social media accounts, but not things like streaming video. Our room seemed to be in a bit of a dead spot, so our room's WiFi was dodgy.
Parking
Self-parking is complimentary for registered guests of Pop Century.
Transportation To Parks
Access to Magic Kingdom, Epcot, Hollywood Studios, Animal Kingdom, Disney Springs, and all water parks is currently by Disney World bus on-site transportation.
The Disney Skyliner at Pop Century also allows guests to take an gondola ride through the air to Hollywood Studios, Epcot, Caribbean Beach Resort, and Disney Riviera Resort.
Overall Impression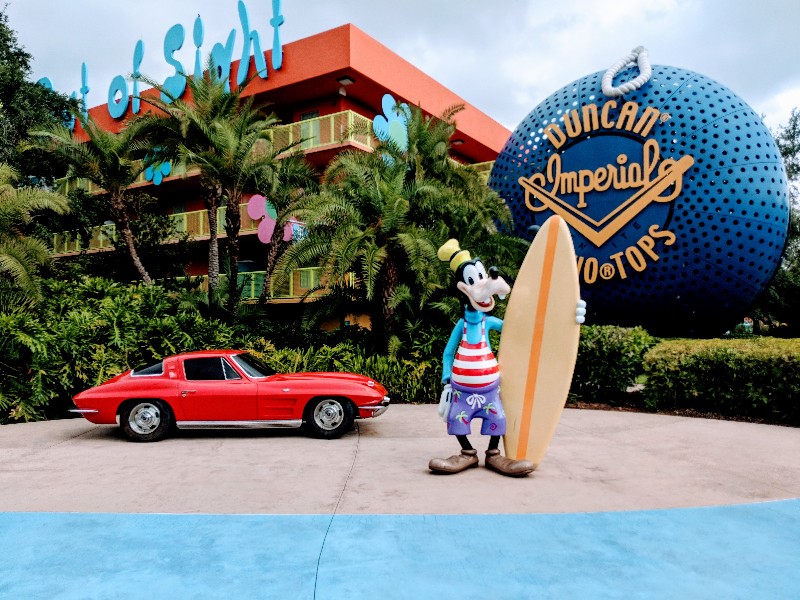 Pop Century resort is in the value category at Disney World. As a value resort I knew it wouldn't have the same amenities found at a deluxe resort. We were extremely happy with our Pop Century remodeled room. This change from 2 queen-size beds to a queen-size bed and queen-size table bed did a lot to make the room feel less cramped, but still provide comfortable sleeping options.
The Pop Century remodeled room with laminate and tile flooring, furniture with clean lines, plenty of storage throughout the room, and bright, clean bathroom won me over. I liked the room much better than I expected! My friend (who has previously stayed at Pop Century with her family of four) felt the remodeled room was a lot more comfortable than the old configuration. The changes have definitely helped the feel of the room. Please note the Pop Century remodeled rooms are still smaller than ones you find at a moderate or deluxe Disney World resort.
Pop Century resort was a great choice for our moms-only runDisney trip. Make sure you request a remodeled room to see all the touches we loved about the new Pop Century remodeled standard room!
More Disney World Planning Resources
Do you need more help planning your Disney World trip? Check out other Disney World tips and tricks in my Disney World Guides.
Pin it for later: