San Diego is an amazing place for anyone's vacation, but we especially love the family friendly activities in San Diego. Year round temperatures ranging between 60°F and 80°F (15°C and 27°C) and eight months of the year averaging less than an inch of rain make San Diego perfect for family fun. Here are our favorite San Diego activities to help you plan your own family trip to San Diego. This city has so much to do whether it is your main destination, part of a larger road trip, or a stop before embarking on a cruise.
I am a participant in the Amazon Services LLC Associates Program, an affiliate advertising program designed to provide a means for us to earn fees by linking to Amazon.com and affiliated sites.
Top Family Friendly Activities In San Diego
Explore Balboa Park
This 1200-acre (4.9-square-km) park has over a dozen museums, an antique carousel, the famous San Diego Zoo, multiple gardens, and a whole area full of artists. Balboa Park has so many great options you will probably only see a small portion of it during your trip.
We spent two full days there and still only did a handful of the available family friendly San Diego activities. For a complete listing of Balboa Park activites make sure to download the Balboa Park app from the Google Play Store or Apple App Store before your visit.
San Diego Zoo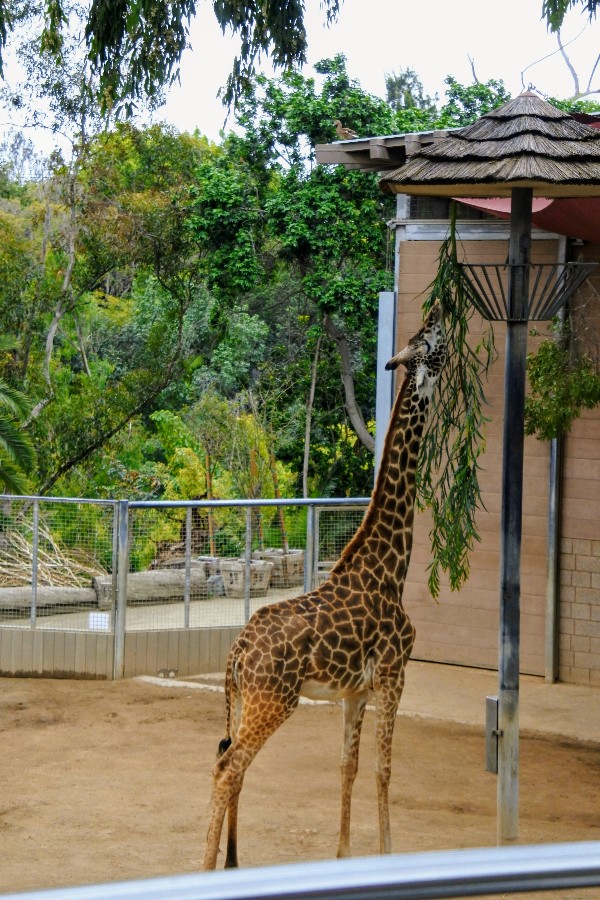 The San Diego Zoo has a respected reputation, and works hard to maintain a positive zoo experience. We loved how many animals we saw during our narrated double-decker bus tour which provides a great overview of the San Diego zoo.
The zoo is incredibly popular, so the lines to purchase tickets get very long right after the zoo opens. Parking for the zoo is free and, if you arrive early, relatively easy to find. As a bonus you can park here and visit more of Balboa Park without moving your car.
Balboa Park Carousel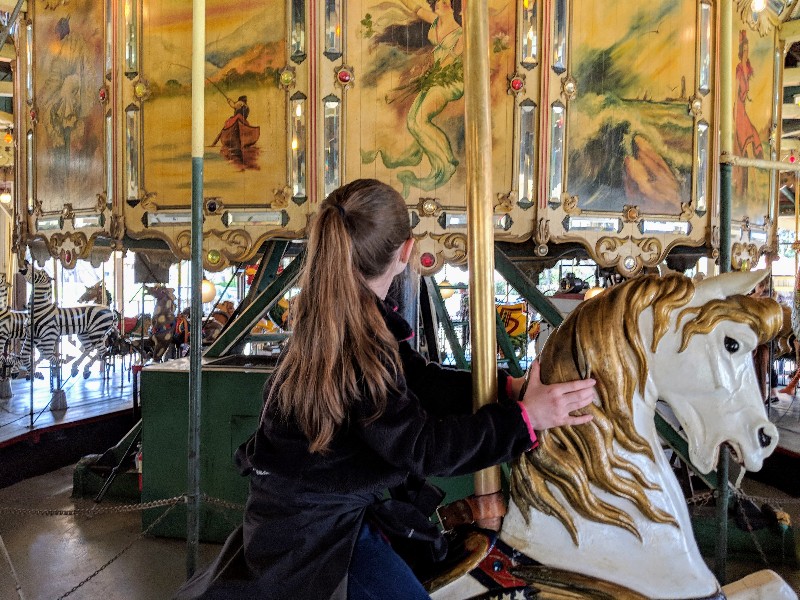 A local friend suggested that we take a spin on the Balboa Park Carousel. I admit I wasn't expecting much, but the carousel was actually a lot of fun. This carousel was originally built in 1910 and all but two pairs of animals are original. We marveled at the way the music was made for the ride using old fashioned music rolls like a player piano, except that this carousel has drums and cymbals in addition to the organ.
The ride lasts a little over 5 minutes and has a speed of 13.5 miles per hour on the outside ring. Speaking of rings, the Balboa Park Carousel has a rare brass ring game. Part way through the carousel ride rings are placed in a chute. Those who are riding animals on the outside edge can then try grabbing a ring. If you are lucky enough to snag the brass ring you win another ride!
Spanish Village Art Center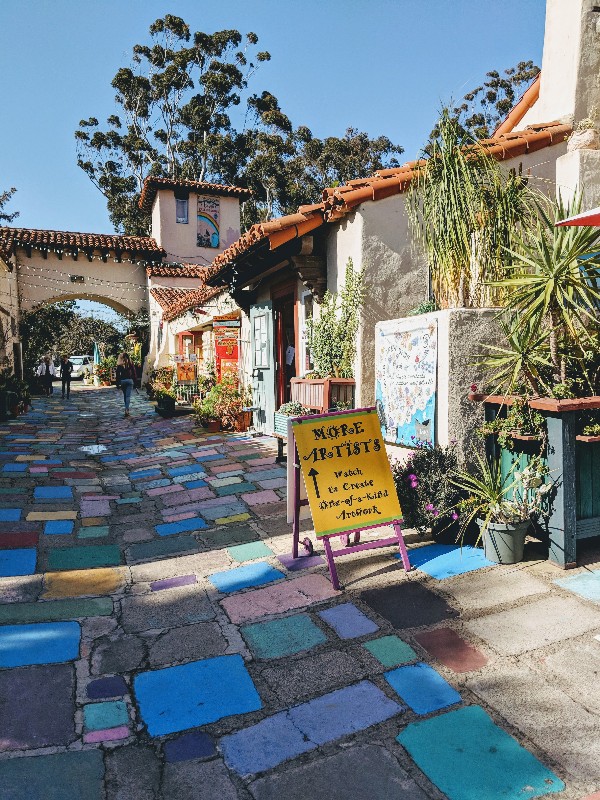 The Spanish Village Art Center is located not far from the San Diego Zoo and has over 40 studios to explore. The entire art center area is painted in vibrant colors, and the effect is quite beautiful. Keep your eyes open for special details painted on the cobblestone walkways throughout the Spanish Village Art Center.
Each studio has one or more artists showcasing their work. Sometimes the artists do special demonstrations to show how they create art.
We were fortunate to find Chris Stell working in her studio hand etching dichroic glass. She explained how the glass is specially treated with different gases to provide color on the glass panels. Chris makes her art by using a small drill to remove color from the glass. By drawing in the negative space she creates some beautiful glass pieces. After we watched Chris work, Elizabeth picked out a one-of-a-kind necklace charm as a special souvenir.
Japanese Friendship Garden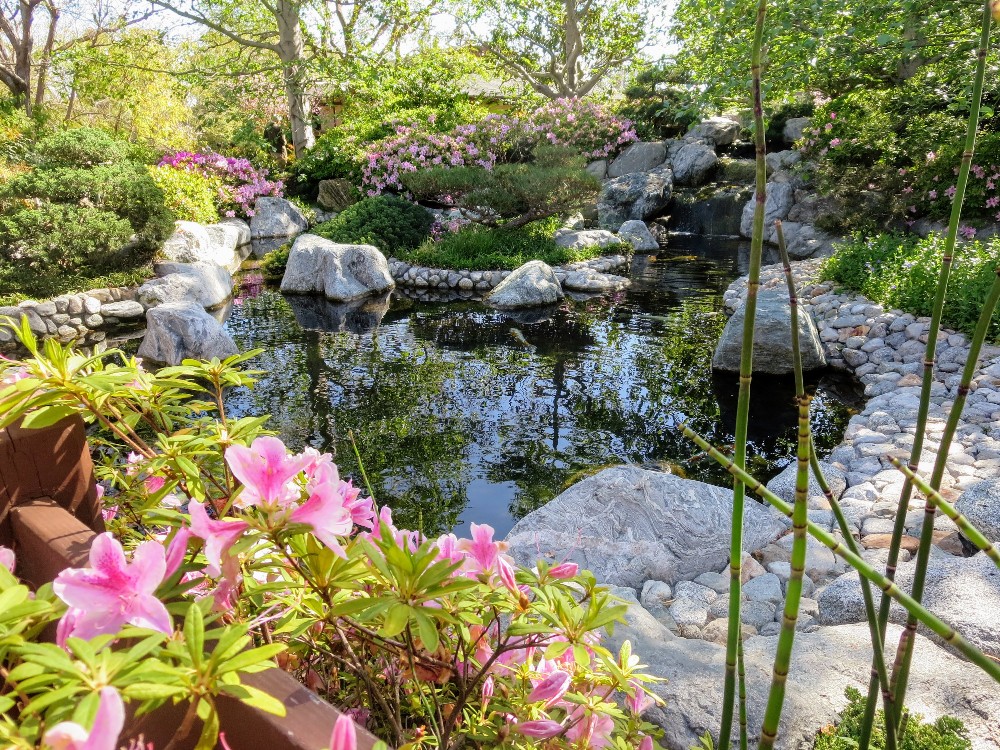 The Japanese Friendship Garden honors the special relationship between San Diego and its sister city, Yokohama in Japan. This 12-acre garden uses traditional Japanese gardening techniques and adapts them to the climate of southern California. There are beautiful water features, a koi pond, stone lanterns, a collection of bonsai trees, and a variety of plant life found throughout this quiet spot in Balboa Park.
Elizabeth loved finding special details in the garden while I enjoyed the beauty and peaceful tranquility. There are plenty of opportunities for stunning photos, so make sure you are ready to catch the perfect shot.
Botanical Building and Lily Pond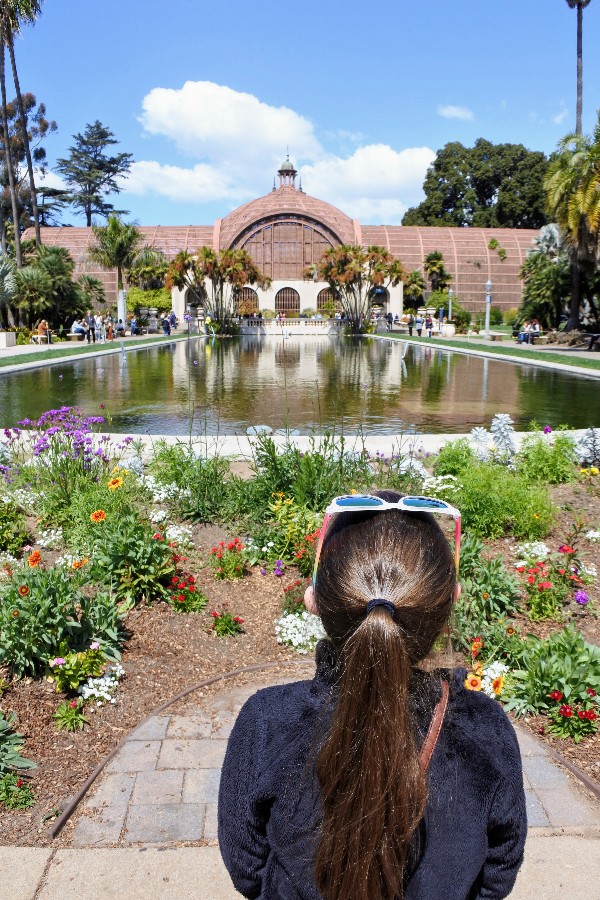 The Balboa Park Botanical Building and Lily Pond is one of San Diego's most photographed landmarks. Originally built in 1915 for the Panama California Exposition it continues to house beautiful tropical plants from around the world.
Our favorite exhibits inside the Botanical Building were the extensive array of colorful orchids and a kid friendly touch and smell herb garden. In this touch and smell garden you are encouraged to rub the leaves of plants between your fingers. Rubbing the leaves releases the oils which you can then smell. We were able to guess many of the herbs correctly, but were glad the pots were marked when we weren't sure.
The Lily Pond in front of the Botanical Building has had several uses over the years. The pond served as a place for Naval rowing or swimming lessons for new sailors in World War I, a physical therapy pool for injured sailors in World War II, and from 1945 to 1949 was open to children for swimming and to adults for fly and bait casting before its current use as a lily pond.
San Diego Mineral and Gem Society Museum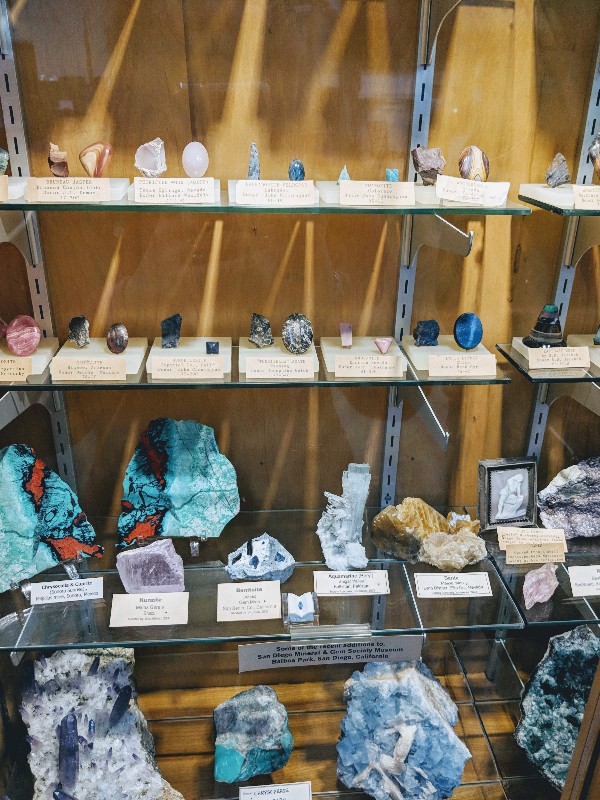 The San Diego Mineral and Gem Society Museum is in a small building near the Spanish Village Art Center. This building has a store where you can purchase handmade gem items (the prices we saw were very reasonable) and another area of display cases housing mineral, gem, and fossil specimens. We thought the display that showed rough gems and then cut and polished gems side by side was very interesting. The museum also has an impressive display of fossils from the Pliocene, Crustaceous, and Silurian eras.
There is no charge to enter this museum so I think it is definitely worth a stop if you are near the Spanish Village Art Center. Some of the gem jewelry pieces might even make a fun souvenir.
Prado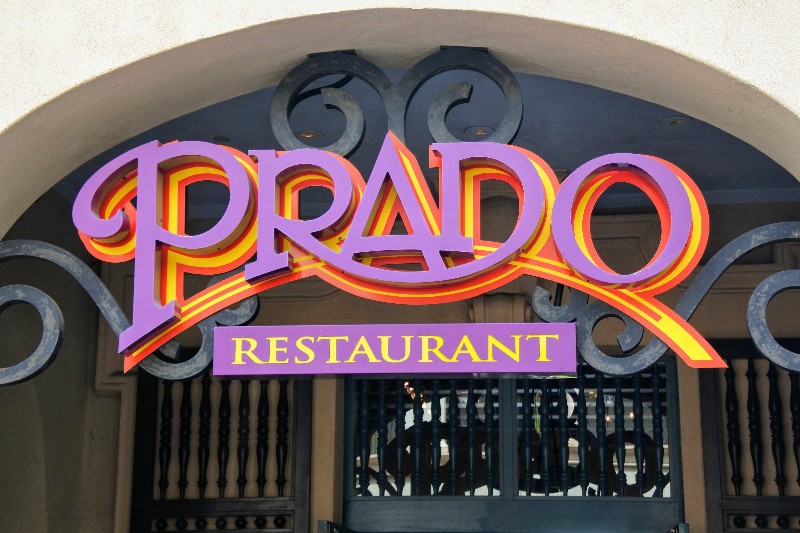 Prado is a full service restaurant located in Balboa Park near the Japanese Friendship Garden. We like to stop here for a late lunch (and an afternoon cocktail). There are tables outside with a lovely view. If those tables have a wait look for one of the smaller couches and coffee tables. This type of patio seating is available first come first served and allows you to order from a full drink with a limited food menu.
Prado is a perfect way to recharge before walking through more of Balboa Park.
Even More Things To Do At Balboa Park
Balboa Park is also home to several impressive museums. Find out more about all of the available options at Balboa Park here.
Watch The Sunset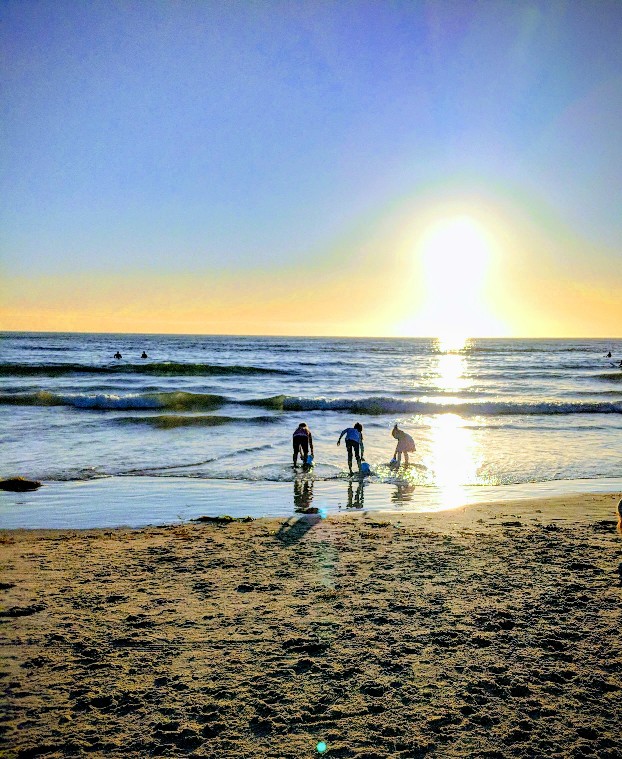 A San Diego sunset is a sight to behold. Although there isn't one perfect place to watch the sunset we love watching the sun fade over the ocean along Pacific Beach. Pacific Beach is a relaxed area with miles of beach and many inexpensive (and good) places to eat in the neighborhood.
We stay at Tower 23 which allows us to watch the sunset from our room or right down on the beach with a very short walk. If you are not staying in Pacific Beach you can find free street parking scattered around or opt for a pay lot. After you watch the sunset, stop by JRDN for a stellar luxury meal or if you are looking for something more relaxed try La Perla, Taco Surf, Amplified Ale, or PB Ale House.
Visit Coronado Island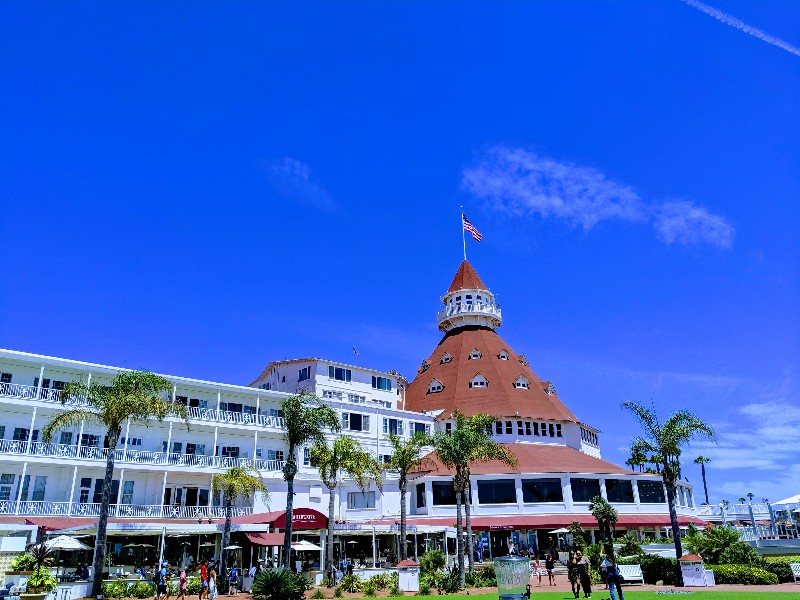 Coronado Island, although not technically an island, has some of the most picturesque beaches, shops, and restaurants of the San Diego area. A large portion of Coronado is also the Naval Amphibious Base where Navy SEALs undergo their rigorous training.
The most iconic spot on Coronado is historic Hotel del Coronado. This beautiful hotel originally opened in 1888 and has hosted many celebrities over the years, including several U.S. presidents. You don't have to be a guest to visit Hotel del Coronado. Much of the resort and the pristine beach behind it is open to visitors. I recommend taking a half-day to walk around the main shopping area of Coronado and visit the Hotel del Coronado, or "The Del" as locals like to call it.
Have A Beer
There are an astounding number of breweries in San Diego and many of them are kid friendly. Here's a couple of our favorite family friendly craft brewery options in San Diego.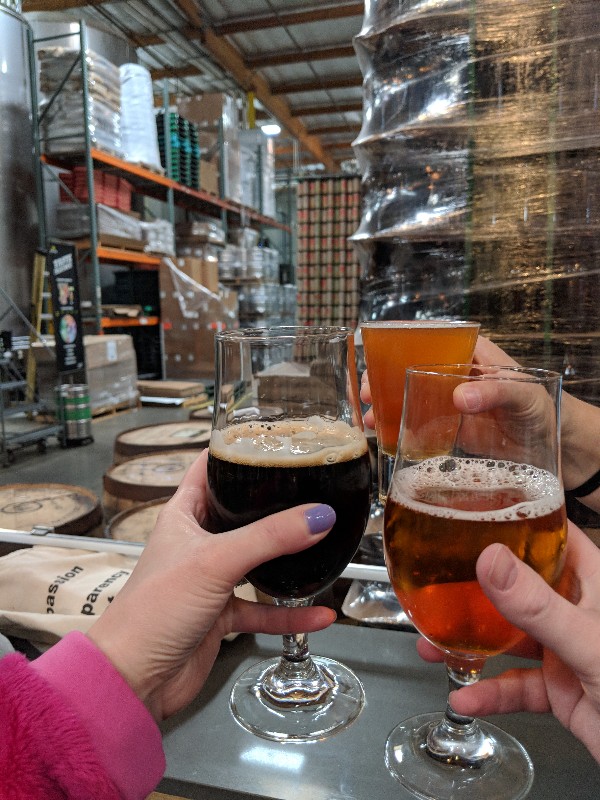 Green Flash Brewing
Our local friends brought us to the Green Flash Brewing tasting room. The kids colored and chatted while we enjoyed a drink in this 4000-foot space. There is also a large outdoor area with a food truck in case you are looking for some sunshine and something to eat. I love that this tasting room offers up to 30 beers on tap and 3 available beer sizes. Choose from a taste, a half pour or a full glass.
Green Flash also has brewery tours multiple times a day. The cost of the 60-minute tour is reasonable ($6.50 per person in March 2018). Kids are welcome to attend the tour, but not allowed to do the tasting. The brewery tours are popular so make sure you book in advance.
Amplified Ale Works Kitchen + Beer Garden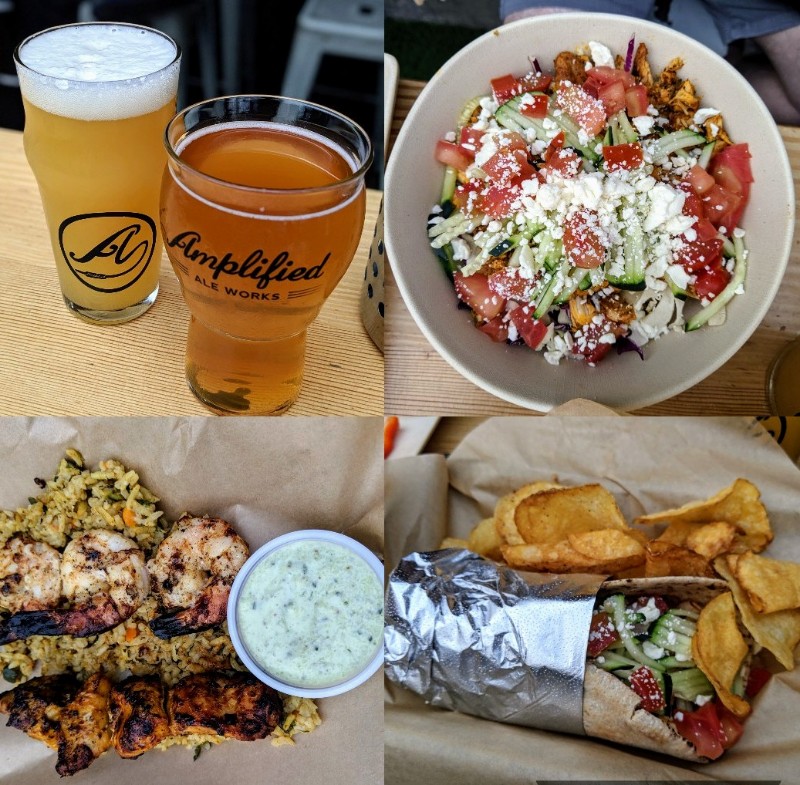 The second floor open air beer garden at Amplified Ale provides a good view of Pacific Beach sunsets while you savor a craft beer and some non-traditional bar food. Amplified Ale's menu has a definite Mediterranean vibe with marinated skewers, pitas, and falafel. The portions were a good size and the food was delicious.
Take A Hike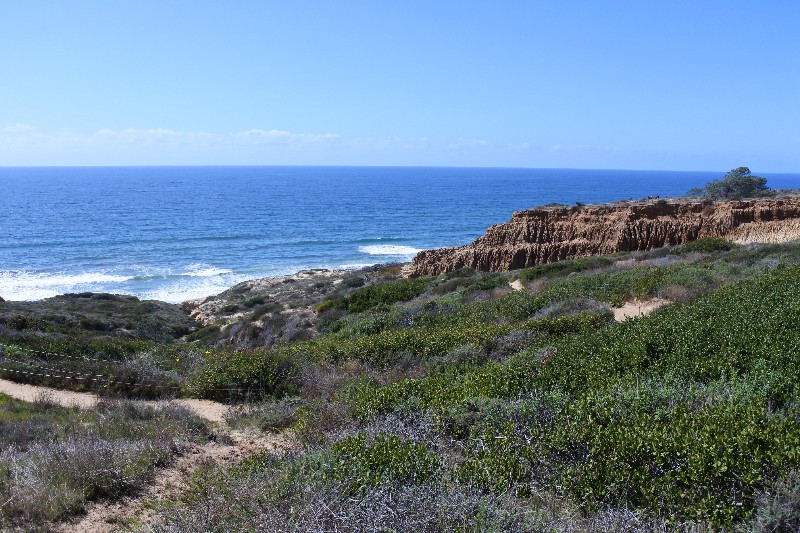 San Diego has a lot of amazing hiking options near the city. Knowing we are not avid hikers I asked my local friend what hike would be family friendly and not require any special shoes. He had just the spot: Torrey Pines State Natural Reserve.
There are several trails available with varying lengths and difficulties. We opted for the Beach Trail. This ¾-mile (1.2-km) trail ends at a set of steep stairs to a black sand beach. The girls played in the sand for a long time and we enjoyed the beautiful surroundings. The hike back up the trail is a little more challenging because it is a 300-foot climb, but all three kids (age 4 to 9 years old) managed it fine. Just make sure you bring water on your hike. I foolishly only brought one bottle and we had to use it sparingly.
To access the Beach Trail you can either park in the lot at the entrance to Torrey Pines State Natural Reserve or drive up the hill to access a lot closer to the trailhead. Although the parking lot near the start of the Beach Trail is very small it is worth a try to find a parking spot there. If you park in the lot near the entrance you must first walk up a long, winding, steep road (without sidewalks) to get to the trailhead.
Near the start of the Beach Trail there was an information booth with brochures and some hands-on displays. The girls enjoyed learning more about the wildlife and plants found in the reserve through the display and staff working at the booth.
See Animals and Sea Life
La Jolla Cove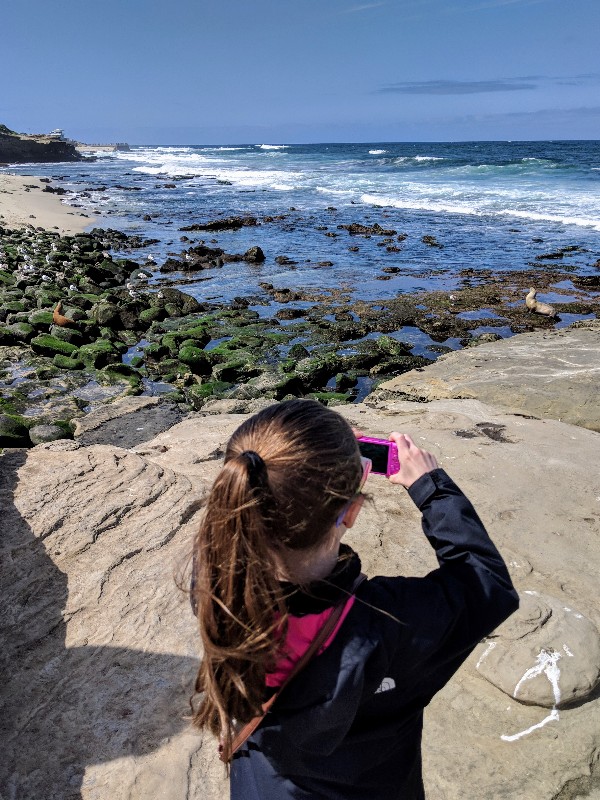 Finding sea lions and seals is relatively easy at this stretch of coastline near La Jolla Cove. You can often see the sea lions and seals from the trails, but can also climb down to the rocks nearer the water. The rocks can be very slippery so wear good rubber sole shoes and know your own limitations. The sea lions seemed completely disinterested in us during our visit, but we gave them a wide berth to be safe.
Our friend's daughter told us before we arrived at La Jolla Cove that the sea lions "smell terrible", and she was so right. However, despite the odor we really enjoyed this small detour to see an iconic San Diego sight.
Bonus tip: While you are in La Jolla stop by Legends Gallery to view some original art pieces by Dr. Seuss. There were many paintings that were immediately identifiable as Dr. Seuss and other pieces of his in a completely different style that I adored.
San Diego Zoo Safari Park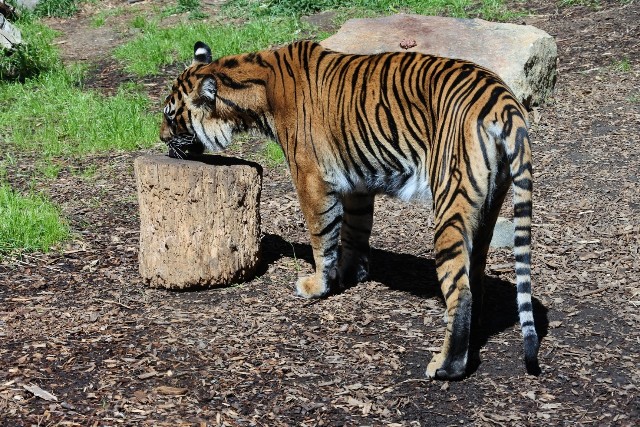 The San Diego Zoo Safari Park is a huge, 1800-acre wildlife facility located about 30 miles northeast of San Diego. The Safari Park is set up like a large traditional zoo with great animal viewing areas and a special tram that takes you through an immense mock African plain. The Safari Park is an incredible place to see a variety of animals.
San Diego Zoo Safari Park Tiger Talk
Our absolute favorite activity at San Diego Zoo Safari Park was the Tiger Keeper Talk ,which the ticket sales person suggested to us. This talk occurs in the Sabutan Longhouse on the Tiger Trail. Stake out a spot near the glass at least 15 minutes ahead of the talk to get the best views.
One of the trainers comes into the longhouse and talks about the tigers of the safari park. While this trainer is talking another trainer goes into the empty tiger enclosure. They set up hunks of meat around the perimeter of the glass and throughout the enclosure. The trainer also sprays butcher paper and paper inside of cardboard boxes with perfume (the tigers like Obsession for Men and Chanel No. 5) as enrichment toys for the tigers.
Once the trainer is done preparing the enclosure and is safely out the tiger is released. We got to see the tiger prowl around the large enclosure exploring the scents and foods that were left behind. This was the closest I have ever been to a tiger and it was absolutely fantastic.
San Diego Zoo Safari Park Africa Tram
Another favorite activity was the Africa Tram. This 30-minute tram ride takes you through the large African Plains section of the Safari Park. We saw rhinos, zebras, giraffes, ostriches, antelope and many other animals while our driver guide taught us more about the animals. Please note this is an incredibly popular activity and the line was an hour long during our visit. The tram ride is part of your park admission, but you can buy an upgrade to skip the line. We opted to wait in the shade as a break from walking and becauses I couldn't justify the additional $54 cost to skip the line.
Speaking of lines the ones to purchase entrance tickets get very long very quickly in the morning. Either arrive early or buy tickets ahead of time to reduce your wait time.
Tide Pools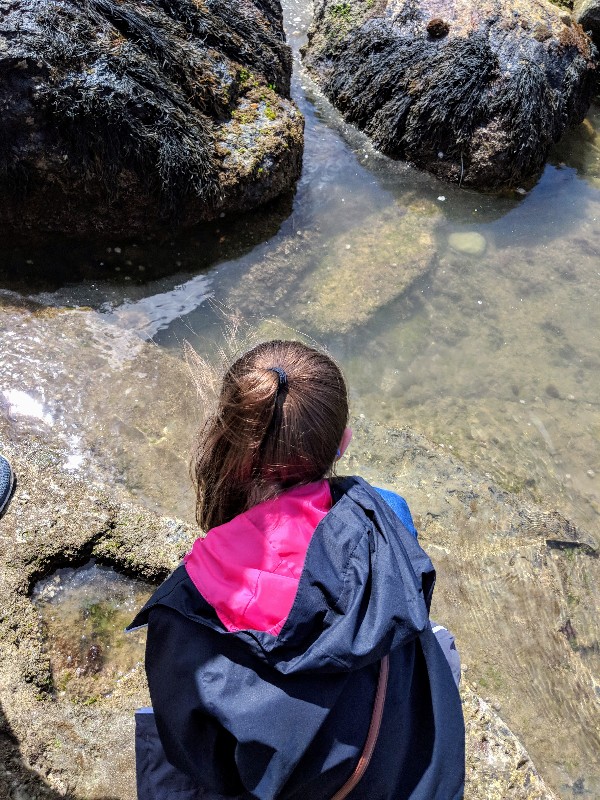 Tide pools are a great way to see sea life up close without having to get in the water. A tide pool is a shallow indentation in rock located in certain areas along the coastline. When the tide is high sea life is swept into the area and when the tide gets low some of these animals are left behind in the shallow pools of water.
Cabrillo National Monument
There are several options of where to see tide pools, but we ended up trying Cabrillo National Monument. Cabrillo National Monument is a national park with a 2-mile (3.2-km) hiking trail, the historic Old Point Loma Lighthouse, information on 16th century explorer Juan Rodriguez Cabrillo, and easy access to tide pools. This monument is very popular and during our visit traffic backed up for a couple of miles to enter the park.
The intertidal area at Cabrillo National Monument is supposed to be one of the best protected tide pool ecosystems in the area. To explore the tidepools you need to lookup when low tide occurs during your trip. Low tide is essential so that the water has receded enough to access the tidepools. Try to make it to the park right at low tide, it is surprising how quickly the tide starts to rise again making it difficult to see anything. We didn't have great luck in our tide pools, but did see some hermit crabs, sea anemone, mussels, and sea snails.
There are parking areas nearby the tide pool access. The official tide pool lot is very small and often full, but there is another parking lot nearby. Please note this farther lot requires walking along a road briefly before accessing trails.
Make sure you are wearing water shoes for your visit. Although the tide is low there are still spots where your feet are likely to get wet. Flip flops are not advised because the wet rocks can be very slippery. We found these comfortable (and cute) water shoes for me, my daughter, and my husband (affiliate links: buy on Amazon).
Enjoy Some Naval History
USS Midway Museum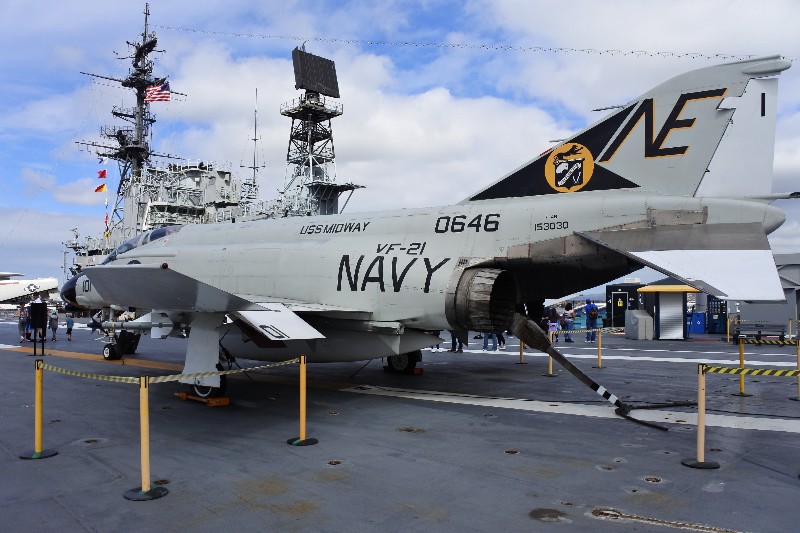 The USS Midway Museum is a decommissioned aircraft carrier that served the U.S. Navy from 1945 until 1992. Before starting your tour I suggest that you get an audio tour device and a scavenger hunt for the kids. The kids scavenger hunt activity sheet made touring USS Midway fun and educational. At the end of our self-guided tour Elizabeth turned in her completed form and received a special pin from one of the retired Navy docents.
I grew up watching Top Gun on repeat with my Dad. Walking around the flight deck of USS Midway admiring the jets was such a special opportunity. I even got to climb into the cockpit of a fighter jet which is a unique opportunity. There are also docents all around the carrier. These retired sailors have some amazing stories to share if you take the time to talk to them.
There is a fantastic movie shown in the Battle of the Midway Theater. This movie details the intense battle between the US Navy and Japan in 1942. The movie was very dramatic and tense, but also very educational. Elizabeth was okay with the topic and presentation of the movie, but several younger kids seemed upset.
Maritime Museum of San Diego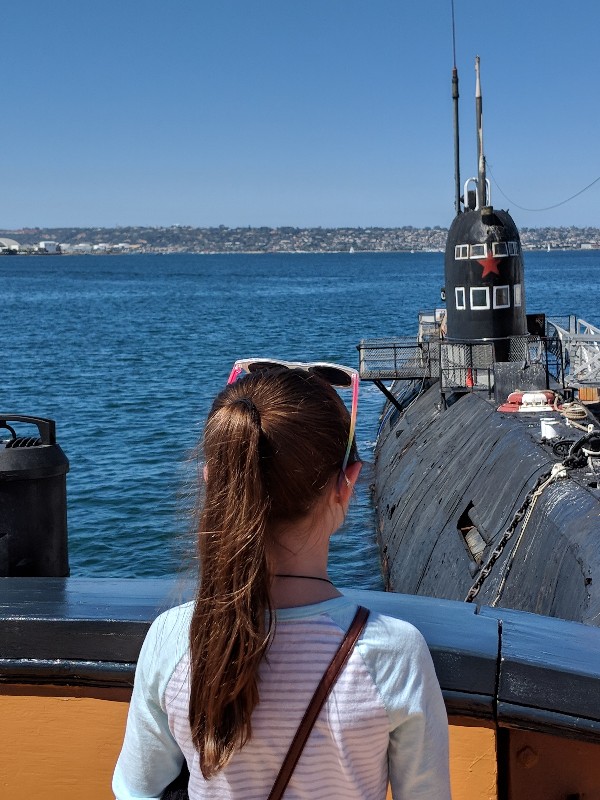 The Maritime Museum of San Diego is unlike any other museum I have visited. Comprised of 9 boats and 2 submarines each vessel acts as part of the museum. Some of the ships are original while others are amazing replicas. You board each vessel to learn more about it and the time period it served.
The Star of India, who first sailed in 1863, is currently the oldest active merchant sailing ship. We learned about how emigrants traveled on this ship and later how it was used as an Alaskan fishing boat. The Steam Ferry Berkeley is a stunning ferry that helped evacuate San Francisco after the 1906 earthquake. The ferry also acts as the gift shop, Swift Boat and Naval history exhibit, and has nice restrooms for a quick break.
The best exhibit, in our opinion, was the B-39 submarine. This was a former Soviet Navy submarine like those that took part in the Cuban Missile Crisis in 1962. Before entering the sub there is a round access point in front of the walkway to the vessel. Do not ignore this! You really do need to climb through access doors exactly that size while inside the sub. It is wise to know if you can manage this before entering.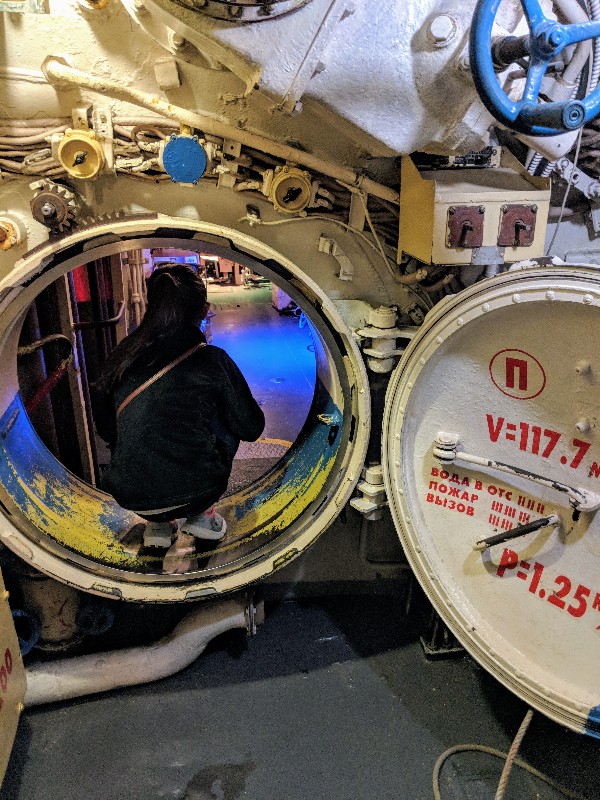 There are three stations in the B-39 that use videos, lights, and speakers to tell the story of the Cuban Missile Crisis. These multimedia exhibits did a great job of making you feel like part of the story.
Several of the ships in the Maritime Museum of San Diego still sail and you can book different tours to experience them on the water. There is no parking lot for the museum, but nearby there is a large metered parking lot. We paid for 3 hours on the meter, and that was just about the amount of time we needed to see the museum.
Stop By Liberty Station
Originally a Naval training base from 1923 until 1997 Liberty Station has found new life as a mixed-use development. There are restaurants, shops, art venues, and our favorite spot, Liberty Public Market, a large public market with a variety of stalls. Grab a drink in the old mess hall of Liberty Public Market and then bring it outside to the patio. The patio is the perfect place to enjoy the beautiful San Diego weather, specialty food, and drinks of Liberty Public Market.
Important note: The San Diego Airport is very close to LIberty Station. This makes for great plane watching on the Liberty Public Market patio, but occasional pauses in conversation until the rumble subsides.
Sample Yummy Treats
Baked Bear
Baked Bear is a Pacific Beach classic and it's for a good reason. Choose your cookie or brownie and then what ice cream you want sandwiched between them. These ice cream sandwiches are delicious and huge so you can even share it with a friend (or not). You can also order ice cream over a hot cookie bowl or just on its own.
Cinnaholic
I admit I was skeptical to try this specialty cinnamon roll shop when I learned that the products are vegan. You can choose from tons of toppings and icing flavors, but we stuck with a classic cinnamon roll. That vegan cinnamon roll was so good we fought over the last bite. Elizabeth opted for a scoop of vegan chocolate chip cookie dough and that was amazing, too.
Donut Bar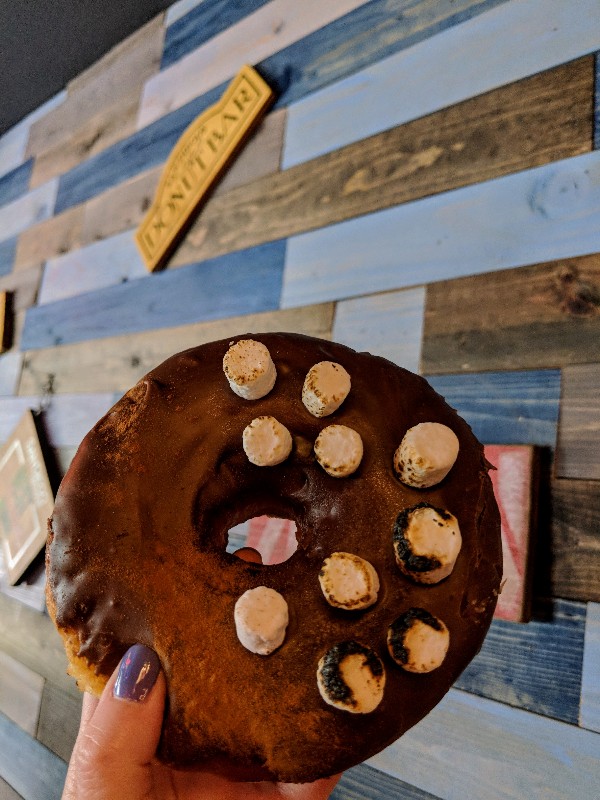 Donut Bar is a ridiculously well known donut shop in San Diego. The long line usually stretches out onto the sidewalk. Could these donuts really live up to the Instagram hype? To my surprise they did!
Donut Bar still had a good variety of donuts late on a Sunday morning, the staff was nice, and the donuts were fabulous. We got several for our group and I loved each one I tasted. Bonus: Donut Bar has the most amazing Homer Simpson/Ryan Gosling mash-up mural.
Lofty Coffee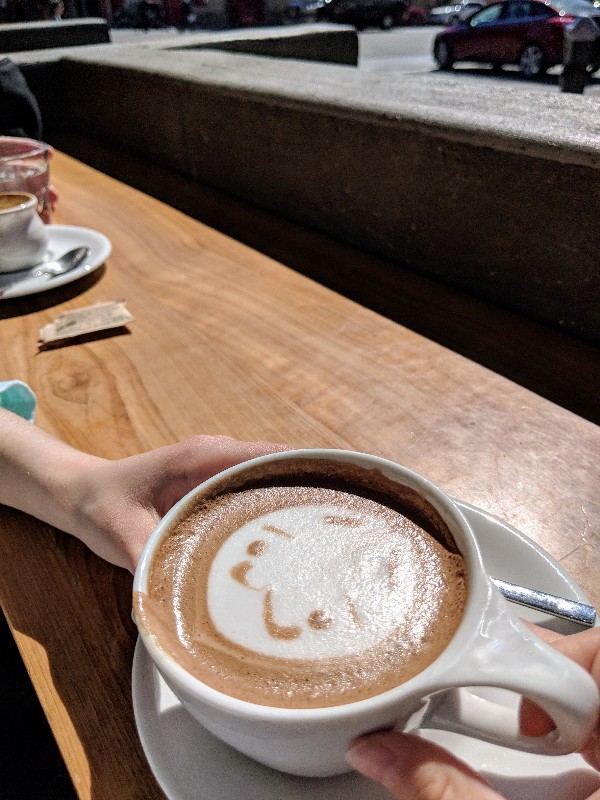 Lofty Coffee roasts their own coffee beans and bakes their pastries fresh daily. We stopped by the large open air Lofty Coffee in Little Italy. Mr. Smart Mouse had a true macchiato (served with seltzer water) and I had a cappuccino. Our coffees were the perfect afternoon pick me up as we sat at a table in the sun.
Elizabeth got the most beautifully decorated hot chocolate I have ever seen. The hot chocolate had a hint of cinnamon and cayenne. Elizabeth drank more of that hot chocolate than any other one she has had. The staff and drinks were fantastic, so stop by if you are in the neighborhood.
Final Thoughts On Family Friendly Activities In San Diego
We love taking family trips to San Diego and enjoy the laid-back, friendly vibe of the city. Consistently nice weather makes it easy to try lots of different San Diego family friendly activities no matter when you visit. We've also found a great beach front hotel, Tower 23. This hotel makes an excellent home base for all of our San Diego family activities.
Pin it for later: