When planning our family trip to Charleston I wanted to find someplace unique to stay, but close to the sights. I was lucky to stumble onto Planters Inn and decided to give this classically elegant hotel a try. We stayed in a Planters Inn Charleston Garden Courtyard Suite, which is a relatively new addition to this spectacular hotel.
Location
Planters Inn Charleston is located directly across the street from Charleston City Market and a short walk to most major sights in the city.
Planters Inn Charleston Overview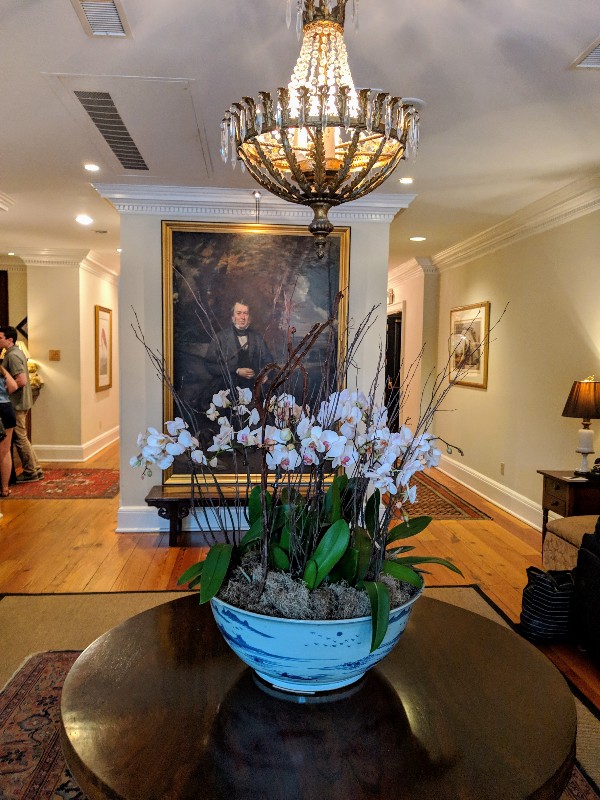 The main building of Planters Inn Charleston dates back to the mid-1800s and houses most of the hotel rooms. The main building also holds AAA Four-Diamond ranked Peninsula Grill.
The lobby is small, but warm and welcoming. From the first moment we walked in, I fell in love with the traditional and elegant style of Planters Inn.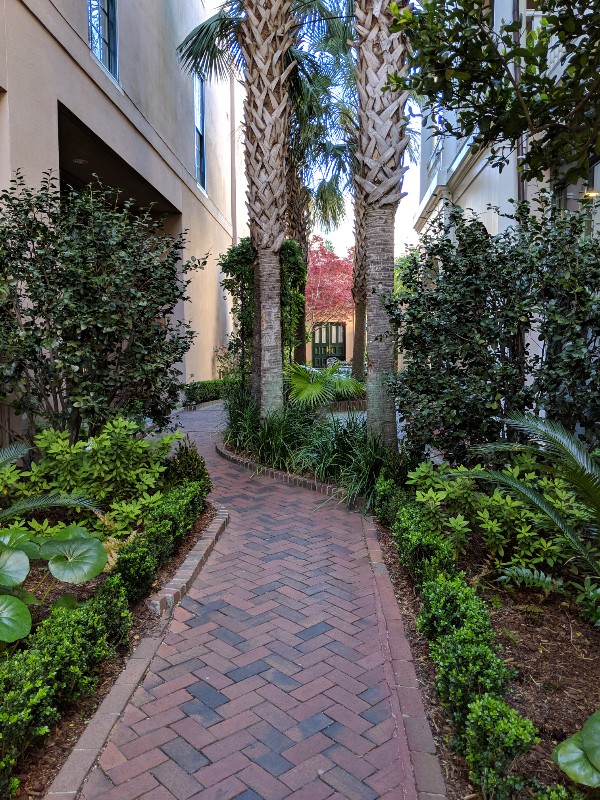 In between the main building and the building that houses Planters Inn Charleston Garden Courtyard Suites is a small but lovely garden courtyard. This lush walkway leads to the courtyard with seating and a relaxing water feature. 
Peninsula Grill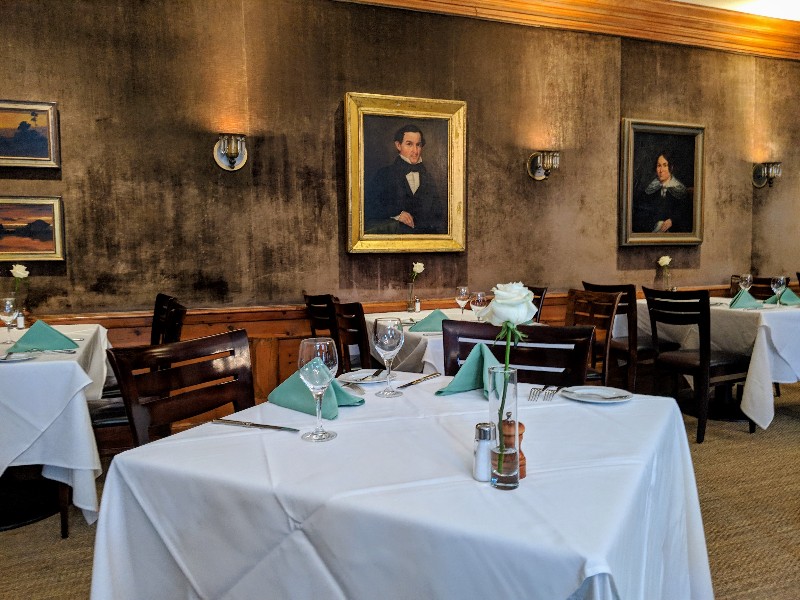 The one on-site restaurant at Planters Inn Charleston is Peninsula Grill. Peninsula Grill is an award winning restaurant known for incredible atmosphere and dinners. There is a cozy dining area inside the restaurant and a handful of tables for eating al fresco in the garden courtyard.
We ate at Peninsula Grill twice on our trip to Charleston. On our arrival night the weather was gorgeous, so we asked for al fresco dining when checking in for our dinner reservation. Our family shared New York Strip Steak, Pan Roasted Sea Scallops with Lobster Medallions, Speck Ham & Hoop Cheddar Grits, and Broccolini with Lemon & Parmesan for dinner. Our dinner was incredible, and we ate everything plus ordered dessert.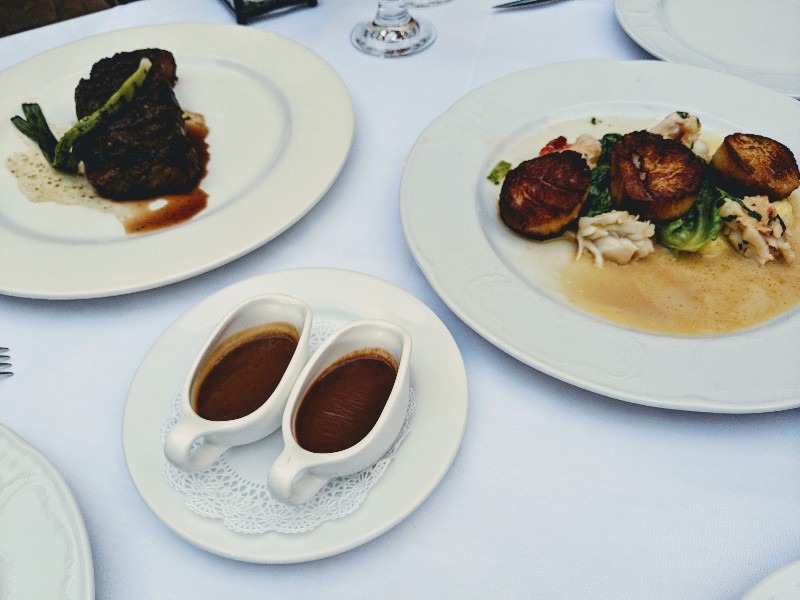 We didn't intend to eat breakfast at Peninsula Grill, but tried it after having an extremely mediocre, but expensive breakfast nearby on a different morning. The Peninsula Grill breakfast menu is limited, but well executed. Our breakfast at Peninsula Grill was quiet, delicious, and allowed us to experience a meal inside the velvet lined walls of the restaurant. The quality and atmosphere was much better than the other breakfast and only cost a few dollars more.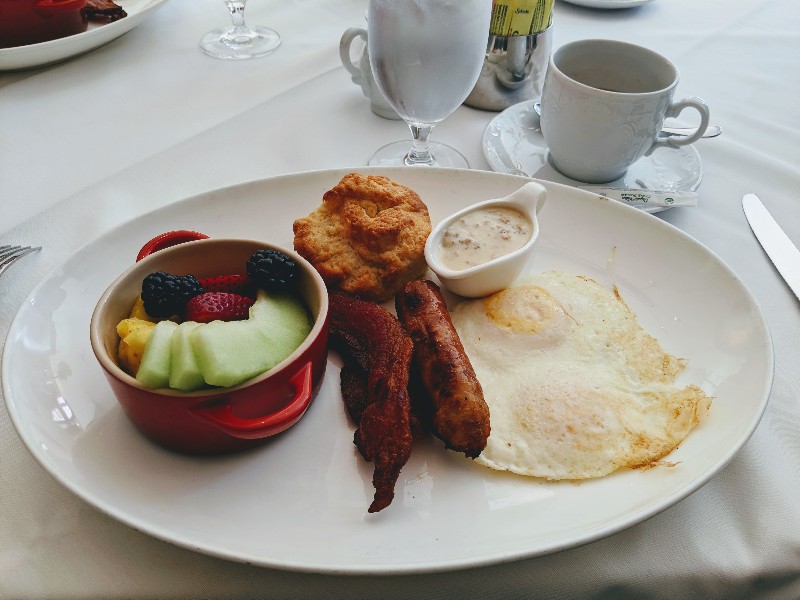 Peninsula Grill breakfast is served daily and is open to anyone, not just hotel guests at Planters Inn. There are no reservations for breakfast, but since Peninsula Grill is an intimate and popular dining space I highly recommend dinner reservations.
Planters Inn Charleston Garden Courtyard Suite Review
Planters Inn Charleston Garden Courtyard Suite Living Room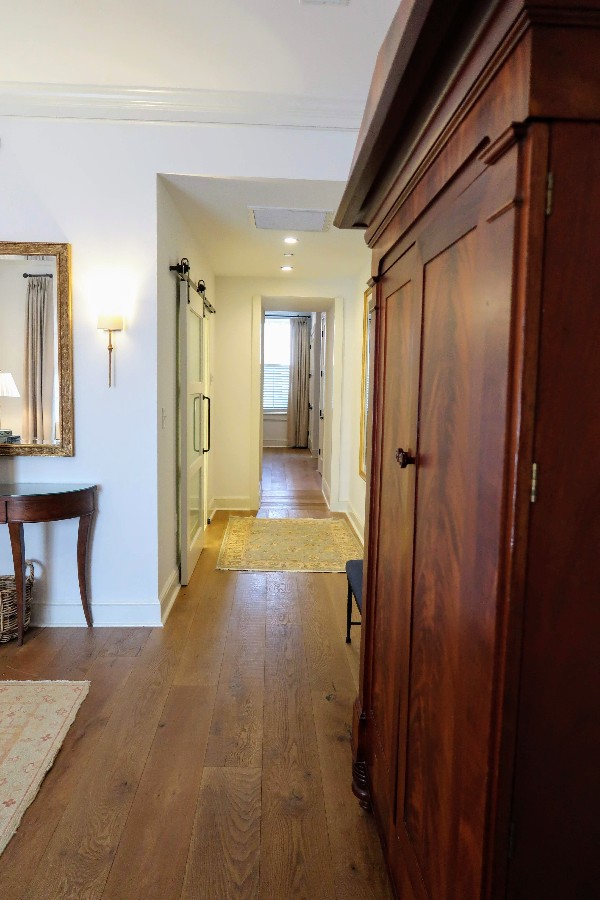 The moment we opened the door of our Planters Inn Charleston Garden Courtyard Suite I was shocked at the size. The door opens into a living room area with views down a hall toward the bedroom.
The living room area has a couch, chair, coffee table, sitting bench, and large armoire for the television. Some Garden Courtyard Suite couches are fold-out beds, but not all.
Each of the Garden Courtyard Suites are being modified to have a fold-out couch, but this is not yet complete. For now, note your preference when booking. This way you can ensure your Planters Inn Charleston Garden Courtyard Suite will be able to accommodate four people.
There is a small mini fridge and a Nespresso coffee machine on the counter above. I was pretty disappointed in the Nespresso machine. The machine isn't user friendly and only makes a small amount of coffee per serving. The mini fridge was spacious and is great to have when traveling as a family. Next to the mini fridge are three shelves where you can store food items out of sight.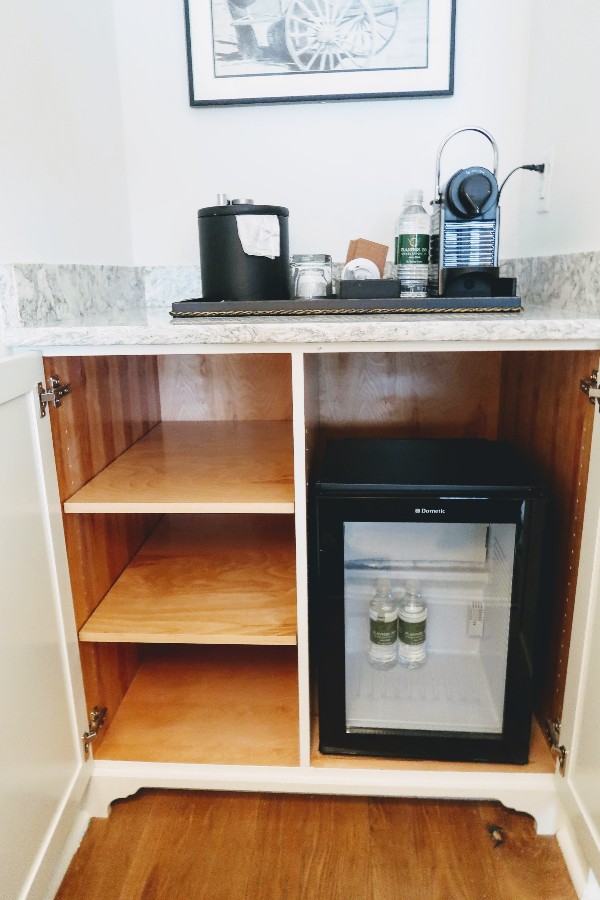 On nice nights the garden outside our room was buzzing with activity from Peninsula Grill. The first night the noise was a little challenging for our daughter sleeping in the living room area. However, the next day we discovered a white noise machine in the bedroom dresser. This white noise machine worked perfectly to mask any outside noise.
Planters Inn Charleston Garden Courtyard Suite Bathroom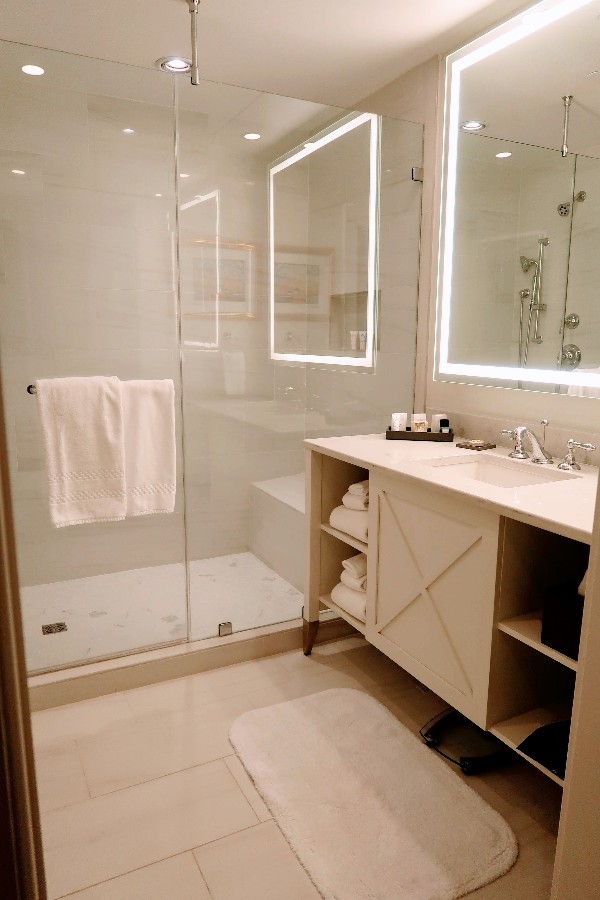 The bathroom is located between the living room and bedroom area of the Garden Courtyard Suite. The bathroom has a shower, single sink with shelves, and the toilet is in a separate room. I love split bathrooms, because it means multiple people can get ready at the same time without sacrificing privacy.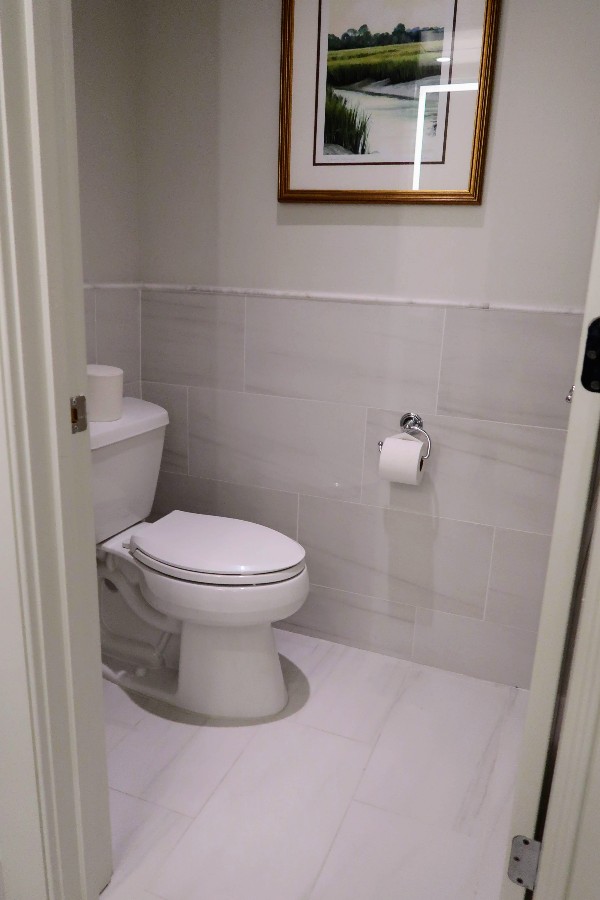 The large shower is tiled in white and gray quartz with a built-in bench seat. Our bathroom had a traditional shower head plus a handheld shower head option. Since there is no bathtub the handheld shower head is helpful for parents trying to help younger kids shower and rinse.
There is a lighted makeup mirror in the Planters Inn Charleston Garden Courtyard Suite bathroom for those needing a little extra help seeing while applying makeup. The counter top and shelves had enough space to store all of our bathroom items.
Our only complaint about the bathroom is the bathroom's sliding barn door. The barn door stopped just before the edge of the doorway. This meant that a small sliver of space remained open between the bathroom and the hallway.
Planters Inn Charleston Garden Courtyard Suite Bedroom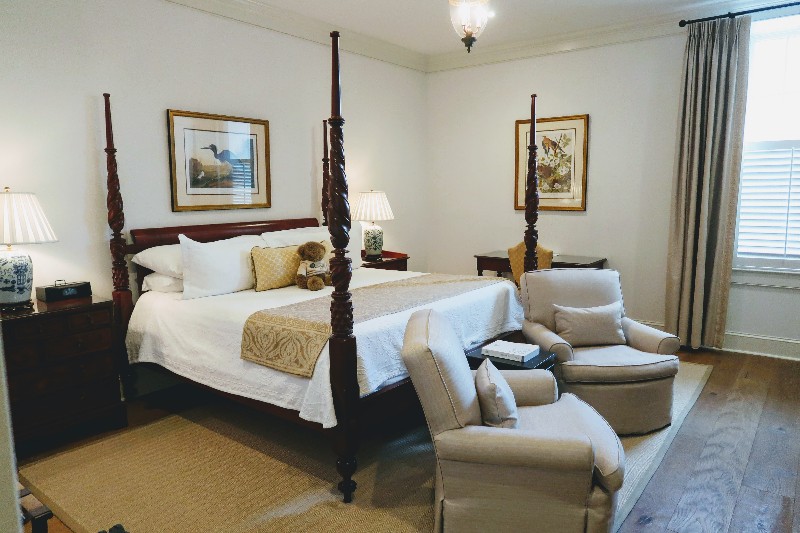 Our Planters Inn Charleston Garden Courtyard Suite Bedroom was huge. The bedroom area is so large that it holds a four-poster king size bed, two side tables, a large dresser, a desk with a chair, and two sitting chairs with another small table.
Front and center on the bed is Charlie, the Planters Inn teddy bear. Charlie is super cute and adds more welcoming charm to the room. If your kids fall in love with Charlie you can purchase one to take home at the front desk.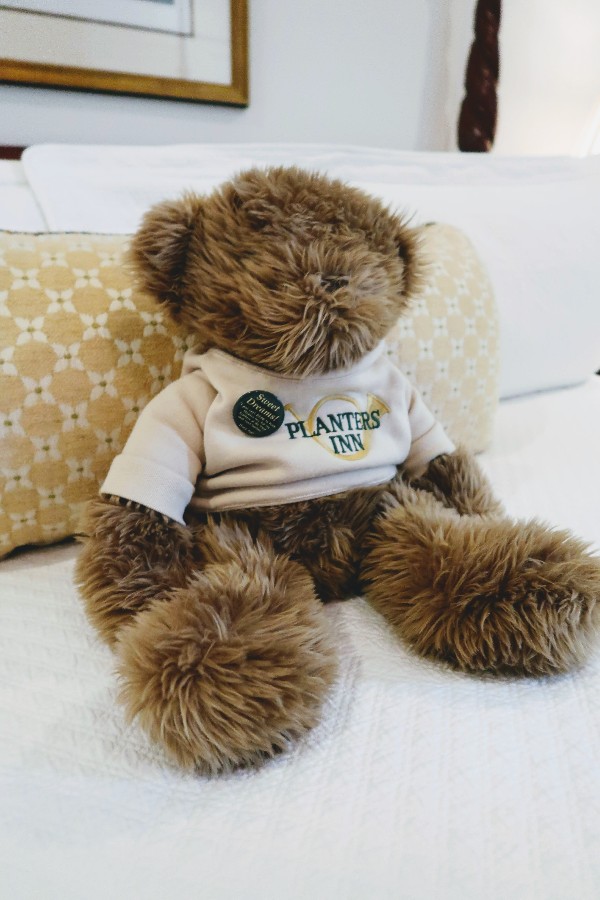 The Planters Inn Charleston Garden Courtyard Suite bedroom also had two huge closets. There was certainly no shortage of storage space in this room.
The bedroom area had lots of comfortable seating options. In fact, we were able to come back to the room from City Market one day and have our snacks in the sitting chairs while Elizabeth ate at the desk.
Our room had the following great features:
Excellent location
Large room
Split bathroom
Hardwood and tile floors throughout
Two televisions (one in the living room and one in the bedroom)
Mini fridge
Tons of comfortable furniture where you can relax
White noise machine provided in the dresser
Nightly turndown service with macarons
Final Thoughts On Our Planters Inn Charleston Garden Courtyard Suite Review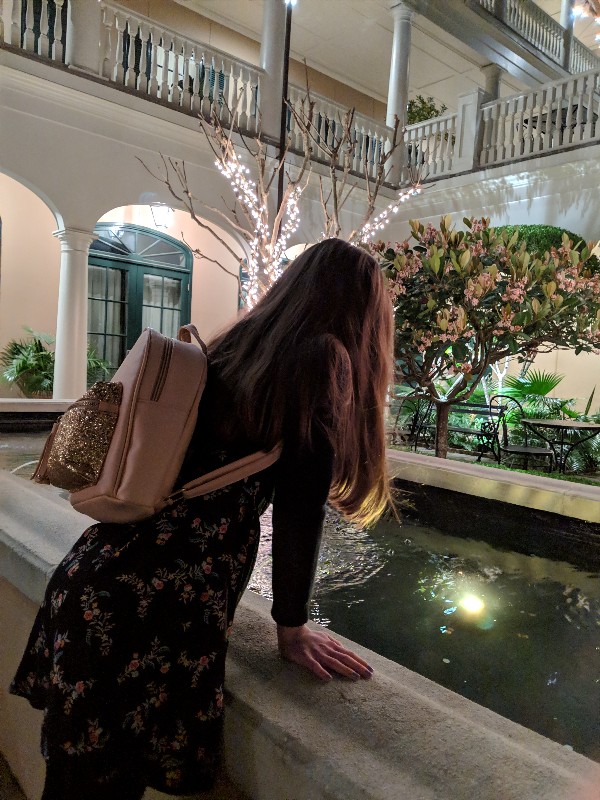 Planters Inn is an incredible choice for those looking for a luxury stay in beautiful Charleston, South Carolina. Our family loved the spacious Planters Inn Charleston Garden Courtyard Suite.
Planters Inn Charleston is perfectly located within walking distance to most of Charleston's popular sights and restaurants. This hotel was the perfect location for everything we did on our family vacation.
I would definitely recommend staying in a Planters Inn Charleston Garden Courtyard Suite for your family vacation to Charleston. Don't forget to stop at Peninsula Grill for a swanky dinner or a more casual, but still delicious breakfast.
Pin it for later: