Chicago is a great travel destination, and I've been lucky to call the Chicago area home my whole life. One of our favorite free places in Chicago is Millennium Park. Millennium Park in Chicago encompasses several park areas, the iconic Cloud Gate sculpture (more commonly known as "The Bean"), seasonal activities, and Maggie Daley Park.
Where Is Millennium Park In Chicago?
Millennium Park is located north of Grant Park in downtown Chicago.
Our Favorite Free Or Cheap Activities At Millennium Park Chicago
Crown Fountain
Crown Fountain Cost: Free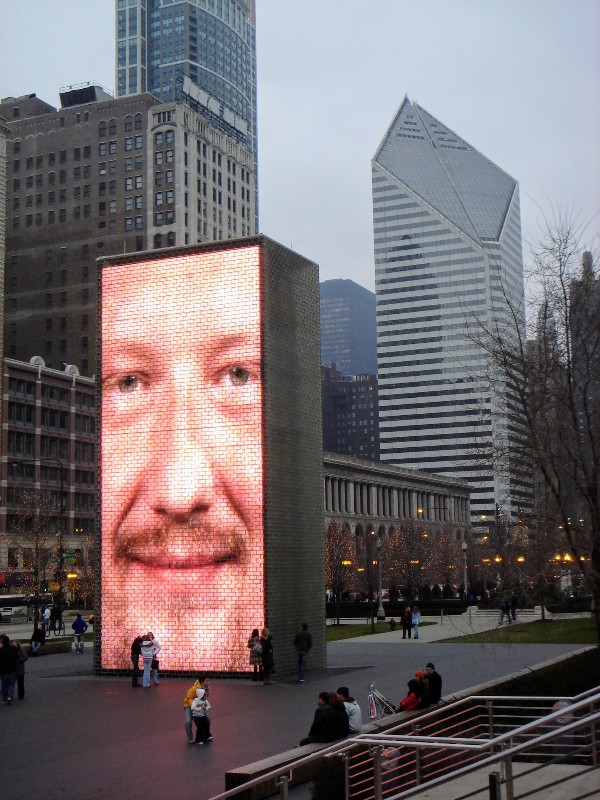 Located at the northeast corner of Michigan Avenue and Monroe Street, Crown Fountain is easy to spot. Two large structures with a variety of projected faces on them spray water onto the ground below.
Crown Fountain in summer is a lot of fun. Kids love to splash and play in the water to cool off while visiting downtown Chicago. Make sure you bring sunscreen, towels, and fresh clothes if you intend to let your kids get sprayed by the fountain or splash to their heart's content.
When Elizabeth was little I would let her play in the water some, but never enough to need swim gear or an outfit change. She would get a little damp, but the sun would quickly dry her clothes. Even with limited splashing she always had a great time.
Cloud Gate
Cloud Gate Cost: Free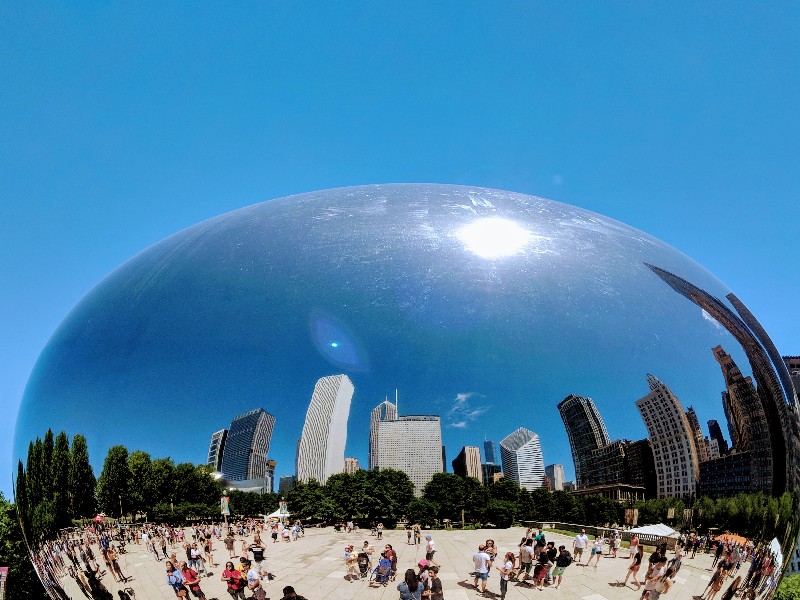 Just northeast of Crown Fountain is Cloud Gate, more commonly known as "The Bean." Cloud Gate opened in 2006 and has quickly become an iconic image synonymous with the City of Chicago.
The reflected image of Chicago in Cloud Gate is quite stunning. Make sure you walk around the whole sculpture to admire the variety of views. Underneath the center of The Bean is another fun reflective experience. I highly recommend you walk under this center walkway of The Bean and look up to see yourself and others reflected.
Because The Bean is such a popular sightseeing destination in Chicago, plan for crowds unless the weather is extremely unfavorable.

Millennium Park McCormick Tribune Ice Rink
McCormick Tribune Ice Rink Cost: Admission is free, rental skates are $13-15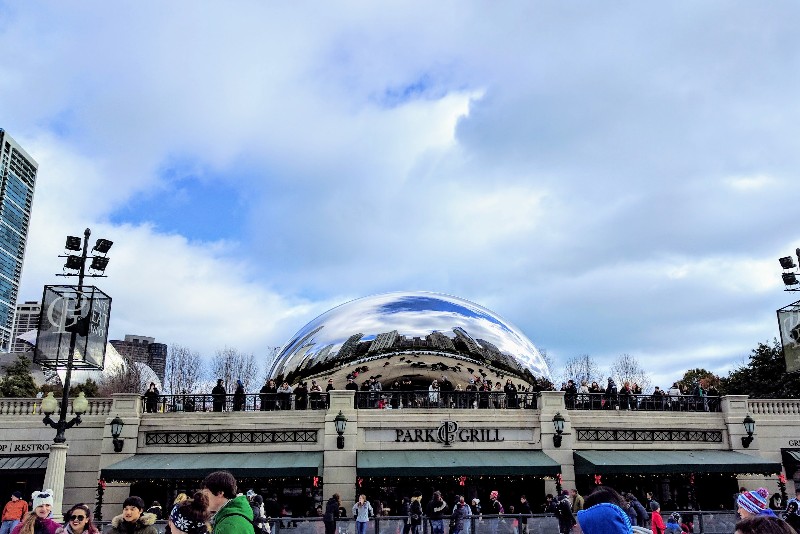 From the edge of the plaza where Cloud Gate sits you can look down on the Millennium Park McCormick Tribune Ice Rink. The ice rink runs seasonally and is one of our favorite Christmas activities in Chicago.
The Millennium Park McCormick Tribune Ice Rink is a great place for novice skaters, as the pace tends to be slow around the rink.
Maggie Daley Park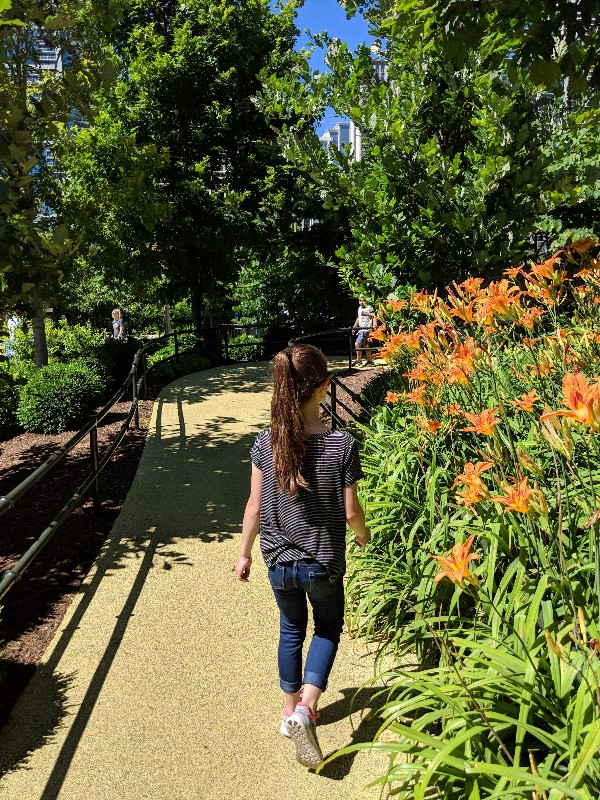 Maggie Daley Park opened in 2014 and is named after the former first lady of Chicago. The park is large and encompasses several different areas.
Maggie Daley Play Garden
Maggie Daley Play Garden Cost: Free
The Play Garden is a 3-acre children's play area within Maggie Daley Park. The Play Garden is unlike any playground we have ever visited and a lot of fun for kids up to 12 years old.
There are six different play sections in the Play Garden: The Sea, The Watering Hole, The Harbor, Enchanted Forest, Wave Lawn, and Slide Crater. Each play section has an age limit of age 2 to 5 years, 5 to 12 years, or all ages (with maximum age of 12).
Kids Age 2 to 5 Years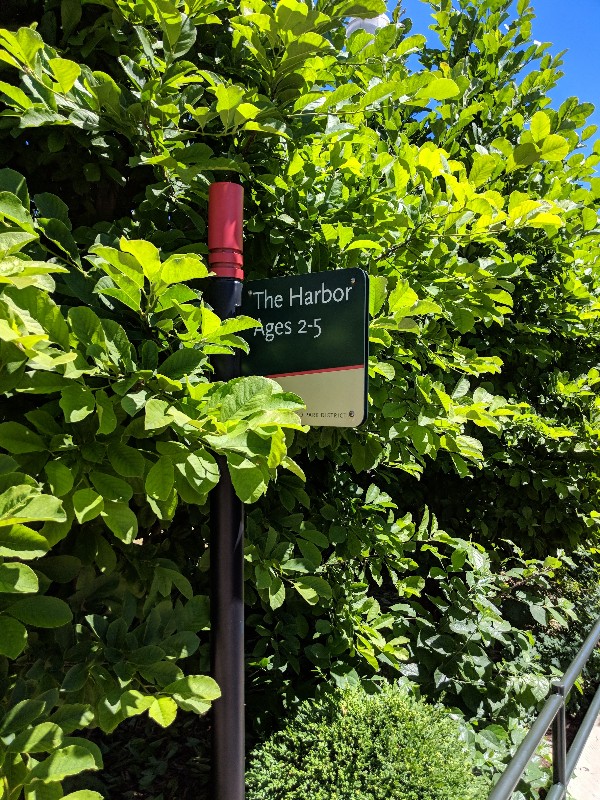 Kids 2 to 5 years old have two areas all to themselves. The Watering Hole is a splash pad area for smaller children where they can safely splash and play away from the bigger kids. The Harbor is 2,000-square-foot boat themed play area for this same age range.
Kids Age 5 to 12 Years Old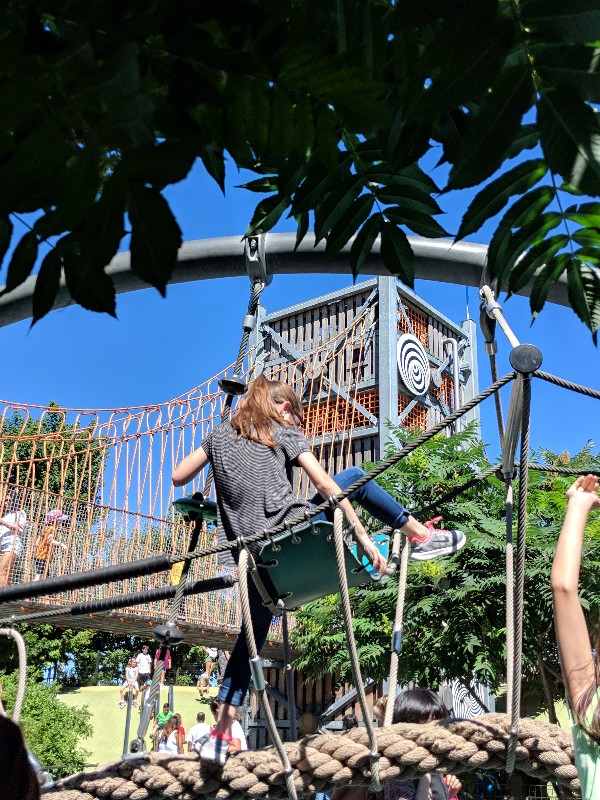 For kids 5 to 12 years there is The Sea and Slide Crater. The Sea is an 8,500-square-foot section anchored by a large play structure in the shape of a boat and a lighthouse with spiral slide. The Sea tends to be the calmer option for kids age 5 to 12 years old, but Slide Crater has much more to do.
Slide Crater is a huge 12,000-square-foot area for older kids to play and explore. There are two towers to climb with a suspension bridge strung between them. Along the outer edge of Slide Crater are several varieties of slides for kids and are accessed by climbing up turf covered hills.
Slide Crater has many places to climb, slide, and explore. Your kids will want to spend a lot of time in this part of Maggie Daley Park.
Because Slide Crater is the largest area to play with lots of hidden climbing areas it can be a little nerve wracking keeping an eye on younger kids. Be prepared to climb alongside them to keep a close watch.
All Ages
There are two sections for all ages, Enchanted Forest and Wave Lawn. The Wave Lawn is located in the center of the play park with winding trails for kids to explore.
The Enchanted Forest is a shaded network of pathways with many places for kids to play and imagine. The Enchanted Forest is a nice place to relax after playing in the hot sun at other play garden areas.
Maggie Daley Park Skating Ribbon
Maggie Daley Skating Ribbon Cost: Admission is free; rental ice skates are $13-15 or in summer scooters and rollerblades run $12 for 30 minutes
For more experienced skaters, the Maggie Daley Skating Ribbon is a quarter-mile (400-meter) winding skate path nestled in trees with pretty backdrops. When the weather warms up the skating ribbon takes on new life as a walking, rollerblading, and scooter path.
City Mini Golf
City Mini Golf Cost: $11 per person for those 5 years and older, same day replay $5.50. Various discounts are available.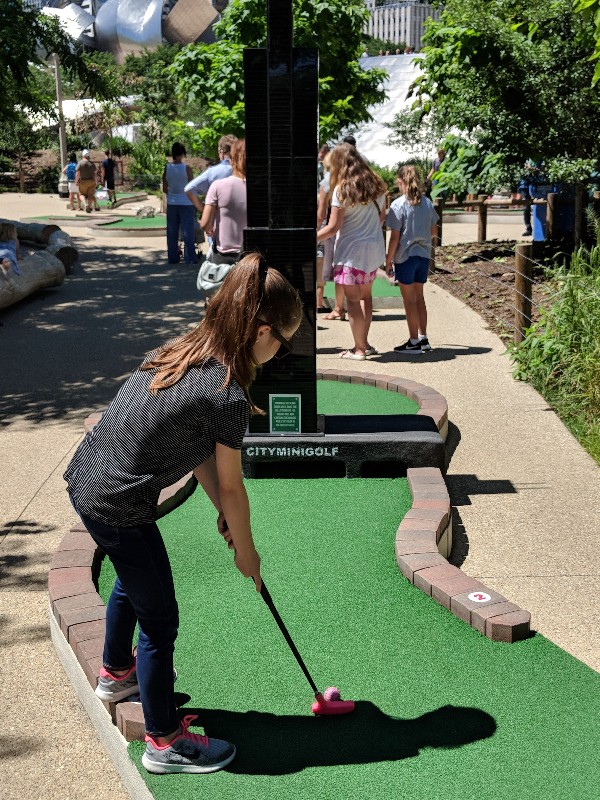 We love mini golf, since it is an activity that is fun for almost all ages. The City Mini Golf course is open seasonally, has cute Chicago themed hole designs, and a spectacular city backdrop while you play. On a busy summer day a full round will take about 45 minutes. On less busy days the time for a round will be considerably shorter.
Although a pricey option at $11 per person, Elizabeth was lucky enough to win us two free rounds at the ball return, so our next visit was free.
Parking At Millennium Park Chicago
The easiest place to park to visit Millennium Park is at the Millennium Park Garage. This parking garage is huge, so I suggest you access the underground garage via the entrance on Columbus Drive.

Parking at Millennium Park Garage can be quite expensive. This is why I always use Spot Hero to secure a discounted parking spot.
Final Thoughts On Free And Cheap Activities At Millennium Park Chicago
Chicago's Millennium Park has spectacular views of the city, tons of free or cheap activities, and lots of beautiful green space. We routinely spend three hours doing these favorite activities when at Millennium Park in the summertime and about an hour when visiting as part of our Chicago Christmas traditions.
Make sure your visit to Chicago includes a stop at Millennium Park. This way you can experience all of this for yourself and get that oh-so-important picture of The Bean.
Millennium Park also has gardens to explore and free concerts or movies at Jay Pritzker Pavilion. Check this website for the summer concert and movie schedule. Have you visited Chicago's Millennium Park? 
Pin it for later: