A Disney World vacation can be one of the most expensive family trips you can take. So when faced with the choice of adding on an extra expense, like the Halloween party ticket, it is important to weigh the pros and cons to decide if Mickey's Not-So-Scary Halloween Party is worth it.
Magic Kingdom has Disney After Hours Boo Bash instead of Mickey's Not So Scary Halloween Party for 2021. 
What Is Mickey's Not-So-Scary Halloween Party?
Beginning August 13th and ending November 1st, Magic Kingdom hosts the 2020 Mickey's Not-So-Scary Halloween Party (MNSSHP). This event is billed as a way to experience the Magic Kingdom with smaller crowds and several unique experiences in exchange for the purchase of an extra ticket.
The party officially runs from 7pm until midnight, but party ticket holders may enter the Magic Kingdom beginning at 4pm on their party night. 
There is also Mickey's Very Merry Christmas Party starting right after Halloween. Here is more information on the Christmas party in case your trip overlaps the seasons.
What Makes MNSSHP Special?
Lower Crowds
Ticket sales are capped, so theoretically there should be lighter crowds in attendance. This may be more beneficial for those attending parties toward the end of the summer crowds or closer to Halloween. 
Not all attractions run on party nights. Twenty of the most popular attractions like Seven Dwarfs Mine Train, Big Thunder Mountain Railroad, Haunted Mansion and more are available on party nights, but attractions like Enchanted Tales with Belle and Jungle Cruise are closed.
Generally the attractions that run during the party have shorter wait times than usual. This is especially true during the Boo To You parade, Disney's Not-So-Spooky Spectacular fireworks, or as some visitors tire out and leave the park for the night.
Unique Character Meet and Greets at Mickey's Not-So-Scary Halloween Party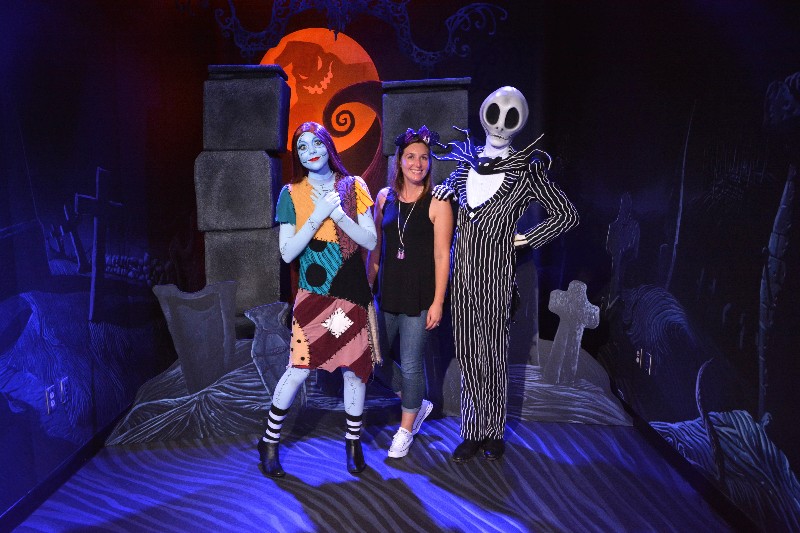 Who doesn't love a good character interaction? During Mickey's Not-So-Scary Halloween Party is a rare opportunity to meet Disney villains. For example, in the last few years we have met Cruella de Vil, the Queen of Hearts, Jafar, and Lotso.
If villains aren't your thing other rare characters make an appearance at Mickey's Not-So-Scary Halloween Party, too. Jack and Sally (from The Nightmare Before Christmas), Moana, traditional characters in Halloween costumes, Abu, Genie, Tarzan, Jane, and the Seven Dwarfs are often available on MNSSHP nights.
Most of the Mickey's Not-So-Scary Halloween Party character meet and greets can be found through the My Disney experience app, but we noticed that the Seven Dwarfs were not on the app in 2019. The Dwarfs meet guests starting at 6:15pm on party nights inside the Storybook Circus big top.
Please note since these are special character experiences the lines can get VERY long with wait times of 90 minutes or more. Available characters are not guaranteed and can change without notice.
Boo To You Halloween Parade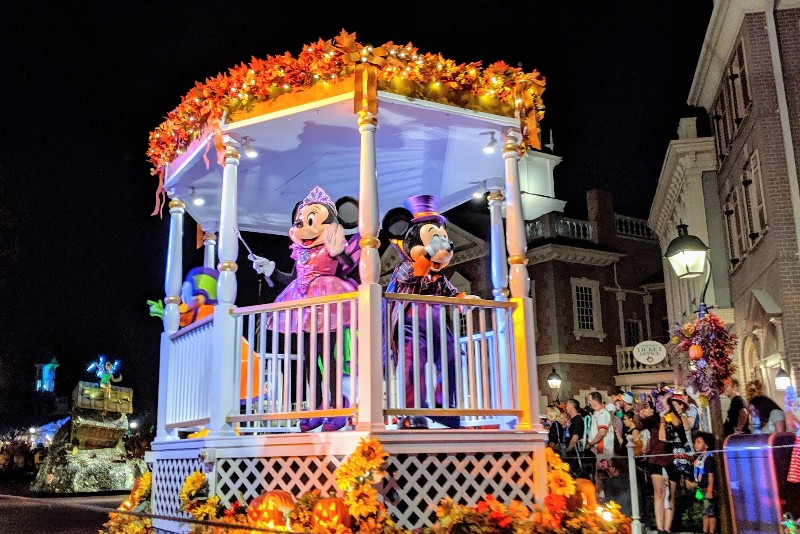 The Boo To You Halloween Parade starts with the headless horseman galloping down the road and is followed by a not too scary cast of characters to celebrate the season. Last year the Boo To You Parade added Constance from The Haunted Mansion and Mr. Incredible, Elastigirl (Mrs. Incredible), and Edna Mode. Hopefully these characters stay part of the 2020 Boo To You Parade.
There are two Boo To You Parade times per night, an earlier parade before fireworks and a later one after the fireworks. Plan on securing a viewing spot an hour or more before showtime, especially if a castle view spot is important to you. Although some recommend the later parade time to avoid crowds, we do not see much difference in crowds between the two parades anymore.
Hocus Pocus Villain Spelltacular
View this post on Instagram
The Hocus Pocus Villain Spelltacular is a castle stage show that features the Sanderson sisters from the movie Hocus Pocus. The sisters are brewing up a Halloween potion and invite some favorite villains like Dr. Facilier and Oogie Boogie for a fun Halloween party.
We love this show so much we have watched the Hocus Pocus Villain Spelltacular twice in one night. The Hocus Pocus Villain Spelltacular show takes place several times on each Mickey's Not-So-Scary Halloween Party night, so you have a few opportunities to see it during the party.
Disney's Not So Spooky Spectacular Fireworks Show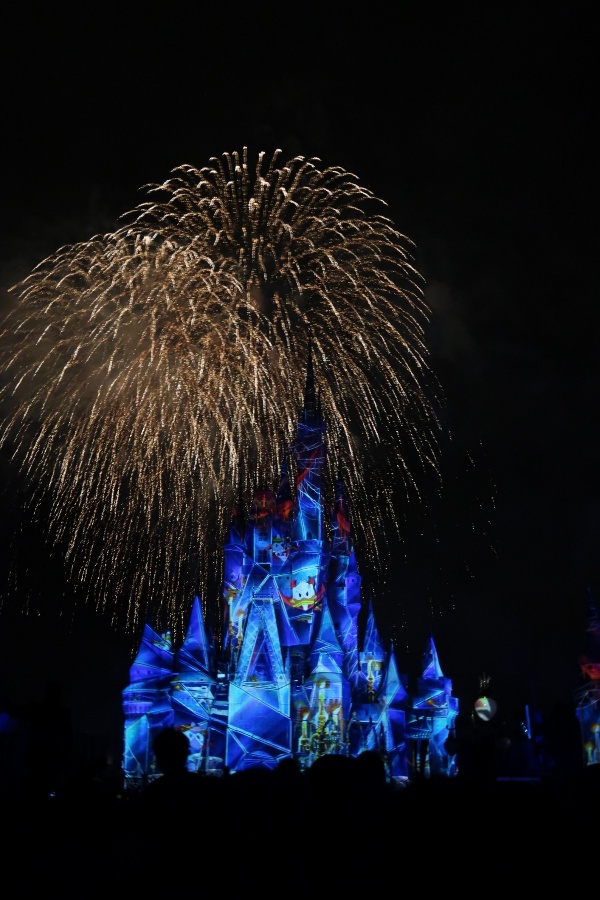 Mickey's Not-So-Scary Halloween party got a completely new Halloween fireworks show in 2019. Jack Skellington hosts Disney's Not So Spooky Spectacular fireworks with help from his dog Zero.
Jack and Zero tell the story of Mickey, Minnie, Donald, and Goofy who find themselves exploring a mysterious haunted house while they are out trick-or-treating. Disney's Not So Spooky Spectacular is an incredible upgrade from the previous Halloween fireworks which were also very good.
Here are our thoughts on the new Disney's Not So Spooky Spectacular fireworks. An impressive looking Jack Skellington puppet begins the show, but it is difficult to see unless you are very close to the castle stage. To get one of these premium viewing spots requires you to spend lots of time waiting for the fireworks.
We personally do not to use our precious Mickey's Not-So-Scary Halloween Party time waiting for the close castle viewing spot. Although a bit disappointed I couldn't see Jack, his part was overall a small portion of the show. The castle projections and over the top fireworks are easily seen from anywhere around Main Street which require much less time waiting around.
Check here for our video of the special fireworks, parade, and Hocus Pocus Villain Spectacular:
Allergy Friendly Trick-or-Treating
Many people love the trick-or-treating option during Mickey's Not-So-Scary Halloween party. There are designated trick-or-treat locations throughout the park where cast members distribute candy. Unfortunately, because of my daughter's food allergy we had not been able to participate in the trick-or-treating until recently.
Starting in 2017, Mickey's Not-So-Scary Halloween Party added Teal Pumpkin options for allergy-friendly trick-or-treating. A teal pumpkin indicates that allergy friendly treats are available for those trick-or-treating with food allergies. Find out more about dealing with food allergies at Disney World here.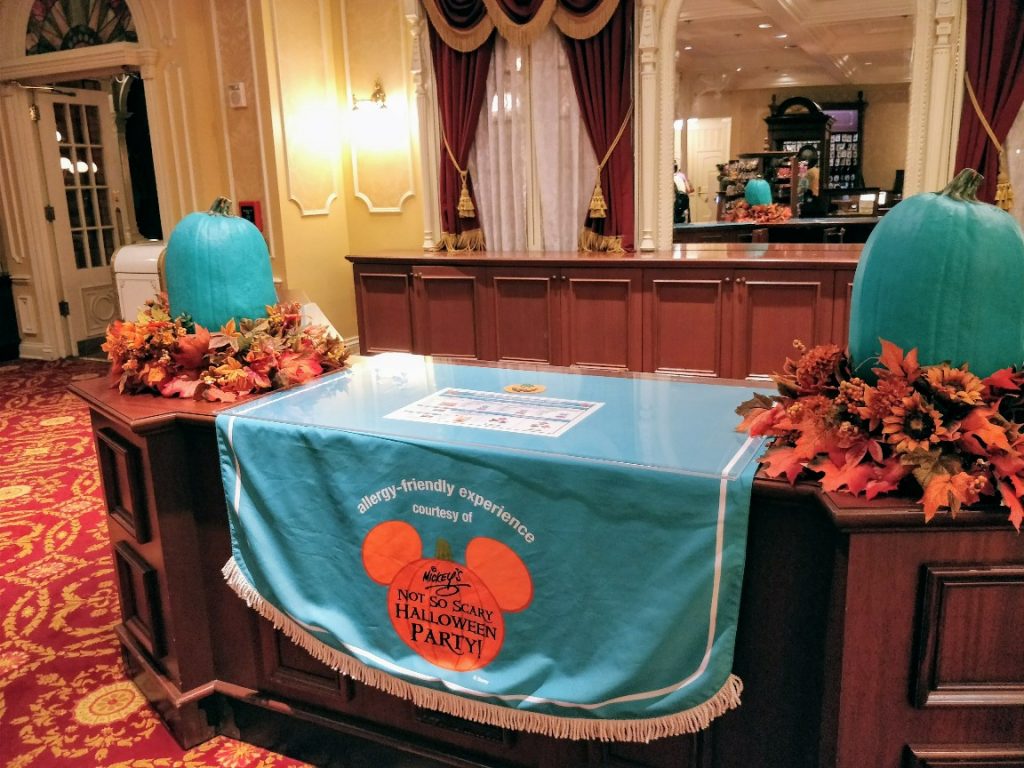 How does the allergy-friendly trick-or-treating at Mickey's Not-So-Scary Halloween Party work?
Request a teal pumpkin trick-or-treat bag when you get your party wristband.
Trick-or-treat at any of the designated spots at the party. Instead of getting candy you are given a teal token.
Once you are done trick-or-treating take these tokens to either the Town Square Theater or Liberty Square Ticket Office.
Trade in your teal tokens for allergy-friendly treats of your choice. There are several varieties of allergy-friendly Surf Sweets, YumEarth, and Enjoy Life cookies or candies. You can also choose to use your tokens for non-food items like small Halloween trinkets.
Enjoy Life, YumEarth, and Surf Sweets are some of our favorite allergy-friendly treats at home. Elizabeth loves that she has safe candy to snack on like other kids at the party. It's great that kids with food allergies now have the chance to participate in the MNSSHP trick-or-treating fun.
Disney Fans of All Ages Can Dress Up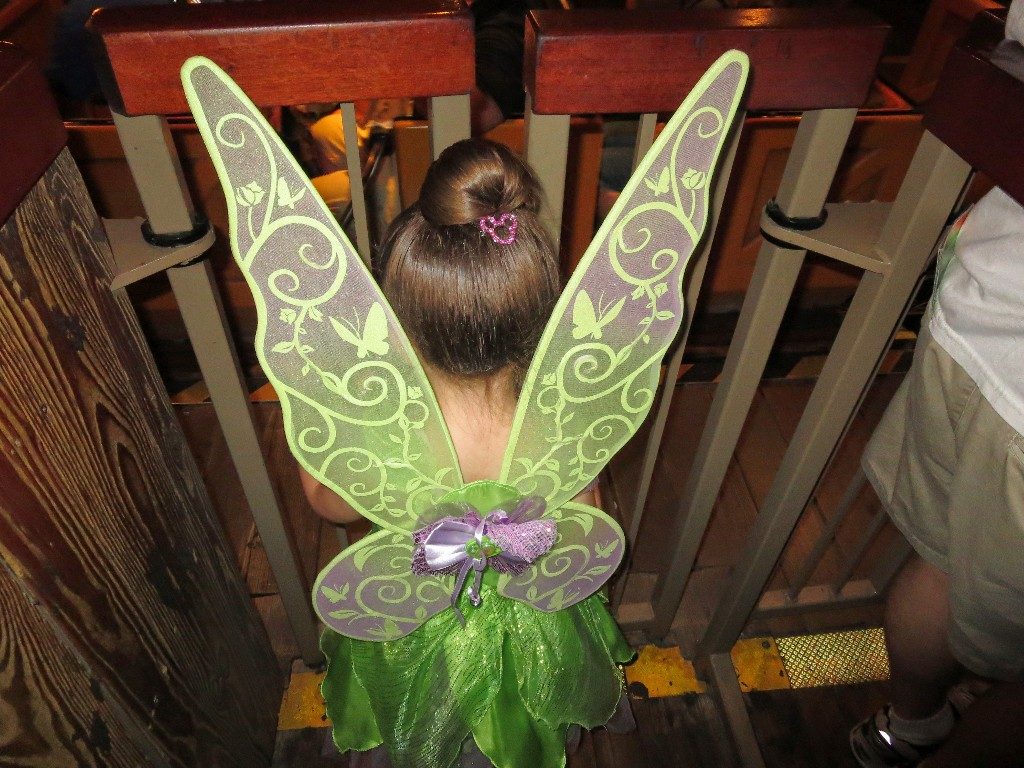 General park rules at Disney World do not allow those over age 13 to wear costumes to the parks. The MNSSHP is a rare exception where all ages may wear a costume at Magic Kingdom. Keep your eyes open for some excellent themed family costumes. Also make sure you review the official Disney World special event costume policy before you go.
Special 2020 Mickey's Not So Scary Halloween Party Ride Overlays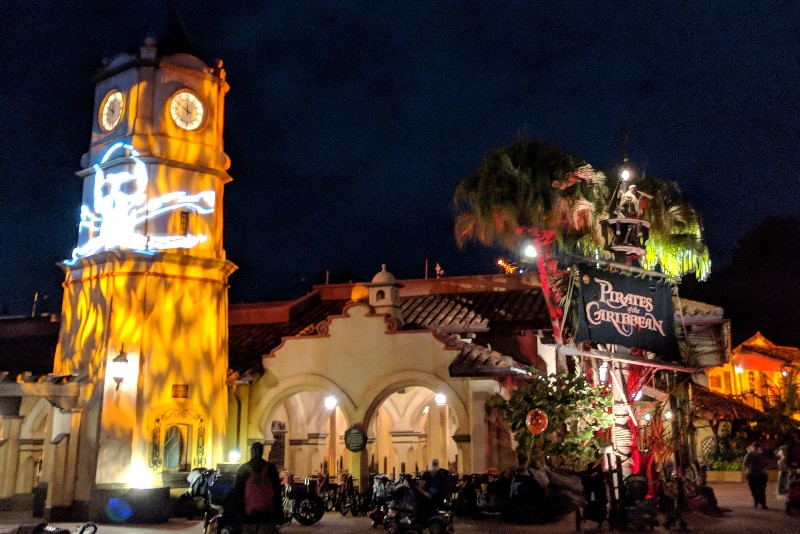 There are four attractions with special Halloween theming announced for the 2020 Mickey's Not-So-Scary Halloween Party. Pirates of the Caribbean, Mad Tea Party, Monsters Inc. Laugh Floor, and Space Mountain all have a little extra Halloween flair during MNSSHP.
Special lights, music, and fog add a fun, slightly spooky element to Mad Tea Party. Space Mountain is completely dark with different music, and Monsters Inc Laugh Floor has Halloween-themed jokes.
In Pirates of the Caribbean there are several live pirates around the attraction. A pirate prisoner humorously hassles guests in the queue to help him escape while another pirate chats with you in line. There are also a couple of pirates sprinkled in the ride who try to recruit you while making you laugh.
Unique Mickey's Not-So-Scary Halloween Party Disney PhotoPass Pictures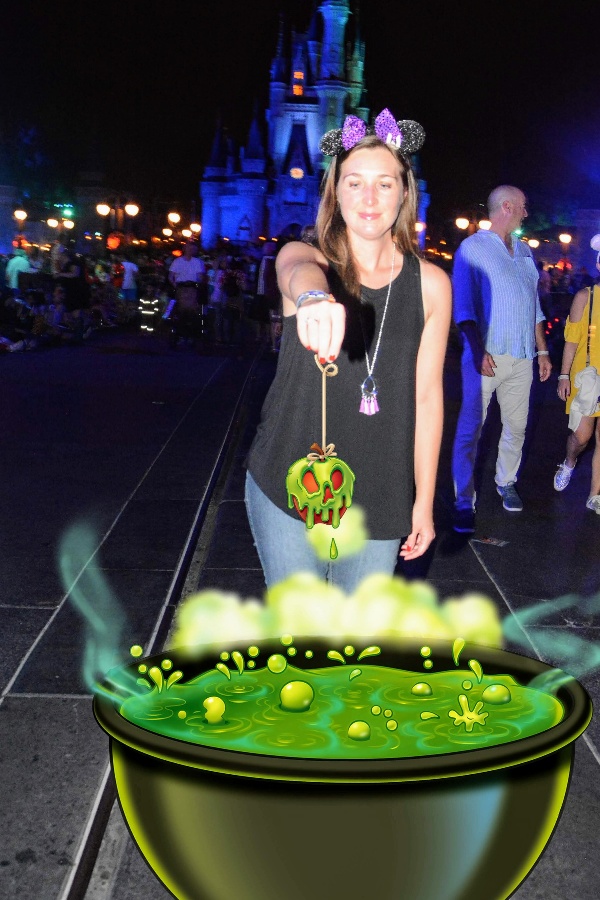 There were over 30 special photo opportunities at last year's Mickey's Not-So-Scary Halloween Party. Some examples were on Main Street you could take a photo that digitally added you holding a poison apple over a cauldron or holding a frightful flaming pumpkin. Hitch a ride with the ghosts near the Haunted Mansion or be shocked when you meet the Headless Horseman in person at the entrance to Magic Kingdom.
Mickey's Not-So-Scary Halloween Party PhotoPass opportunities begin at 4pm. Please note you must show your party wristband to the photographers for these spooky pictures. For a full list of all the 2019 Mickey's Not-So-Scary Halloween Party photo options check here. The 2020 Mickey's Not-So-Scary Halloween Party photo opportunities have not been announced yet.
Mickey's Not-So-Scary Halloween Party Exclusive Sorcerers of the Magic Kingdom Card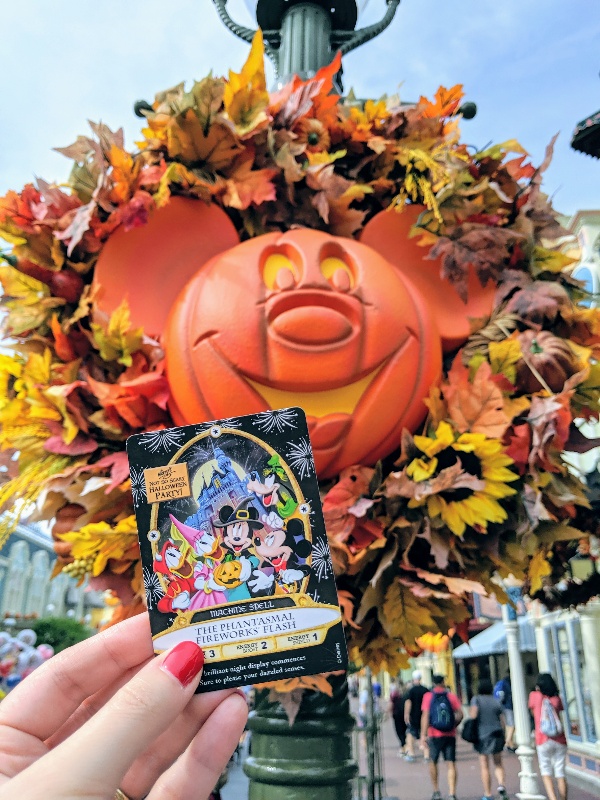 After 4pm and once you have your party wristband, head to the Firehouse on Main Street USA to pick up your exclusive Mickey's Not-So-Scary Halloween Party Sorcerers of the Magic Kingdom card. There are several cast members outside the Firehouse who distribute the cards and will make a mark on your party wristband to indicate you received the special card.
So, Is Mickey's Not-So-Scary Halloween Party Worth It?
We have personally opted to do Mickey's Not-So-Scary Halloween Party each time we have been in town on a party night, even when we knew we couldn't stay until close. Meeting unique characters, the special parade, stage show, and fireworks, in addition to shorter attraction wait times have been enough to justify the cost for us.
The answer really depends on your group. Those with small children who are not night owls might not get the most out of these pricey tickets. The party tickets often run just below the cost of a one-day regular park ticket. However, if you go to a Mickey's Not-So-Scary Halloween Party early in the season tickets are much less expensive than October dates.
If you have smaller kids or are bummed that not all of the attractions are open during the party I would recommend skipping Mickey's Not-So-Scary Halloween Party. Often you can get more park time for your family by adding on an additional day to a multi-day ticket (instead of that pool day you were considering) than by buying the party ticket.
If you decide the party is right for you, here is where you can buy tickets online. One final word of warning. Mickey's Not-So-Scary Halloween Party has so many entertainment options that it is impossible to do them all in one night.
Have you gone to Mickey's Not-So-Scary Halloween Party? What was your favorite thing about the event? Did you think it was worth the additional cost?
Do you need more help planning your Disney World trip? Check out other Disney World tips and tricks in my Disney World Guides.
Ready to book your Disney World trip? Find discounted Disney World tickets and vacation packages through our preferred travel partner Get Away Today.
Pin it for later: