Star Wars Galaxy's Edge has become our home away from home when visiting Disney World. We love wandering the shops, working as crew on the Millennium Falcon, and escaping the First Order, but our favorite spot to relax is Oga's Cantina in Star Wars Land.
What Is Oga's Cantina?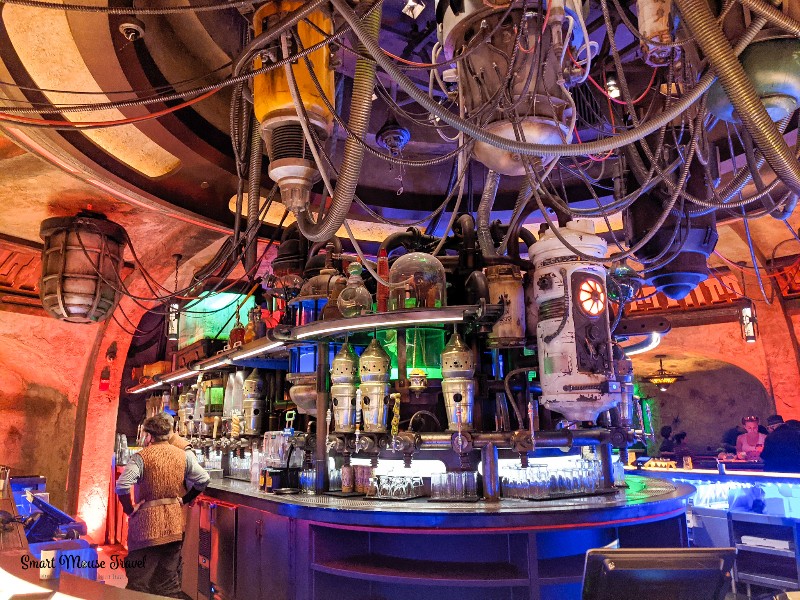 Play that signature song from Mos Eisley Cantina on Tatooine and every Star Wars fan immediately wishes they could sidle up and order a drink.
Oga's Cantina in Galaxy's Edge is a unique bar inspired by that iconic scene, but with its own spin on the experience.
Where is Oga's Cantina at Disney World?
Star Wars Galaxy's Edge is located within Disney's Hollywood Studios theme park.
Tucked along a walkway between First Order Cargo and Millennium Falcon: Smuggler's Run is Oga's Cantina. No flashing neon or gaudy signs alert Disney World visitors to this quirky bar.
Instead, a simple painting of a cocktail beside the door and a barely legible "cantina" in the archway of the entrance lead you to this colorful and tasty Star Wars Land bar.
Oga's Cantina Experience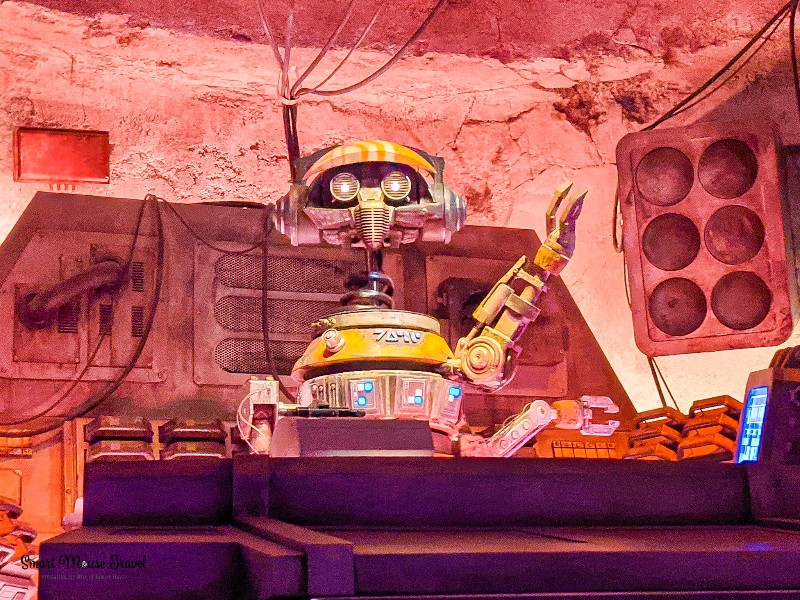 As you walk in, you'll be warned about Oga's strict rules which are written only in Aurebesh. To avoid Oga's legendary wrath we just keep it simple, no fighting and no getting too rowdy, and so far we've been welcome every time.
Oga's Cantina in Galaxy's Edge has large booths surrounding the outer ring of the bar, a normal bar counter, and a set of standing tables between these two areas.
Unless you are part of a large group, expect to share standing or sitting tables with other travelers visiting Batuu. The bar counter gets plenty cozy with guests tightly packed, although it is not as overcrowded as when Oga's first opened.
The star of Oga's Cantina is DJ-R3X, a reprogrammed droid who spins the biggest hits in the galaxy. The music, lights, and space inspired decor makes for a fun, family friendly bar vibe.
Oga's Cantina Drinks
Oga's is open for most of the day at Hollywood Studios and has the same menu for breakfast, lunch, and dinner. The large bar menu has a variety of special drinks with, and without, alcohol.
This extensive mocktail menu means adults who don't want alcohol, or those under 21 years, still get a fancy looking drink.
Oga's Cantina Alcoholic Drinks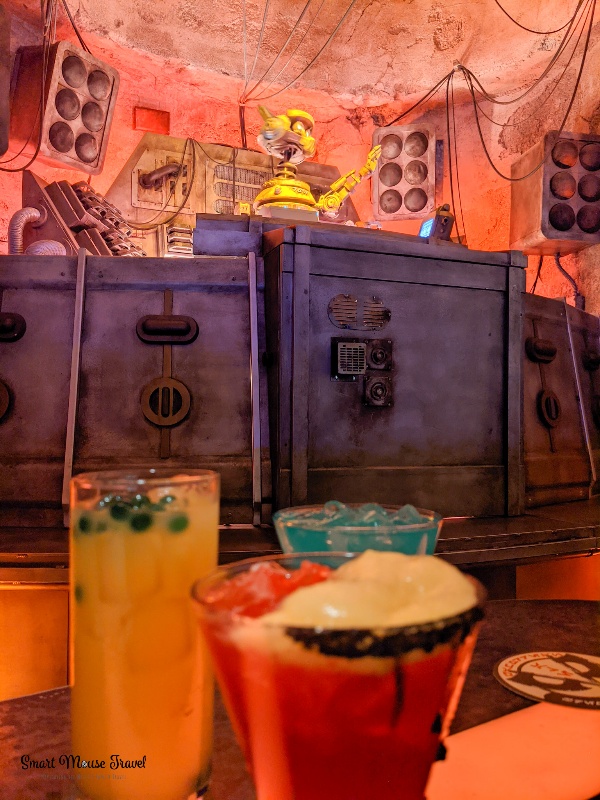 There are several alcoholic drinks on Oga's menu at Galaxy's Edge including specialty wine and beer. We've tried every Oga's Cantina cocktail and have found some favorites plus a few misses.
Fuzzy Tauntaun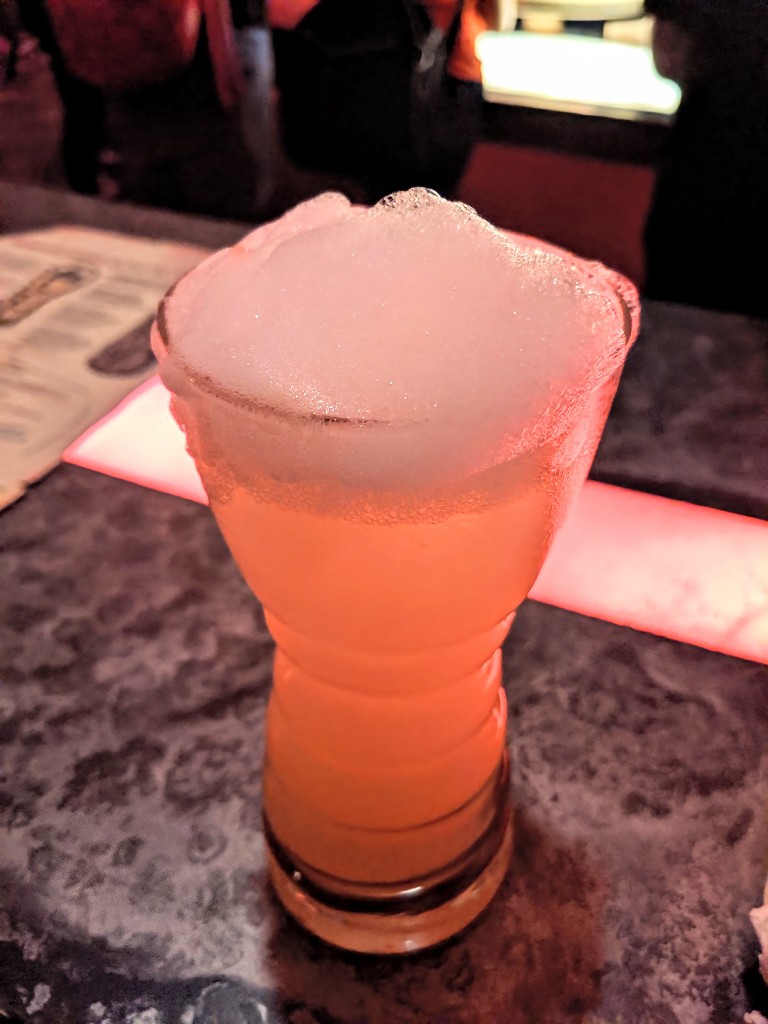 One of the most popular alcoholic beverages at Oga's Cantina is the Fuzzy Tauntaun. The Tauntaun is a creative take on a traditional fuzzy navel, with ingredients like peach vodka, peach Schnapps, orange juice, and cane sugar.
Where this drink diverges from your normal fuzzy navel is the addition of "Buzz Button Tingling" foam.
I must implore you to learn from my foolish error. When drinking a Fuzzy Tauntaun – do not, I repeat, do not taste the foam by itself.
I made this mistake and my lips were instantly numb. The good news is when tasted as part of the drink, the foam provides a funny tingling sensation with the sweet beverage.
Jet Juice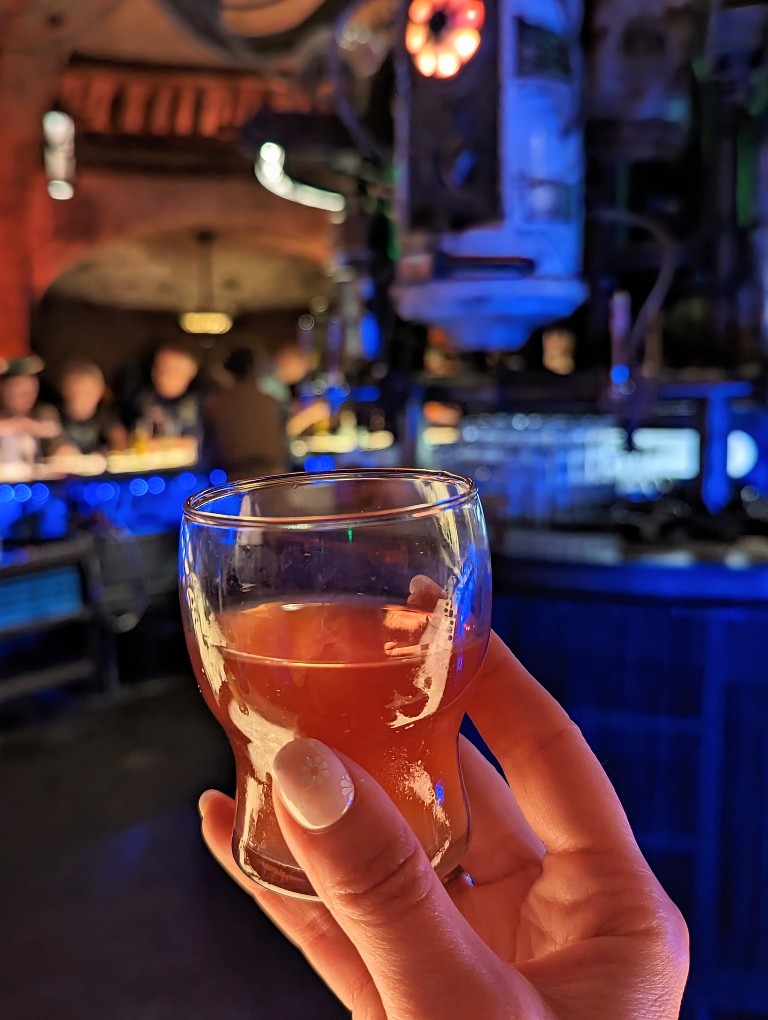 For fans of a little heat with a cocktail, Jet Juice is made for you. Although the smallest cocktail on the menu, it has the most powerful bite in the galaxy.
Originally, Jet Juice had strong heat with a hint of grape, but now the drink is sweeter and more fruity. A mix of Maker's Mark Bourbon, Cedilla Açaí Liqueur, White Grape Juice, and Lemon Juice provides a slightly sweet base flavor while Ancho Reyes Chile Liqueur brings the spice.
The Outer Rim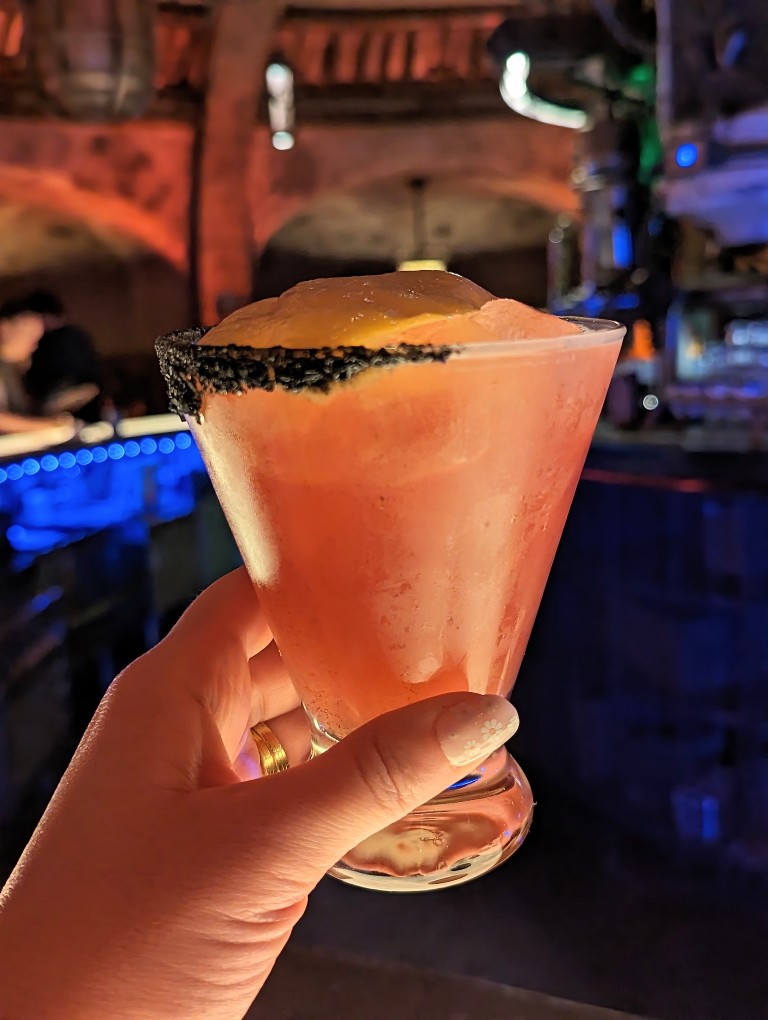 The one drink I order nearly every time at Oga's is The Outer Rim. This traditional margarita base is improved by a hint of acai and exotic fruit puree perched on top. Rimmed in black sea salt, the salt balances the sweetness perfectly.
Bespin Fizz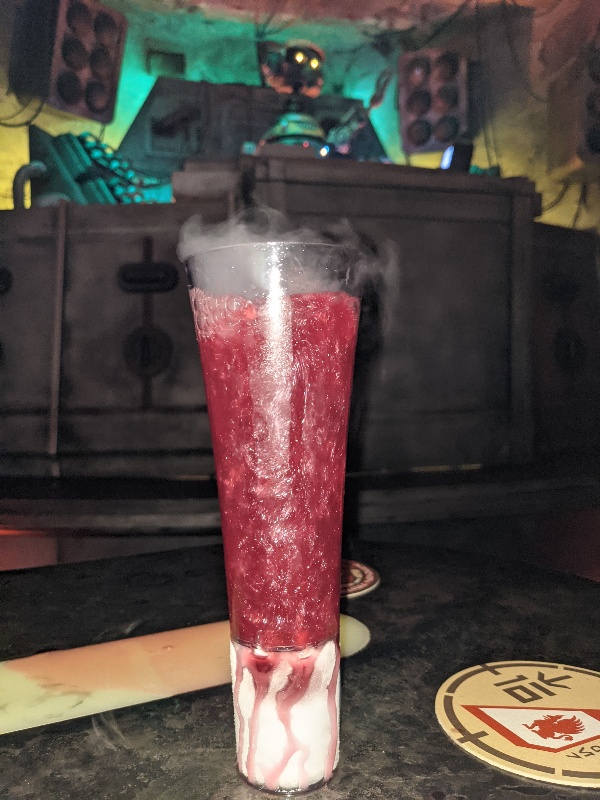 Looking for the most gorgeous cocktail at Oga's Cantina? Then Bespin Fizz is the one for you. Bespin Fizz is sweet, light, and served in a tall glass with dry ice and edible glitter.
The dry ice bubbles stir up the drink making the liquid seem to sparkle in the dim light.
Jedi Mind Trick
Grapefruit fans will love Jedi Mind Trick at Oga's Cantina. Although a tad bitter from the Ketel One Botanical Grapefruit, lime juice, and grapefruit bitters, this light drink is a refreshing option when visiting Galaxy's Edge.
Yub Nub
Don't let the price tag of Yub Nub deter you from trying this specialty drink. Although served in a souvenir mug, you can request a Yub Nub without the mug which is priced similar to other Oga's cocktails.
Yub Num is a rum drink, but the alcohol is hidden by the passion fruit flavors so well you can easily get into trouble.
T-16 Skyhopper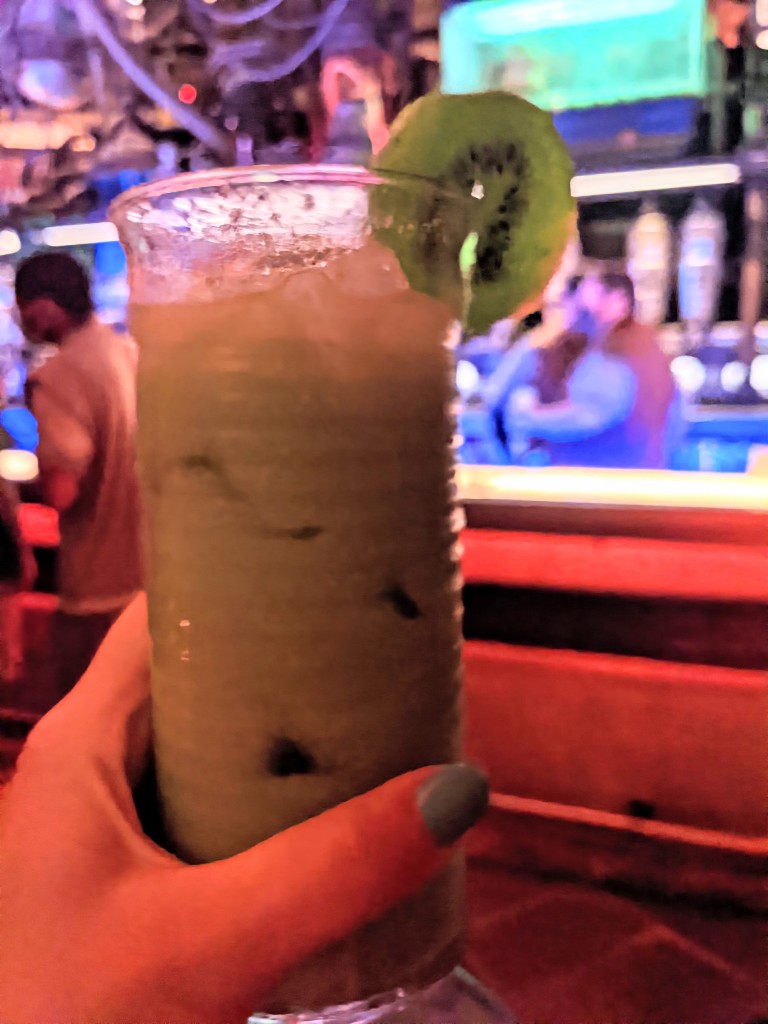 This drink is melon forward with a very sweet first sip and a creamy texture. After the first taste, the T-16 Skyhopper sweetness settles down, but I still only drank part of this cocktail.
I recommend skipping the T-16 Skyhopper unless you love super sweet drinks and honeydew flavors.
Dagobah Slug Slinger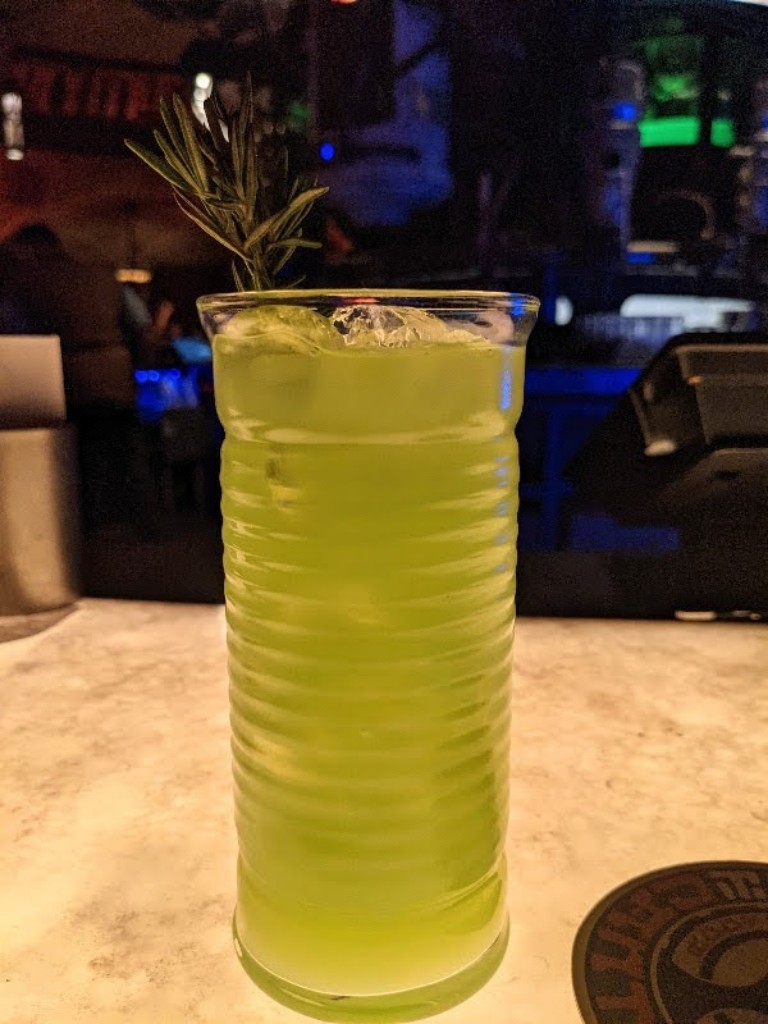 I'm not a huge fan of ginger or mules so I was hesitant to try Dagobah Slug Slinger at Oga's Cantina.
Described as a mix of tequila, curaçao, and citrus with ginger and herbal flavors, the resulting Dagobah Slug Slinger is better than I expected. The ginger flavor is subtle, with the herbs taking center stage.
Oga's Cantina Specialty Beer and Wine
There are four beer and two specialty wine options only available at Oga's Cantina.
Sample all four beers with a Rancor souvenir flight. This wooden board holds four Rancor teeth, each one filled with a different beer.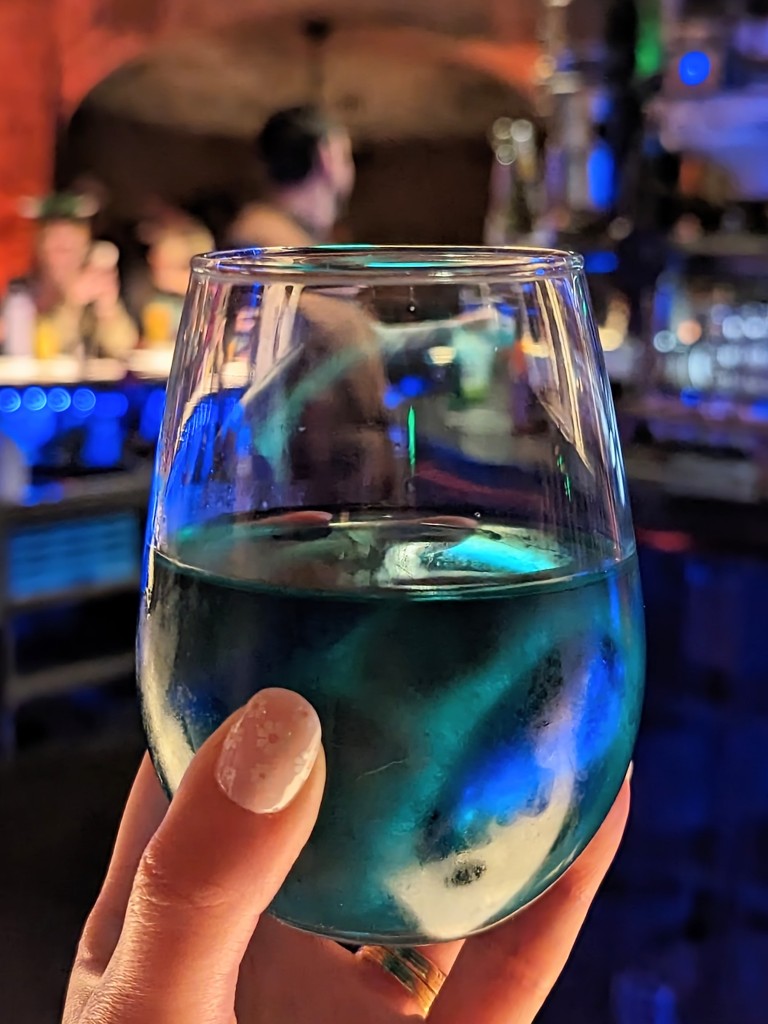 Toniray, a teal-colored wine previously made on Alderaan, has a gorgeous color and crisp Chardonnay-like taste.
In my quest to personally try every drink at Oga's I gave this popular option a shot. Unfortunately, I'm not a huge fan of Chardonnay so this drink got replaced halfway through with an Outer Rim.
Imperial Guard is another Oga's Cantina exclusive wine, but is a traditional red instead of the teal Toniray. A rich cabernet sauvignon, Imperial Guard, is a crowd-pleasing red.
Oga's Non-Alcoholic Drinks
There are nearly as many non-alcoholic drinks at Oga's Cantina as there are cocktails.
These mocktails are generally delicious and a great way to feel part of the experience even if you can't, or don't like to, have alcohol.
Jabba Juice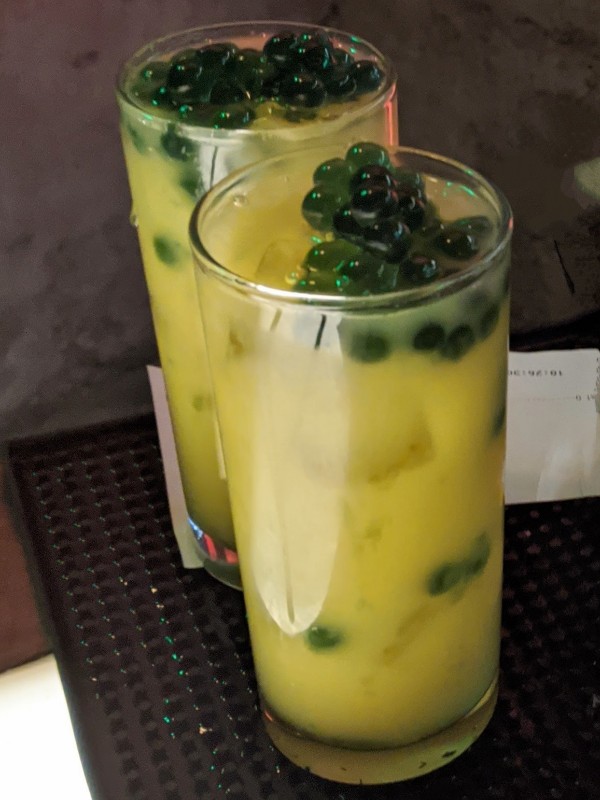 This mix of Simply Orange with pineapple, kiwi, and cantaloupe with blueberry popping pearls is one of our favorite non-alcoholic drinks at Oga's. Although a simple drink, the unexpected surprise of the popping pearls makes for a unique experience and fun flavor.
Black Spire Brew
Looking for a morning coffee or afternoon pick me up? Then Black Spire Brew is for you. Refreshing and flavorful, Black Spire Brew is a surprisingly delicious mix of Joffrey's Coffee with honey, falernum, passion fruit, and citrus.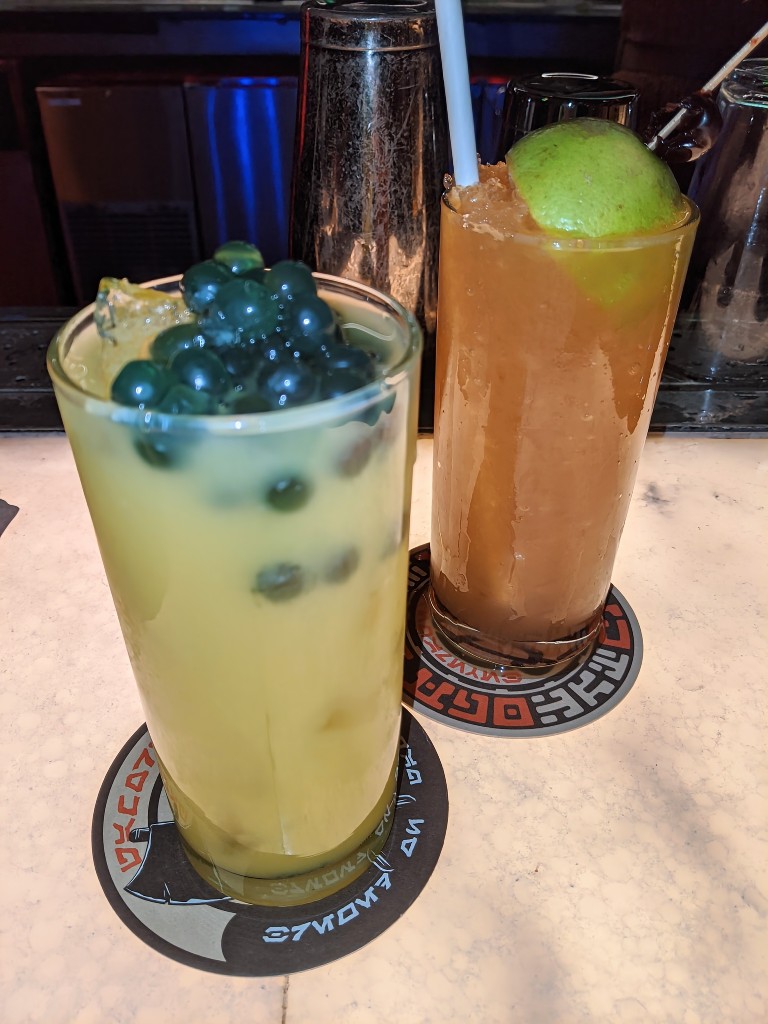 Topped with lime garnish, the coffee taste is more of a hint while the citrus, honey, and falernum are the main flavors in Black Spire Brew. It's an unusual, but refreshing way to have a bit of coffee in Galaxy's Edge.
Looking for a more traditional, but still unique iced coffee in Galaxy's Edge? Mobile order a Cold Brew Black Caf at Kat Saka's Kettle. This tasty coffee option is Joffrey's cold brew topped with sweet cream cheese foam and chocolate puffs.
Blue Bantha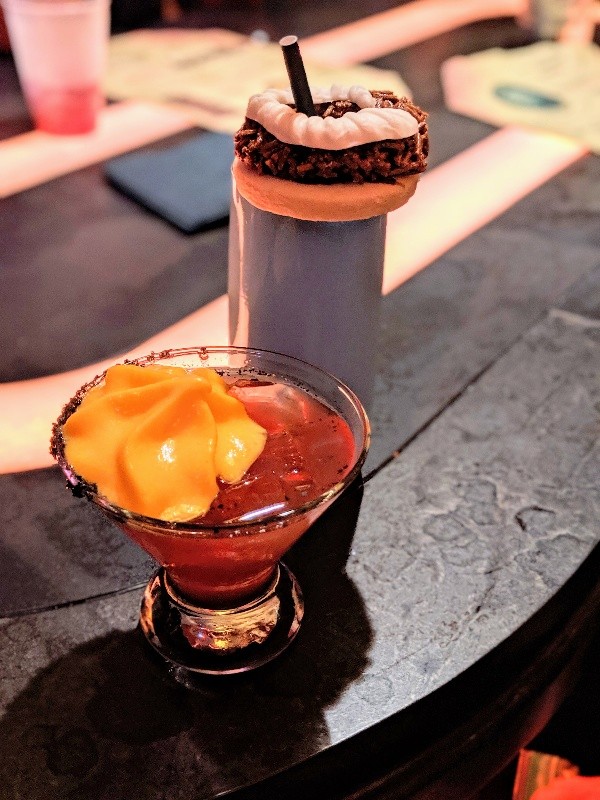 Similar, but not the same as Milk Stand blue milk, Blue Bantha milk is a cool and creamy drink. As an added bonus your milk comes with a Bantha-inspired vanilla-butter sugar cookie.
Hyperdrive (Punch It!)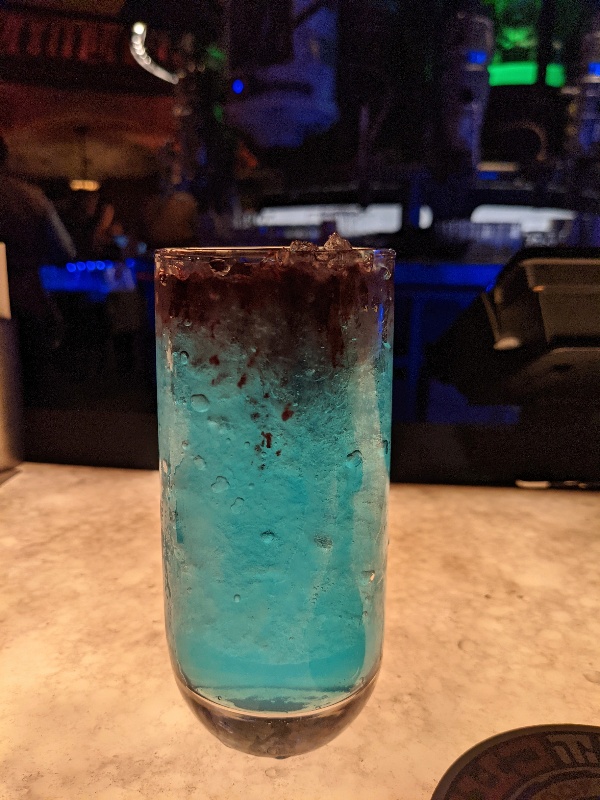 A base of Powerade Mountain Berry Blast with a splash of white cranberry juice and Sprite topped with black cherry purée, doesn't sound that great, but is actually delicious.
The cranberry juice and Sprite cut the strong sweetness of the Powerade and the black cherry gives a juicy burst of flavor. Served over crushed ice, Hyeperdrive (Punch It!) is one we order often and is popular for good reason.
Carbon Freeze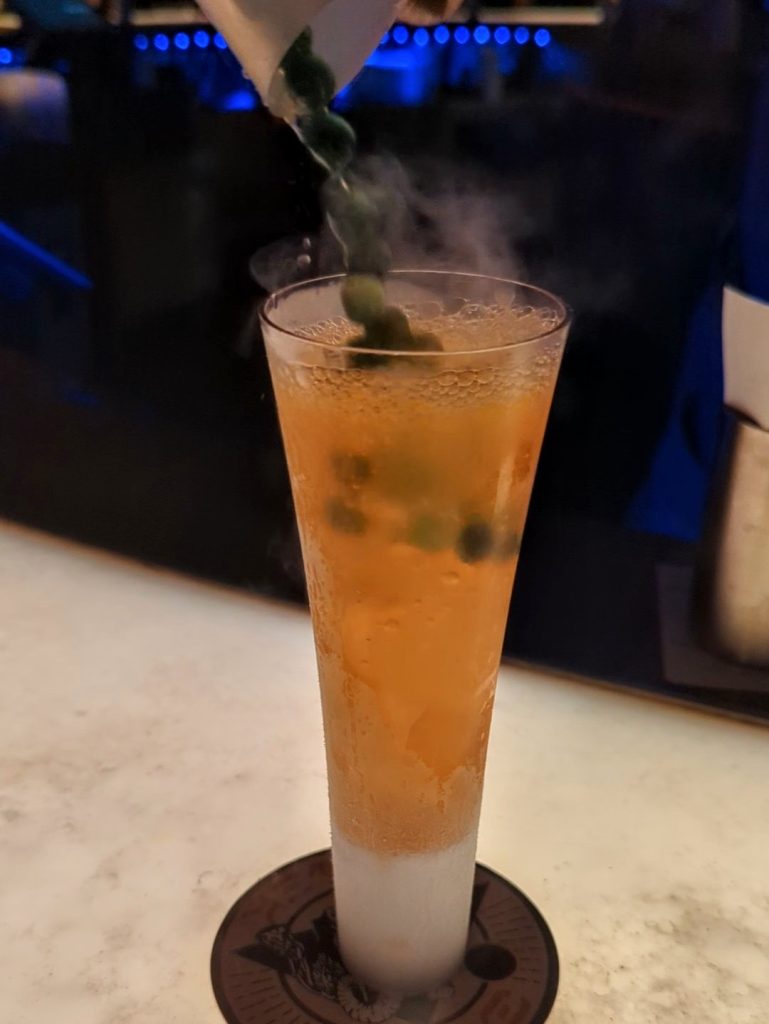 The presentation of this lemon lime Powerade with wild strawberry, blueberry and green apple popping pearls is fantastic.
The fluted glass with dry ice bottom causes the drink to bubble and swirl. Be patient when your drink arrives or risk getting splashed. Although this is a cool looking drink, the flavor is pretty mild.
Blurrgfire
I was warned Blurrgfire, a mix of Minute Maid lemonade, pomegranate juice, and habanero-lime, would be super spicy. While it was tasty, I didn't feel like the heat warranted the warnings.
Cliff Dweller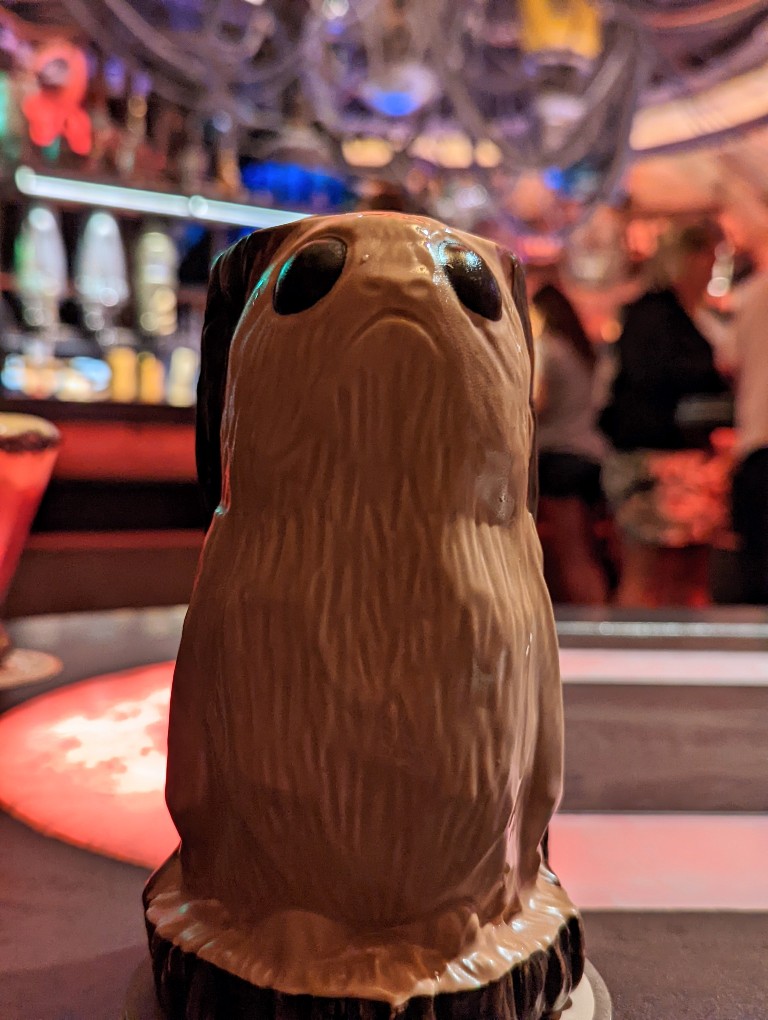 The Cliff Dweller, served in an adorable Porg mug, is pineapple forward with citrus juice, ginger ale, and a hint of coconut. Served over crushed ice, the Cliff Dweller is refreshing and sweet without being overly sugary.
Just like Yub Nub, opt for just the drink and skip purchasing the souvenir mug if you ask your server when ordering. Purchasing only the drink brought the Cliff Dweller down from $35 to $6.50 and I got to drink out of the fancy glass.
Is There A Time Limit At Oga's Cantina at Galaxy's Edge?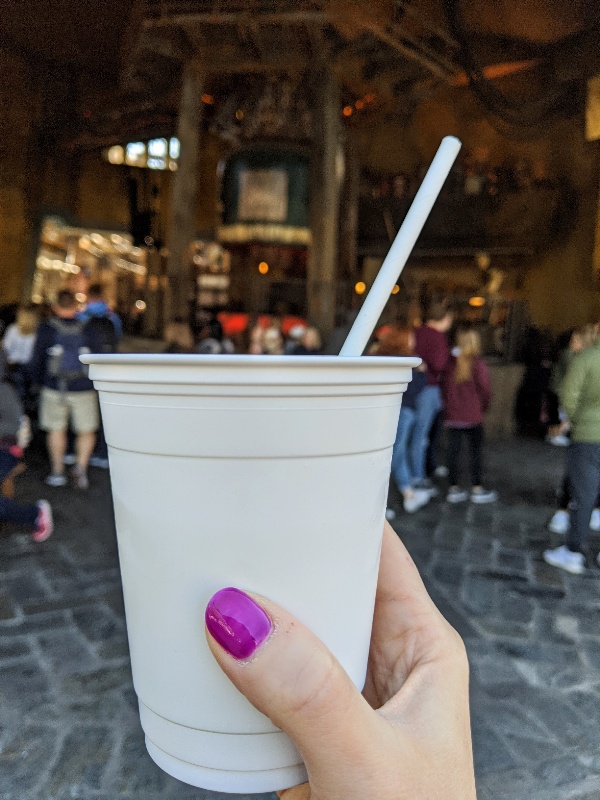 Yes, each Oga's Cantina reservation is only good for 45 minutes. During your 45 minute visit you can order as many drinks as you like per person.
Instead of rushing through your drinks within the time limit, ask your server to make your last cocktail, or mocktail, to go. Then continue enjoying Oga's while wandering through Disney World's Galaxy's Edge.
Is There Food At Oga's?
Oga's is more about drinks and the experience than it is about food, but there are a couple of snack items on the menu. Eat lunch or dinner elsewhere and come to Oga's for the drinks.
Batuu Bits
Of the two snack items, I prefer the Batuu Bits. Batuu Bits are a collection of sweet potato, squash, taro, and carrot chips plus green bean crisps served with a spiced chermoula dip.
Happabore Sampler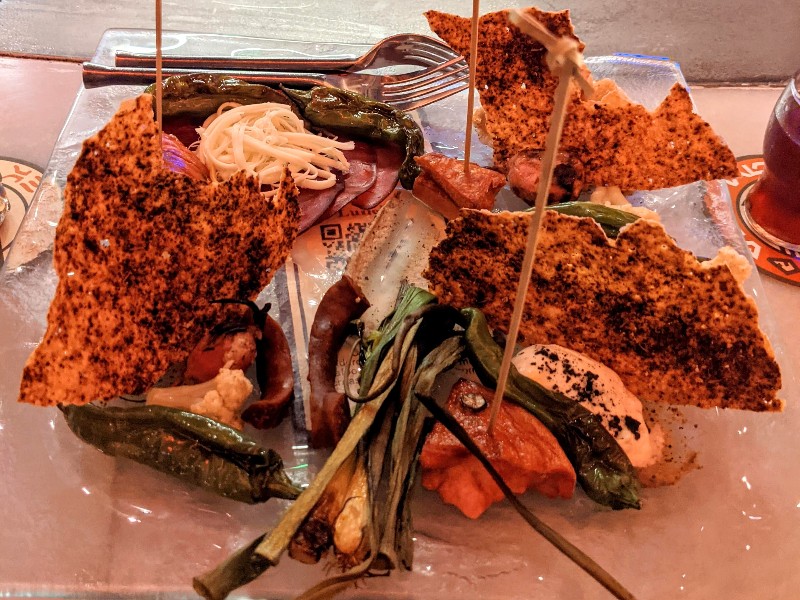 Buratta, pickled vegetables, papadums, shredded mozzarella, grilled green onion, several deli style meats, and more are part of this platter served at Oga's.
Perhaps someone with a more sophisticated palate will adore the Happabore Sampler, but we found it uninspired. The presentation is cool, but we feel it looks better than it tastes.
Oga's Obsession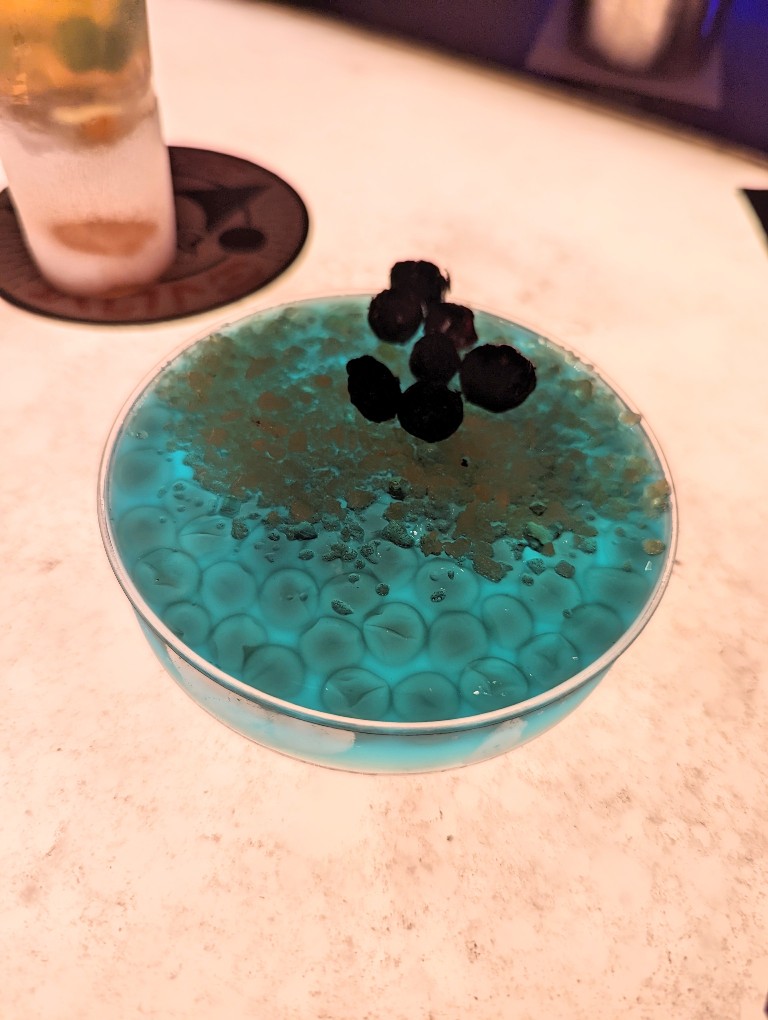 Served in a petri-style dish, I like this non-alcoholic sweet treat more than I expected. A jello base of lemonade is layered with blueberry popping pearls, cotton candy pop rocks, and dried fruit.
How Do I Get Reservations For Oga's Cantina?
Oga's is incredibly popular, and relatively small, which means scoring a spot is tough. Reservations open 60 days before your Disney World vacation. On-site guests can make dining reservations for up to 10 days starting on day 60, but off-site guests must make reservations one day at a time.
If there are no Oga's Cantina reservations when your booking window opens, don't give up.
When this happens I continue checking for reservations. With the cancellation policy changed to allow cancellation up to 2 hours before a reservation there's always hope for a last minute opening.
It's also a good idea to check if Oga's walk up list is available right when entering Hollywood Studios for the day.
How Does Oga's Cantina Walk Up List Work?
The walk up list is not always available at Oga's Cantina, but it is worth checking when visiting Hollywood Studios. The walk up list is designed to help guests snag last minute spots for Oga's Cantina at Disney World.
To check walk up list availability, first open the Disney World app. Then search for Oga's Cantina. Under the picture and name is a scrolling bar with several options such as "Find on Map", "Reserve Dining", or "View Menu". If a walk up list is available it'll show up here.
If the option is there, simply click "Join Walk Up List" and provide your contact information. You'll get a confirmation text that you've joined the queue and then a follow up message when your table is ready.
Final Thoughts On Oga's Cantina at Galaxy's Edge at Disney World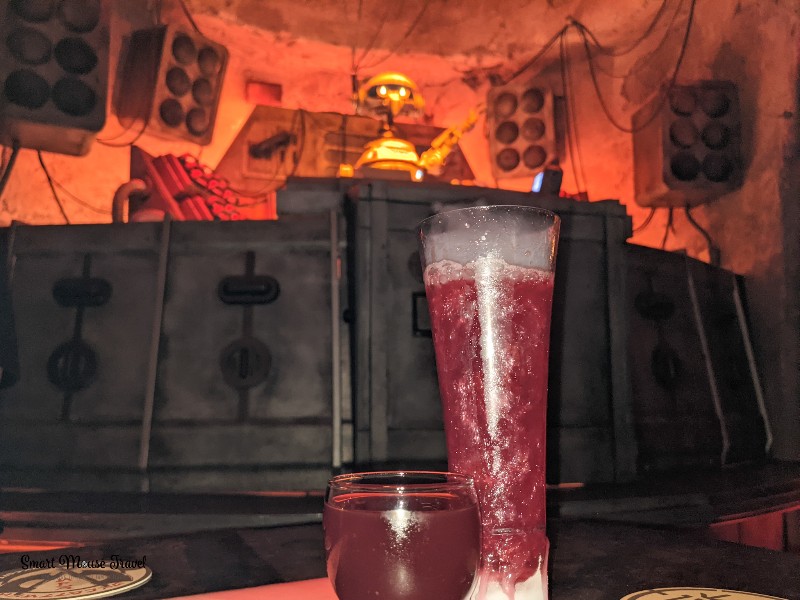 Grabbing a cocktail, or mocktail, at Oga's Cantina is a great way to feel like part of Batuu when visiting Galaxy's Edge in Hollywood Studios. We enjoy the atmosphere, music, and drinks at Oga's and always look forward to our next visit to this Star Wars Land bar.
Pin it for later: