Philadelphia is known for its importance in American history, but visiting Independence Hall and Liberty Bell isn't always as easy as you might think.  Tour these iconic locations and learn more about US history with our tips for visiting Independence National Historical Park in Philadelphia, Pennsylvania.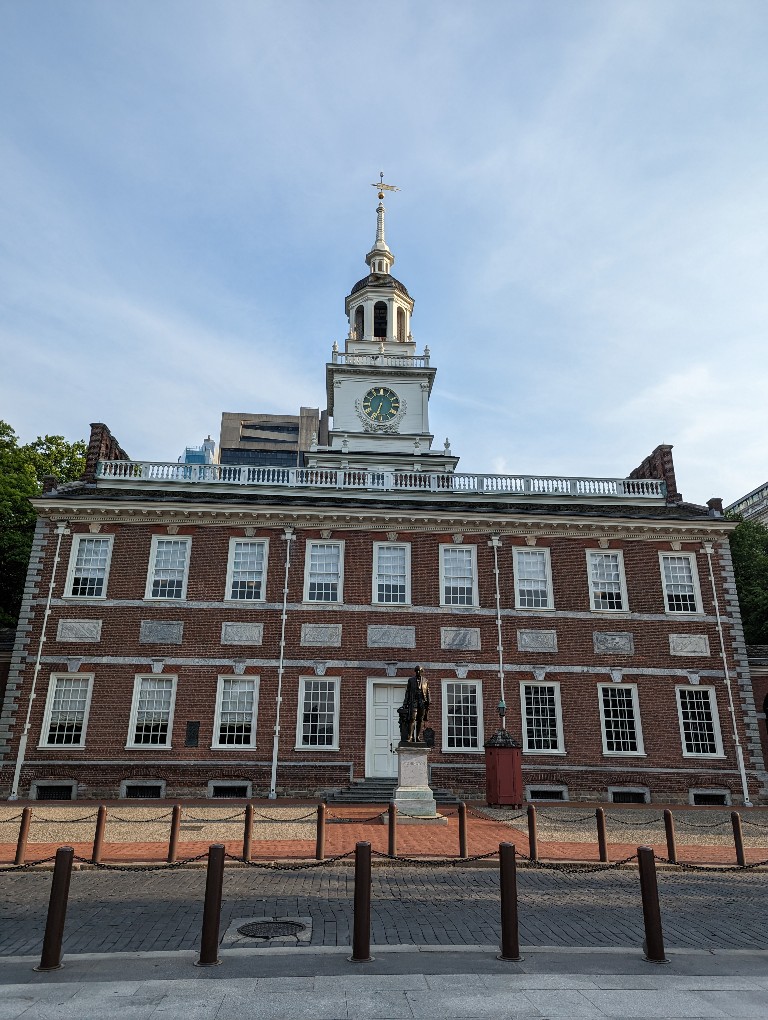 NPS Independence National Historical Park
Independence National Historical Park is managed by the National Park Service and is several blocks large with three main areas: the visitor center, Liberty Bell Center, and Independence Hall.
Independence National Historical Park Visitor Center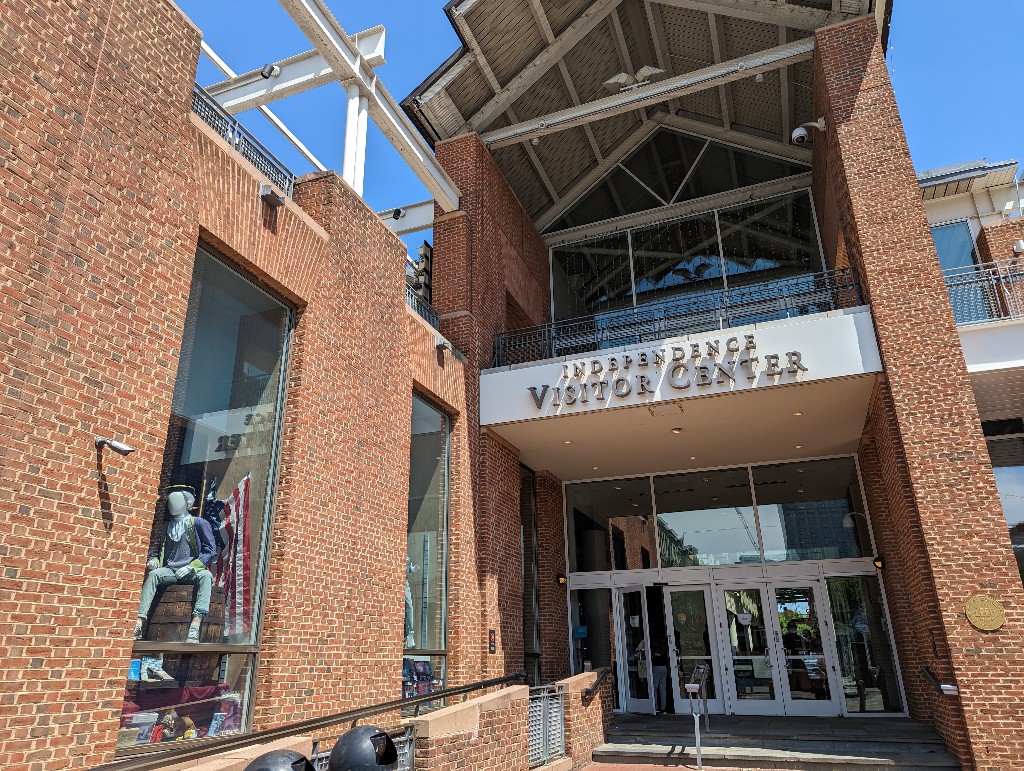 The visitor's center has a small theater, exhibits, gift shops, a cafe, information desk, and restrooms. While the visitor center is sleek and new, it does not have as many informational displays as we usually see in NPS visitor centers.
Grab a map at the information station inside the visitor center. Maps include locations of the three main buildings, which are spread out over a couple blocks, and other nearby areas of interest, too.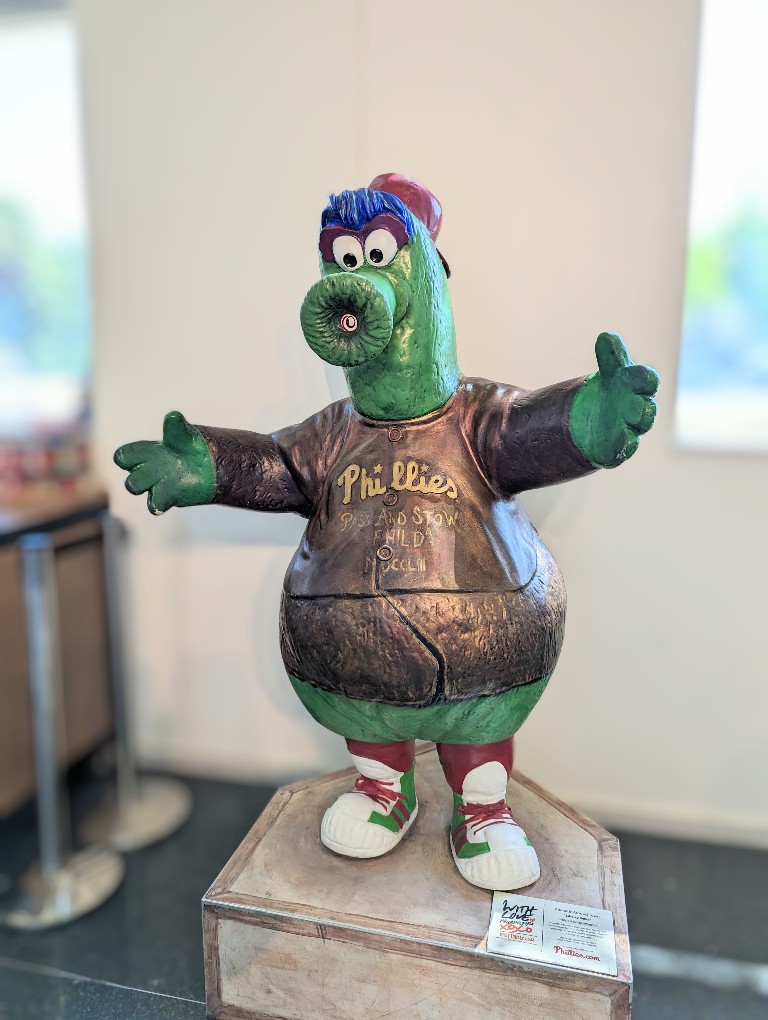 Although not exactly a historical monument we really enjoyed this fun Liberty Bell inspired statue of the Phillie Phanatic.
Independence Hall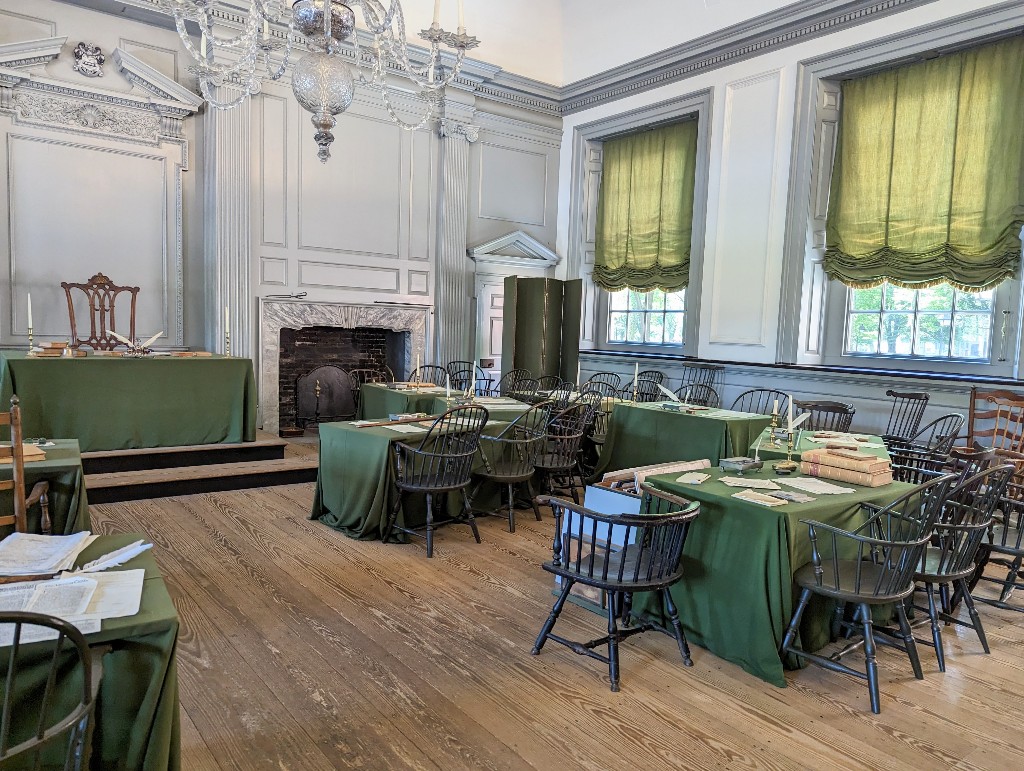 The only way to see inside Independence Hall is with a NPS ranger on a guided tour. Guides discuss American Revolutionary history highlighting Independence Hall's place in several historically significant events. 
Independence Hall is most famous for hosting debates and the signing of two important documents: the Declaration of Independence and U.S. Constitution. While touring Independence Hall step into the room where these ideas were discussed, finalized, and eventually signed.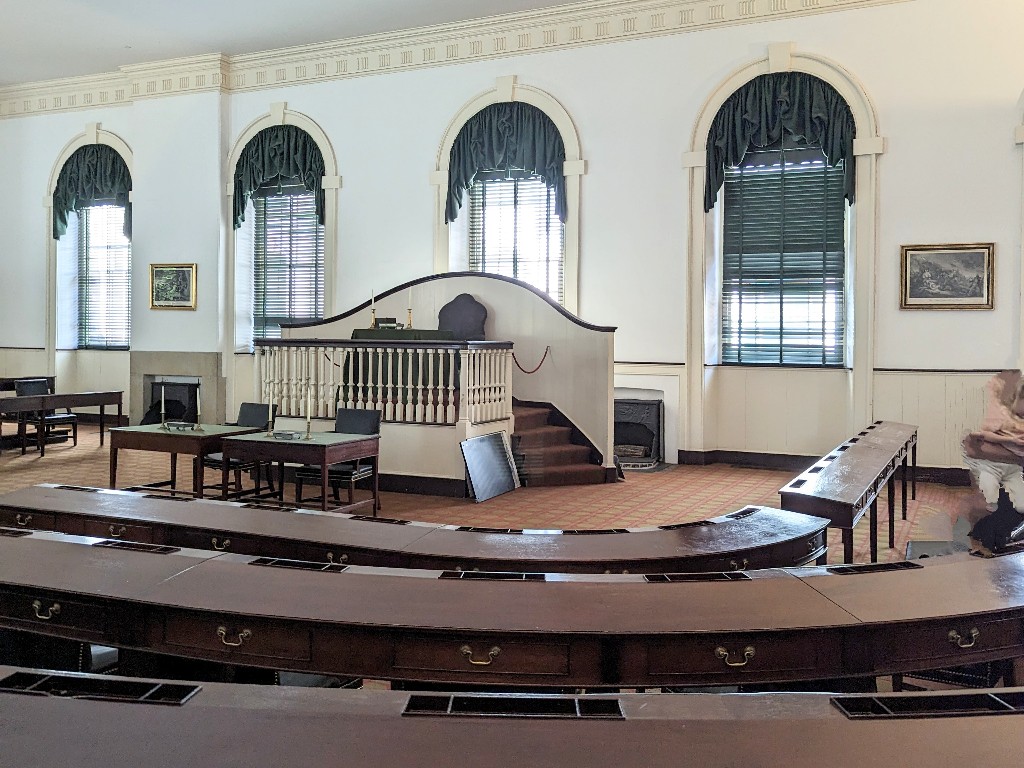 Next door, Congress Hall was the temporary home of the U.S. Congress from 1790 to 1800. George Washington's second inauguration and the inauguration of James Adams both took place here. 
A small museum on the Independence Hall campus houses several informational displays and some historic documents. For example, view one of the first widely distributed copies of the Declaration of Independence in a special display case.
Liberty Bell Center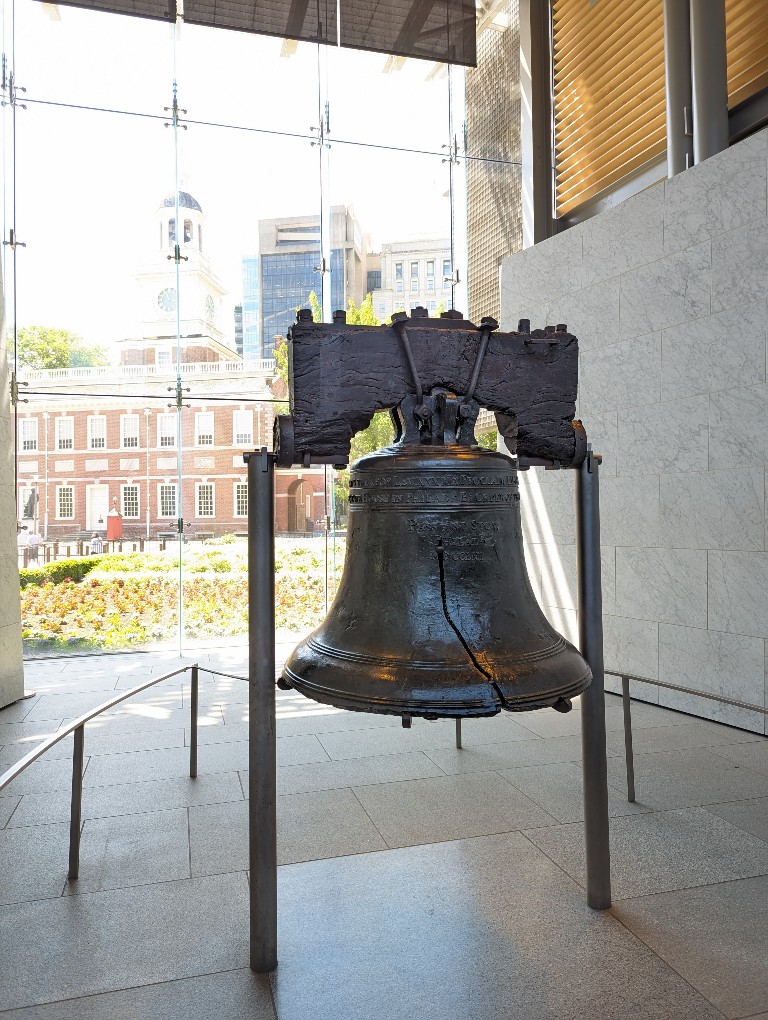 An iconic symbol, the Liberty Bell became famous after the Revolutionary War. Abolitionists used the Liberty Bell inscription, "Proclaim Liberty Throughout All the Land Unto All the Inhabitants thereof," as inspiration for their cause.
The Liberty Bell Center has tons of information on the bell's importance and wonderful displays with lots of well preserved memorabilia.
For most the highlight of visiting Liberty Bell Center is admiring the bell up close. Views of Independence Hall through large glass windows make a breathtaking background for Liberty Bell.
Walk around this special historical icon and take as many photos you'd like before exiting the building. The grounds around Liberty Bell Center provide some of the best photo spots for Independence Hall, too.
Tips For Visiting Independence Hall and Liberty Bell
Be Prepared For Security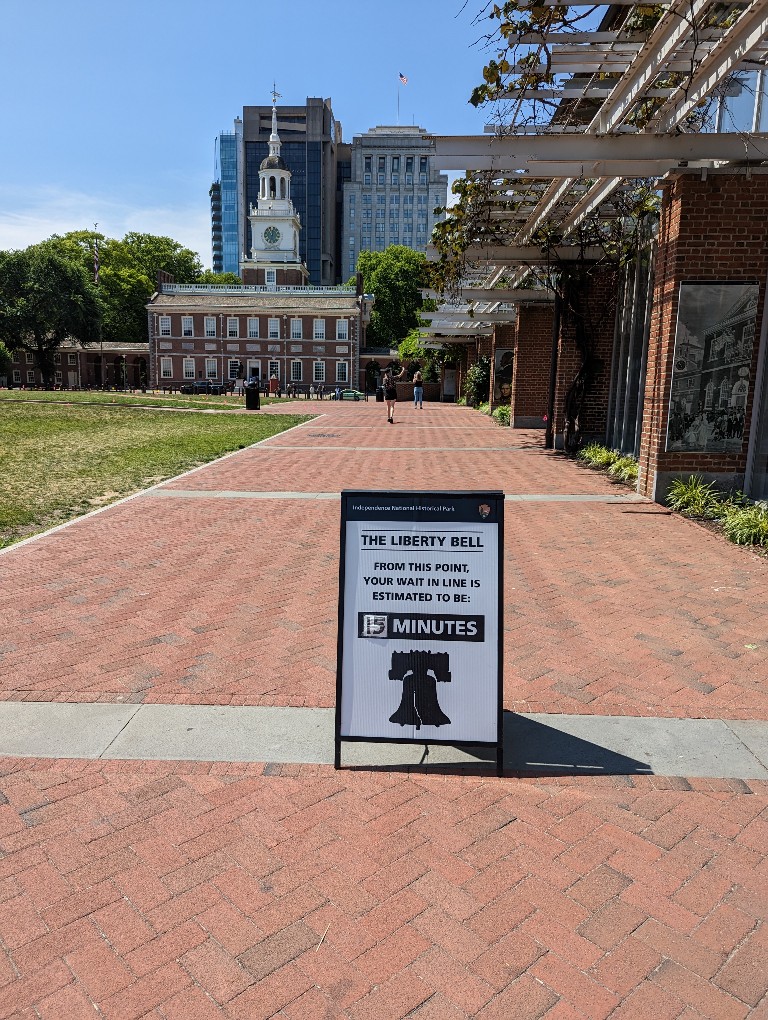 Expect airport-style security when visiting Liberty Bell and Independence Hall. The security screening lines are generally short, but budget 10 to 15 minutes for security when arriving at Independence Hall. It's unlikely to take that long, but ensures you don't miss your tour time.
The security lines at Liberty Bell vary widely during the day. We waited about ten minutes, but when we left there was almost no line.
Use a small bag, and avoid prohibited items like weapons, pepper spray, and pocket knives to make getting through security easy.
Buy Independence Hall Tickets Early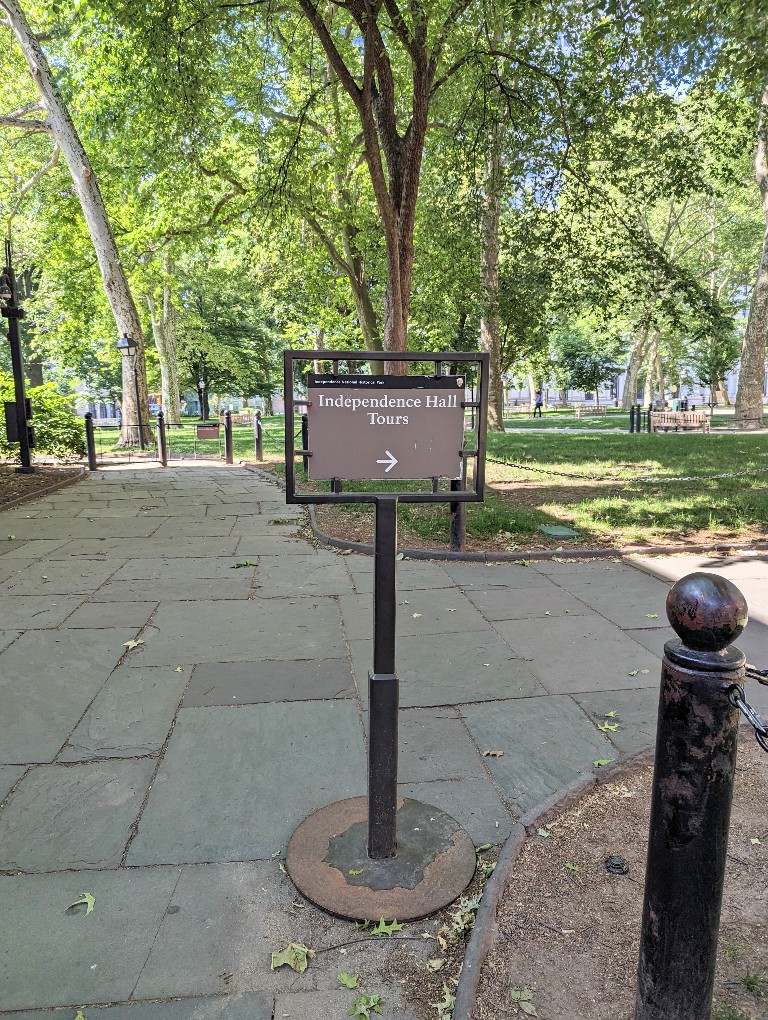 Visiting Independence Hall requires a tour ticket. Group tours take place several times per day, but sell out months in advance during the busy summer season.
For example, I booked our Independence Hall tour for Memorial Day weekend on February 27th. Despite booking about three months ahead I only had one tour time that fit our family of three on my preferred date.
Tours are free, but there is a $1 convenience fee per ticket when ordering.
Off-season visits to Independence Hall are easier to book with lots of last-minute availability.
No tickets left for Independence Hall tours on your date? Check back the day before you visit. Some last-minute tickets are released the day before tours.
Use The Restroom At Independence Visitor Center Before Tours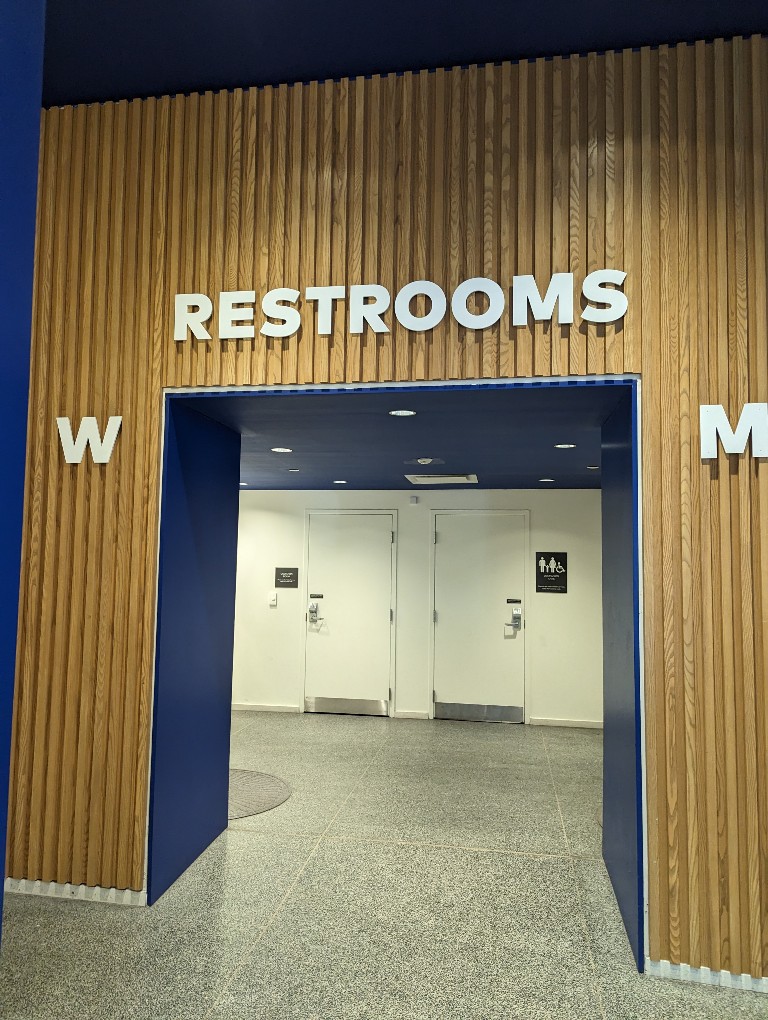 Liberty Bell Center and Independence Hall do not have public restrooms. The only on-site restrooms in the sprawling campus are at Independence Visitor Center. Make sure to use the facilities there before visiting either Independence Hall or the Liberty Bell.
Budget 60 to 120 Minutes To Tour Independence National Historical Park
Our guided tour of Independence Hall took about 45 minutes. Touring Congress Hall on the Independence Hall campus, checking out the visitor center, and exploring the Liberty Bell Center took about another hour.
How much time you spend really depends on your interest level and how many informational displays you read. For reference, we spent a moderate amount of time, but not the maximum or minimum time possible.
Final Thoughts On Visiting Independence Hall and The Liberty Bell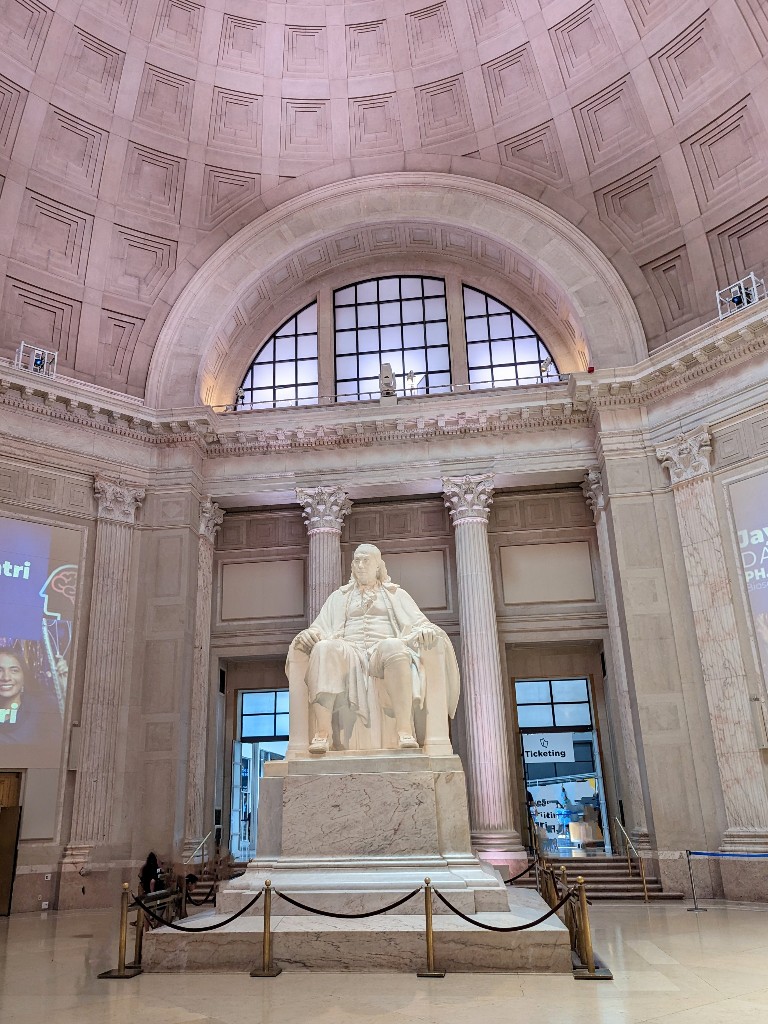 We've learned that we love incorporating history into vacations during our 50 state challenge, but with a short trip to Philadelphia we didn't want to devote too much time to this one activity. Thankfully visiting Independence Hall and Liberty Bell took less than two hours, but was still educational and interesting.
This left us plenty of time to run up the Rocky Stairs at the Philadelphia Museum of Art, explore The Franklin Institute, an unbelievable science museum only rivaled by MSI in Chicago, and eat lots of delicious food at Reading Terminal Market.