US National Parks have grown in popularity over the past several years, and many people are hiking for the first time. Hiking in national parks is very different from most walks, with potentially serious outcomes if you are unprepared. These hiking tips for beginners will make your first few hikes a fun and safe experience, and hopefully you'll love the great outdoors as much as we do.
As an Amazon Associate I earn from qualifying purchases.
Hiking Shoes Make A Huge Difference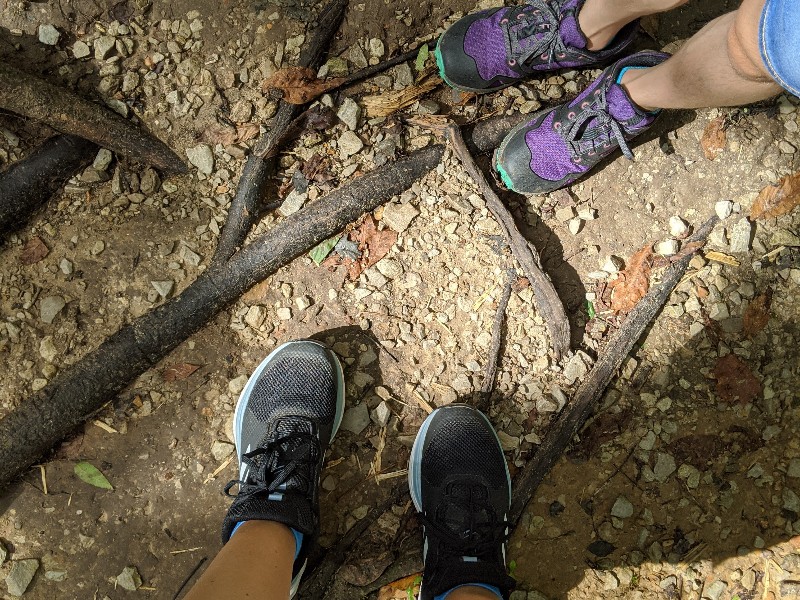 Hiking shoes are expensive and ugly, but they really make a difference. One of the best hiking tips for beginners is to purchase hiking shoes.
On our first several hikes we wore gym shoes or Converse. On paved trails they were fine, but the moment we stepped onto a real trail the shoes became dangerous. I had many slips and nearly injured myself a couple times because I was wearing the wrong shoes.
Hiking shoes and boots have grippy soles that make traversing mud, rocks, and slippery, uneven trails much easier. I finally purchased a trail running shoe, and the last several moderate rated trails have been a breeze compared to wearing regular gym shoes.
If you intend to hike on any unpaved trails I recommend splurging on a trail running shoe, hiking shoe, or boot. It may seem like an unnecessary expense, but if they help you avoid a slip or fall on a remote trail they are worth every penny.
Here's the shoe that Elizabeth has been using (affiliate link: buy on Amazon) and the trail running shoe I have (affiliate link: buy on Amazon).
Have A Paper Or Downloaded Trail Map
US National Parks have limited to no mobile phone service within the parks. We've even tried different mobile providers, but lack of coverage seems pretty universal. Before heading out on an unfamiliar trail make sure you have a map.
Get paper trail maps from park rangers at visitor centers. If you are unsure about a particular trail talk to the rangers. They are an excellent resource to help you find the best trail for your family before you head out.
We recently splurged on a subscription to All Trails. All Trails Pro allows you to search trails, sort by hike length and difficulty, plus download the map to your phone. There is a faint GPS signal, even without mobile service, that All Trails uses to track your progress along the downloaded trail map. All Trails Pro helped us find some less popular trails at Great Smoky Mountains National Park, and the maps made following poorly marked trails simple.
Always Underestimate Your Hiking Ability
The most dangerous thing for new hikers is overestimating your abilities. Hiking a trail is much different than walking through theme parks or paved trails at home. We regularly walk 9 miles (14 km) a day at Disney World but still stick to much shorter trails.
Elevation changes in the mountains can make breathing hard, slippery and uneven trails are a challenge, and carrying essentials with you can cause fatigue much earlier than expected.
Underestimate your hiking stamina. If you finish a hike and still feel good, hike another trail. When beginning hikers overestimate ability they can easily end up lost or injured with no way to call for help.
Pack Your Backpack With Essentials Before Hiking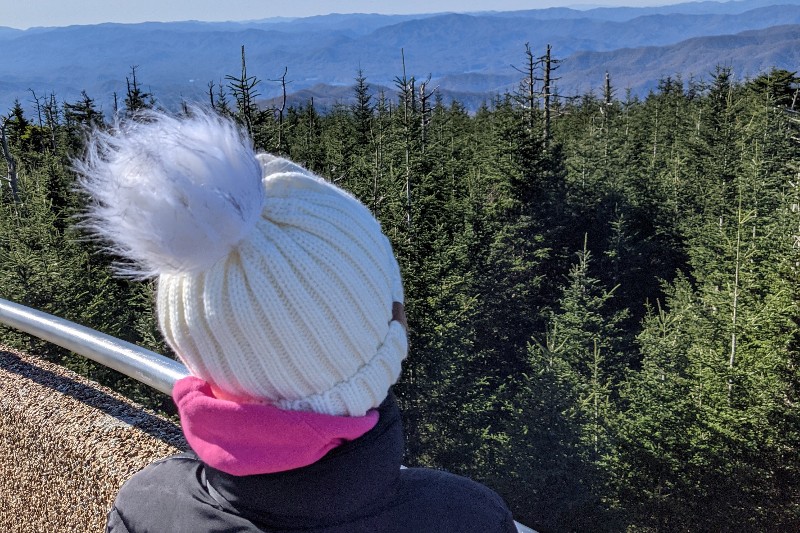 Our hiking backpack packing list has grown over the years as we have started branching out on harder and less frequented trails. When first starting out you won't need tons of stuff, just a few essentials.
Hiking For Beginners Tips: Pack These Important Hiking Supplies
Food
Pack nutritious and shelf stable food whenever you are hiking. Our hiking backpack usually has an assortment of beef jerky, granola, dried fruit, and homemade chex mix.
Water
Pack water for each person in your group when hiking. We carry an insulated water bottle for each person when hiking plus extra if it is going to be a hot or strenuous hike.
First Aid Kit
Bandages, pain medication, and hydrocortisone cream are staples in our hiking backpack.
Flashlight
This Anker rechargeable battery flashlight (affiliate link: buy on Amazon) we use is bright, has an SOS mode, and is extremely durable.
Sanitizer
Hand sanitizer and Wet One Wipes are great for cleaning hands before you eat or if you need to clean a cut.
Bug Repellent
Hiking in US National Parks means you should expect to find bugs. Bring insect repellent with you to avoid uncomfortable bug bites while on the trails.
Sunscreen
Some trails are shaded, but others are exposed or at high elevations which makes for easy sunburns.
Camera
US National Park hiking trails are beautiful. Make sure you've got a camera to capture special moments or scenery on your hike. Please note: only take pictures while stationary to avoid injury.
Back-up Battery
Phones searching for carrier signals plus using your phone as a map can quickly drain your battery. I always carry an Anker rechargeable battery (affiliate link: buy the updated version of mine on Amazon) with me on hikes to be safe.
Ponchos
Ponchos take up almost no space but are wonderful to have when an unexpected rain starts.
Layers For Cold Weather
High elevations can mean a difference of 20°F (10°C) or more between hiking trails and low elevation visitor centers. Gloves, hat, and a packable down coat are perfect for these large temperature swings.
These hats (affiliate link: buy on Amazon) are super warm and inexpensive. We also love the Amazon packable down jackets and have a men's (affiliate link: buy on Amazon), women's (affiliate link: buy on Amazon), and kid's version (affiliate link: buy on Amazon) that are used often.
Watch Your Footing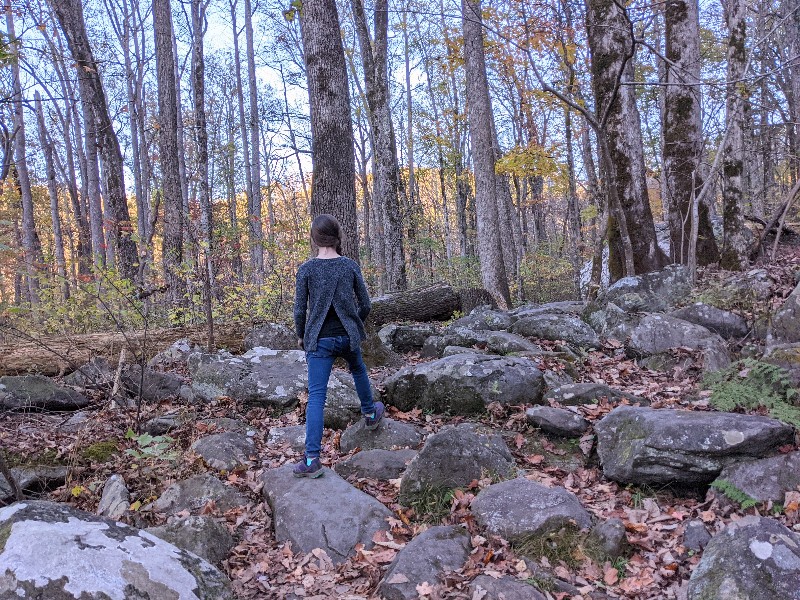 US National Park hiking trails range from paved roads to barely visible muddy paths. Exposed tree roots are a serious tripping hazard, especially when camouflaged under fall leaves. When faced with a non-obvious path, take a few moments to evaluate your options before going forward.
On most moderate routes, areas of difficult terrain will often have more than one possible path. Choose the path that feels most comfortable to you. For example, I may use widely spaced, flat rocks across a stream while Elizabeth finds closer packed smaller stones the best path.
Be Aware Of Wildlife And Keep Your Distance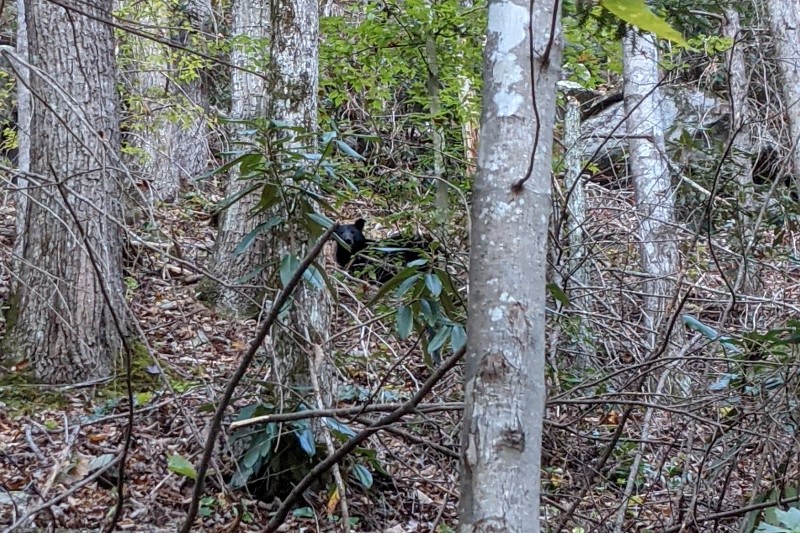 US National Parks and state parks are full of amazing wildlife. We've seen bison in South Dakota, elk in Colorado, and a black bear in the Smoky Mountains.
Research what kind of wildlife is most common in the US National Park you are visiting. Learn what to do if you encounter the wildlife and what is a safe distance for pictures. People have gotten severely injured because they approached animals.
Final Thoughts On Hiking For Beginners Tips
Hiking is a great activity for all ages and ability levels if you do some planning. These hiking for beginners tips should help you safely and easily navigate your first hikes, and I hope you are inspired to explore the amazing US National Park system.
Pin it for later: