Ah, vacation. It makes you think of days where meal prep and laundry are forgotten while you have fun with your family. So why am I talking to you about groceries? In my experience, a handful of groceries ordered from Garden Grocer will save you money and frustration when you visit Disney World.
When we visit Disney World we fly into Orlando and don't rent a car. Since we don't have a car to pick up groceries I usually order from Garden Grocer for our Disney World trips. Let me tell you why Garden Grocer is an important part of my Disney World planning timeline.
Convenience
Having breakfast in our room saves a lot of frustration and time
Quick service breakfast lines can be long in the mornings. If you are like me, you won't want to start a day at the parks waiting in a long line for a bagel.
If your kids are anything like mine they can take a long time to eat. In the room this is less bothersome since I can get Elizabeth dressed, ready and started on breakfast. While she is eating I can usually eat and have time to make sure everything we need is repacked in our park bag.
Late night snacks in the room are easy
After a long day of walking at the parks the last thing I want to do is walk to the food court, quick service restaurant or gift shop of our hotel. I'd much rather have something available in the room. Having snacks in the room also means an earlier bedtime than if people are waiting on something to eat.
Cost Savings
Buying breakfast supplies through Garden Grocer is more expensive than shopping at home, but is much less expensive than if we purchased breakfast each morning of our stay.
This is true of our late night snacks, too. Those little food items and drinks can add up quickly at Disney World.
If you are staying at the Wilderness Cabins or a Deluxe Villa with full kitchens you can opt to cook a meal instead of eating at the parks. This again can be a cost savings.
Where will I keep my refrigerated items?
Disney World resorts have mini-fridges or beverage coolers already in the room. Wilderness Cabins and Deluxe Villas have full-size refrigerators (except for studio villas which have a mini-fridge).
Check with Disney World for more information on the availability of refrigerators and beverage coolers.
Now that I have told you why we order from Garden Grocer let me share some pro tips with you:
Make your initial order and confirm it as early as possible
This secures your delivery date and time. Groceries can be ordered months in advance or a few days before your trip. I would recommend ordering 2 weeks prior to your trip. Order earlier if visiting Disney World around spring break or Christmas.
Groceries are not purchased for your order until about 48 hours prior to your delivery window. Therefore, there is no incentive to wait to place your order. You also have the opportunity to add-on products to this order up to 3 times (if done 3-5 days before delivery window) for no additional delivery charge.
The initial order and add-ons will be delivered together. If you need to cancel or reschedule your order do it more than 2 days before scheduled delivery to avoid a restocking fee.
Once the initial order is delivered you can replenish your order up to 3 times with no additional delivery charge
What that means is if you run out of milk or even forgot to order something you can contact Garden Grocer, place an order of less than $40, and it will be delivered within 24 hours with no additional delivery charge.
If you have a food allergy record it in "Notes" section
That way if a requested product is not in stock it will not be substituted with a similar product without a phone call to you. This gives you the opportunity to verify ingredients to avoid food allergy issues. The notes section is located at the very bottom of the delivery page when completing your order.
Looking for a product that is not on the Garden Grocer website?
You can ask for the item in the "Request An Item" section. It is located below the delivery address section at check out. Garden Grocer will contact you 3-5 days prior to your scheduled delivery to let you know if product is available.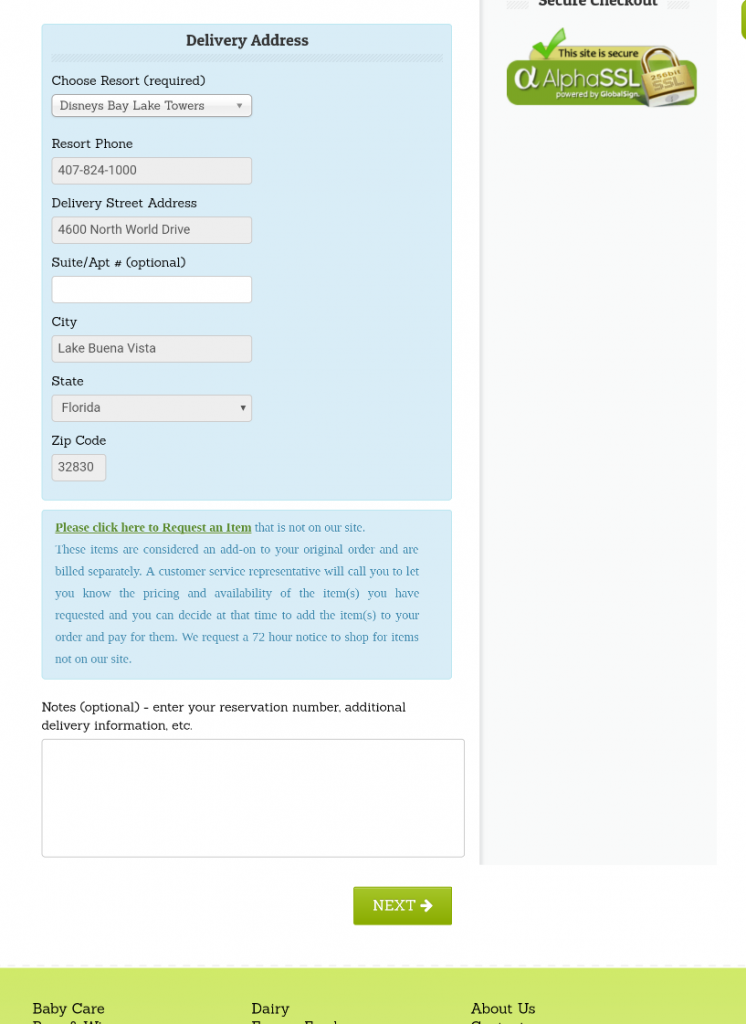 Have you ordered from Garden Grocer before? 
If so, logging into your account gives you the option to copy a previous order. This feature saves time and helps you to remember the essential items you previously ordered.
How Does A Garden Grocer Delivery Work?
When you order from Garden Grocer you choose a delivery date and time slot. If you haven't arrived or your room is not ready the bell desk of your hotel will take delivery of your items. This includes cold or frozen foods which will be appropriately cold stored. Once you are ready, you call down to bell services and someone will bring the Garden Grocer order to your room.
Exceptions to this delivery policy at Disney Wilderness:
Campgrounds – person must be at campsite to take delivery in person

Cabins – if your cabin is ready Garden Grocer will deliver directly to the cabin
Placing a Garden Grocer Order: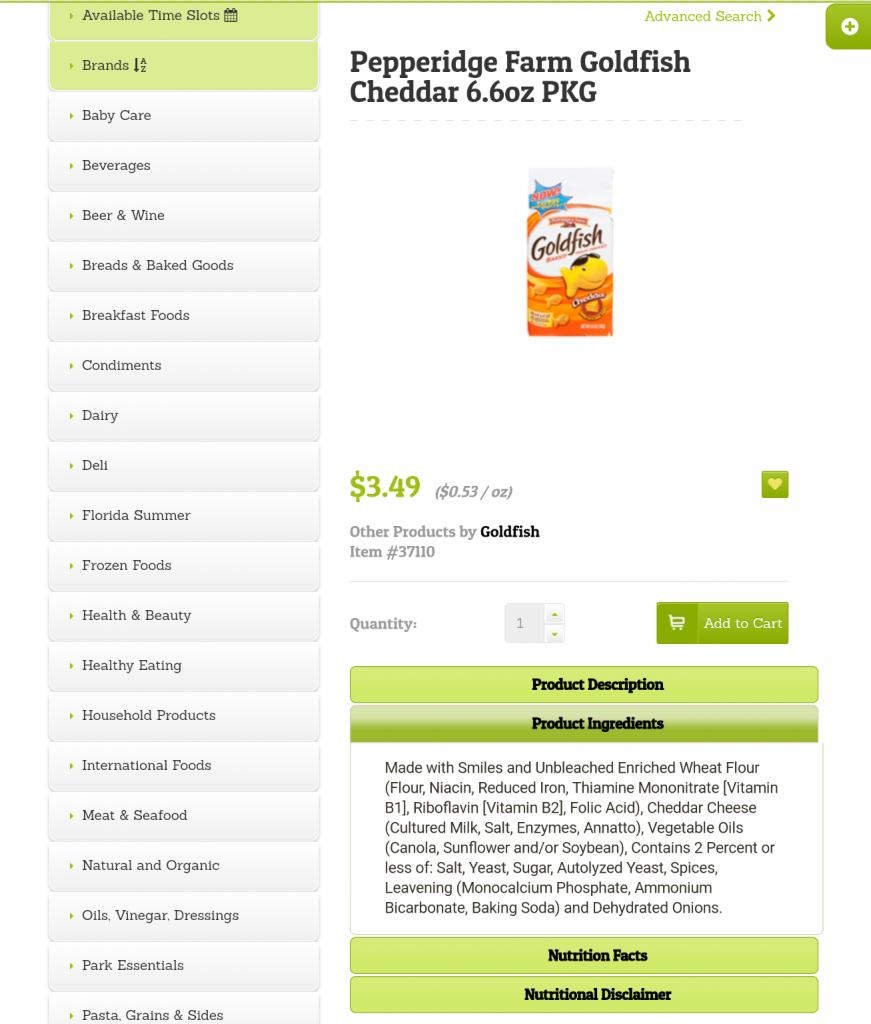 Browse Garden Grocer online. Click on an item to see the product description, ingredients, and nutritional facts.
Add chosen item to cart.
Once you have chosen all of your items start the check out process.

First you will provide your name, email address and a mobile phone number. When you choose your resort for the delivery the address will autocomplete other fields. Next you can request an item or add a note before moving on.
Choose a delivery date and time slot.
Third, enter your billing information. Here you can see if early order discount was applied, the delivery fee, and the cost of your items for a grand total.
Lastly, review and confirm your order.
How Much Does Garden Grocer Cost?
You pay for the cost of groceries ($40 minimum), plus delivery fee ($14 for orders under $200, otherwise $2), and gratuity if you choose. Disney World now charges a $6 delivery fee for bringing the groceries to your room.
Do you have other questions? Garden Grocer has a frequently asked questions section that can probably answer them.
Final Thoughts On Using Garden Grocer For Disney World
Over the years we have tried grocery delivery from Garden Grocer, Instacart, and Amazon Prime Now. Product options are limited with these other companies and I've even had Instacart cancel my order instead of giving it to bell services like I asked. After lots of inconsistent products and deliveries with other companies, Garden Grocer is the only place I order groceries for our Disney World vacations.
Do you need more help planning your Disney World trip? Check out other Disney World tips and tricks in my Disney World Guides.
You can also keep up to date by following me on Facebook, Instagram and Pinterest.