Galaxy's Edge at Disneyland and Disney World is a rare opportunity for Star Wars fans to live out their dreams of being part of the story. The Savi's Workshop lightsaber building experience is a chance to make your Star Wars dreams come true, but what it the experience really like, and is Savi's Workshop worth it?
Savi's Workshop Location
Savi's Workshop is tucked into a small alcove between Dok Ondar's Den of Antiquities and Droid Depot in Galaxy's Edge at both Disneyland and Disney World.
Do I Need A Reservation For Savi's Workshop Lightsaber Building Experience?
There is limited space for Savi's Workshop lightsaber building experience, so reservations are highly recommended. Reservations for Savi's Workshop are booked 60 days in advance at both Disney World and Disneyland. Each builder at Disney World can have one guest in the workshop, while each builder at Disneyland can have two guests.
Savi's Workshop Lightsaber Building Experience
The lightsaber building experience at Savi's Workshop starts with choosing one of four lightsaber styles. Before you pay for your Savi's Workshop lightsaber a cast member provides a lightsaber "menu" to help you choose. Here you can see the specific options available for each of the 4 lightsaber styles.
Savi's Workshop Lightsaber Styles
Peace and Justice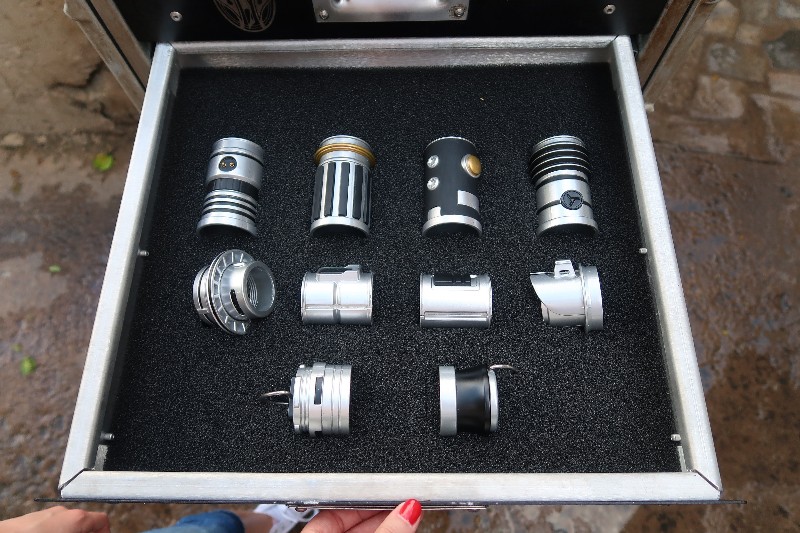 The Peace and Justice lightsabers are modeled after the Republic Era lightsabers of Obi-Wan and Anakin Skywalker. These relics are collected by Savi's gatherers from crashed starships and old Jedi temples.
Power and Control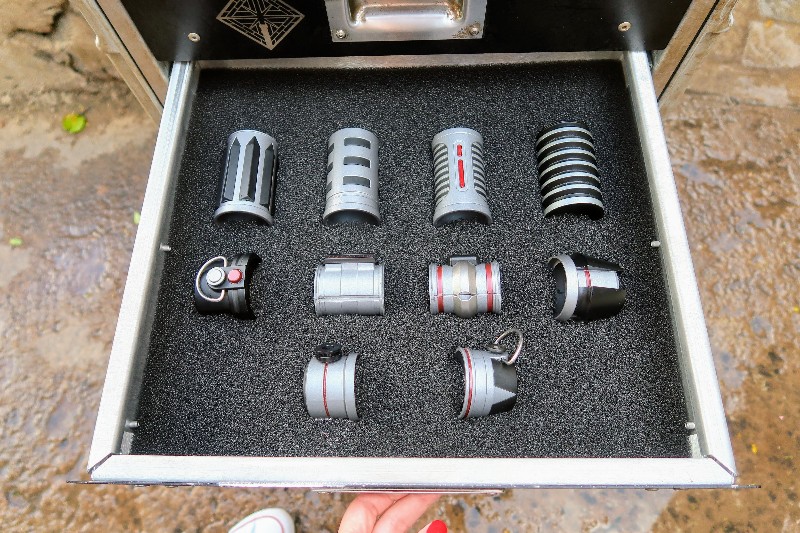 There is a very obvious Sith influence in the Power and Control lightsabers with strong black and red accents like those wielded by Darth Vader, Darth Maul, and Kylo Ren. These lightsaber scraps are salvaged from the Sith homeworld and abandoned temples.
Elemental Nature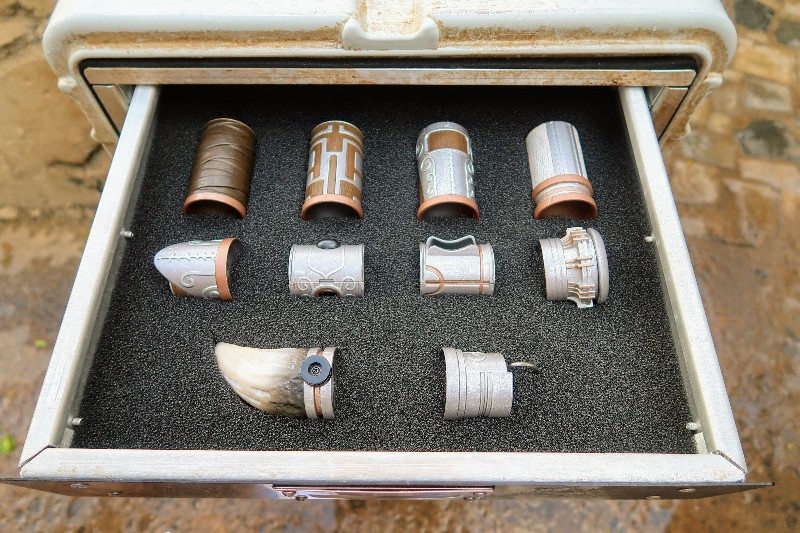 The Elemental Nature lightsaber choices incorporate natural materials like Rancor teeth, Brylark trees, and Cartusion whale bones. These lightsabers are a reminder that the Force flows through all living things.
Protection and Defense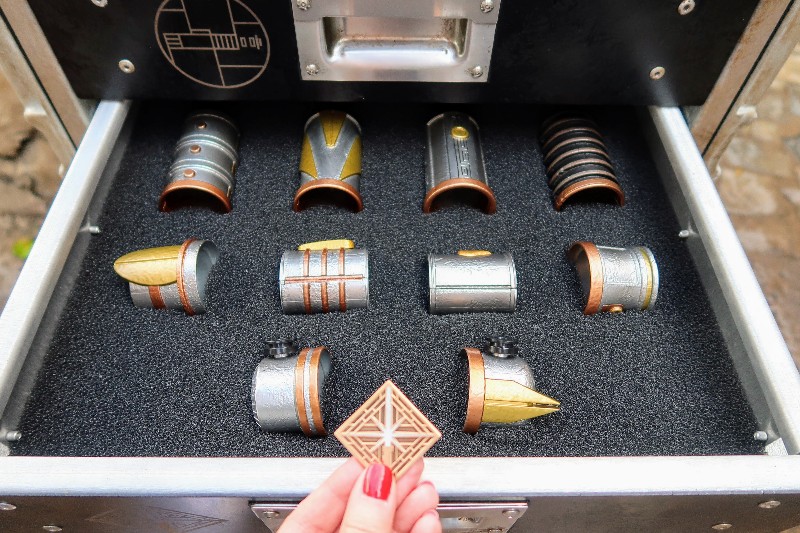 Elizabeth opted for Protection and Defense. These scraps are the oldest and most mysterious of the lightsaber choices. The pieces bear ancient inscriptions and remind me of the lightsabers used by the Jedi Temple Guards in Kanan's vision during an episode of Star Wars Rebels.
After you choose one of these four lightsaber options it is time to pay for your Savi's Workshop lightsaber experience. At the register you are given a special pin and a boarding pass.
The pin represents the type of lightsaber you chose and needs to be worn "over your heart" according to cast members. This pin helps the gatherers inside Savi's Workshop know which pieces to bring to your station.
Waiting For The Savi's Workshop Lightsaber Experience
You check in with a gatherer and enter a small gated area. This is where you wait until the next building experience begins. While you are here explore the metal case with real lightsaber pieces. This can help you pre-plan your final lightsaber design.
The wait is usually only about 10 or 15 minutes. Then a gatherer will ask you to follow them into Savi's Workshop.
Entering Savi's Workshop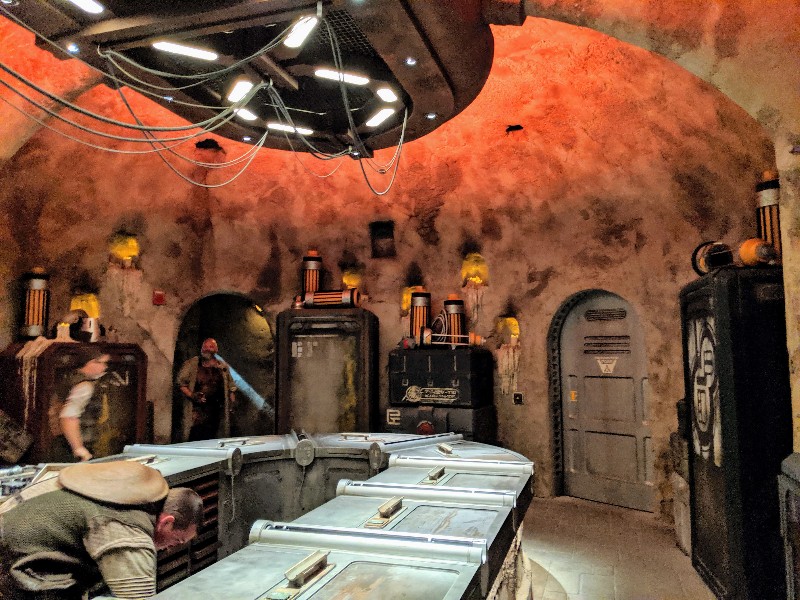 Pick any available building station once inside the workshop. The building station area is a large oval with an opening on one side for the gathers to enter.
For the best view of the main Savi's Workshop gatherer, pick a building station that faces the opening, but don't worry if none of these spots are available. Much of the Savi's Workshop lightsaber building experience is focused on working at your station and audio that can be heard throughout.
The head gatherer is an impressive storyteller who talks about the relic gathering process, explains the kyber crystals including examples of Jedi and Sith who have used each color, and then announces the time to finally build your lightsaber.
Building Your Lightsaber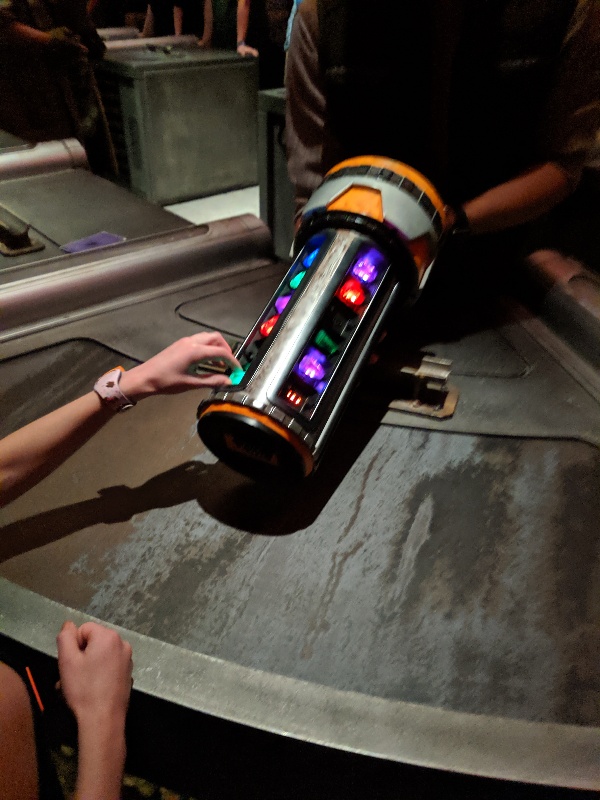 There is one gatherer for every two builders to help and answer any questions that you have while building. The first part of building your lightsaber is to close your eyes to focus on the Force and then choose the kyber crystal that speaks to you.
Place your chosen kyber crystal on a special holder on the building station while the gatherer places a tray with all the available lightsaber hilt pieces in front of you. Insert your kyber crystal into the center of the chassis or core of the lightsaber. The crystal sings when it is properly placed in the core.
Next choose one of two available activation plates to protect your kyber crystal. Then add two of the four sleeve choices to cover most of the plain gray core. Lastly add one of two pommel cap options to the bottom and one of two emitter options to the top of your lightsaber.
Now your gatherer will inspect your lightsaber. Activation can be dangerous, so builders are directed to step back and the gatherers place your lightsaber in the activation chamber. Then you approach your lightsaber hilt, turn it on, and the room lights up with the glow of everyone's lightsabers.
Each builder is given a padded sheath carrying case as they exit the workshop. These cases make it easier to carry your lightsaber around Galaxy's Edge.
Here's a video of our lightsaber building experience:
Frequently Asked Questions About Savi's Workshop Lightsabers
Savi's Workshop Custom Lightsaber Cost
A Savi's Workshop lightsaber costs $249.99 per lightsaber plus tax. There are no annual passholder discounts available.
What's Included In The Cost?
The lightsaber, carrying case and one kyber crystal is included in the cost of Savi's Workshop lightsaber building experience.
What Color Kyber Crystals Are Available?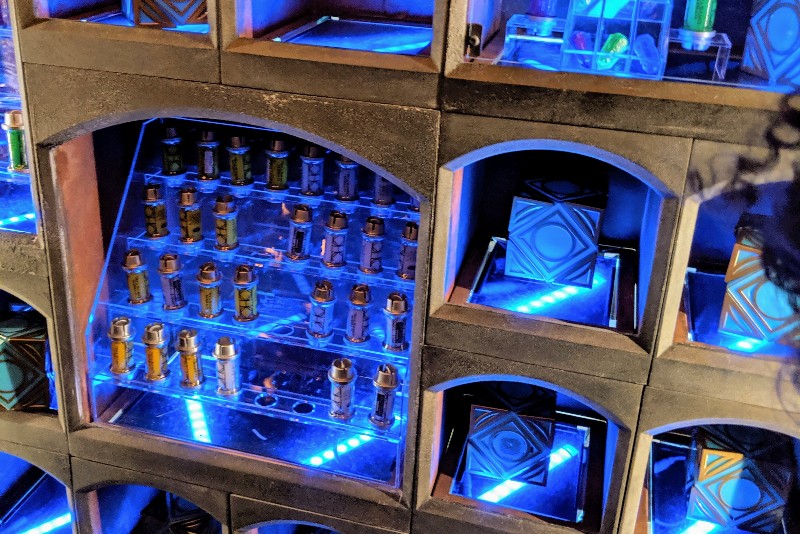 The Savi's Workshop lightsaber building experience offers a choice of blue, green, red, or violet kyber crystals. Buy additional kyber crystals in white, yellow, or the super rare black at Dok Ondar's.
Switching out a kyber crystal is easy. Loosen the pommel cap, emitter, and each sleeve a bit to expose the activation plates. Pop the plates open and switch out the kyber crystal. The crystal will sing once inserted properly. Rotate the kyber crystal in place and then replace the activation plates before retightening the other pieces.
Can I Ship My Savi's Workshop Lightsaber Home?
Lightsabers can be shipped to your home in either Dok Ondar's or Droid Depot. The cost of shipping varies based on shipping destination.
Can I Bring My Savi's Workshop Lightsaber On A Plane?
Yes, the Transportation Security Administration specifically allows lightsabers through security in either carry-on or checked bags. Savi's Workshop lightsabers do not collapse to a smaller size and most airlines consider it your carry-on item since it goes in the overhead bin.
This means your lightsaber replaces a roller bag carry-on, but you can still have a personal item for under the seat in front of you. The lightsaber sheath is padded, but I was still nervous about putting it in the overhead bin. This anxiety was worse after watching people shove roller bags in the bins on our plane ride to Galaxy's Edge. To minimize risk of damage I found a full bin and slipped the lightsaber in front of the items already inside. Then when we landed I retrieved the lightsaber from the bin before those with the larger bags.
Can I Use My Custom Lightsaber In Galaxy's Edge?
No lightsaber duels are allowed in Galaxy's Edge, but that isn't too surprising. However, you can take your Savi's Workshop lightsaber out while walking around most of Batuu. The lightsabers make for great photo opportunities and some of the photos even turn out better at night when you can see the colorful glow of the blade.
The only place we were told to put our "scrap metal away" was in the queue for Millennium Falcon: Smuggler's Run.
Final Thoughts On Our Savi's Workshop Lightsaber Building Experience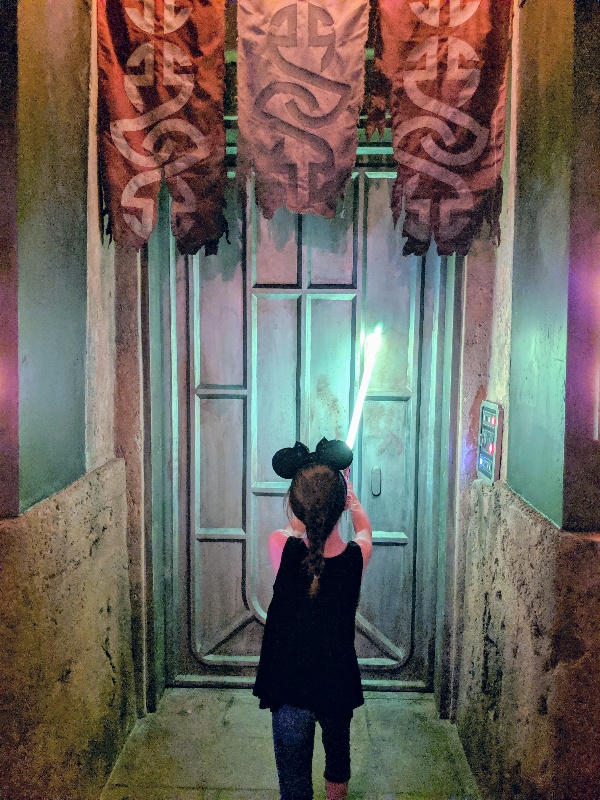 Savi's Workshop was a fantastic, immersive experience for my little Star Wars fan. In fact, it was her favorite activity of the whole trip. I love the detail on the Protection and Defense lightsaber hilt. There are realistic looking scratches, markings, and imperfections that make the pieces feel like true relics.
There are other subtle things about the lightsaber, too. When the kyber crystal is first inserted in the core it sings. Activating the lightsaber without the blade makes a crackling noise, but when the blade is in it makes the perfect lightsaber noises when moved around.
Savi's Workshop lightsabers are extremely heavy and solid. These are truly a collector item and not the same toy lightsabers we have previously owned. This was certainly a splurge on our Galaxy's Edge trip, but seeing the joy on my daughter's face when her Savi's Workshop lightsaber lit up for the first time made it worth every penny.
If you are looking for a lower cost Galaxy's Edge custom building experience consider building your own droid at Droid Depot. Check here for our full review of the droid building process or watch the experience instead.
Pin it for later: