Looking for an upscale Disney World resort with comfortable rooms and Skyliner transportation? Then a Disney's Riviera Resort 1-bedroom villa is perfect for you! Walk into the beautiful lobby of Disney's Riviera Resort and leave behind the theme parks for a luxurious European-inspired resort.
Disney's Riviera Resort Overview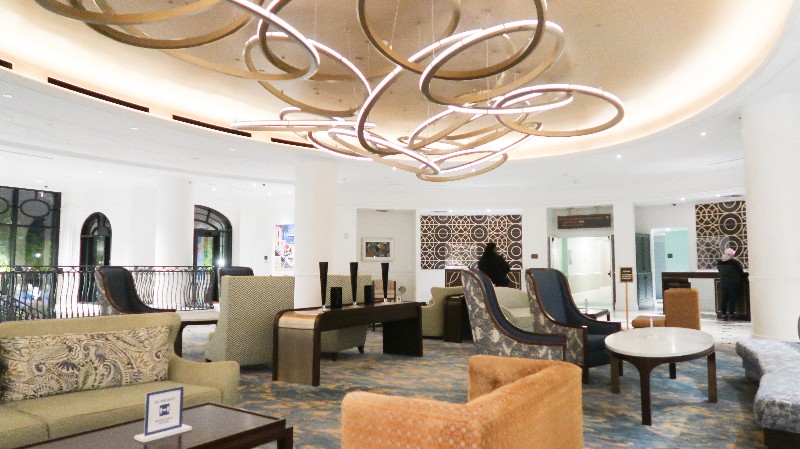 Riviera's compact lobby has stylish seating areas with clean lines and muted colors. The front desk is smaller than other resorts. As more guests use online check-in, the front desk has become less important. If there is an issue, cast members are always available to help.
Just off the lobby is La Boutique, a small shop with Disney souvenirs, snacks, and alcohol. Although petite, the shop has some great Disney Riviera Resort specific items like notebooks, pins, suitcases, and clothes.
Subtle Disney decor, like character inspired oil paintings, and classic Disney songs sung in French add to the incredible ambiance of Riviera Resort.
Behind the resort, a beautiful green space with benches and tables is a great place to relax. Just past Riviera pool and Bar Riva, a white sand beach with plenty of chairs invites you to sit and enjoy the view.
Disney's Riviera Resort Pools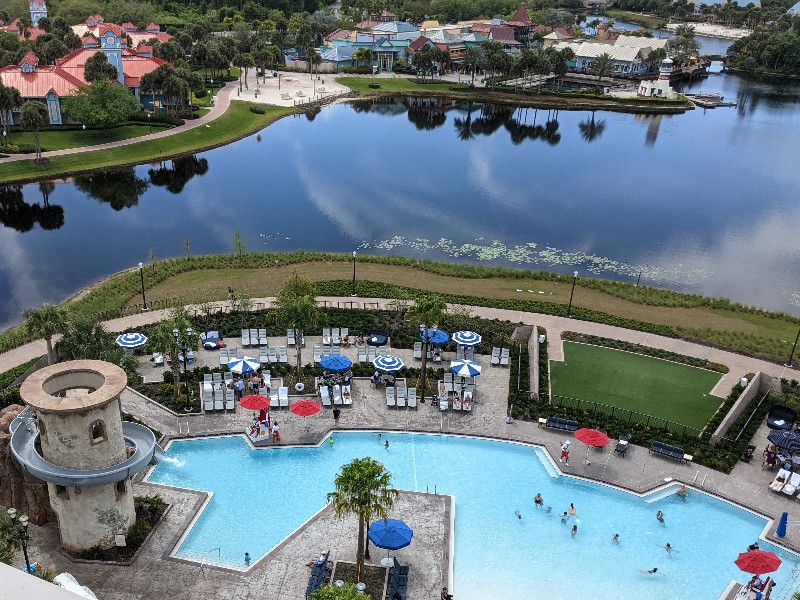 There are two resort pools at Disney's Riviera Resort. Riviera pool is larger with a water slide plus S'il Vous Play, a splash and play area for younger kids.
If the activity level at Riviera pool is too much for your taste, head over to Beau Soleil Pool. This relaxation pool doesn't have the same bells and whistles as the main pool, but is a perfect place for a quiet dip.
Riviera Resort Dining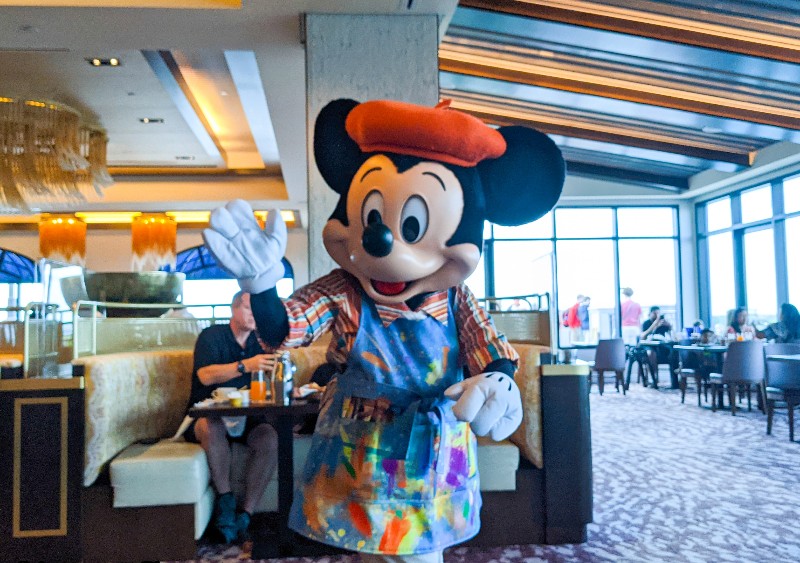 Topolino's Terrace
The most popular dining option at Disney's Riviera Resort is Topolino's Terrace. Topolino's Terrace hosts a character breakfast and upscale dinner daily. The food at Breakfast à la Art with Mickey & Friends is much better than usual character meal fare, and generous portion sizes won't leave you hungry. Dinner is a more elegant affair with prices to match.
Primo Piatto
This quick service spot on the first floor of the resort has a more elevated menu than most resort quick service restaurants.
Have a taste for something quick and tasty? Try the hearth baked sausage and pepperoni pizza. The pizza was such a pleasant surprise we ordered it for two different meals. Mobile ordering made Primo Piatto a delicious and quick way to grab food at the resort.
Le Petit Café
This little spot off the lobby is a great place to grab a quick coffee and pastry. We had an iced cold brew for an afternoon pick me up, and it is some of the best coffee we've had on-site at Disney World.
Bar Riva
An open air bar near Riviera pool, Bar Riva has a surprisingly good cocktail menu. Execution of the cocktails was inconsistent but a nice treat while relaxing by the pool.
Disney's Riviera Resort 1-Bedroom Villa Review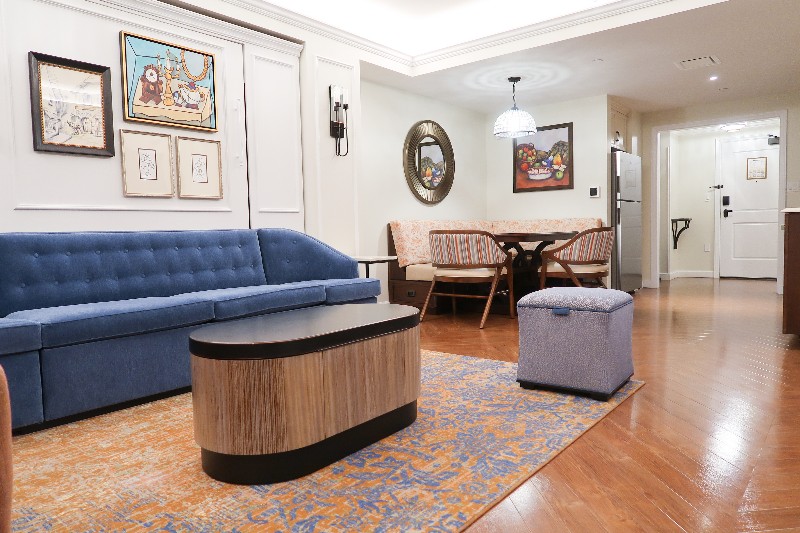 Greeted by an open floor plan when you open the door, the Riviera Resort 1-bedroom villa immediately makes you feel at home. A connecting door near the entrance can expand the 1-bedroom villa into a 2-bedroom villa for larger groups. We usually avoid connecting rooms but were pleasantly surprised we didn't hear noise from next door.
Leave Magic Bands on the small shelf by the door, so they aren't forgotten in the morning. The four peg coat hook near the door was a great visual reminder to grab jackets as we left the room, too.
A small hallway leads to the split bathroom with two closets along the way. One is a spacious closet with in-room safe while the other hides a stacked washer and dryer.
Riviera Resort 1-Bedroom Villa Kitchen Area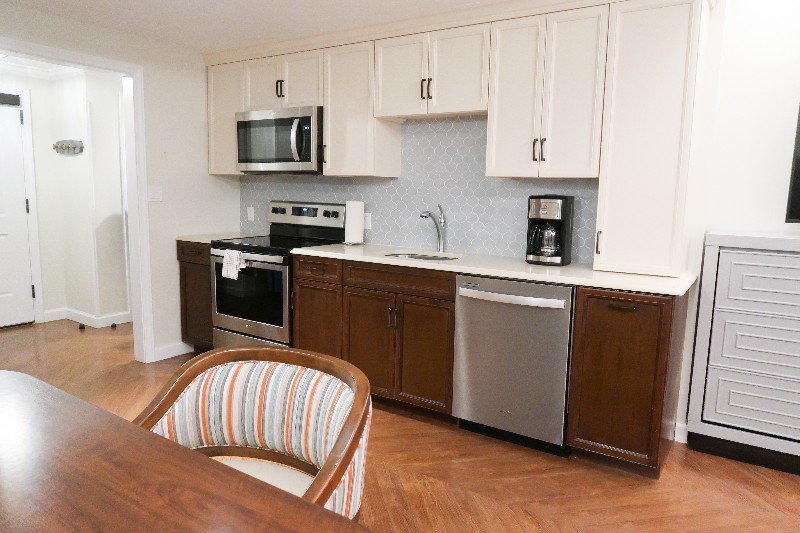 Immediately entering our room, I was struck by the spaciousness and usability of the full kitchen. Most Disney 1-bedroom villas, like Disney's Boardwalk, have the kitchen in a cramped feeling space, tucked into a corner surrounded by counters.
The banquette table has tons of seating for families and the long counter means more than one person can work in the kitchen at a time. Fully stocked with dishes, glasses, utensils, mixing bowls, and pans you can easily make meals in your room. A dishwasher keeps guests from constantly washing dishes on vacation and the refrigerator with freezer has plenty of space for food.
An electric cooktop and oven, regular 10-cup cone filter coffee pot, toaster, plus a microwave round out the essential kitchen appliances.
Riviera Resort 1-Bedroom Villa Living Room Area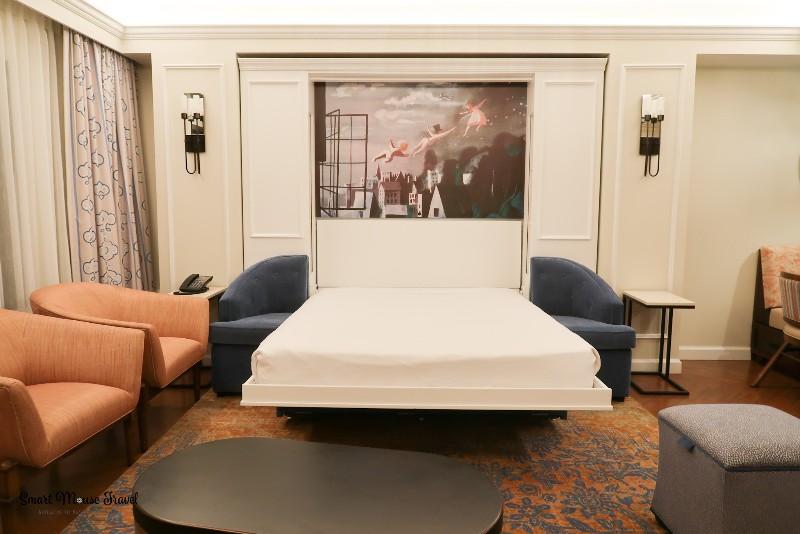 Just past the kitchen, the Disney Riviera Resort 1-bedroom villa living room is striking. Two comfortable side chairs, a storage ottoman, square storage puff, and a large tufted couch invite you to relax.
A large TV with a hidden twin size murphy bed below is the first cleverly disguised bed in the living room area. Two handles on the wainscoting above the couch give away the queen size fold down bed.
Pull down the bed and half of the couch beneath disappears to support the bed. These murphy style beds, similar to the ones at Pop Century, are a huge improvement over the traditional fold-out couches at other Disney villa resorts. Adults can comfortably sleep on the pull down beds without the aches of a thin mattress over awkward springs.
Clever shelves with electrical outlets are tucked into both sides of the queen size murphy bed. These smart shelves take no additional space, but are a great bedside table option for those sleeping on the queen sized bed.
From the living room area, open a single patio door to access the outdoor area. Two chairs plus a side table are available for taking a break while enjoying some fresh air. A separate sliding door connects the patio to the bedroom area.
Disney's Riviera Resort 1-Bedroom Villa Bedroom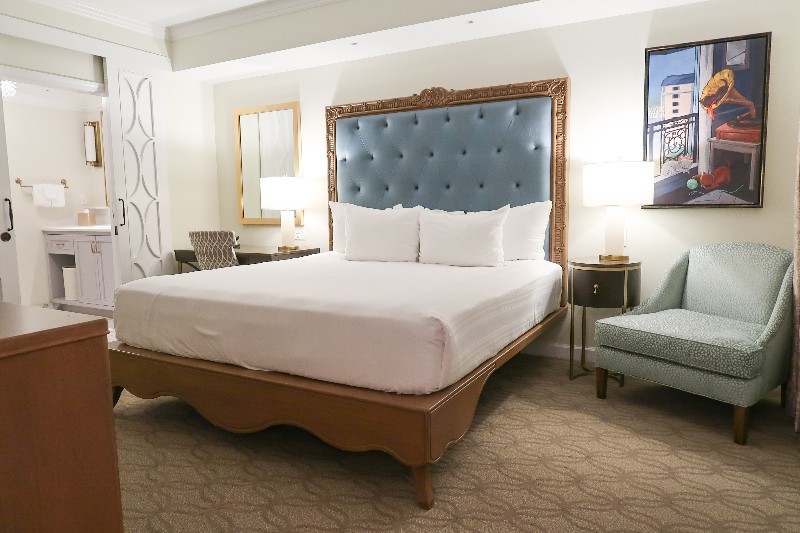 Sink into a comfy king sized bed to watch TV or notice the beautiful details around the bedroom. A tufted headboard with hidden Mickeys, sophisticated Disney wall art, and an upholstered side chair bring an elevated charm.
The large dresser has plenty of storage space, plus an additional closet means no fighting over who gets to hang up clothes. A desk next to the bed makes a perfect place to check email or do work on the road.
Riviera Resort 1-Bedroom Villa Bathroom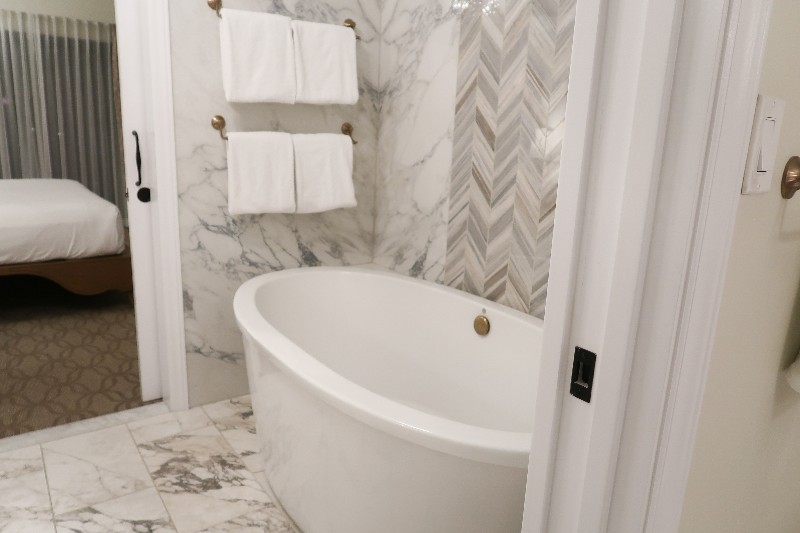 Ornate split barn doors separate the bedroom from the bathroom. The bathroom is a large "L" shape with a pocket door dividing two bathroom areas. One section has a single sink vanity with a large counter and a huge soaking tub.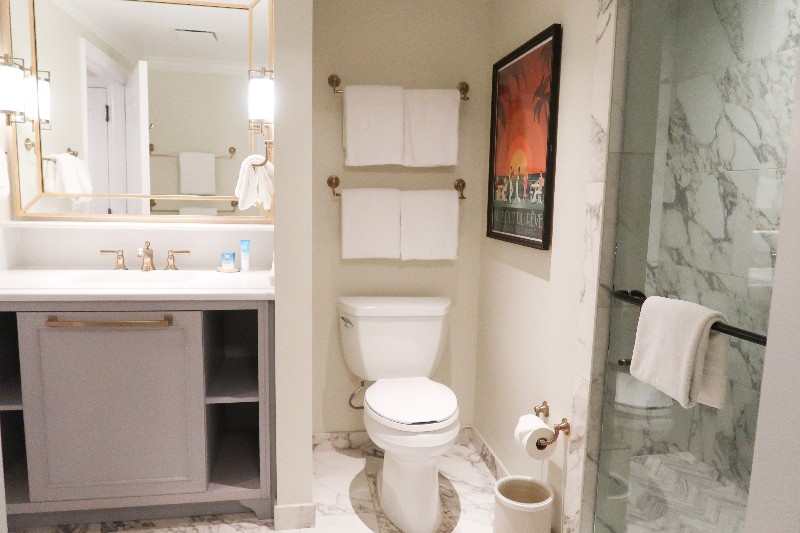 The other part of the Riviera resort 1-bedroom villa bathroom has a smaller vanity, toilet, and large walk-in shower with handheld shower head plus rain shower option. Mounted on the shower wall are large bottles of shampoo, conditioner, and body wash instead of individual toiletries.
Our Disney's Riviera Resort 1-bedroom villa had the following great features:
Laminate floors in living room/kitchen
Spacious, airy feeling room
Open kitchen design
Split bathroom with large shower, soaking tub, and storage space
Murphy beds instead of foldout couches
Disney Skyliner transportation to Epcot and Hollywood Studios
Sophisticated Disney art and styling
In Room WiFi
Free WiFi is included in your Disney's Riviera Resort stay. We had good WiFi coverage in our room and were even able to successfully stream some video.
Riviera Resort Parking
Parking is complimentary for resort guests while valet parking costs $33 per night at Disney's Coronado Springs Resort.
Transportation To Parks
Disney's Riviera Resort To Epcot
Hop a direct Disney Skyliner to or from Disney's Riviera Resort and Epcot. The quick ride drops you at Epcot's International Gateway entrance between the UK and France pavilions.
Disney's Riviera Resort To Hollywood Studios
Hitch a ride on the Disney Skyliner to Caribbean Beach Resort. At Caribbean Beach, transfer to the Hollywood Studios Skyliners. Cast members do a great job helping guests get on the correct Skyliners, so don't be concerned about the transfer.
Disney's Riviera Resort To Magic Kingdom and Animal Kingdom
Catch a bus to Magic Kingdom or Animal Kingdom from the large bus stop located a short walk from the front entrance of Riviera Resort.
Overall Impression of Disney's Riviera Resort 1-Bedroom Villa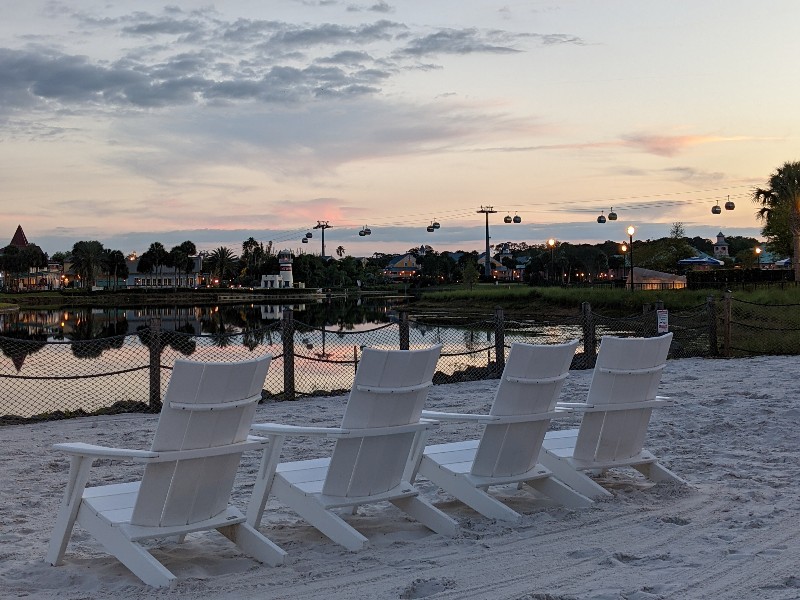 Sophisticated styling, a spacious 1-bedroom villa, plus Skyliner transportation to Epcot and Hollywood Studios made for a great stay. Disney's Riviera Resort grounds are a peaceful retreat after a day at the parks and the on-site dining options are better than many other Disney resorts.
We truly loved our time at Riviera Resort. Comfortable beds, a spacious split bathroom, and well equipped kitchen make Disney's Riviera Resort 1-bedroom villa a fabulous place to stay when visiting Disney World.
Pin it for later: