Universal Orlando resorts keep you close to the fun plus give guests early park admission. These are two main reasons we decided to try out Cabana Bay Beach Resort. A Cabana Bay Beach Resort Family Suite can fit up to six people in this well designed hotel room and is less expensive than other on-site options at Universal Orlando.
Cabana Bay Beach Resort Overview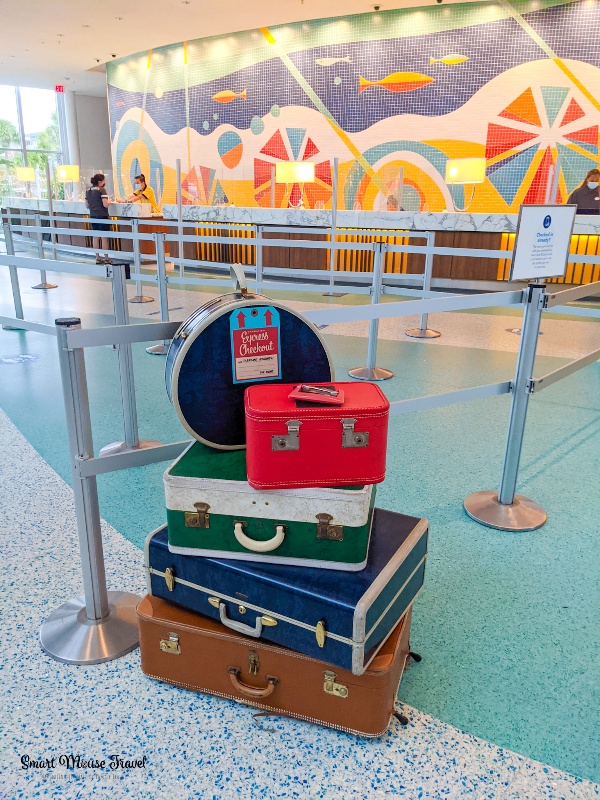 Step back into the 1950's and 60's in this retro themed resort. Bright colors, classic cars outside, and a nostalgic vibe greet guests as they enter the lobby of Cabana Bay Beach Resort and continues through the entire property.
Keeping with the 1950's theme, Cabana Bay also has an on-site bowling alley with an attached restaurant. Reserve lanes by stopping by Galaxy Bowl on the day you intend to bowl. Go early to get on the list since this is a popular activity, especially on rainy days.
There are two main room options at Cabana Bay Beach Resort, standard rooms and family suites. Standard rooms are a traditional hotel room, but the Cabana Bay Beach Resort family suites give you more space and sleeping options for six.
Cabana Bay Beach Resort Pools
There are two pools, two splash pads, and a lazy river at Cabana Bay Beach Resort. There is a pool area located near every room which is super convenient.
If for some reason these on-site pool options leave you wanting more, walk right over to Volcano Bay, Universal's incredible water park.
Dining
Bayliner Diner is a cafeteria style quick service restaurant with several themed stations. We grabbed a late breakfast and felt like the food was decent and reasonably priced for a theme park resort. The chef also did a good good job helping us with my daughter's food allergy by checking ingredients and offering safe substitutions.
There is also an on-site Starbucks which is a reliable option plus a couple pool bars with food. We also used Door Dash for a dinner delivery one night during our stay.
Cabana Bay Beach Resort Family Suite
Choose from interior or exterior entry Cabana Bay Beach Resort family suites. We opted for exterior entry where the doors are facing outside walkways.
Originally they put us in a first floor room facing the parking lot. I wasn't comfortable having an outside door accessed without passing a security gate so we moved to a higher level room.
Cabana Bay Beach Family Suite Kitchenette and Living Room Area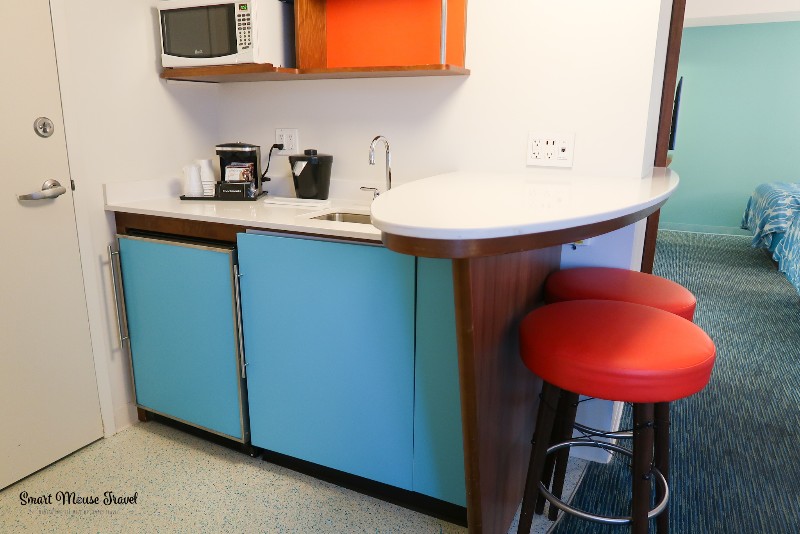 Opening the door the kitchenette is directly in front. There is a small sink, microwave, mini fridge, and several shelves above. Although not much counter space, the peninsula to the side with two stools gives space for two people to eat or work.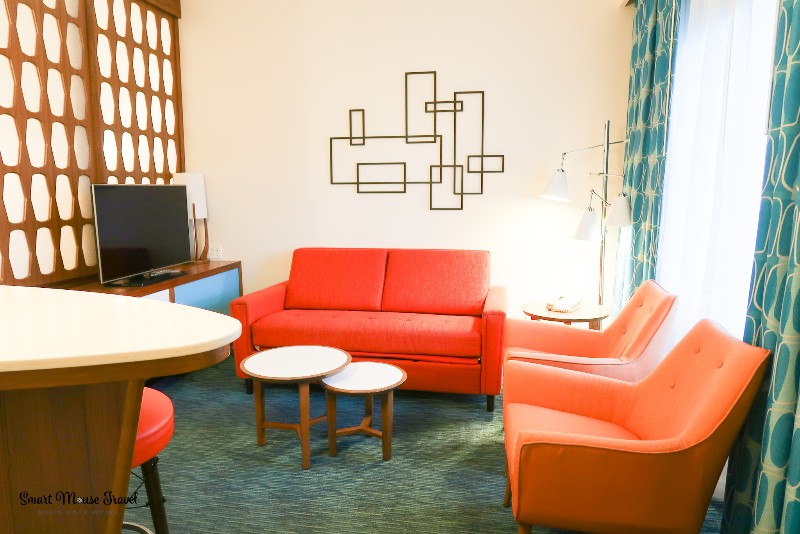 Two side chairs plus a couch provide seating for four more people in the living room/kitchenette. A large TV stand has two spacious drawers for storing clothes during your stay.
The couch folds out for a sleeping option for two and the sliding door provides privacy between the living room and bedroom area. This sliding door is also nice if you have some people who want to head to bed, but others prefer to stay up a little longer. 
Cabana Bay Beach Resort Family Suite Bedroom Area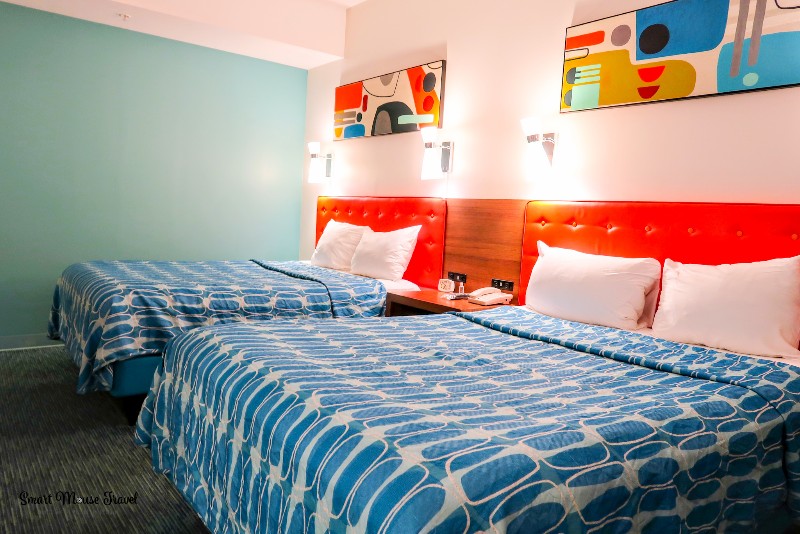 Two queen sized beds with vibrant orange upholstered headboards and bright aqua comforters catch your eye entering the bedroom. Wall mounted vintage lights on each side of the bed provide room brightening light or with a different switch low lighting.
A nightstand between the two beds has a retro alarm clock plus some plugs for charging your phone. The nightstand contains a medium sized drawer for storing items. A large closet has ample space to hang clothes and a wall safe.
Cabana Bay Beach Family Suite Bathroom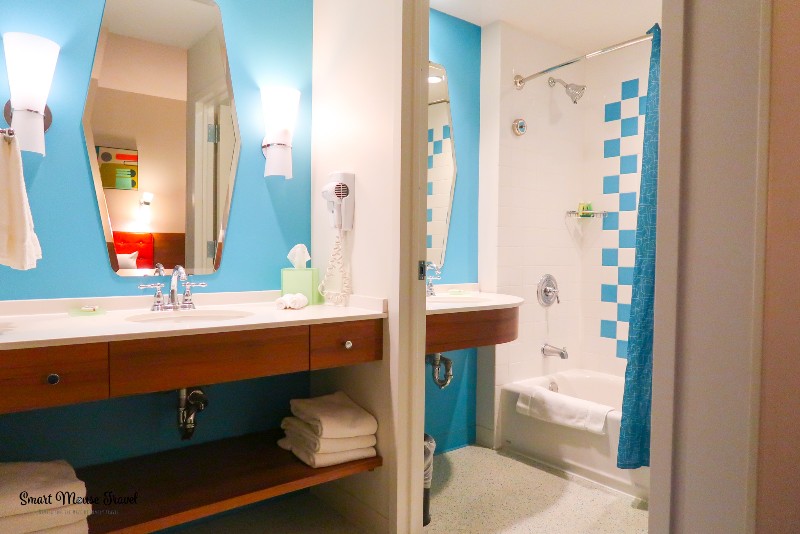 I love a split bathroom and Cabana Bay Beach Resort family suites have the bathroom sectioned off into three separate areas. One small room has a toilet while the center area has a mirror and sink with vanity. Storage shelves under the sink have space for towels and toiletries.
The last bathroom section has a tub and shower combination that closes off from the rest of the bedroom area. A small corner sink and vanity complete this third part of the Cabana Bay Beach Resort family suite bathroom.
Since the bathroom is so segmented the toilet area and shower section can feel pretty tight on space. Overall having the area split is nice so multiple people can get ready at the same time. My only complaint is the center section with the largest counter space is open to the bedroom area which can make it difficult to use if kids are sleeping.
Our Cabana Bay Beach Resort Family Suite had the following great features:
Kitchenette with mini fridge and microwave
Split bathroom
Room sleeps up to six people – perfect for larger families
Screen between living room and bedroom dampens some light and sound
In Room WiFi
Cabana Bay Beach Resort has free in room WiFi for hotel guests and a different WiFi network in the lobby area. Our room was near the end of the property and we sometimes had amazing WiFi and sometimes the signal was weak.
Parking
Self-parking for hotel guests runs $18 per night per car plus tax. I liked that parking was near our exterior family suite and that we could use our room keycards for unlimited in and out parking. 
Getting To Universal Studios and Islands of Adventure from Cabana Bay Beach Resort
A bus stop near Bayliner Diner whisks guests from Cabana Bay Beach Resort to City Walk. Here you'll go through the same security screening as anyone entering via the parking garages.
A tree lined walking path also connects Cabana Bay Beach Resort and the theme parks. The roughly one mile long winding path connects the resort to a City Walk entrance near Islands of Adventure. There is a separate security check point here that is less busy than City Walk if you don't mind the walk.
Cabana Bay Beach Resort Early Park Admission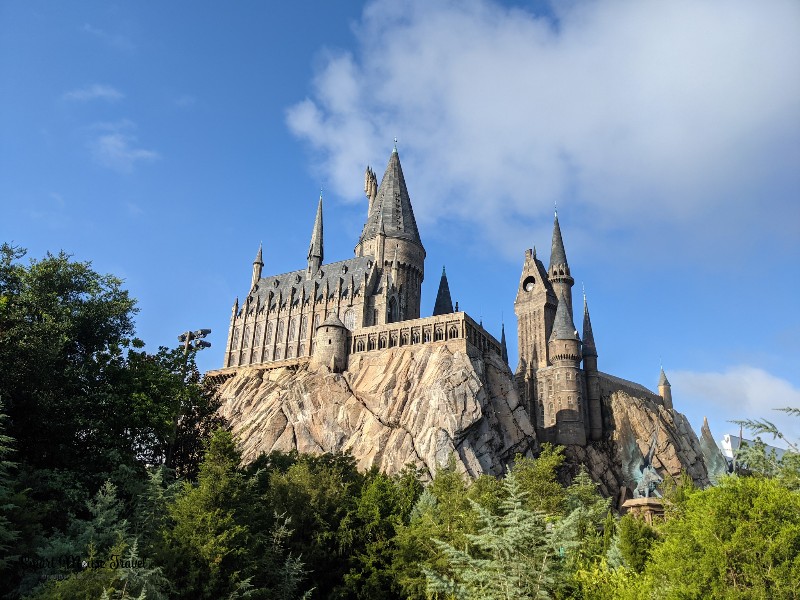 Universal Orlando resort guests have Early Park Admission. This means on-site hotel guests can enter either Universal Studios Florida or Islands of Adventure one hour ahead of other visitors. Check the current park hours to find out which park offers Early Park Admission each day of your stay.
Early Park Hours let you do more at the Wizarding World of Harry Potter especially snag a spot at Ollivander's for a wand fitting or do spells around the parks.
Overall Impression of Our Cabana Bay Beach Resort Family Suite
The Cabana Bay Beach Resort family suites are perfect for larger families, and reasonably priced by on-site theme park standards. The huge pools, lazy river, and bowling alley provide lots of free or inexpensive fun for a rest day.
The family suite was comfortable and having a mini fridge and microwave in the room is very convenient. The split bathroom, although a bit cramped with doors closed, is a clever way to give multiple people privacy while getting ready.
We enjoyed using Early Park Hours to avoid crowds at Universal Orlando theme parks and overall really enjoyed our stay in our Universal Cabana Bay Beach Resort family suite.
Pin it for later: