Do you have a young Star Wars fan in your group? If you answered yes, Disney World Jedi Training at Hollywood Studios should be part of your plans. Hollywood Studios Jedi Training: Trials of the Temple lets your Padawan fight the dark side in a live action show. Learn all about this popular experience including what it is, how to register, and what to expect at Disney World Jedi Training: Trials of the Temple.
Please note Jedi Training is not currently available. We hope it returns soon!
What Is Disney World Jedi Training?
Jedi Training: Trials of the Temple is a live action show that takes place several times per day at Disney World's Hollywood Studios park. This show lets your child age 4 to 12 years old become a Padawan and fight a dark side Sith with coaching from Jedi masters.
How To Sign Up For Jedi Training At Hollywood Studios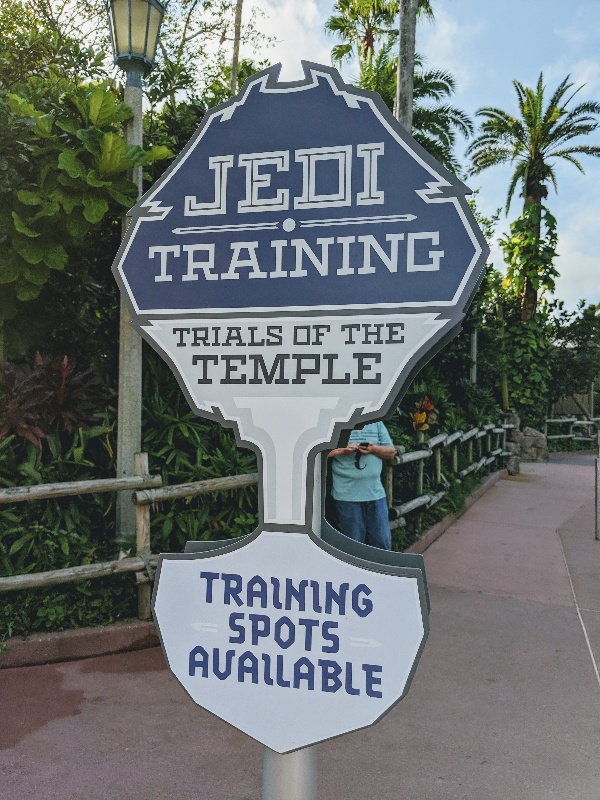 Hollywood Studios Jedi Training: Trials of the Temple is a popular event with limited availability each day. The earlier you get to the park, the better your chances are for securing a spot for your child.
Make sure the child who wants to participate is with you when signing up. You cannot sign up a child that is not present at the time of registration.
To sign up for Disney World Jedi Training walk past 50's Prime Time Cafe towards Indiana Jones Epic Stunt Spectacular. In between these two landmarks is a sign for Jedi Training. This sign will indicate whether or not training spots are still available for the day.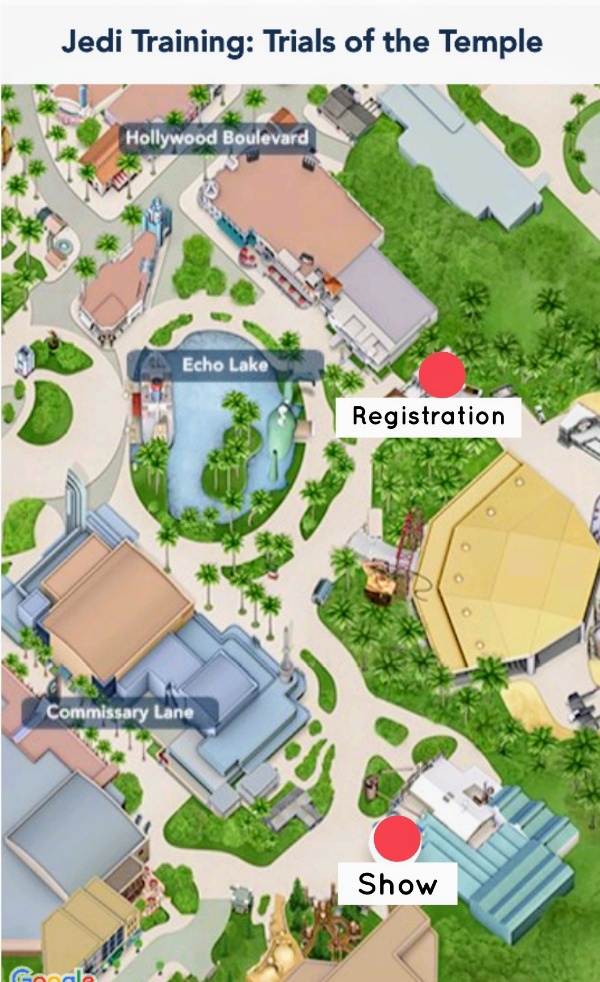 If there are Jedi Training spots available walk towards the sign up area near the back of the walkway. Here cast members will complete the registration process.
Disney World Jedi Training Participants must meet these requirements:
Child must be age 4 to 12 years old
The participant must be present at registration
The child must be able to follow basic instructions
A cast member will ask your child a few questions to gauge if they're able to follow the basic instructions necessary to participate in the show. If your child seems ready, they will be officially registered for a specific showtime of Jedi Training.
Important Tips For Jedi Training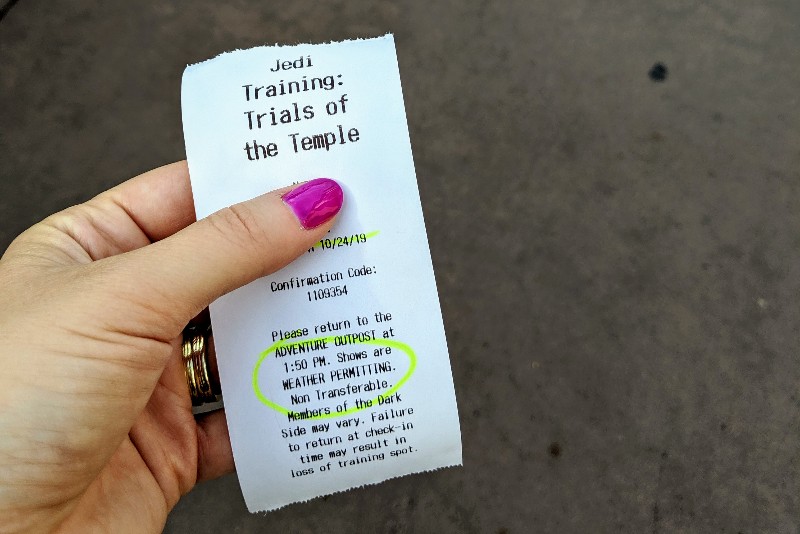 A cast member gives you a printed return ticket with your registered showtime. Take good care of this ticket, because your child needs it when checking in for the show.
Jedi Training can be cancelled due to inclement weather. Even if it is raining, check in for your scheduled show. Sometimes there will be a different experience for kids if the show is cancelled.
Check in on time for your scheduled Jedi Training show. If you are late cast members may give away your child's spot to an alternate registrant.
Preparing For Disney World Jedi Training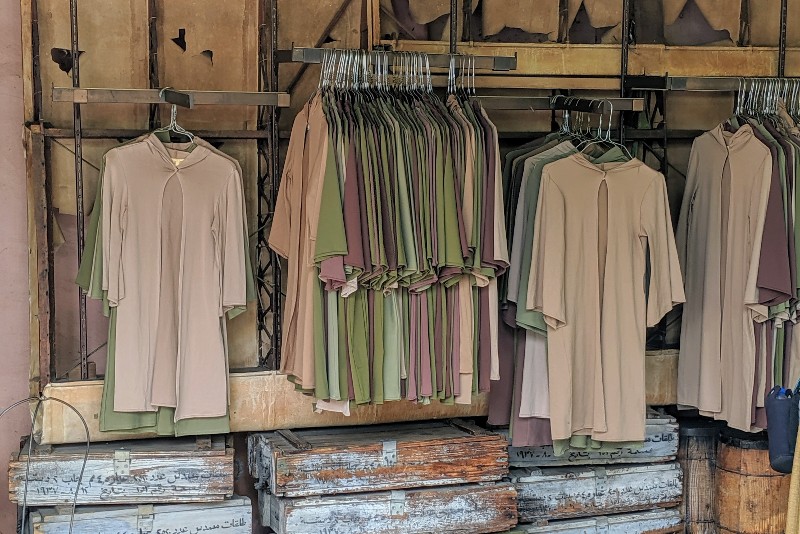 The whole time commitment for Hollywood Studios Jedi Training: Trials of the Temple is about an hour. Your child must check in at the registration area 30 minutes before the scheduled showtime.
It is important that you take your child to the restroom before checking in for Jedi Training since the time before the show goes quickly. During the 30 minutes before showtime participants are checked in, arranged into groups by height, and issued their Jedi robes.
Parents are not allowed in the holding area for the Padawans before the show, but are allowed to wait just outside the roped off area. A few minutes before the scheduled showtime the kids march through Hollywood Studios toward the stage next to Star Tours. Each child should have one guardian walking with them from the registration area to the stage.
Jedi Training: Trials of the Temple Show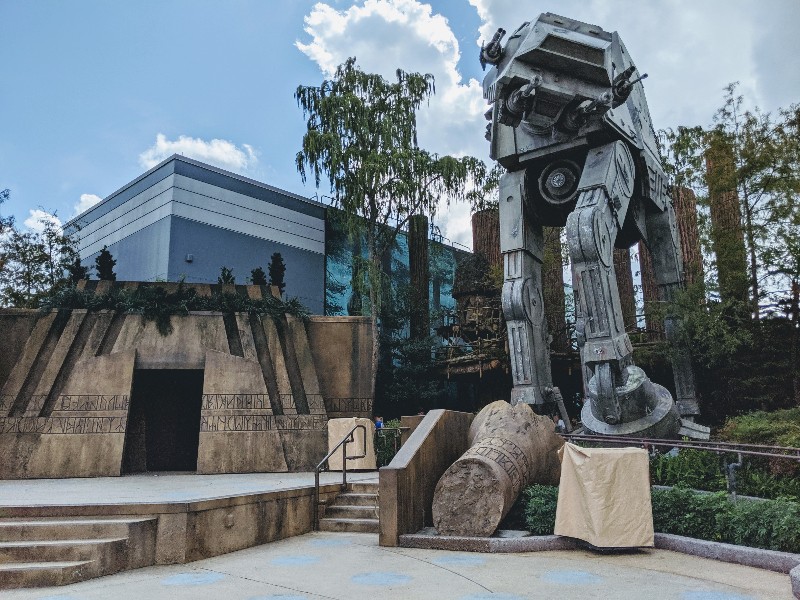 The Jedi Training show is a lot of fun and many park guests stop to watch the performances. The young Jedi are led to a spot on the stage and coached on some simple lightsaber techniques.
After a brief practice, the kids are ready to face the Trails of the Temple. The Jedi masters warn that the temple will challenge them and their training. The Trial of the Temple may show them frightening enemies which are just manifestations of their own fear.
During Elizabeth's performance the Padawans had to fight either Kylo Ren or Darth Vader, but exact members of the Dark Side may vary.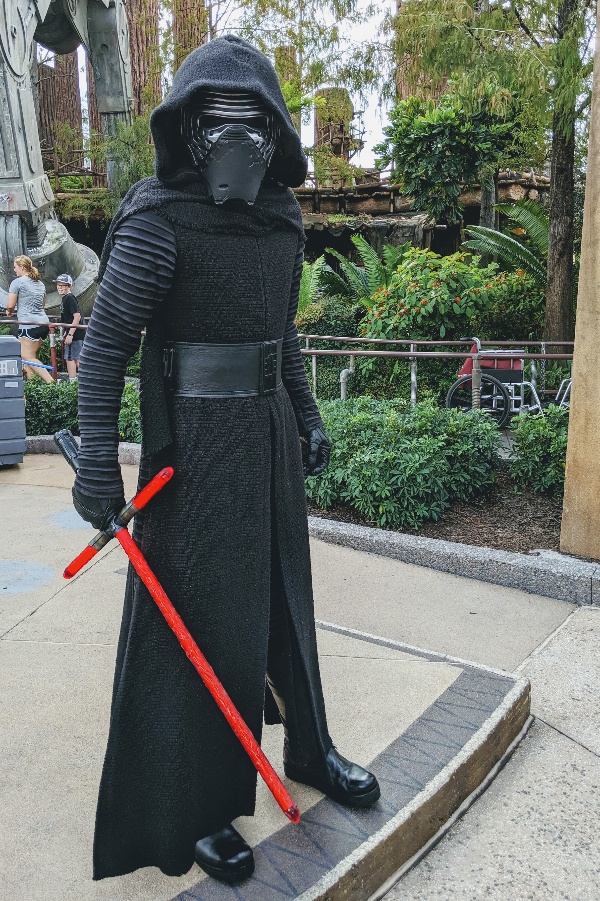 Please note: Both Darth Vader and Kylo Ren can be very intimidating during Jedi Training: Trials of the Temple. If your child is nervous I recommend watching a show before your scheduled time. This can help your family better understand what to expect and gauge how scary the encounter would be for your child.
The Padawans do several activities together with the guidance of their Jedi Master during the 20-minute show. Each Padawan also has an individual lightsaber duel with a member of the Dark Side.
Spoiler alert: The Jedi and Padawans successfully complete their trials. After the trial is complete, your child will be given a special Jedi Training pin and dismissed to you.
Final Thoughts On Disney World Jedi Training
Hollywood Studios has lots of options for Star Wars fans, but Jedi Training is the only way your future Jedi can fight Kylo Ren or Darth Vader. Remember to sign up with your child as soon as you enter Hollywood Studios, have your child use the restroom before the show, and arrive 30 minutes before your showtime to prepare for Jedi Training.
Disney World Jedi Training is a unique event for participants, their parents, and all the other Star Wars fans in the park. I highly recommend adding it to your Hollywood Studios Star Wars bucket list.
Pin it for later: