Is there anything more iconic than a summer road trip? Driving from Chicago to Colorado seemed daunting at first, but was an incredible road trip we will never forget. This 11-day Chicago to Colorado road trip itinerary will take you through six states without overlapping your route.
Why Do A Chicago to Colorado Road Trip?
Road trips are a great way to inexpensively explore the US, see unusual sights, and learn more about off-the-beaten-path places. Taking road trips is also a huge help in achieving our family 50 state challenge.
Chicago to Colorado Road Trip Itinerary
Chicago, Illinois to St. Louis, Missouri (4 hours 30 minutes)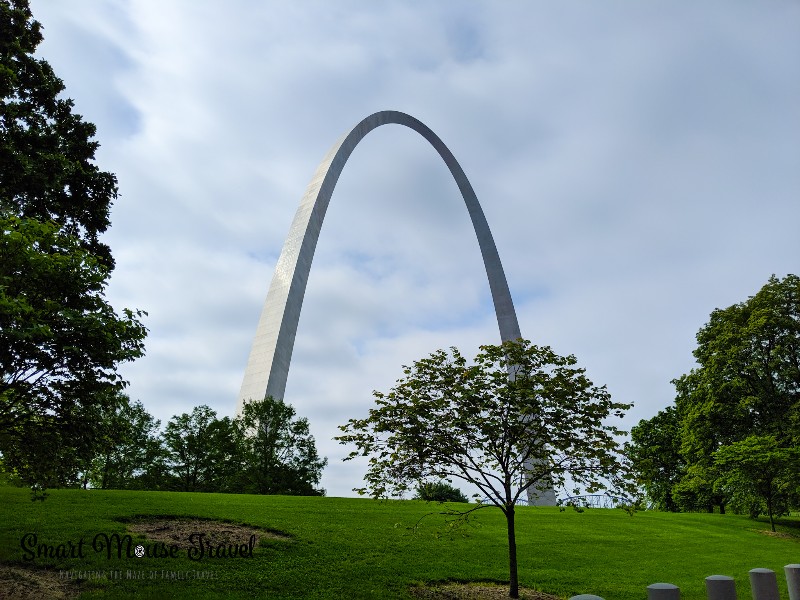 What to do in St. Louis, Missouri
St. Louis, Missouri is a great place to start your Chicago to Colorado road trip. Less than five hours of driving gets you to this fun and family friendly city.
Want to see the city from a unique perspective? Take a tram ride up to the top of Gateway Arch for incredible views. Set aside some time to learn about Jefferson's western expansion in the attached museum, too.
Baseball fans should grab a beer and watch a Cardinals game with some of the nicest baseball fans I've met. Looking for something more adventurous? Take a tour of the City Museum which is unlike any museum you've ever seen.
After exploring St. Louis for the day, stop by Fitz's for some small batch specialty sodas and a bite to eat. Just remember to buy some of Fitz's delicious root beer or black cherry soda for the road.
St. Louis, Missouri to Salina, Kansas (6 hours 15 minutes)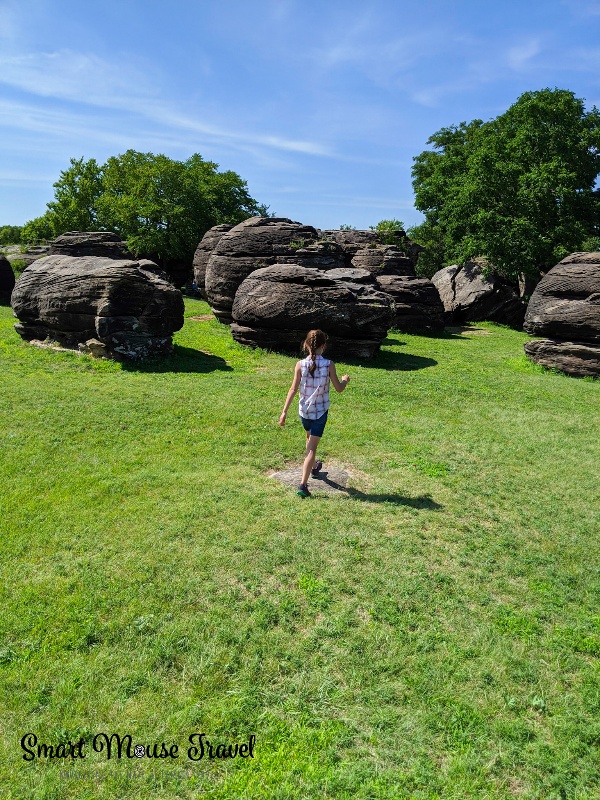 What to do near Salina, Kansas
Finding something interesting on the road between St. Louis and Estes Park, Colorado is no easy feat, but we found a fun spot. Rock City Park in Minneapolis, Kansas is a perfect stop to stretch your legs and explore on this longer driving day.
Rock City Park is a private park featuring giant round stones scattered across a 200-yard area. These sandstone concretions are several feet tall which visitors are encouraged to climb and explore. Fresh air and easy rock climbing is a welcome relief after a long day of driving.
Where to Stay In Salinas, Kansas:
We opted for a cute Airbnb in the tiny town of Lincoln, Kansas, but Salina, Kansas has several large chain resorts perfect for a quick overnight on your way to Colorado. Rock City Park is only a half-hour drive from Salina, which makes this a perfect stopping point.
Salina, Kansas to Estes Park, Colorado (7 hours 20 minutes)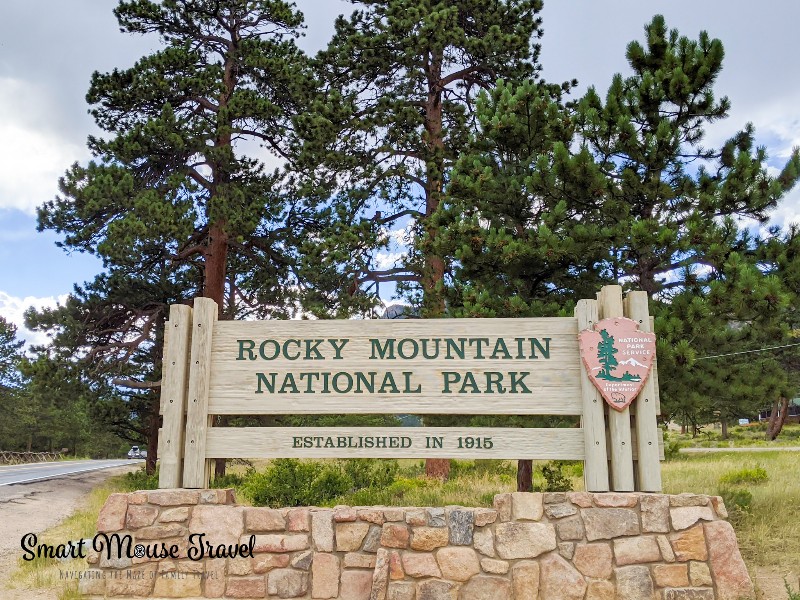 What to do in Estes Park, Colorado
When picturing Colorado I envision sweeping mountain views and outdoor activities, which is why our next stop was Rocky Mountain National Park. This bucket list national park is extremely popular for a reason.
Wildlife, hiking, and stunning views make Rocky Mountain National Park part of the essential Chicago to Colorado road trip. Our favorite Rocky Mountain National Park activity was taking Old Fall River Road to the Alpine Visitor Center. Old Fall River Road, usually open July 4 through early September, is a narrow one-way road up to the highest visitor center in the park. Winding roads, waterfalls, and ample pull outs to park and admire the views make this a must do when in Estes Park.
The adorable town of Estes Park on the edge of the park has tons of shopping and dining options. It is easy to spend part of a day in Estes Park before or after visiting Rocky Mountain National Park. Quick tip: arrive early to snag hard to find parking spots in Estes Park or be prepared to wait.
Estes Park, Colorado to Rawah Ranch, Jelm, Colorado (Scenic route 3 hours or freeway 3 hours 50 minutes)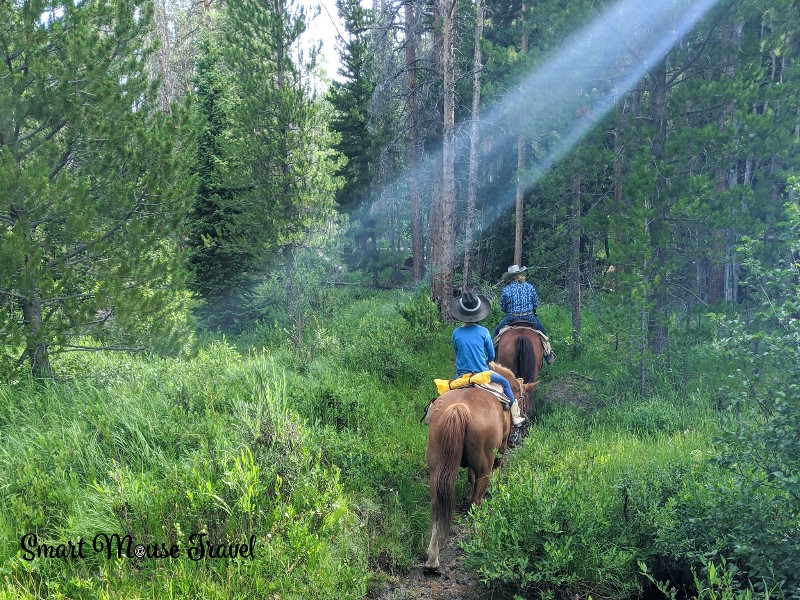 What to do at Rawah Ranch
Rawah Ranch is an incredible dude ranch where you instantly feel at home. Riding horses through rivers and up into the mountains on rugged trails are some of our favorite memories of Rawah Ranch.
In addition to horseback riding, Rawah Ranch offers archery, a shooting range, hiking and fly fishing as part of your stay. Elizabeth loved throwing axes and knives as part of our archery outing.
Although skeptical I would like it, I tried fly fishing which was absolutely fabulous. The peaceful sound of water, sunny skies, and relaxing atmosphere made fly fishing one of my favorite things at Rawah. If we're being honest, it helped that our amazing guide handled all the lures and unhooked the fish.
Dining at Rawah Ranch is way above campfire fare. Wood fired pizzas, specialty desserts, and elevated dinners made me glad we were so active. That way I could justify trying everything delicious food they made. Rawah also did a great job managing Elizabeth's food allergy. Just make sure you let them know about allergies well in advance. The nearest stores are hours away, so they can't make quick modifications.
The staff at Rawah is friendly, kind, and makes you feel like part of the family. We enjoyed our time chatting with every single one of the staff and can't wait to see them again soon.
Rawah Ranch to Laramie, Wyoming (1 hour 30 minutes)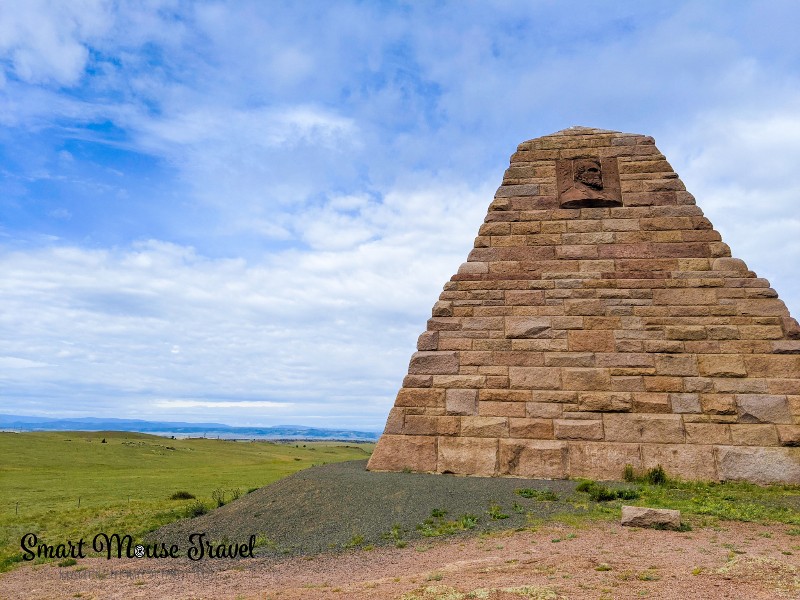 What to do in Laramie, Wyoming
Learn some history and marvel at the odd when visiting Laramie, Wyoming. Our first stop was Wyoming Territorial Prison State Historic Site. This prison, built in 1872, is most famous for housing Butch Cassidy.
After the prison closed in 1903, the University of Wyoming acquired the property. The former prison was then converted to an agricultural study center.
After touring the vast Wyoming Territorial Prison State Historic Site, stop by Big Dippers for a scoop of ice cream in downtown Laramie. This adorable shop is locally owned and has delicious ice cream perfect for an afternoon treat.
On your way out of town is an unusual roadside attraction, a huge pyramid in the middle of nowhere. Ames Monument was constructed in 1882 along the Union Pacific line to commemorate the accomplishments of the Ames brothers. The Ames brothers paved the way for the transcontinental railroad despite a fraud scandal.
The monument marks the highest point of the first transcontinental railroad. After the monument was built the railroad tracks were moved further south. With the railroad gone, the town around it disappeared. Now this peculiar but impressive sight sits atop a crest surrounded by vast emptiness. The Ames Monument is worth a quick detour on your way to Omaha from Laramie.
Laramie, Wyoming to Omaha, Nebraska/Council Bluffs, Iowa (7 hours 45 minutes)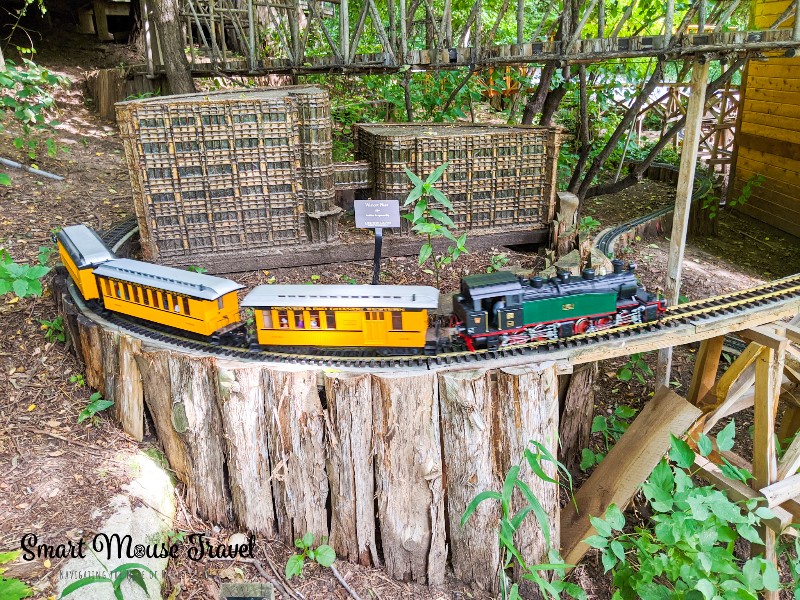 What to do in Omaha, Nebraska
Omaha, Nebraska and Council Bluffs, Iowa are just across the Missouri river from one another which means seeing both states easily with just one stop. Omaha has a well reviewed zoo, but we opted for Lauritzen Gardens on our visit.
The minute you park at Lauritzen Gardens, greenery greets you. The first garden you'll see is actually in the parking lot on the way into the visitor center. Lauritzen has several gardens, conservatories, and trails throughout the 100-acre facility.
Kids will love the model train garden and children's garden. Adults will love the sculptured Hitchcock-Kountze Victorian garden and beauty of the Storz Family rose garden when in full bloom.
We leisurely strolled along the entire property and spent about two-and-a-half hours enjoying the serene and beautiful setting before grabbing a quick lunch and heading to jail.
What to do in Council Bluffs, Iowa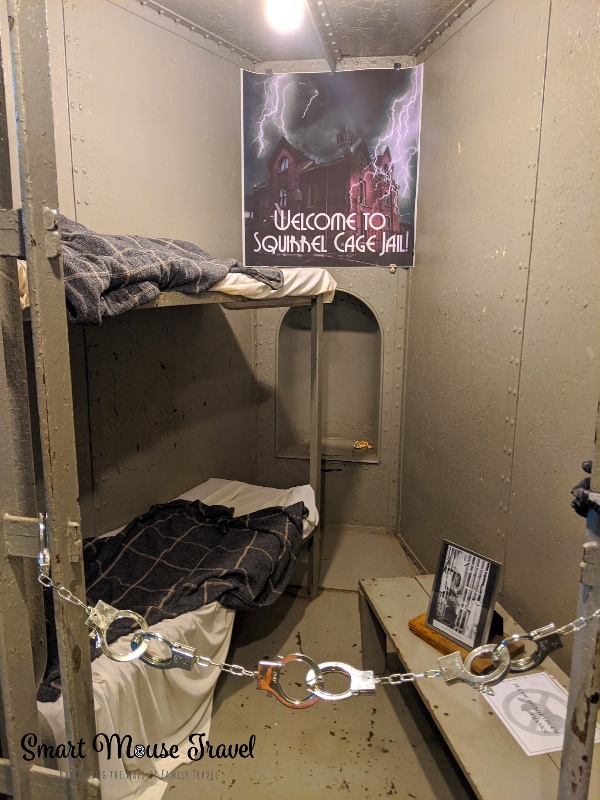 Featured on Ghost Adventures, across the border in Council Bluffs, Iowa is a famous jail. Known as the Squirrel Cage Jail, the cells in this prison are all pie shaped. Ten cells per floor and three floors tall, Squirrel Cage Jail previously housed up to 60 inmates and is one of few remaining rotary jails in the United States.
Fewer than twenty rotary jails were built and quickly fell out of favor after prisoner accidents. These jails had one opening per floor and a one-man hand crank moved the cells to the opening. Unfortunately, sometimes intentionally and sometimes purposefully inmates would get limbs stuck between the bars as the prison was rotated.
Although a little more gruesome than our normal family vacation stops, it was fascinating learning about the mechanics of the jail and how the warden plus family members lived and cared for the prison.
Omaha, Nebraska to Chicago, Illinois (7 hours)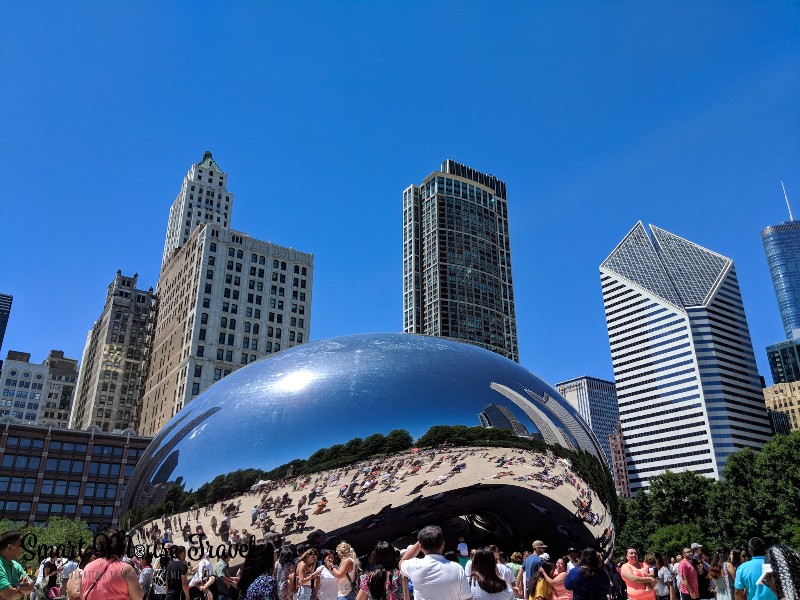 Now that you've explored a little bit of the Omaha and Council Bluffs area it is sadly time to make the final drive home.
Final Thoughts On Our Chicago to Colorado Road Trip
Far from a road warrior, I was certainly nervous when I first planned our road trip. However, breaking the driving down into less than 8-hour chunks made for easy travel days especially with only one driver.
Finding fun roadside attractions plus amazing national parks and a family friendly dude ranch on our Chicago to Colorado road trip made incredible mother-daughter vacation memories. We even checked off several new states toward our 50 state challenge in just a few days. I hope this itinerary inspires your own road trip to Colorado!
Pin it for later: