Disney's Old Key West is a sprawling estate that feels more like a vacation village than a regular Disney resort. Take a tour of our Old Key West 1 bedroom villa while we share the pros and cons of this unique Disney World Deluxe Villa Resort.
Disney's Old Key West Location and Resort Map
Old Key West is considered a Disney Springs resort and is located near this popular shopping and dining area.
old-key-West-map-1

Old Key West Resort Overview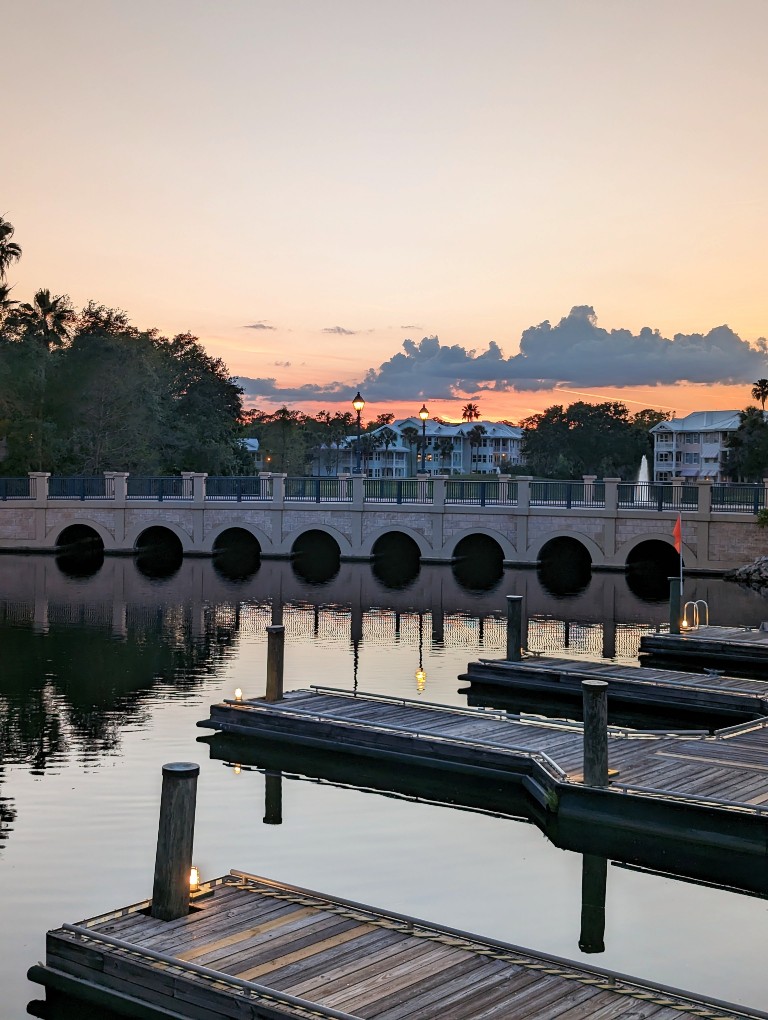 Upon arriving at Old Key West we instantly felt transported to a vacation oasis. The twisting roads leading to Hospitality House weave through palm tree covered streets and over a bridge before bringing guests to the check-in area.
Pale blue-green paint with white trim provides an elevated, beachy atmosphere to the outdoor facades at Hospitality House. Rustic chandeliers hang over the covered main walkway making a breathtaking first impression when approaching the lobby.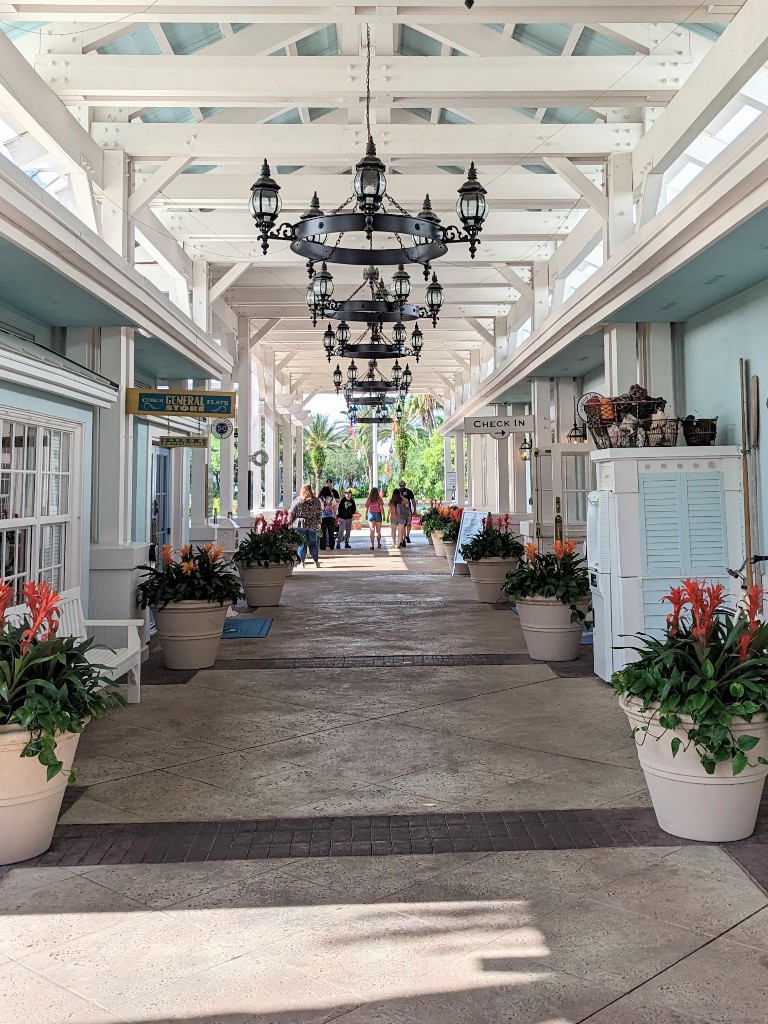 The Old Key West lobby continues this airy and inviting atmosphere. Furniture in light wood tones, crisp white accents, and more soothing blues and greens decorate the lobby.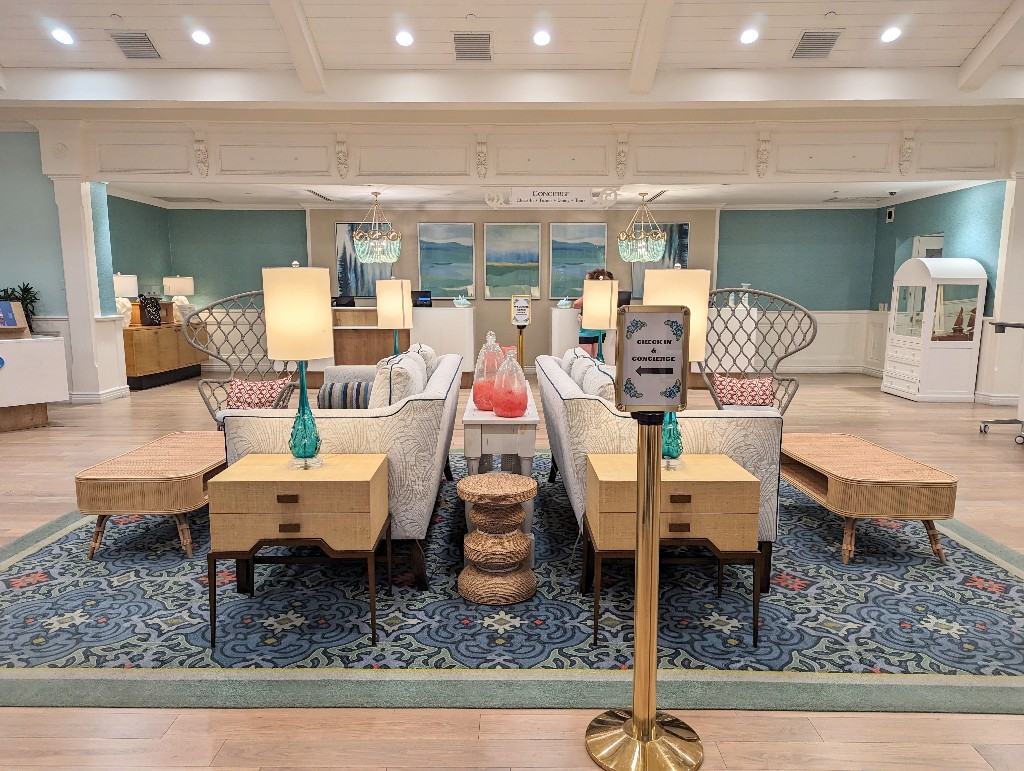 Continue exploring past the lobby and Olivia's Cafe, towards the water, to find open air walkways to recreation sites and quick service dining. Tables line a walkway near the water and make a wonderful place to relax while enjoying a drink or something to eat.
Also along the water is a boat dock where ships ferry guests to Disney Springs. A regular Disney World bus stop is out front near Hospitality House's small parking lot.
Looking for something more active when spending downtime at Old Key West? Rent sports equipment to play on the shuffleboard, tennis, basketball, or volleyball courts.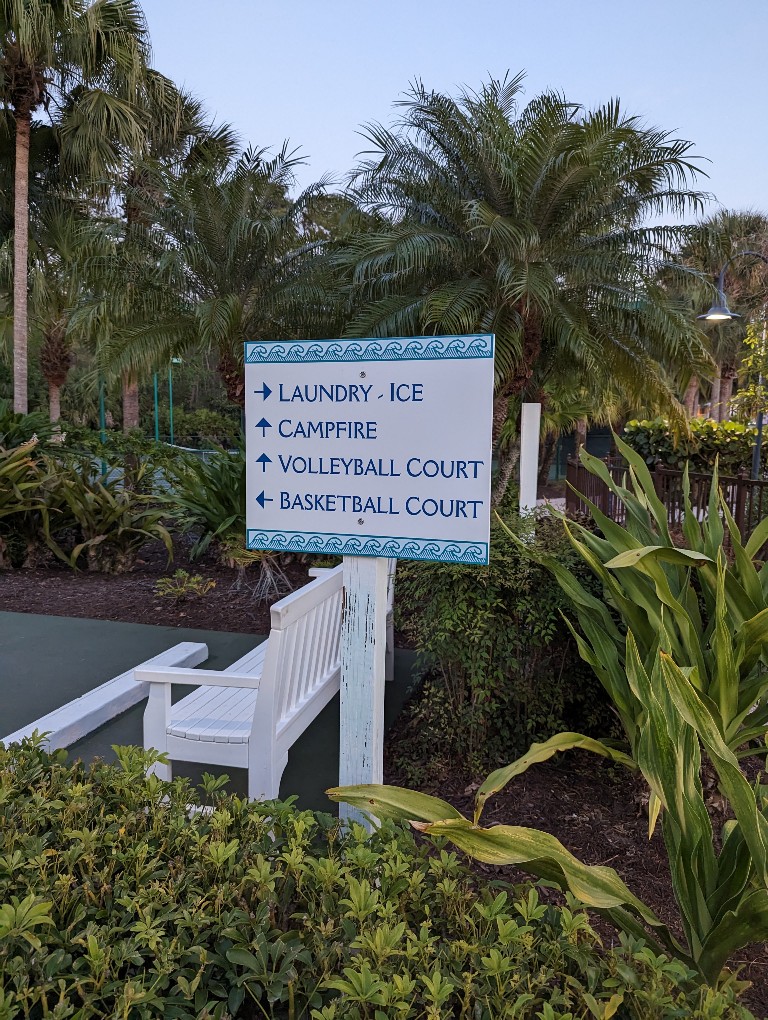 Disney's Old Key West Pools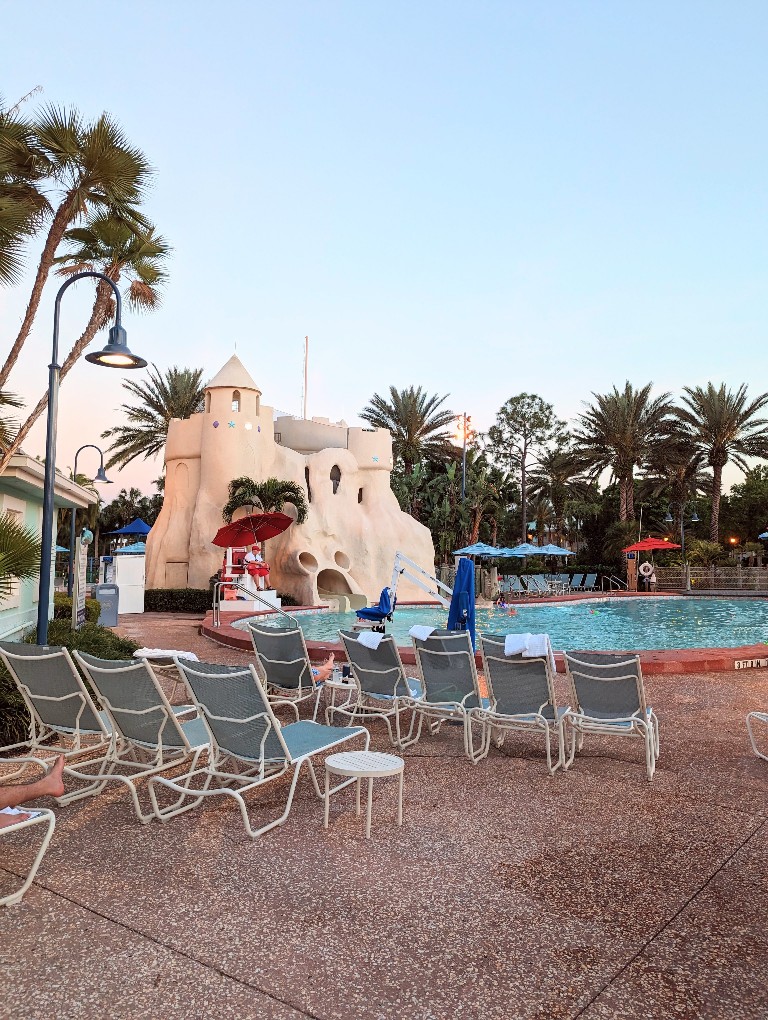 This same waterfront walkway leads to the perfectly named Sandcastle Pool. Old Key West's main pool has a 125 foot long water slide that slips through a giant sandcastle before dropping guests into the pool.
Around the pool find more sand structures and some cute, oversized sand toys, too. A dry sauna is hidden in the bottom of the lighthouse and there is a small playground behind the pool.
Rooms far from Hospitality House require taking a bus to use Sandcastle Pool. Guests can skip taking the bus and simply use one of the smaller leisure pools near Old Turtle Pond, South Point and Miller's Road rooms instead.
Old Key West Dining
Olivia's Cafe serves an extensive brunch and dinner menu in this quirky, table service spot. Want to enjoy a meal in your room instead? Olivia's Cafe can be ordered to-go.
Old Key West also has three quick service restaurants: Gurgling Suitcase, Good's Food to Go, and Turtle Shack Poolside Snacks. These quick service restaurants have a variety of meals and snacks with at least one option open for breakfast, lunch, dinner, or late-night daily.
Disney Springs is also just a boat ride away from Old Key West with many wonderful quick and table service restaurants.
Disney's Old Key West 1 Bedroom Villa Review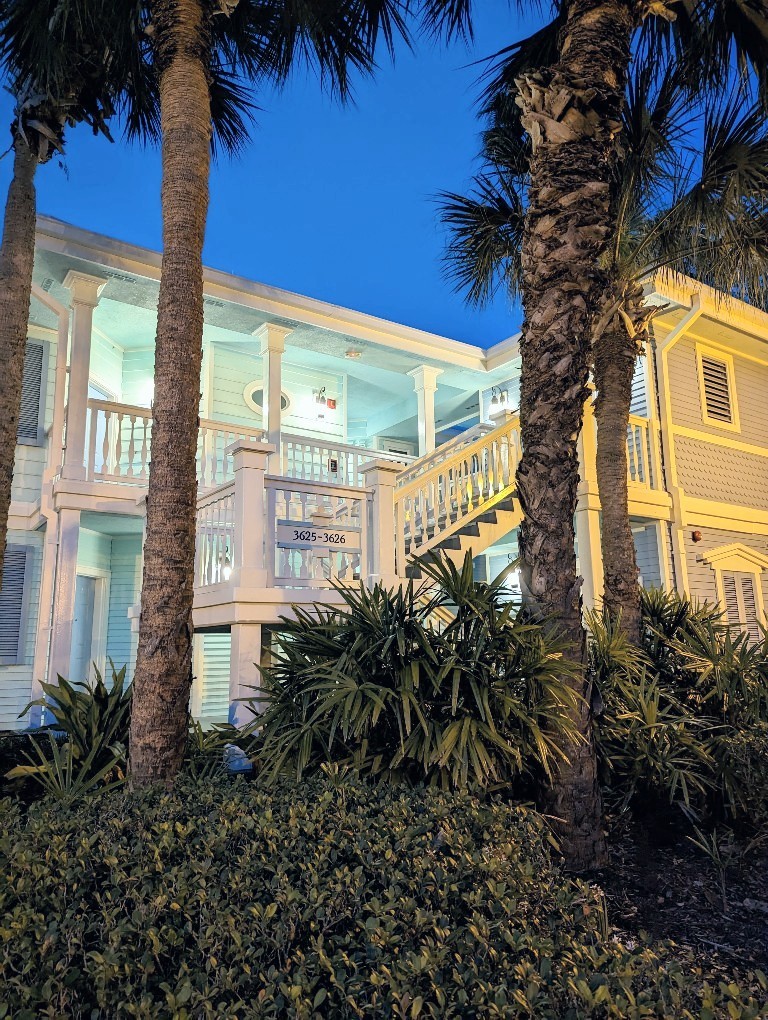 Old Key West Villas are designed to look like multi-story condos continuing a neighborhood-like feel. Most of the buildings have two stories, while some do have three floors.
Most Old Key West buildings require taking stairs to the upper floors. Only three Old Key West buildings have upper level rooms accessible via elevators.
Guests with mobility concerns should let their Disney World travel planner know ahead of time and confirm again at check-in.
Worried about carrying luggage, or strollers, up and down flights of stairs? Request a main level room at Old Key West.
Disney's Old Key West Living Room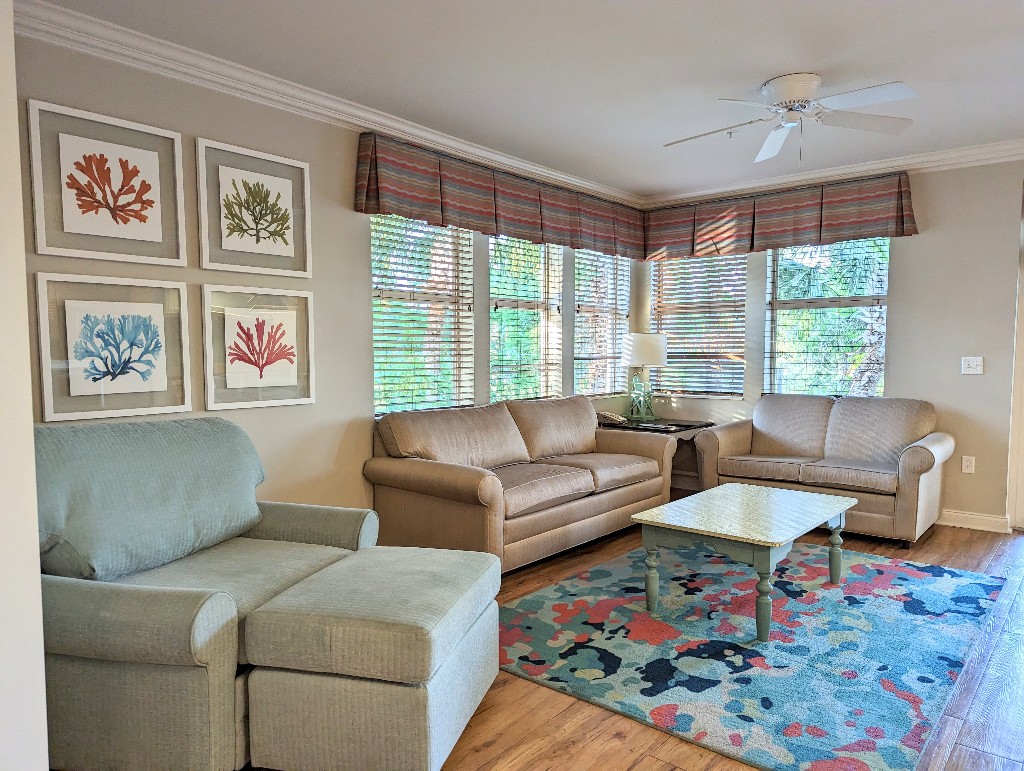 Open the door and look down the entry hall into the spacious living room. A wide chair with an ottoman, a sofa, and a loveseat sit atop sleek laminate floors.
The chair opens into a twin size sleeper and the sofa is a fold-out double bed. This means Old Key West 1 bedroom villas have enough room to sleep five guests comfortably. Three people in the living room and two in the bedroom.
A large screen TV is recessed into the base of the kitchen island and can be seen from both the couch and loveseat. Watch available TV channels or stream shows from your phone using Chromecast. 
Disney's Old Key West Kitchen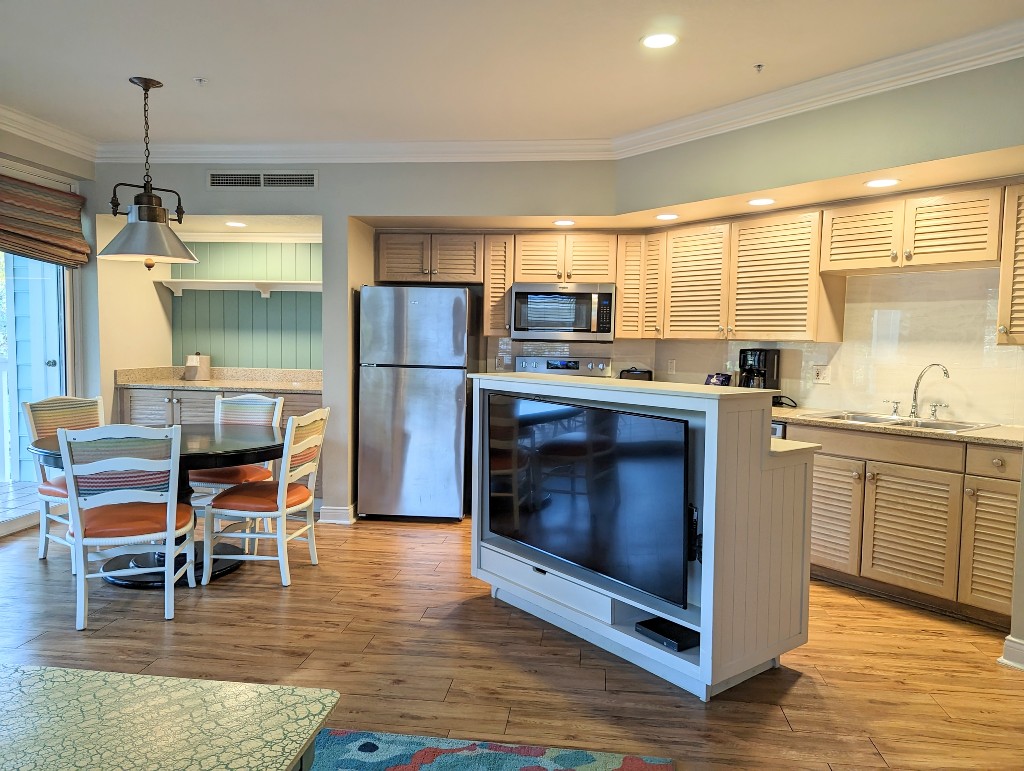 The thin, double tiered island housing the TV has shelving underneath and additional charging stations on the opposite side of the television.
Old Key West 1 bedroom villas have a full kitchen. A refrigerator with freezer, range with oven, a dishwasher, and a microwave make the room feel like home.
Kitchens are supplied with plates, utensils, pots, pans, and baking equipment which means you can easily cook a full meal in the room. Buy groceries ahead of time to have breakfast in the room, saving time and money on your Disney World vacation.
Comfortably eat at the round table with four chairs. There's also a built-in sideboard with cabinets below and shelves above for more kitchen storage.
Disney's Old Key West Laundry Room
The other long hallway when entering the Old Key West 1 bedroom villa leads to the bedroom, bathroom, and laundry room.
All the Disney World 1 bedroom villa rooms we've stayed in have a stacked washer and dryer tucked into a closet. However, there is a relatively large laundry room with a full washer and dryer plus a long shelf above at Old Key West.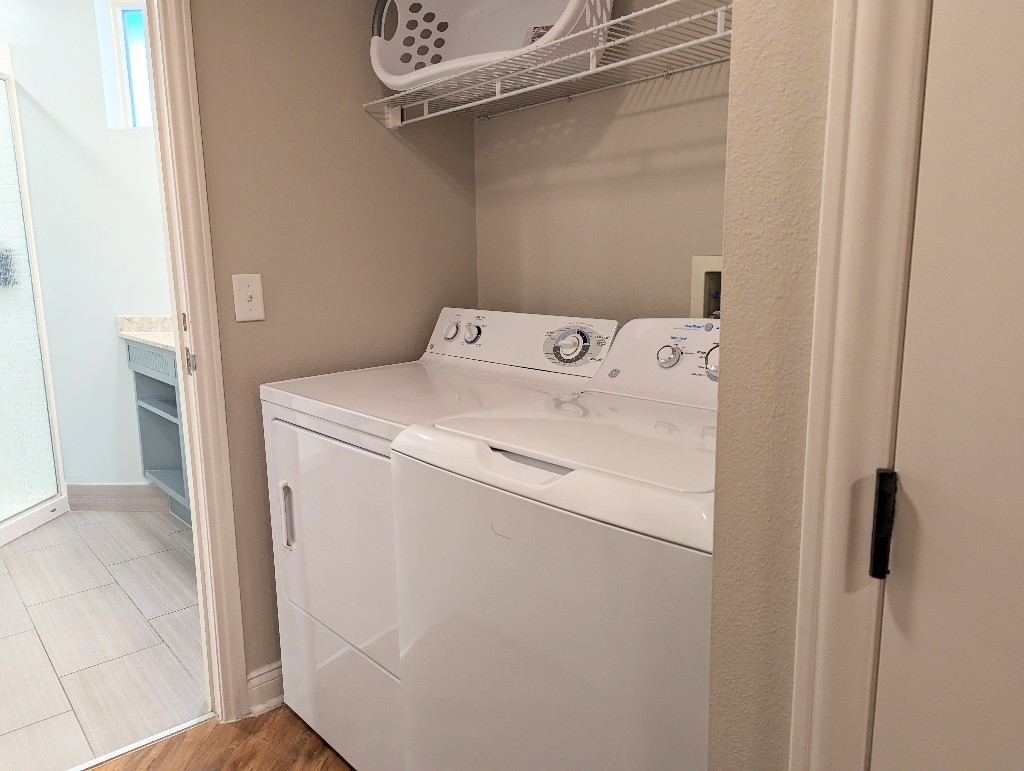 Old Key West Bathroom
Walk through the laundry room and enter part of the Old Key West 1 bedroom villa split bathroom. A vanity and sink with some counter space and shelves below provide storage.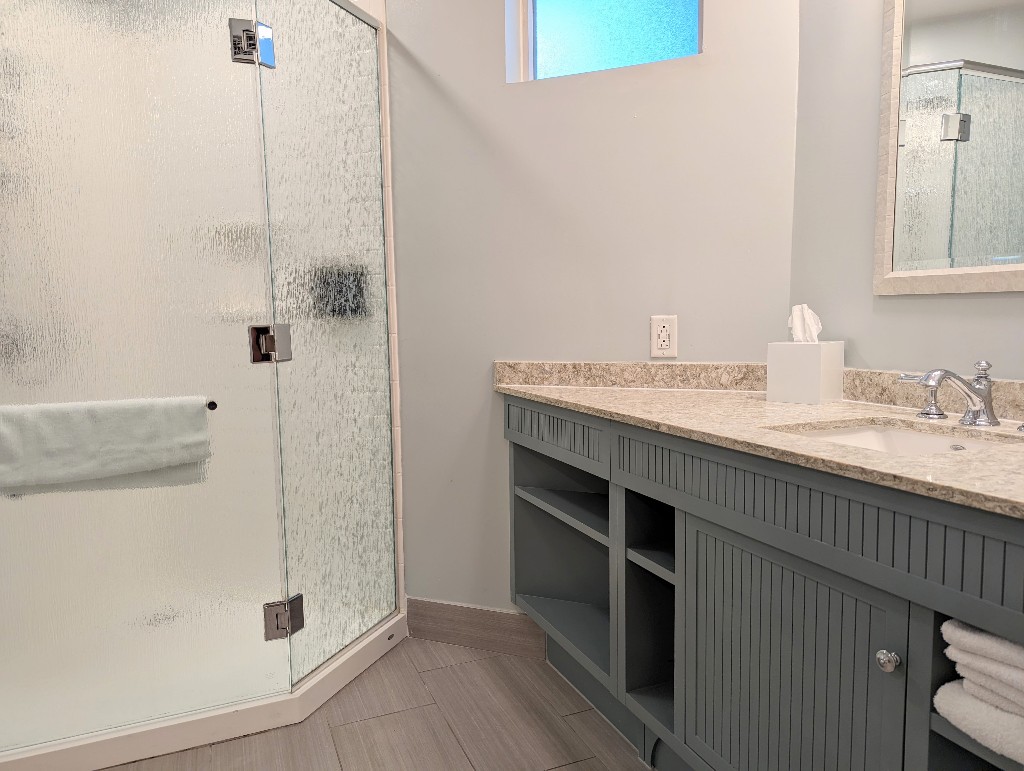 The corner shower unit is functional, but not exactly spacious. Use the built-in shared toiletries or the small shelf for ones brought from home. 
The only toilet is also in this bathroom section. Doors close off this part of the bathroom from the other bathroom area and laundry room which provides privacy.
Another sink with a large counter and shelving plus a huge soaker tub with a privacy wall bridges the space between the bedroom and private bathroom.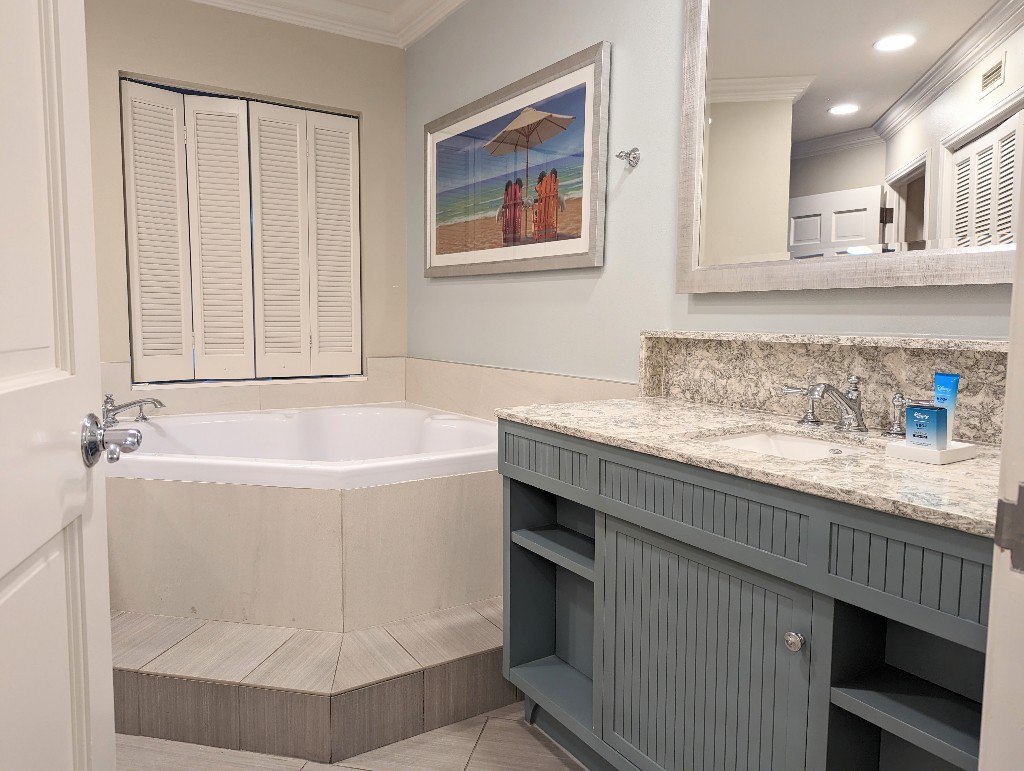 Closing a door to the bedroom and one to the other bathroom area makes the tub and sink semi private. Anyone in the bedroom can see into this bathroom area since there isn't a door.
A large closet with a keyed, not electronic, in-room safe finishes out the Old Key West 1 bedroom bathroom.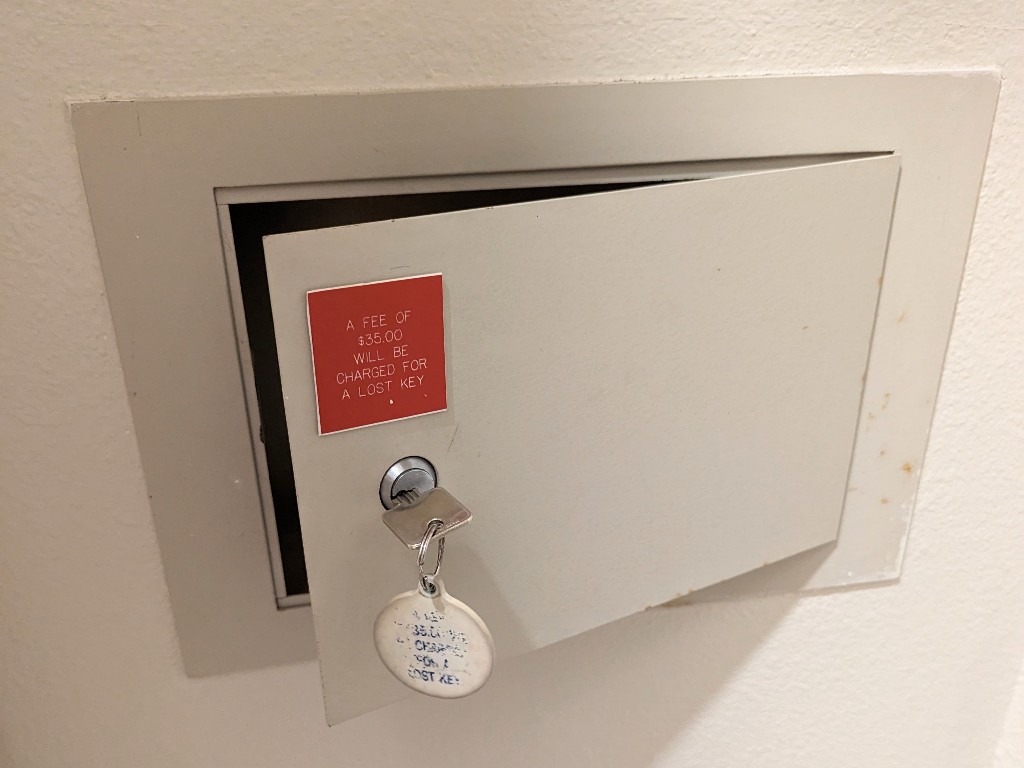 Disney's Old Key West Bedroom
The bedroom is functional and has plenty of space, but is relatively unremarkable. Expect a king-sized bed with a nightstand on each side.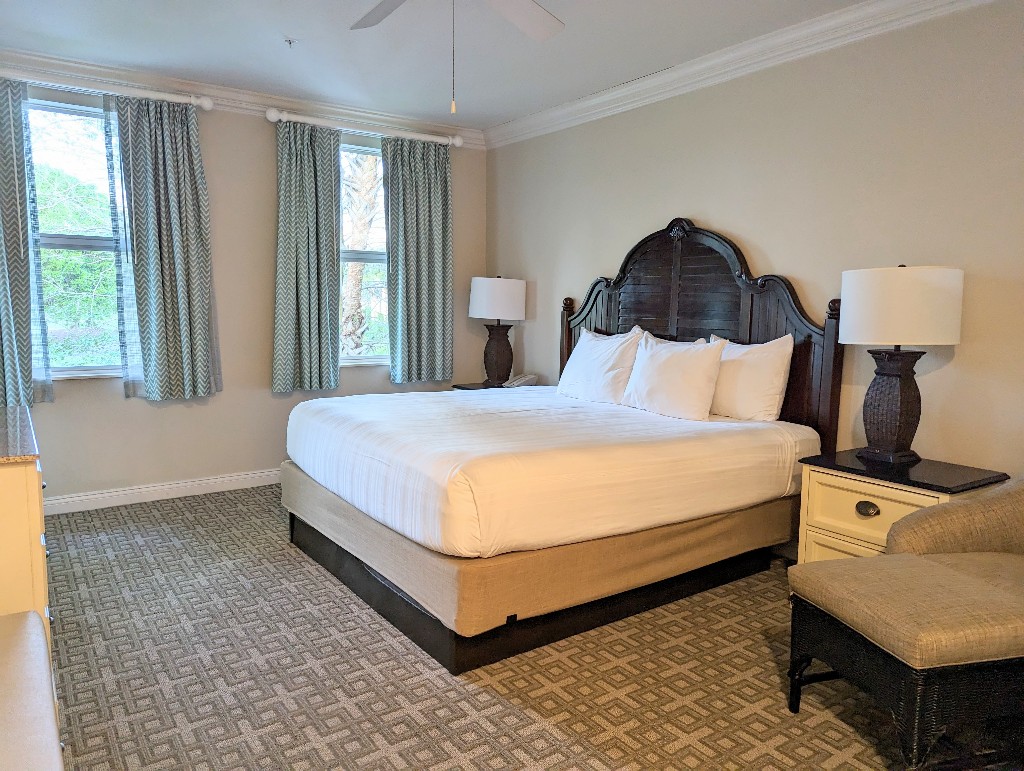 A small dresser with TV provides most of the bedroom storage. There's also a small storage bench but we don't feel like it was a great option for storing clean clothes still in our packing cubes.
One of the best features of the Old Key West 1 bedroom villa is the door from the bedroom out onto the stunning balcony. This means parents can easily relax on the patio or balcony after tucking kids in for the night.
Old Key West Balcony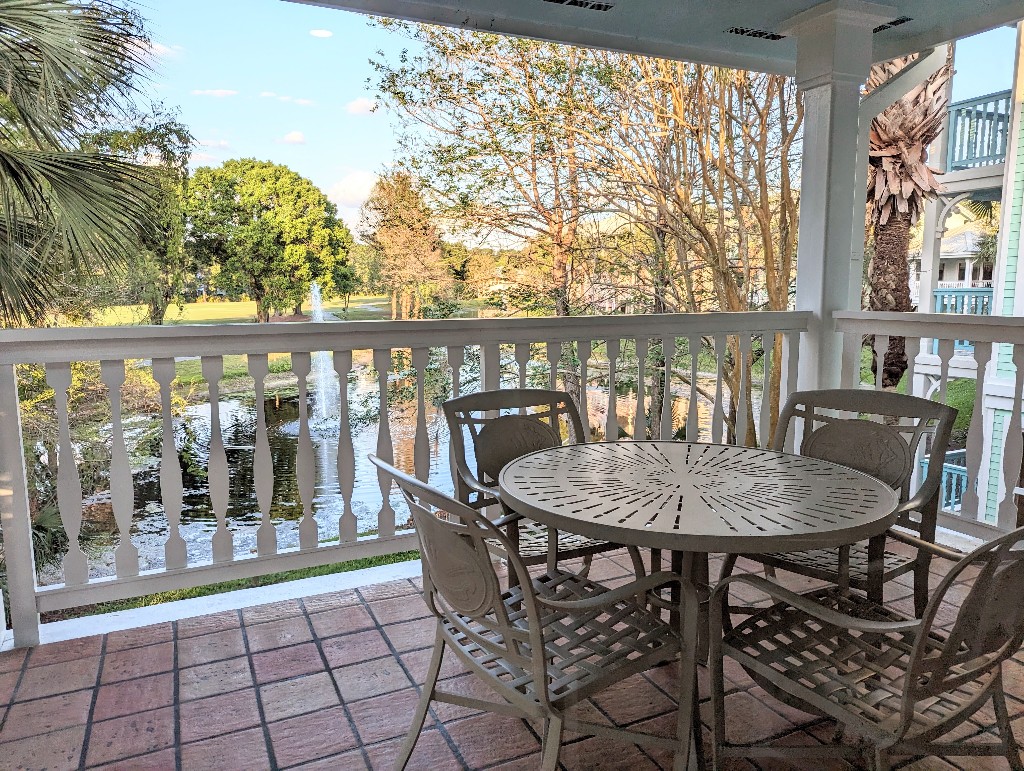 We were on the second floor and had a balcony with a gorgeous view of water and part of the golf course. It was so pretty and peaceful that I wish we'd had more time in the room to really enjoy this balcony.
The large, tiled balcony holds a wrought iron round patio table with four chairs. Enter the patio from either the bedroom or living room access doors.  
Our Old Key West 1 bedroom villa had the following great features:
Split bathroom
Large laundry room
Comfortably large room for 5 guests
Laminate floor through much of the room
Gorgeous patio/balcony
Free in-room WiFi good enough to stream The Mandalorian
Old Key West Parking
Overnight guests have free parking at Old Key West. Those coming for a dining reservation get free parking during their meal.
There is limited parking at Hospitality House for guests to check-in. The small parking lot gets very full during the day, but sometimes you get lucky with a spot to grab dinner at one of the restaurants.
Fortunately, there is ample parking near Old Key West villas. No matter what time we tried parking there were always spots close to our room.
Disney's Old Key West Transportation To Parks
Old Key West to Magic Kingdom, Hollywood Studios, Epcot, Animal Kingdom, and water parks
Old Key West uses buses to transport guests from the resort to each of the theme parks and water parks. There are five bus stops at Old Key West so there's never one too far from your villa.
While the walk to the bus stop may be short, the Old Key West bus loop takes about 10 to 15 minutes before beginning the journey to the theme parks.
We normally like taking Disney World transportation and often skip rental cars. However, we loved having the convenience of a car at Old Key West and think this resort would be difficult without one.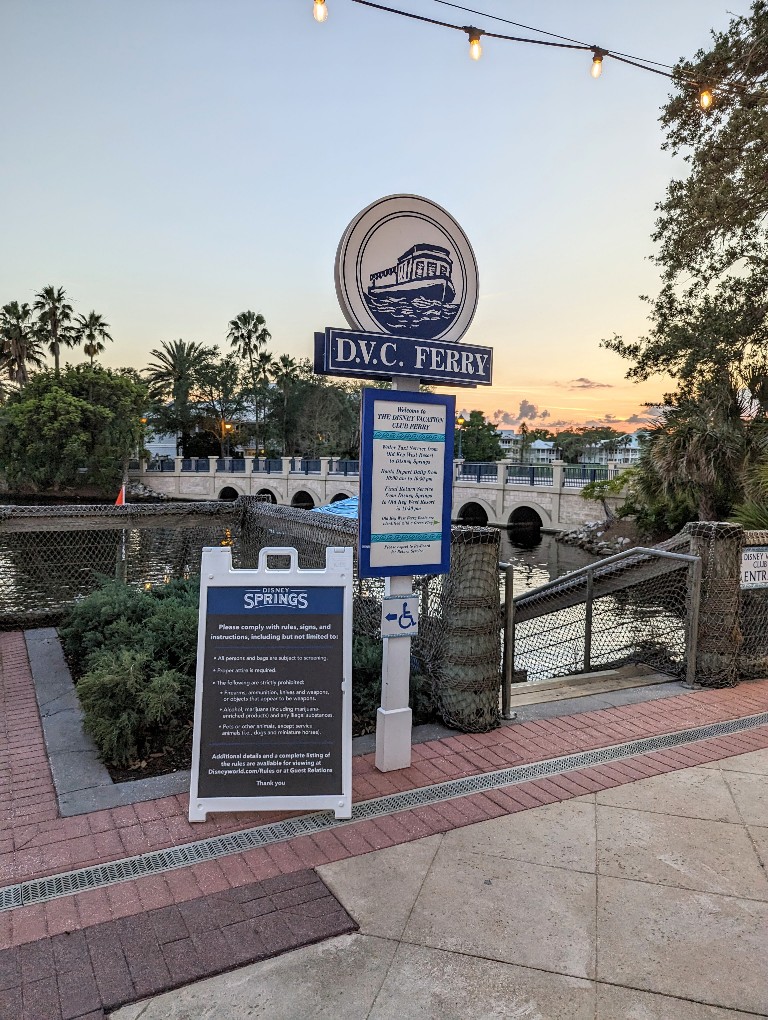 Disney's Old Key West to Disney Springs
Board a boat at Hospitality House's DVC Ferry dock to take a peaceful ride to Disney Springs. Bus service is also available to whisk guests to and from Disney Springs.
Pros and Cons of Disney's Old Key West Resort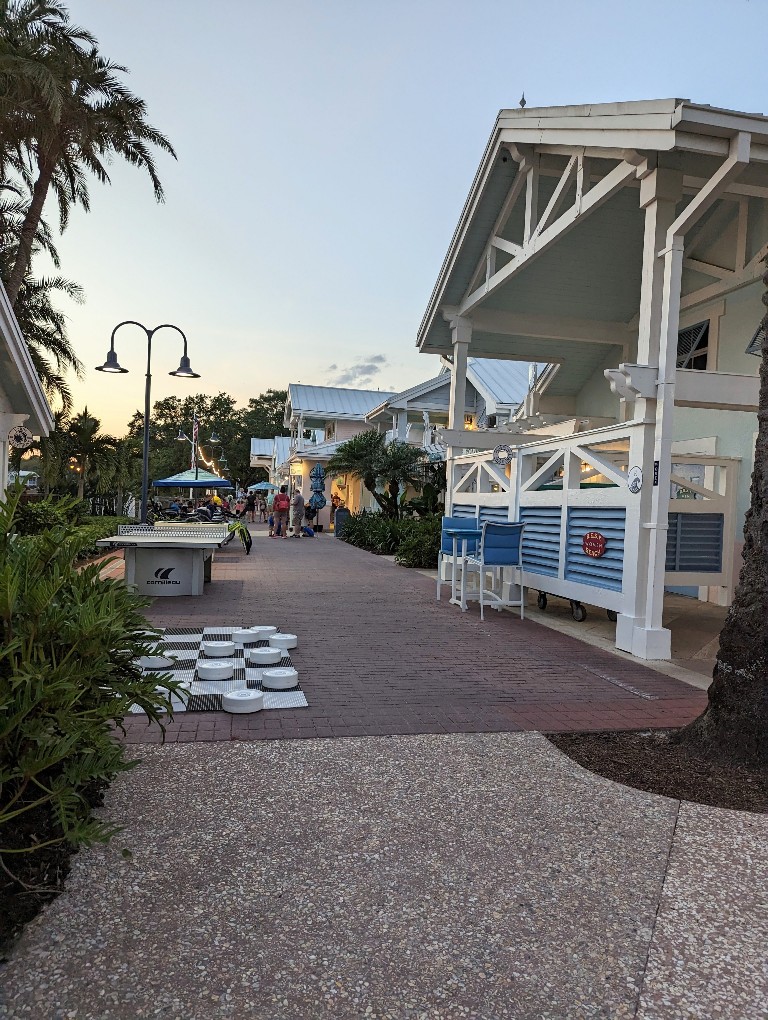 Old Key West Pros
Gorgeous Resort That Feels Like Home
I loved imagining my future Florida retirement while staying at Old Key West. The 1 bedroom villa is large, the balcony fabulous, and the ample amenities at Hospitality House make Old Key West feel like home.
Lots of On-Site Fun For Rest Days
Lounge at Sandcastle Pool or one of the neighborhood leisure pools for a traditional rest day before heading to Disney Springs for shopping or dining.
For a more active rest day rent tennis, basketball, shuffleboard, and volleyball equipment at Hospitality House for a day full of fun activities at Old Key West. Golf courses crisscross the resort and make a beautiful backdrop and another recreation option.
Easy-to-Find Parking
Having a car makes staying at Old Key West much easier. Thankfully, parking is free and finding parking spots near guests rooms is no problem.
Disney's Old Key West Cons
Golf Courses
The golf courses that separate Old Key West resort sections are beautiful and make for wonderful scenery. However, these same courses mean that direct walkways are mostly impossible.
Walking around the resort is pretty, but often takes much longer than other large resorts like Saratoga Springs. This is especially true for guests in Old Turtle Pond Road and South Point Road rooms who need to take a bus or their own transportation to reach Hospitality House's amenities.
Slow Transportation
There are five on-site Old Key West bus stops which add 10 to 15 minutes to your trip before heading to the theme or water parks. This time really adds up and can be frustrating when staying at Old Key West.
Lot of Stairs
Old Key West's stairs to our upper level room didn't bother us at all. We often do carry on only Disney World trips and have a teenager so stairs were no big deal.
However, lugging heavy suitcases and strollers upstairs at Old Key West can get tiresome for guests with small kids or those who pack heavy.
Also, guests with mobility concerns can only get upper level rooms in one of three buildings at the resort. 
Should I Stay At Disney's Old Key West?
In our quest to stay at every Disney World resort, I kept putting off Old Key West because I worried about its vast size and distance from the theme parks. 
Although these logistical concerns are valid, I was surprised how much we loved Old Key West. Rooms feel like home, Hospitality House is welcoming, and the atmosphere is lovely.
As much as we liked the resort, families with small children dependent on Disney World transportation won't love how much time is spent on buses. Being unable to walk to Hospitality House from over half of the resort is a deal breaker for many people, too.
Our Old Key West 1 bedroom villa was a great value compared to similar resorts and worked well for our small family.
I think Old Key West is a good option if you want space, don't mind a sprawling resort, and have access to a car during your stay, but should be avoided when traveling with small kids and no car.