The Biltmore Estate is so much more than just America's largest home. The Biltmore has two hotels, a winery, and an incredible number of on-site activities. My daughter has been asking to go horseback riding for the last couple of years. When she spotted horseback riding as an option at Biltmore it went to the top of our trip wish list. Find out more about our Biltmore horseback riding experience on the Biltmore Guided Trail Ride.
As an Amazon Associate I earn from qualifying purchases.
Biltmore Guided Trail Ride Location
The Biltmore horseback riding groups meet at the Carriage and Trail Ride Barns. The Carriage and Trail Ride Barns are about halfway between the Biltmore House and Antler Hill Village and Winery.
On-site hotel guests can take a shuttle on the Biltmore House route to get to the barns. Just alert the driver that you need to stop at the barns. There is also a small gravel parking lot for those driving to the barns themselves.
Biltmore Guided Trail Ride Review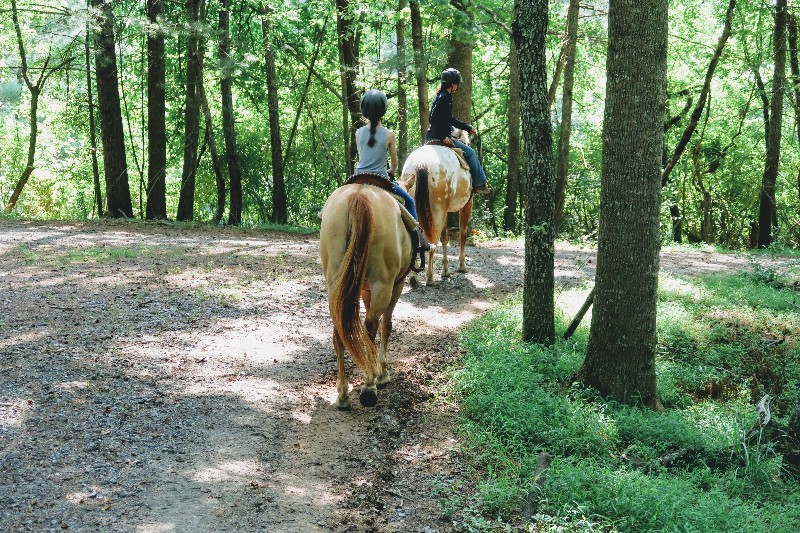 The Biltmore Guided Trail Ride is a one-hour horseback riding tour designed for beginners or those with some basic horseback riding skills. Anyone at least 8 years old and under 250 pounds (113 kg) is eligible to book this Biltmore horseback riding activity.
Before Your Trail Ride Begins
Arrive a few minutes prior to your registered ride start time. You need to check in for the ride and be weighed. The scale is on the public side of the check in area, but the number is only shown behind the counter. The weighing is necessary to assign each rider the proper horse.
When it is time to start your Biltmore Guided Trail Ride your guides will meet with you, ask about your riding experience, and provide you a safety helmet. Then they will help you mount a horse one by one.
To make getting on the horse easier there is a platform with stairs where you climb into the saddle. This is much easier than climbing up from the ground.
Once you are on your horse a guide will give you a quick overview of the reins and simple directions for the horses. The only things you really need to know are how to steer left, steer right, and stop.
Biltmore Guided Trail Ride Experience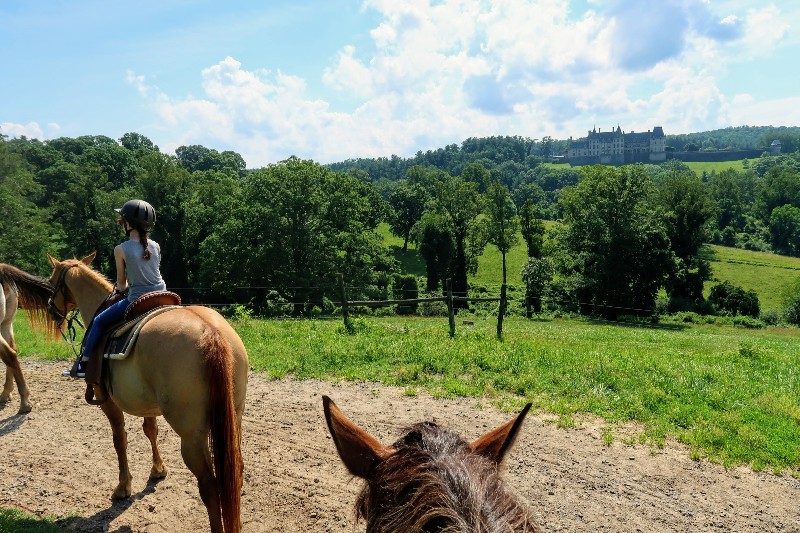 The Biltmore Guided Trail Ride is a relatively short and easy ride. You take a trail into the forest, climb up a small winding path, and then emerge in a field. Your guide will often stop on the ride to share Biltmore history or coach you on getting through a minor obstacle.
One of the most incredible parts of this particular Biltmore horseback ride is the opportunity to see the entirety of the Biltmore House from the field. Our guide was kind and offered to take pictures of us on our horses with the Biltmore in the background.
After seeing the back of the house from a distance we took a much shorter gravel path back to the stables to end our ride. One by one we approached the same platform to dismount our horses.
Things To Know Before You Go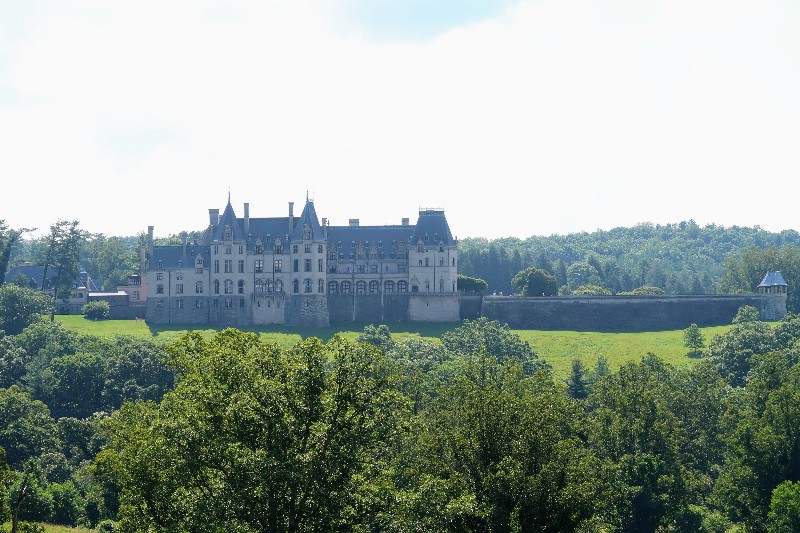 The Guided Trail Ride Has A Leisurely Pace
The Biltmore Guided Trail Ride is a relatively short ride taken at a walk pace the whole time. Experienced riders would likely be disappointed since you never get to trot, but for Elizabeth's first time horseback riding it was perfect.
The Horses Are Incredibly Easy To Manage
I haven't ridden horses extensively, but have had many horseback riding experiences over my lifetime. The horses on our ride around the Biltmore estate needed almost no direction or behavior correction from any of the riders. These sweet, easy to manage horses help less confident and beginner riders feel relaxed on the ride.
Biltmore Guided Trail Ride Required Attire
Boots or sneakers are required to participate in Biltmore horseback riding activities. You will not be allowed to ride wearing open toe shoes. Although long pants are not required they are highly recommended.
No Bag Policy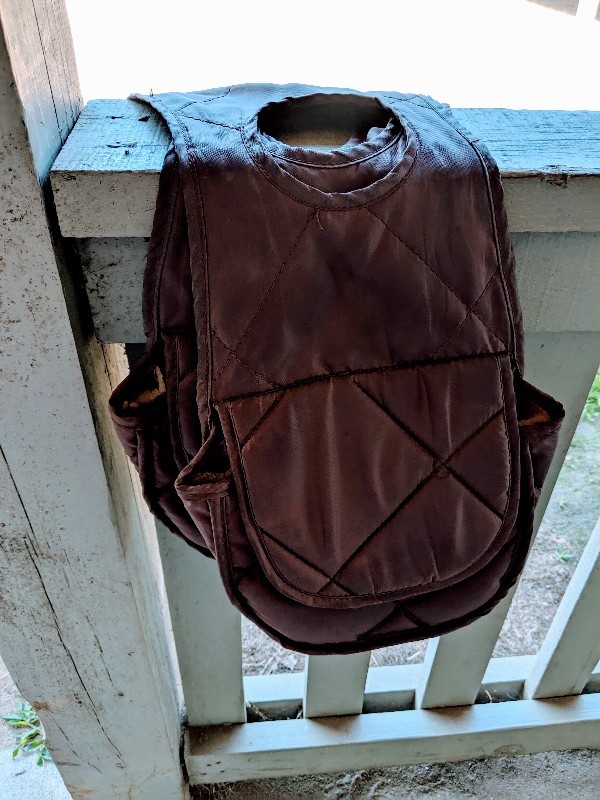 Guests on the Biltmore Guided Trail Ride are not allowed to carry purses, backpacks, or any type of bags. All bags must be left with the trail ride front desk staff. If there are items you would like to take on the Biltmore horseback ride you can bring a few items in the small saddle bags provided.
These saddle bags fit over the horn of the saddle right in front of where you sit. It was easy to access my mobile phone from the saddle bag pouch. On our ride I mostly used my Canon PowerShot (affiliate link: buy on Amazon) for better quality pictures and because it has a wrist strap. Having the wrist strap made it less likely I would drop my camera on the paths.
Final Thoughts On Our Biltmore Guided Trail Ride
We loved our Biltmore Guided Trail Ride experience. It was a great introduction to horseback riding for my daughter (and another woman in our group). Learning a bit about the Biltmore House and getting our pictures taken with the unique back view of the house was a neat opportunity.
More experienced riders may be disappointed in the pace and ease of the ride, but everyone in our group had a fun morning horseback riding around part of the Biltmore Estate.
Check here for more tips on visiting Biltmore Estate with kids or here for a review of our stay at Village Hotel.
Pin it for later: