Disney Aulani Resort has two on-site character meals. There is both a character breakfast and dinner option, each with different Disney characters. We opted to do both meals on our recent stay, and the experiences were very different. Today I'm sharing a full review of our Disney Aulani character breakfast with Mickey and friends, also known as Aunty's Breakfast Celebration at Makahiki.
Location
The Disney Aulani character breakfast is available each morning at Makahiki. Makahiki is located on the pool level in the same building as the Aulani lobby.
Overview of the Disney Aulani Character Breakfast: Aunty's Breakfast Celebration at Makahiki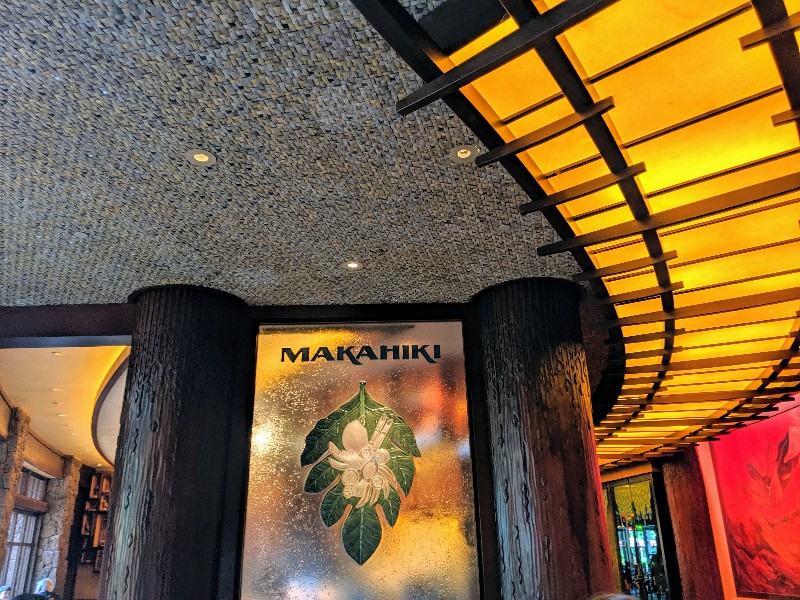 Makahiki is a large restaurant with both indoor and outdoor seating at Aulani. However, the indoor seating still has lots of fresh air.  Most times the glass doors that separate the indoor and outdoor seating areas are wide open so everyone can enjoy the island breeze. 
We were seated indoors for our Disney Aulani character breakfast. Our table was in a great location near the stage where Aunty invites kids to participate in a show. However, the indoor seating area away from the windows had pretty poor lighting for photos. Many of my pictures showed up dark or with considerable shadow. 
Pro tip: Have those most excited about meeting the characters where they can easily get up to interact with them. Also aim to have natural light on the faces of those in the photo and on the back of the person taking the pictures. This will provide for the best possible lighting for your pictures.
Disney Aulani Character Breakfast Food Options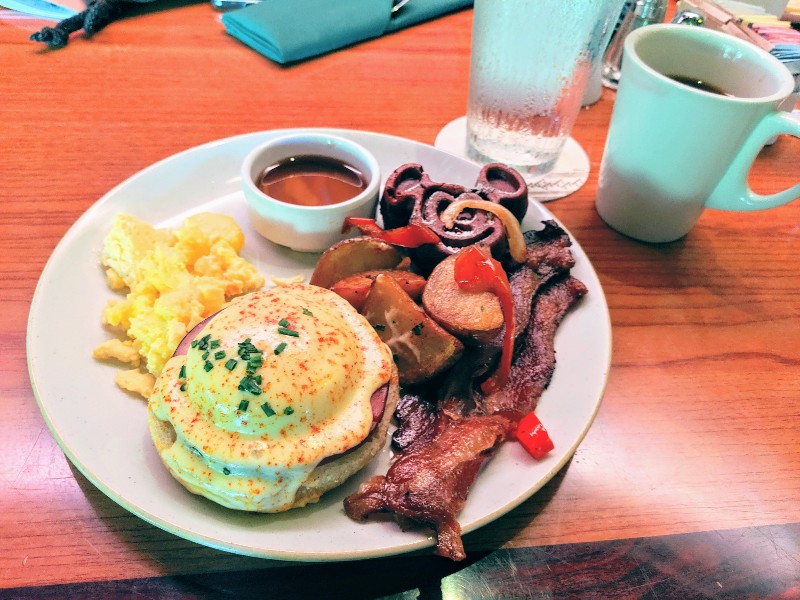 Update: When Makahiki reopens for character breakfast the buffet meal will be replaced with a three course breakfast. 
At Makahiki the large buffet line is located behind the main indoor dining area. The view to the buffet is obstructed by a large wall with pretty mural paintings highlighting the Hawaiian culture. This walled division between the dining room and buffet line hides much of the activity of people getting food.
The Aulani character breakfast food options at Makahiki are plentiful and much better quality than I am used to at a Disney character meal. The Disney Aulani character breakfast had the usual breakfast items like scrambled eggs, specialty Mickey waffles, pancakes, bacon, and breakfast potatoes.
There are also lots of other breakfast options like cold cereal, yogurt parfaits, fruit, breakfast pastries, french toast, grits, and oatmeal. The breakfast included some special items like a delicious fried rice, biscuits with gravy, and the best eggs benedict I've had on a buffet line, too. For more information on the current Disney Aulani character meal breakfast menu check here.
Please remember this is a character meal, and the food will not be Michelin star quality. But, after many Disney character breakfasts over the years, I thought the quality of this one is the best we have had.
Dealing With Food Allergies At The Disney Aulani Character Breakfast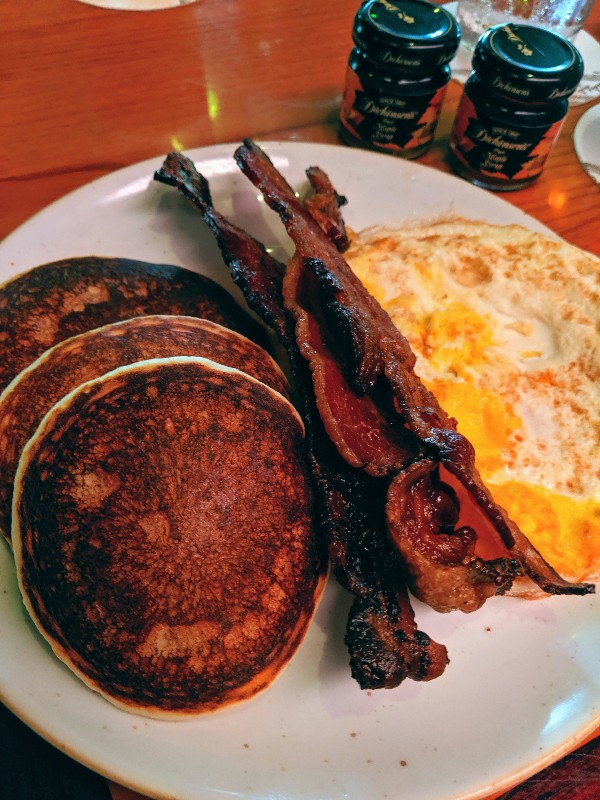 When making our Aulani character breakfast dining reservation I notified the staff of Elizabeth's food allergy. I reminded the cast member about the allergy when checking in for breakfast, too.
Once we were seated our server came over to take a drink order. We discussed Elizabeth's allergy, and she offered to have a chef walk us through the safe food options on the buffet. Walking through the buffet line with a chef has been our experience at many Disney buffets.
Our chef was very knowledgeable about what Elizabeth could eat and what she should avoid. He even went back to the kitchen and checked on a couple of items to be extra sure. After the walk through the chef asked if we were comfortable getting items from the buffet for Elizabeth or if we prefer he prepare a plate in the back.
Characters at the Disney Aulani Character Breakfast
The Disney Aulani website does not offer any specific information on which characters are at the Aulani character breakfast. It seems Mickey, Minnie, Goofy, and Pluto are the usual characters that stop by Aunty's Breakfast Celebration at Makahiki. However, it is important to know characters are always subject to change without notice. 
At specific times during the Aulani character breakfast Aunty invites kids to participate in a show. Aunty sings some songs and does a parade with kids who chose to participate. Sometimes even some of the characters take part in this little show.
Mickey Mouse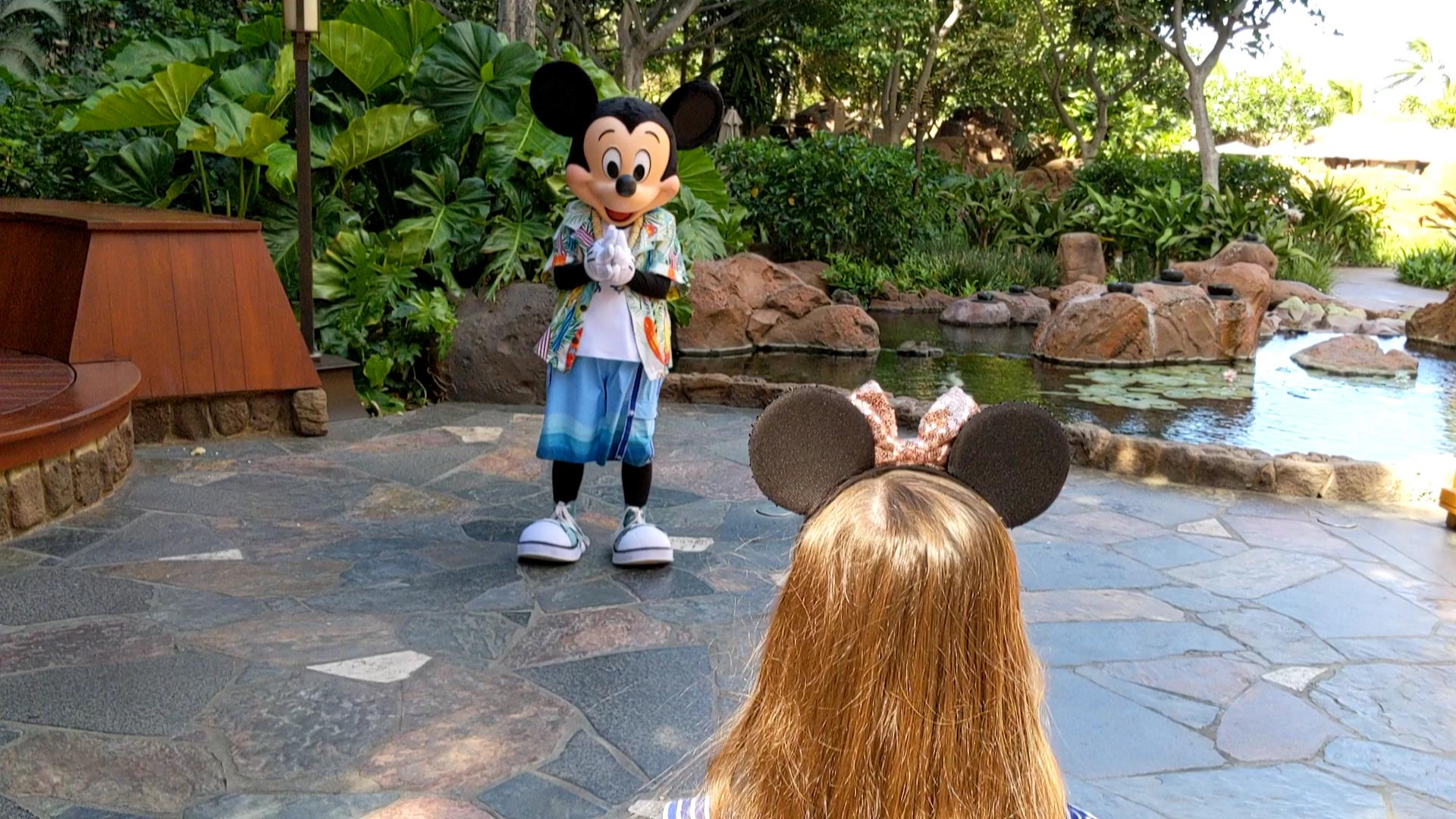 At our breakfast we had a special meet and greet with Mickey outside the restaurant before being seated. This outdoor picturesque photo spot seems to be the usual place to meet Mickey before the Aulani character breakfast.
Almost every morning of our trip we saw Mickey in the exact same spot outside Makahiki. However, if there is rain Mickey moves his photo and meeting spot inside. The other characters rotate through Makahiki and visit each table.
Minnie Mouse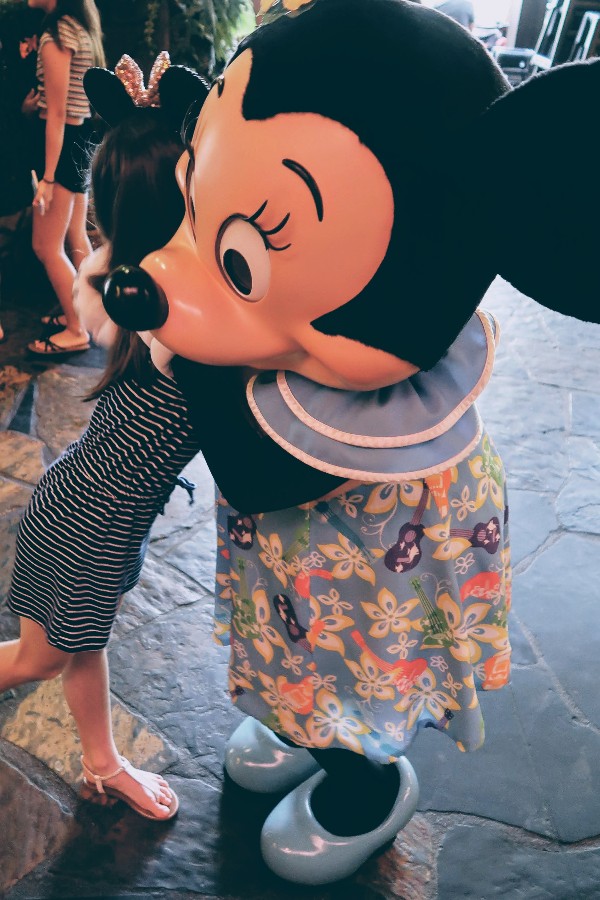 As usual, Minnie is very sweet and kind when she stops by your table. She "told" Elizabeth through hand signals that she loved her outfit and sparkly Minnie Mouse ears. Minnie even made sure to stop and give me a hug, too.
Goofy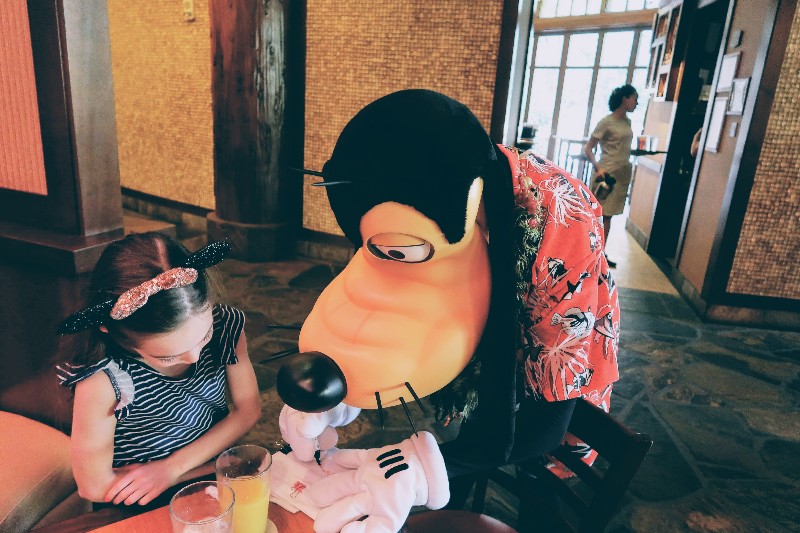 When Goofy visited us he gave hugs and happily signed Elizabeth's Disney autograph pillowcase. He even reminded Elizabeth how to make the shaka, or hang loose sign, before his final hugs.
Pluto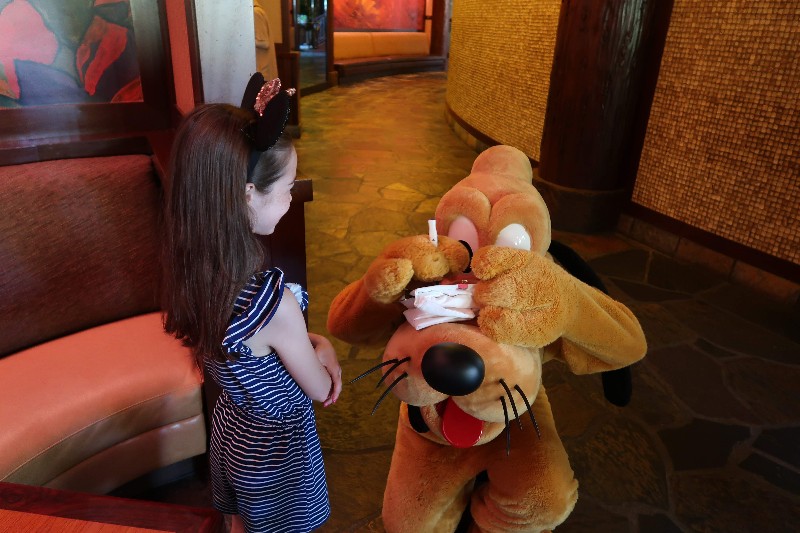 Pluto bounded over to our table with a lot of enthusiasm and hugged Elizabeth. Always a sweet pup, Pluto kept blowing kisses to us even as he moved on to his next table. 
Disney Aulani Character Breakfast Cost
The Disney Aulani character breakfast cost is $21 per child age 3 to 9 years and $41 per person age 10 and older as of June 2019.
Final Thoughts on Our Disney Aulani Character Breakfast
We had a good Disney Aulani character breakfast experience. There were lots of different food options and overall quality was probably one of the best Disney character buffets we have eaten. 
The characters were sweet and charming, although a little more subdued than we have seen them at other character meals. If you are hoping to see Mickey and some of his friends while having a meal the character breakfast is a good splurge at Aulani.
The characters did a great job of "asking" if they could use a large space on Elizabeth's autograph pillowcase. When we told them to take as much space as they wanted we ended up with some extra special messages. This pillowcase is now a very special souvenir from our Disney Aulani trip.
If you prefer a crazy, silly atmosphere with Donald and friends the character dinner may be the better choice for you, but for a traditional Mickey character meal the breakfast is certainly a fun way to start your day.
Find out more about other Disney Aulani character experiences, Disney Aulani Resort and our favorite free activities!
Pin it for later: