Mammoth Cave National Park in Kentucky contains the world's longest known cave system. Hiking, cave tours, and horseback riding make visiting Mammoth Cave National Park with kids a great family vacation experience.
Activities At Mammoth Cave
Mammoth Cave Tours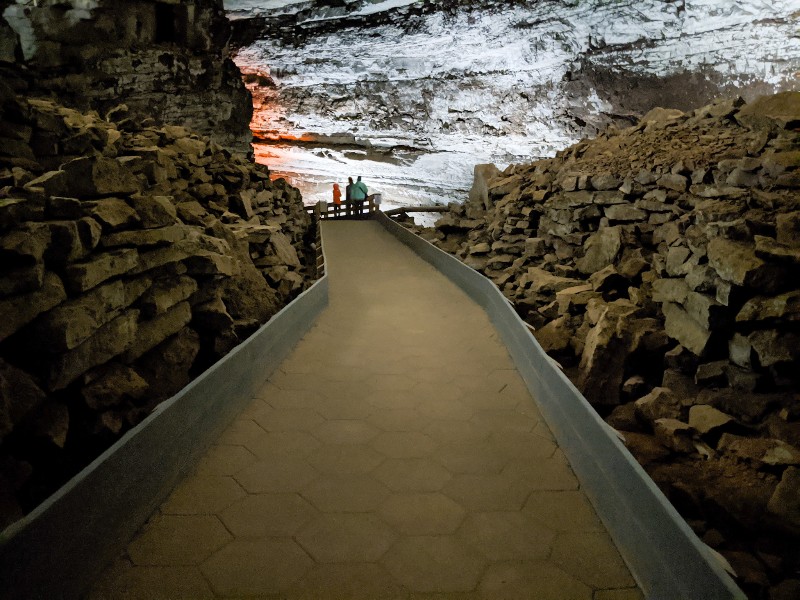 A trip to Mammoth Cave isn't complete without a cave tour. Mammoth Cave normally offers many different tours, but due to COVID-19 restrictions options are limited.
The Mammoth Cave self-guided extended historic tour begins at the picturesque Mammoth Cave historic entrance complete with a trickling waterfall. From there, you descend some dozens of stairs into the mouth of the cave.
After walking a short distance on the dimly lit path, it splits in two directions. The left path is 3/4 mile (1200 m) out to the old tuberculosis huts with several important locations along the path.
The right side path is only 1/4 mile (400 m) and showcases some historic artifacts and information on indigenous people who explored the caves thousands of years ago. This means the Mammoth Cave extended historic tour is about two miles of walking all together.
National Park Rangers share the history of Mammoth Cave and answer any questions guests have about the national park along the self-guided path. Walking the entire tour path plus talking to rangers took us about ninety minutes.
Mammoth Cave tours are popular and have limited capacity, so I recommend purchasing tickets in advance. A limited number of tickets are released each morning for same-day tours, but these sell out quickly.
Mammoth Cave Hiking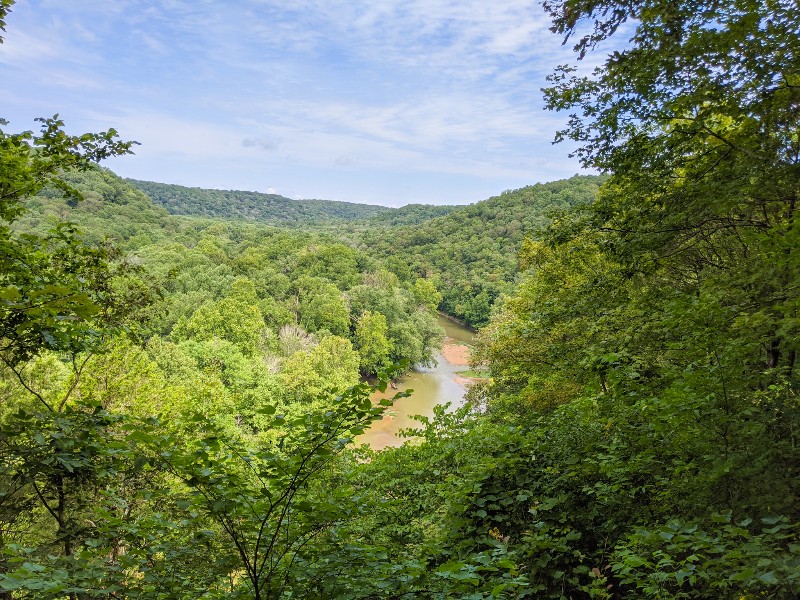 Mammoth Cave has around 80 miles of hiking trails where you can wander the different terrain. Hiking paths are well marked and easy to follow with minimal elevation changes. A mix of paved, gravel, and dirt trails means there is a trail for any Mammoth Cave hiker skill level.
Although out-and-back trails are most common, many of the Mammoth Cave hiking trails intersect. This means although each path is relatively short, combining trails can make hikes several miles long. Ask a park ranger for recommended hikes based on your preferences and abilities.
A great and easy Mammoth Cave hiking option for families is the Heritage Trail loop. This trail starts near the Mammoth Cave visitor center, comes to a stunning vista at Sunset Point, and then loops back to the visitor center. The Mammoth Cave Heritage Trail is a paved path with a brief boardwalk area and is under a mile long. The paved path and short distance makes Heritage Trail the easiest Mammoth Cave hike for families.
Horseback Riding At Mammoth Cave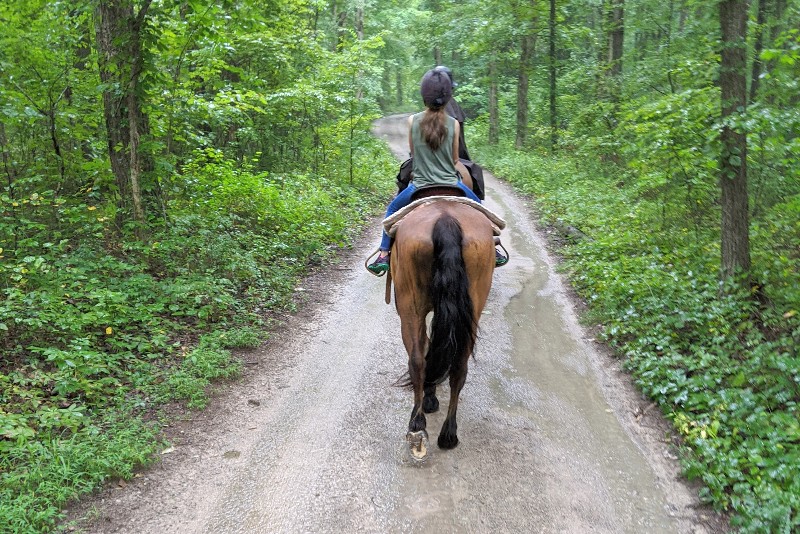 Horseback riding is a unique activity when visiting Mammoth Cave National Park with kids. Double J Stables takes guests on guided trail rides inside Mammoth Cave National Park.
The owners pair each rider with a horse best suited to their experience level, which helps everyone feel confident along the trail. We went on a 90-minute trail ride and enjoyed seeing the park from a different perspective.
Double J Stables limits each horseback riding group to eight guests, so reserve your spots in advance. Private trail rides are also available if you prefer a personalized experience.
Mammoth Cave National Park Junior Ranger Program
The Mammoth Cave Junior Ranger program gets kids interested in learning about the environment and history of Mammoth Cave National Park. Ask for a Junior Ranger booklet, complete some or all of the workbook depending on the child's age, and then get sworn in as an honorary ranger. Kids even get a souvenir ranger badge to remember the experience.
Mammoth Cave Temperature
The temperature inside Mammoth Cave is usually around 54°F (12°C). Outside of Mammoth Cave the temperature can vary widely depending on the season. Plan on wearing layers to manage the large temperature swings while visiting Mammoth Cave.
What To Pack When Visiting Mammoth Cave
Packing for Mammoth Cave is similar to packing for other outdoor adventures.
Everyone needs to pack these items for a Mammoth Cave tour:
Water
Hiking or other sturdy shoes
A warm layer for inside the cave
A flashlight for emergencies
If hiking Mammoth Cave trails I recommend the following extra items:
Insect repellent
A nutritious snack
Paper map of the hiking trails
Tips For Visiting Mammoth Cave National Park With Kids
No Mobile Phone Service
There is almost no mobile phone coverage in Mammoth Cave National Park. Look up directions ahead of time to and from Mammoth Cave. Remember to print the directions or save them to your phone's storage before visiting.
If you have little ones that like to watch something on a phone or tablet in the car, download that ahead of time, too. There is some WiFi available at the visitor center, but I wouldn't rely on it.
Restrooms and Amenities in Visitor Center
Mammoth Cave has a nice visitor center. There are two gift shops, a counter-service restaurant, and restrooms inside. There are no facilities on the hiking trails or in the cave so take advantage before your tour.
No Strollers or Baby Carriers
Strollers and infant backpack carriers are not allowed on Mammoth Cave tours. However, front infant carriers are permitted.
Mammoth Cave Photography Rules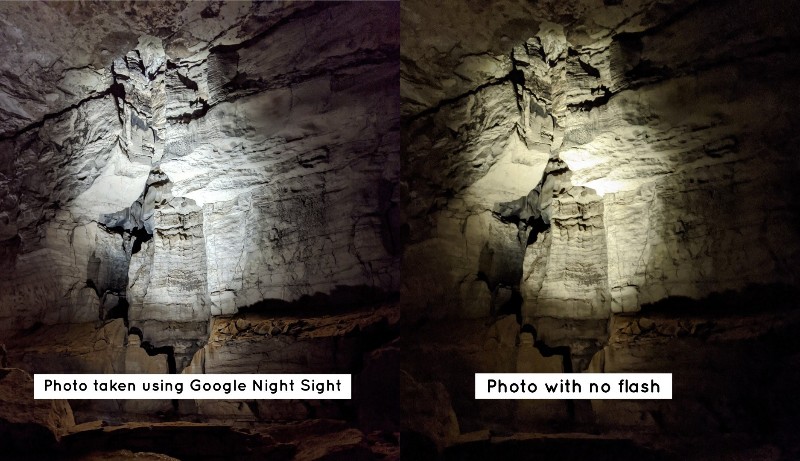 Taking pictures inside Mammoth Cave is allowed, but there is no flash photography permitted. The low light can make taking pictures challenging, but we found the nighttime setting on our phones worked pretty well. Selfie sticks, tripods, and monopods are forbidden on cave tours.
Final Thoughts on Visiting Mammoth Cave National Park With Kids
When visiting Kentucky, Mammoth Cave National Park is a great family vacation destination. Mammoth Cave tours, hiking, and horseback riding provide something fun for the entire family. We had a great time visiting this summer and can't wait to go back for a more adventurous cave tour once my daughter is older.
Pin it for later: