Finding fun roadside attractions is a road trip challenge. Rock City Park in Kansas is just 30 minutes off of 1-70 and a unique place to stop on a road trip through Kansas.
What is Rock City Park?
Rock City Park is the largest collection of giant sandstone concretions in the United States. Admire and climb dozens of huge, round rocks in a 200-yard area.
These impressive sandstone concretions formed millions of years ago when Kansas was covered by an inland sea. Calcium carbonate mixed with Dakota Sandstone within the sea and cemented together to form the rocks. After the water drained away, these giant boulder formations stood above and just below the surface.
Tips For Visiting Rock City
Rock City Charges An Admission Fee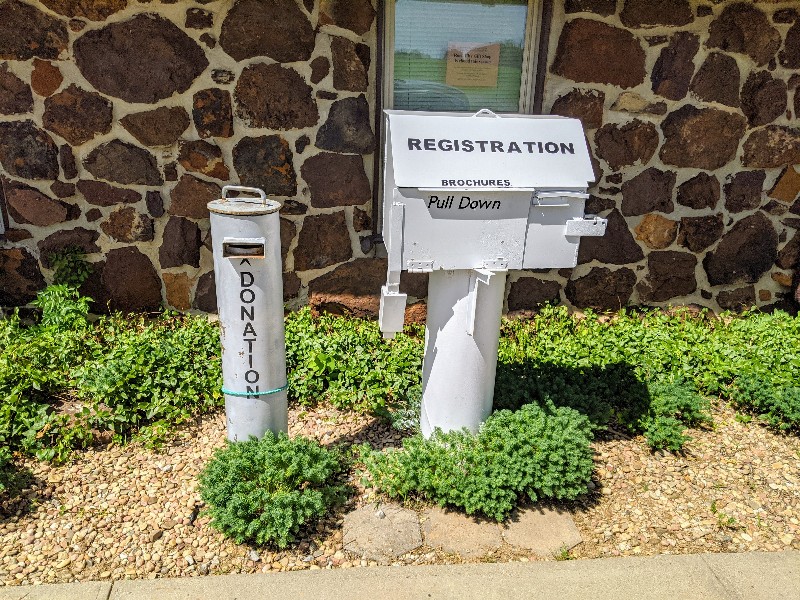 Rock City charges a $5 admission fee for adults and $3 for kids 6-12 years old. If the visitor center is closed, drop your admission fees in a box in front. Grab maps and information about the park there, too.
Bring Climbing Shoes
Climbing historic rocks was not something we had ever done. Rock City Park encourages visitors to carefully climb and fully explore the sandstone concretions. Having a little extra grip on your shoes makes climbing much easier. The stones can be damaged, so climb carefully for those fun pictures and to see the pretty views.
Remember Bug Spray
Climbing rocks and walking around the park was a great break from a long road trip. Unfortunately, I didn't think about using bug spray during our summer visit. I paid dearly with some of the nastiest bug bites I've had in a long time. Learn from my mistake and apply insect repellent when visiting Rock City.
Rock City Park Has Hiking Trails
Spend some extra time hiking the mowed trails around Rock City. We saw a couple of hikers park and head out on the paths, but we didn't have enough time to explore the hiking trails.
You'll Drive A Dirt Road
The last three quarters of a mile (1.2 km) to Rock City is a packed dirt and gravel road. This was the first dirt road, but certainly not the last, on our road trip to Colorado.
Final Thoughts On Visiting Rock City Park In Kansas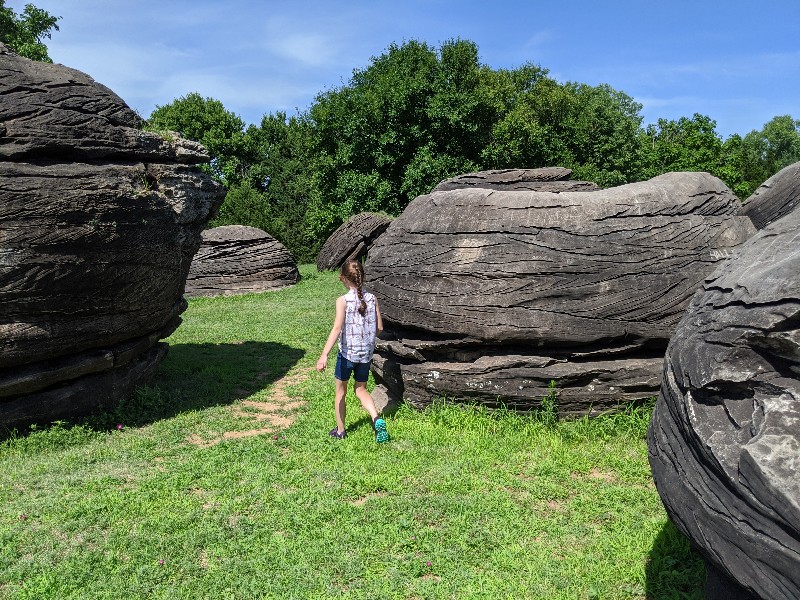 If you have a long road trip planned along I-70, Rock City Park is a perfect Kansas road trip stop. After driving several hours we had a great time stretching our legs and climbing the sandstone concretions. Visiting Rock City is one of the most unique nature experiences we've had in our time traveling the United States.
Pin it for later: