Disney treats are an important part of our Disney World and Disneyland traditions. In fact, I'm so obsessed that I bring cake pops and Mickey Rice Krispie treats home as souvenirs. However, sometimes we are craving a classic Disney treat and can't make it to the parks. That's when making Disney Copycat Mickey M&M Rice Krispie treats at home keeps some of the Disney magic alive.
Disney Mickey Rice Krispie Treat Inspiration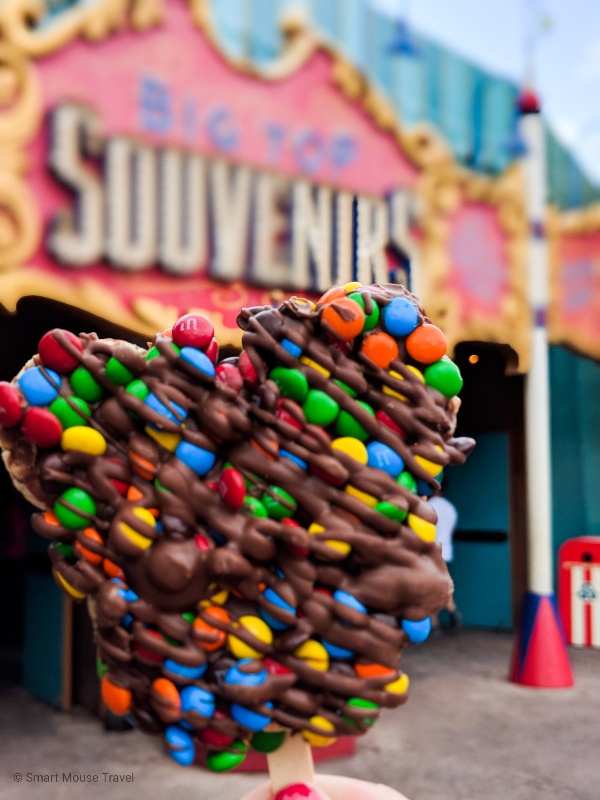 Mickey Rice Krispie treats are a staple at Disney World and Disneyland. There are specially themed versions during different seasons, but our favorite one is the always available Mickey M&M Rice Krispie treat.
What could be better than a traditional Rice Krispie treat coated with chocolate and mini M&Ms on one side? You can easily find these treats at Big Top Souvenirs at Magic Kingdom or Marceline's Confectionery in Downtown Disney at Disneyland.
Making Your Own Mickey M&M Rice Krispie Treat
This seemed like a straightforward Disney Copycat recipe to figure out. However, it was more difficult than I expected to make them look like the official Mickey M&M Rice Krispie Treat.
The original Disney park versions are really large, and we usually end up splitting them. For our at-home version I used a smaller Mickey head cookie cutter to make them an individual size (affiliate link: Buy on Amazon).
A couple of notes:
I can't leave a regular recipe alone and always make some modifications. Instead of following the exact recipe on the Rice Krispie Box I added extra butter and a dash of vanilla extract. I think this makes the base Rice Krispie treat taste even better. You are free to follow the original recipe if you prefer.
I used a small Mickey head cookie cutter because I wanted a smaller version of this Disney parks treat. The portion size is great, but the head shape was less obvious once covered in chocolate and M&Ms.
Yield: 16
Disney Copycat Recipe: Mickey M&M Rice Krispie Treats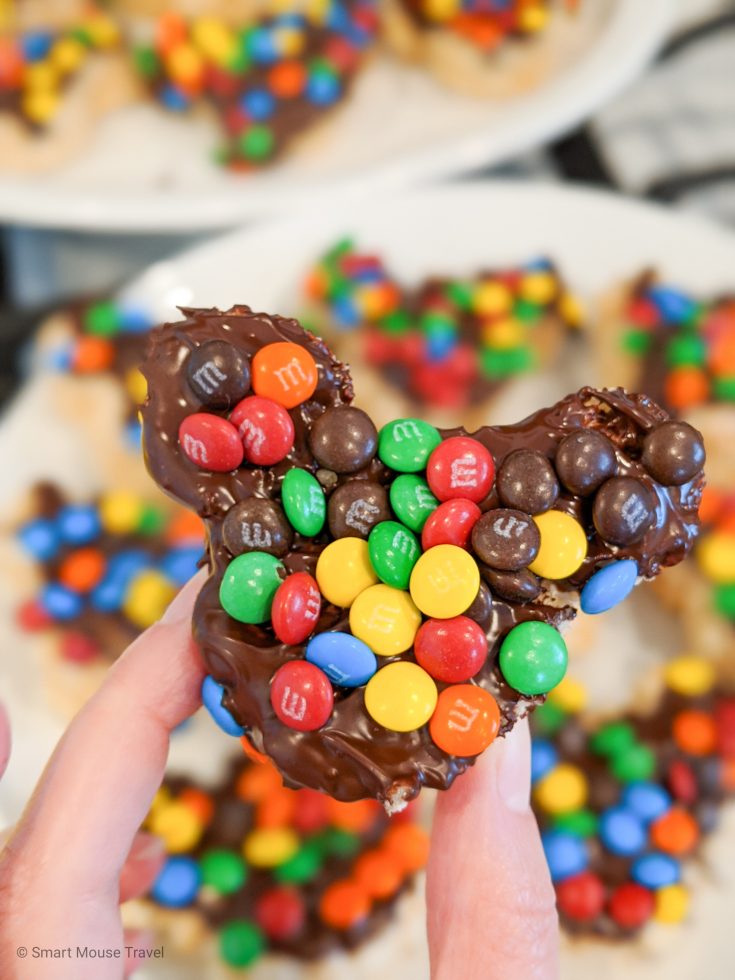 This Mickey M&M Rice Krispie treat recipe will bring a bit of the Disney magic to your home when you can't be at the parks.
Total Time
1 hour
15 minutes
Ingredients
4 tablespoons butter
10-ounce package of marshmallows or 4 cups of mini marshmallows
6 cups of Rice Krispies cereal
½ teaspoon of vanilla extract
6 ounces of semi-sweet chocolate chips
5 ounces of M&M's Minis
Instructions
Spray a 13x9-inch pan with cooking spray.
Melt butter in a pan. Once butter is melted, add the vanilla and marshmallows. Stir frequently until the marshmallows are fully melted.
Add Rice Krispies cereal to the pan with melted marshmallows. Mix thoroughly until cereal is coated.
Press cereal mixture into the prepared pan using a buttered spatula or wax paper.
While treats are cooling put half a bag of semi sweet chocolate chips in a microwave safe bowl. Stir after every 30 seconds of heating until the chocolate is melted.
Flip your pan over a cutting board and the treats should easily come out onto the cutting surface. Use a Mickey head cookie cutter cut out your Rice Krispie treats.
We tried dipping the treats into the chocolate, but using a spoon to slather the melted chocolate over the top of the treat worked better for us.
Sprinkle M&Ms over the melted chocolate until the top is covered. Place finished treat on a cooling rack or plate until chocolate hardens (which takes about an hour at room temperature).
Store treats in a airtight container and enjoy as soon as possible.
Notes
I used a small Mickey head cookie cutter because I wanted individual sized treats. This smaller cutter made for less clearly defined Mickey head shapes once covered in chocolate and M&Ms. Use a larger cutter if you want a better looking version and don't mind a bigger treat.
Final Thoughts On Making Disney Copycat Mickey M&M Rice Krispie Treats
Although our Disney copycat Mickey M&M Rice Krispie treats weren't uniformly perfect in shape, they tasted amazing. All of our taste testers agreed that our version of the Mickey M&M Rice Krispie treat is the perfect way to get a taste of Disney when you are stuck at home.
Pin it for later: