Visiting Disneyland at Christmas has been on our bucket list for years, and I know I am not the only one that dreams of a Disneyland Christmas. We've found that Christmastime at Disney World is magical, and we were inspired to see how Disneyland celebrates the Christmas season. However, with so many different holiday offerings it can be hard to choose what to see when visiting Disneyland for Christmas. Here are the things we loved at Disneyland for Christmas and what activities we could have skipped.
When Does 2021 Holidays At The Disneyland Resort Start?
Disneyland Christmas offerings begin November 12, 2021 and continues through January 9, 2022. Expect special holiday experiences and decor at both Disneyland and Disney California Adventure during this time frame.
Things We Loved When Visiting Disneyland at Christmas
Disneyland Christmas Attractions And Parades
Haunted Mansion Holiday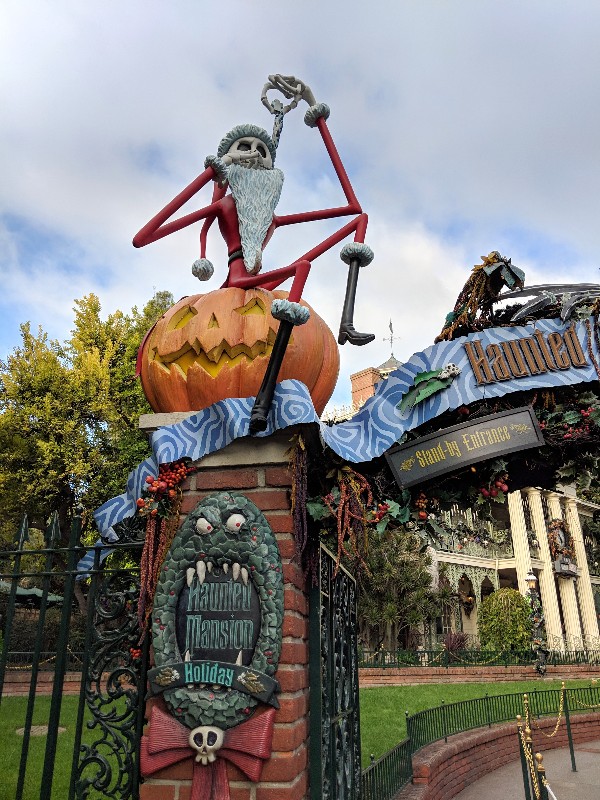 If I'm going to be honest, one of the main reasons we planned a Christmastime Disneyland trip was Haunted Mansion Holiday. The Nightmare Before Christmas has been part of our family Halloween and Christmas seasons for over 20 years. I couldn't wait to see it come to life in one of our favorite attractions.
The Nightmare Before Christmas Haunted Mansion overlay is usually in place from sometime in September until just after New Years. This makes a lot of sense, since the entire movie tells what might happen if Halloween took over Christmas preparations.
For fans of Nightmare Before Christmas, the Haunted Mansion Holiday attraction is absolutely amazing. The first day of our trip we arrived very early to the Disneyland thanks to jet lag. This meant there was virtually no wait to ride Haunted Mansion.
We took full advantage and rode the attraction three times in a row! Each time we went through the ride we found even more amazing details from the Nightmare Before Christmas movie.
Haunted Mansion Holiday Outdoor Decor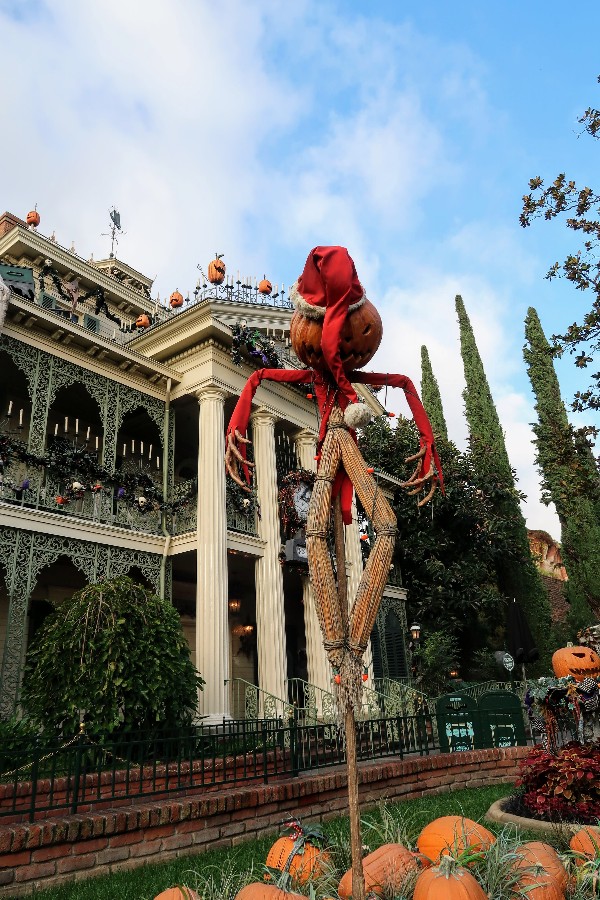 The experience starts outside with Halloween Town's takeover of the mansion decor. Over 100 flickering jack-o-lanterns, dozens of candles, Jack's coffin sleigh, and Halloween inspired Christmas garland set the mood for what is inside.
Haunted Mansion Holiday Ride Experience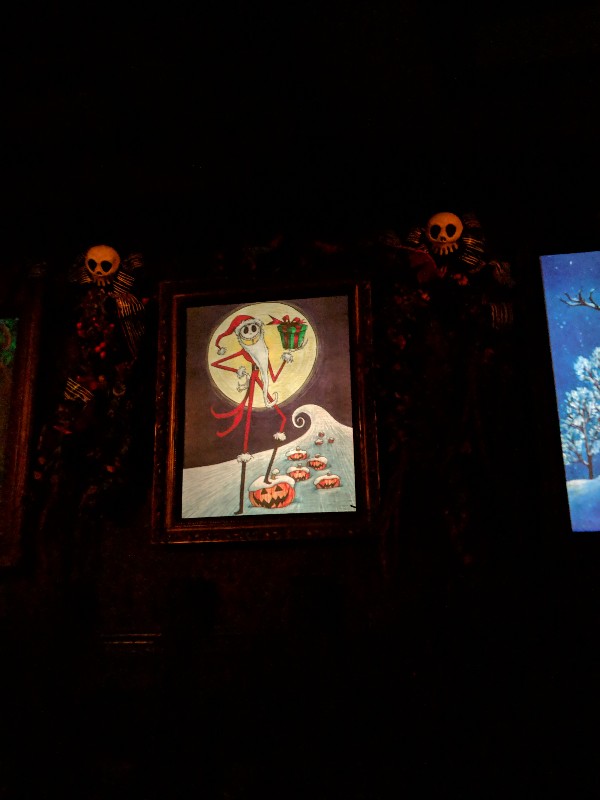 Once you enter the stretching chamber, the real fun begins with the introduction of the story. Jack Skellington even breaks through the stained glass ceiling above you to give you a holiday greeting.
As you exit the stretching chamber notice paintings along the walls with iconic images from The Nightmare Before Christmas. These portraits even alternate between Christmas and Halloween versions which is extra fun.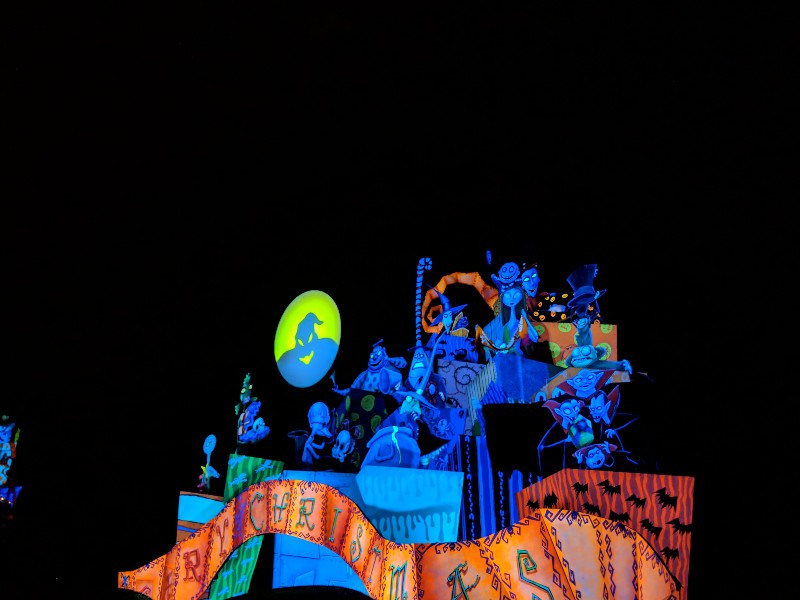 Finally it is time to board your "sleigh" and begin your ride through the attraction. There are so many amazing Nightmare Before Christmas details in Haunted Mansion Holiday that I think it would be nearly impossible to list them all.
Some of our favorite details were Zero floating down the long, dark hall; an immense spooky gingerbread house in the dining room scene; Jack giving Christmas greetings as you enter the cemetery, and Oogie Boogie's roulette game at the end of the ride. I could probably ride Haunted Mansion Holiday a hundred more times and still find something new.
"it's a small world" Holiday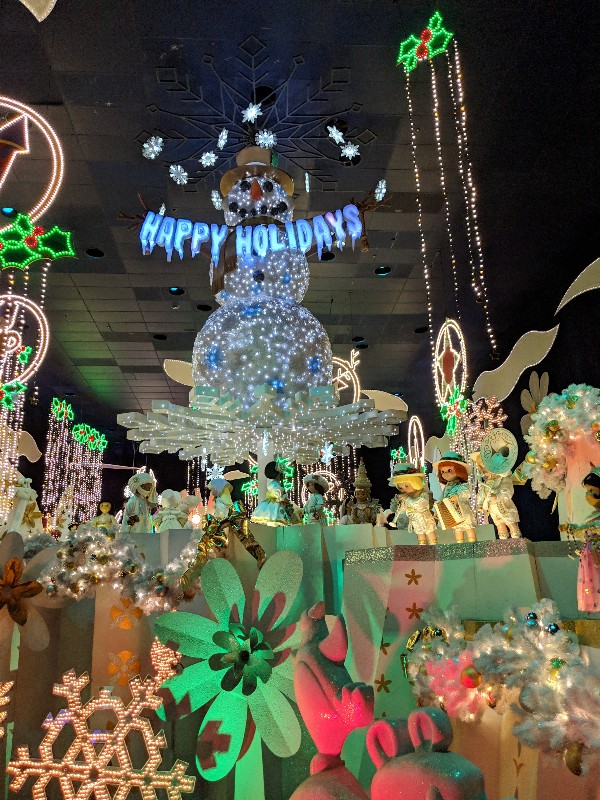 The Haunted Mansion isn't the only attraction that undergoes a huge transformation for the holidays. It's A Small World gets completely new decorations inside and out for Christmastime.
Each country in the attraction gets decorated with culturally appropriate holiday attire and decorations. Twinkling lights and holiday decorations seem to adorn every surface. The classic It's A Small World song even gets a holiday twist with a mix of the normal soundtrack and Christmas music.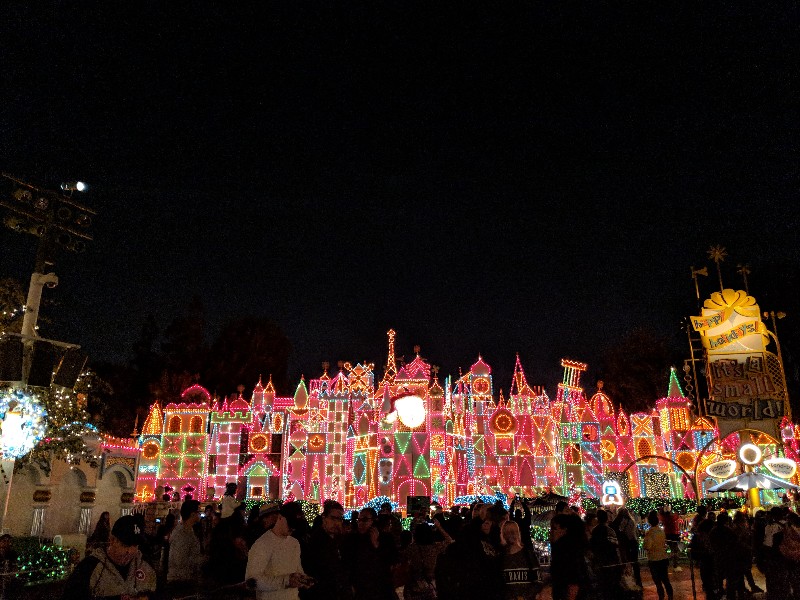 As if the amazing holiday changes inside It's A Small World weren't enough, the entire outside of the attraction is covered in roughly 50,000 Christmas lights. If you ride the attraction during the day make sure you come back and see the facade of It's A Small World all lit up at night. The colorful lights are more stunning in person than any photo I could share.
A Christmas Fantasy Parade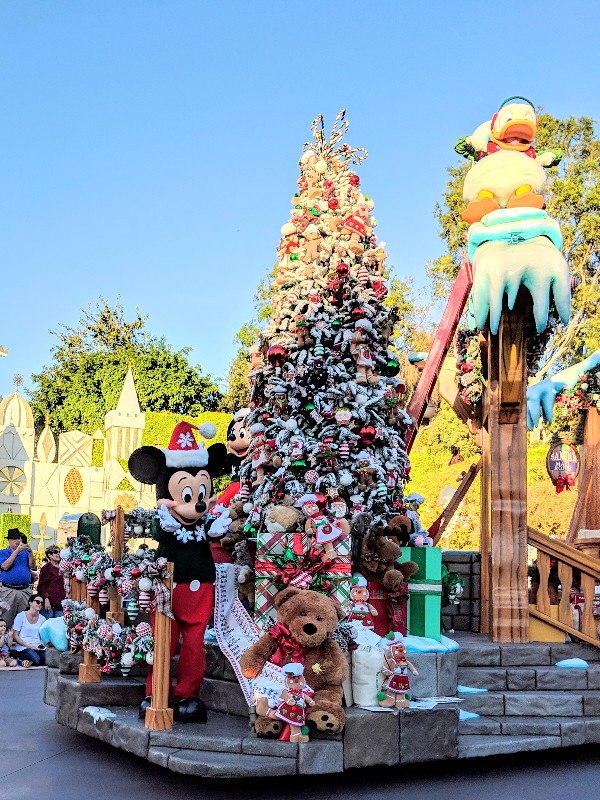 Disney is known for extravagant parades and A Christmas Fantasy keeps the tradition going. The parade has a variety of favorite Disney Characters dressed in festive holiday attire. In between the ornate floats there are huge decorated Christmas trees that navigate the parade route. There are also entertainers that dazzle with incredible skating or dancing ability.
Santa Claus is the finale and he shouts cheerful messages to those who are watching. The parade was so much fun that the time flew by even though the parade is around 30 minutes long.
Disney ¡Viva Navidad! Street Party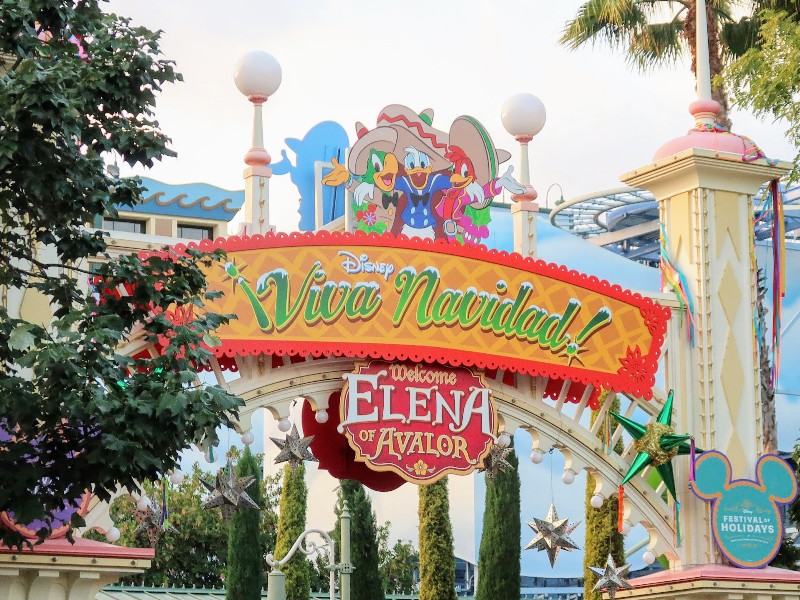 We loved the special Christmas performance of Disney ¡Viva Navidad! Street Party. This Christmas season show celebrates the holidays with mariachi and samba musicians, folklórico dancers, and some of your favorite Disney characters. Don't miss this vibrant street party at Disney California Adventure in Paradise Gardens Park.
Santa's Holiday Visit at Redwood Creek Challenge Trail Returns
Redwood Creek challenge has several fun holiday themed activities to help kids burn of the excitement of the season, but the main draw is Santa Claus. Look for Santa at Ahwahnee Camp Circle where you can wave and take some pictures while you let him know you've been good.
Our Favorite Disneyland Holiday Treats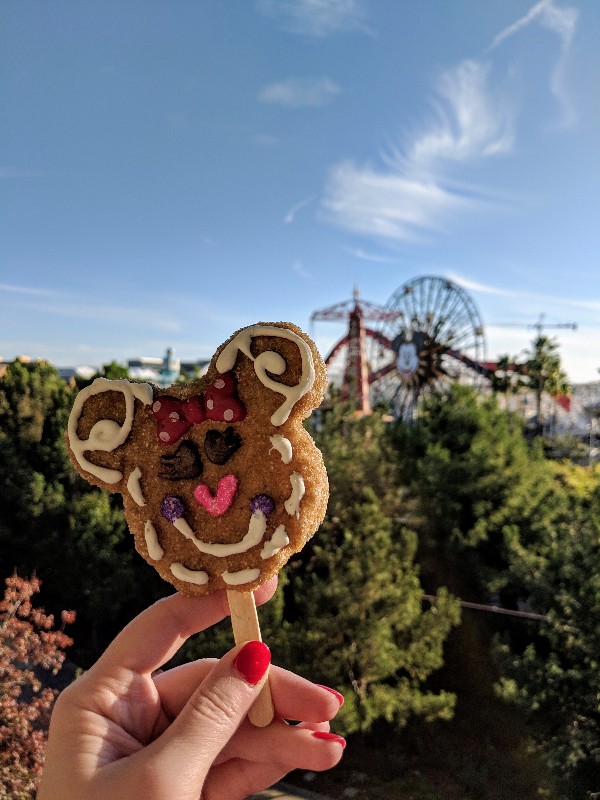 There are so many holiday treat options at Disneyland and Disney California Adventure it can be a bit overwhelming. We tried a few options and enjoyed all of the them. The peppermint fudge at Trolley Treats was our favorite. It was smooth with just the right combination of chocolate and peppermint.
Another seasonal treat I loved was the Minnie Gingerbread Crispy Treat. I usually go for the crispy rice Mickey drenched in chocolate and M&M's, but I thought the sugar coating was a surprisingly delicious twist. I liked it so much I brought one home on the plane.
Although not a traditional treat, I did treat myself to a cranberry sangria from the Favorite Things booth at Disney California Adventure. This cranberry sangria is slightly tart and not overly sweet. I thought the cranberry sangria made a perfect drink to sip while enjoying the Christmas ambiance.
Because it wouldn't be Disneyland without churros there are also a ton of specialty churros for the holiday season. We did not get to try any, but friends of ours really liked the Sugar Plum churro found near Haunted Mansion.
Our Favorite Disneyland Christmas Decorations
Sleeping Beauty Castle and Main Street Christmas Decorations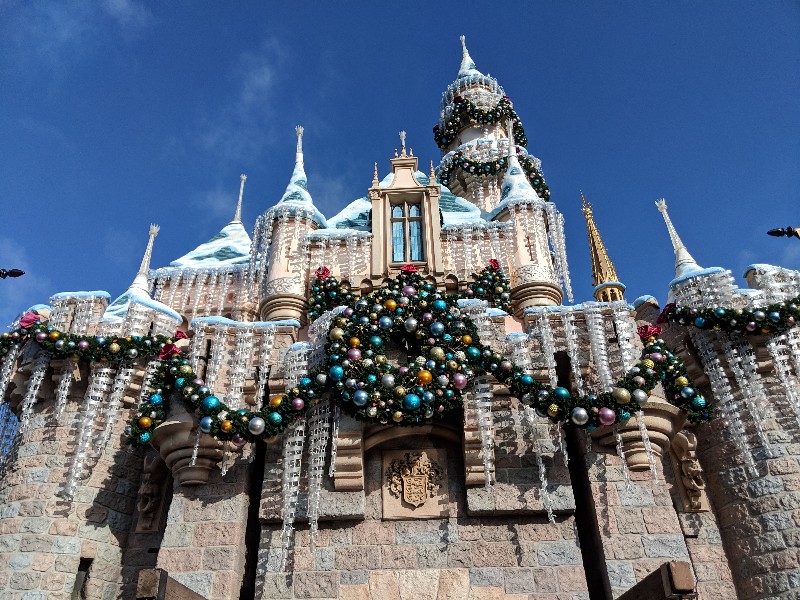 Sleeping Beauty's Winter Castle decor has a decorated wreath, garland, and snow capped towers that are beautiful even during the day. However, the castle is even more stunning at night when lights and illuminated icicles bathe the castle in a peaceful glow.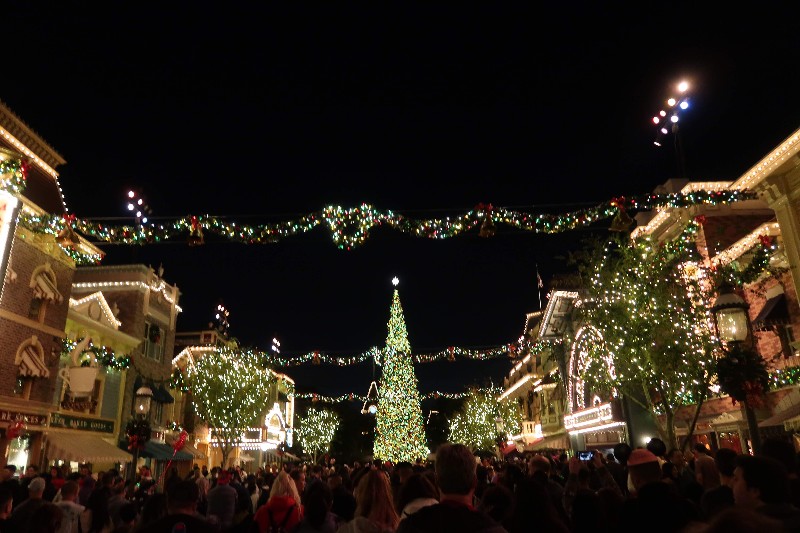 On the other end of Main Street is an extravagantly decorated Christmas tree standing 60 feet (18 meters) tall. All down Main Street garland and lights hang above the street. Each of the shops and all of the trees are also covered in soft white lights. Walking around Main Street at night with the castle on one end and the incredible tree on the other was beautiful.
Christmas In Cars Land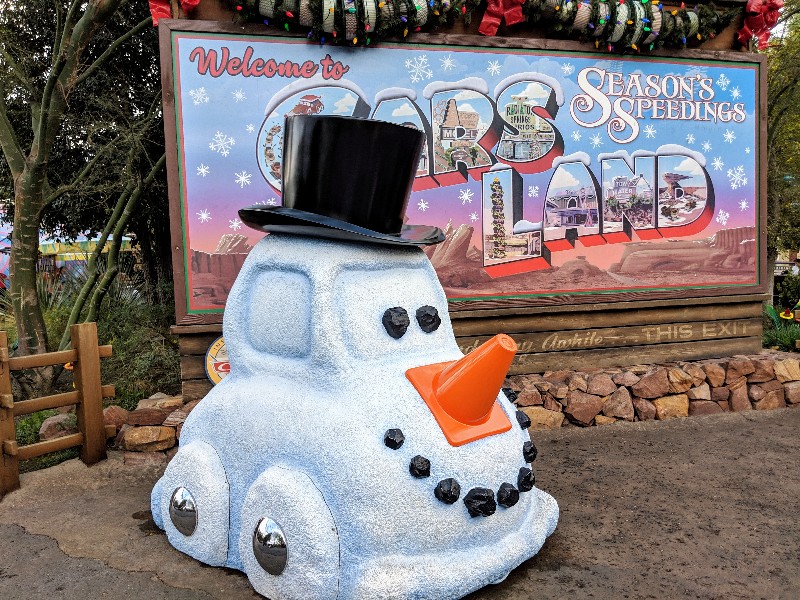 The residents of Radiator Springs go all out for the Christmas season in Cars Land. The transformation begins outside of Cars Land with the addition of Snowy the Snow Car to the iconic Cars Land sign area.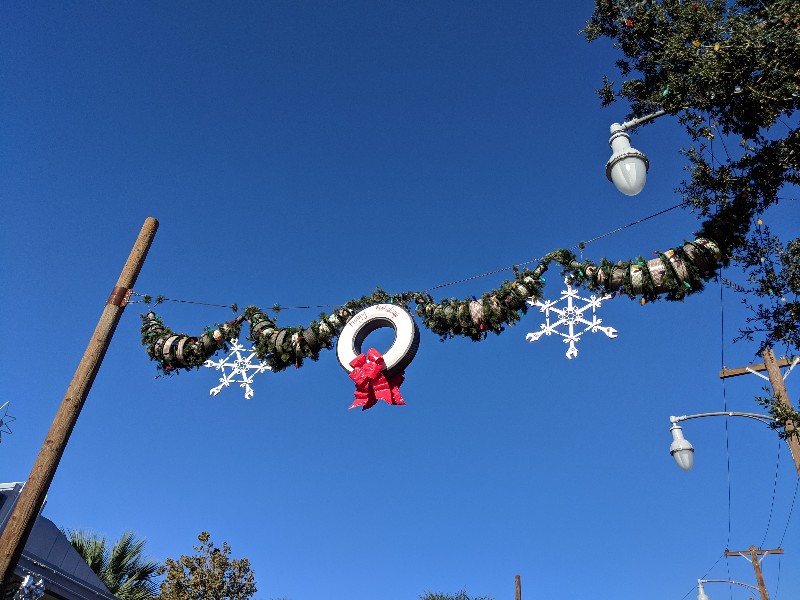 Car themed garland stretches across Route 66, and each shop is decorated in its own style. Pay special attention to the details in the garland. The wreath is a whitewall tire, air filters make up a bulk of the garland, and the snowflakes are made of wrenches!
The two smaller rides in Cars Land also get a bit of seasonal flair. Renamed Mater's Jingle Jamboree and Luigi's Joy To The Whirl the ride experience is the same, but Christmas music and Christmas jokes extend the holiday experience.
Disneyland Christmas Activities You May Want To Skip
"Believe…In Holiday Magic" Fireworks Spectacular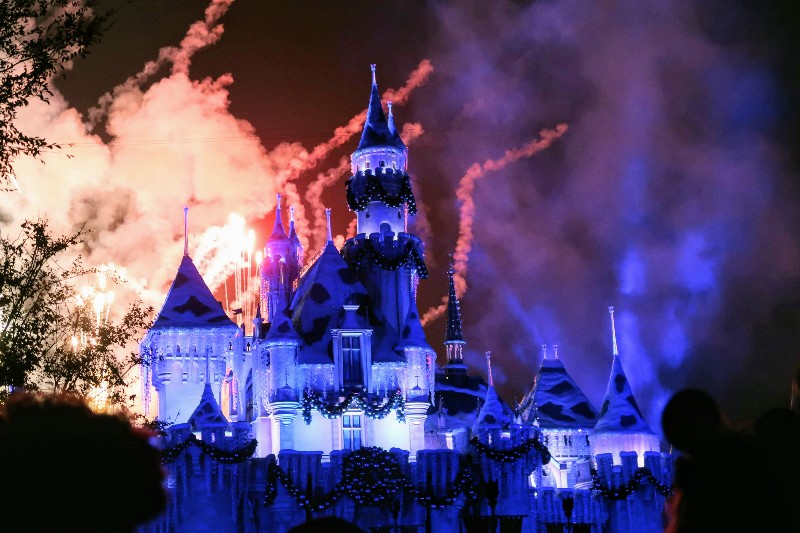 We saw people securing spots two hours ahead of "Believe…In Holiday Magic" Fireworks Spectacular so I expected an extravagant show. The castle and Main Street projections are nice and the fireworks are pretty, but I would grab a spot last minute next time. We wasted too much of our park time setting up for a premium castle view spot.
Pro tip: Make sure you have a good view of the left side of the castle. Most of the fireworks tend to be on that side.
My favorite part of "Believe…In Holiday Magic" Fireworks Spectacular was at the end when the "snow" starts falling over Main Street and a small area around Sleeping Beauty's castle. The fluffy "snow" makes for great ambiance and as a bonus it smells like gingerbread. I like this Disneyland snow a lot better than the real snow we get at home.
Disneyland Sleeping Beauty Christmas Castle Lighting
Wintertime Enchantment at Sleeping Beauty's Winter Castle generally occurs twice a night during the holiday season. This show brings the castle from darkness to stunning beauty with some music and minor castle projections.
Although not a bad show, I did regret spending a lot of time staking out a spot. Don't miss out on the other spectacular Christmas activities to see it, but certainly stop by if you happen to catch the show.
Final Thoughts On Visiting Disneyland At Christmas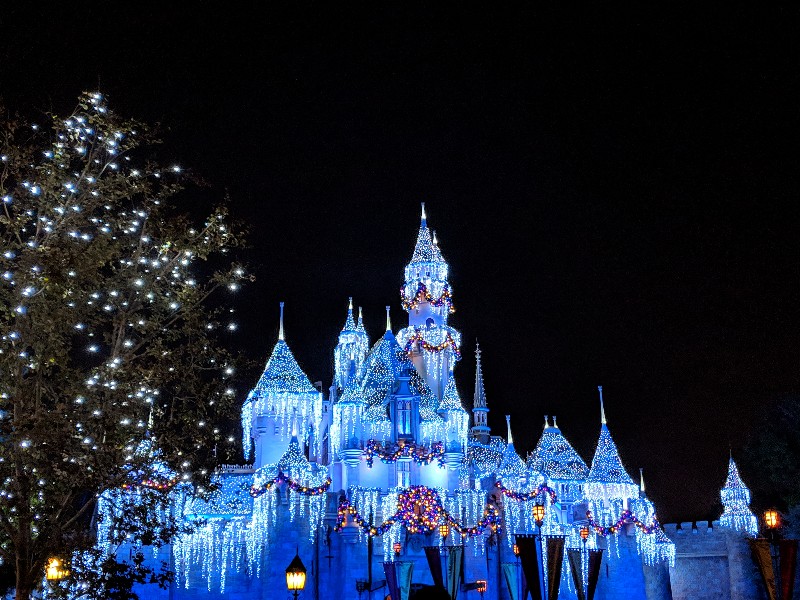 Disneyland has an incredible number of unique offerings for the Christmas season that are included in your admission unlike special After Hours Events at Disney World. To enjoy everything Christmas at Disneyland offers plan your trip for sometime between November 12, 2021 and January 9, 2022.
Overall,the most impressive Disneyland holiday options are the two complete ride overlays. Both Haunted Mansion Holiday and It's A Small World Holiday bring a truly special holiday experience to life.
A Christmas Fantasy Parade, Disneyland Christmas treats, and all the special decorations put us in full Christmas mode. I have always loved Disney World at Christmas, but now I love Disneyland just as much! I definitely recommend adding a visit to Disneyland at Christmas to your vacation bucket list.
Check here for more information on planning a trip to Disneyland.
Pin it for later: