Many of us remember very clearly where we were and the shock of September 11, 2001, but for many kids this date is just a lesson in a history book. When planning our trip to New York City I knew that a visit to the 9/11 Memorial Museum was a must for me. I considered the seriousness and difficulty of visiting the 9/11 Memorial Museum with kids, but after going to the museum I realized I should have done more to prepare.
Important Considerations Before Visiting The 9/11 Memorial Museum With Kids

Decide If The 9/11 Memorial Museum Is Too Upsetting For Your Child
Children, just like adults, handle difficult situations differently. Children that tend to worry or generally express concerns of safety may struggle with the images and stories long after your visit is over. If you have concerns about how they will respond I recommend skipping the 9/11 Memorial Museum. On a return trip they will be older and more mature to handle the intense experience.
Be Realistic With How You Are Likely To React
I knew that I would struggle with my emotions at the 9/11 Memorial Museum. Although our family was not directly impacted by September 11th, whenever discussing the events I get extremely emotional.
The 9/11 Memorial Museum is immersive. The exhibits use videos, images, and audio recordings to tell the story of that day. This multimedia format is a lot more upsetting than reading plaques or bits of information on a display case.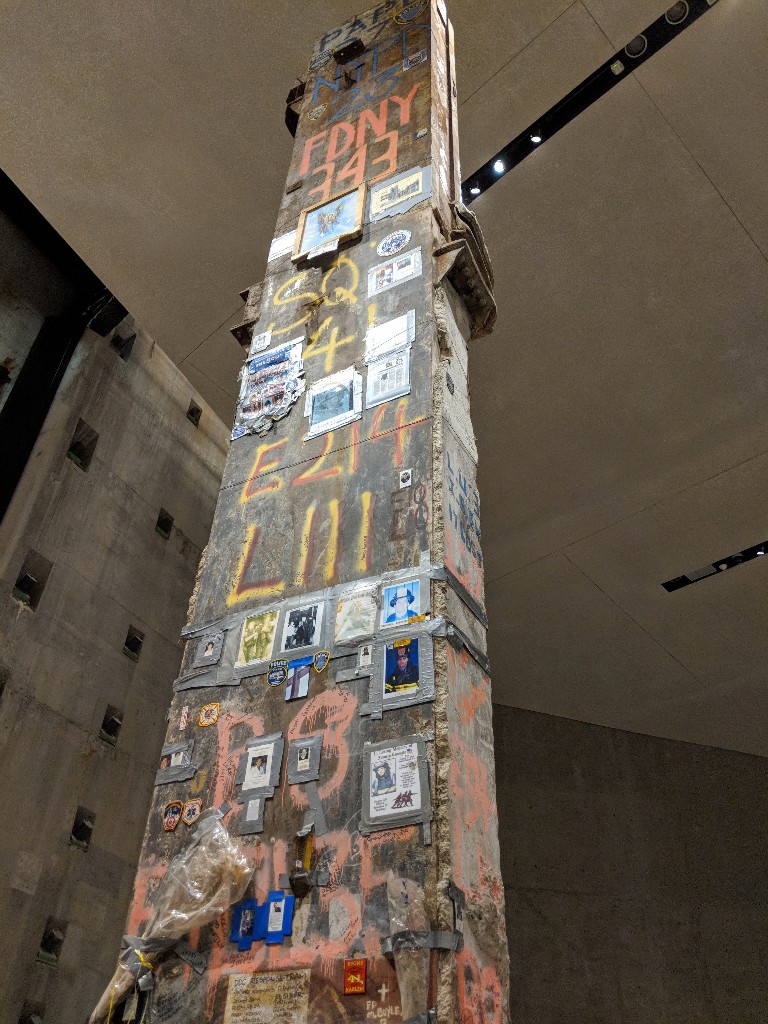 Heed The Warning Signs Before Certain Exhibits
The most intense exhibit at the museum is the "September 11, 2001 Historical Exhibition". There are signs warning that this particular exhibit may not be appropriate for those age 10 years or younger.
We had already spent a long time exploring the museum and discussing difficult topics. I didn't think this particular exhibit could be that much more upsetting, but I was wrong.
The "September 11, 2001 Historical Exhibition" is broken into three sections: Events of the Day, Before 9/11, and After 9/11. The entire exhibit takes about 45 minutes to complete.
The exhibit begins at Events of the Day.  This area provides a timeline of the morning of September 11th. Events of the Day has videos of the confusion after the first plane crashed into World Trade Center, which then turned to fear as the other tower was hit. There were audio clips of people working at World Trade Center and those on the hijacked planes calling home and leaving messages for loved ones.
After the first few displays of Events of the Day, I found I was overwhelmed with emotion. We decided to leave that area because it was so intense. We spent some time walking through the Before 9/11 and After 9/11 exhibits. These areas were less emotionally draining, but still elicited several questions from Elizabeth.
Be Prepared To Discuss Terrorism
The September 11th attacks are the largest loss of life from a foreign attack on US soil. Nearly 3000 people were killed during the September 11th attacks. It is hard for a child (or adult) to understand how people could do something so heinous.
As frequent fliers, Elizabeth had a lot of questions about our own safety as we travel. We took this opportunity to discuss the Transportation Security Administration, reinforced cockpit doors, and air marshals.
Even on September 11th, those on United Flight 93 learned of the suicide attacks and chose to fight back. This likely prevented further widespread casualties. Everything changed on that day and for better or worse we are all changed, too.
The Positives Of Visiting The 9/11 Memorial Museum With Kids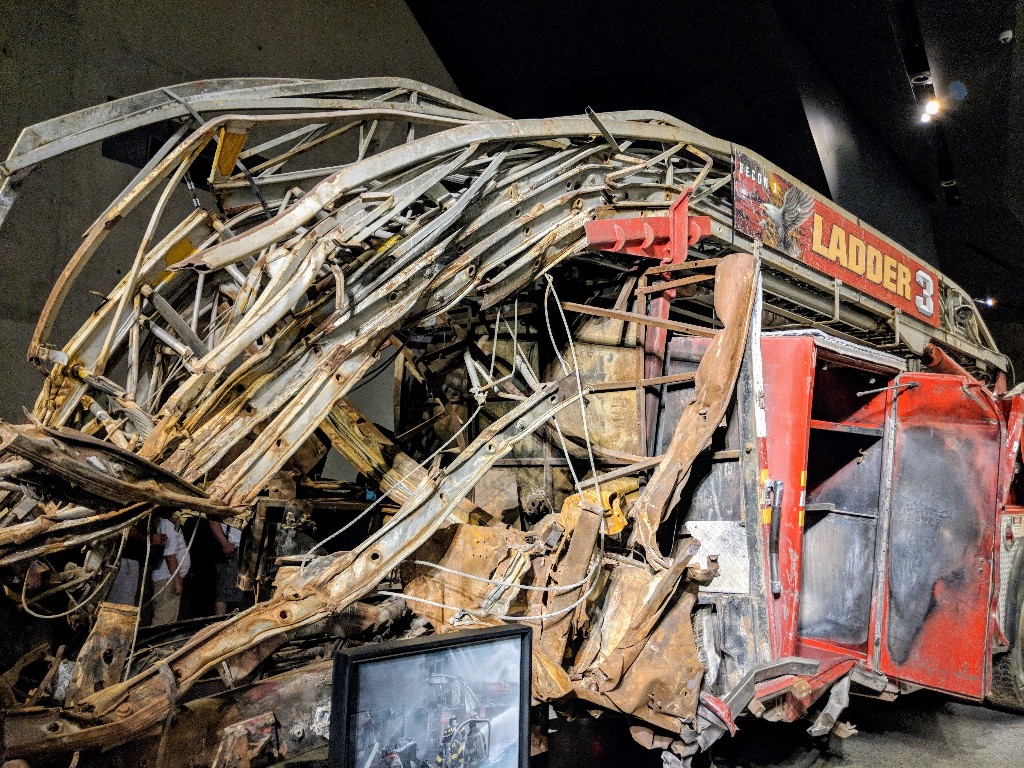 Celebrate The Heroes
Throughout the 9/11 Memorial Museum there are stories of first responders bravely running into the buildings as others were rushing out. We heard stories of Ladder Company 3 "riding heavy" to help victims of 9/11. "Riding heavy" meant that more than the usual number of firefighters were on the truck.
These extra responders were on-site because the attacks occurred during shift change. The remains of their firetruck are a tangible reminder of how powerful the collapse of the towers was. But it wasn't just the brave firemen and police that helped save lives on 9/11, there were civilians that helped those in need.
The story that impacted Elizabeth the most was that of Welles Crowther, also known as The Man in the Red Bandana. Welles Crowther worked as an equities trader in World Trade Center. Welles left his office and encountered a group of survivors, some of which were badly injured. He carried one injured woman on his back and led several others 17 floors down a stairwell. 
After helping that group of survivors he went back up to assist others. He is credited with saving as many as 18 people, and his body was found near several firefighters and emergency workers. This story of a regular person being a true hero inspired Elizabeth and showed her that anyone can be a light in darkness.
A Deeper Understanding Of September 11th
Visiting the 9/11 Memorial Museum made Elizabeth better understand the September 11th attacks. She was able to see how we have changed as a nation since that day. Walking through the exhibits, seeing the faces of those lost, hearing the chaos of the events that day will have forever made an impression on her. This year on September 11th I know that she will remember those lost and feel the significance of that event.
Final Thoughts On Visiting The 9/11 Memorial Museum With Kids
Visiting the 9/11 Memorial Museum with kids is an extremely personal decision. Although the exhibits were even more intense than I had expected, I am glad that we took our 9-year-old daughter. September 11th is much more than a date or history lesson. Despite the horror and sadness of that day the stories of bravery have inspired Elizabeth. If you have a younger child, or a child who is extremely sensitive, visiting the 9/11 Memorial Museum with kids may need to wait.
Here is a link to a 9/11 Memorial Museum guide with talking points for kids visiting the 9/11 Memorial to help you prepare, or decide, if you should visit the 9/11 Memorial Museum with kids.
Pin it for later: