Spending time at Universal theme parks is always fun, but the Christmas season is even more exciting with several unique seasonal experiences. Don't miss Universal's Christmas parade, the Wizarding World of Harry Potter decked out in holiday decor, and the Grinchmas live show during the holidays. The best part is Universal Orlando Christmas activities are included with your park admission.
When Are Holidays at Universal Orlando 2022?
Universal Orlando Christmas activities start November 12, 2022 and continue until January 1, 2023. Celebrate Christmas at Universal Orlando with Universal's Holiday Parade featuring Macy's, Grinchmas, extra holiday fun in the Wizarding World of Harry Potter and so much more November 12, 2022 and January 1, 2023.
Universal Orlando Christmas at Universal Studios Florida
Christmas in the Wizarding World of Harry Potter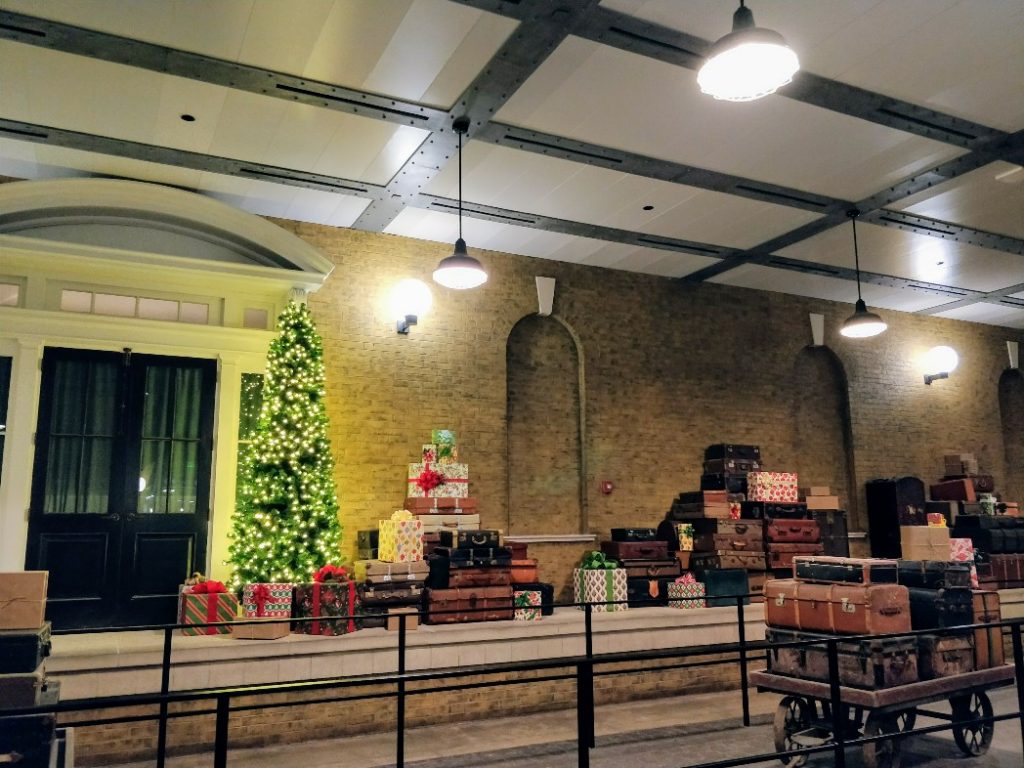 Enjoy festive decor and holiday cheer throughout Diagon Alley, King's Cross Station, and Grimmauld Place plus Christmas inspired live performances in Diagon Alley.
One of my favorite Universal Orlando Christmas traditions is sipping hot Butterbeer while listening to the Christmas classics of Celestina Warbeck and the Banshees. Fingers crossed you hear "Accio Christmas", a traditional wizard Christmas song.
Universal's Holiday Parade featuring Macy's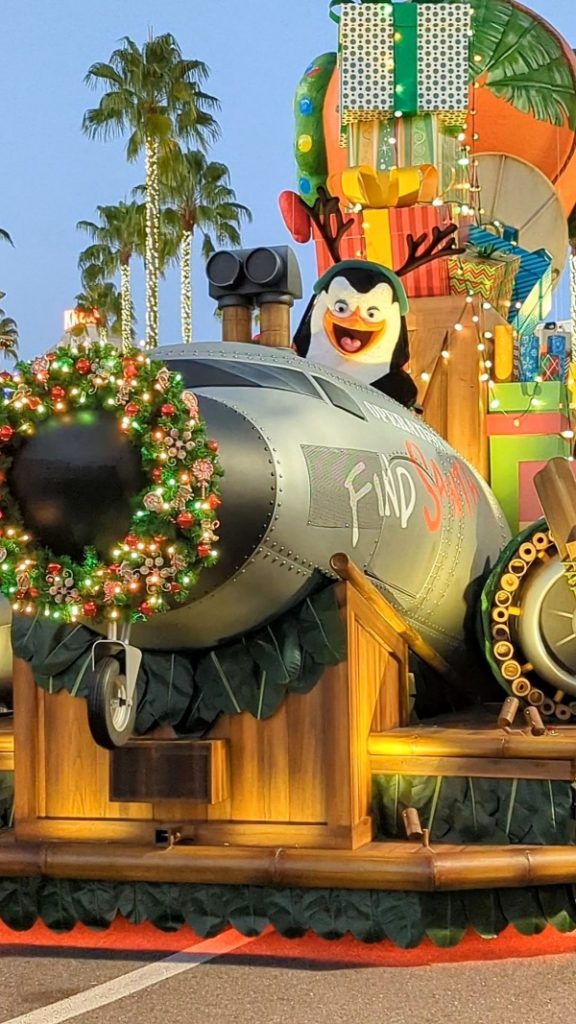 The Universal Orlando Christmas parade is reminiscent of a miniature Macy's Thanksgiving Day parade, but focused on the holidays and Universal movie characters. The parade has beautifully decorated floats, dancers, and stilt walkers all coordinated perfectly with the different themes.
Universal's Holiday Parade featuring Macy's lasts about 20 minutes and is a must-do during Holidays at Universal. The parade starts with a Macy's float and then transitions into 3 main Universal character themes: Despicable Me, Madagascar, and Shrek. The parade ends with holiday wishes from Santa himself as he waves to the crowd below.
Find a parade viewing spot 15 to 30 minutes before the parade starts most days or a little earlier on really crowded park days. Watching the parade in front of Universal Orlando's Horror Make-Up Show or in front of TODAY Cafe provides the easiest exit after the parade.
Mannheim Steamroller Live in Concert
Only available on select Holidays at Universal nights, Mannheim Steamroller is not to be missed. These incredible performers best known for their iconic versions of Christmas carols are one of the most amazing Christmas activities ever.
During the 2022 Universal Christmas season watch Mannheim Steamroller perform on a large stage in front of Hollywood Rip Ride Rockit on December 3, 4, 10, and 11. This incredible concert is included in the price of your theme park ticket so make sure to enjoy this amazing experience.
Universal Orlando Christmas at Universal's Islands of Adventure
The Magic of Christmas at Hogwarts Castle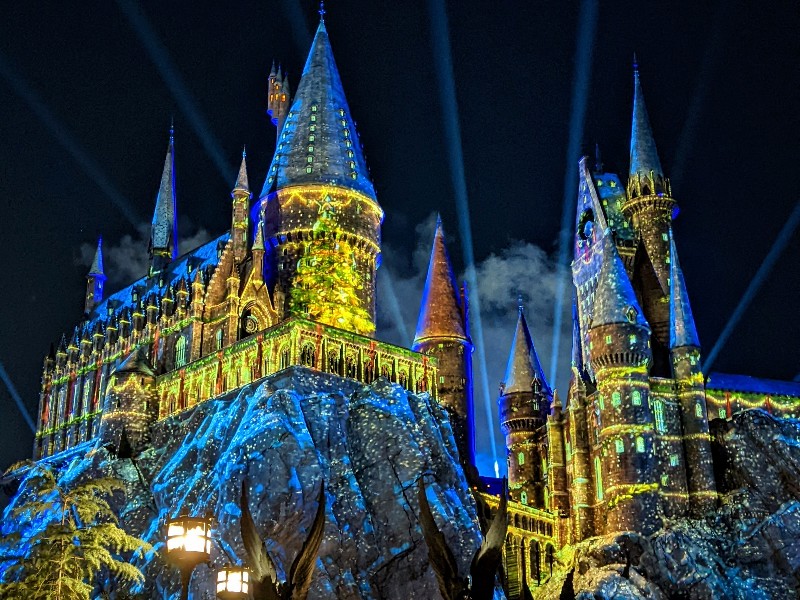 This gorgeous castle projection show began in 2017 at Universal Orlando and has become a fan favorite over the years. Beginning at dusk, The Magic of Christmas at Hogwarts Castle runs approximately every 20 minutes until the park closes.
The Magic of Christmas at Hogwarts projects various Harry Potter and Christmas images on Hogwarts castle. There are minimal fireworks in the finale, but these are an accent instead of a main focus of the show.
We always spot lots of fun details from the Harry Potter stories in the show and really enjoy the event. The images on Hogwarts Castle are surprisingly clear, and even my mobile phone pictures turn out well.
Tips for watching The Magic of Christmas at Hogwarts Castle Show
The Magic of Christmas at Hogwarts Castle show lasts about 5 minutes and can have large crowds.
Entering Hogsmeade is restricted to the main entrance under the Hogsmeade sign once it gets close to the first showtime. Find this main Hogsmeade entrance across from the Hogwarts Express station.
The viewing area for The Magic of Christmas at Hogwarts Castle is large. It runs from the stage used for the Frog Choir up to near Harry Potter and the Forbidden Journey exit. Despite being a large area it does fill up quickly.
If the viewing area is closed for capacity, wait in the streets of Hogsmeade until the previous crowd leaves. Guests are held in the center of the Hogmeade streets, not in the walkways near Three Broomsticks which is open for ride and shop access.
After The Magic of Christmas at Hogwarts Castle ends, staff directs you on how to exit Hogsmeade. Want to go back into the Wizarding World of Harry Potter? Simply exit and then return to the main entrance of Hogsmeade for readmission.
Suess Landing Christmas
Grinchmas Who-liday Spectacular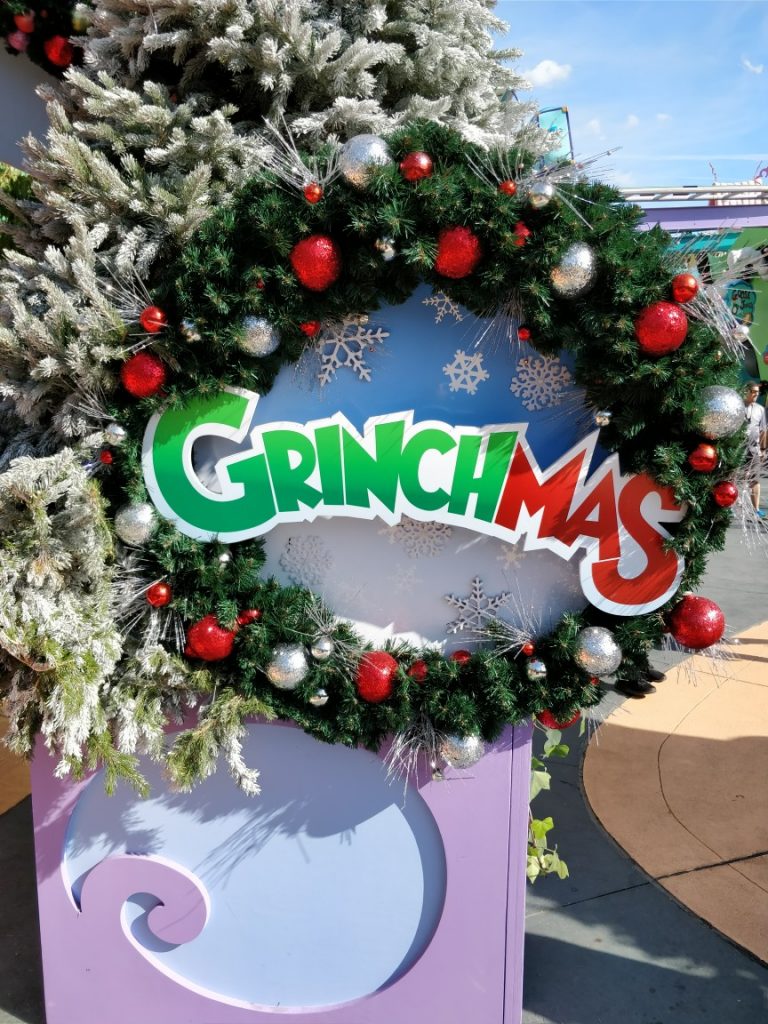 The Grinchmas Who-liday Spectacular is a 30-minute Broadway style live show performed several times daily. The Grinchmas show incorporates the classic Seuss story, songs, and several nods to the live action Grinch movie. The performers do a great job and the show is super entertaining.
Meet The Grinch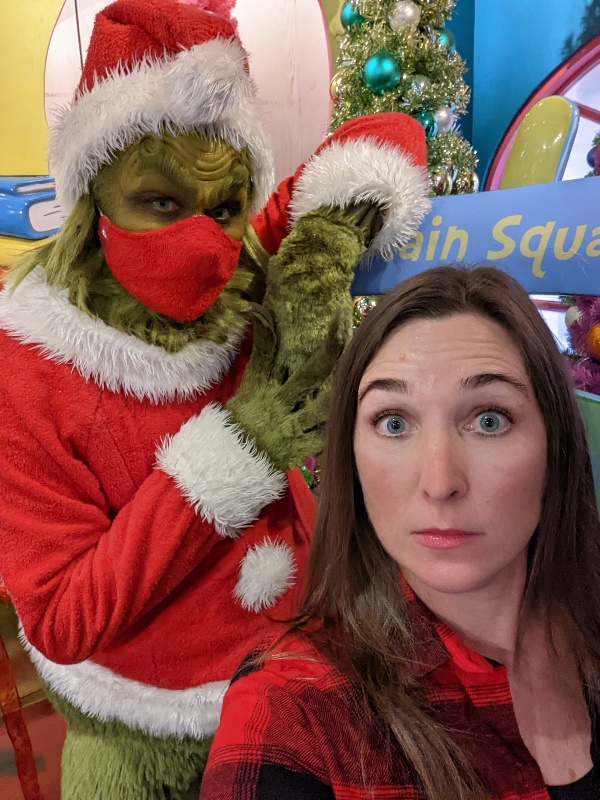 Meeting the Grinch is hilarious and occurs at Honk Honkers near Circus McGurkus. The Grinch's popularity has soared after some viral videos, and The Grinch Meet and Greet now uses a virtual queue. Join the virtual queue through the Universal Orlando mobile app.
You never know what to expect when meeting the Grinch. He is completely silly and unpredictable each time we've met him. This time he kept telling those of us waiting to stop rushing him while hanging an ornament. This was despite the fact no one was actually rushing him.
Another year when Elizabeth approached the Grinch she had a plastic store bag with her Pygmy Puff inside. The Grinch took the puff out, handed it to Elizabeth and then turned the bag inside out over his hand.
The whole time he talked about how then he can steal without leaving fingerprints and then placed several small toys into the bag. Handing the bag back to Elizabeth, the Grinch yelled "She's stealing! Security!". It's always a funny and memorable interaction with the Grinch.
Greetings From Who-ville
Between Grinchmas performances find adorable and friendly Whos all over Seuss Landing. Ready to spread holiday cheer, residents of Who-ville pop out from behind trees asking your favorite Christmas present or sing Christmas carols.
Seuss Landing Decorations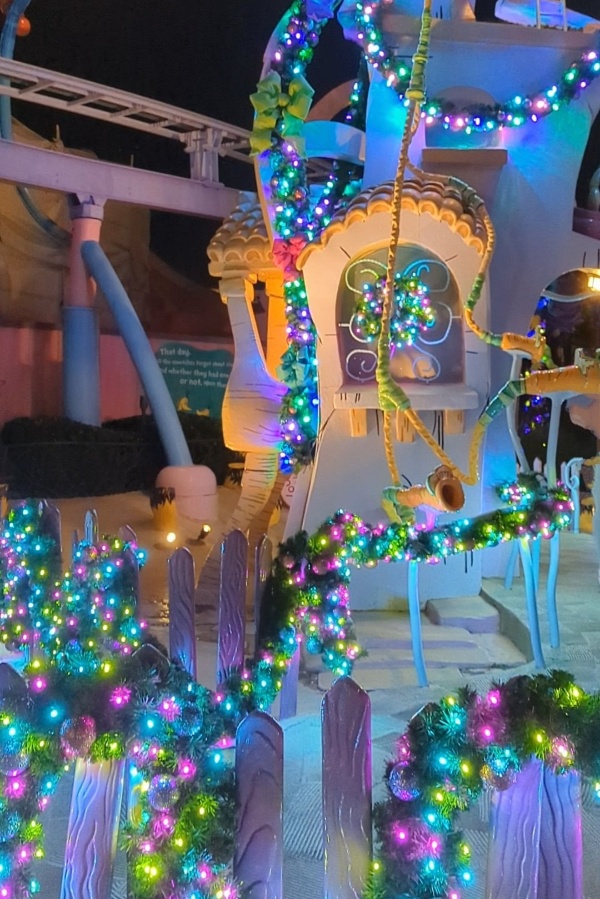 The Seuss Landing decorations seem to adorn every surface with colorful Christmas baubles. Gorgeous during the day the decorations become even more stunning at night. Stop by Seuss Landing at least once during the day and again at night to fully appreciate these amazing decorations.
Final Thoughts On Holidays at Universal Orlando
The Christmas season offerings during Holidays at Universal Orlando are a great way to get into the holiday spirit. Each seasonal event from watching Grinchmas Who-liday Spectacular to the Magic of Christmas at Hogwarts Castle to Universal's Holiday Parade featuring Macy's is extremely entertaining.
Although very different from Christmas at Disney World, Universal is does an amazing job with their holiday offerings. The best part is all these Universal Orlando Christmas activities are included in your park admission. Take advantage of everything Universal has to offer for the holidays without having to pay extra in 2022.
Want to know more about the Wizarding World of Harry Potter Orlando or our favorite Universal resort? I can help with that, too.
Pin it for later: