Pixar Pier is the newest updated section of Disney California Adventure. This Pixar themed area has updated rides and several delicious food options. We were there just four days after opening and again recently to find out everything you need to know about Disneyland Pixar Pier rides, food, and character meeting opportunities.
Pixar Pier Rides
The are five attractions open at Pixar Pier: Incredicoaster, Pixar Pal-A-Round, Toy Story Midway Mania, Jessie's Critter Carousel, and Inside Out Emotional Whirlwind. Families with younger children will appreciate that there is no height requirement for four of the Pixar Pier rides, but taller daredevils have a coaster just for them.
Incredicoaster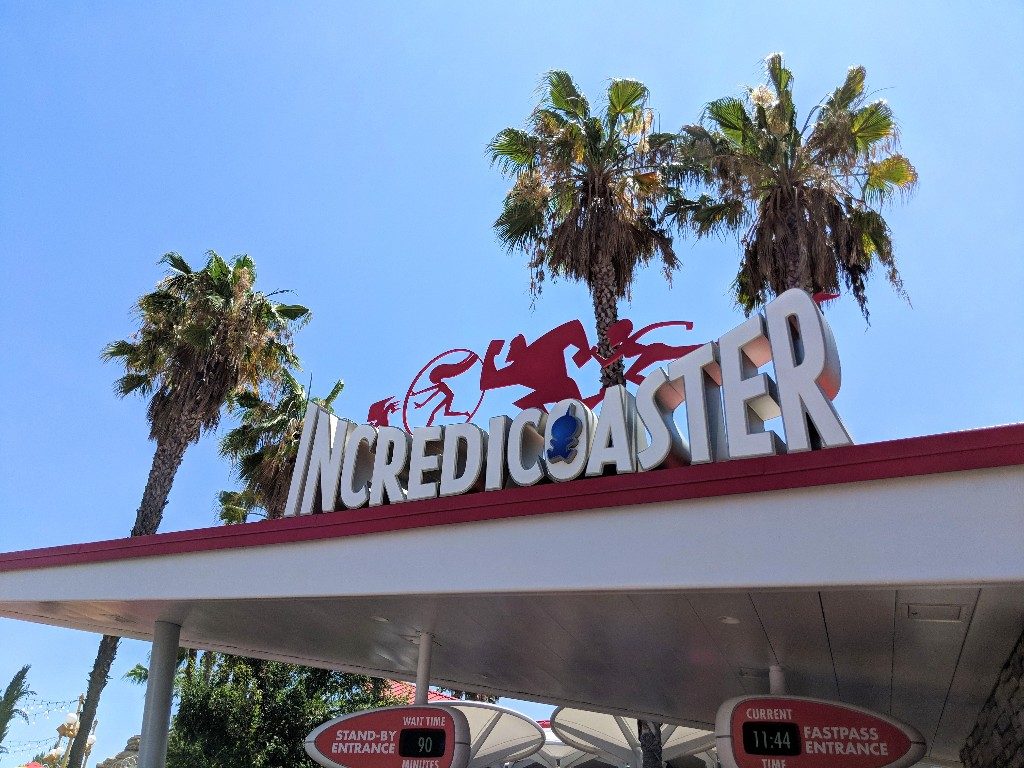 Height requirement: 48 inches (122 cm)
Incredicoaster is the signature attraction at Pixar Pier. This reinvisioned coaster incorporates the story of Edna Mode losing Jack-Jack while babysitting. Jack-Jack demonstrates several of his powers as the rest of the Incredibles family try to catch him during the ride.
The first time I rode Incredicoaster I was not prepared for it to be a "real" roller-coaster. Incredicoaster reaches speeds of 55 miles per hour (88 km/h), has three steep drops, three bunny hills, and even a full loop. After my initial surprise I absolutely fell in love with Incredicoaster.
Pixar Pal-A-Round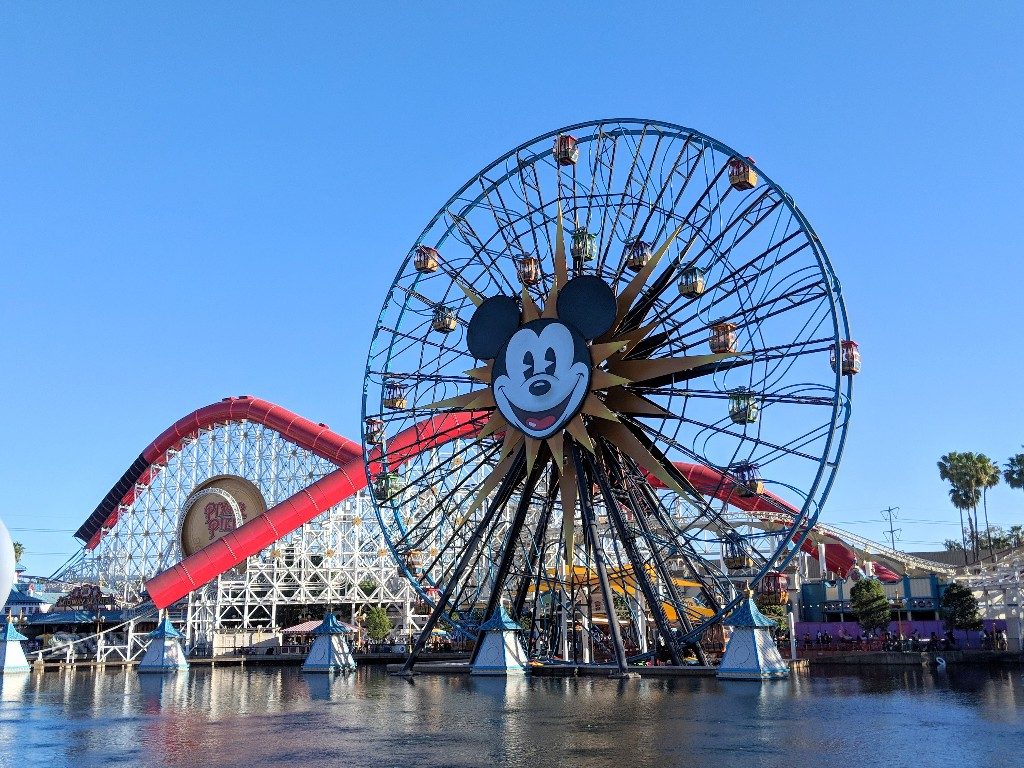 Height requirement: Any Height
This huge Ferris wheel has two different compartment options: swinging and non-swinging. I let Elizabeth choose, and not surprisingly she opted for the swinging car.
I was pretty nervous as we watched the swaying car compartments make their way around the large loop. However, the swinging sensation was not as bad when we were on the ride as it seemed from the ground. For those who are less adventurous there are non-swinging cars which go around the Ferris wheel in a more traditional fashion. I would not recommend Pixar Pal-A-Round to anyone with a fear of heights, as cars get as high as 150 feet (45 m) above the ground.
Toy Story Midway Mania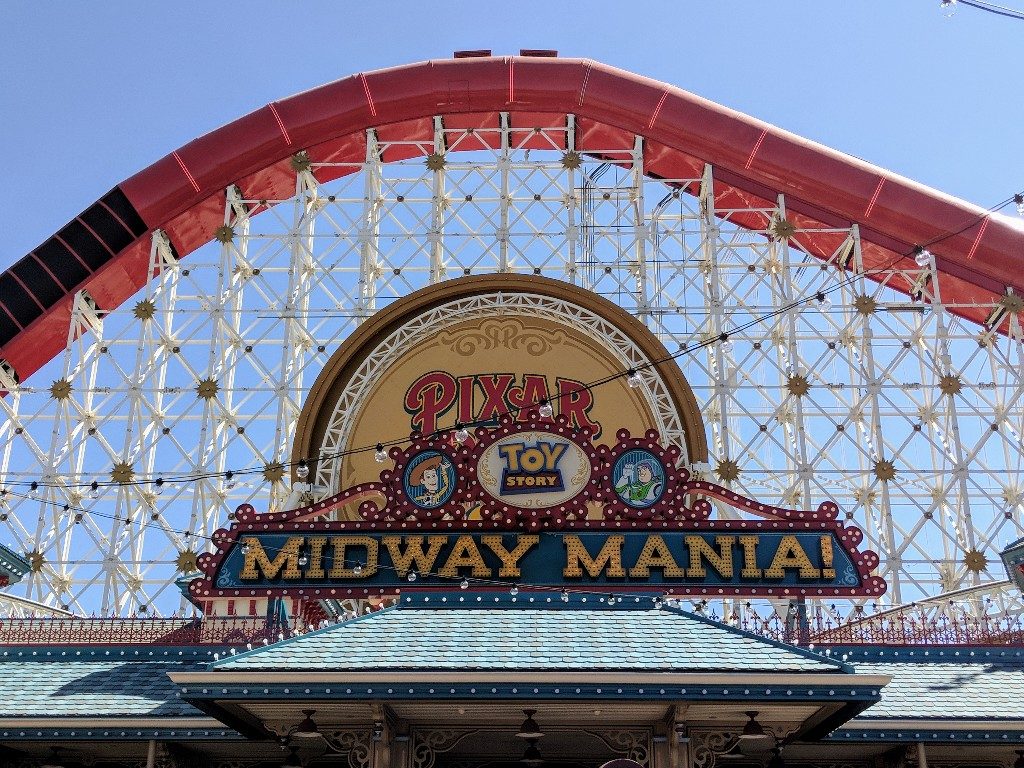 Height requirement: Any Height
This interactive attraction allows you to square off against friends or family in several 3-D sharpshooter games. The ride vehicle twists and turns leading into several shooting galleries with different Toy Story characters and targets.
Jessie's Critter Carousel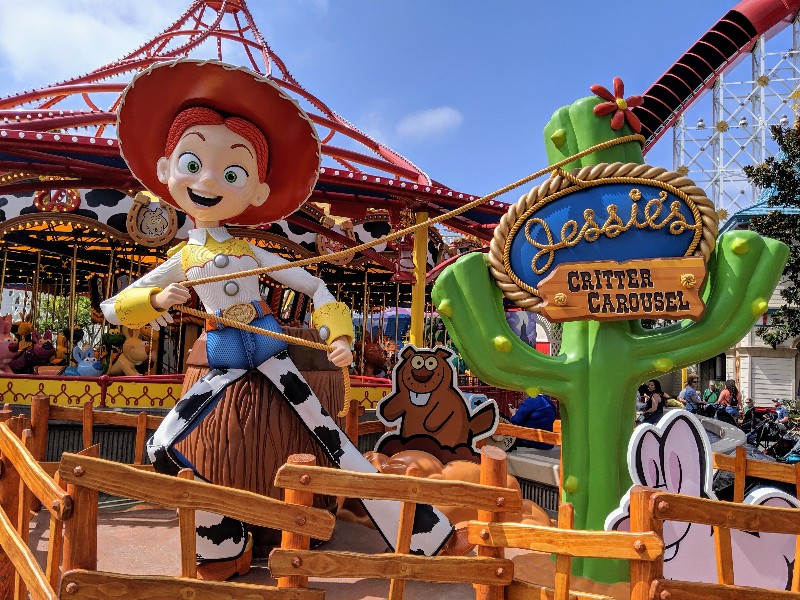 Height requirement: Any Height
Jessie's Critter Carousel is a fun take on a classic ride. Choose one of Jessie's adorable critter friends and take a spin on this Woody's Round-Up themed carousel attraction.
Inside Out Emotional Whirlwind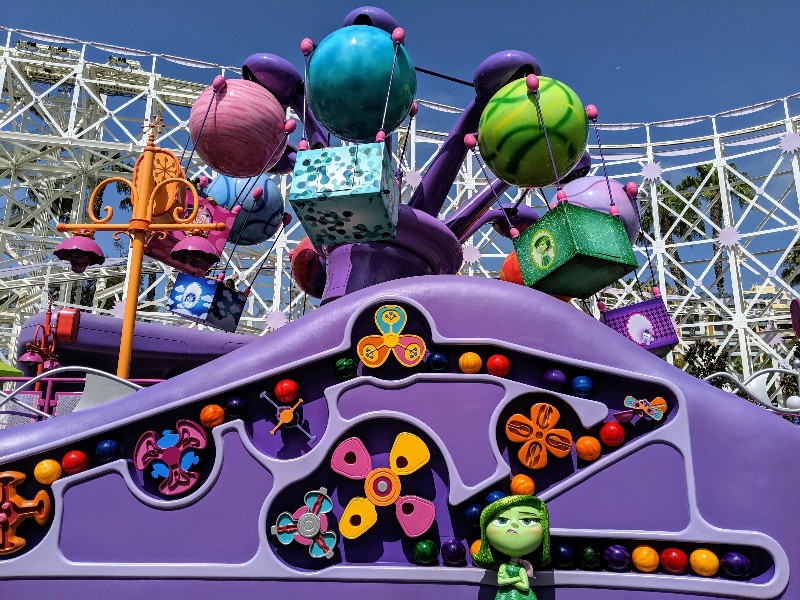 Height requirement: Any Height
Inside Out Emotional Whirlwind is an elevated spinning ride where you float in a box seemingly supported by a memory orb. I'm not a huge fan of spinning rides so I was glad Emotional Whirlwind was well themed and relatively short. There are some fun photo spots around the ride so make sure to snap a picture when you visit this attraction.
Pixar Pier Food
Adorable Snowman Frosted Treats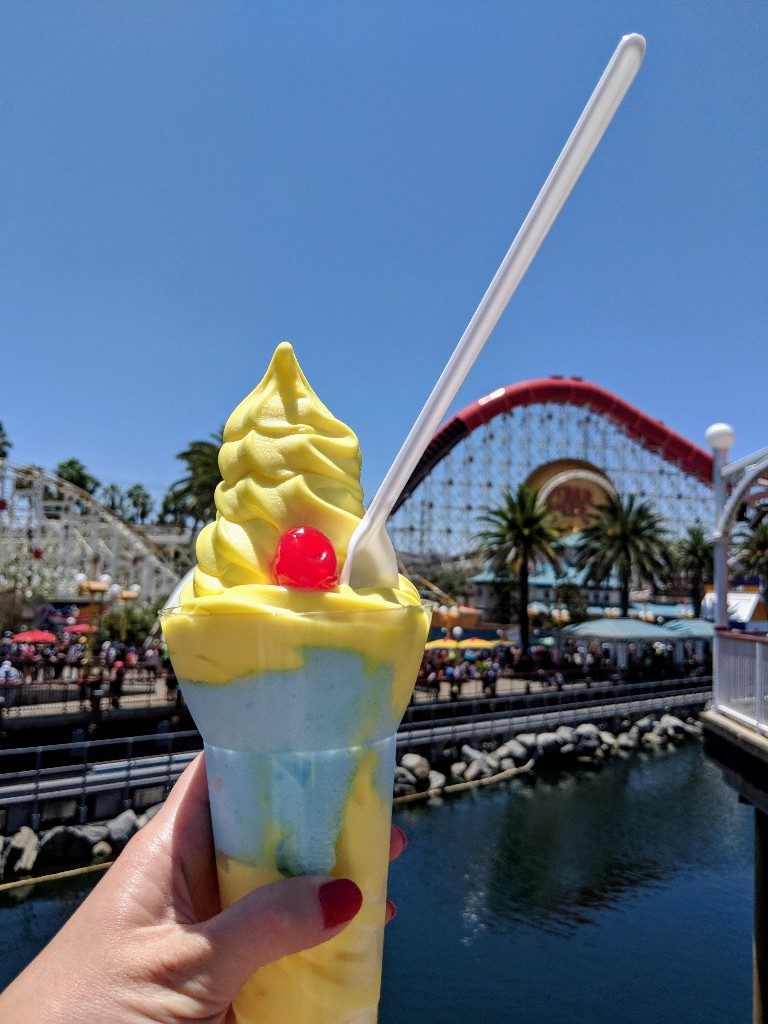 I was skeptical that the long line at Adorable Snowman Frosted Treats was going to be worthwhile, but I braved the line for you folks. I am so glad I did! The "It's Lemon" soft serve and Pixar Pier Frosty Parfait were amazing.
"It's Lemon" is a non-dairy lemon soft-serve ice cream served in a cup or cone. The lemon flavor is good, but not overpowering. As an added bonus, the consistency of the "It's Lemon" was firm and didn't start to melt the minute it was out in the sun.
The Pixar Pier Frosty Parfait layered the "It's Lemon" soft serve with a layer of blue raspberry flavored swirl. The raspberry swirl tasted like a blue raspberry slushie but felt more like soft serve. The parfait was so good I would eat it every day if I could.
Angry Dogs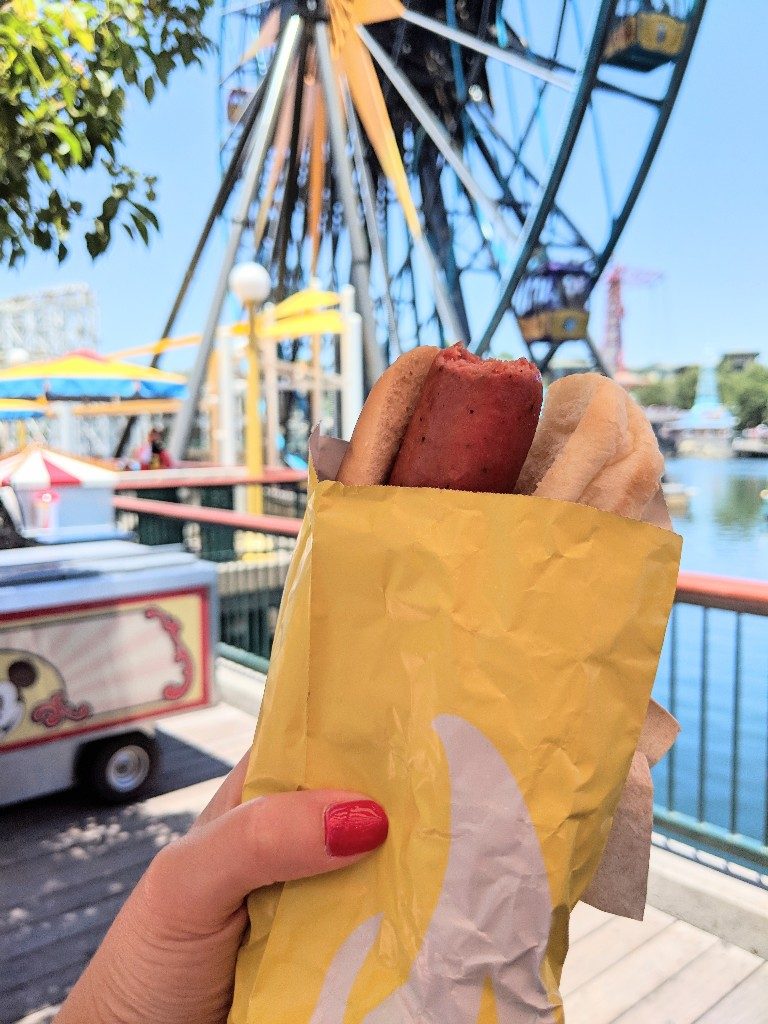 This stand on Pixar Pier offers both the Angry Dog and the Slightly Annoyed Dog. The Angry Dog is a spicy hot dog and you can kick up the heat by adding sriracha ketchup or buffalo sauce. The hot dog itself is pretty spicy, but I enjoyed adding some extra heat. My mom opted to cool off the spice with some relish and mustard, but still enjoyed the Angry Dog.
If spicy isn't your thing there is also a Slightly Annoyed Dog. Despite the name it is just a regular hot dog without any spiciness served with regular potato chips. Elizabeth thought it was a really good standard hot dog.
Bing Bong's Sweet Stuff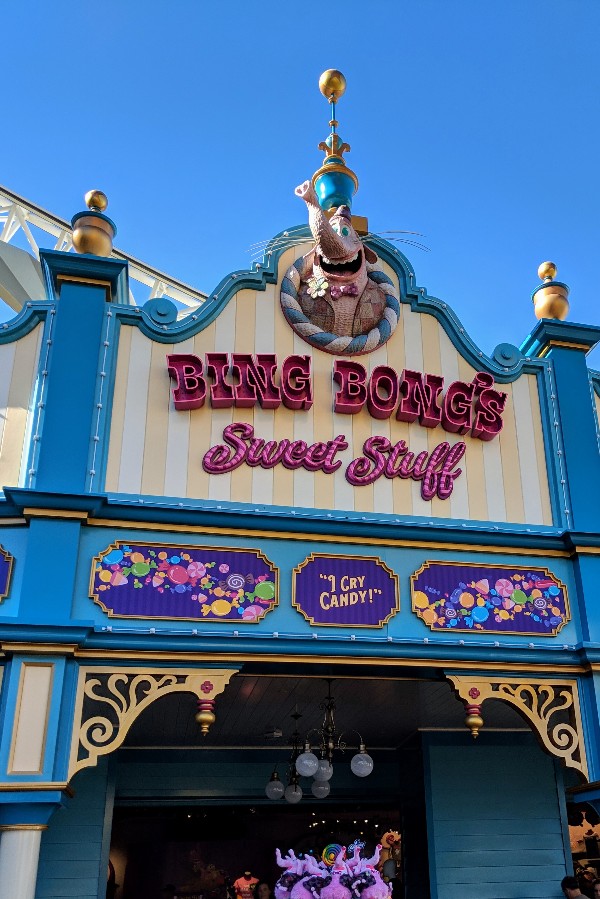 Bing Bong's Sweet Stuff features all things sweet inspired by Riley's imaginary friend, Bing Bong. There are specialty drinks and treats with a nod to Pixar characters. Bing Bong's Sweet Stuff also sells various Pixar movie gear like t-shirts and stuffed animals.
We decided to try two of the Inside Out inspired cake pops. Disgust which was a watermelon cake pop and Sadness, a blackberry cake pop. Disgust was the better cake pop in our opinion, but it definitely stains your teeth a pretty serious green.
Jack-Jack Cookie Num Nums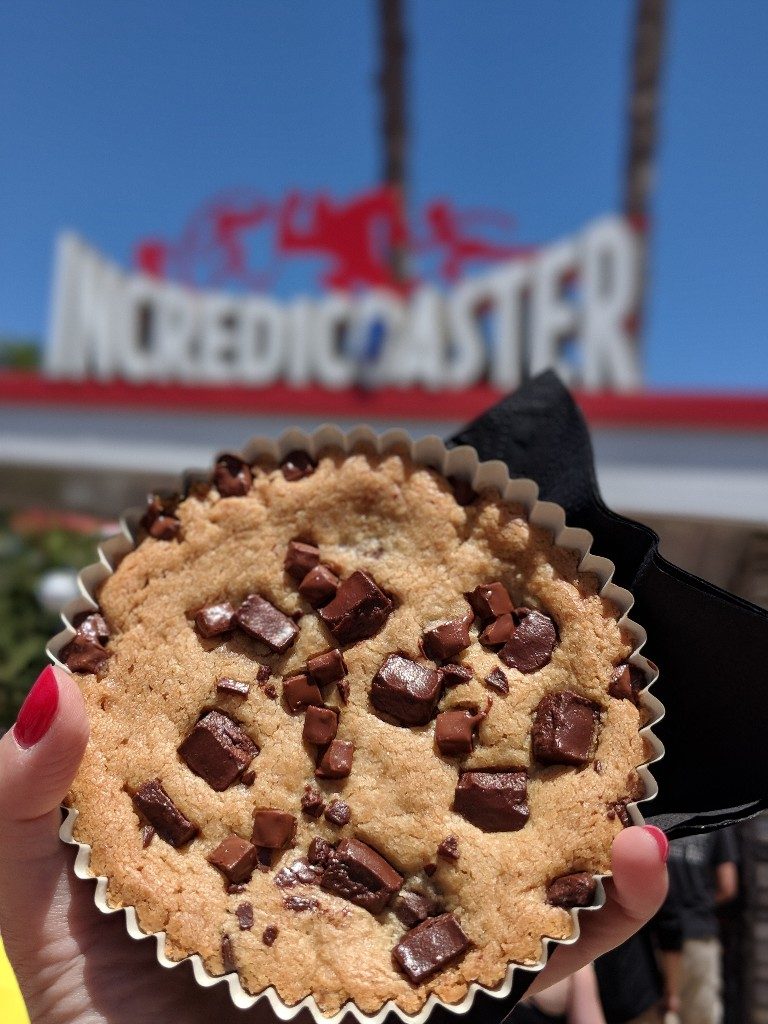 A Jack-Jack Cookie Num Num is now a Disneyland treat staple for our family. The Cookie Num Num tastes like a quality homemade chocolate chip cookie straight from the oven. It's pretty big so consider sharing with a friend.
Lamplight Lounge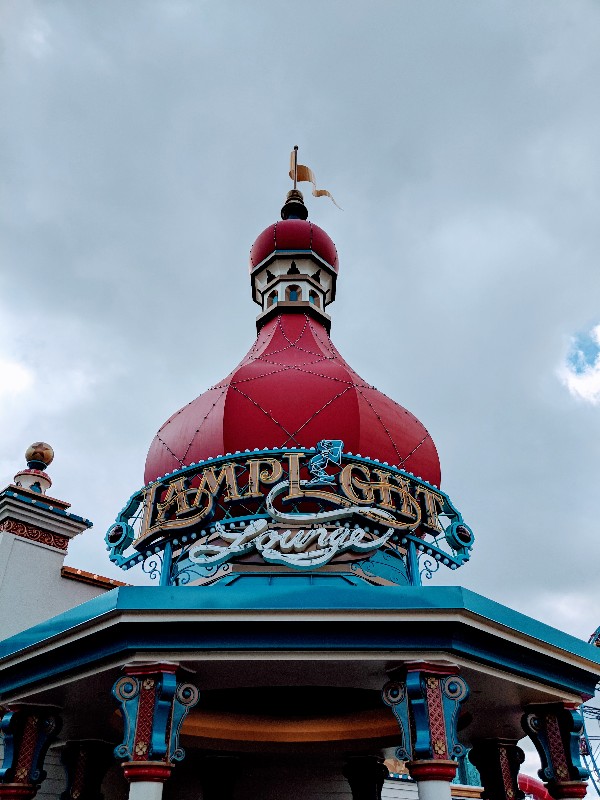 The signature spot on Pixar Pier is Lamplight Lounge. Serving cocktails, small bites, and bigger bites (in the downstairs dining area only) Lamplight Lounge has cool Pixar themed decor throughout the restaurant.
Reservations for the downstairs dining area should be made in advance through the Disneyland website or app. Although not as busy as when Pixar Pier first opened, there can still be a considerable wait without reservations.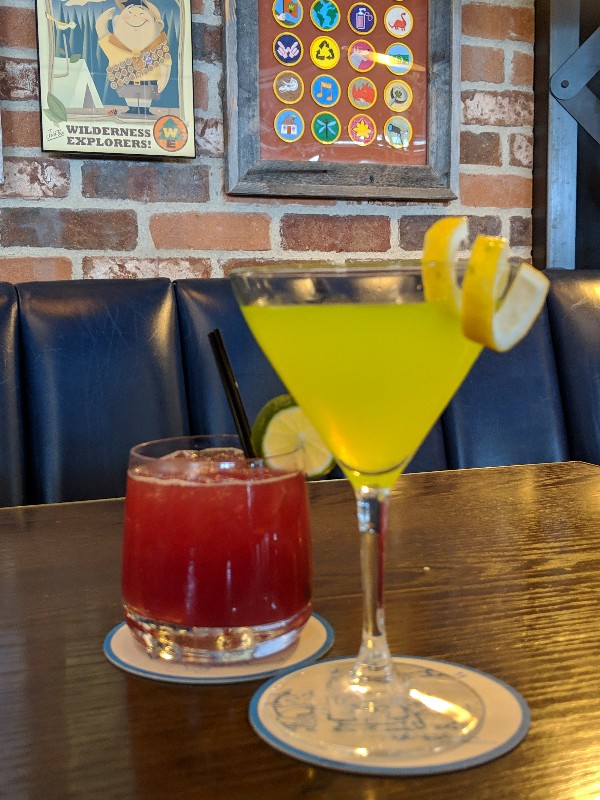 When checking in you will be asked if you would like indoor or outdoor seating. If you want to be immersed in the Pixar-themed decor I recommend choosing indoor seating. Outdoor is lovely, but the view is of the iconic wheel and Pixar Pier. This view is beautiful, but hardly unique as it can be seen from several spots around the park.
Popcorn at Pixar Pier
Not surprisingly this stand serves popcorn in themed souvenir buckets.
Poultry Palace
Poultry Palace serves the traditional turkey leg, corn on the cob, and a chicken drumstick box. The outside of the stand is cute, but the food is similar to other stands in Disneyland or Disney California Adventure.
Señor Buzz Churros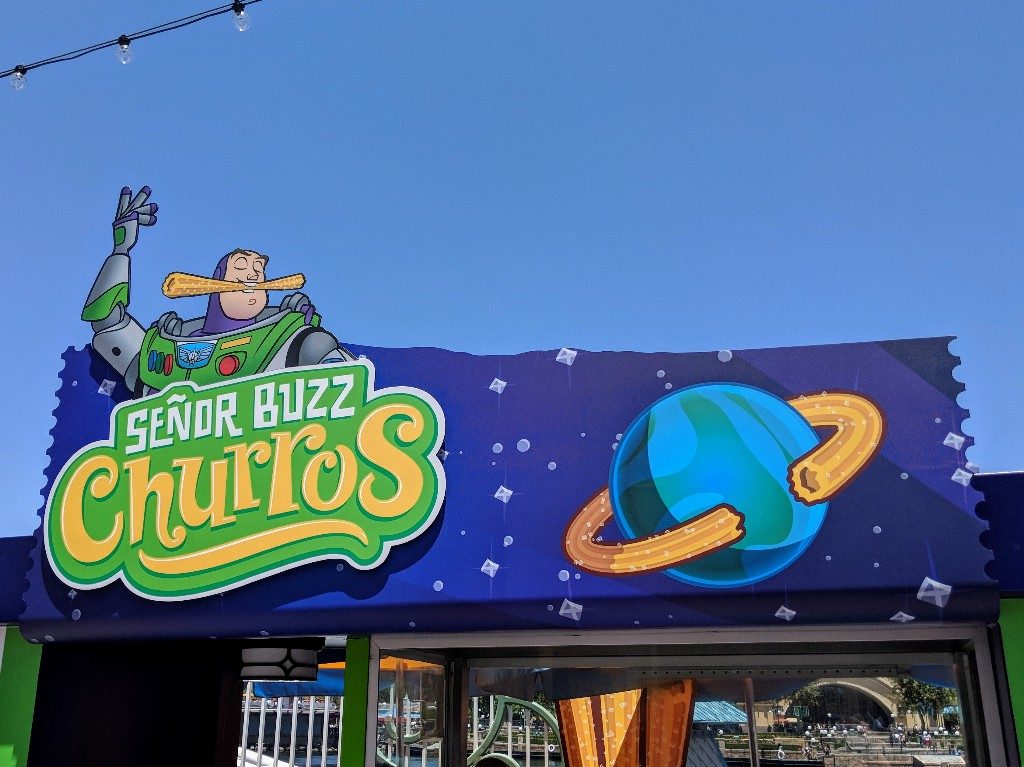 Churros are a huge thing at Disneyland so Pixar Pier needed its own special stand.
Señor Buzz Churros serves both a traditional cinnamon-sugar and a unique spicy churro.
Pixar Pier Characters
Disneyland is a great place to meet characters, and we always take advantage of these unique opportunities.
The best advice I have is to check the Disneyland App to see if any of these special characters are on the schedule. If they are on the app just follow the map and listed times.
If not, head to the character meeting areas and look for a cast member wearing a red and white stripe shirt with a Mickey Mouse pattern. These cast members work with the characters and can generally give you more specific information. Cast members we spoke to said the best time to catch Pixar characters on Pixar Pier is during the day as they tend to head home before 5pm.
Please note that these Pixar characters did not always appear on the Disneyland App, and times varied considerably.
Toy Story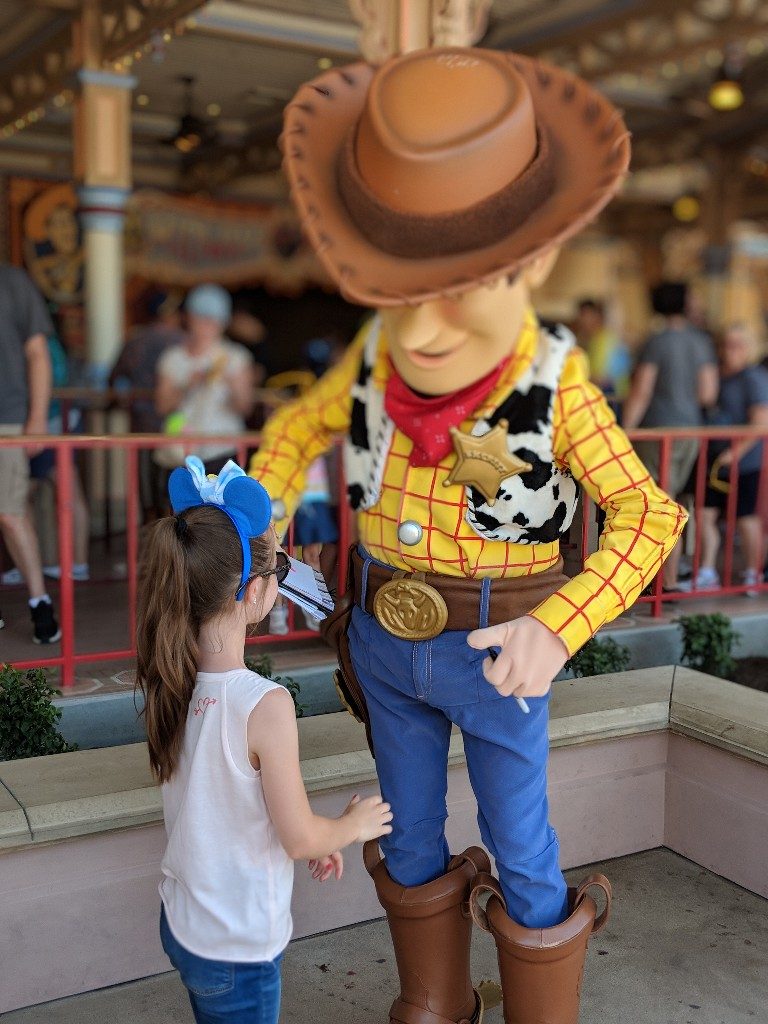 There is a small alcove just under the Toy Story Midway Mania sign, and this nook is where you can meet some Toy Story friends. We met both Woody and Jessie in this spot. Buzz was also there another time we wandered by, but we didn't have time to stop and see him.
Incredibles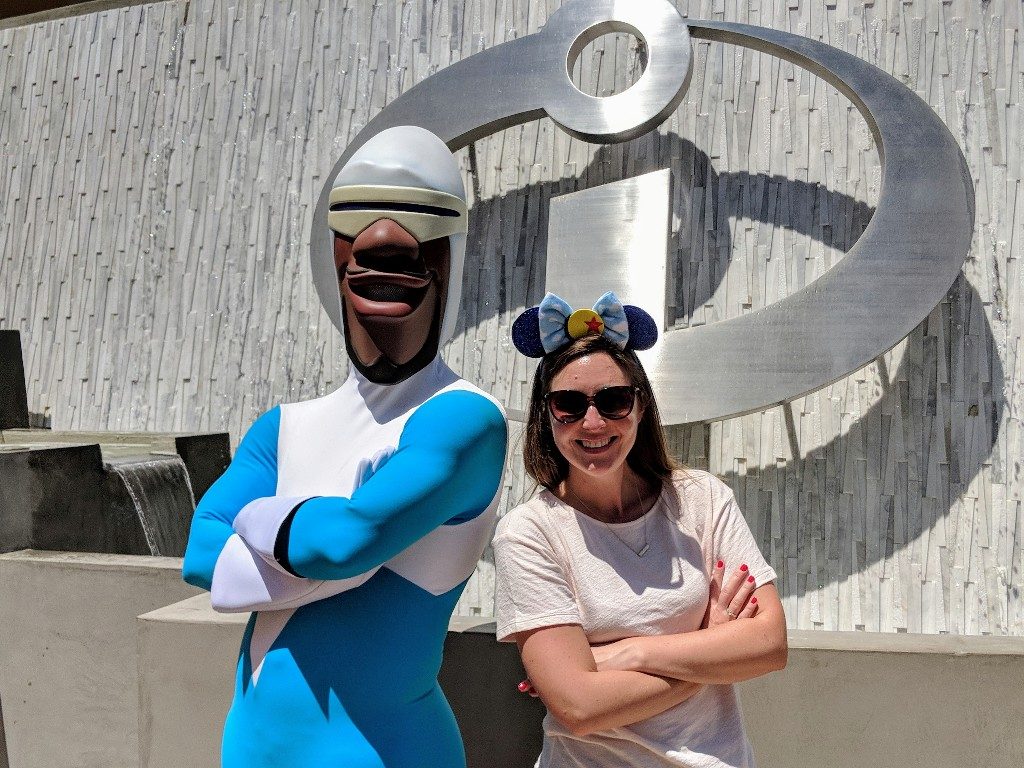 Near the entrance to Incredicoaster and the Jack-Jack Cookie Num Nums stand is a gray stone wall and fountain with the Incredibles symbol. In this area we met Mr. Incredible, Mrs. Incredible (Elastigirl), Edna Mode, and Frozone.
Inside Out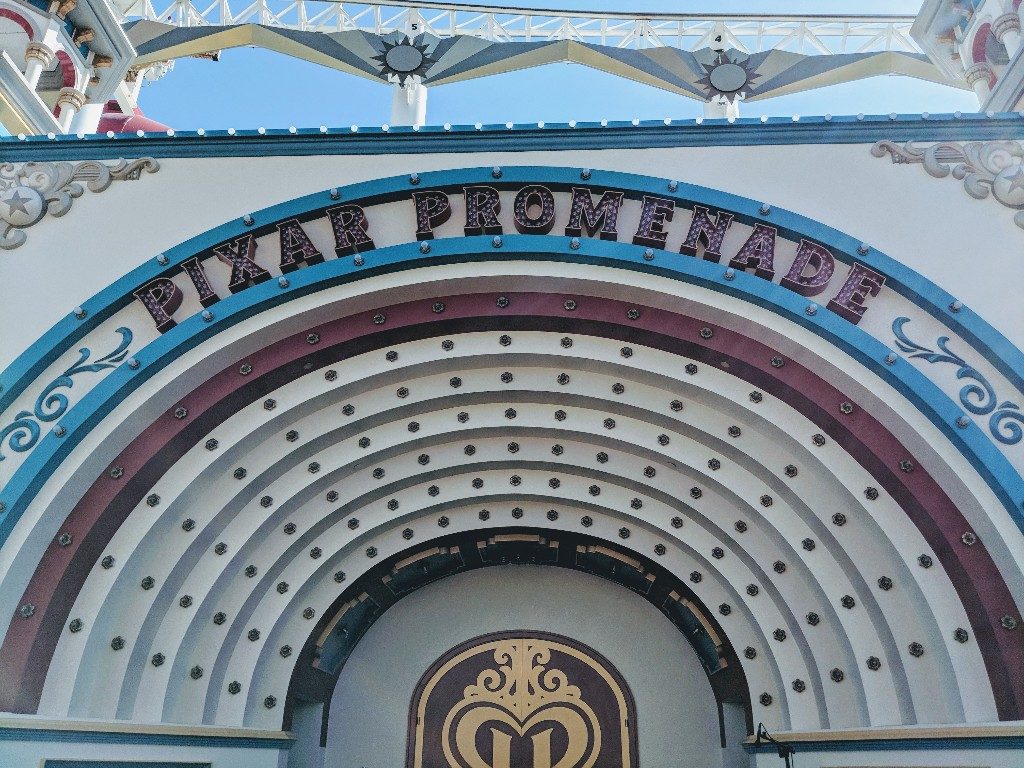 Joy and Sadness from Inside Out take turns meeting visitors near the Pixar Pier Band Shell.
Monsters, Inc.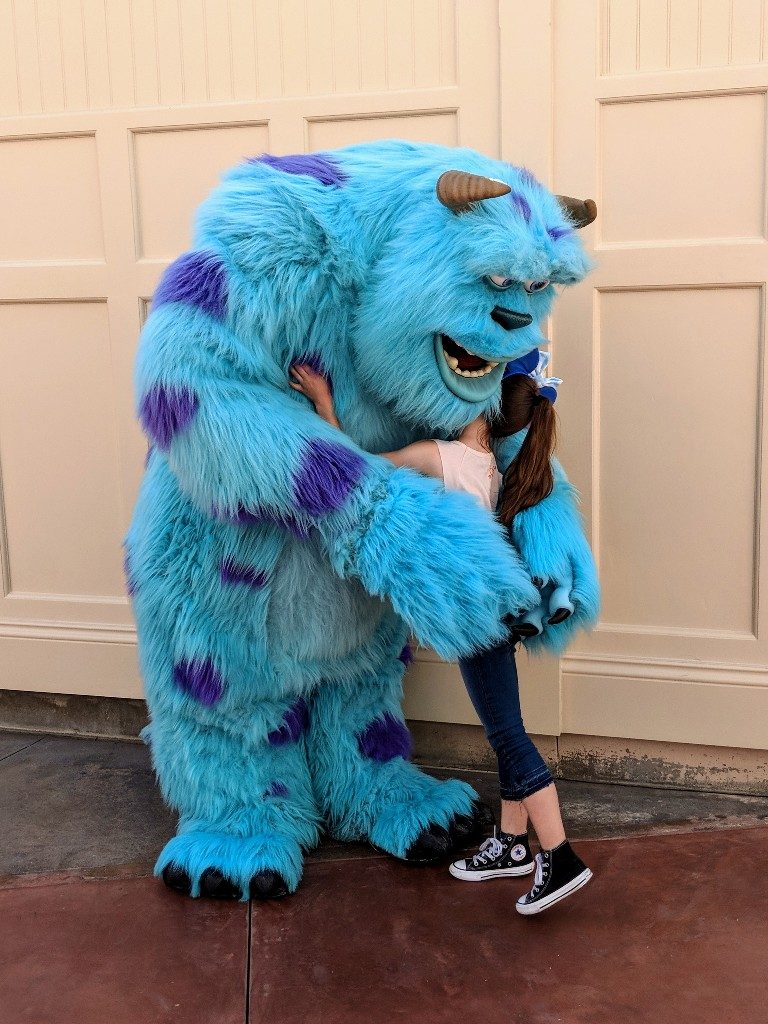 If you want to meet Mike and Sulley, head to the Pixar Pier Band Shell. These two friendly monsters meet guests at various times throughout the day.
Final Thoughts
Pixar Pier is a fun area with some redesigned attractions and tasty food booths. We were never Paradise Pier experts, so I can't really speak to how it differs from the original Pier. However, the immersive overlay of the Incredicoaster, fun themed food, and Pixar character meet up options have made all of our Pixar Pier experiences entertaining.
Have you been to Disneyland Pixar Pier? What was your favorite Pixar Pier food, ride, or character?
Need more help planning a Disneyland trip? I can help.
Pin it for later: