Park City, Utah is normally thought of as a ski town just outside of Salt Lake City, but summer in Park City is fun for all ages, too. One of the best Park City summer experiences is Utah Olympic Park Summer Gold Pass. Summer Gold Pass lets adventurous, active families participate in tons of amazing activities for one set price.
What is Utah Olympic Park?
Best known as one of the venues from the 2002 Winter Olympics, Utah Olympic Park has been transformed into an adventure park plus athletic training facility. Visitors can explore two free on-site museums at Utah Olympic Park plus challenge themselves with Summer Gold Pass activities.
What is the Utah Olympic Park Summer Gold Pass?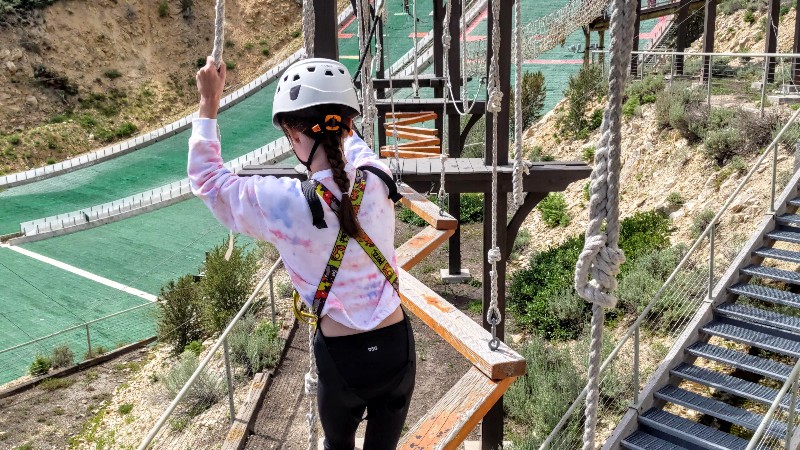 Summer Gold Pass provides three and a half hours of unlimited access to most Utah Olympic Park summer activities for one set price. The summer bobsled experience and zip line tour are available for an additional fee.
How Much Is The Summer Gold Pass?
The 2023 Utah Olympic Park Summer Gold Pass runs $85 per person May 28 to July 1 or $85 per person July 2 to August 14. Choose either a 9:30am to 1pm pass or 2pm until 5:30pm slot when purchasing the gold pass.
Late Summer Gold Pass is usually available after Labor Day until mid-October. This late season gold pass gives you more time to play and costs less.
What Utah Olympic Park Summer Activities Are Available?
There are more summer activities available on the gold pass than are possible to do in a three and a half hour window. Here's a quick rundown of each Utah Olympic Park summer activity included in the gold pass to help you plan which ones are most important to you.
Alpine Slide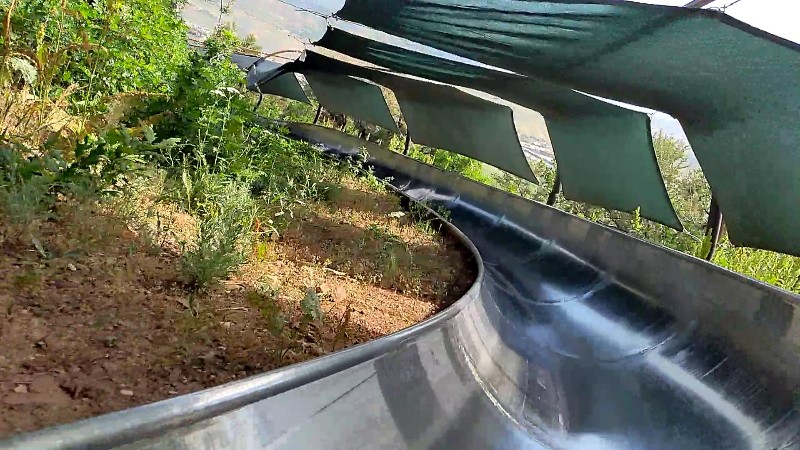 One of the most popular activities is the Alpine Slide. Take the Nordic Chairlift all the way to the top for this fun ride down the mountain.
Hop on a sled, which is a long metal seat with a hand brake. Once you've heard the safety instructions, zoom down Alpine Slide's half mile track with eleven turns plus straightaways where you can reach up to 25mph.
Alpine Slide riders must be at least three years old and ride with someone 13 years or older if they are under 48 inches tall.
Rope Courses
There are three rope courses included in the Summer Gold Pass with varying difficulty. Discovery Adventure Course is the easiest course on-site and is a good place for kids and adults to try out a ropes course.
Canyon Adventure Course is considered medium difficulty with more challenging elements and areas 25 feet above the ground. Summit Adventure Course is the most challenging course with difficult elements and areas 55 feet above the ground.
No matter which course you choose, get geared up in a harness and helmet before using the special rope to tether to the safety line. Then climb up, around, and inch across obstacles until reaching the end of one of these three courses.
Extreme Tubing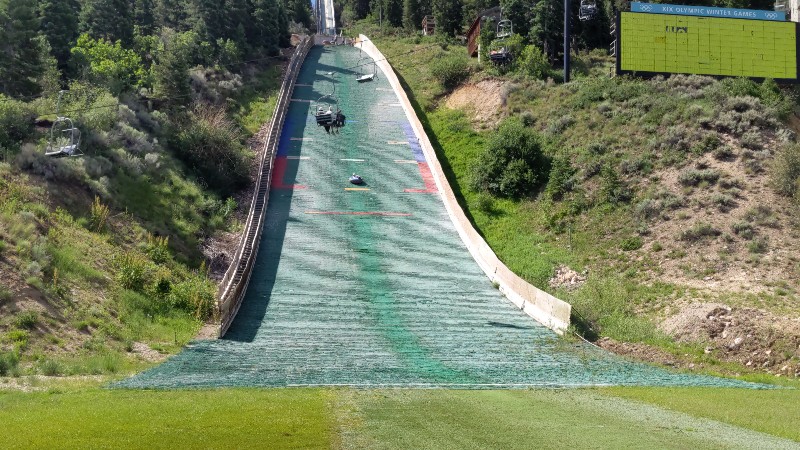 Grab a helmet and hop into an inner tube to race down the landing hill of a Nordic ski jump. Choose from two extreme tubing hills, the K64 for ages 10 years and older or K90 for daring people aged 13 years and older.
Utah Olympic Park tubing hills are steep and fast, with the bigger hill reaching tube speeds near 50mph. Even the lower hill was intense with the whole ride taking less than 8 seconds to complete.
Drop Tower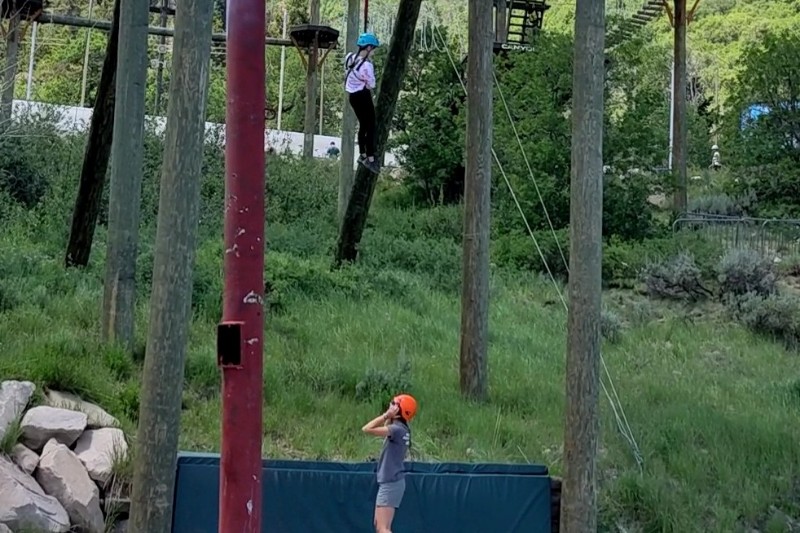 Are you brave enough to walk off a 65 foot platform and drop to the ground in a harness? I wasn't, but Elizabeth did it twice at Utah Olympic Park.
Get geared up near the drop tower and then take a path up to the zip line start. Begin your journey with a 361 foot zip line ride and then choose one of two ways down.
There are two different lines to descend the 65 feet: a slow way or a fast way. The "slow way" gives 9 seconds of free fall before slowing your descent. The "fast way" maintains a steady speed the whole way down. The "fast way" is weight dependent so the lighter you are the slower you go and vice versa.
Freestyle Zip
I've never done a zip line and was extremely nervous, but I fell in love with the Freestyle Zip. The smaller of the two zip lines, Freestyle Zip drops you 147 feet over the course of 734 feet down the mountain reaching speeds up to 40 mph.
To ride Freestyle Zip you must weigh between 50 and 275lbs.
Airbag Jumps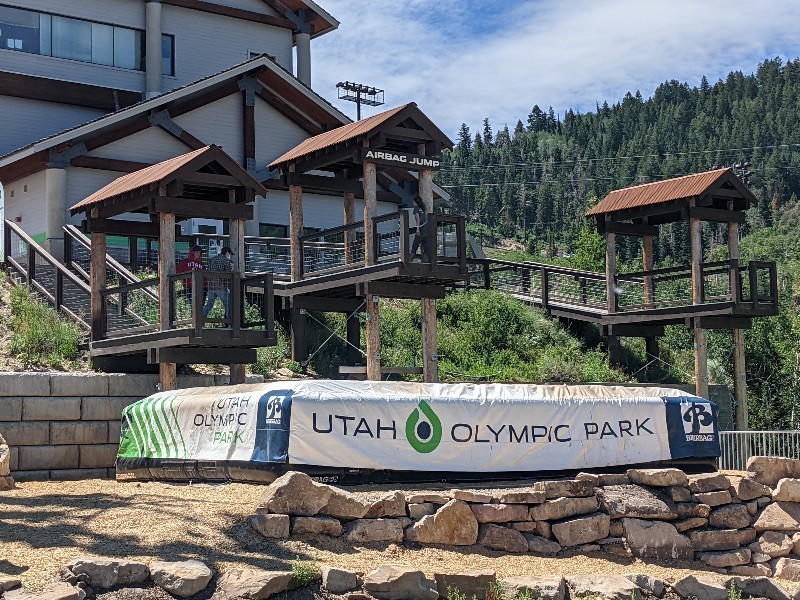 Have you ever dreamed about being a stunt person jumping out of a building onto an airbag below? These dreams can come true at Airbag Jumps. Everyone is required to practice jumping from a 5ft platform, but after mastering that you can move to higher jumps.
Elizabeth liked the 10 foot better than the 15 foot jump because it was the perfect balance of feeling weightless and having a soft landing.
All guests must weigh between 35 and 275lbs to do Airbag Jump. Kids under 46 inches tall must be accompanied by an adult.
Extreme Zip
Not meant for the faint of heart, Utah Olympic Park Extreme Zip is one of the steepest zip lines in the world with speeds up to 55 mph on the way down. Extreme zip is 1442 feet long with a drop of 40 stories along the picturesque mountain.
Guests must weigh between 100 and 275lbs for Extreme Zip.
Tips For Getting The Most Out Of Your Utah Olympic Summer Gold Pass
Sign The Waiver Online Ahead of Time
After purchasing your Utah Olympic Park Summer Gold Pass you'll receive your tickets plus a link to a waiver in your email. Take the time to fill out the waiver before heading to Olympic Park. This saves tons of time during check-in.
Bring A Runners Belt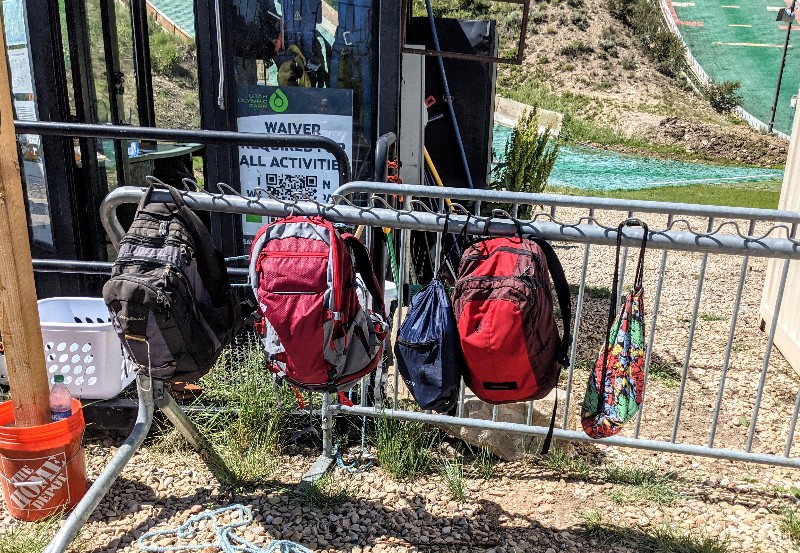 Utah Olympic Park Summer Gold Pass activities strictly forbid backpacks, purses, and fanny packs. I was able to use a runner belt (affiliate link: Buy on Amazon) to stash my rental car keys, money, and phone under my shirt. Otherwise be prepared to leave bulky backpacks unsupervised at the bottom of the hills near the chairlift.
Arrive Early For Utah Olympic Park Summer Gold Pass
Summer Gold Passes are only valid for 3 and a half hours. If you show up right when your window opens you'll spend a large chunk of pass time in line checking in. Arrive about 30 minutes before your ticketed time to check in and get your wristband.
Check In At The Joe Quinney Winter Sports Center
There is a trailer outside to check in for Utah Olympic Park Summer Gold Passes. It will be tempting to go directly there, but resist the temptation. Inside the visitor center, several employees check in and provide event wristbands.
Although the line looked similar in length inside and out, we got our wristbands in the Joe Quinney Winter Sports Center. As we left with wristbands ready for adventure, many people who got in line before us at the trailer were still waiting to check in.
Head To Alpine Slide/Extreme Zip First
Alpine slide and extreme zip are extremely popular and the wait times shoot up quickly after the gold pass session opens. After getting wristbands we walked to Nordic Plaza, took the ski lift up, and immediately boarded the Alpine slide. Not long after we rode Alpine slide with no wait, the wait time was already 30 minutes.
Save Yourself Some Walking By Using Chairlifts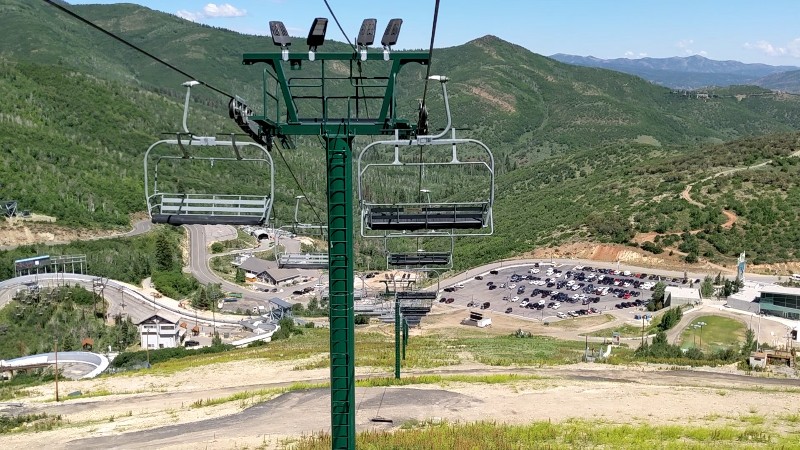 Walking from Nordic Plaza to Trackside Plaza is long and uphill. Save yourself valuable Gold Pass time by taking the Nordic Chairlift up, walking across Peak Plaza, and then taking the Alpine Chairlift down. From there Trackside Plaza is an easy walk.
Final Thoughts On Utah Olympic Park Summer Gold Pass
I'm not normally the adventurous, outdoorsy type, but Utah Olympic Park Summer Gold Pass was incredibly fun and I highly recommend it. Elizabeth did every gold pass activity she was eligible for based on weight and age and I surprised myself by doing almost as many. Weeks later she is still talking about how the experience was the best part of our Park City, Utah experience.
Is this Park City visit part of a road trip? Use these tips to visit Craters of the Moon National Park while in the area.
Pin it for later: