Goofy's Kitchen is a popular Disneyland character meal that allows you to interact with several classic Disney characters. We tried a Goofy's Kitchen dinner on our arrival day, and it was a great start to our Disneyland trip.
Location
Goofy's Kitchen is located at Disneyland Hotel.
Goofy's Kitchen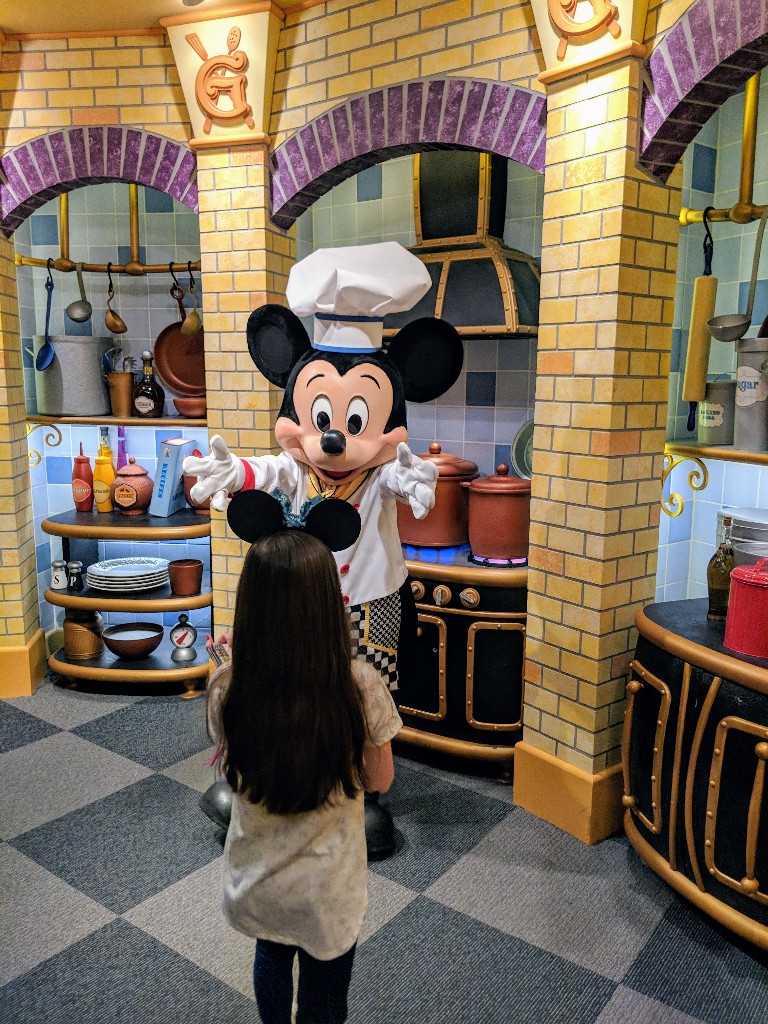 Goofy's Kitchen has both a character breakfast and dinner daily. Reservations are highly recommended and open 60 days before your desired dining date.
When you check in for your Goofy's Kitchen meal you will pre-pay at the register. After paying for your meal you wait just outside of the restaurant to be seated. In a few minutes your group is called.
On your way to your table you'll have your first Goofy's Kitchen character interaction. Make sure you are ready with your autograph book and camera before being called.
You enter a semi-private area decorated like an adorable kitchen scene and meet one of the characters. We got our picture with Mickey in the kitchen, but during our Goofy's Kitchen dinner Mickey and Goofy alternated in this photo spot.
There is a Disney photographer to take pictures in the "kitchen." However, unlike at Disney World, these photos are not part of your PhotoPass downloads. You must buy the print photo package brought to your table during the meal to get the digital code.
During the meal, have those wishing to interact with characters sit where they can easily get up from their seats to meet Mickey, Goofy, and the rest of the gang. If possible, have your family photographer sit across from those most excited to meet the characters at Goofy's Kitchen.
Goofy's Kitchen Food Options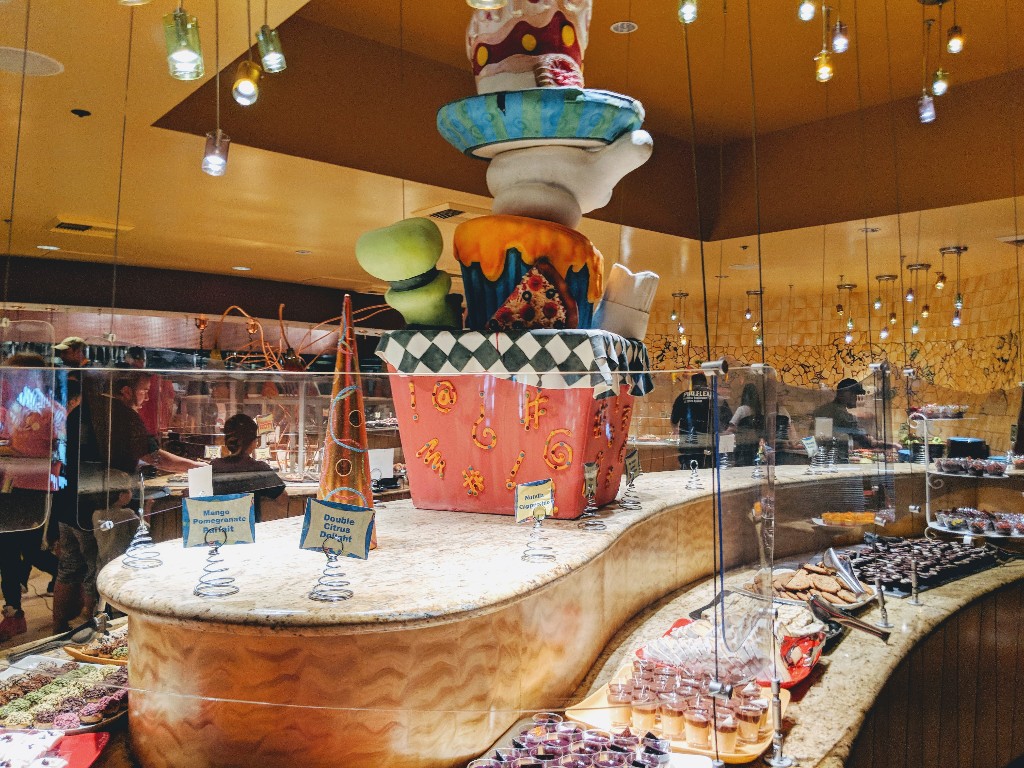 Goofy's Kitchen breakfast and dinner are set up as an all-you-care-to-enjoy buffet. Goofy's Kitchen breakfast has an omelette station, the iconic Mickey waffles, fresh fruit and more.
Dinner has a carving station, fresh catch of the day, several salads, and typical kids' fare like mac and cheese or hot dogs. Our Goofy's Kitchen dinner was a pretty basic meal, but I don't expect fine dining for a character meal.
For those with food allergies: Please note your food allergy when making your dining reservation. Once you are at Goofy's Kitchen remind your server about the food allergy. They will be able to either provide an allergen menu or call for a chef consult if you have a less common food allergen.
If you have someone with a food allergy please read my 5-Minute Guide To Dealing With Food Allergies At Disney to learn more about how Disney accommodates food allergies.
To see the current Goofy's Kitchen menu check the Disneyland website.
Goofy's Kitchen Characters
There are several characters that make their rounds at Goofy's Kitchen. We saw a total of 6 characters at our Goofy's Kitchen dinner: Mickey, Minnie, Donald, Goofy, Pluto, and Chip. Since Goofy is the namesake of Goofy's Kitchen you should expect to see him, but other characters and the number of characters is always subject to change.
Several times at our Goofy's Kitchen dinner the characters did a parade march around the restaurant. The character parade is a great way to see which characters are available during your Goofy's Kitchen meal.
Our Goofy's Kitchen Dinner Character Experiences
Goofy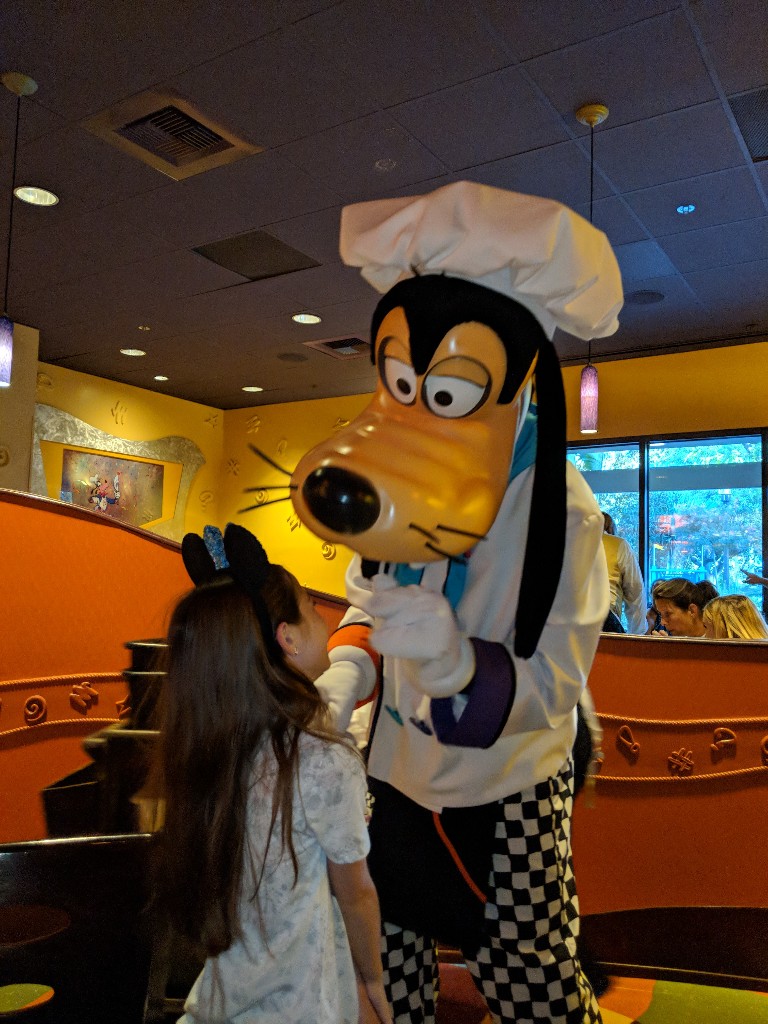 It should come as no surprise that you will see Goofy at Goofy's Kitchen. Since he was not in the kitchen photo op, he was our most difficult character to catch. Goofy did finally stop by our table for a quick autograph and photo op.
Mickey Mouse
Mickey was a great way to start our meal. The kitchen photo area was adorable, and Mickey was so sweet to Elizabeth. A big welcoming hug from Mickey was just the right start to our night.
Donald Duck
We love Donald. You never quite know what to expect from this unpredictable duck. The night we had our Goofy's Kitchen dinner Donald was much more ridiculous than usual. When he realized I was taking pictures, he turned around and shook his tail feathers at me! This made Elizabeth giggle like crazy.
Donald also did "up high, down low, too slow" to Elizabeth. When she did it back to him he got right in her face and gave her raspberries. Donald was a fabulous interaction during our Goofy's Kitchen dinner.
Minnie Mouse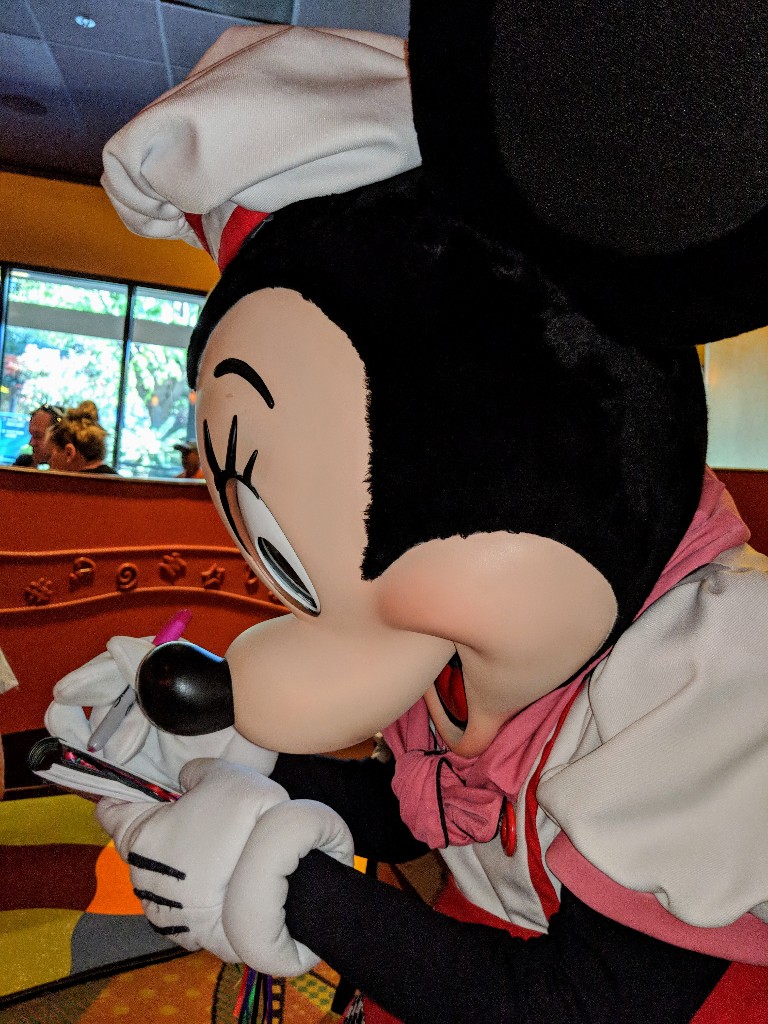 Minnie is always very sweet. She even made it a point to come around to my hard-to-access booth seat for a picture!
Pluto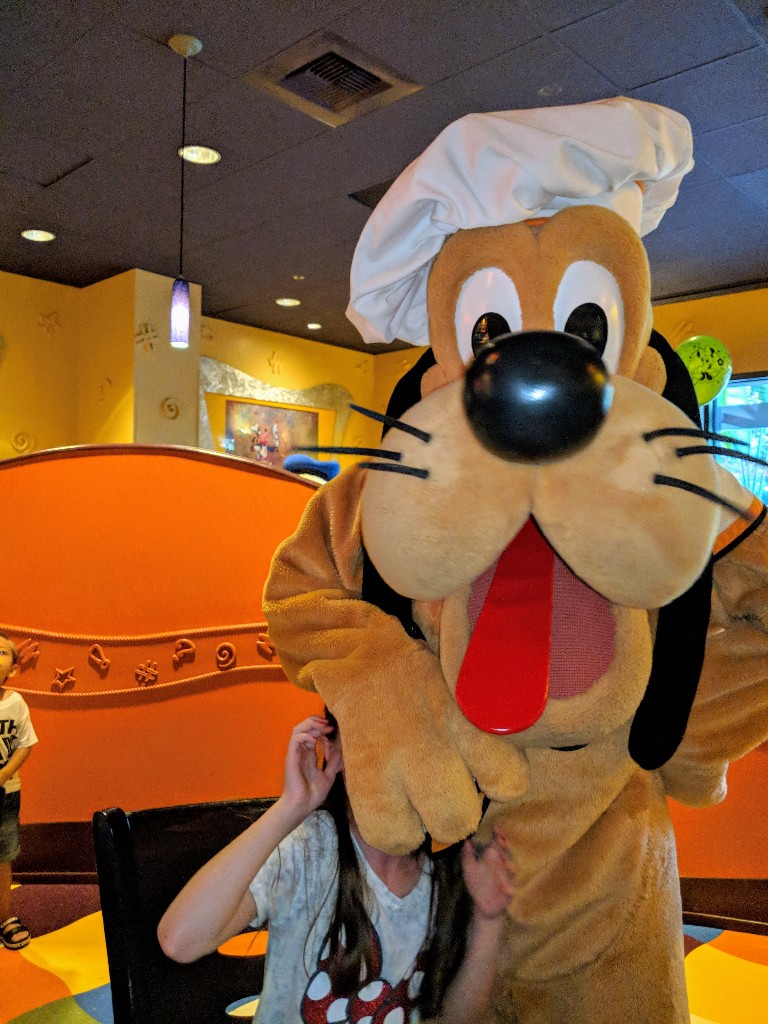 Pluto was also very funny during our Goofy's Kitchen dinner. He came over to our table and immediately started to hassle Elizabeth. Pluto hugged her and then started posing for a pictures intentionally covering her face in different ways.
Pluto also knocked off Elizabeth's Minnie ear headband every time he walked past our table. It was really funny.
Chip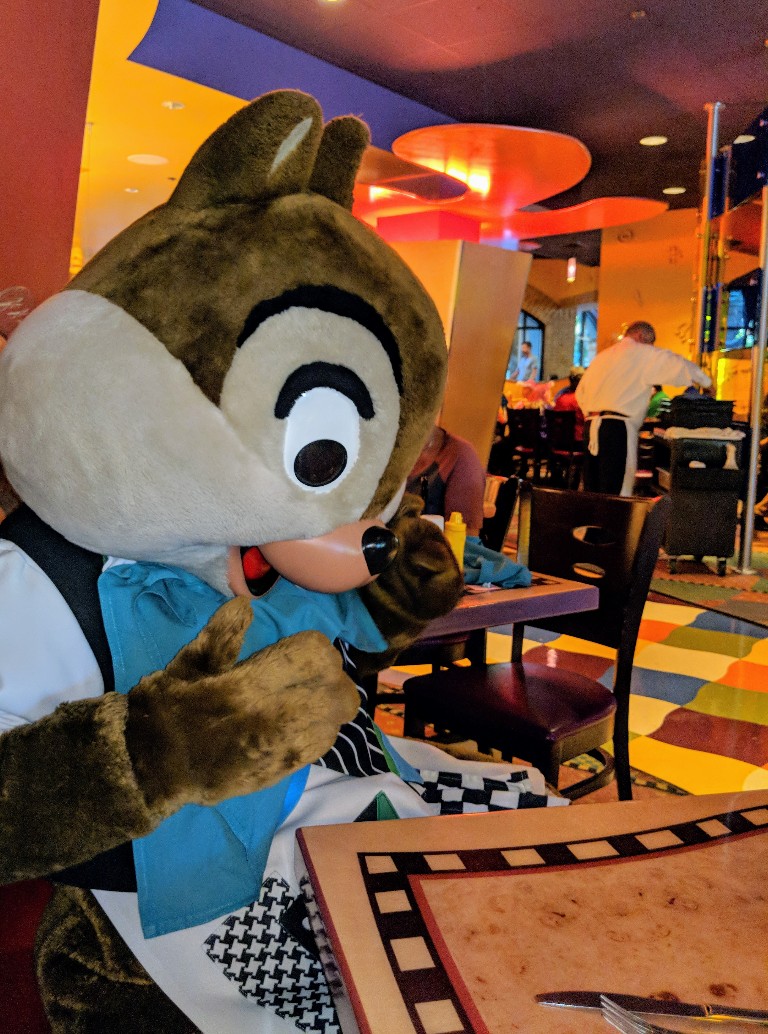 Chip made himself right at home at our table. He unwrapped a place setting, tucked the napkin in by his neck and was ready to eat with us. Chip was very charming and funny during our interaction.
Cost
At time of publishing the cost for Goofy's Kitchen breakfast is $39 per adult and $23 per child. For Goofy's Kitchen dinner the price is $43 per adult and $25 per child. These prices do not include tax or tip.
Final Thoughts on Goofy's Kitchen Dinner
We had a great time at our Goofy's Kitchen dinner. The character interactions with Mickey, Minnie, Goofy, Pluto, Chip, and of course Donald , were amazing. Although the food is nothing fancy, we found plenty of tasty options for our meal. A Goofy's Kitchen character meal was a fabulous way to start our trip to Disneyland.  
If you are looking for a character meal outside the parks I would definitely recommend Goofy's Kitchen. Since Goofy's Kitchen is not located inside the theme park this character meal is a great option for a non-park day.
We often like to do a character meal on our arrival day or departure day if we won't have time to make it to the park. Goofy's Kitchen is also the only character meal option for dinner at Disneyland Resort.
However, if you are planning to do a character breakfast and love a variety of Disney characters my favorite option is Minnie and Friends Breakfast in the Park at Disneyland Park. This character breakfast has a wide assortment of Disney characters and is a lot of fun, too. Read more about Minnie and Friends Breakfast in the Park in my full review.
Pin it for later: