We love family hiking and couldn't resist hiking Hell's Hollow Falls, an easy waterfall hike in Pennsylvania. Hell's Hollow is not as nefarious as it sounds, but a beautiful waterfall tucked into an isolated area of McConnells Mill State Park.
Hell's Hollow Falls Trail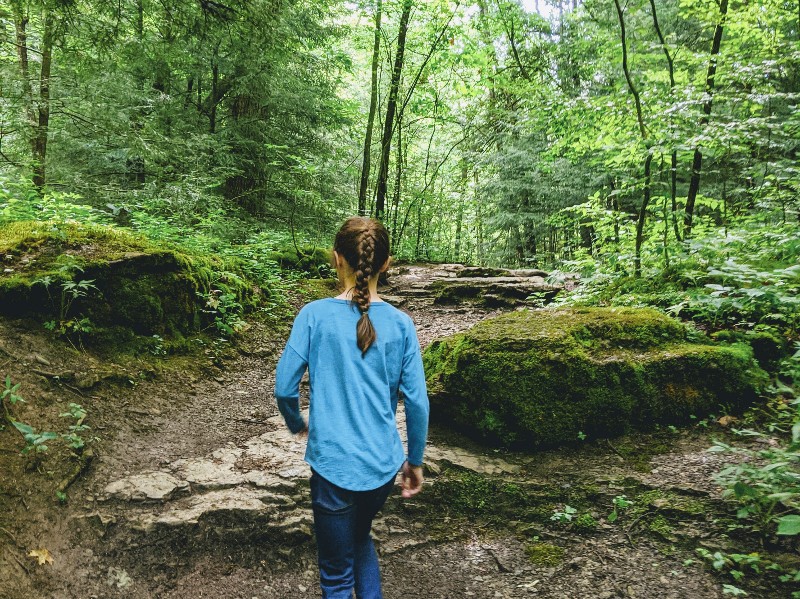 The Hell's Hollow Trail is an easy 1-mile round trip hike from the parking lot to the waterfall and back. The trail is mostly packed dirt with some uneven terrain. The trail is tree lined and well shaded, which makes it comfortable even on a warm day.
Hell's Hollow Falls is visible by climbing down a steep staircase and walking across some uneven large rocks surrounded by water. The hike was overall very easy, but getting across the rocks was challenging. I would absolutely recommend shoes with a good grip when hiking Hell's Hollow Falls.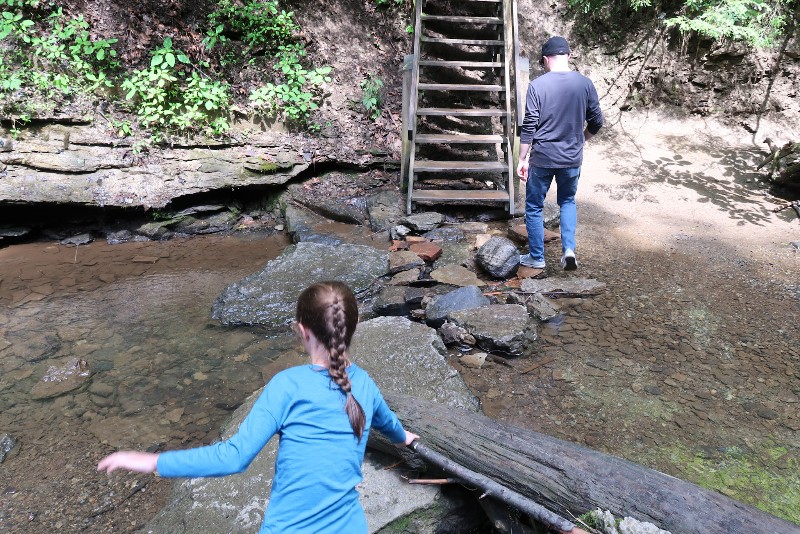 Hell's Hollow Falls Trailhead Parking
The most difficult part of hiking Hell's Hollow is finding the parking lot. Most GPS tries to navigate you to the fall instead of the trailhead, and cellular service is sketchy at best. The Hell's Hollow Falls trailhead has a small gravel lot with space for a handful of cars but no visitor center or other facilities.
More About McConnells Mill State Park
The main area of McConnells Mill State Park is about a ten-minute drive from Hell's Hollow. McConnells Mill State Park Slippery Rock Creek Gorge was formed thousands of years ago by water from draining glacial lakes. Picnic areas, a historic grist mill, covered bridge, and many outdoor activities are options at the park.
The water current is strong at McConnells Mills State Park and can be extremely dangerous. Make sure you check current conditions and park recommendations before boating or hiking along Slippery Rock Creek.
Final Thoughts On Hell's Hollows Falls At McConnells Mill State Park
We hiked Hell's Hollows Falls at McConnells Mill State Park as a day trip from Cuyahoga Valley National Park. It was an easy waterfall hike and helped us work toward our family 50 state challenge. Wear good hiking shoes when navigating the slippery rocks at Hell's Hollow and download the map to the parking lot before you go to avoid wasting time searching for the trailhead.
Pin it for later: