Even with all of my experience traveling to Disney World, I had forgotten some very important things about visiting Disney World in summer. The summer experience at Disney World is very different than when visiting at other times of the year. Here is what you need to know when heading to Disney World in summer.
Disney World Crowds Are Much Larger In Summer
I know this seems obvious, but the parks felt considerably busier even though we visited at the very beginning of June. Be prepared for lots of people, slow walking, and long lines for attractions. For example: we usually wait about 5 minutes for Journey Into Imagination with Figment in Epcot (simple ride that is fun, but nothing fancy). During our summer trip the line was 45 minutes long.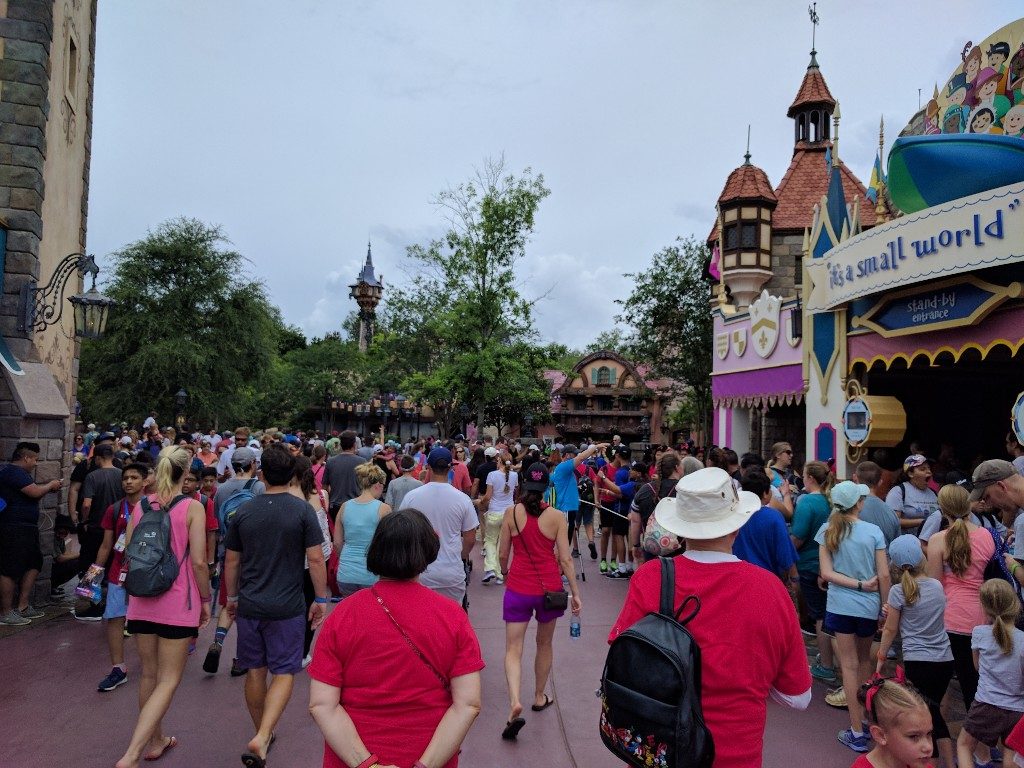 How To Prepare For The Crowds
Make dining reservations ahead of time
We routinely saw people turned away from restaurants because they did not have Advanced Dining Reservations. When you have been out in the heat all day a sit down air-conditioned meal is a wonderful way to rest. Check here for my  complete guide on Disney World dining reservations.
Buy Genie+
Genie+ is a pay service that lets you reserve attraction ride times similar to the previous FastPass system. Find out more about this relatively new Disney World service here. 
Have something to pass the time in lines
Last minute I had bought a $1 Disney joke book from 5 Below. I kept this joke book in my backpack, and Elizabeth amused herself (and other kids) with the jokes in longer lines.
Other options are bubbles, stickers, or a family favorite "The Last Letter Game". This game is where you say a word and then the next person says a word that starts with the last letter of the previous word. We somehow amused ourselves with that for 40 minutes straight when waiting for Na'vi River Journey.
The Play Disney Parks app is another great way to pass the time in waiting in line. Read more about this app and our favorite activities for amusing ourselves when waiting.
Manage your expectations
I must admit I struggled with this the first summer trip. We are usually go, go, go on our Disney World trips and experience attraction after attraction. This first summer trip we did about half to three quarters of what we would have normally done.
Instead of our usual routine we experienced different things like walking around our resort, listening to live music at Portofino Bay, playing Agent P's World Showcase Adventure, and really immersing ourselves in Pandora's lovely landscape. We still had a lot of fun even though it was quite a different trip for us.
The Summer Rainy Season Is For Real
Now to be fair, our trip had unseasonable rain due to a tropical depression in the Gulf of Mexico. We had inches of rain per day on a couple of occasions. However, from June to September the average rainfall in Orlando is 6 to 9 inches (15 to 23 cm) of rain per month. Based on these numbers it is likely there will be a stray afternoon thunderstorm during your summer Orlando trip.
How to prepare for the rain     
Pack ponchos or raincoats
I have always packed ponchos or raincoats in my park bag for our trips to Disney World. Before this trip I had used them exactly twice in all of my previous days combined. This first summer trip it rained every single day. The raincoats and $4 poncho I brought were the best investment I made for this trip. If you have a park bag make sure your poncho will cover it and you. This way you and your belongings stay dry.
Bring a waterproof stroller cover and clips
There is nothing worse than a soaked stroller for your little one. I always packed a cheap shower curtain and clips to cover the stroller when Elizabeth was younger. This shower curtain with clips keeps your stroller dry while you are on rides or at meals.
Have spare shoes
As our first summer trip was getting nearer the weather was looking rainier and rainier. Because of this forecast I made sure to pack two pairs of shoes for each of us. That way when the rains came and soaked the first pair we had a second dry pair to hopefully last until the first set dried out.
Another option is to bring fast-dry shoes like Crocs or flip flops if you can tolerate walking long distances in them. We averaged 6.7 miles (11 km) per day of walking, and we had several short days because of the rain.
Pack spare socks and clothes
I always pack some extra clothes for our trips just in case. This worked out perfectly since sometimes we were so wet we needed a new outfit for dinner. And dry socks feel heavenly after squishing home in the rain.
Summer in Orlando is HOT
Summer in central Florida is no joke. I thought I was mentally prepared for the heat. Chicago can get above 90°F (32°C) with high humidity – how different can it be?! Very different is what I found out. I think the high temperatures and humidity coupled with the large crowds made it feel oppressive at times.
I've also written a whole article with our best tips for beating the heat at Disney World after several more extremely hot trips. 
How to prepare for the heat and sun
Hydrate
Make sure you drink more than you think you need. You would be surprised how quickly you can get dehydrated. We had a freezer in our room on the first summer trip (some Disney on-site hotels have full or mini-fridge options) so we froze drinks I had ordered from Garden Grocer overnight. We then brought these frozen drinks to the park with us.
It was awesome to have a super-cold drink at the ready. You can also bring a thermos into the park to keep drinks cold. Another option is any quick service place with fountain drinks on Disney property will provide ice water at no charge.
Wear sunscreen
It seems obvious to wear sunscreen on bright sunny days, but remember to apply even if it is overcast. A surprising amount of rays can make it through the clouds and cause a sunburn. And sunburns are no fun.
Enjoy the resort pool
Sometimes a spending time at the resort pool is exactly what is needed at Disney World in summer. A day at the pool can be a nice reprieve from the crowds and the heat.
Final Thoughts On Visiting Disney World In Summer
I know that for many people summer break is the only opportunity to make the trip to Disney World. That's okay! Although our first summer trip was plagued with rain, heat and higher crowds than I expected we still had a memorable time at Disney World (and Universal Orlando). Being prepared for the heat, rain and crowds helped us to make the most of our trip. And having a positive attitude certainly was essential, too. Make sure you pack some patience and flexibility in addition to ponchos and sunscreen to make it a great trip to Disney World in summer.
How do you prepare for summer at Orlando theme parks? Share your tips in the comment section!
Do you need more help planning your Disney World trip? Check out other Disney World tips and tricks in my Disney World Guides.