The first time we went on a 3-night Disney Cruise to the Bahamas I could not seem to figure out what to pack. To be honest, I wasn't even sure what the Disney Cruise dress code terms meant. I ended up packing and unpacking our luggage several times. Once we got on the Disney Cruise I realized I had brought way too much stuff. Most of the clothes I packed came home unused. Having learned from our first Bahamian Disney Cruise packing disaster I did a much better job packing for our second cruise. Here is our tried and tested printable Bahamian Disney Cruise packing list.
In my experience, packing for a Disney Cruise is very different from packing for a Disney World vacation. At Disney World you usually wear one outfit per day. On a Disney Cruise you generally have two per day (or more if you have a special excursion planned). A Disney Cruise requires several different types of clothing: daytime, nighttime, Pirate Night, and swim attire which means you may need a bigger suitcase.
I am a participant in the Amazon Services LLC Associates Program, an affiliate advertising program designed to provide a means for us to earn fees by linking to Amazon.com and affiliated sites.
Essential Paperwork For A Disney Cruise
It doesn't matter how well you pack for a Bahamian Disney Cruise if you forget essential paperwork. Although you depart and return to the United States the cruises to the Bahamas require citizen paperwork to board and then return through US Customs and Border Patrol. If you do not have these items you will be denied boarding.
Disney Cruise Embarkation Day Bag Packing List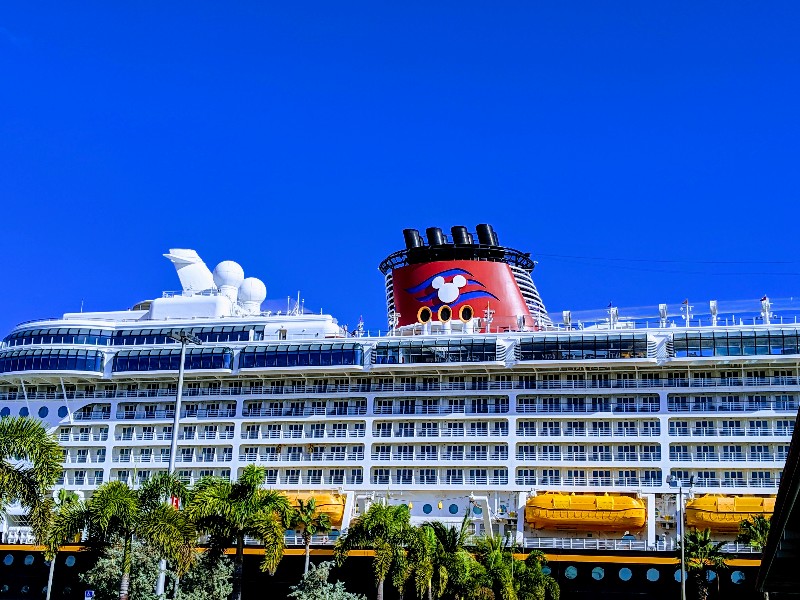 When you board your Disney Cruise ship it is unlikely that your stateroom will be ready. You will have left most of your luggage with a porter at the port before boarding. This checked luggage is then unavailable until late afternoon. Until your luggage is delivered you will need to have some essentials in an embarkation day bag.
It is important to keep all paperwork, passports, driver's licenses, and prescription medications with you at all times. If you want to hit the pool or Aquaduck before your room is ready you will need to pack some swim gear in your day bag, too. Towels are provided on the pool deck so there is no need to pack them.
We had Elizabeth wear her swimsuit underneath a casual cotton dress with flip flops. I brought undergarments in our day bag. This way if she finished swimming and our room was not ready she could dry off and use the same dress.
Embarkation Day Bag Packing List
Passports and Driver's Licenses

All essential medications

Swimsuit (if you plan to swim and are not wearing it under your clothes)

Cover-up

Goggles

Sunscreen

Dry clothing

Ziplock bag to hold wet swimsuit
Packing For A Bahamian Disney Cruise
General Packing Tips
Pack clothes in a similar color family. Having similar colors makes mixing pieces for a variety of outfits much easier.
Accessories like scarves and jewelry take very little suitcase space, but can change the look of a basic ensemble. This is also an easy way to look a little nicer for dinner without having to change your entire outfit.
Use packing cubes to keep items organized, make packing and unpacking easier, and to save space in your suitcase. I have two sets of these packing cubes (affiliate link: Buy on Amazon) which I use every trip. I usually use one cube per person for clothes. Then I pack all the swim gear or pirate night costume pieces in their own cubes.
Be thoughtful when packing shoes. Shoes tend to take up a lot of space in luggage and make a suitcase heavy. Try to limit yourself to one comfortable shoe like Converse or gym shoes, one dress shoe, one kind of pool or beach shoe, and then a flexible option like flats for ladies or a casual oxford for men.
Place liquids, sprays, or even diaper wipes inside two zip top bags. This helps contain a spill or any liquid from the wipes getting on clothing in your checked bag.
Clothes For Daytime on a Disney Cruise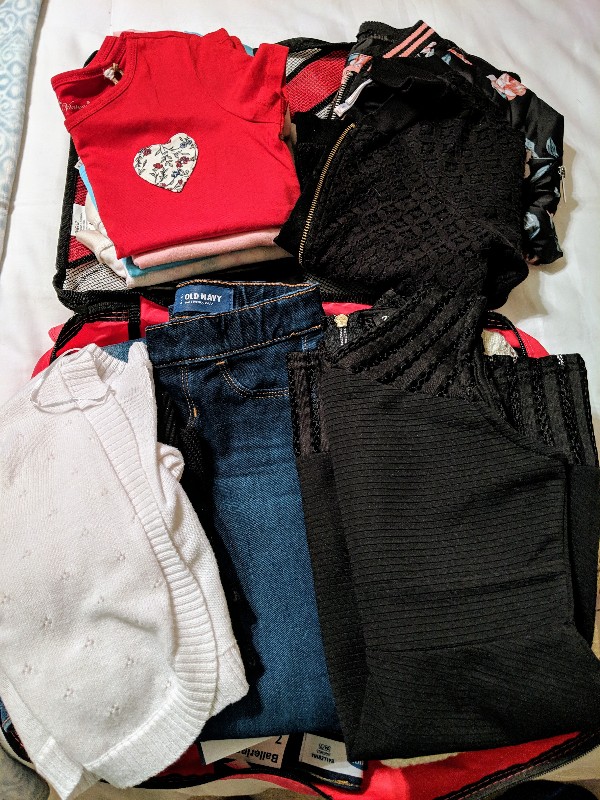 Disney Cruise attire during the day is very casual. A lot of what you wear during the daytime will depend on the weather and any excursions you have planned. For our cruises departing from Port Canaveral we have had large variations in temperature over the trip which required packing layers and some extra options.
Most people wear t-shirts, shorts, jeans, or swim gear with cover-ups around the ship and most of the ports. It is always nice to have a warm layer packed in case the weather is chilly on the deck for events like Pirate Night or for highly air conditioned spots like the theater.
For a Bahamian Disney Cruise I Pack The Following Daytime Clothes
T-shirts
Long sleeve shirts
Shorts

Capris

Jeans

Sweatshirt

Layering sweater or jacket

Comfortable shoes (Converse, gym shoes, or sandals)
Exact choices around shorts or pants and t-shirts or long sleeve shirts will depend on the weather forecast for your Disney Cruise. A good rule of thumb is to bring a daytime shirt for each day of the cruise plus 2 extra. For bottoms I pack one pant, capri, or short per day.
Make sure you have at least one pair of broken in comfortable shoes. The Disney Cruise ships are large and you will get plenty of steps in each day.
Clothes For Nighttime on a Disney Cruise
For a 3 night Bahamian Cruise each dinner has a different dress code requirement. The different dress codes on a Disney Cruise are cruise casual, pirate night, and optional dress up.
Disney Cruise – Cruise Casual Attire
The first night is "cruise casual". Cruise casual means no swimwear or tank tops at dinner, but most other clothes are allowed. We saw lots of people in casual wear from shorts and t-shirts to dressed up jeans and tops.
We generally change our clothes for dinner even on cruise casual nights. For me it is usually a quick change from a casual T-shirt to a nicer top and converse to flats or boots.
Cruise Casual Items
Nice jeans and a top or a casual dress

Flats or casual Oxfords

Necklaces or scarves
Disney Cruise – Pirate Attire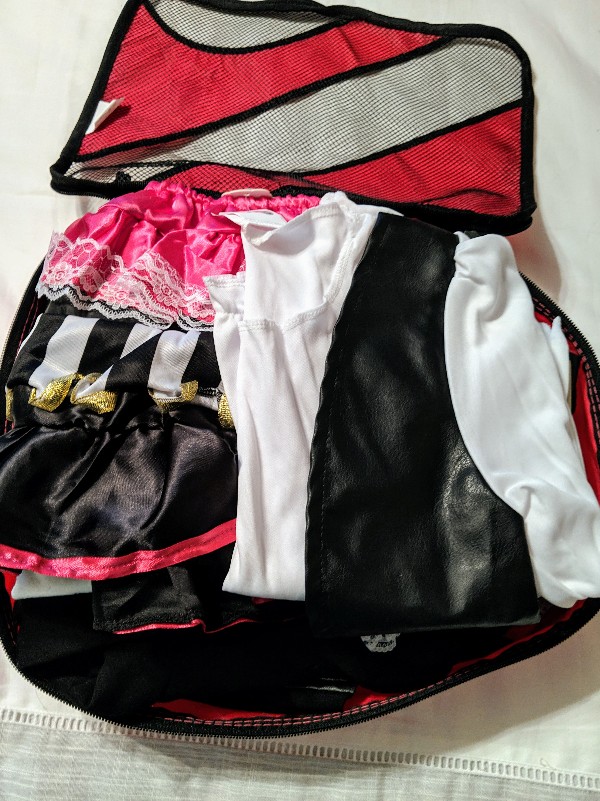 The second night on a Disney Cruise to the Bahamas is "pirate night". It is not required to dress up as a pirate, but lots of families will be dressed in their finest pirate gear. Elizabeth went all out in her pirate costume and makeover from the Pirate's League.
The Pirate's League is like Bibbidi Bobbidi Boutique except you are transformed into a pirate instead of a princess. Mr. Smart Mouse opted for normal clothes.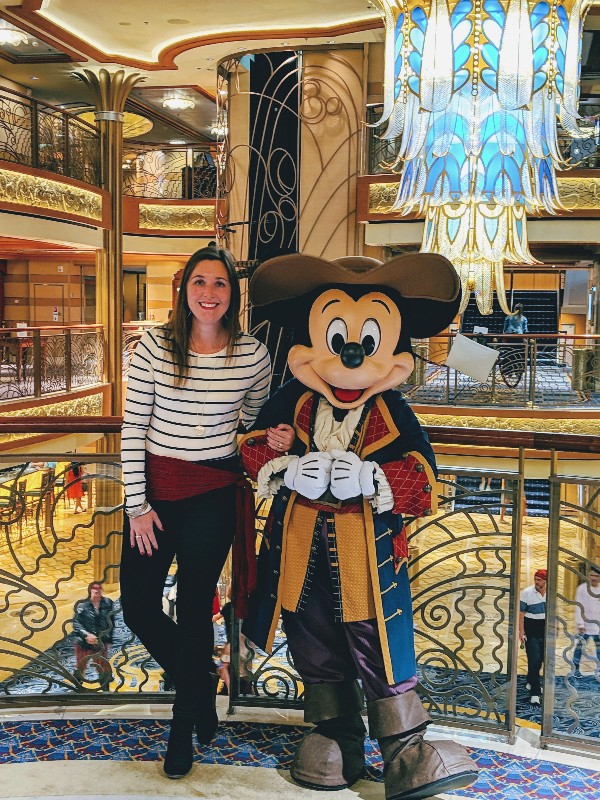 I didn't want to skip Pirate night attire or wear a costume so I opted for something in the middle. I wore a pirate inspired outfit of black jeans, a striped t-shirt, a long burgundy scarf I used as a sash, and some large hoop earrings.
If you want to learn more about Pirate Night here's a video we made of  the activities including Pirate's League.
Pirate Night Items
Pirate Costume

Layering t-shirt (to put under a costume for cold nights)

Boots

Pirate bounding t-shirt

Black jeans

Sash (affiliate link: Buy on Amazon I ordered #133 Burgundy)

Pirate accessories like jewelry or headscarves
Disney Cruise – Optional Dress Up
The last night on the 3 night Bahamian Disney Cruise is an optional "dress-up" night. This means a jacket for men, and a dress or pant suit for women. Since we buy the photo package we always wear something a little fancy on the optional dress up nights.
If you are headed on a longer Disney Cruise or have reservations at Palo or Remy here is more cruise attire information. 
Optional Dress Up Night Items
Dress

Tights or pantyhose

Dress shoes

Dress shirt

Tie

Dress pants or dressy jeans

Necklace or other jewelry
Packing For Castaway Cay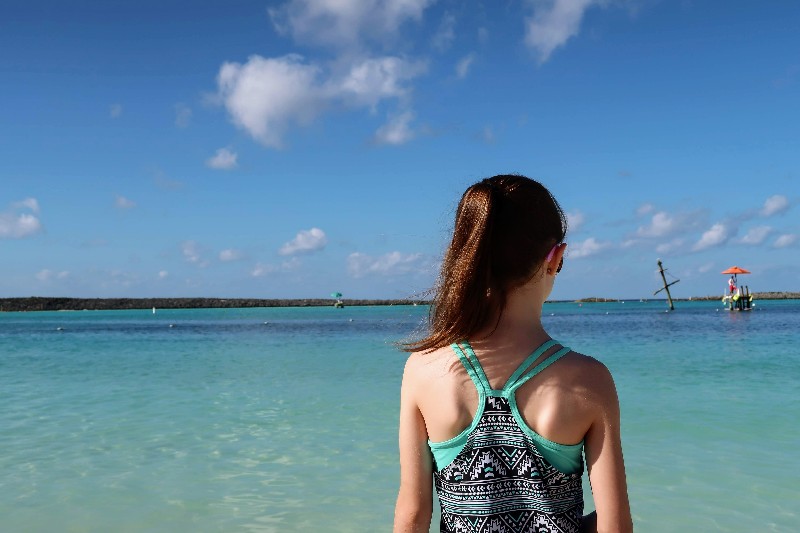 Castaway Cay is Disney Cruise Line's beautiful private island in the Bahamas. Most people wear swim gear plus cover-ups since many of the activities on Castaway Cay are water and beach related.
You may want to opt for t-shirts, shorts, and closed toe shoes if you are renting bicycles. If you plan to do the Castaway Cay 5K make sure to pack running shoes and gear.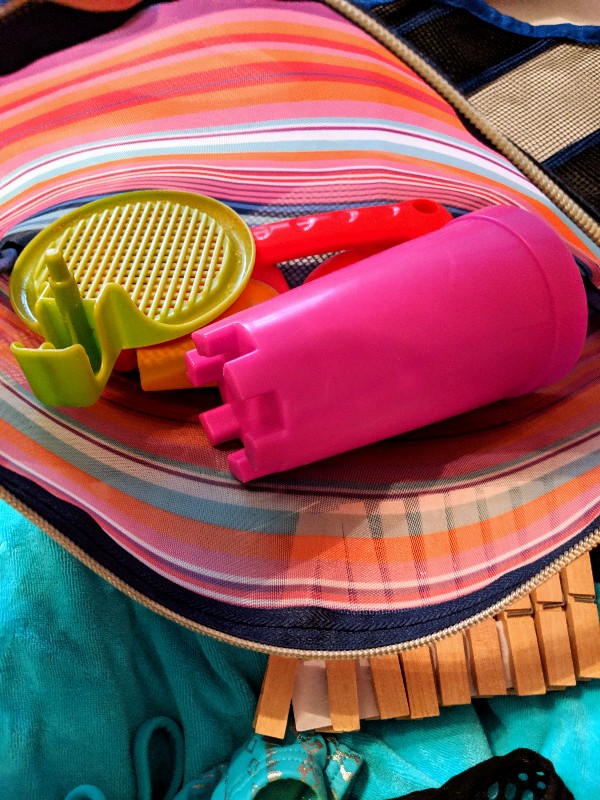 I have a small mesh bag of beach toys that I pack and bring for Castaway Cay. I have curated this collection from other beach sets we have.
You don't have to pack beach toys. However, unless you want to be creative and use things like plastic cups or the disposable cereal bowls from breakfast a beach toy set on Castaway Cay will cost you at least $20. The sets they sell seem nice, but very bulky. I'm not sure how people manage to bring them home in their luggage especially if they fly home.
There are no lockers available on Castaway Cay so if you plan to play in the water and then change into regular clothes it is best to plan to do that in your stateroom. It only takes a few minutes to walk from the beach back to the boat and the bathroom lines are often very long with people changing clothes. Changing in your room means a little extra walking time, but less stuff to lug around.
I always pack the following items for a day at Castaway Cay
Swimsuit

Flip flops or other beach shoes

Beach bag

Cover up

Sunscreen

Sunglasses

Beach toys

Goggles

Waterproof phone case
Packing Toiletries For A Disney Cruise
The kind of toiletries you bring on a Disney Cruise will depend on your personal preference. We use the shampoo, conditioner, and body soap they provide in the stateroom, although I don't love that the body soap is bar soap.
Here is a list of toiletries to pack for a Disney Cruise
Make-up

Shampoo

Conditioner

Body wash

Lotion

Shave gel

Razors

Electric shaver

Comb and brush

Hairspray

Hair accessories like ponytail holders or headbands

Straightener or curling iron

Toothbrush and t

oothpaste

Nail polish, n

ail polish remover pads, n

ail file

Tweezers
Packing First Aid And Medications For A Disney Cruise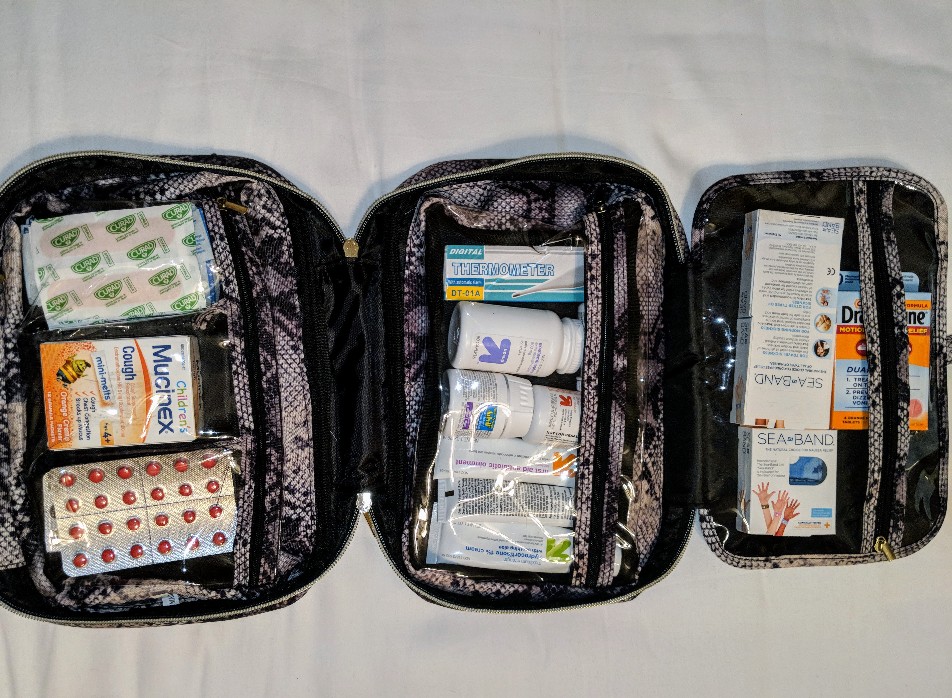 I am the kind of person who likes to be prepared on a vacation, especially when it comes to first aid. Part of the reason is that my daughter is allergic to corn and all corn products. Corn is used in lots of prescription and non-prescription medications. There is on-board medical care and some over the counter medications available in the gift shop, but the options are limited.
We've also had times where we have gotten ill at Disney World and needed basic medications when stores were closed. For this reason I always pack the following items in my first aid kit on a Disney Cruise. We've never needed the Dramamine, but have used our Sea Bands on rough water.
My Disney Cruise First Aid Kit contains the following items
Sea Bands (Kid size affiliate link: Buy on Amazon or Adult size affiliate link: Buy on Amazon)

Children's Dramamine

Adult strength Dramamine

Cough/cold meds

Tylenol or Advil Adult Strength

Children's Tylenol or Advil

Hydrocortisone

Antibiotic ointment

Band-aids

All of our prescription medications
Undergarments And Pajamas
I would hate to have you guys perfectly pack and then forget these essential everyday items!
Underwear (1 for every night plus 2 extra)

Bras (remember to pack ones that work with formal dress if you bring one)

Camis or undershirts

Socks

Pajamas

Slippers or slipper socks
Everything Else You Need To Pack For Your Bahamian Disney Cruise
I've covered most of what you need to pack for your Bahamian Disney Cruise, but there are a few more items that you don't want to forget.
Clothespins to hang swimsuit to dry

Ziploc bag to hold wet swimsuit if it isn't dry enough to pack

Tap light battery nightlights (there are no plugs in bathroom for regular nightlights) (affiliate link: Buy on Amazon)
Wet ones (affiliate link: buy it on Amazon)

Clorox wipes
Final Thoughts On Packing For A Bahamian Disney Cruise
Packing for a Disney Cruise is a lot different than packing for Disney World. With this printable Bahamian Disney Cruise packing list you will have all the essentials for your trip and a few really nice to have items, too. I hope this helps you do a better job packing for your first Disney Cruise and avoid many of the mistakes I made on our first voyage.
Find out more about Disney Cruises with these other articles.
Did I miss any of your cruise packing essentials? Leave me a comment!
Pin it for later: