The table service Pixar-themed restaurant, Lamplight Lounge, is a great place to grab a drink or have a meal while visiting Pixar Pier at Disney California Adventure. The fun atmosphere and unique decor make Lamplight Lounge a relaxing spot to take a break during a day at the parks. Keep reading to find out more about our experience and top tips for Lamplight Lounge.
Lamplight Lounge Review
Decor At Lamplight Lounge
Lamplight Lounge features Pixar-themed decor from the first moment you step inside the restaurant. Inlaid in the tile floor is a large logo for Lamplight Lounge with the iconic Pixar lamp and Luxo ball in the center.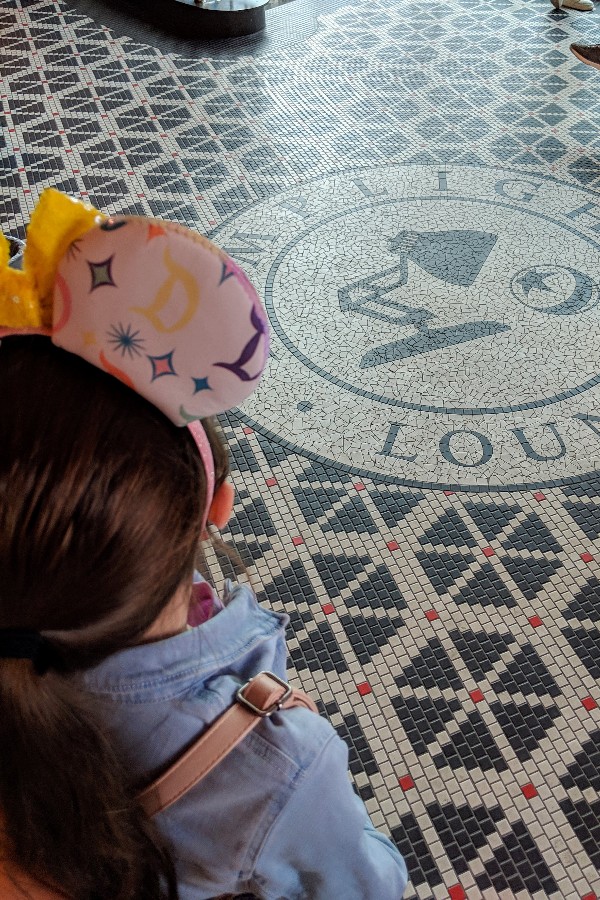 Around the waiting area are artistic renderings of popular Pixar characters like Slinky Dog from Toy Story, Joy from Inside Out, and several others.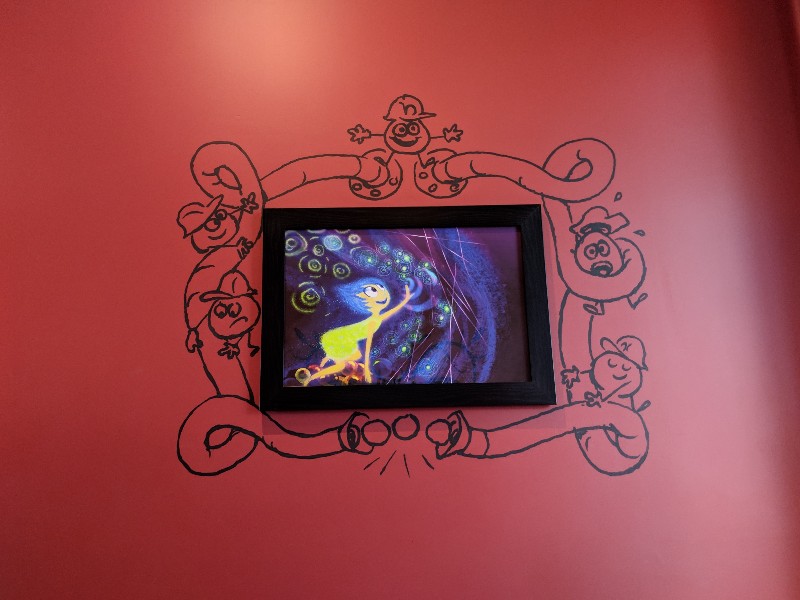 A large mobile hangs over the stairwell to the lower level of Lamplight Lounge. This mobile has dozens of Pixar character sketches and movie quotes spiraling up to the ceiling in various layers.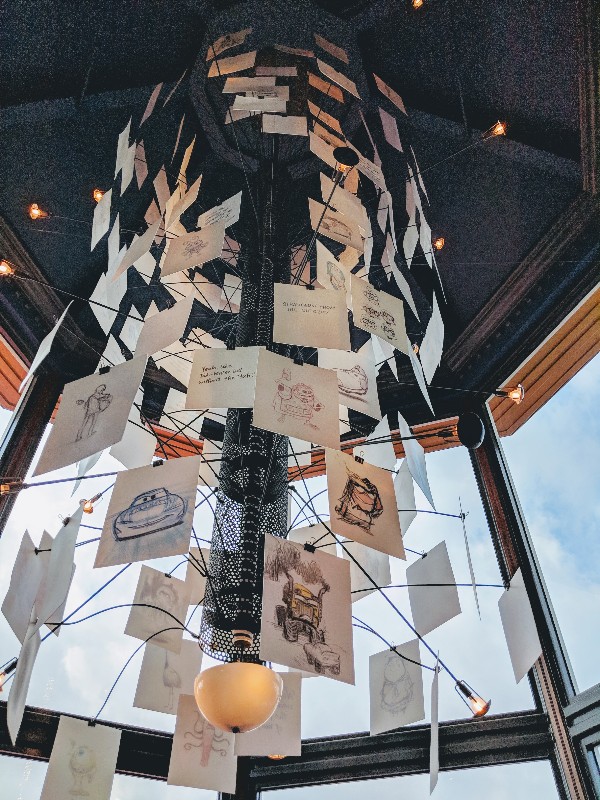 Lamplight Lounge Review: Indoor Or Outdoor Seating
When checking in for our dining reservation we were asked if we would like indoor or outdoor seating. I asked the cast member which she would choose. She replied that the outdoor seating features a view of Pixar Pier and that the indoor seating has more of the Pixar inspired decor.
This information made my choice easy and we opted for indoor seating. I reasoned that I can see the incredible view of Pixar Pier from many places at Disney California Adventure, but I would only have this opportunity to see the inside while dining.
On our way to our table we descended a spiral staircase that ended with a light up Luxo Ball display case on the right. To the left the walls are decorated with Pixar character quotes that lead to the restrooms at Lamplight Lounge.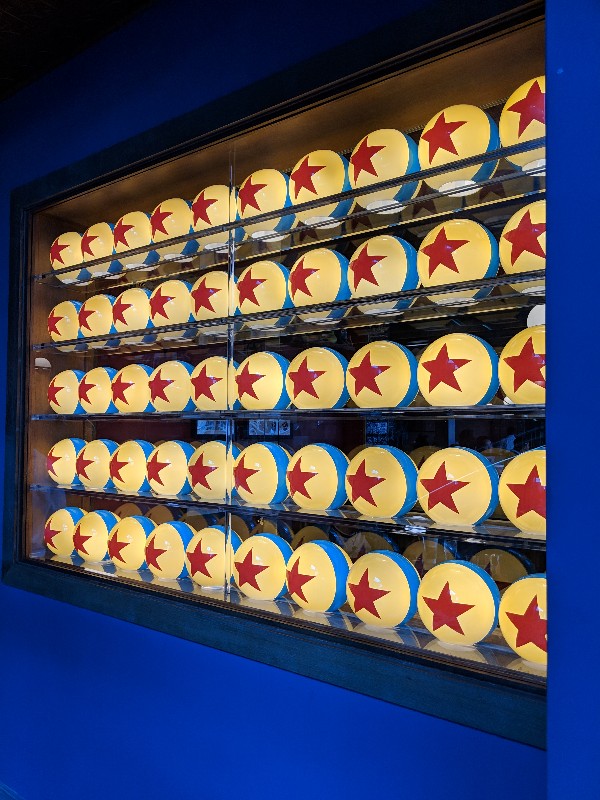 We were not disappointed with our choice once we were seated. The indoor seating area is not large, but has several different themed walls in the seating area including Up!, Toy Story, and Coco to name a few.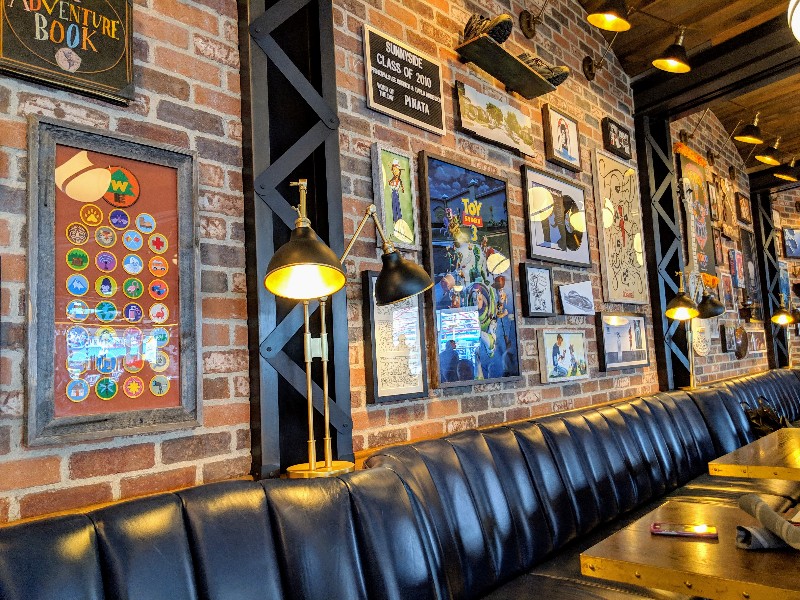 Our table had decorations inspired by Up! The longer we sat at our table the more details we found. We saw Carl and Ellie's mailbox, their My Adventure Book, and even a framed collection of Russell's Wilderness Explorer Badges. Elizabeth even noticed that these Wilderness Explorer Badges match the ones you earn at Animal Kingdom at Disney World!
Lamplight Lounge Food Review
Although very tempted to order appetizers, we ended up only ordering entrees and drinks. This way we had some room for those oh so important Disneyland holiday treats after our meal.
Please note: The full menu is only available in the downstairs dining area. Cocktails and appetizers can be ordered either upstairs or downstairs.
I ordered the Cheddar Burger, my husband opted for the Chicken Sandwich, and Elizabeth got a modified Salmon PLT for her meal. My cheddar burger was cooked to a perfect medium and was a really good basic burger. The steak fries were crispy on the outside with a delicious seasoning, but soft on the inside.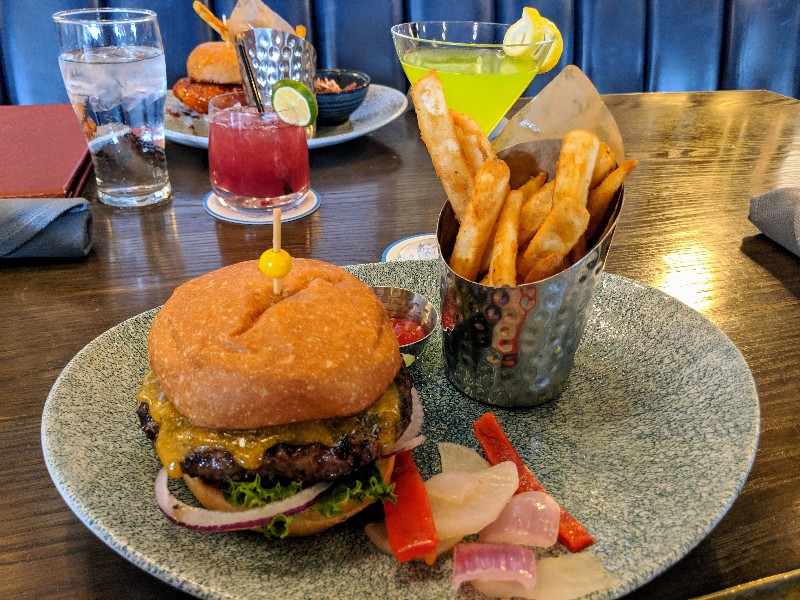 There are two chicken sandwiches on the menu at Lamplight Lounge. Mr. Smart Mouse opted for the crispy chicken sandwich with spicy chili sauce, vinegar slaw on the side, and pineapple butter. He thought his sandwich was okay overall, but extremely messy. He isn't sure how he would have eaten it intact if he had not ordered the vinegar slaw on the side.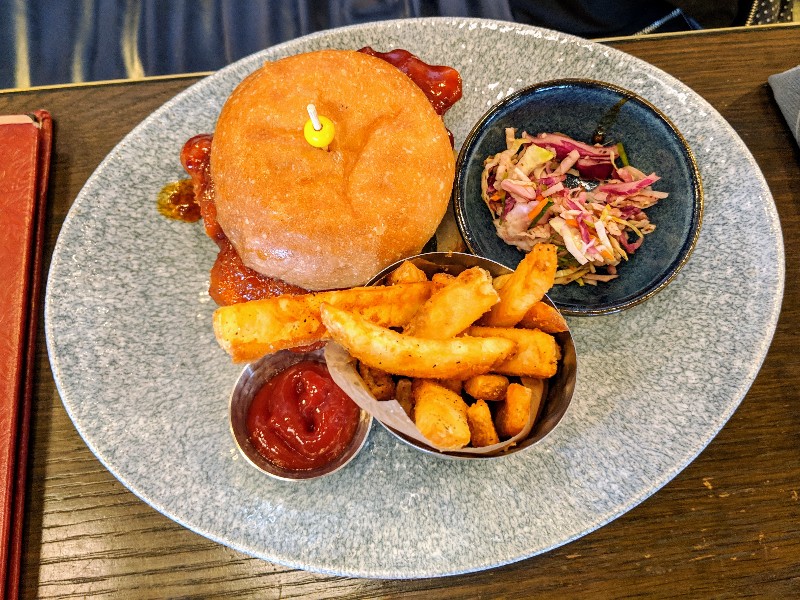 The Salmon PLT is a large piece of grilled salmon with crispy pancetta and lemon-bacon aioli served on toasted focaccia. Elizabeth had fruit and veggies for her side because of allergy cross-contamination concerns.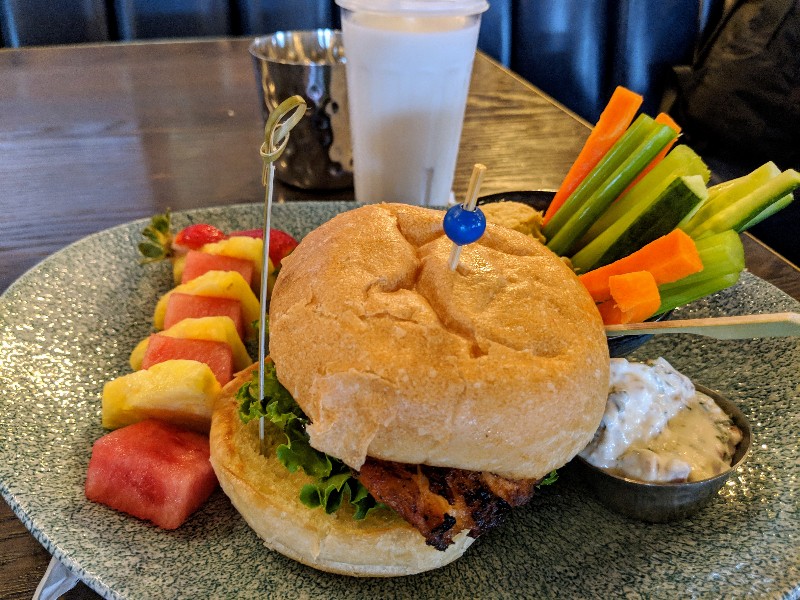 She deconstructed her sandwich, but ended up eating almost the entire large salmon portion. The salmon was plain with very little seasoning, but would likely pair well with the other sandwich toppings.
Find out more about dealing with food allergies at Disneyland here.
Lamplight Lounge Cocktail Review
Lamplight Lounge has an extensive specialty drink menu with many of the drinks having fun names inspired by Pixar movies. For example, one drink was named Scream Canister after Monsters, Inc. Even the coasters are adorable and show a variety of Pixar character sketches.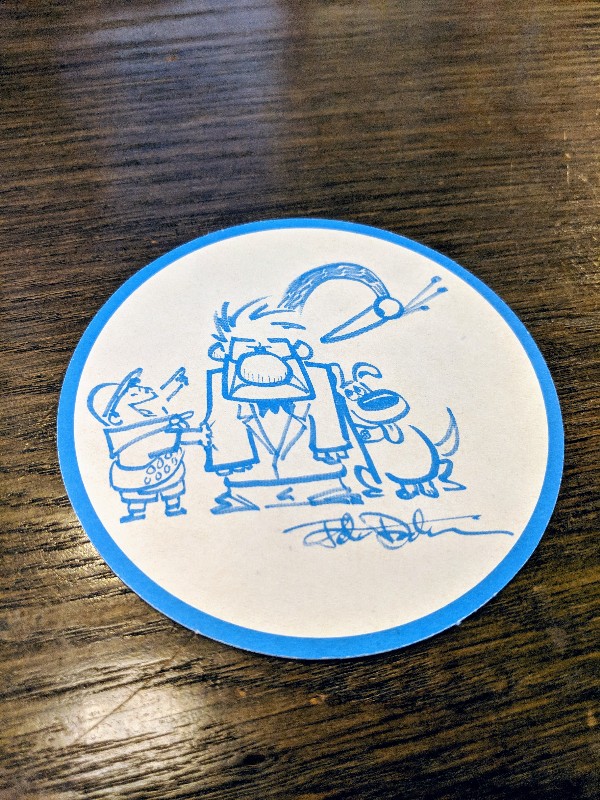 I ordered the Plot Twist which was Absolut Citron Vodka, Midori Liqueur, White Cranberry Juice, and fresh Lime Juice. My drink was refreshing with just a hint of sweetness and not too strong. It was a nice treat with our meal.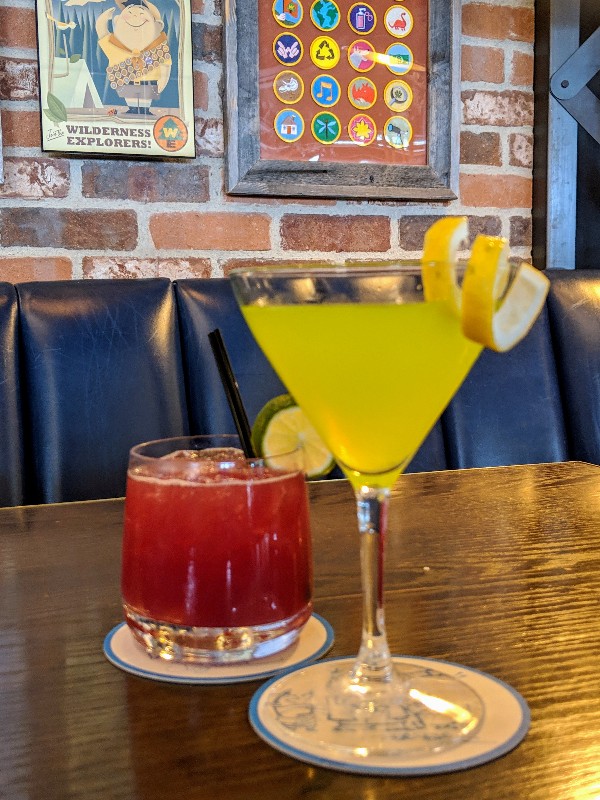 My husband ordered Final with a Fix which is Greenbar IXÁ Reposado Tequila, St. George Raspberry Liqueur, Cointreau, fresh Lime Juice, Agave Nectar, and a dash of Del Maguey Vida Mezcal. I expected his drink to be on the sweet side with the addition of Agave Nectar, but it was actually less sugary than my drink. Although he was lukewarm on his chicken sandwich the drink was a hit.
Final Thoughts On Our Lamplight Lounge Experience
Lamplight Lounge has great decor, good cocktails, and a wonderful view of Pixar Pier. Although our food was not spectacular, it was a decent meal. The entrees we chose were more meh than great or terrible.
The adults really enjoyed the specialty drinks at Lamplight Lounge. In fact, I hope to try some more on our next visit…for research purposes only of course.
To get the full Pixar experience make sure you choose indoor seating at Lamplight Lounge. This way you can look for lots of special details wherever you are seated. The decor was definitely a highlight of our Lamplight Lounge Experience.
Have you been to Lamplight Lounge? What was your favorite food or drink?
Pin it for later: