Cuyahoga Valley National Park is a hidden gem in Ohio between Cleveland and Akron. Although a relatively small national park, Cuyahoga Valley National Park has over 125 miles (200 km) of hiking trails with varying sights and difficulty. These are the three trails that provide the best Cuyahoga Valley National Park family hiking experiences.
Best Cuyahoga Valley National Park Family Hike For Little Ones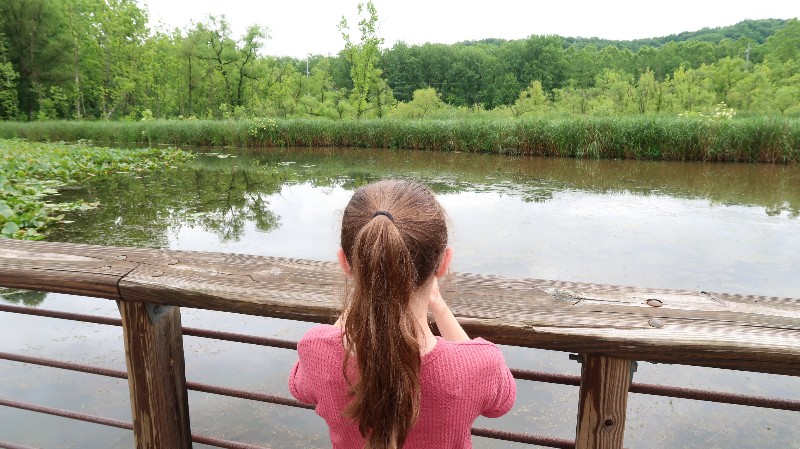 Beaver Marsh
Beaver Marsh is a small section of the popular Ohio & Erie Canal Towpath Trail. This is a mixed use trail open to biking and hiking. The Beaver Marsh boardwalk viewing area is over a marshy area full of birds, fish, and turtles. Depending on the season it can be a little challenging to see certain animals in the dense growth.
We found more animals a little further along the Towpath Trail. Turtles, frogs, a mama wood duck plus her babies, and a great blue heron kept us company on our hike.
Beaver Marsh Parking
Beaver Marsh parking is at Ira Trailhead. There is no visitor center, but there is a small information area plus one porta-potty. The Ira Trailhead parking lot is popular and can fill up quickly on nice days.
Beaver Marsh Boardwalk Hike Length
It is approximately 1-mile round trip from the parking lot to the Beaver Marsh Boardwalk viewing area. Easily extend your walk by exploring further along the Towpath Trail.
Best Cuyahoga Valley National Park Family Hike For Adventurous Kids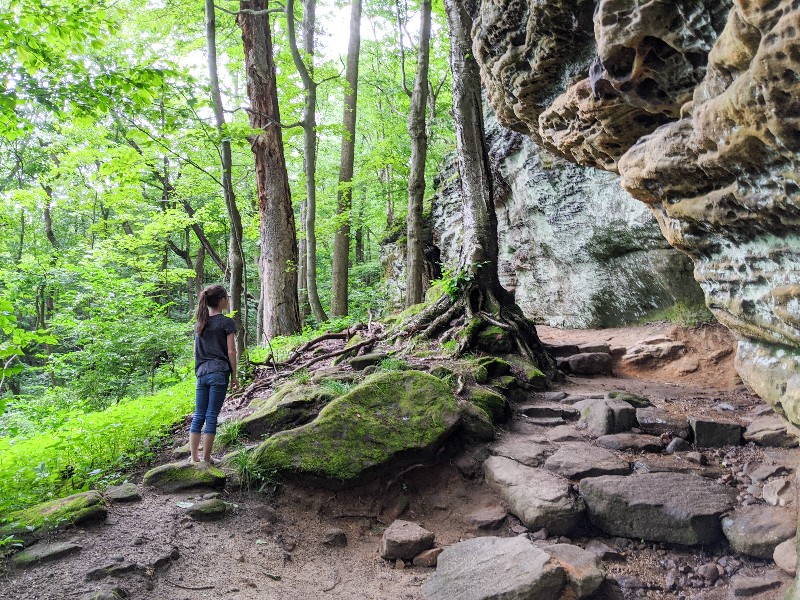 Ledges Trail
Hiking the Ledges Trail is perfect for kids that have a little hiking experience or who are adventurous. The trail makes a loop through a densely covered forest with impressive rock ledges along the path.
Halfway through Ledges Trail is an overlook with an unobstructed view over the valley facing west. Sunset is a popular time for people to visit the Ledges Overlook, so be prepared for larger groups.
Families with younger children should be extra careful when hiking Ledges Trail. There are some areas with steep dropoffs and no rails. My daughter loved the uneven terrain, little creeks of water running across the path in places, and overall unique appearance of the rocks along the trail.
Ledges Trail Parking
A large parking lot is available at the trailhead. From there hike the entire loop or go directly to the Ledges Overlook area.
Ledges Trail Hike Length
Ledges Trail is a 2.2-mile (3.5-km) loop if you trek the whole thing, but there are a couple spots where you can shorten the hike. If you are only interested in seeing Ledges Overlook, that is about a 0.1-mile walk from the parking lot through a grassy field southwest of the shelter.
Best Cuyahoga Valley National Park Family Hike For Epic Pictures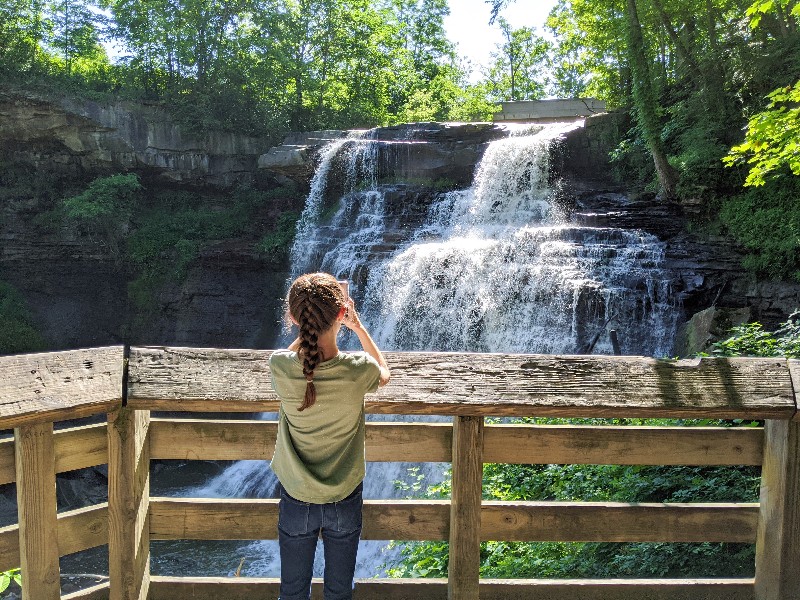 Brandywine Falls
A stunning 60-foot waterfall is just a short walk from your car at Brandywine Falls. We heard the falls before we could see it and stopped in our tracks when it came into view. Brandywine Falls is an extremely popular tourist attraction at Cuyahoga Valley National Park for a good reason.
There are two viewing areas on the Brandywine Falls boardwalk, an upper and lower platform. There are many stairs down to the lower viewing area, but it is absolutely worth it for incredible views.
Brandywine Falls Trail Parking
Brandywine Falls shares a parking lot with the Summit Metroparks Bike and Hike Trail. The lot is fairly large but still gets full very quickly.
Brandywine Falls Hike Length
There are a couple of Brandywine Fall area hikes. The easiest one is the Brandywine Falls Boardwalk. The Boardwalk is about an 0.8-mile (1.3-km) loop from the parking lot to the Brandywine Falls viewing area. Please note there are many stairs along the Boardwalk so strollers are not advised.
The Brandywine Gorge Trail is a 1.7-mile (2.7-km) loop with some difficult terrain. This trail is somewhat challenging with elevation changes and a few slippery areas. To access the Brandywine Gorge Trail take the Stanford Trail from the parking lot. After walking along this trail a short distance signs indicate where to break off to hike the Brandywine Gorge Trail.
Final Thoughts On Cuyahoga Valley National Park Family Hiking
Cuyahoga Valley National Park is a beautiful gem hidden in the midwest. We had a great time exploring the area on a social distancing vacation. These three Cuyahoga Valley National Park family hiking routes were the best we experienced in Ohio. I hope this helps both experienced hikers or families just starting to hike feel confident visiting Cuyahoga Valley National Park.
Pin it for later: