I am obsessed with luggage, always looking to find the perfect carry-on bag for our trips. However, traveling with only a carry-on is a skill I am still perfecting. This means I need a bag that holds a ridiculous amount of stuff, but still meets the carry-on luggage requirements across multiple U.S. airlines. I've tried a few bags with varying success, but still had not found a great carry-on after my last one was crushed on our Disney Cruise. Imagine my excitement when I got to try out the well-reviewed Chester Minima Carry-On in exchange for an honest review. Spoiler alert: I loved the Chester Minima Carry-On so much I bought one for my daughter.
Unfortunately, Chester bags are no longer made and sadly the remaining bags are now out of stock. 
As an Amazon Associate I earn from qualifying purchases.
Chester Minima Carry-On Review
What Is The Chester Minima Carry-On?
Chester is a new luggage company whose first offering is a cleverly designed carry-on bag. The Chester Carry-On is a hard sided bag with a sleek, sturdy polycarbonate shell and spacious design.
What Are The Dimensions Of The Chester Minima Carry-On?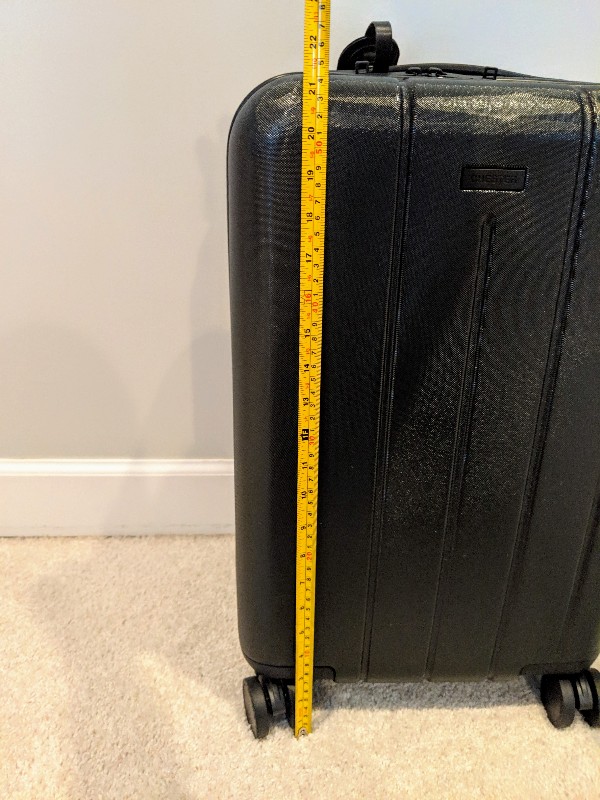 The dimensions of the Chester Minima Carry-On are listed as 21.5 inches x 13.5 inches x 8.5 inches. Unfortunately, a lot of times the dimensions on-line do not include the handle or wheels. This makes finding a bag that actually meets the carry-on requirements of various airlines challenging.
As soon as my Chester Minima Carry-On luggage arrived I got out my own tape measure to check the true external dimensions. My rough measurements confirmed that the entire bag does, in fact, measure in at 21.5 inches x 13.5 inches x 8.5 inches. This means that the Chester Carry-On luggage really is compliant with all the US air carriers that I use when flying (Southwest, United, American).
I've even double checked at the airport by placing the Chester Minima Carry- On in those luggage sizing bins. You can see the Chester carry-on easily fits in the sizer for United Airlines in the picture below.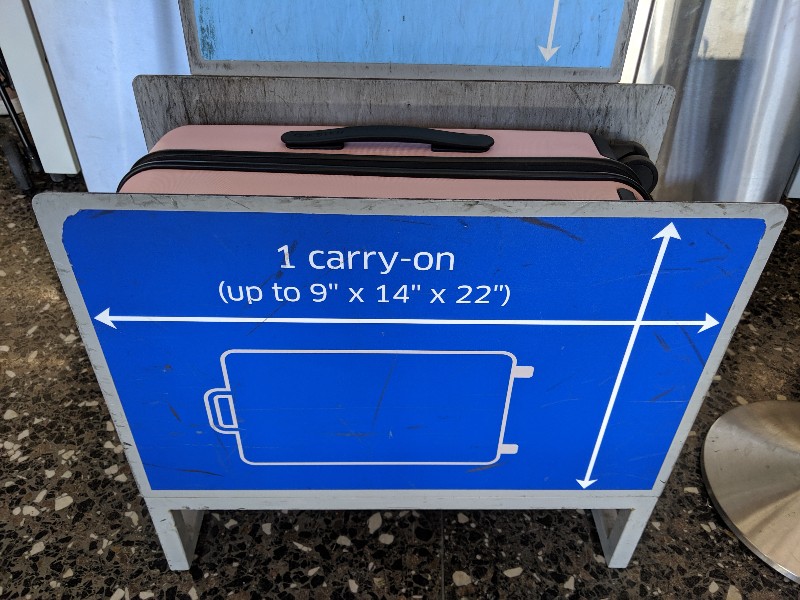 How Much Can I Really Fit In The Chester Minima Carry-On?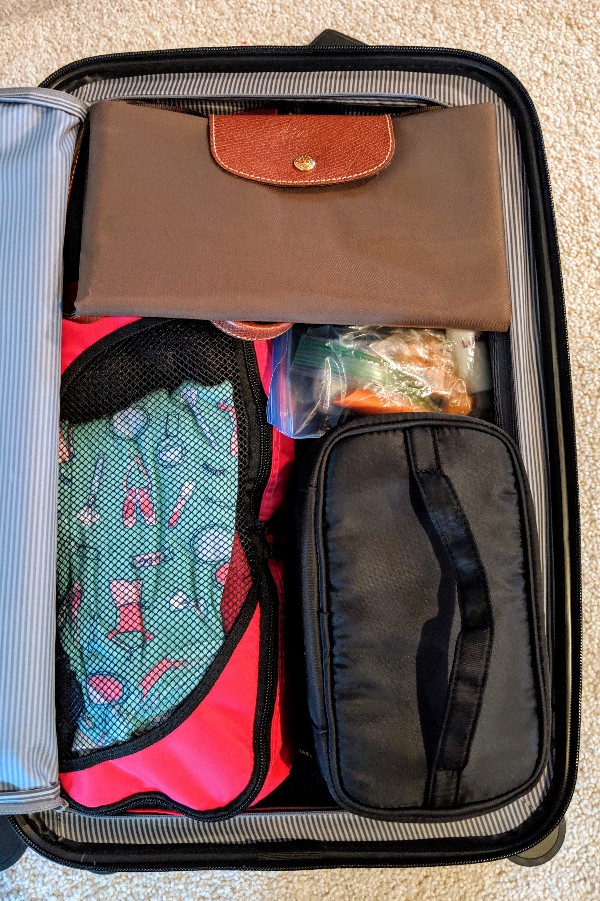 I'm a reformed overpacker, but that doesn't mean I am a minimalist. Because I still want to bring plenty of options, I am often disappointed with the available space in most carry-on luggage.
Even after many trips I still can not believe how much fits into this suitcase. For example here is everything I packed in the Chester Minima Carry-On the first time I took it on a long weekend trip to Disney World.
All of these items fit in my Chester Minima Carry-On:
1 pair each of jeans, capris, shorts, and leggings

2 tunic-length cardigan sweaters

2 t-shirts

3 tank tops

A belt, undergarments, socks, and 5 necklaces

6 pairs of Minnie ears

Cosmetic case (affiliate link: buy it on Amazon)

2 pairs of pajamas and slippers/slipper socks

My TSA-compliant 3-1-1 bag

Hair straightener

Longchamp Le Pliage bag (folded)
Even after adding all of these items into the Chester Carry-On luggage I still had a little bit of unused space. Ultimately this is what I love most about this bag.
After several trips I am still amazed at how much fits in my Chester carry-on luggage. In fact, I've managed trips up to 6 nights with just my Chester Minima and a personal item.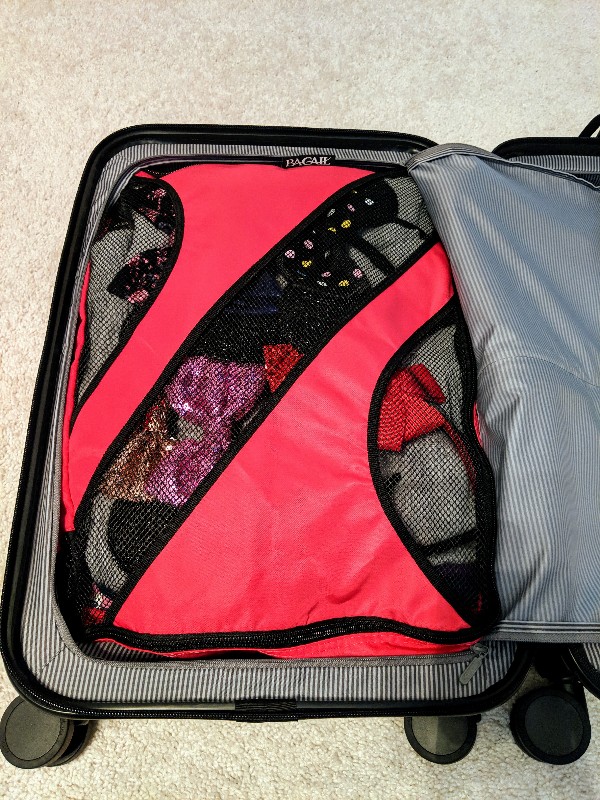 The Chester Minima Carry-On has a listed capacity of 38 liters (1.3 cubic feet). My previous preferred carry-on has the same capacity, but because of its wheel and handle placement it does not meet United or American Airlines carry-on size restrictions. This large capacity and small exterior size are why the Chester Carry-On is the best carry-on bag I have used so far.
Other Things I Love About The Chester Carry-On
Easy To Roll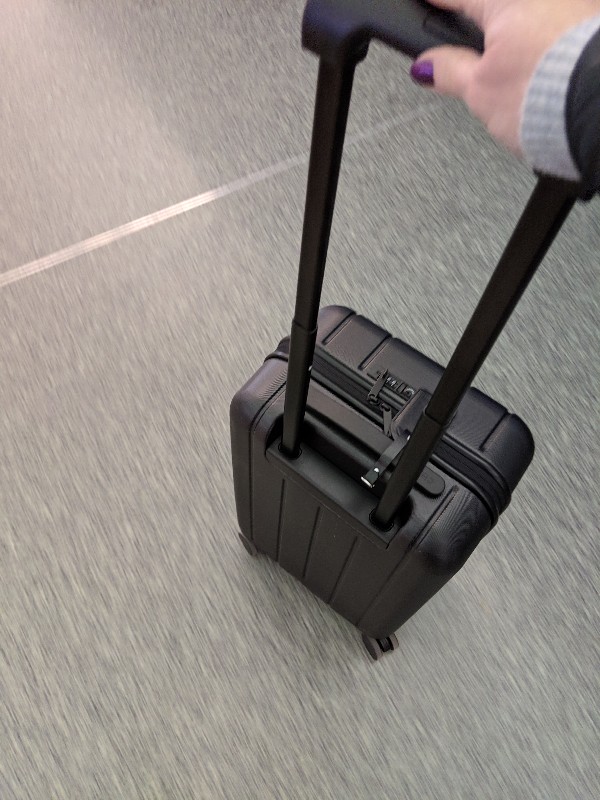 I've rolled the Chester Carry-On luggage over airport floors, sidewalks, textured concrete, tiled floors, low pile carpet, and wooden plank bridges with ease. The wheels seem to glide over each of the surfaces I tried. These smooth wheels make handling the bag much easier.
Two Zippered Compartments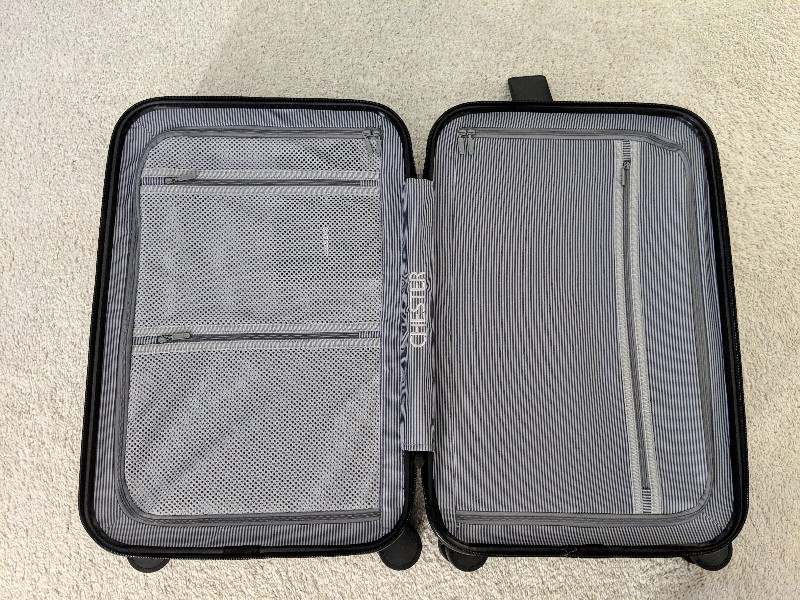 My favorite carry-on design is a suitcase that opens into two open, undivided compartments. This design allows me to fit a lot more items than a bag with pre-determined segments.
Most two-compartment hard side carry-on luggage I have purchased have one side with a zippered closure. This means that the other side of the luggage is secured with just an elastic strap.
This flawed design of other bags has led to items falling out when I reopen the bag. I love that each side of the Chester Carry-On luggage has a full zipper panel to keep everything secure.
Built-in Pockets And Laundry Bag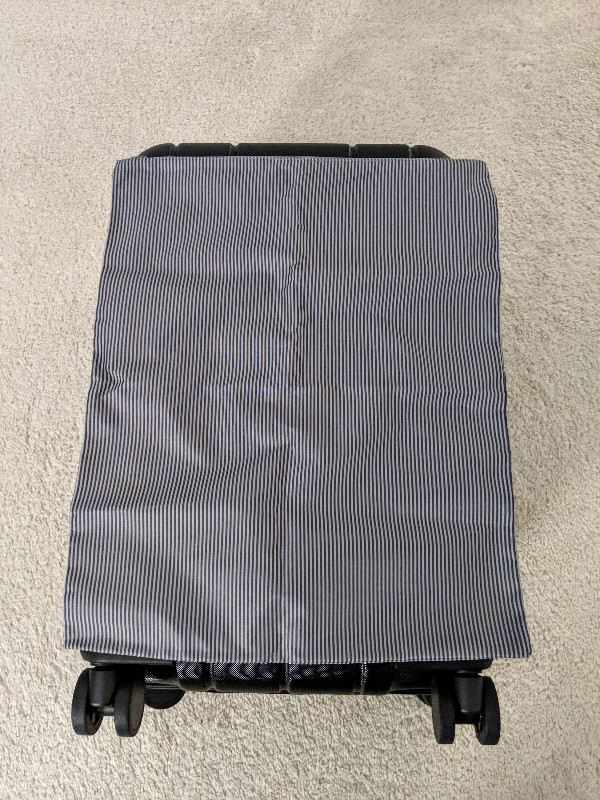 The cover on the left side of the bag has two zippered pockets that can hold smaller items. In the inside of the right compartment is a small zippered pouch that holds a reusable laundry bag. This means you won't have to swipe the bag from your hotel closet when repacking to go home.
TSA approved lock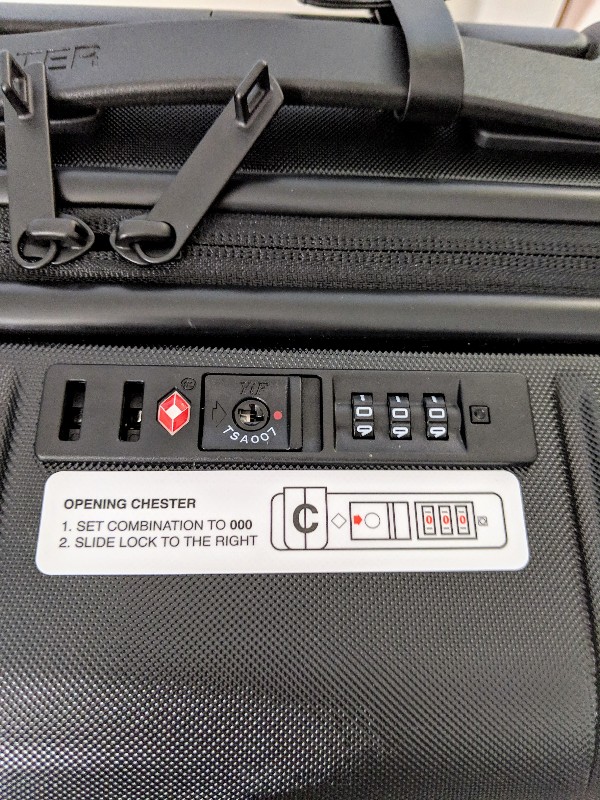 When traveling with a carry-on you don't generally worry about a suitcase lock. However, there can be times that an overhead bin shortage, taking smaller planes, or leaving luggage with bell services means your luggage is unattended. In these times the built-in TSA approved combination lock provides peace of mind.
Great Color Options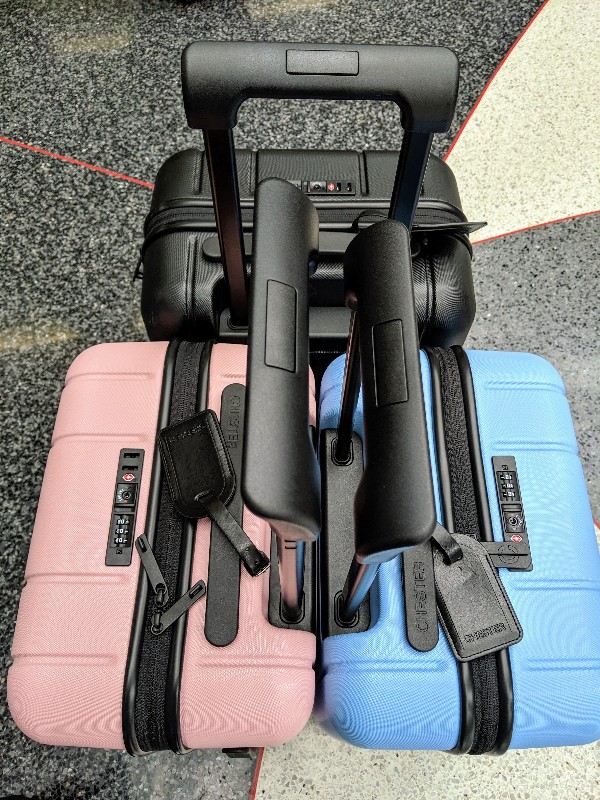 Our family's collection of Chester Carry-On luggage now includes the black, pink, and sky blue versions. I was a little nervous about ordering one of the colors thinking the lighter colors might show scuff marks, but ultimately couldn't resist the beautiful colors.
The pink bag got a couple of scuffs on the first flight, but I was able to easily wipe the spots off. The sky blue bag got banged around in a car trunk, but had no noticeable scuff marks at all. So far I've been really pleased with how the pink and sky blue luggage have stayed unmarred by our travels over the last few months.
Adjustable Handle
The Chester carry-on handle has two height settings. I prefer the handle height all the way up. On the other hand, my daughter is petite for her age. She loves that the Chester Minima has a shorter handle setting which makes it easy for her to roll the bag.
Great Customer Service
I liked my original Chester Carry-On so much I decided to buy one for my daughter to help us achieve more carry-on only trips. The order showed it was processed and had a shipping label, but after several days no additional shipping information had been updated.
I needed the bag for an upcoming trip so I decided to try contacting Chester through their on-line help chat. A Chester customer service representative found my order and managed to change the shipping speed so it would arrive in time. The representative had no idea I was reviewing the item, but still did an incredible job of handling my issue.
Chester Luggage Now Comes In Multiple Sizes
While I prefer carry-on only trips, sometimes you need a full sized checked bag.  Chester Luggage now has the same stylish design and beautiful color options as the Minima, but in new larger sizes. The Regula is a mid-size suitcase while the Maxima is even larger.
Use my code SMT10 for 10% off the Regula (affilliate link: buy from Chester) or the Maxima (affiliate link: buy from Chester)
What I Didn't Love About The Chester Carry-On
There is very little that I don't love about our Chester Carry-On luggage. The only real challenge is the handle and wheels are slightly recessed into the body of the bag. This means there are a couple of shallow spots in the right side compartment. I have to be a little clever to fit items into those areas, but I still have plenty of space for everything I need.
Chester Carry-On Review Final Thoughts
I am extremely particular with what I want in carry-on luggage and have been disappointed many times by other bags. I wondered if the positive reviews of the Chester Minima Carry-On luggage on Amazon and their own website meant it could live up to my expectations.
Surprisingly, it did! In fact, the Chester Carry-On is the best carry-on luggage I have used. I love the Chester Carry-On so much I ended up buying one for my daughter.
If you want to purchase your own Chester Minima Carry-On luggage here is a link to buy from Chester directly (affiliate link). Smart Mouse Travel followers can use code SMT10 for 10% off your order.  You can also purchase the Chester Carry-On on Amazon (buy it on Amazon: affiliate link). 
Pin it for later: