When planning a visit to San Diego there are many hotels and neighborhoods to choose from. We had never stayed anywhere on the beach, so having an ocean view room was number one on my wish list. Our search for an affordable ocean view room is what led us to stay at Tower 23 in March 2017 and brings us back each time we are back in San Diego.
Tower 23 Location
Located in Pacific Beach (a few miles north of downtown San Diego) Tower 23 is literally steps away from the beach. We opt for a more expensive room in the Oceanfront Queen/Queen, but the unobstructed view to the ocean and beach is completely worth the upgrade.
The Pacific Beach neighborhood has changed a lot since we first stayed at Tower 23. When we visited in 2017 the area was predominately young people and surfers, but on our most recent trips the area had definitely taken on a more family friendly vibe.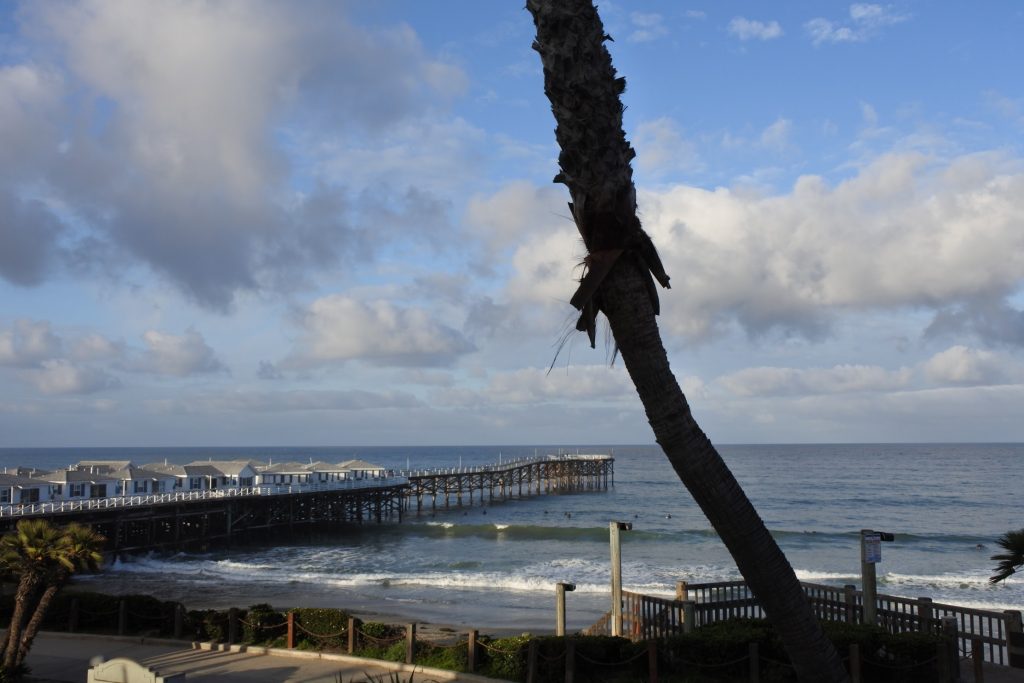 Tower 23 is about a 20-minute drive to some of San Diego's common tourist spots like the U.S.S. Midway, Coronado Island, and San Diego Zoo. Find out more about our favorite San Diego family activities.
Overview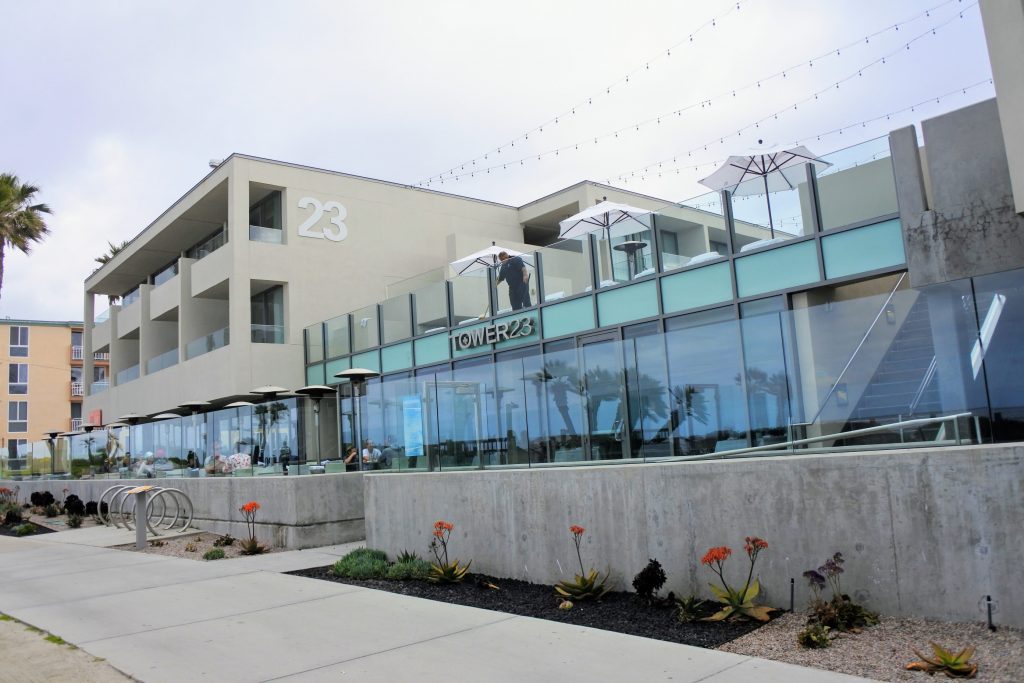 Tower 23 is a small, luxury boutique hotel. There are several room types available with full or partial ocean view being the largest difference in room type.
The hotel has limited amenities on-site except for their signature restaurant JRDN, but there are tons of coffee shops, restaurants, and even a CVS within a short walk of the hotel. If you don't feel like taking a walk there is also a fully stocked mini-bar and snack station in your room.
One of my favorite perks of staying at Tower 23 is the ability to borrow beach equipment. Tower 23 will loan towels, beach chairs, boogie boards, footballs, soccer balls, sand toys, and even beach umbrellas to hotel guests.
The ability to borrow beach gear saves a lot of wasted suitcase space and each day we have something new to play with on the beach. We borrow equipment and usually spend several hours out by the water.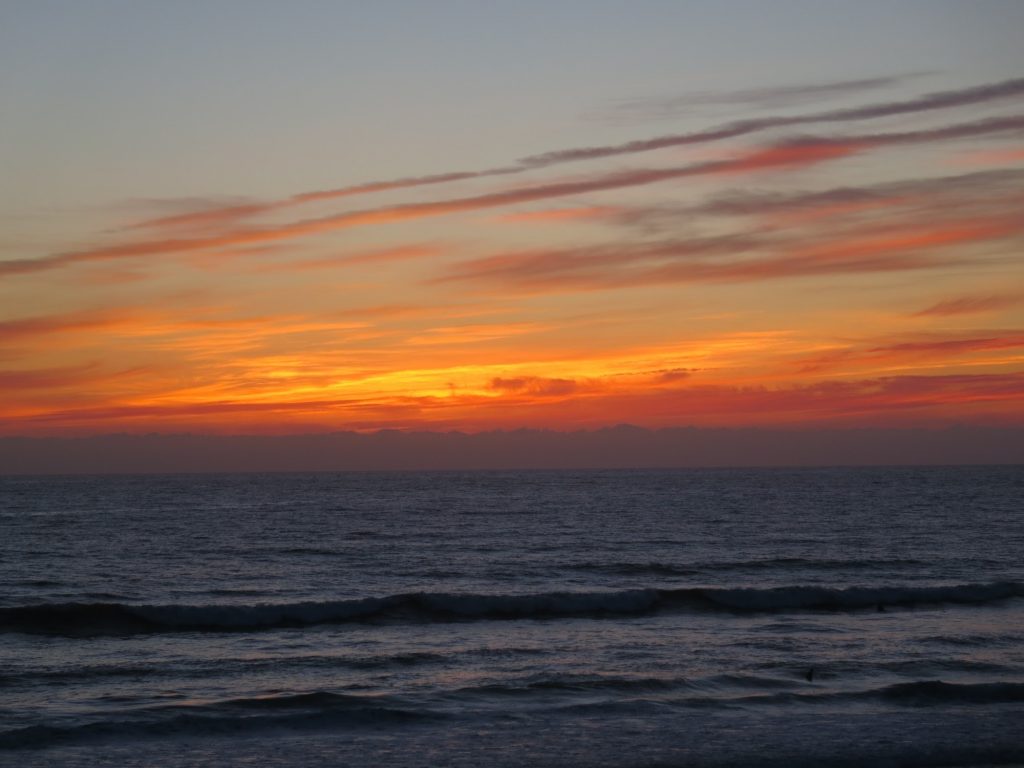 Tower 23 also has bicycles available to borrow. There are full size bicycles and a couple of big kid bikes to accommodate families with older kids.
Tower 23 Oceanfront Queen/Queen Room
The Oceanfront queen/queen room is amazingly spacious. I expected cramped quarters to be able to afford the perfect beach view, but was pleasantly surprised the room had plenty of space. The ocean view balcony gave even more livable area, not to mention breathtaking views, during our stays.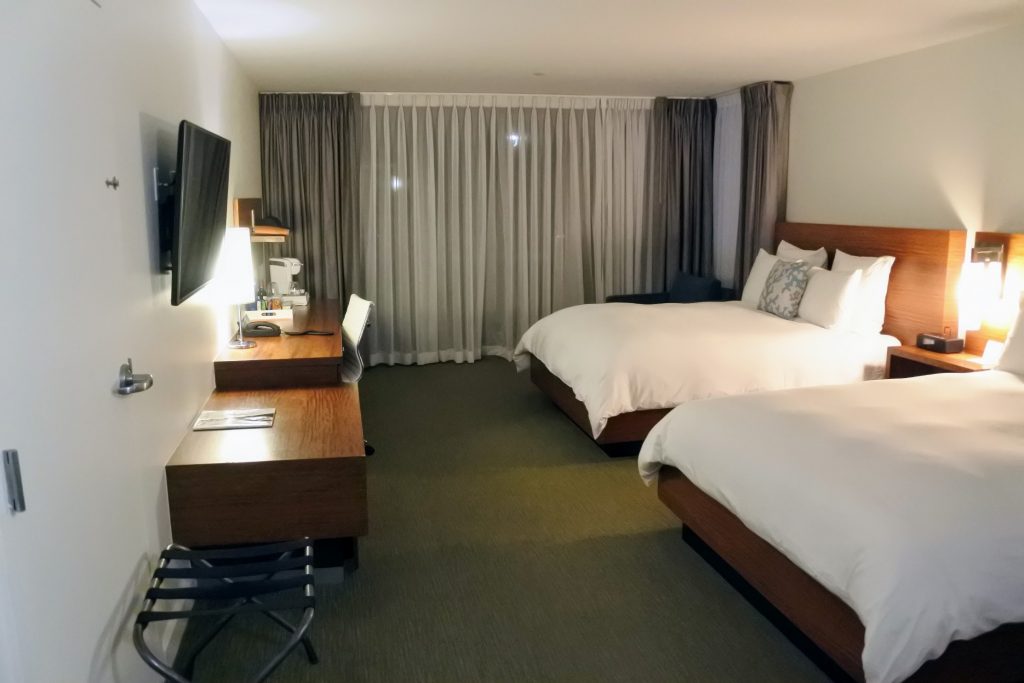 The bathroom at Tower 23 is quite large with both a bathtub and separate shower. A sliding barn door with an opaque glass panel provides decent privacy for the bathroom area.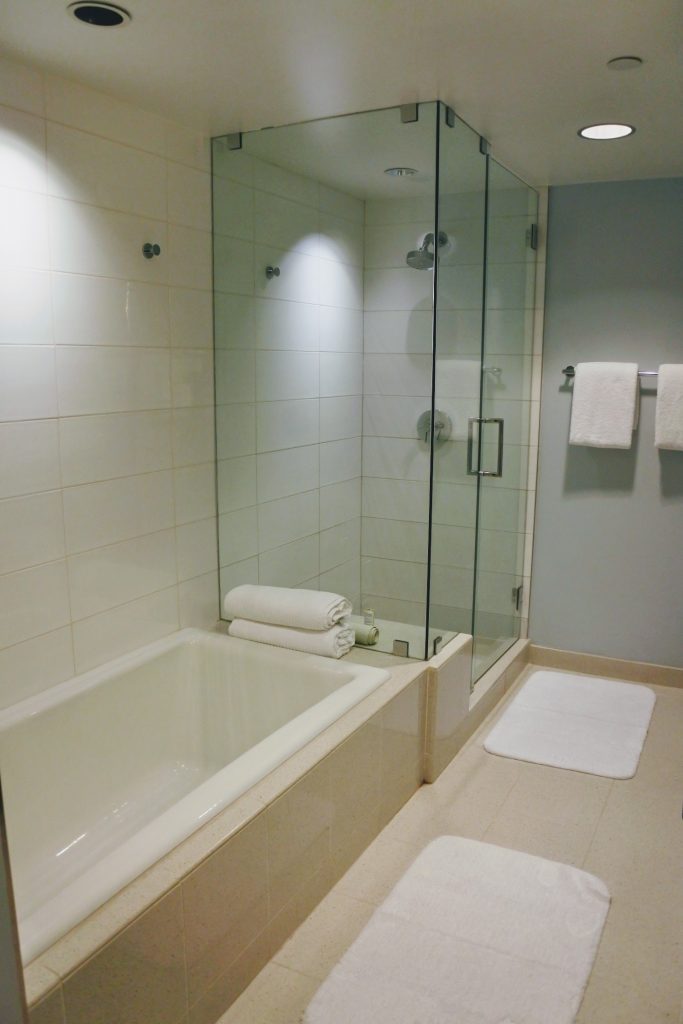 There is limited counter space by the sink itself, but after our last trip I learned to use the shelves under the sink to hold our toiletries. I place my make-up bag on the counter only when I get ready and then place it back on the shelf when I am done. Utilizing the shelves under the sink make the limited counter space easy to manage.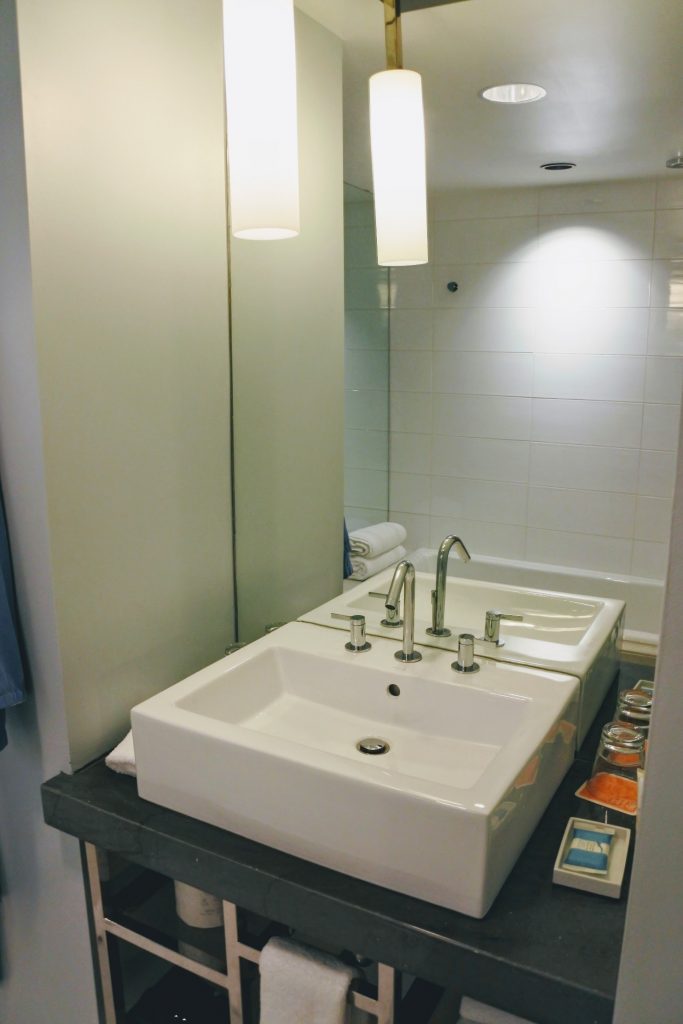 The best part of our room is not even in the room. Our private balcony overlooking the ocean is amazing.
First thing in the morning we open the doors and listen to the waves as we get ready. And anytime we are in the room the sliding door is open to let the great ocean smell and sounds into our room. At night my husband and I would relax on the balcony with a glass of wine or cocktail from JRDN while Elizabeth was sleeping.
Tower 23 Parking
The only parking option is valet at a cost of $35 per day. For that price you have unlimited in and out privilege during your stay.
Overall Impression Of Tower 23
If you are searching to immerse yourself in the Southern California beach vibe there is no better place than Tower 23 in Pacific Beach San Diego. All day you can see surfers out on the ocean, the beach is steps from the hotel, and there is no ignoring the casual California atmosphere that seems to permeate the entire area.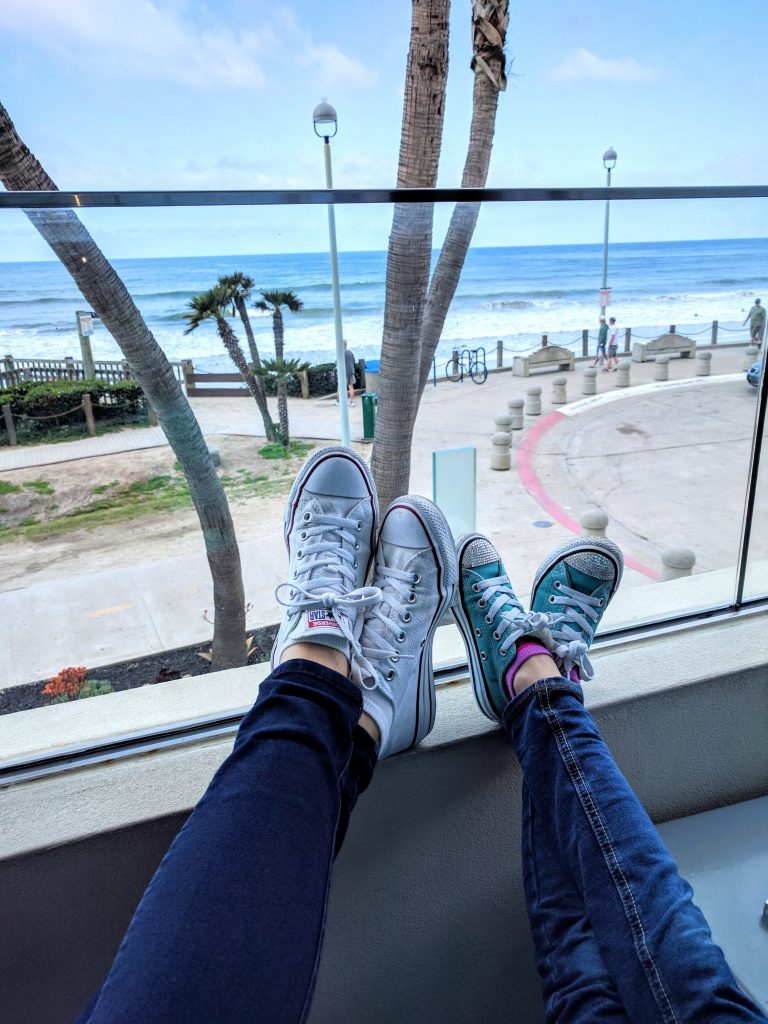 Some online reviews claim Tower 23 is not family friendly, but I disagree. We now regularly see other families staying at Tower 23. The staff is friendly, the rooms are large, the option to borrow beach gear, and cheap eats nearby (by California standards) make it a great choice for our family.
To sit on the balcony and hear the waves is incredible. In fact, we barely made checkout on time the first stay because I couldn't tear myself away from the balcony to get on the road to the Flower Fields, San Juan Capistrano, and ultimately Anaheim. 
Looking for family fun options? Find some of our favorite San Diego activities in this article.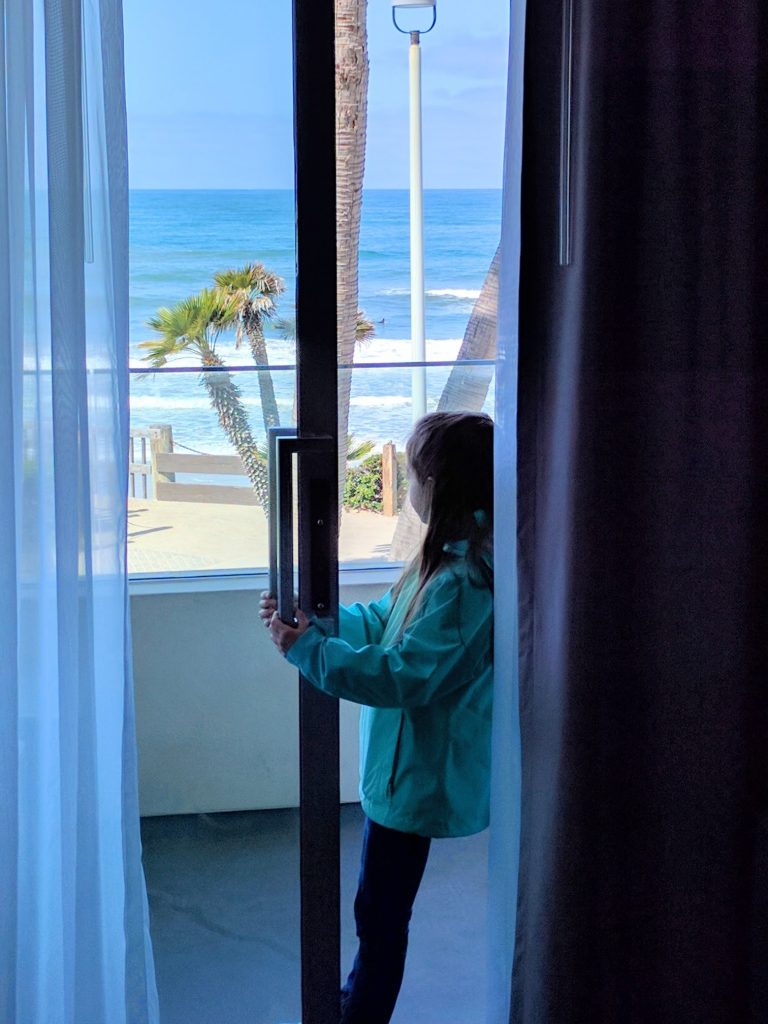 I was in no way compensated for this review.